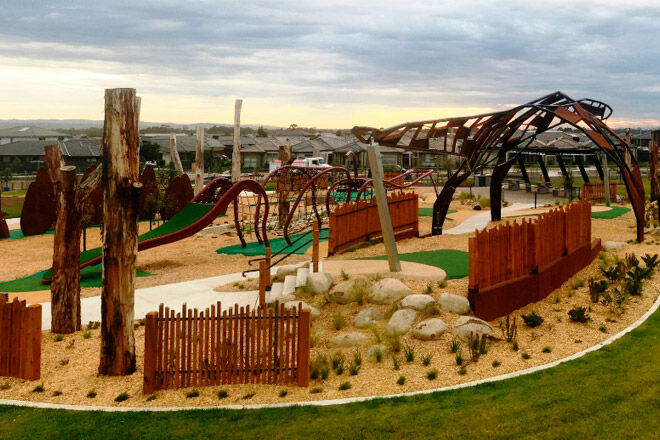 Megasaurus Playground
This play space is big on design, huge on imagination and MEGA fun for junior palaeontologists. Dust off your dino hunting kit, because it's time to unearth the stompy, chompy world of Megasaurus Playground, in not-so-prehistoric Cranbourne East.
Getting there
Newington Drive
Livingstone Estate
Cranbourne East
VIC 3977
www.livingstonecranbourne.com.au
Dinosaurs might date back millions of years, but Megasaurus Playground is no fossil. It was opened in March 2016, so the dinosaurs here are sparkly new and living large. What isn't so new is the fact that kids love dinosaurs, so this playground is perfect for those who can pronounce 'ichthyosaurus' better than grown-ups!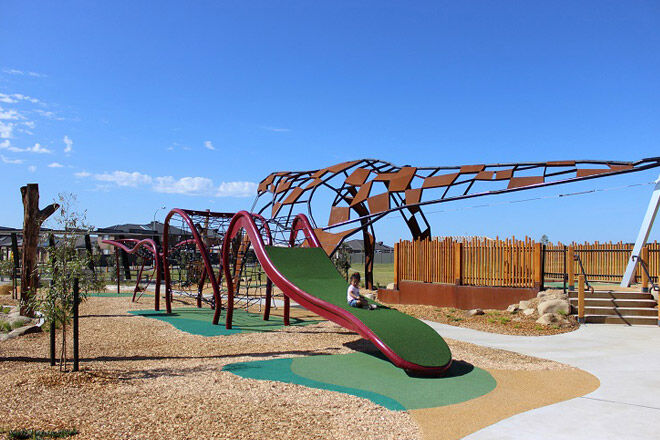 A lot of thought has gone into making Megasaurus Playground that big bit different. Jurassic World wasn't built in a day, and it took 18 months to plan, design and construct this play space.
They've used rocks, rusty metal plates and soaring timber stumps to combine elements of the Stone Age, Iron Age and Timber Age (was that even a thing?!) There are gravel areas to provide dino crunch, and soft landing areas underneath the play equipment. And when we say 'play equipment', we mean 'dinosaurs'.
Yep, dinosaurs aren't just roaming around the edge of this playground, watching fossilised grass not grow. Dinosaurs are the actual play equipment, which means imaginations will be on the loose like a woolly mammoth herd!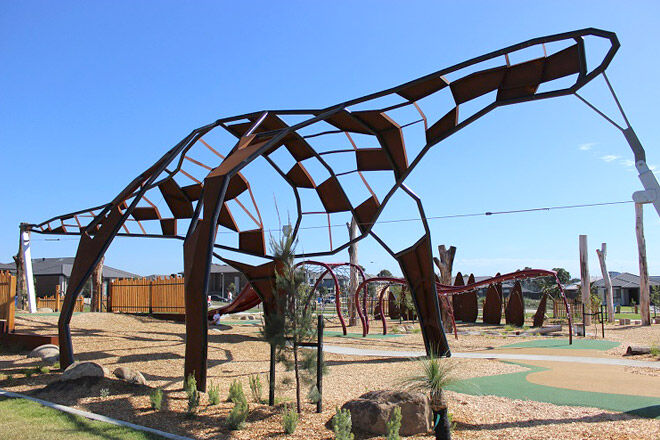 All the dinosaurs are mega, but the brontosaurus structure takes the cake for size and speed. At 25m long (about the length of two buses), this impressive dino frame has a rust-bucket look paired with a modern flying fox, so that kids can zip beneath bronto's belly at the speed of an ornithomimosaur.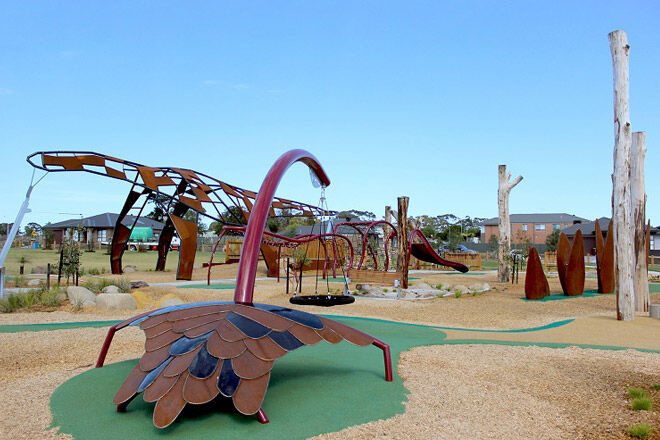 For a different mode of flight, kiddos will get in the swing of things with the pterodactyl-shaped cubby house and basket swing combo. When an imaginary T-Rex grumbles past, young explorers can shelter under feathered metal plates, and when the coast is clear, watch them take to the skies in the basket swing.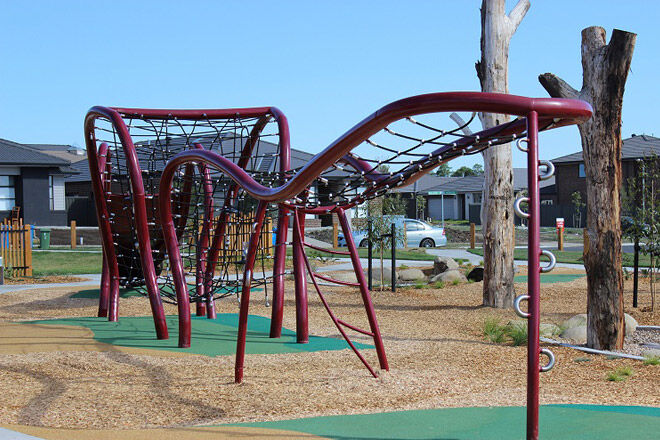 In the middle of the playground is a dinosaur that we're calling 'Mumosaurus'. She's used to carrying small children on her back (sound familiar?!) and is a 20m long dino that doubles as a climbing frame. Kids can clamber along nets from her head to her hips, then slide down her green tail to do it all over again.
And no dinosaur stomping ground is complete without noise. ROOOAAARRR!!! Over at stegosaurus central, the big, rusty plates are climbable and clang-able, so prepare your ears for some heavy metal 'music' courtesy of the kids.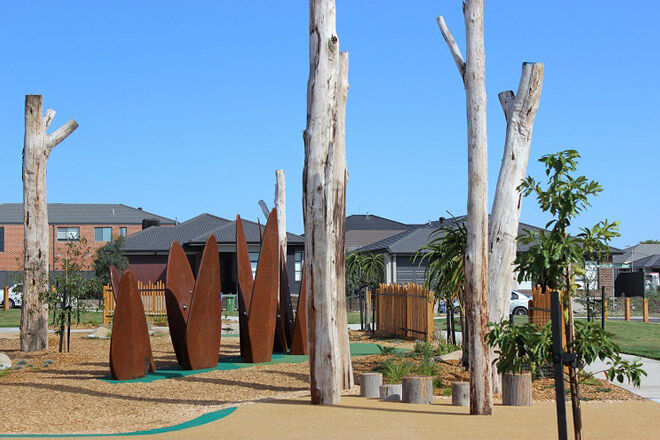 Older children will be all over the mega dinosaurs (literally), but there are nature play elements to capture the imagination of tots too. They'll love walking with the dinosaurs (or crawling) at ground level, and the hunt is on for three dinosaur eggs hidden in the grass. Log stepping and rock hopping is also big fun for little legs.
Just two things. There are no toilets and until the trees grow as tall as a T-Rex, there isn't too much shade in the playground. You will find shade and a drinking fountain in the BBQ area, though, so feel free to pack a prehistoric picnic. We're thinking sausages for the carnivores, salad for the herbivores and rock cakes for everyone!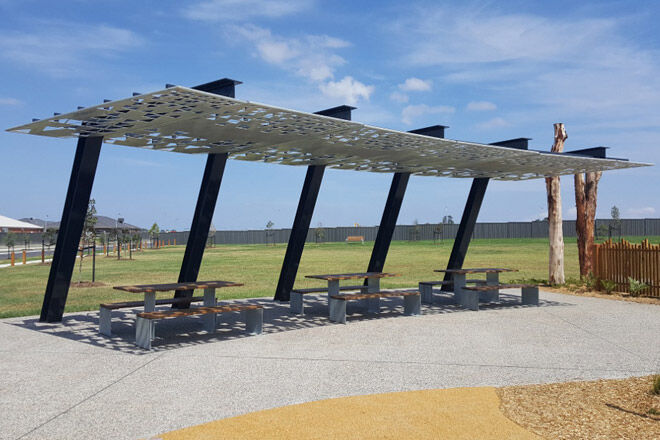 There's also a shared walking and cycling track, so trikes, bikes and scooters are a fun way to get some distance between the kids and a stampede of imaginary protoceratops. Plus, little kickers will love the open lawn.
And at the end of the play, don't be surprised if dino roars are replaced by dino snores. This park is all-action fun and dino hunting can really take it out of the kiddos. Zzzzzzzzz….
There is on-street parking
(images via AILA, Livingstone Cranbourne East and TRJ Engineering Group)