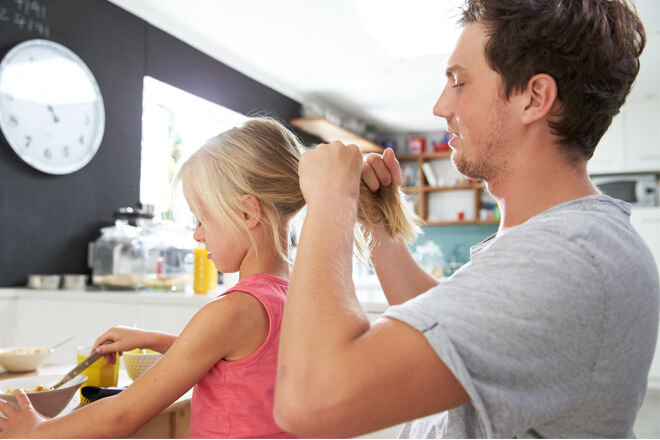 From a simple ponytail, to an elaborate Elsa braid, dads everywhere are arming themselves with the styling tools needed to get their little girls hair looking ah-mazing.
For newbies to the hair game, the basic hair tool kit should include:
a paddle brush for brushing out those pesky knots
a fine-toothed comb for separating and smoothing down hair
a water bottle for making hair a little more manageable
a packet or two of bobby pins, and
a large army of elastic hair ties (we all know these little suckers seem to go AWOL quickly).
Here are some of our favourite dads with a strong hair game.
Twist and spin bun

Sometimes kids need to chip in a little, like in this video where daddy keeps control of the hair up high, twisting gently as his daughter spins and spins until her hair forms a cool bun. Neat!
Sock bun

With simple instructions such as, "First: wash the sock!" this dad goes through how to make a sock bun in great detail for hairdo newbies. He also expertly deals with brush discrimination (where brushes are too small for dad-sized hands).
Simple plait

This daddio is great at pointing out the steps to forming a simple plait with special tips and tricks that will have any dad plaiting at boss level in no time.
Topsy tail

Taking the 'fake it till you make it' approach, this dad demonstrates a genius hair technique that creates a french braid effect, but is way way easier.
Ponytail hack

Then, of course, there's the quickest updo of them all: the ponytail. But dads are always thinking of ways to improve or speed things up, aren't they? Check out this dad who uses a vacuum to help him whip up a ponytail.
READ MORE:
• 10 easy school hairstyles for girls
• 10 school girl hairstyles that fit under a hat
• Combing attractions: 11 hairstyles for girls