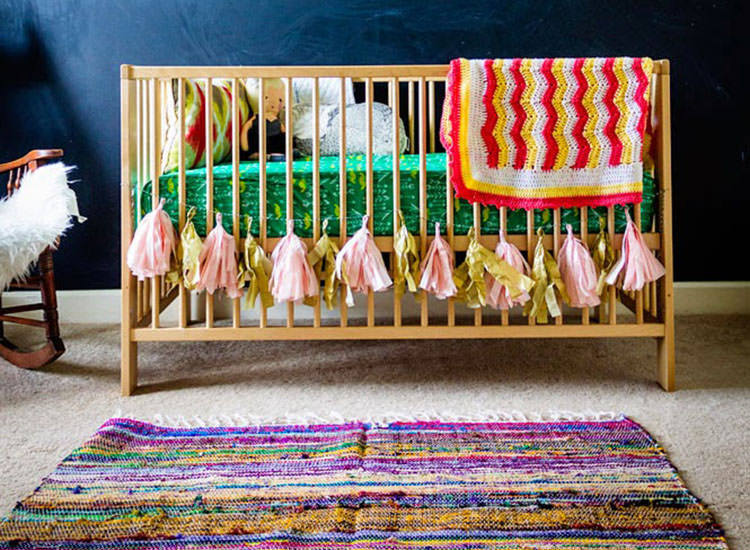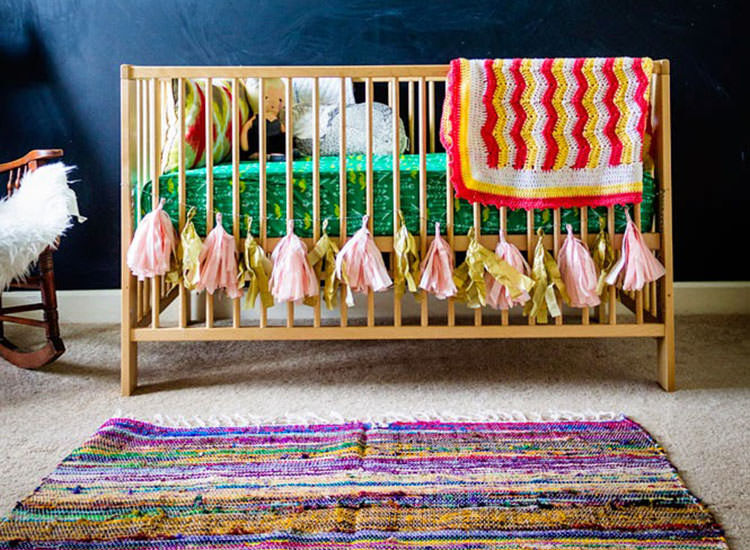 We have to admit that we love a bargain – sharing sales and shopping secrets is our trademark after all. And shopping smarter sure can save you big dollars when you are having a baby.
Take the IKEA Sniglar Cot, which at just $119 is a total steal. The simplicity of this cot is a blessing from the styling gods – it is just waiting to bloom in a beautiful nursery designed by you.
But where to start? Whether you have your heart set on a traditional style nursery or love the latest Scandi lines, we have found design inspiration that will have you winding your way through the IKEA maze this very weekend.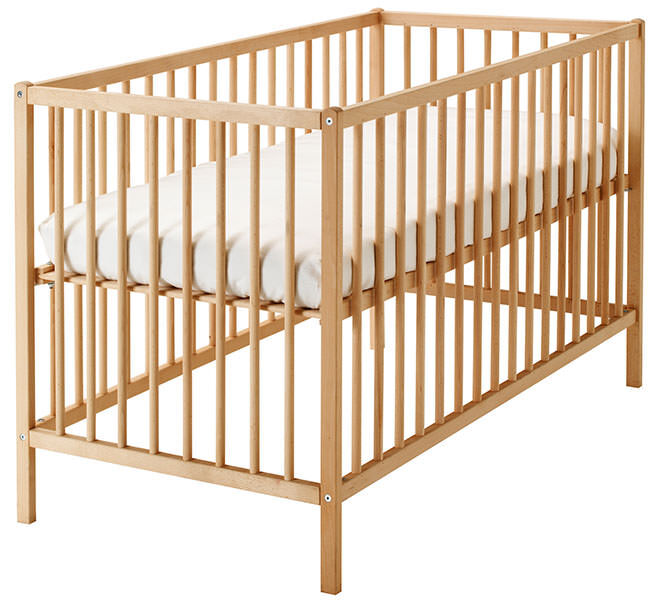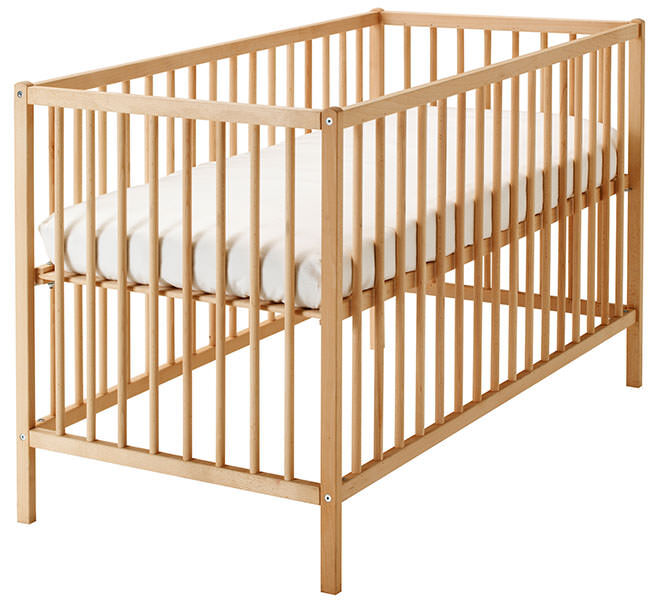 If you weren't already on board, can we list some more of the Sniglar cots selling points? Not only stylish, this cot also converts to a toddler bed and is only 74 cms wide so it fits through a standard doorway.
But enough with the boring (read: important) practicalities, here are 17  beautiful ways that you can create the nursery of your dreams starring your IKEA cot. What you do with the spare change is up to you (did someone say pregnancy massage?)
Say it with chalk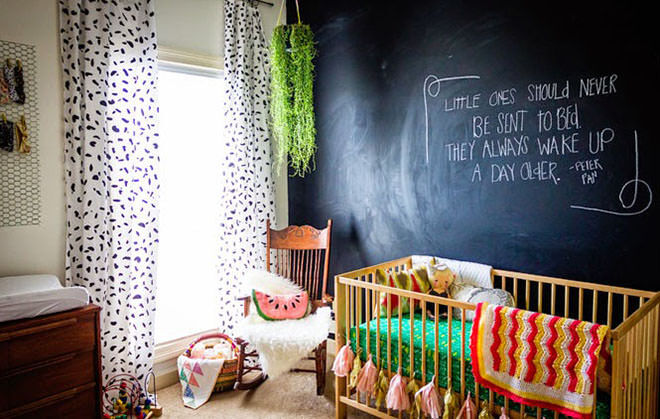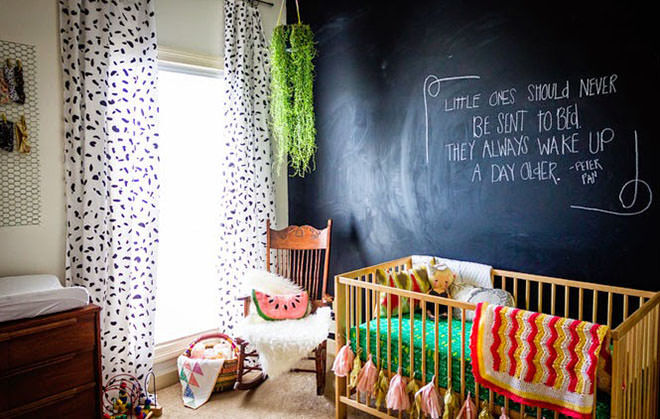 Kate from Kate & Kuby has dressed her IKEA cot in gorgeous textures and rich colours. It looks divine against the chalkboard feature wall (which is also an easy way to update and change the room as your baby grows). Styling perfection without the overspend.
Out of this world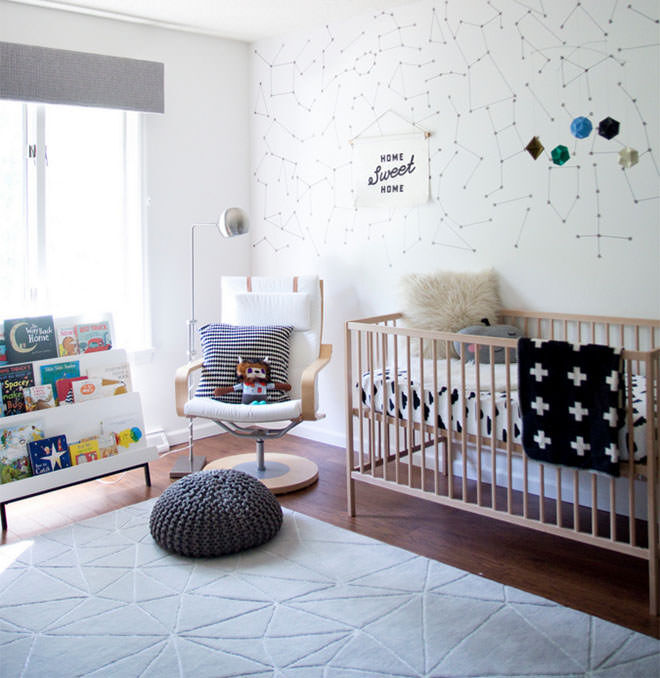 Jen Loves Kev proves having a theme for your nursery doesn't have to be kitsch. She wasn't planning a space theme but it has ended up being out of this world gorgeous! The simple cot means the amazing constellation inspired wall takes all the glory.
Rustic charm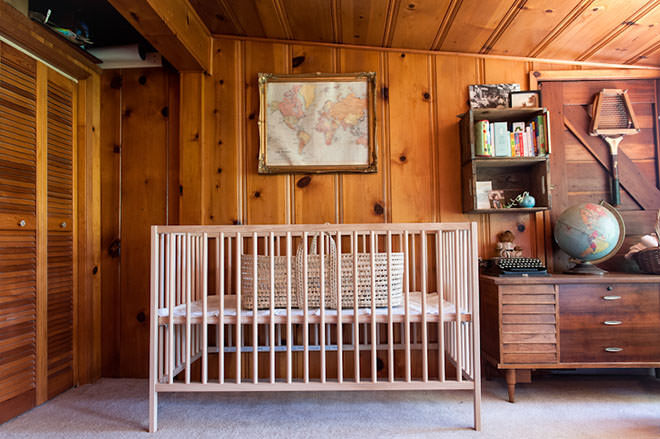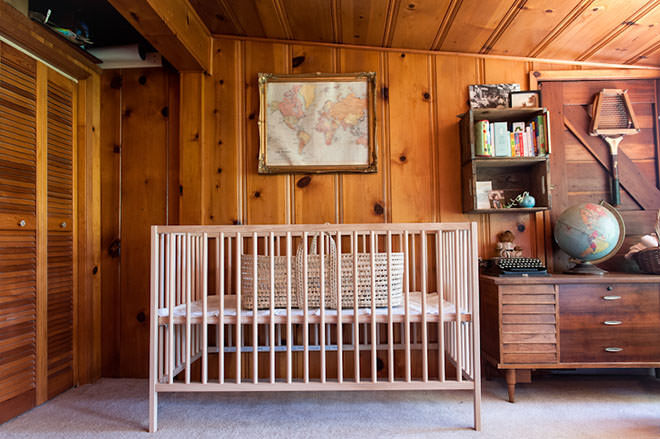 This is the beautiful home of Erin Gleeson, who blogs at The Forest Feast. Featured in Mother, her IKEA cot takes on rustic good looks and is right at home in the timber-panelled room. The framed vintage map on the wall is the perfect touch in this most un-nursery of nurseries.
Add a lick of grey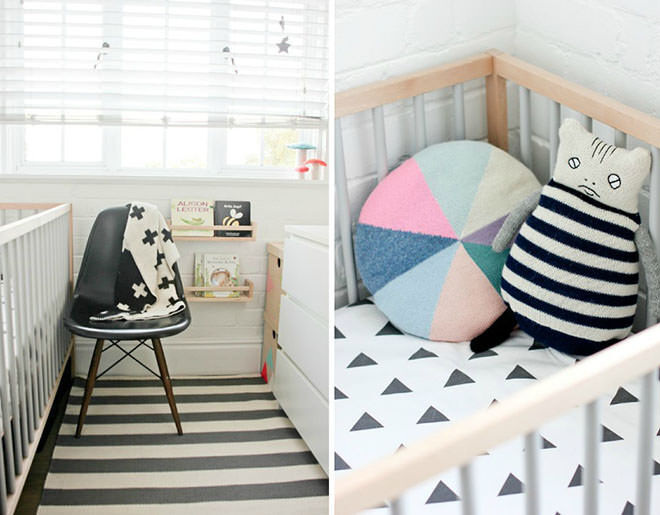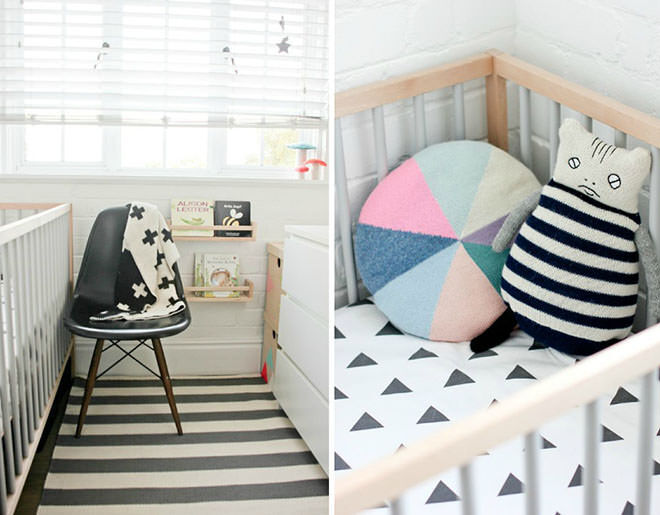 You might remember Erin Michael from her time on The Block back in 2010. When her son Jagger arrived, she took the IKEA cot and gave it a lick of grey paint to give it a cool Scandi edge for her bub's monochrome nursery. She has warned it took a long time but we think the results are worth it. (via Alphabet Monkey)
Statement pieces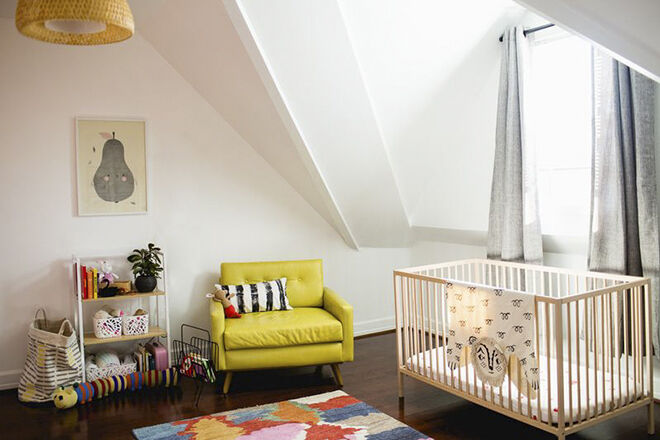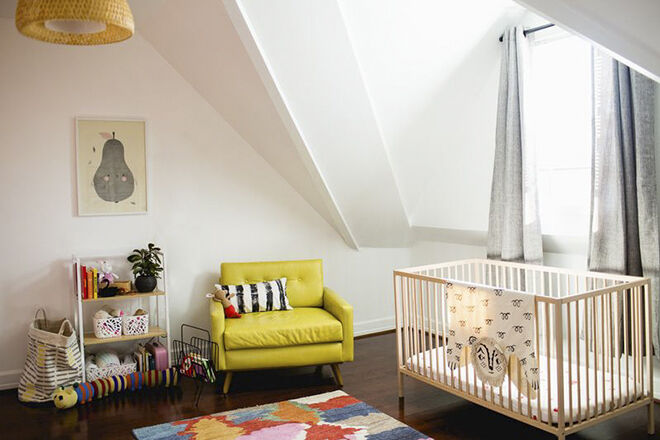 The money you save on the cot can go towards pieces that will live well beyond the cot's lifetime. Just like in this nursery, featured on A Beautiful Mess. The colourful rug and retro chair scream fun while the sedate cot provides a sweet sleep space.
Perfect for sharing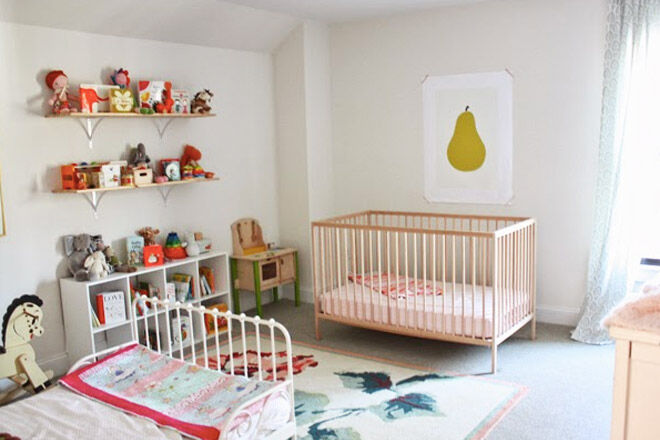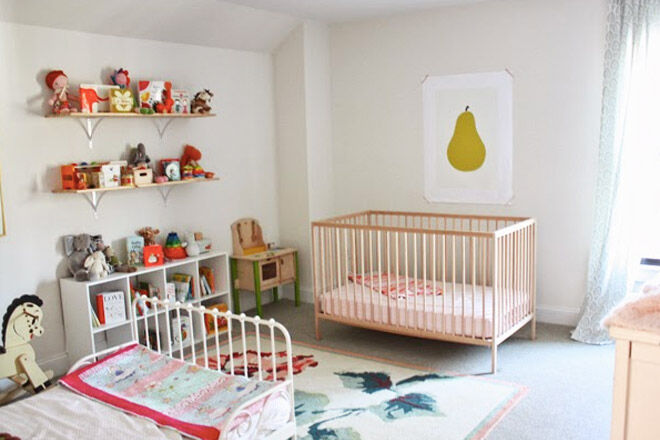 When space is a little short, the Sniglar's slim profile is the perfect choice. Lesley W Graham has put together this gorgeous room for her little one to enjoy as she grows. We think it would also be perfect for siblings to share.
A touch of class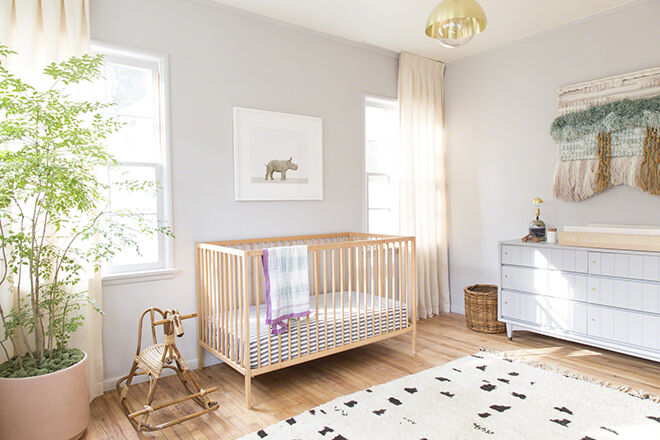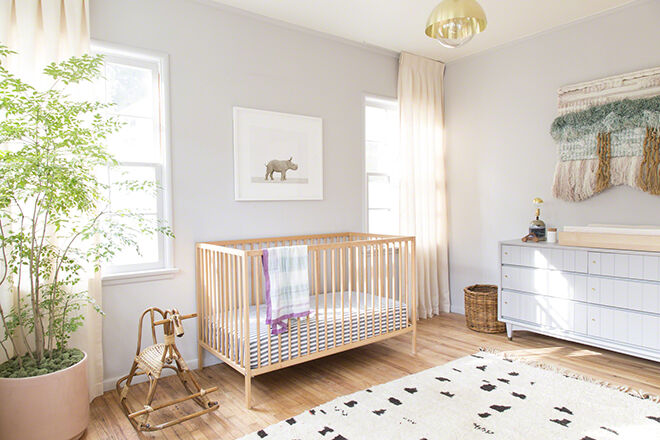 This nursery, featured on Lonny, shows that the IKEA cot is just as comfortable styling California cool as it is rocking a Scandi look. Keeping a neutral colour scheme while adding a statement piece, like the oversized weave on the wall, brings it all together.
Paint it!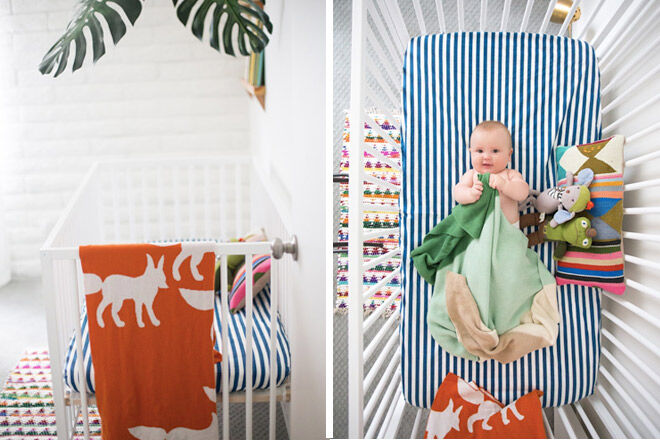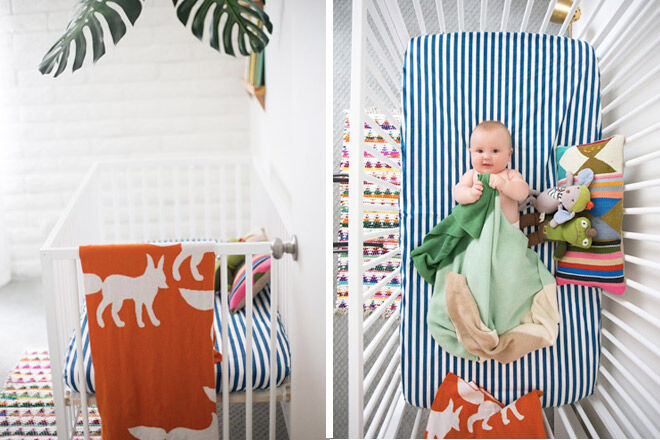 If you are after a white cot without the price tag, whip out your paint brush and take to the Sniglar. Ashley from I Believe in Unicorns took a minimalist approach to accessories, but the white palette lets the colours of the rug, sheet set and cushion sing.
Mix of old and new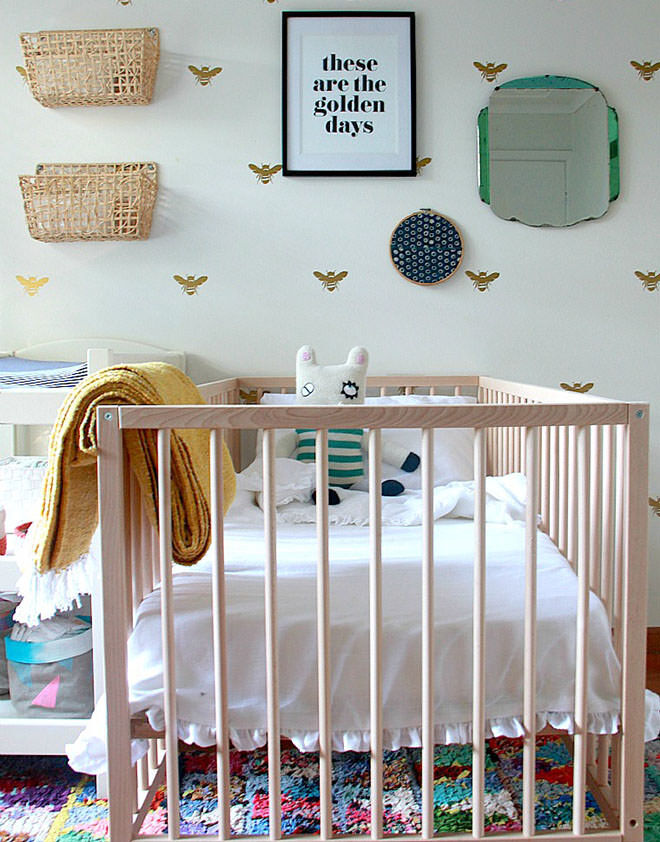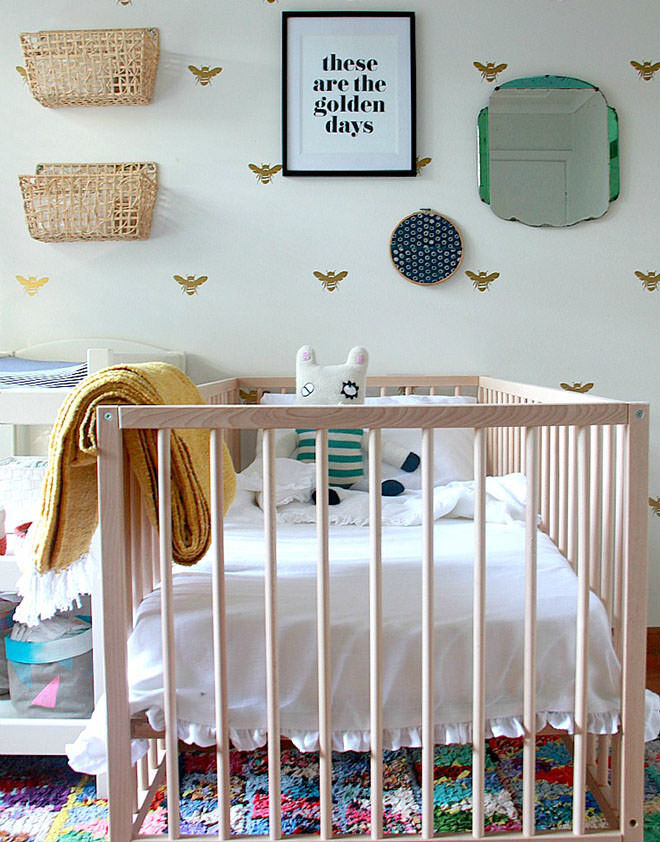 The Beetle Shack has combined old and new pieces to create this warm and welcoming nursery. With practical storage on the walls and beautiful textures offered up by the rag rug, any little bumble bee would be happy to rest their head in this space.
Simplicity with a touch of pink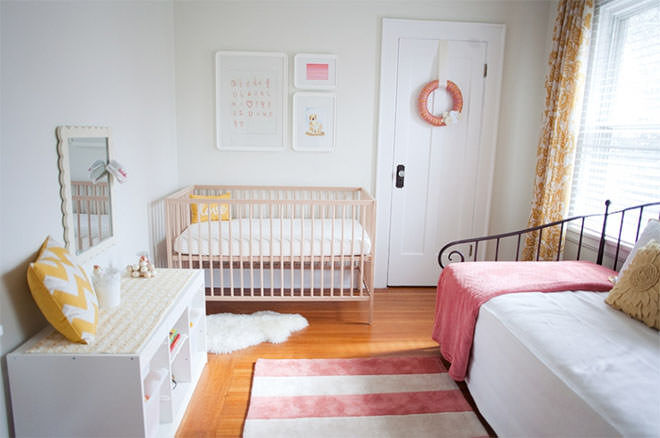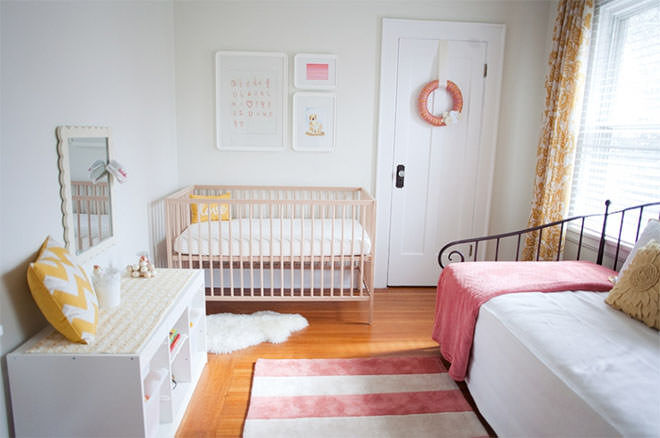 With lots of storage and some understated accessories, Claire Photography has created a serene and beautiful nursery. The extra bed also makes a great place for Mum to crash on those nights when she needs to be close by.
It's in the details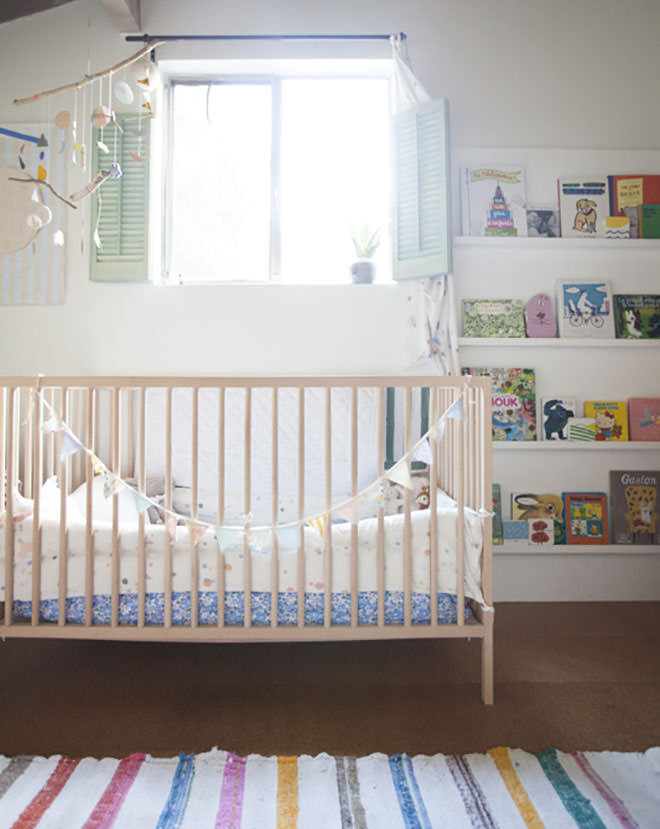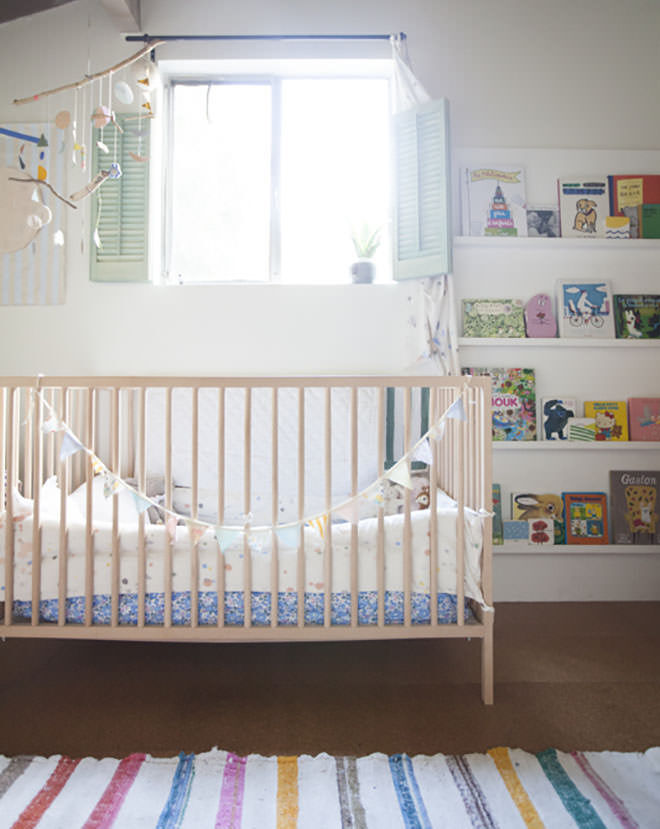 Based in LA, Cheri Messerli has created a gorgeous girlie room for her 2 year old. Featured in Mother magazine, the cute bunting and floral sheet set give the cot a sweet feel. While the natural mobile above ties together the wooden theme in this lovely, calming space.
Accent walls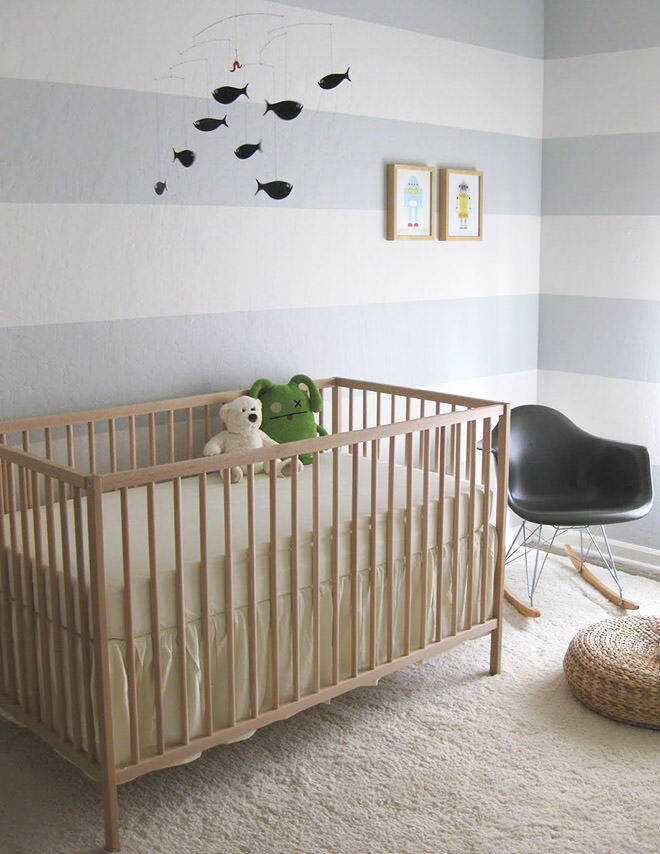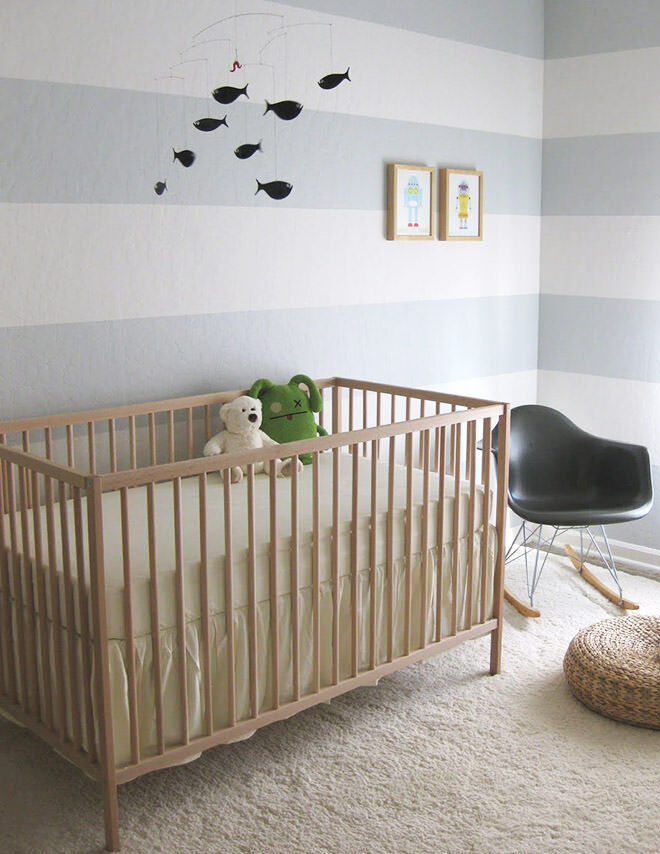 If styling isn't your bag, then adding a feature wall to your nursery may be just the thing to bring your Sniglar to life, without too much fuss. Big blue and white stripes make all the difference to this nursery by BabyFlock.
Insta-lovin'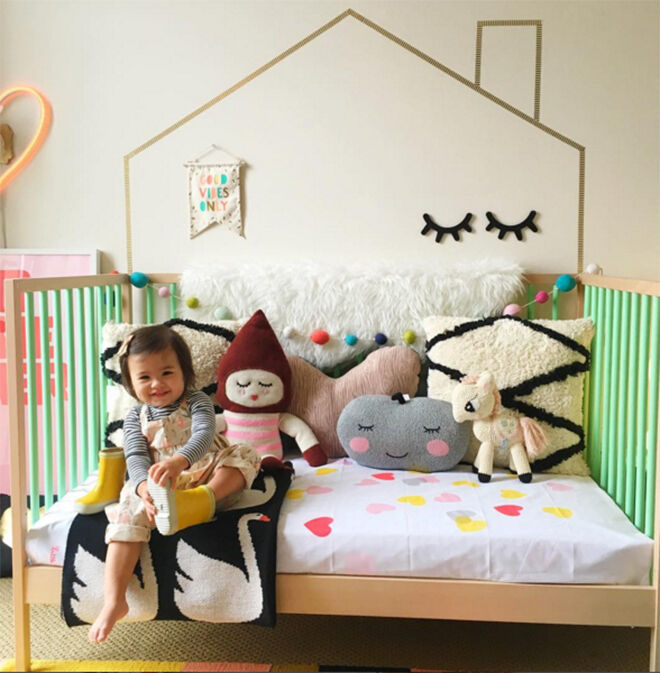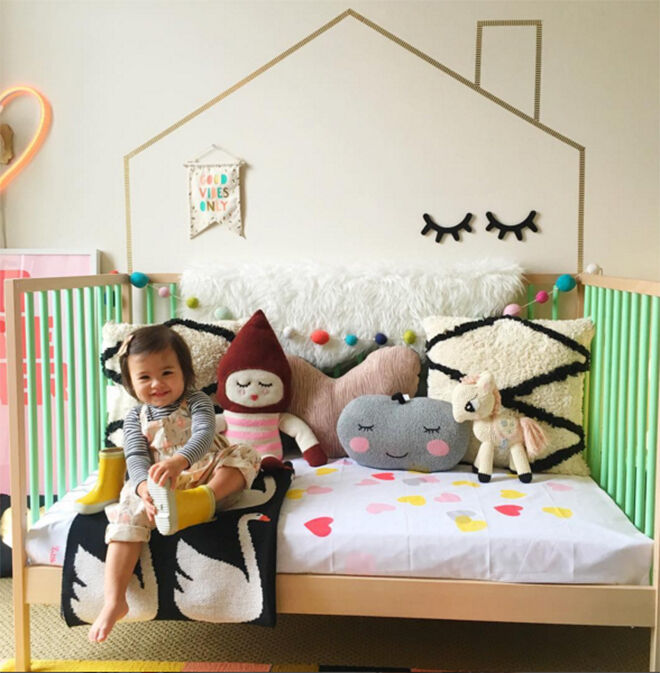 We found TinyKaper on Instagram and what she has done to her IKEA cot is just adorable. The mint bars are too cute and who wouldn't want to sleep under a washi tape house? Did we mention the IKEA Sniglar also converts to a toddler bed – winning!
Going au natural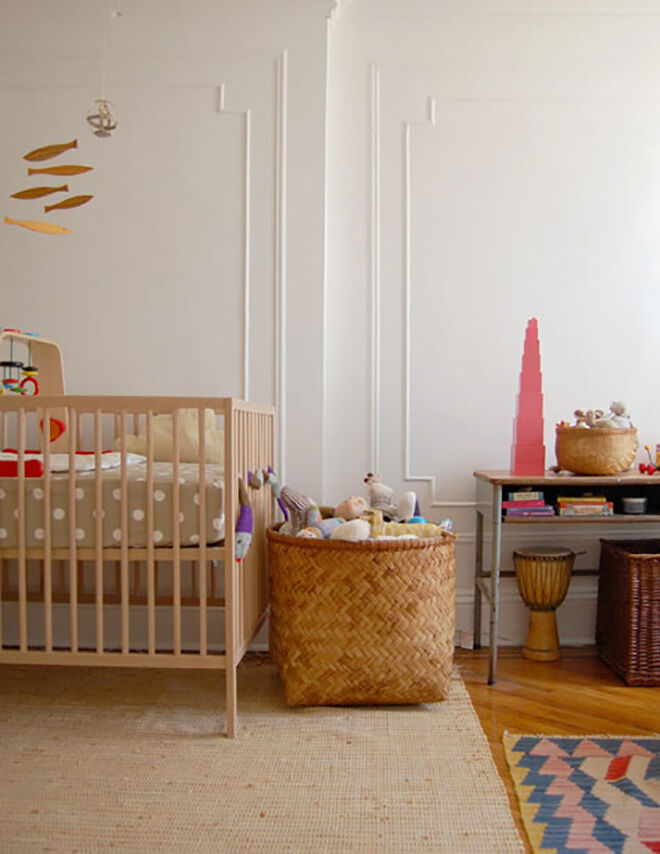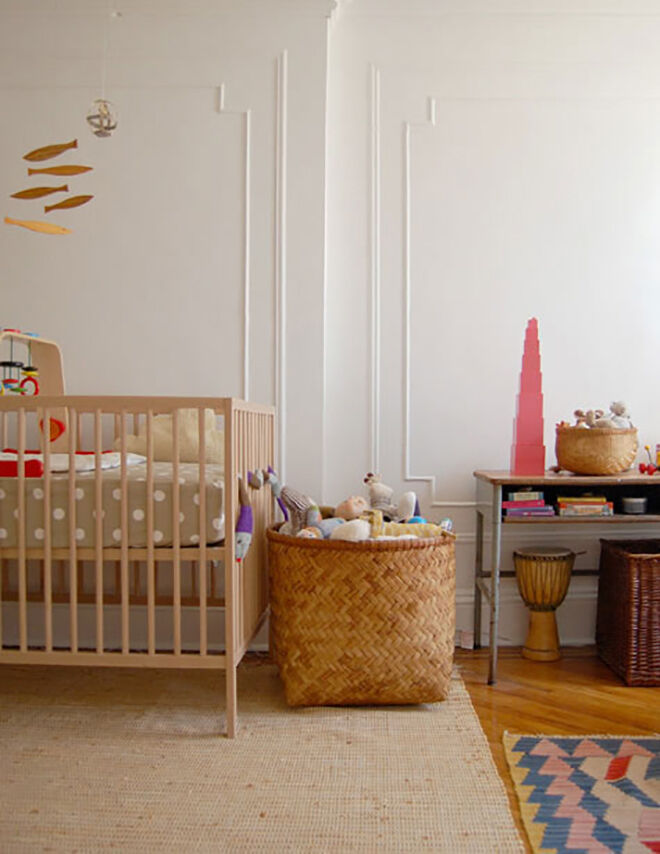 Incorporating natural textures throughout the room is a great way to highlight the natural wood of this cot. Add a few pops of colour and you have yourself a beautiful nursery, like this stunner from Brooklyn. Featured on Design*Sponge, you can easily get the same look yourself with lots of baskets and some fun coloured kilim rugs on the floor.
Colour inspiration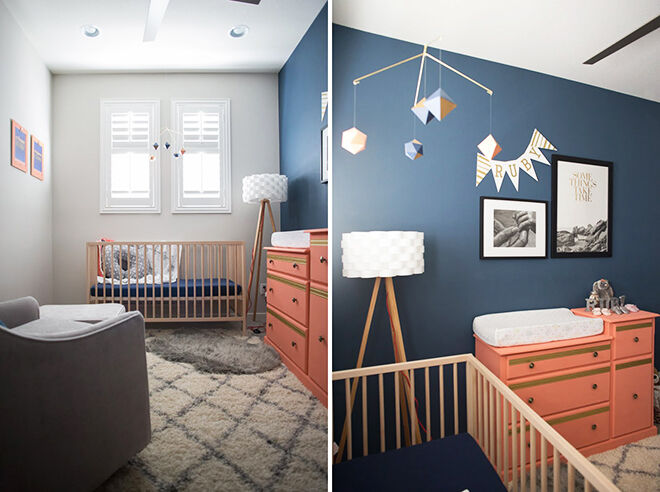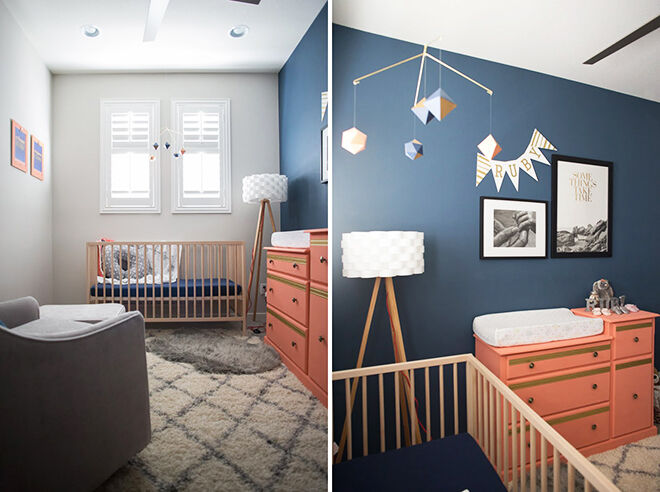 Just because you are having a girl doesn't mean you need an overload of pink. This gorgeous nursery by The Ellison Family Expansion Plan has an amazing navy feature wall and a bright burst of coral provided by the re-painted dresser/change table. It isn't a large space but it is certainly a beautiful one.
Everyone loves monochrome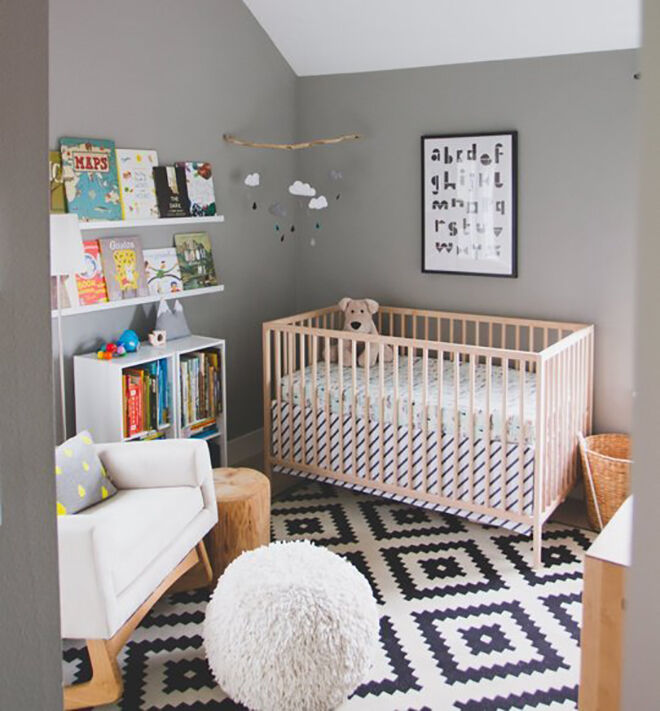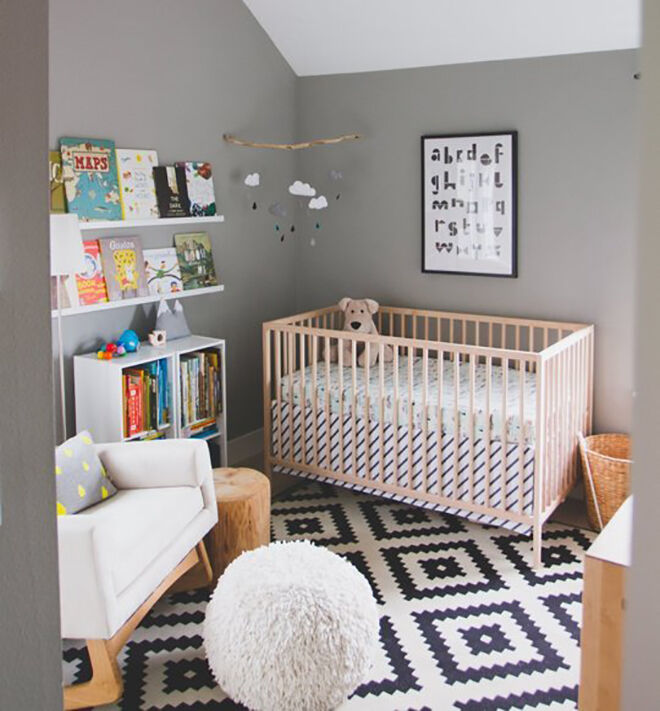 Monochrome design is certainly having its moment and why not? There is nothing quite as classy as black and white. Add a touch of grey with this wall colour and you are on to a winner. Henry's nursery, as featured on Apartment Therapy, looks so good you won't mind being woken up at 2am to go in and visit.
A touch of gold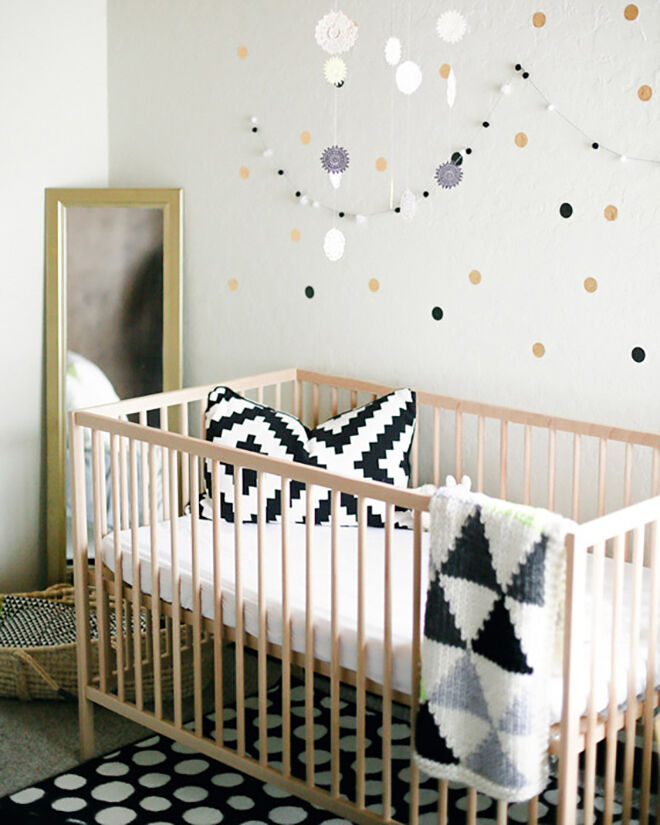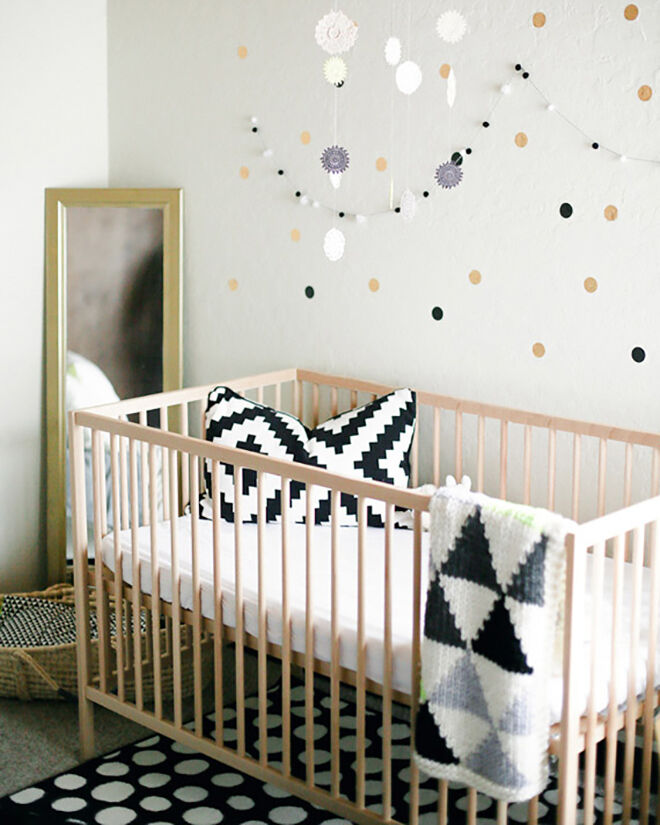 This mama shows that black and white works just as well for girls. Inspired by a black and white cushion she picked up at IKEA, mum Cori decided to go monochrome all the way with this nursery featured on 100 Layer Cake-let.
With just a touch of gold, the look is complete. If you love this room, grab yourself a Lappljung Ruta Cushion while at IKEA to get the same look.
Read More:
• Dream room: Pastel nursery picks for your poppet
• 9 ways to makeover the LATT children's table