With a sequin here and a gluestick there, here a sticker, there some glitter, everywhere a pom pom! It's not exactly Old MacDonald's Farm, but keeping craft supplies under control can feel like herding sheep. Fortunately, there are some simple solutions for this sometimes sticky situation.
Here are 15 neat ways to organise kid's craft supplies all present and accounted for!
1. Can o' craft!
Give paint tins a new purpose! Just wrap them in pretty paper and stick them together, pyramid-style. These craft cubby holes are recycled and ready for action. (via Better Homes and Gardens)
2. Bucketloads of storage
To create a stylish art storage space, all you need is a clean colour scheme, shelving and lots of lovely buckets and baskets. Weave your magic with natural tones, basic whites and a pop of colour or two. (via Craft Whack)
3. Off the shelf
A similar look can be created using a stand alone wooden frame. Supplies are easy for kids to reach and easy for you to move around (or tuck in the corner). The A-frame gets an A+ from us! (via Simply Organized)
4. Level pegging
Exhibit your child's art supplies with a peg board stationery organiser. Get your knolling on and you too can make craft supplies look like modern art. (via Claire Collected)
5. Self-service supplies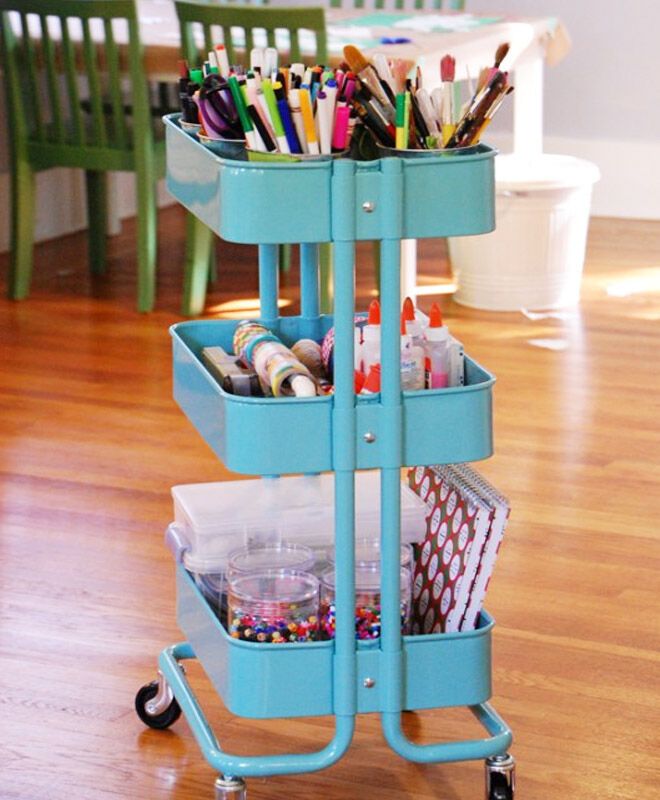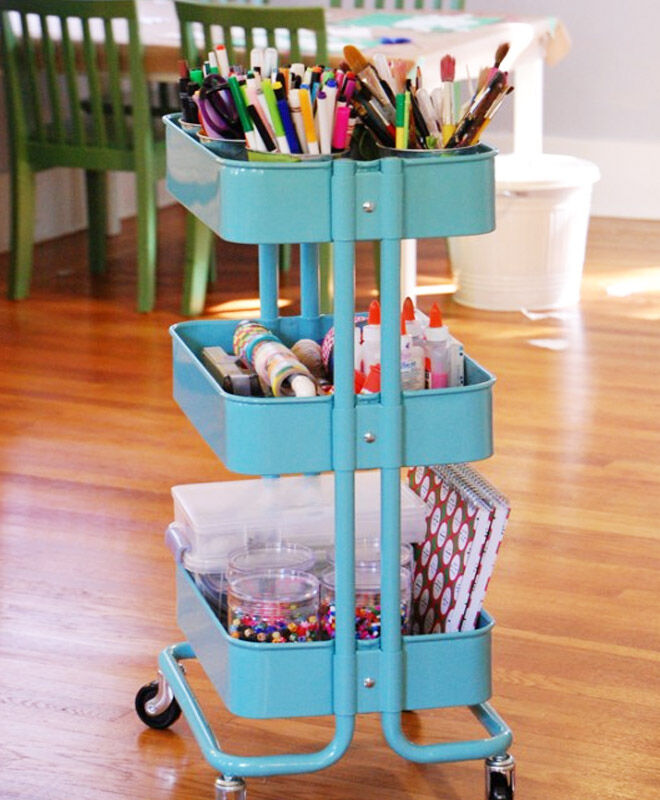 The art cart (aka kitchen cart) is a tri-level organiser. It's made of tough stuff (steel), it's on wheels, and kids can help themselves to supplies whenever inspiration takes hold. (via TinkerLab)
6. Roll with it!
This rolling activity cart moves with your mini-maker. Storage cubes and a spinning carousel on top provide a mobile home for all craft supplies, big and small. (via By Stephanie Lynn)
7. A tea party for textas!
Finger sandwiches and English Breakfast are off the menu, but the two-tiered stand, storage mugs, table and chairs create a lovely tea party feel. Creativity is served! (via June Makes Six)
8. Magic touches
Boxes, bins and binders do the trick for organising craft supplies, but it's the lovely labels, washi tape and patterned paper that add magic to your crafty kid's cabinet. (via I Heart Organizing)
9. On rotation
This homework station turntable is music to our ears. Craft supplies live in jars fixed to a Lazy Susan, so they're easy to access, simple to store and fun to spin. Just press play! (via Mom on Timeout)
10. Get smart with storage
This DIY kid's secretary desk is wall-mounted and built for business! With a chalkboard, cork board, fold out desk and a secret spot for stationery, it's crafting central, craftily concealed. (via Reality Day Dream)
11. Easy access art
Create an art space at your place! Store supplies at arm's reach and hang artworks overhead, so creativity is at your child's fingertips and their art is at eye level. (via Imagination Tree)
12. Roll with it
This art table hack ticks the boxes for 'practicality' and 'fun'. Just take an IKEA table, then add a drawing paper roll, chalkboard, storage containers and a tote to store big stuff. (via Freckles Chick)
13. More is more!
Even the largest craft collection can be tamed! With the help of cube shelving, mason jars, plastic trays and thematic piles of 'stuff', supersized supplies become a thing of beauty (just keep popular items down low). (via Meri Cherry)
14. On the colouring block
This DIY crayon holder is a knife way – wait, that's nice way – to store scissors and crayons in an old knife block. Looking sharp! (via Thrift Diving)
15. The supply that got away!
If you're tired of fishing around for craft supplies, then snag the family a tackle box. The compartments are perfect for containing art stuff, and we're hooked on the idea! (via Mamma Pappa Bubba)