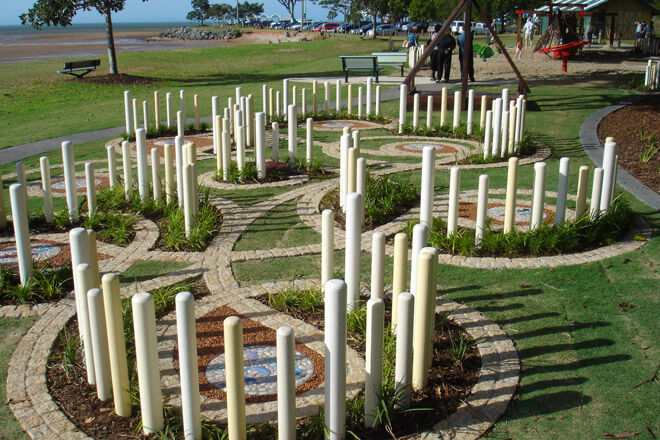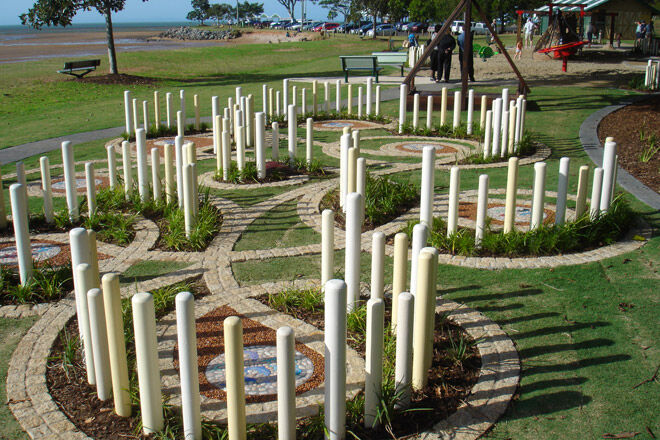 Wellington Point Playground
Between the deep blue sea and some green fig trees, lies a playground rooted in culture and full of exciting play equipment. Explore the wonders of Wellington Point Playground, half an hour from Brisbane's CBD.
Getting there
Main Road
Wellington Point QLD 4160


Set back from the water, but with sparkling ocean views, this Queensland playground has a fresh feel – and not just because of those onshore breezes wafting through. It was created for kids of all ages, abilities and cultures, and provides plenty of space for imagination, investigation and interactive play. Hooray!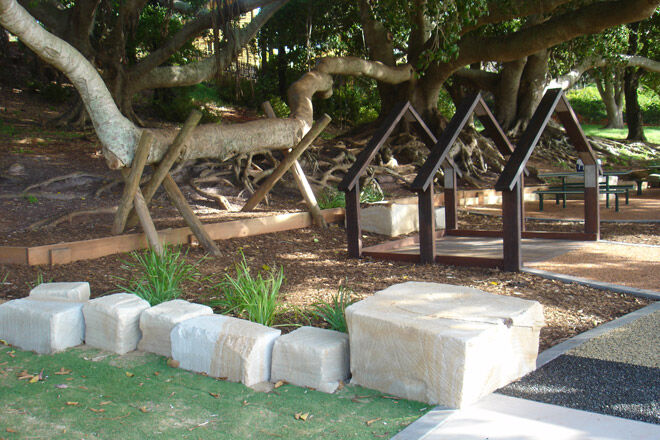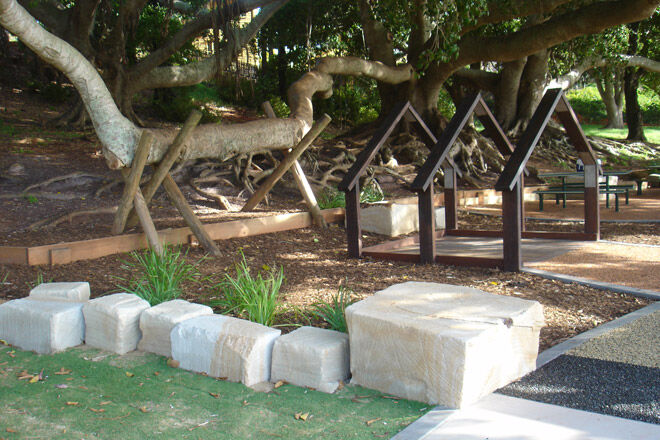 Indigenous advisors worked with the playground designers to add elements from Aboriginal culture, including a slithering, twisting serpent shape. The park incorporates lots of earthy materials like timber, sand and stone and shows respect for the grand old Moreton Bay fig trees that were around long before the playground. The end result is a play space that fits right in with its beautiful location.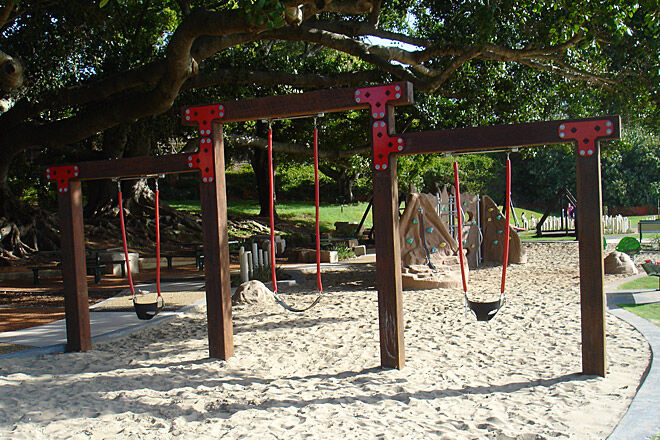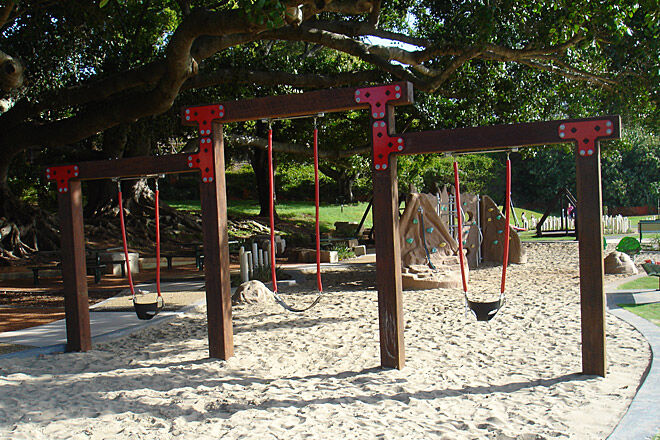 In terms of play equipment, the triple timber swing does a great job of reducing wait times. And if a queue does build up, worry not! The sandpit is a fab diversion until there's a swing vacancy. BYO buckets, spades and toy diggers!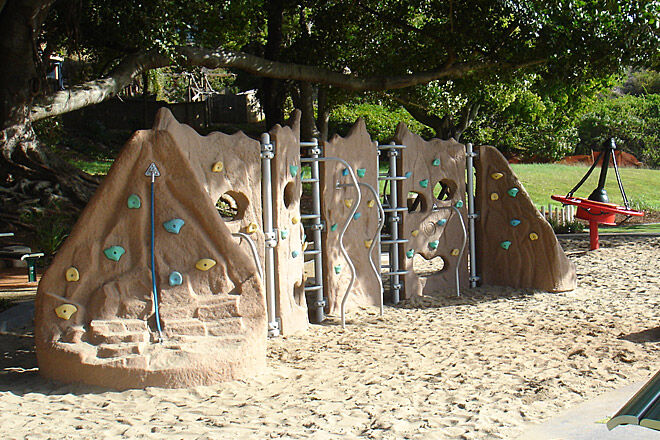 Over at the climbing wall, kiddos can snake their way up faux rock faces, then zip down ladders and bendy poles with the pizzaz of Fireman Sam. Those too young to climb can make their own fun playing peek-a-boo through holes in the rock. Cavekids are cute!
Tots will also be taken with the emerald green turtle rockers, which are bright, bouncy and don't seem to mind being pushed to the very limit of what a spring can take.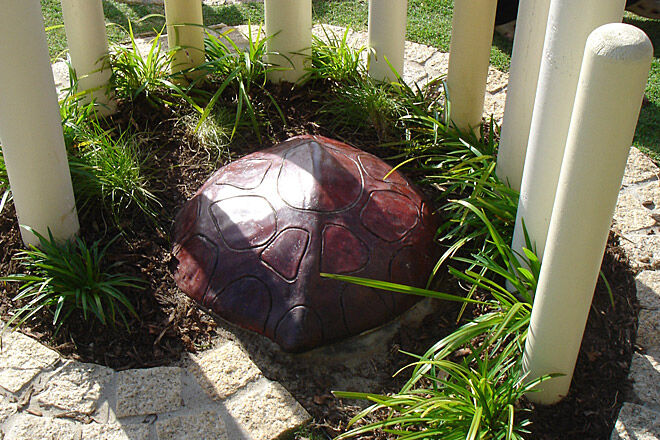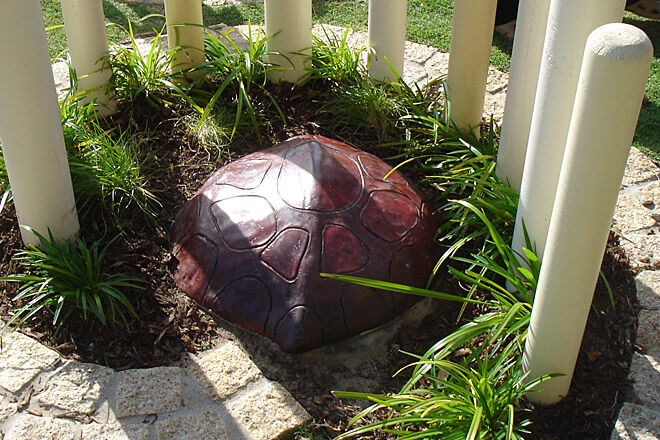 And speaking of turtles, the search is on for a giant turtle shell, half-buried between poles and plants.
To find this brown beauty, kids of all ages will dive into the fish maze, which acknowledges how indigenous people used the land. It's a case of following the beige brick road, as the paved path does a loop-the-loop through sea green grass and shell white poles.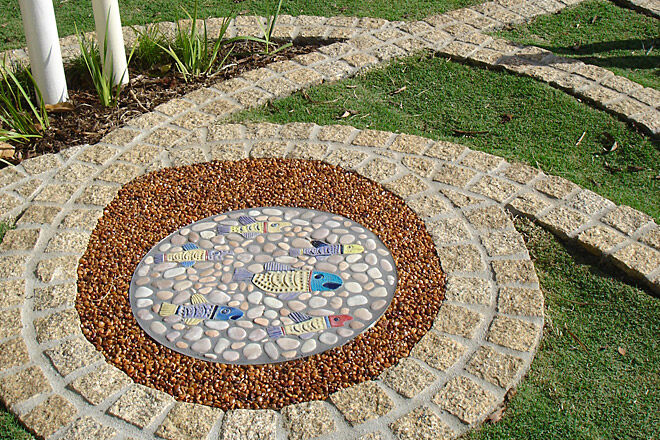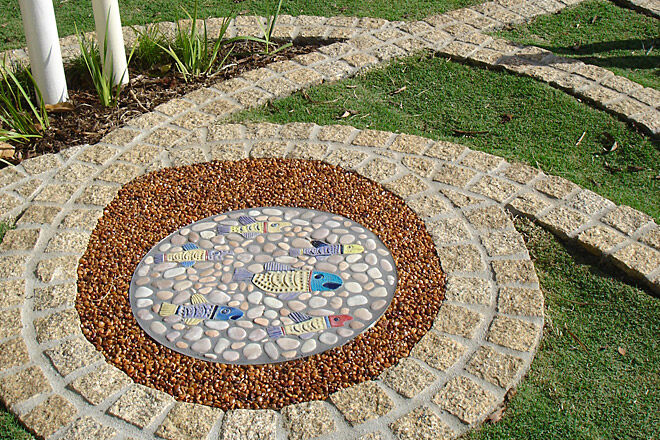 While the race is on to master the maze, tikes will be enticed to stop and admire the mosaic art circles, created with help from local school kids. Young ones will be hooked on the different textures and colours, and older kids might be inspired to create their own sea creature art at home.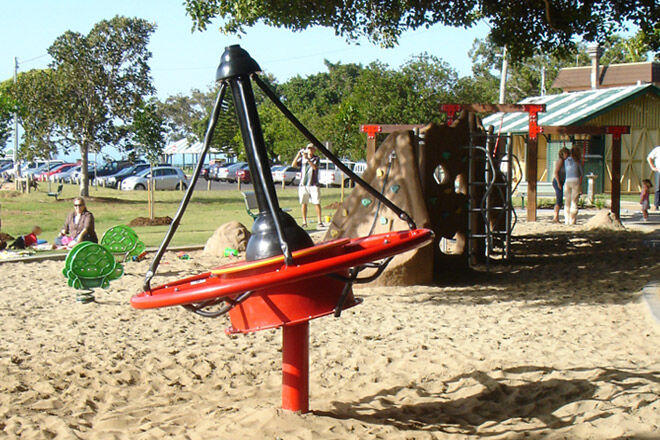 After bigger kids have finished circling the maze, they'll be all warmed up for the supersized spinning top. Once this thing gets going the ocean views will be a blur for kids, but parents can enjoy the scenery from their spot at a (non-rotating) picnic table.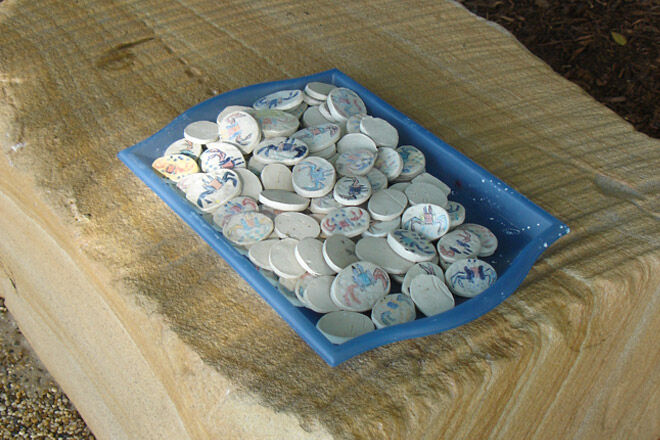 Sandstone blocks are also lovely to sit (or balance) on, and the figs provide natural shade along the edge of the play space. There's also a flat lawn for young (sea) horses to gallop along, and crabs to look for at the water's edge.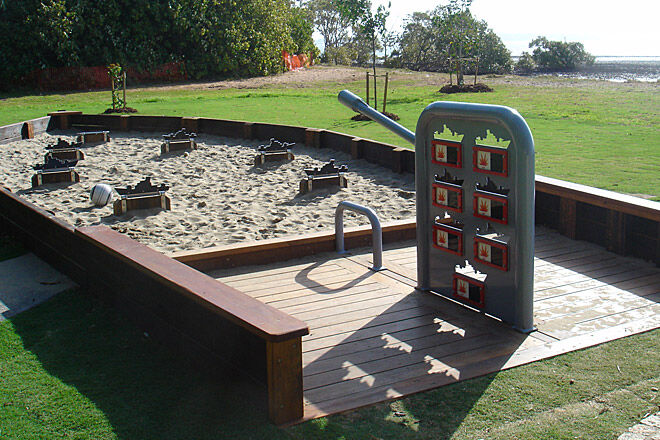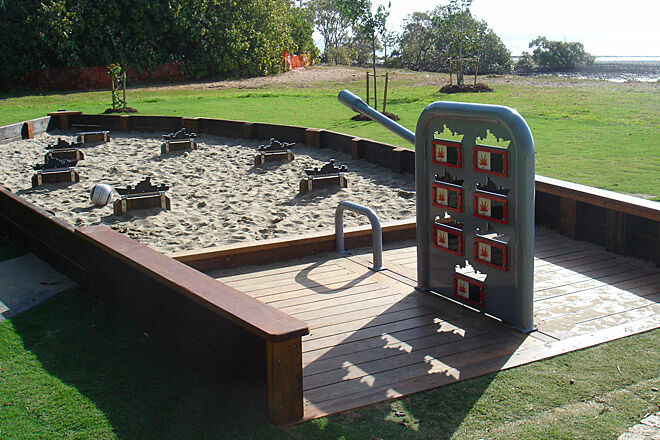 All this sea air and free play definitely ignites the imagination, and mini-mariners will be fired up by the timber battleships game. This involves taking aim at targets while pretending to be pint-sized pirates, so pack plenty of crackers for their imaginary parrot to snack on between games.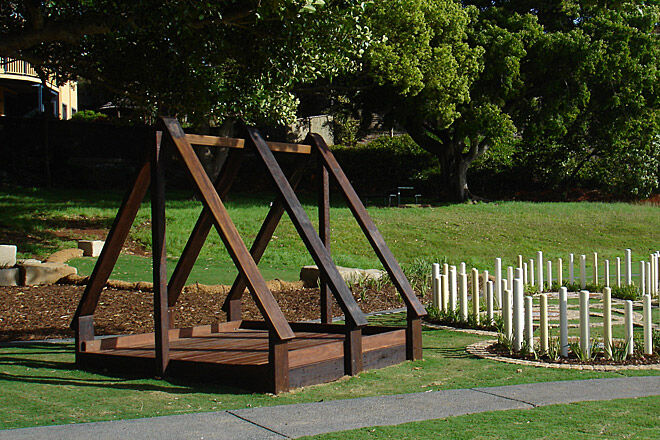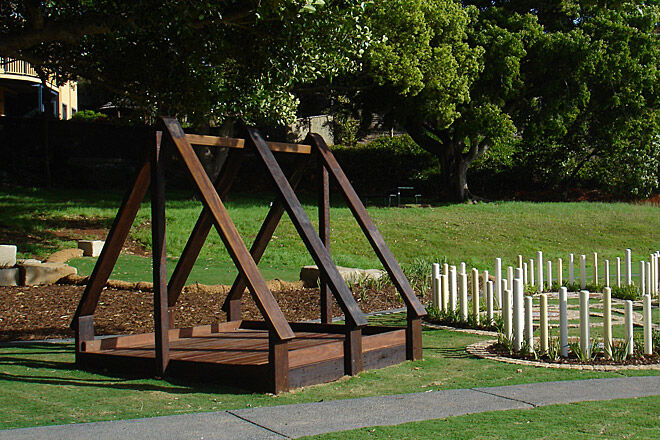 And for pretend houseboat games, the open plan timber cubbies will float kiddo's boat too!
The best news is that all this action is just half an hour's drive from the centre of Brisbane. So collect your crew (kiddo and you) and hunt down this little treasure!


Carpark near playground
Accessible by bus
(Images via Ric McConaghy Pty Ltd)