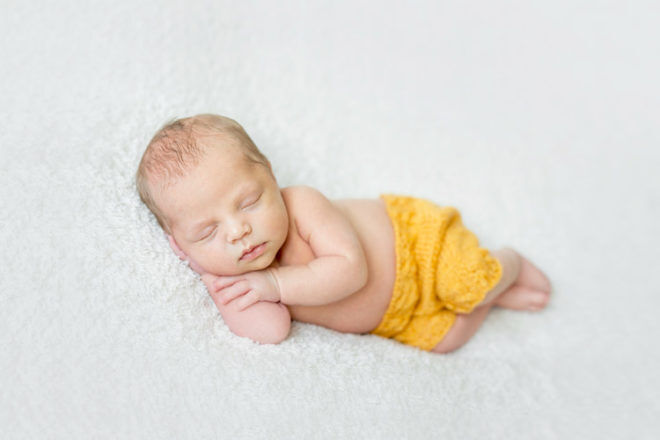 Whether you have traditional tastes or boho leanings, naming your baby is an exciting part of being a new parent. Some parents-to-be have a name chosen out before bub is born (or even conceived), while others are waiting to meet their little one before committing to the name that will accompany them through life.
Either way, there is inspiration to be found in the Baby Names Australia 2016 report, just released by McCrindle. Here are the 10 most popular baby names in Australia, plus some naming trends you'll want to track.
Top 10 baby names for girls and boys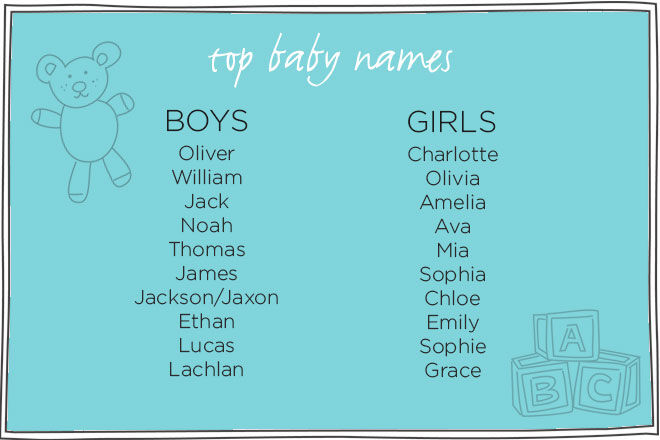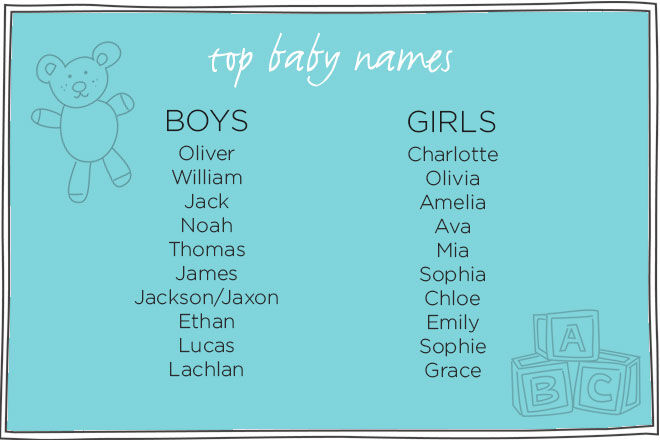 The reign of royal names
You don't need to have the surname Windsor to bring regal flair to your baby's birth certificate. The birth of Prince William and Kate's daughter, Charlotte, means this name now rules for girls (bumping Olivia off the throne).
Elvis might be the King, but William is a more popular choice for your little prince. And George (made famous by Peppa Pig, oh, and Prince George) is back in favour after a flush of popularity in the 1950s. Splendid!
The comeback kids
George isn't the only name that's enjoying renewed popularity. Common names from the early 20th Century (like Grace, William and Jack) have been making a comeback 100 years on.
This trend is called 'The Hundred-Year Return' and time will tell if Cecil (for boys) and Fanny (for girls) return to the mainstream.
Traditionally popular
For every Coen, there are zillions of Jacks, because parents just love traditional names. And why not? They're familiar, historical and easy for everyone to spell.
This year's most popular names are Oliver and Charlotte, and with friends like Thomas, James, Jack, Emily and Sophie in the Top 10, traditional names just never get old. If you're looking for inspiration, find the family tree and dig out one that suits. Great-great-great-great-great-uncle-Horatio?
The new wave
For something new, Spencer, Jesse, Arlo, Harley, Darcy, Jett and Lewis have breezed into the Top 100 list for lads; while Aurora, Billie, Eve, Daisy, Aisha, Leah, Gabriella, Maryam and Maggie are new faves for lasses.
For something really new, then why not make up your own name? Thalezea-Obberlong? Or not.
Names for girls, boys and both
This year's most popular names stick to gender lines (William for a boy and Chloe for a girl), and there's only one name that made the Top 100 list for girls and boys – Charlie.
Forget the lists though – you can still mix and switch between the sexes.
Girls' names like Harper, Frankie and Mackenzie work for boys; and Riley, Dylan and Bailey are great boys' names to give girls.
Star power
Take a name cue from Tinseltown! Everyone's still loving Harper (the Beckhams' daughter), Penelope (Kourtney Kardashian's daughter), Olive (Drew Barrymore's daughter) and Willow (P!nk's daughter).
And if you need a boy's name, then how about a One Direction member (Liam, Harry or Louis). Best song (oops, names) ever.
Sounds like…
When you pronounce girls' names, it's common for them to sound soft as velvet and end with a vowel or a 'y'. Over in the boys' camp, it's Opposites Day.
Most boys' names end firmly with a consonant and 'n' is a popular last letter. Amelia and Jackson, we're hearing you!
Sizing up the syllables
Although short and sweet girls' names are popular, like Ava and Ivy, there is a trend towards longer, flowing names for girls, like Emily and Matilda.
Forget whimsy for boys, though. They're almost three times as likely as girls to have a one-syllable name, so Max makes the top 20, while Maxwell clocks in at number 82.
Short is hard to beat
The boys are onto something with this shortening trend, because short names are more popular than their longer alternative. It's Jack vs Jackson and Ella vs Isabella vs Isabelle, with the short versions winning the popularity contest. Ka-pow!
Spelling it out
When it comes to spelling your baby's name, there's room for creative flair. Sofia and Sophia are both popular names this year (in line with the rest of the world).
So use your A, B, Cs as you please and feel free to double up letters (Annabelle shows how it's done).
Baby name destinations
Place names are still inspiring new parents, and popular choices are Maddison, Victoria, Georgia, Eden and Indiana for girls, and Austin and Jordan for boys.
All-Australian names like Bronte, Avalon, Brighton and Adelaide aren't as popular as the international destinations, but we still love them.
Keep the faith
There's an ongoing trend towards names with a Biblical origin, especially for boys. This means Noah, Caleb, Eli and Levi are top picks and, for an Arabic name, you might like Ali or Muhammad. For girls, Lourdes was good enough for Madonna's daughter, so it might be in vogue for you!
But, at the end of the day (well, pregnancy), choosing your baby's name is a big, exciting and personal decision for parents.
Whether you go with on-trend (check out the full McCrindle list) or out of the ordinary, finding a name (or three) is great fun. Over to you!