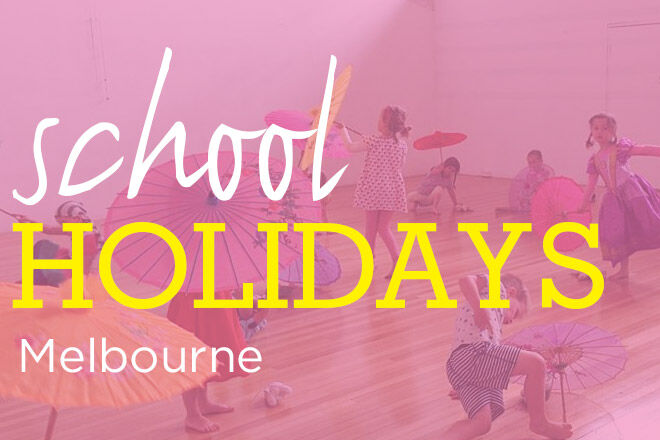 It might be winter, but chances are, your kiddo has a spring in their step because the Victorian school holidays are coming! But before they burst out of the school gates, there's still time to plan some activities and practice your rendition of 'Let Me Entertain You' à la Robbie Williams.
Although we can't help with the singing, activities are sorted for Melbourne kids. Whether they like to make, run, code or do magic tricks, mini-mites are about to have maximum fun.
Here are 31 great school holiday events happening in and around Melbourne. Yay!
Victorian school holidays: June 25 – July 10, 2016

Live performance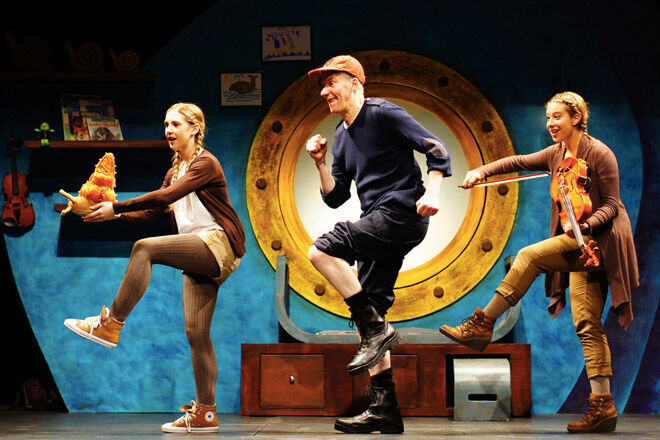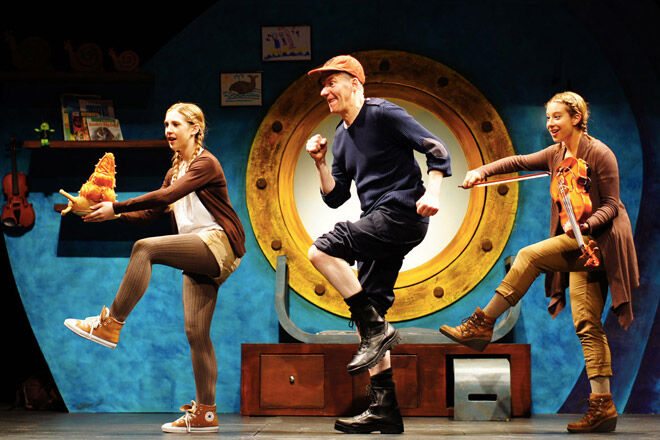 Dig: Toddlers and their carers join the show and dig, build and deconstruct, to piece together a truly unique show – creating as they go!
Melbourne Arts Centre, CBD, July 5 – 9, 9.30am, 11am and 2.30pm, Age 1-2. Adults & children: $16 each.
The Snail and the Whale: The tiny snail and the great big, grey-blue humpback whale take to the stage to tell their story of great adventures in a production filled with songs and laughs.
Melbourne Arts Centre, CBD, June 29 – July 10, various times, Age 4+. Adults & Children: $30 each.
Picasso and his Dog: Puppy puppets! What's not to like? This new work is a spellbinding mix of live art-making on stage, puppetry and magic realism. It tells the story of Picasso and his dog and the art their friendship inspired.
Darebin Arts Centre, Preston, July 8 and 9, 11am and 2pm, July 10, 11am, Age 4+. Adults & Children: $22.
Mr Snot Bottom: Oh yes, the name does not lie. This comedy show features gross gags, horrible stories and bizarre characters aplenty. The wrong-ness factor will astound you… and make you cry with laughter.
Apollo Theatre, CBD, June 25 and July 2, 1pm, Ages 4-10. Tickets: $10.
Alice in Wonderland: Head down the rabbit hole with Alice and follow her as she meets Tweedle Dee and Tweedle Dum, the Mad Hatter, the Cheshire Cat (or at least his grin!) and many others.
Tivoli Theatre, Malvern East, June 27 – July 9, 10.30am and 1.30pm (except Saturdays). No shows Sunday. Tickets: $19 (under 2s sitting on laps are free).
Justine Clarke Sings!: If your tiny dancer loves to sing, then this one is for you. Everybody's favourite Play School presenter will have tiny toes tapping to songs like the "Bathtime Song', 'Pyjamas' and 'Dancing Pants'.
Prahran, June 28, 11am (sold out) and 2pm, Ages 0-6. Tickets: $15. Part of the Roola Boola Children's Art Festival. See the full program here.
Making and creating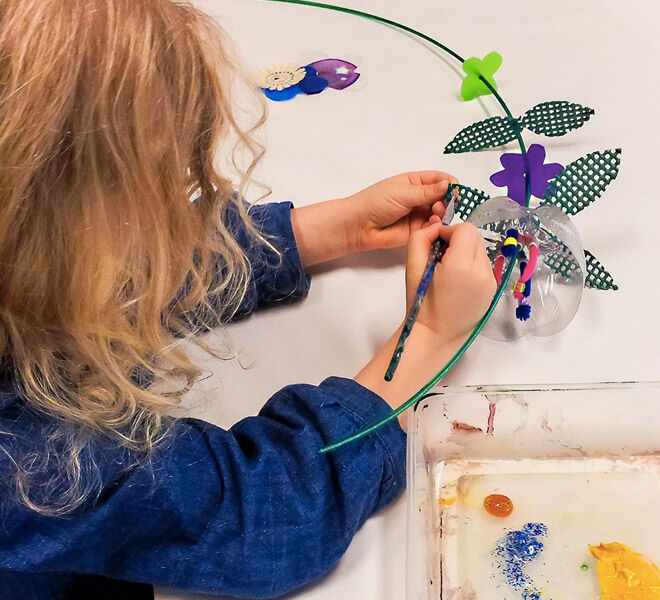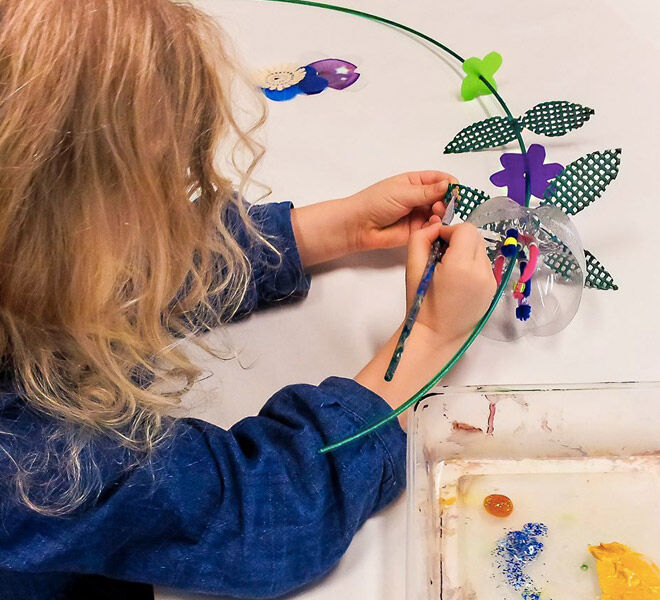 The Magic Workshop: We solemnly swear to uphold the magician's code! Kidlets willing to abide by the magician's oath will be admitted into a world of mind-boggling magic tricks and will even take home their own goodie bag.
Arts Centre Melbourne, July 6 and 8, 2pm, Ages 10-12. Children: $24 (includes accompanying adult).
Queen Victoria Market: Make a B line for the L Shed at the Queen Victoria Market where you'll find the Make It zone. There will be cooking, crafting, reptiles (in week 2) and handball competitions. Oh and you might even see Elsa at story time.
Melbourne, June 28 and 30, July 5 and 7, 10am – 2pm. Free.
Shimmer: Shimmer, shimmer on the wall, who can create the loveliest garland of all? Kiddos 4-8 and 9-12 will delve into all the shimmery, glistening and reflective materials they can get their hands on, with their works contributing to an installation at the ArtPlay gallery.
Age 4-8: Melbourne, June 29 – July 1, 2-4pm. Free.
Age 9-12: Melbourne, 3-part workshop June 29 – July 1, 10.30am – 12.30pm. $45.
Superhero painting workshop: Biff! Bam! Pow! Super-artists will love this class at Habitots which combines superheroes and painting. Don your cape (or smock!) and then it's up, up and away!
Albert Park, July 4 at 10.30am, Ages 5-8. $25.
Pottery for kids: For kids that like their art classes with a bit of extra mess and muck, pottery is perfect. Your kidlets will mould and shape and fashion themselves a frog key hider.
Mooroolbark, July 4, 6 and 8, 10am, Ages 5+. Tickets $12 or $6 online / library members. See the full holiday program for the Yarra Ranges Shire here.
Boogie on down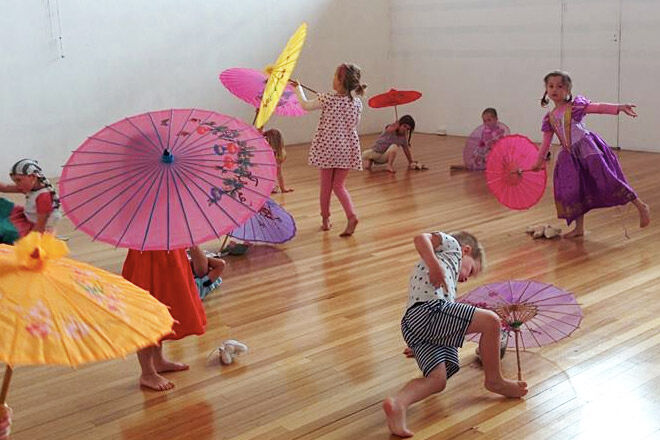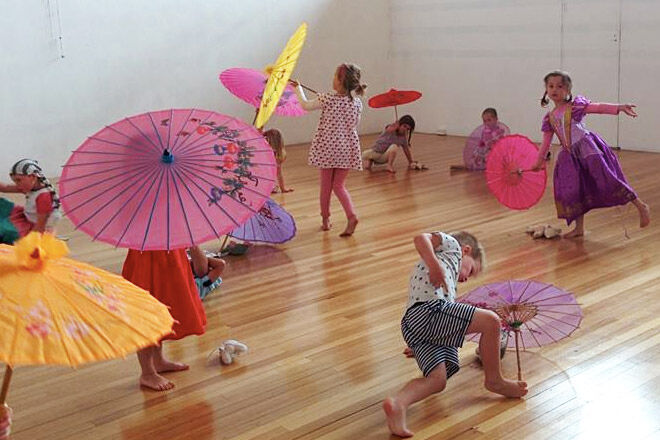 Bindu Creative Dance: Primary schoolers can shake it out and then craft it out at this creative dance and design session which combines dance and art.
The Body Voice Centre, Footscray, June 29, 9.30am, Ages 4-10. $27.
Dance like Michael Jackson: Your tyke can bust out their best zombie dance moves at this workshop, where they will learn a dance routine to the MJ classic Thriller.   
Albert Park, 6 July, 11am, Ages 5-14, $25. Part of the holiday program at the Gasworks Art Parl. See the full program here.
Bollywood Jai Ho: Spice it up with this Bollywood inspired workshop. It's part-performance, part-workshop, full-force fun!
Prahran, June 30 at 1.30pm, Ages 6+. Tickets: $15. Part of the Roola Boola Children's Art Festival. See the full program here.
Tech heads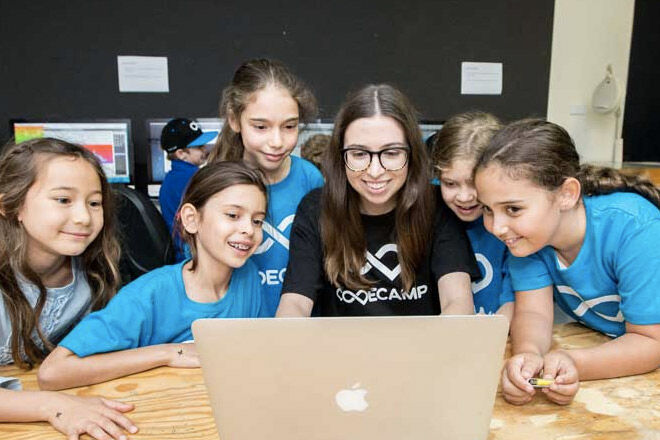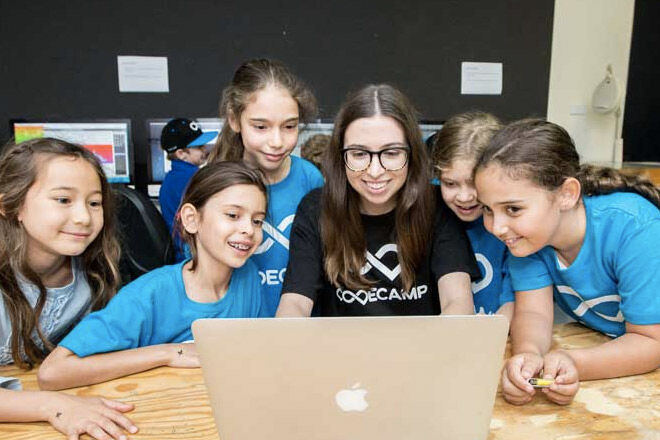 Code Camp: Aspiring Silicon Valley-ites will love this bootcamp for coders. There are beginner and advanced courses for kids in years 2 – 6. And yes, it is an investment, but when Google comes calling, it will all be worth it.
Multiple dates and locations in the inner city and south-east, Ages year 2 – year 6, $350.
Openworld: Mini-Minecrafters can build away to their heart's content in half and full day programs at Openworld. Your kiddo can meet new friends, trade tips, join a group build or sail the seven biomes in a pirate themed build.
Brunswick East, June 27 – July 8, Ages 8-15, half day (9am – 12pm or 1pm – 4pm): $44, full day (8am – 6pm): $74.
Make your own animated e-card: Explore scratch programming, block-coding and other things that mere mortals don't understand to create an animated e-card at Makertronic. 
Hawthorn East, July 5, Ages 7+, $125.
Build and Code: Do the robot at this tech taster session. Use mBots to build a small robot, then set the programs and watch your bot go!
Southbank, July 8 at 10am, Ages 10+. Free.
Get active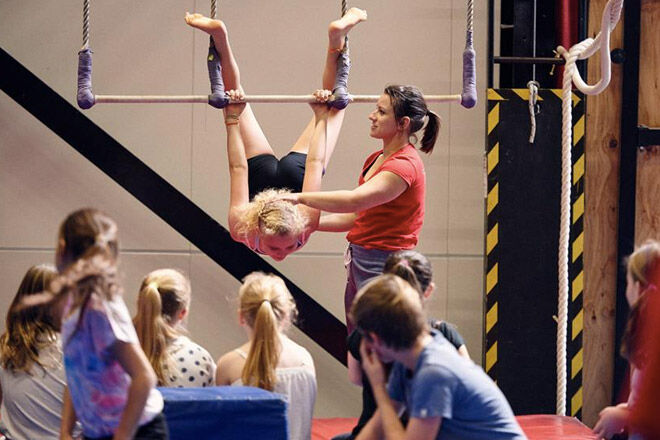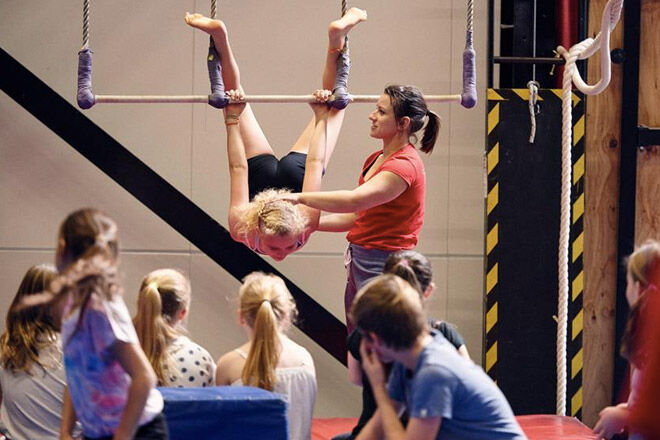 AFL Victoria Holiday Program: Bounce! Kick! Handball! The perfect introduction for young kiddos to the great game. No experience is necessary, but the program is also great for veteran Auskickers.
Various locations and dates, 9am – 3pm, Ages 5-12. $73.
Planet Sport: The best place for little ones with loads of energy? A sports complex! They can swim, race and throw their way through the school holidays at the Planet Sport program at the Melbourne Sports and Aquatic Centre or the State Hockey and Netball Centre.
MSAC at Albert Park and SHNC at Royal Park, June 27 – July 1 and July 4 – July 8, 7.45am – 5.45pm, Ages 5-12, $70 per day.
Roving Rangers: Your young adventurer will demand to be known as Bear Grylls after a day of outdoor endeavours that may include bushwalking, survival skills, raft build and – our favourite – GIANT hide and seek.
Leaves from South Melbourne, various dates, 9am – 5pm, Ages 7+. $105.
CircusOz Come 'n Try: Roll up! Roll up! Walk the tightrope, fly through the air on the trapeze and learn to juggle at a CircusOz come 'n try session.
If you'd rather watch the circus than run away and join it, then check out TwentySixteen under the Big Top in Birrarung Marr.
Collingwood, June 25 and July 9 (single sessions), June 27 – 29 (3 sessions), 10am – 12pm, Ages 6-12. From $35.
Bulleen Plaza Pop Up Park: What is the perfect solution for a cold and rainy, winter day? An indoor pop up park of course!
Bulleen, June 28 and 29, 11am – 2pm. Free.
Museums, galleries and zoos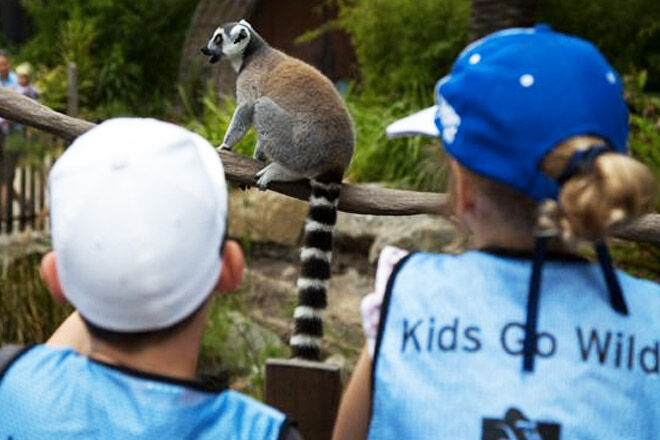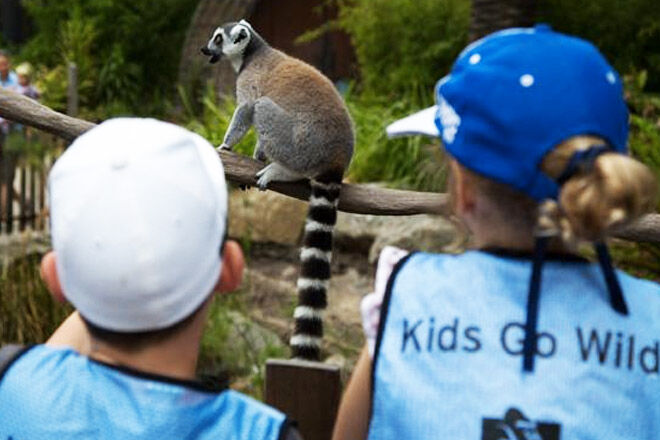 Claymation for Kids: Learn all the tricks of the claymation trade with this one-day workshop at ACMI. Your kiddo will create their own character and then bring them to life in their own mini movie.
Melbourne, June 25 10am – 4pm, Ages 8-11. $120 (includes USB loaded with your child's movie). See the full holiday program at ACMI here.
Nonsense!: Get a bit silly and surrealist in this workshop at the Heide Museum of Modern Art that encourages kids to embrace the weird and wonderful and channel it into words and pictures.
Bulleen, June 29 at 10am, Ages 6-12. $33. See the full holiday program at the Heide Museum of Modern Art here.
Meet an Olympian: Go for gold at the National Sports Museum! With the Rio Olympics nearly here, your future sporting star has a chance to be inspired by a former Olympian in a meet and greet session. Plus top off the day with an Olympic themed tour of the MCG and learn all about the 1956 Olympics held in Melbourne.
Richmond, June 27 – July 1, 12 – 2pm. Museum and Tour package – Adults: $31.50, Children (5-15, under 5s free): $16. See the full holiday program at the National Sports Museum here.
Aero Engineers: Prepare to launch – as well as design, devise and create – a flying machine at Scienceworks. Your kidlets will love testing their inventions in the blustery wind tunnel. 5, 4, 3, 2, 1!
Spotswood, June 25 – July 10, 12 – 3pm. Free with museum entry ($0-$14). See the full holiday program at Scienceworks here.
Walking through time: Celebrate NAIDOC week at the Melbourne Museum by… becoming a time traveller! Through the eyes of the Koori people, explore Australia's changing environment and learn about tools and tech over 1000s of years. Plus kids make their own paper axe coloured with ochre.
Carlton, June 24 – July 10, 11am and 3pm. Free with museum entry ($0-$14).
3D Scanning Station: We don't have X-ray vision yet, but we may just be edging a little closer with 3D scanning technology on show at the Immigration Museum. Kids can choose a museum object and test out this tech in a guided activity.
Melbourne, June 27 – July 8, 11am – 3pm. Free with museum entry ($0 – $14). See the full holiday program at the Immigration Museum here.
Fimo Jewellery Making: Colourful clay, glitter and paint will be transformed into your kiddo's most prized piece of jewellery with this class at the No Vacancy Gallery. Or your next Mother's Day present.
Melbourne, July 6 at 3 – 5pm, Ages 7-15. $20. See more holiday events at the No Vacancy Gallery here.
Kids Go Wild: Bust out those khakis as kids get a chance to turn keeper and head behind the scenes at the Melbourne Zoo. Feeding a giraffe? Crikey!
Parkville, June 27 – July 1 and July 4 – July 8, 9.30am – 3.30pm, Ages 5-10. $89 members / $99 for all other participants per day.