Bollygum Park
By golly! By gum! This playground in Kinglake, Victoria is a great place for little Australians to go bush. Inspired by a book and built for adventure, Bollygum Park takes families back to nature.
Getting there
40 Whittlesea Road
Kinglake
VIC 3763
About 50km north-east of Melbourne, this playground has risen from the ashes of the Black Saturday fires to become an animal-themed, nature play wonderland.
Built with community spirit and timber salvaged from the fires (plus lots of other earthy materials), Bollygum Park is a magical place for all ages to appreciate the outdoors, engage the senses and let imaginations soar like a possum.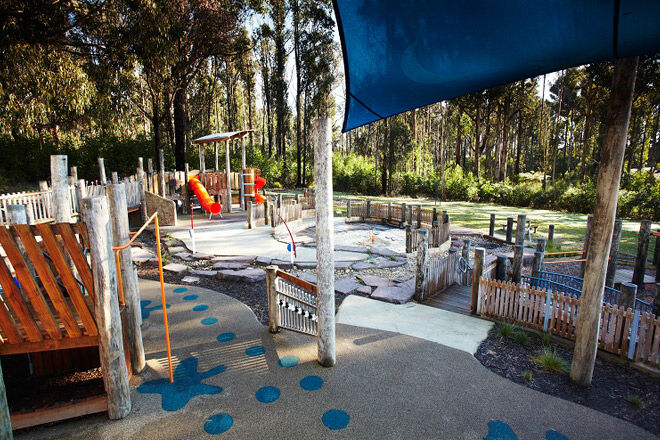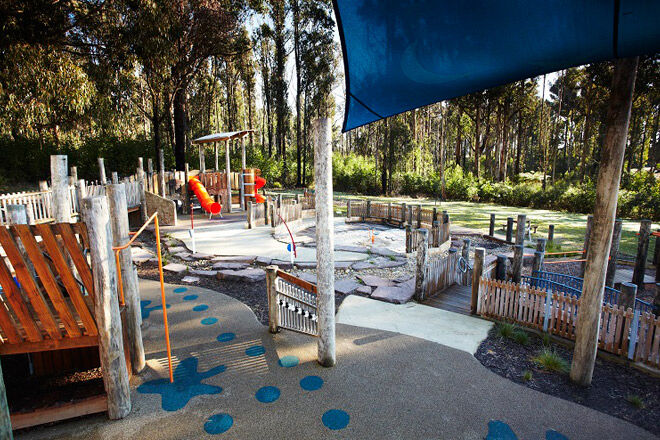 Framed by towering gums that survived the fires, this playground has an Australian feel (literally). With leaves to collect, bark to touch and materials like sand, wood and stone to investigate, children have nature at their fingertips.
And in between touching everything, there's lots for kids to look at, listen to, sniff out and taste at Bollygum Park (we're taking a picnic, but bubs may be tempted by a more 'natural' menu, so watch out for leaf munching!)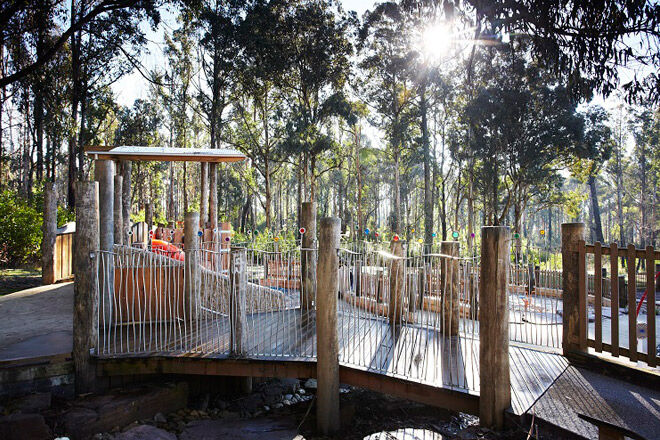 Bollygum Park isn't just a fantastic nature play area though – it's also based on Garry Fleming's kids' book, Bollygum. This tale follows the adventures of some native Australian animals, including Wombat, Platypus and Little Possum.
Each of these critters have found a home in Bollygum Park in its animal-themed play areas. Read up before you go to bring the playground experience alive for little imaginations.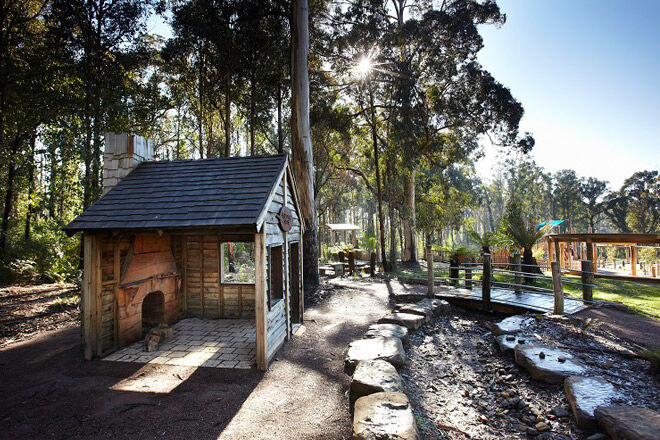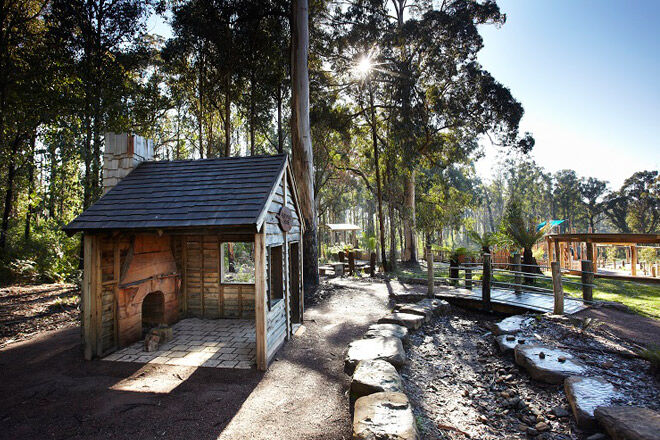 On top of the fun play equipment (like twisty slides and climbing nets) kids can explore the wombat tunnel (Wombat's House) and colonial-style cubby (Platypus' House), pretending to be Aussie animals.
Local artists have contributed sculptures and works that inspire animal imaginings (we love Wombat wearing dungarees), and there's even more magic at night, when glow in the dark gravel creates a sparkly stomping ground!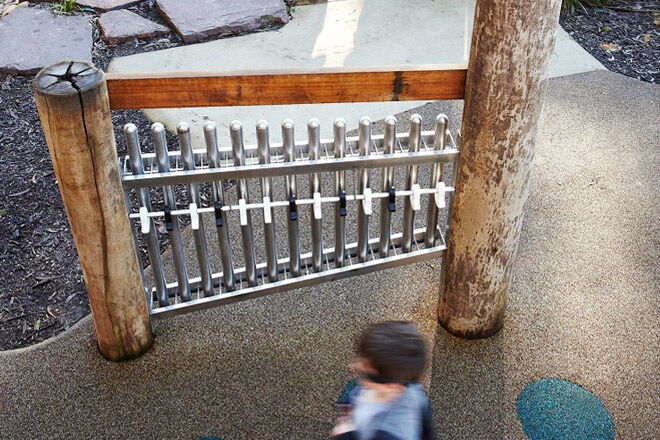 Speaking of stomping, the playground is made for running, jumping, balancing, climbing and strolling. All paths are accessible, so every age and ability can enjoy the facilities.
Whether they're making music, following the rocky creek through the centre of the park, or escaping from pretend trolls under bridges, kiddos will love exploring the twists and turns of Bollygum Park.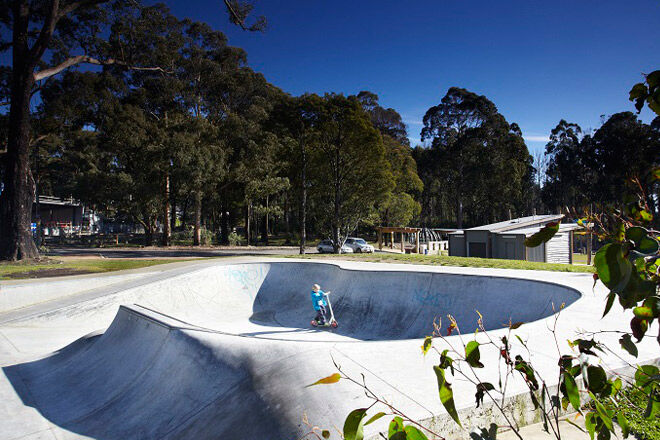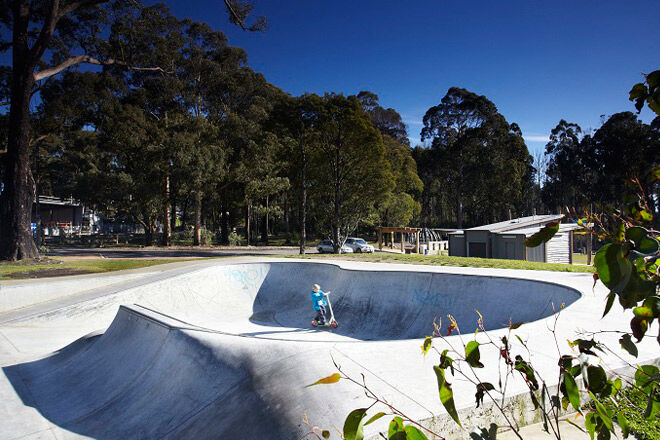 Speaking of twists and turns, older kids will love the adjoining skate park. Scooters, skateboards and rusty ol' skater dads (and mums) are welcome, so work on your Tony Hawk moves to impress the kids!
Bollygum Park is a great day trip for Melbourne families and provides fantastic facilities for locals too. So pack a picnic, fire up the BBQ, let loose on the lawn and explore the walking trails.
With a little luck, kiddos may spot some Aussie animals in their natural habitat. Keep your eyes peeled for little possums (and we're not talking about the kids!).
Car parking available on site
Park has all-access toilets
Bollygum Community Market held at the park on the second Sunday of each month, September to May. Next market is September 11, 2016 – 10am to 2pm
(images via AILA)
Save