Pod Canberra Playground
Kiddos will go nuts for this nature-themed Canberra play space. It sows the seeds for fun, with giant acorn pods and earthy elements and has enough twists, turns and tunnels to keep tikes very busy at the Pod Playground, part of the National Arboretum.
Getting there
National Arboretum
Forest Drive
Off Tuggeranong Parkway
Weston Creek
Canberra ACT 2611
www.nationalarboretum.act.gov.au


Just 6km from the centre of Canberra is a wooden wonderland where imaginations grow and adventures begin. Or more simply – here's a playground that's really, really awesome!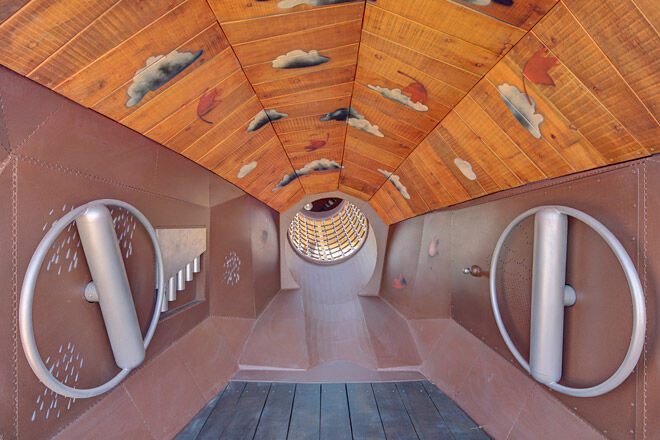 It's a little bit Beatrix Potter (Squirrel Nutkin's cousins would go crazy for those acorns!) and a little bit May Gibbs (there's a touch of the Banksia Men in the cones), but mostly Pod Playground is like nothing you've seen before.
Giant acorn pods lean into the sky, little doorways just have to be explored and kids of all ages will find somewhere to hide and something to seek in this imaginative play space.
So without further ado, let's unearth the action!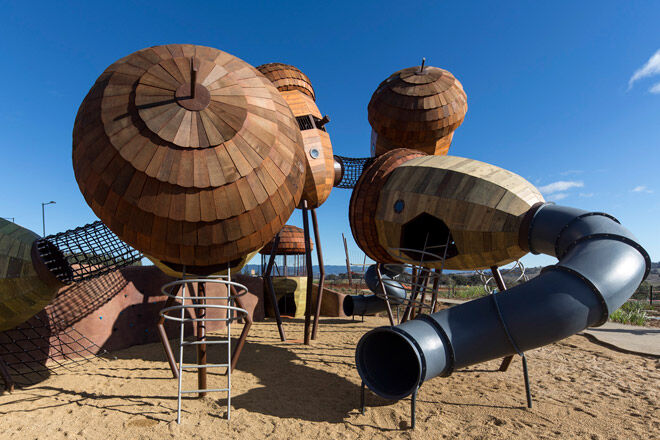 We shouldn't play favourites, however, the acorn cubbies teetering on stilts are incredible. It's a case of "honey, I shrunk the kids!" because these giant acorns make kiddos look miniature.
With 'hats' made of timber shingles, net tunnels linking the acorns and two very twisty slides, the play equipment is as cool as a Canberra winter. Coooool.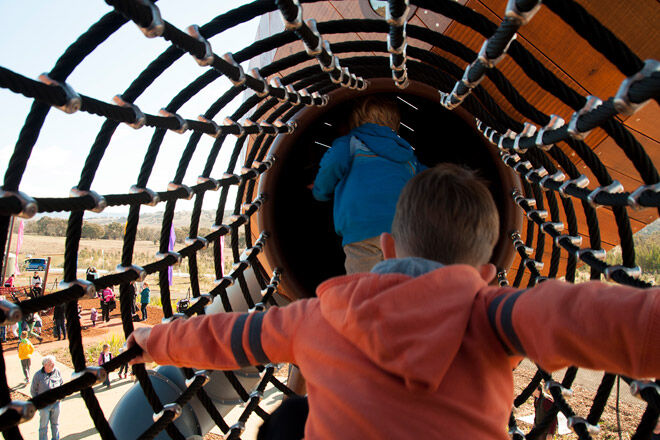 Older kids will be all over the sky-high acorns – climbing up ladders, peering out of telescopes, scurrying across nets and zipping down slides with the panache of Peter Rabbit escaping from Mr Tod.
For younger children, there is a big acorn cubby with a simple ladder up and an easy slide down. Chances are, they'll want to bring their blankie and move in for good!
The climbing wall is great for adventurous types, and the whole golden-brown colour scheme, with a splash of grey, is lovely to look at while the kiddos play.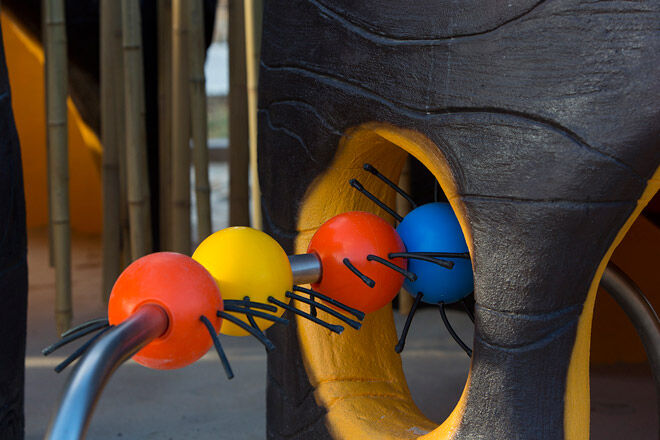 Over at the banksia cones there is plenty of fun for toddlers, with intriguing little doorways, hidey-holes to peek out of and colourful contraptions that look like they've come straight out of a Dr Seuss story.
This area also has a mini-slide and a sandpit to play in, plus it's near the cafe, so 'Babycino Time' is close at hand if tots need warming up in winter.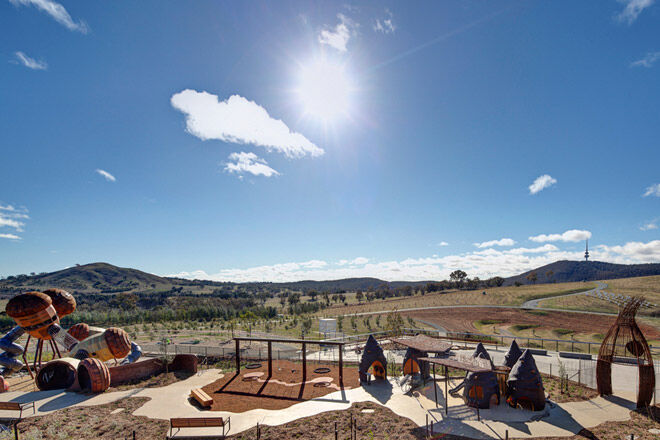 In the middle of the playground, equipment is not too high, not too low, but just right. With two large nest swings and two toddler swings, every age can catch air halfway between Banksia Lane and Acorn Avenue.
The giggles coming out of the pods and cones will be music to parents' ears, however, the musical bridge adds another instrument to this soundtrack of fun.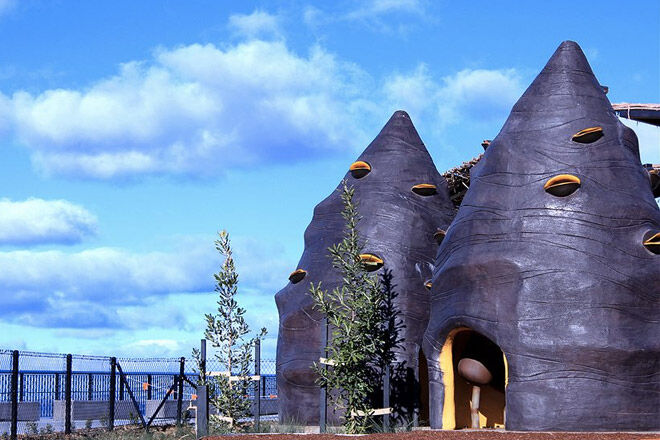 In terms of location, this playground is perched high on a hill, like Peppa Pig's house, and what it lacks in muddy puddles and Daddy Pig jokes, it makes up for with views.
Whether your kiddo has an eye on the sky from an acorn pod, or grown-ups are surveying the scene from a park bench, the views of the National Arboretum and Canberra area are panoramic.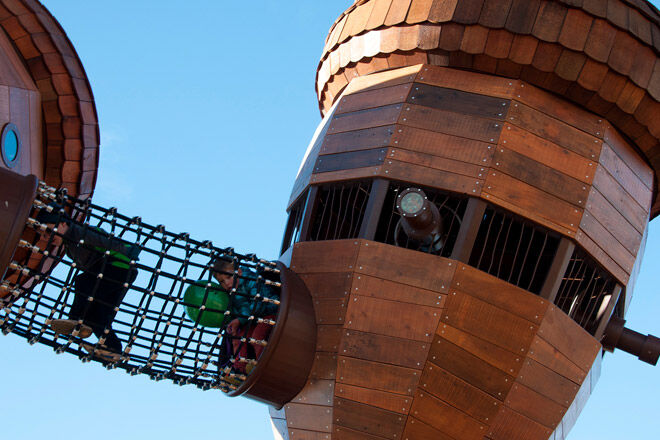 And for those thinking, "arbor-what?", an arboretum is a botanical garden that grows trees for conservation, research and education. The National Arboretum has 100 forests of rare, endangered and symbolic trees, so once kids grow tired of the Pod Playground, there's plenty more nature-based exploration on offer.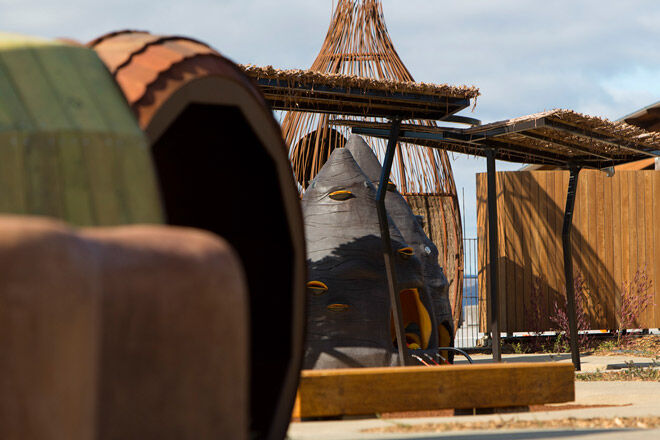 The only thing we'd say is that Canberra gets chilly in winter and toasty in summer, so make sure you dress for the seasons. Also, new accessible toilets have just been built, complete with child-sized toilets and nappy changes facilities, so this news will be as exciting to parents as the slides are to littlies!
All in all, this nature-themed playground is a great place to plant the family in our nation's capital. Feed those imaginations and they will grow!


Arboretum grounds and Pod Canberra Playground
6am to 8.30pm daily (during Daylight Savings) and
7am to 5.30pm daily (during Non-daylight Savings)
Entry to Arboretum is free
Paid car parking available, plus limited free parking
(images via TCL, photography by Brett Boardman and Gemma Fennell, and ABC)