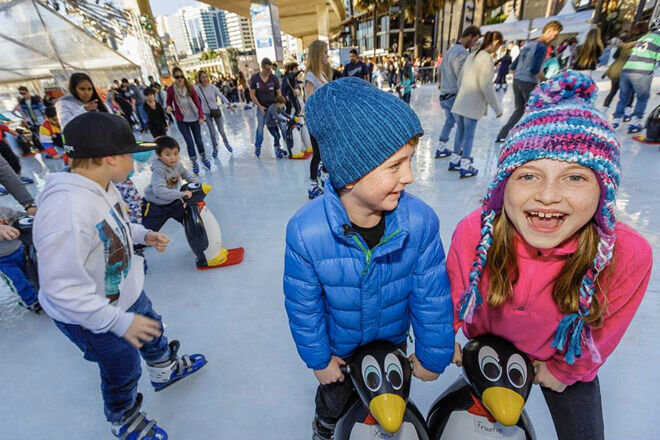 Sydney may be known for its sun and beaches, but this winter, Sydney kids can swap their thongs for skates and their sandcastles for snowmen! Australian kids often don't get the chance to see the fluffy white stuff in real life, but these simulated winter wonderlands are definitely the next best thing. So if you want to add an arctic blast of excitement to your little snow monkey's school holidays, then snow play is the way to go.
Here are 6 brrrr-illiant spots for snow play in Sydney.
Skates and the city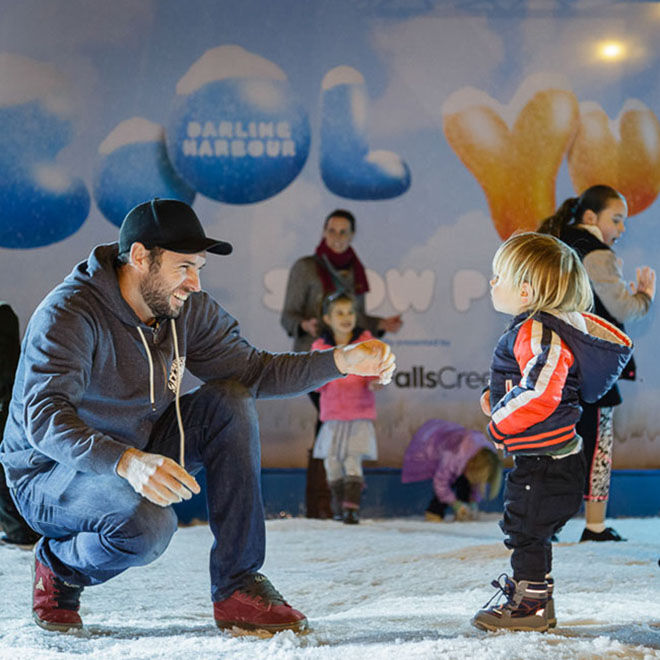 Is that an iceberg in Cockle Bay? Snow and ice are descending on Darling Harbour when Cool Yule takes over this July. With ice skating, snow pits and a frozen forest, there is many a chilly adventure to be had. Don't miss the blue fireworks every Saturday night. (And yes, there will really be a (faux) iceberg in Cockle Bay!)
Darling Harbour, 2 – 17 July 2016. All Ages. Admission prices apply. Book here.
Snowball fight!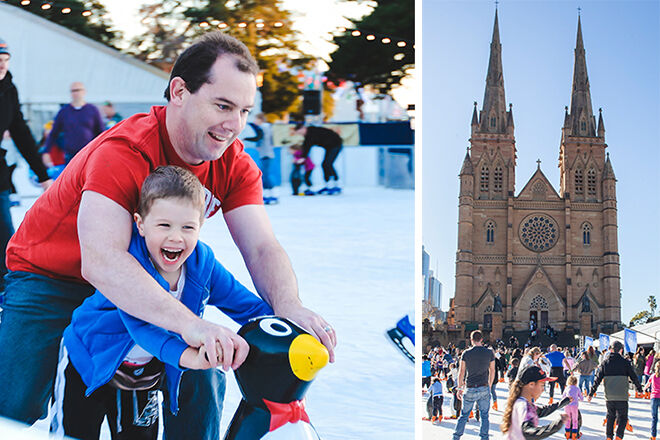 Duck! Snowballs will be whizzing through the air at the Winter Festival as St Mary's Cathedral transforms into a winter wonderland. There's ice skating for kids as young as two (just add an adorable penguin skating aid for cuteness overload). Or for those who like their snow to be a little more adrenaline inducing, there's the Toboggan Terror. And of course, a powder pit for throwing said snowballs amongst other wintry delights.
St Mary's Cathedral, June 30 – July 17 2016, 10am – 7pm (9pm Friday & Saturday), Ages 2 +. Adults: $28, Children: 5-15 $19, Children under 5: $11, Family: $60. Book here.
Skating with water views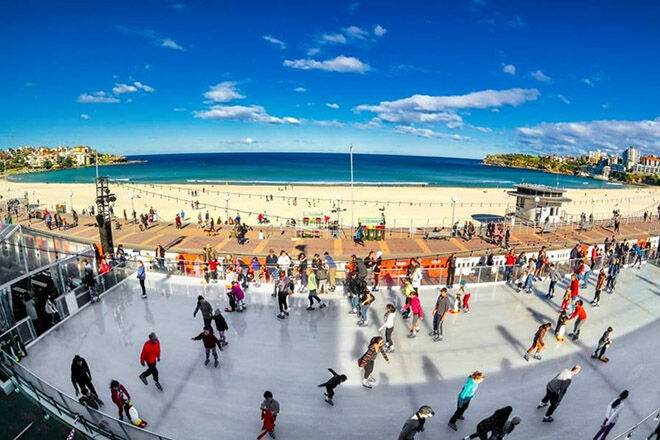 Sydney's most famous beach has turned a little icy this winter with the return of the Bondi Winter Magic festival. The beachside ice rink provides a spectacular setting for the whole family to try out their skating legs. Sign up for a lesson (parents too!) so you can un-prise those fingers from the edge and fly!
Bondi Beach, July 1 – 17 2016 10am – 9pm, Ages 2+. Adults: $35, Children 5-13: $29, Toddlers: 2-4 $20. Book here.
Winter magic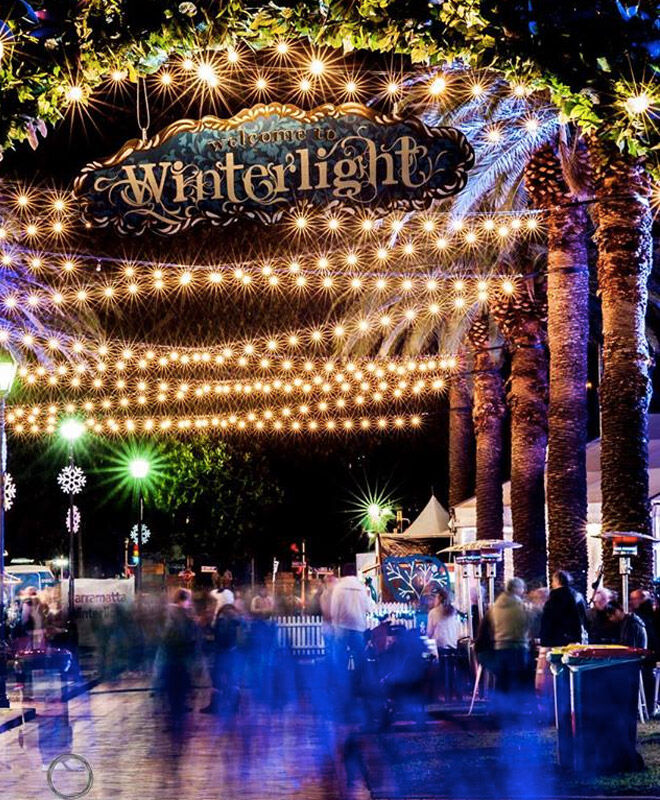 Winter in Parramatta is looking bright with the Winterlight festival. Strap on your skates and try out the rink (including a special kids-only rink) or explore the beautiful snowflake garden. The kids will be kept busy with rides, a circus playground and a 22 metre high illuminated dream wheel.
Prince Alfred Square, Parramatta, July 1 – 17, 10am – 9pm (10pm on Friday & Saturday), Ages 2+. Tickets and booking required for skating and the ice slide. Book here.
Skating for free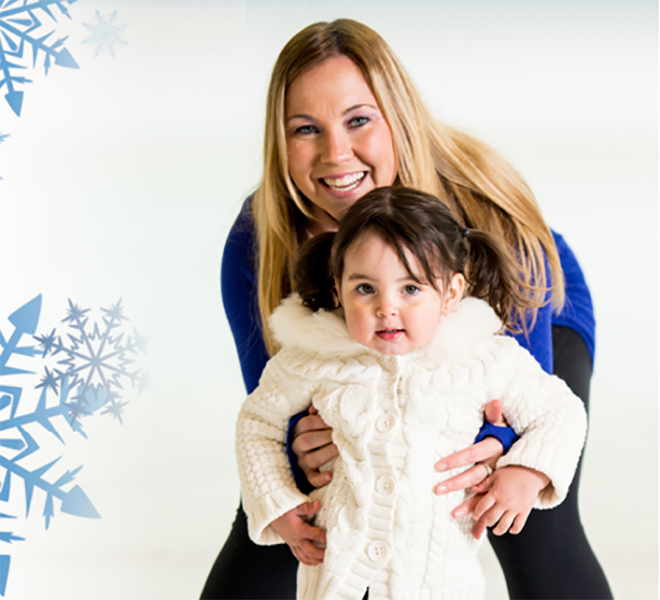 Get your skates on and head to Home HQ for their FREE Indoor Skating Rink for kids. A great way for your kidlets to test the (frozen) water without it costing you a cent.
Home HQ, Artarmon, July 2 – 6, 10am – 2pm. Skaters must have a shoe size larger than child size 9. Bookings not required.
Get out of
 Sydney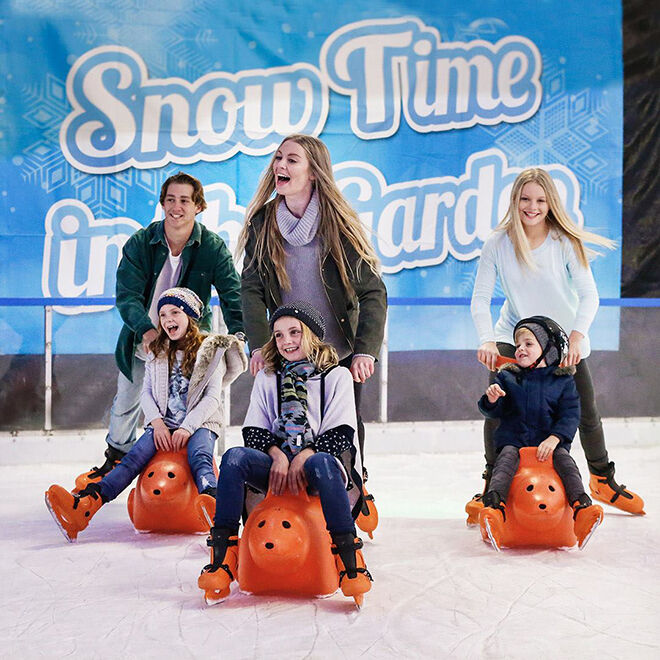 If you are looking a winter getaway, pack your sleigh and head to the Hunter Valley for Snow Time in the Gardens. Your winter pixies will love bouncing on the inflatable castles or flying down the giant slides, while snow-heads with a need for speed can attempt the 40 metre ice toboggan.
Hunter Valley Gardens, June 25 – July 17, 10am – 9pm. Adults: $30, Children 4-15: $24 Children under 3 free. Book here.