Glenelg Foreshore Playground
With a giant sandpit, water play and more fun than you can point a beach umbrella at, this new space brings the seaside to the playground. Splish, splash and make a dash for the equipment!
Getting there
Moseley Square
Glenelg Beach Foreshore
Glenelg SA 5045


Who needs a holiday when you can spend the day at Glenelg Foreshore Playspace? With sparkling views of the water, sand underfoot, palm trees and a hammock swing, all that's missing from this picture is a mocktail!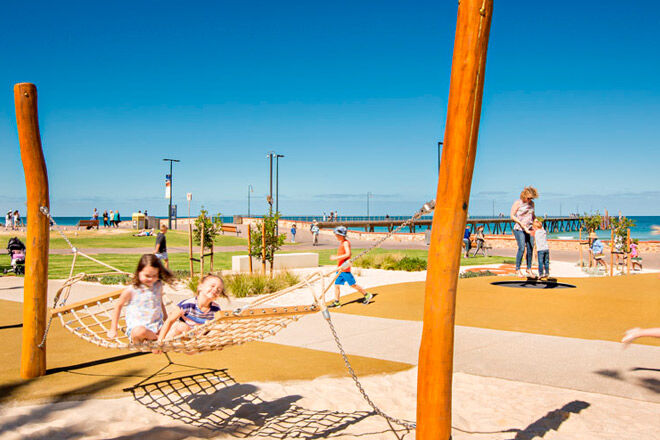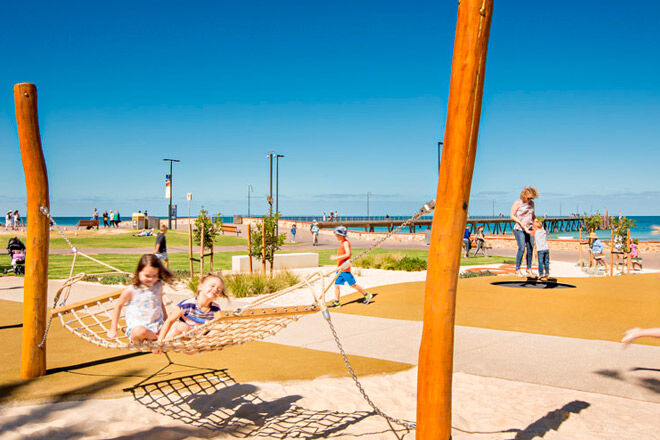 Opened in early 2016, this $1.3 million playspace is good, clean (ok, sandy and wet) fun. With a contemporary circular design and a focus on timber, sand and rope, there is something to amuse all ages and abilities here.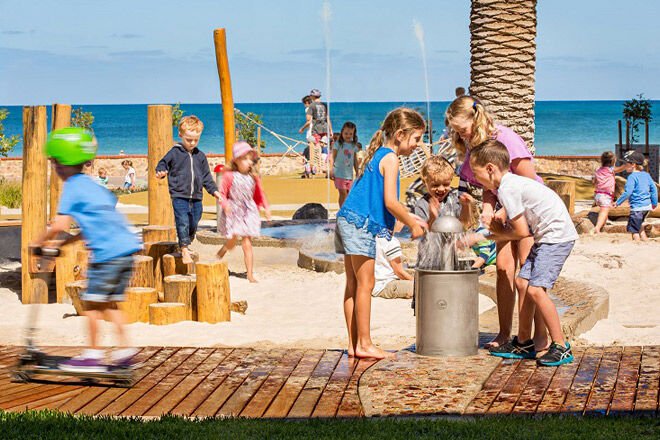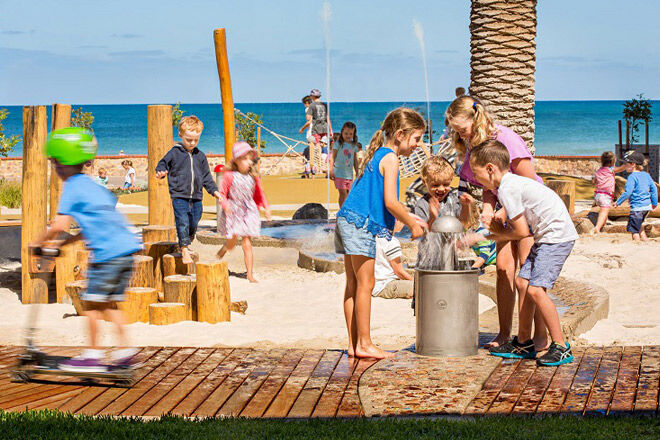 Whether your kiddo is whizzing along the curved timber path on their scooter, pumping water, slapping sand everywhere, balancing on ropes or hopping up and down timber logs like a wood elf, they'll be having lots of fun doing it!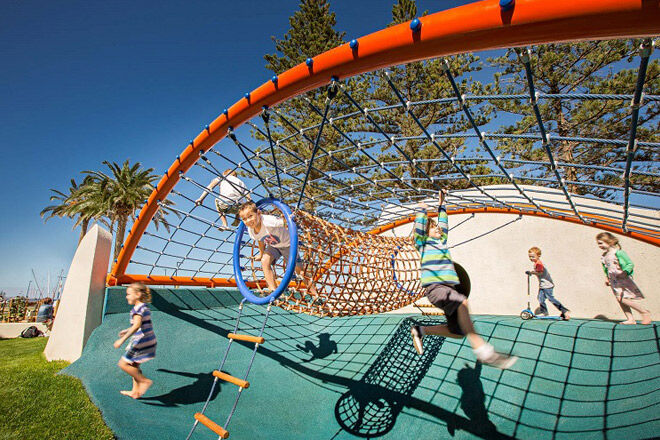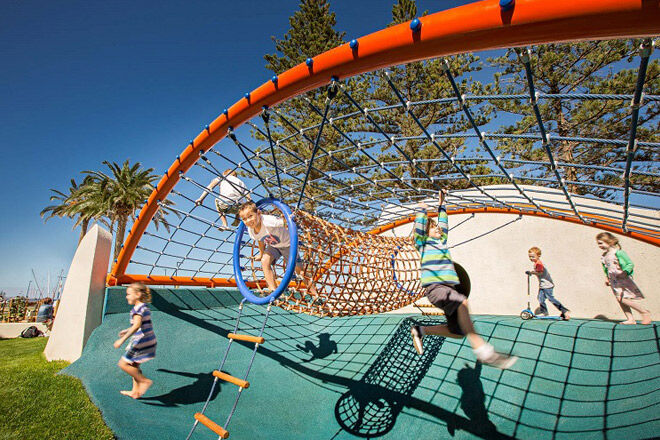 And if their style is more monkey than elf, then they'll love hanging from the climbing dome and shimmying through the net tunnel too. Soft fall surfaces provide nice drop-off zones and the fun colours (fruit-tastic orange and terrific teal) brighten up the cloudiest play day.
The springy grassy slopes are perfect for running up and rolling down, and there's plenty of flat grass for family picnics and down-time with little ones.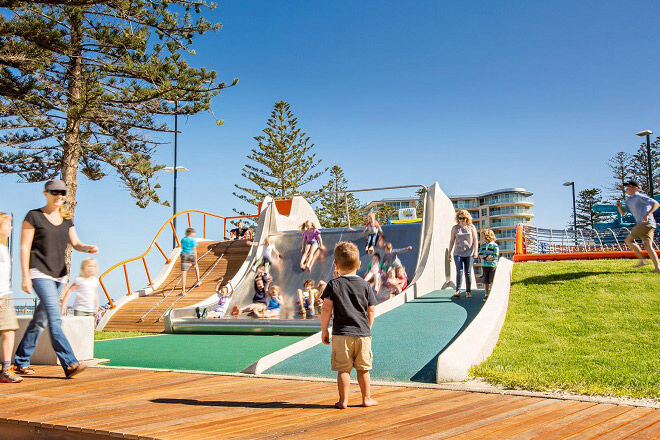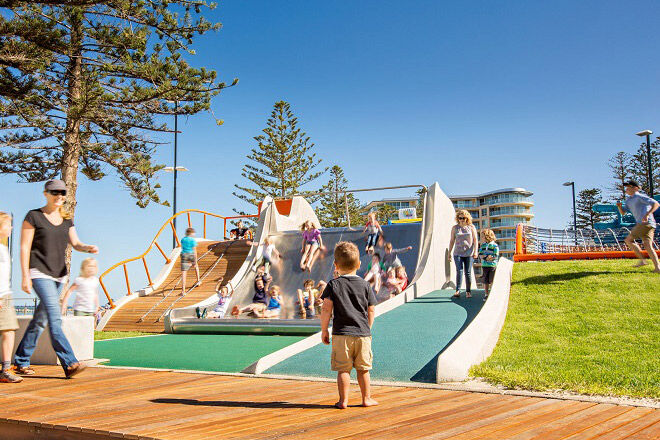 Of course, older kids barely know the meaning of 'down-time' and they'll be busy pulling themselves up ropes, skidding down the giant silver slide en masse, then playing in the cubby house and tunnel for a micro-breather.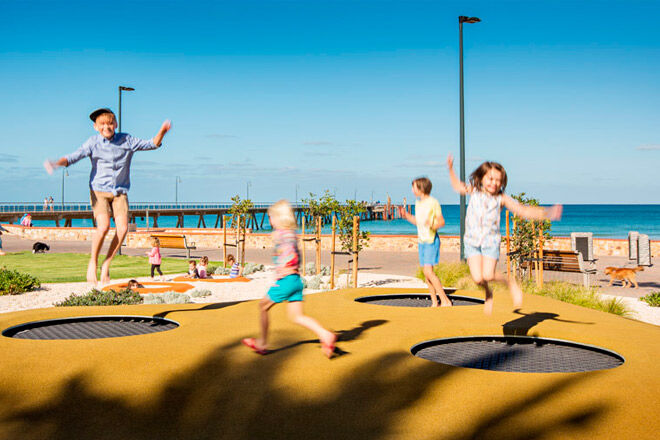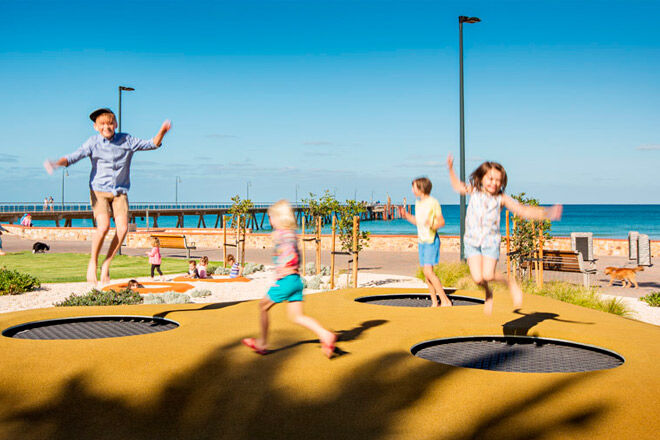 Then it's back to the action, pushing an in-ground roundabout at the speed of light and bouncing on in-ground trampolines at the speed of sound (boiiinnnggg!!!).
Aside from the gorgeous location and fantastic play equipment, this playspace is also great because it offers play experiences for all kids (including those with disabilities) and lets children tackle different levels of risk under your supervision (honing their confidence and decision-making skills).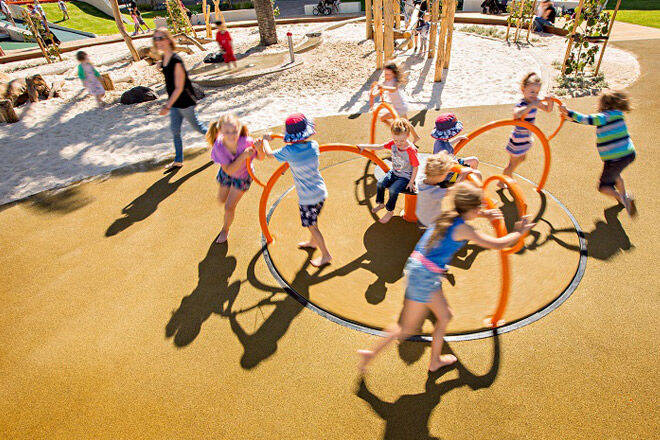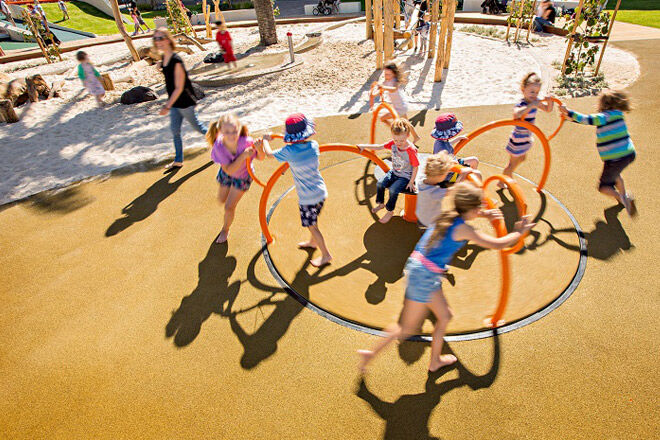 In terms of comfort, there isn't too much shade at this playspace until trees grow up, so take some sun protection. Also, prepare for chilly onshore breezes because beyond the Great Australian Bite is Antarctica!
And once playtime is over, you can dust off the sand and take a stroll along the foreshore or Glenelg Jetty, thinking about what to write on your postcards…
Accessible by bus and tram
Public toilets nearby
(images via AILA and LCS Landscapes)