Rio Tinto Naturescape
We're late, we're late for a very important date with Rio Tinto Naturescape! There's so much amazing stuff to do, that you'll wish you were already in Kings Park, WA. Luckily, this outdoor wonderland is magically close to Perth's CBD, so take your time.
Getting there
May Drive
Kings Park WA 6005
Admission is free
Open 9am to 4pm, Tuesday to Sunday
Closed every Monday, Christmas Day (December 25), Australia Day (January 26) and closed throughout February
Just minutes from the city, Rio Tinto Naturescape is a bush oasis with adventure at every turn. Most areas are pram-accessible, so all ages can throw themselves into the action (and dirt!).
Bubs will love touching teeny flowers and giggling at tiny tadpoles, while older kids will morph into native bees and get a buzz out of EVERYTHING!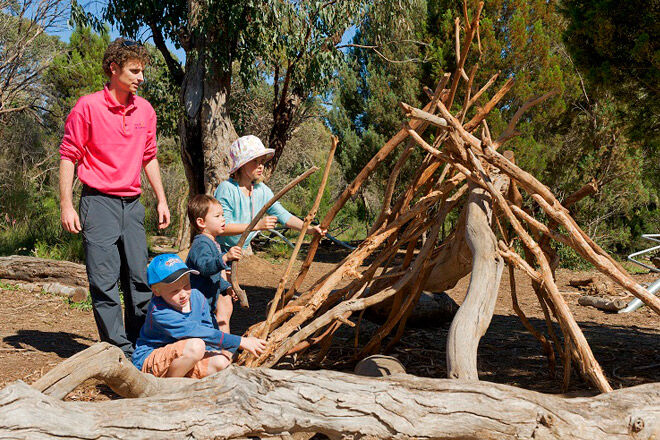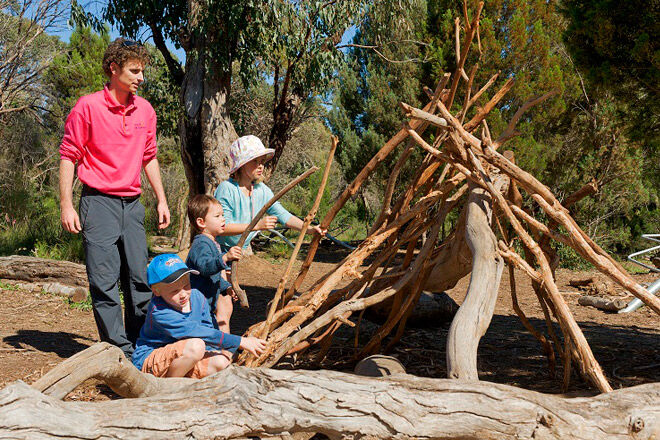 The adventure starts at Lotterywest Bushbase. Little makers will get busy constructing a mia-mia shelter in the Cubby-building Zone, weaving a giant nest over in the Prickly Thicket, drawing a picture in the sand or making bush jewellery for Mum. With some inspiration from the art at Illyarrie Shelter, they'll be creating nature-themed works till the roos come home.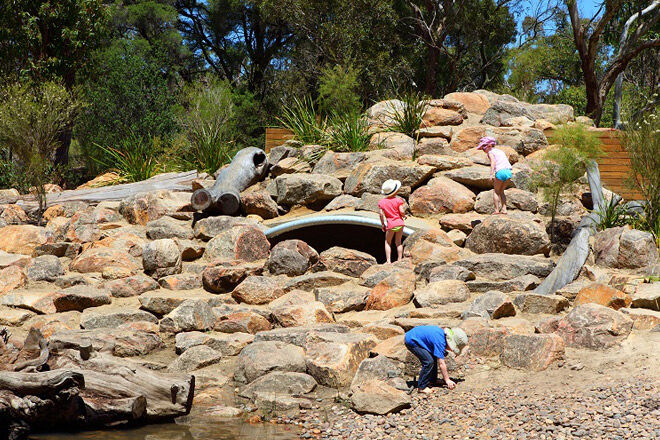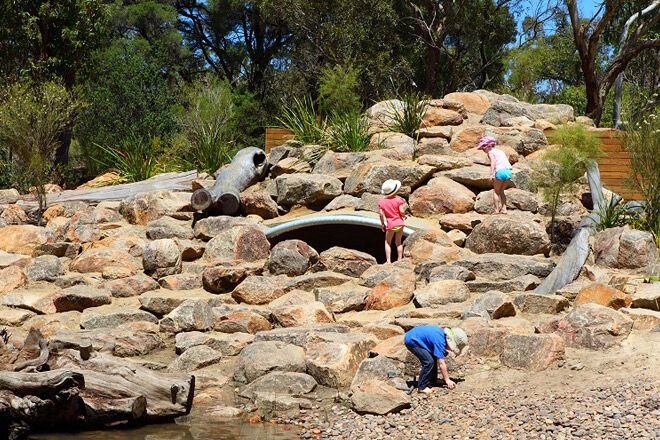 Speaking of roos, the rocks over the Tuart Tunnel are a great spot to climb and pretend to be a rock wallaby.
Or if spiders are more kiddo's style, they can impersonate Incy Wincy at The Tangle. This spooky web of ropes sees 'spiders' jumping from tree to tree, happy as can be.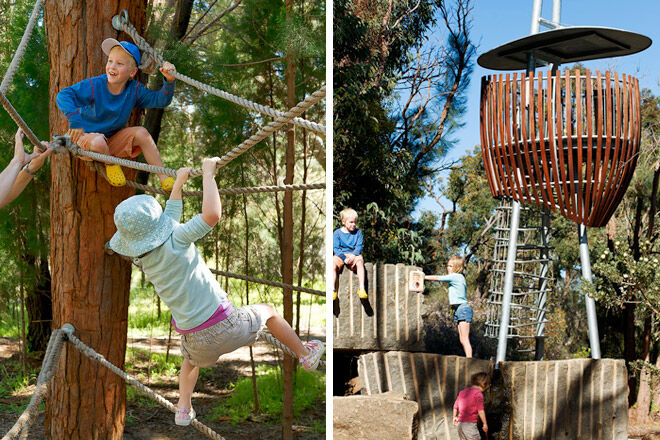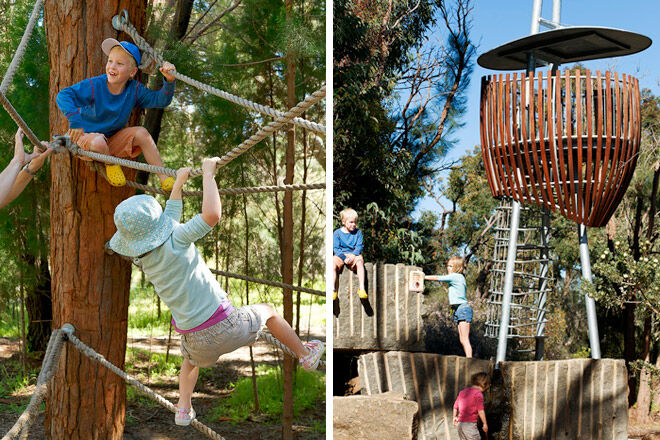 For a different kind of tree-climbing, make a bee-line for the tree hides perched above the park in The Spring and Water Corporation Wetland. At seven metres and five metres high (yikes!) they provide a bird's eye view, but don't worry, there's a hide for younger kids too.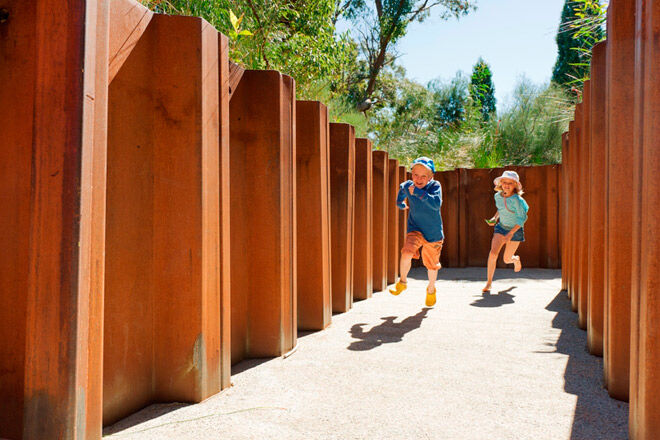 And for a view of the bush from below, zig-zag through Kulunga Gully at the speed of a child, parent or wombat (that's fast, medium and slow!).
With a focus on learning and discovery, Rio Tinto Naturescape is a great place for enquiring minds (aka little detectives); and they'll be hot on the trail with the Scavenger Hunt and 'What Tree Is That?' missions.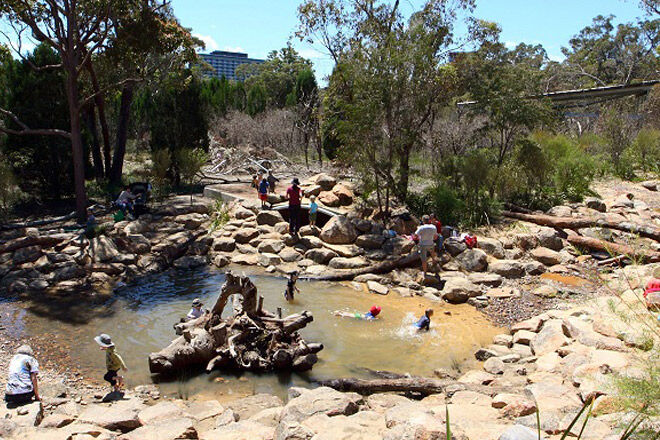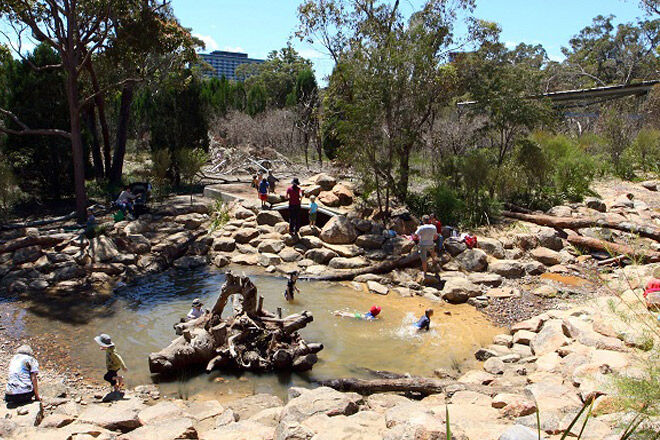 It's also a great place to get wet! Whether kiddo is making a mud pie at The Spring or having a leaf boat race in Paperbark Creek, feet won't be dusty for long and a towel never goes astray. Plus, there are dragonflies to spot from Boomerang Bridge and frogs to listen for at the Water Corporation Wetland.
With so much outdoor excitement, kids might forget about a thing called 'sustenance', so pack plenty of water and snacks. Plus, keep in mind that there aren't any picnic facilities or bins, and make sure you take sun protection, insect repellent and spare outdoorsy clothes.
With mud pies and tree hides, things are about to get fun!
May Drive
Kings Park WA 6005
Admission is free
Open 9am to 4pm, Tuesday to Sunday
Closed on days with a very high fire danger forecast (check Notices for information)
(images via AILA, donaldson+warn/D-Max and Government of Western Australia)