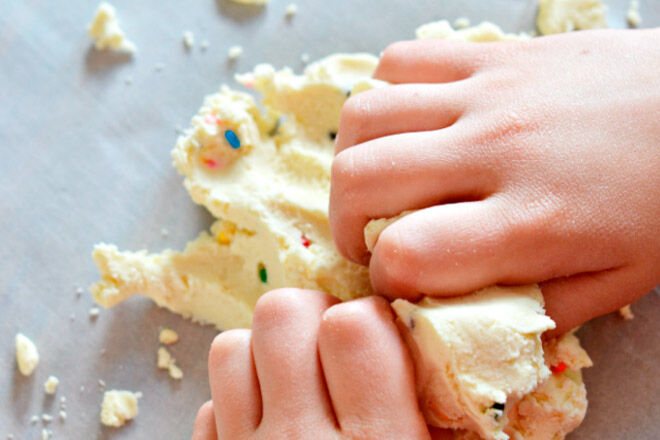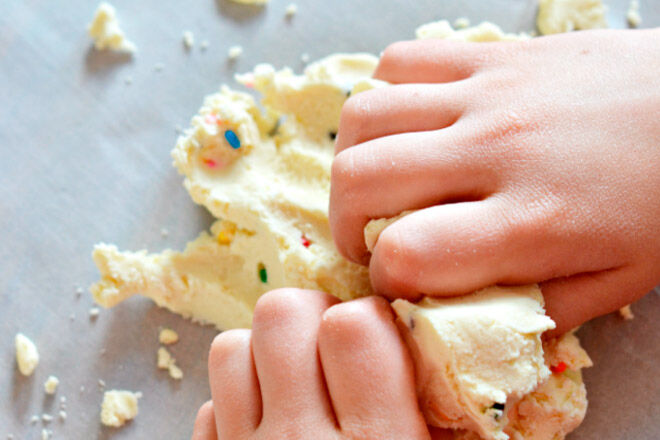 Make some play dough, make some mess and make some noise, because it's sensory play time!
Sensory play is any activity that stimulates and develops your kiddo's sense of touch, smell, taste, sight or hearing. Whether they're flexing their fingers in flubber, sampling edible fingerpaint or sorting rainbow-coloured chickpeas, sensory play is an important part of your child's development.
Babies, toddlers, preschoolers and bigger kids will all benefit from slimy, slippery, smelly, tickly, noisy, colourful play time, so let's do it!
Here are five benefits of sensory play, plus 30 ways to excite your tyke's senses (all five of them).
(Image via The Life of Jennifer Dawn)
Why sensory play is a-ok (actually, it's fantastic!)
1. It's a confidence boost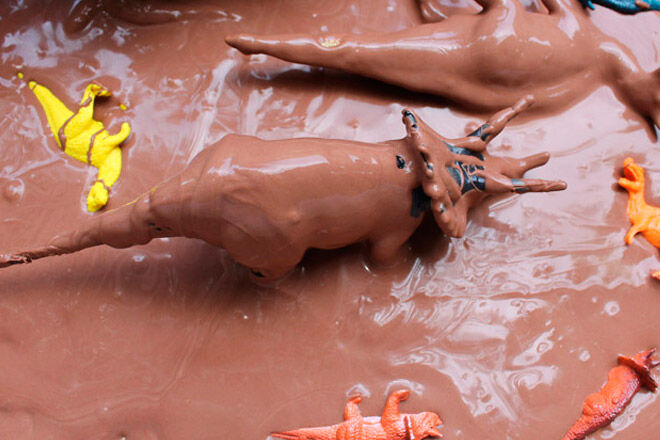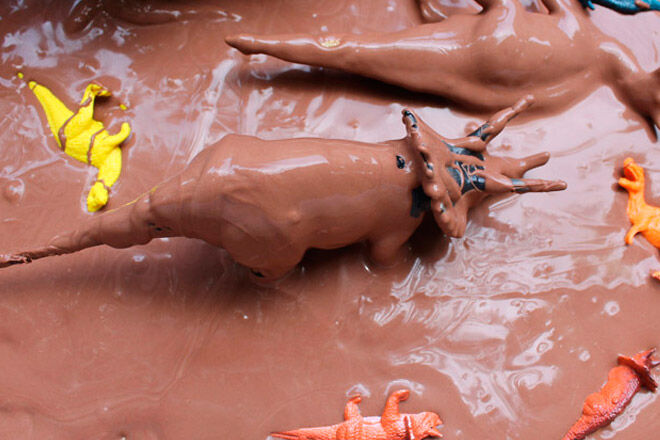 Sensory play gives children challenges to overcome and problems to solve, like that age old problem of finding your dinosaurs buried in mud. Becoming a 'fixer' gives them the confidence to approach tricky (and sticky) situations going forward. (image via The Craft Train)
2. It teaches self-control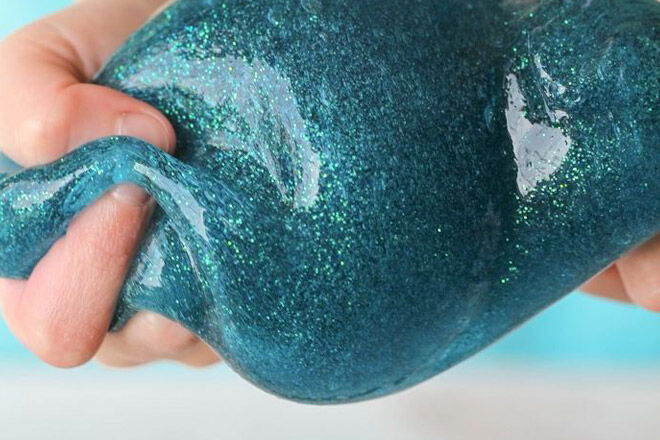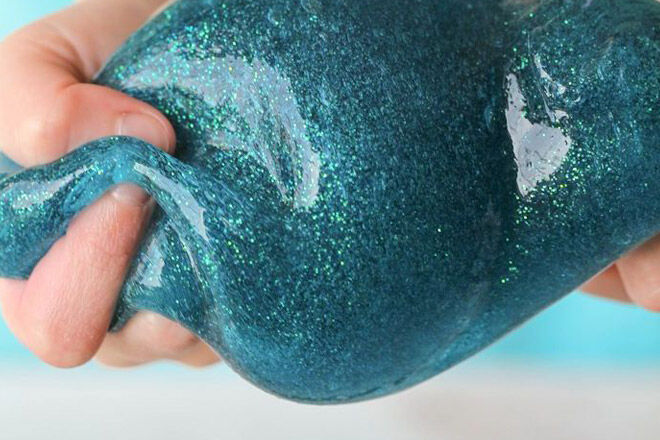 We're not sure if you've noticed, but kids can be a little… erm… emotional. Sensory play provides activities that calm children down and help them organise their thoughts and feelings. Ah, slime feels soooooooo nice. (image via Lil' Luna)
3. Creativity is unleashed!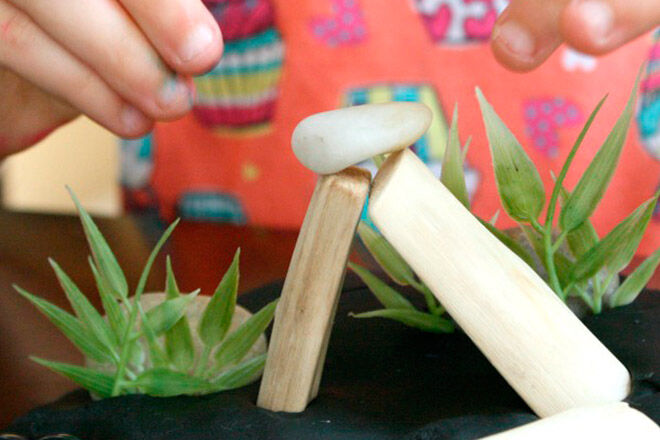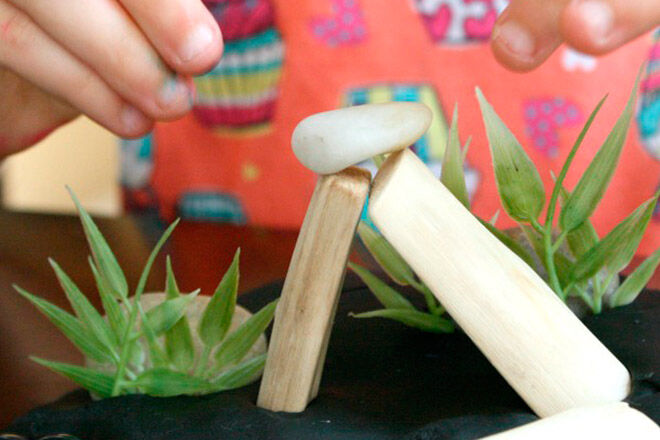 Sensory play is a great way for kids to be creative and imaginative, whether they're using carrot ribbons as hair or creating a pretend world (full of bugs!) (image via Fantastic Fun and Learning)
4. It creates team players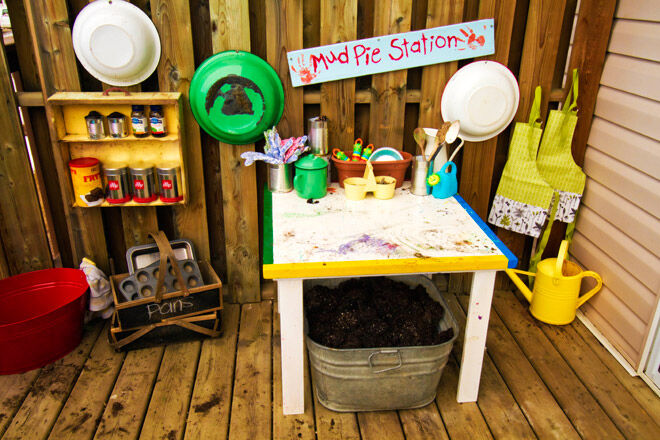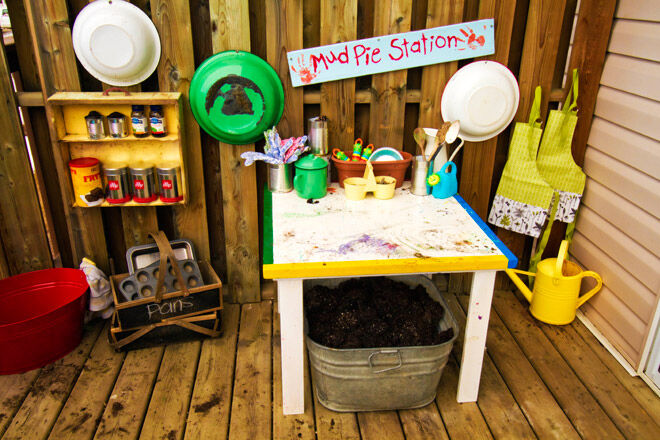 By playing at a common space, kids move from independent play to group play. This develops verbal and physical communication skills. Plus, it's a lot more fun (translation: messy) making a mud pie for four! (image via Small Potatoes)
5. It builds physical skills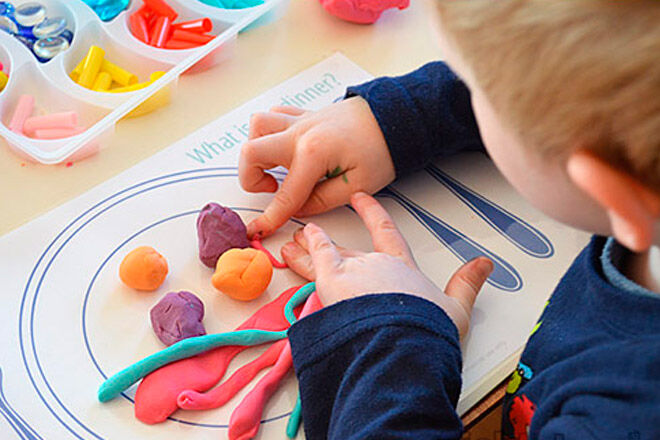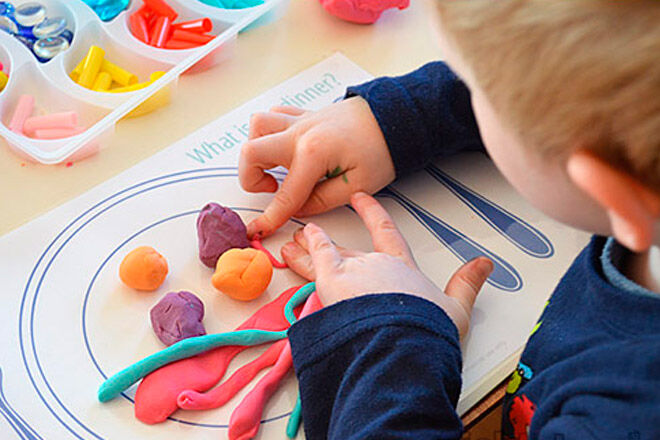 Sensory play helps kiddos develop their coordination, stability and motor-planning skills (looking before they leap). Squiggling paint, using tongs, moulding dough and banging on stuff is good for the mind and the body. (image via Picklebums)

DIY sensory play essentials
The great thing about sensory play is that it is super simple to create a sensory experience, whether indoors or out.
With a little imagination, just about any old household item can be converted into a sensory wonderland. Let's not forget that sensory superstar playdough is simply flour, salt and water.
Or head outside and see what the world (or at least your backyard or nearby park) has on offer. Let your little one loose to play on the grass, sniff flowers, pat muddy puddles and spray the hose.
But if you want to up your sensory play game, then here are 30 ideas to squidge, squelch and snuffle your way through. Perfect for eyes and ears and mouth and nose, plus little fingers too!
Sensory superstars
These ideas are classics of the sensory play genre. Slime and flubber and floam, oh my!
Jungle slime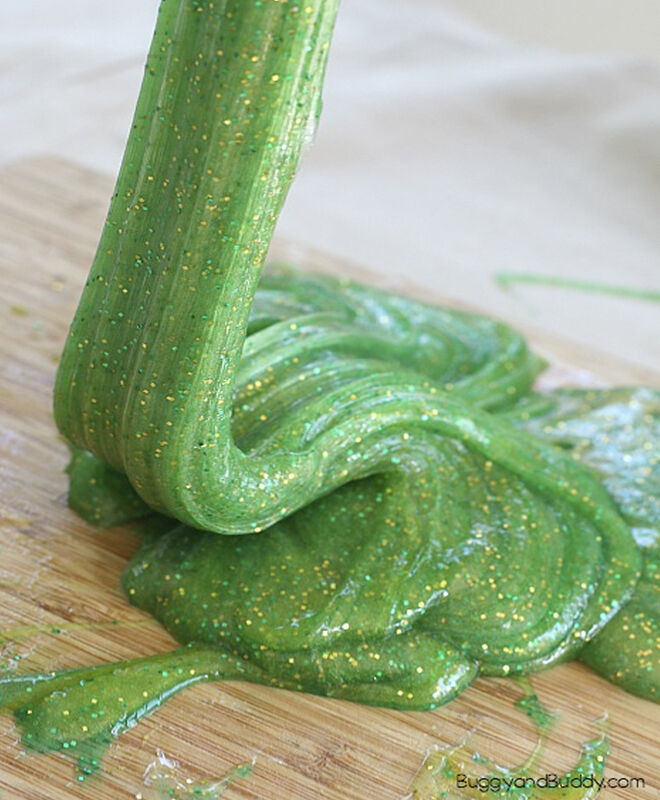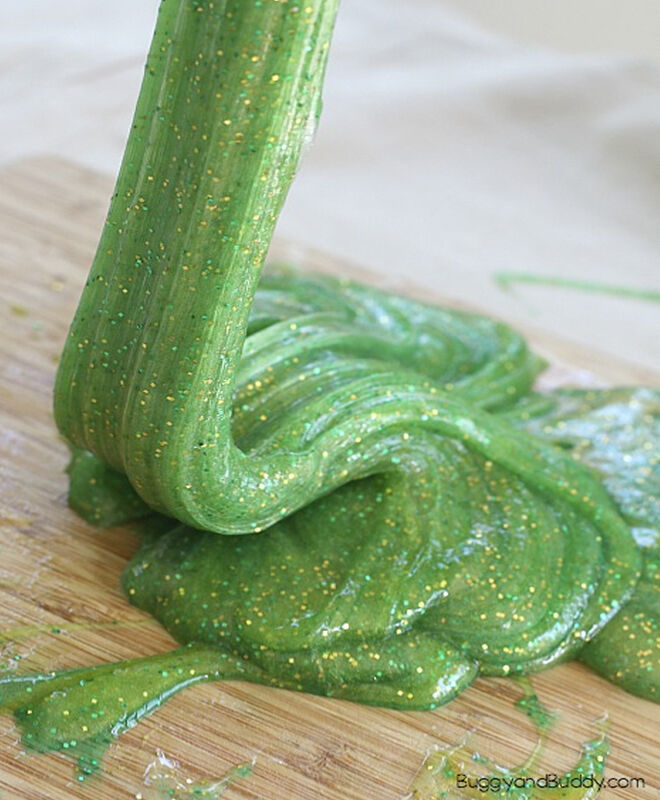 All slime makes for stretchy, sloppy fun, but adding green colour, sparkles and toy animals makes it totally wild. (via Buggy and Buddy)
Sand foam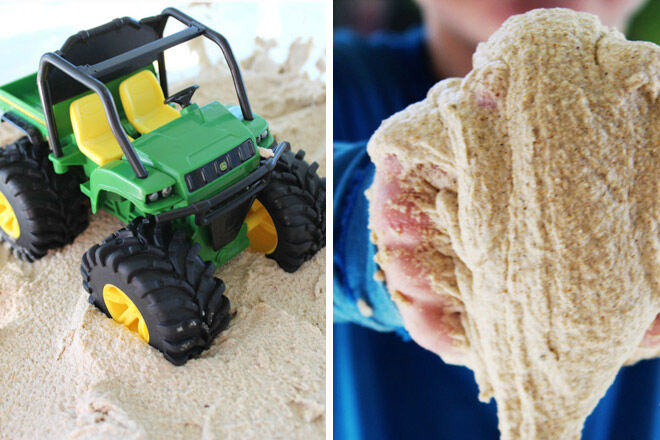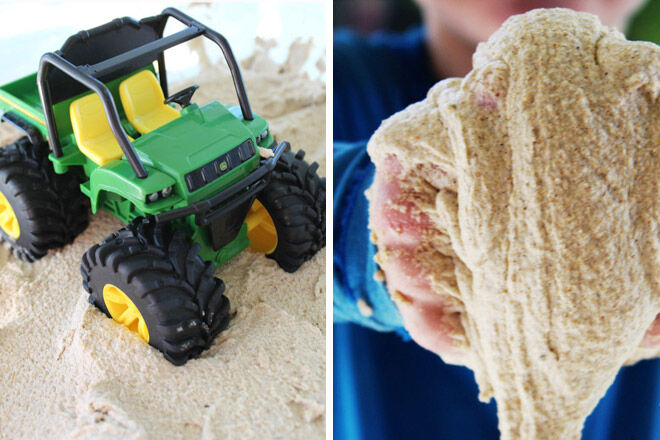 Made with sand and shaving foam, this stuff is a textural sensation – both grainy and fluffy at the same time. Dig for dinos, build a beach, drive trucks over it or just sit there and touch it. (via Paging Fun Mums)
Flubber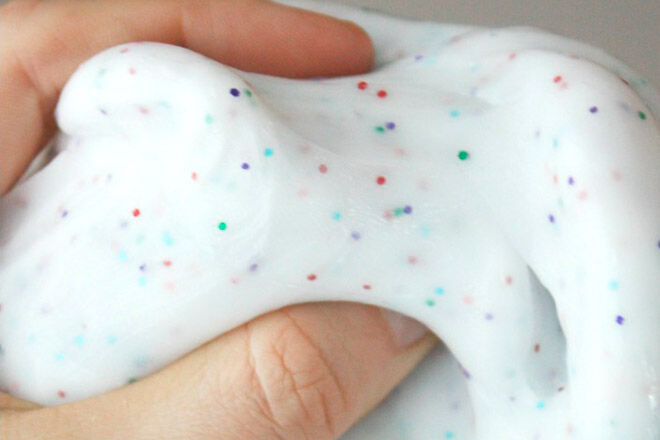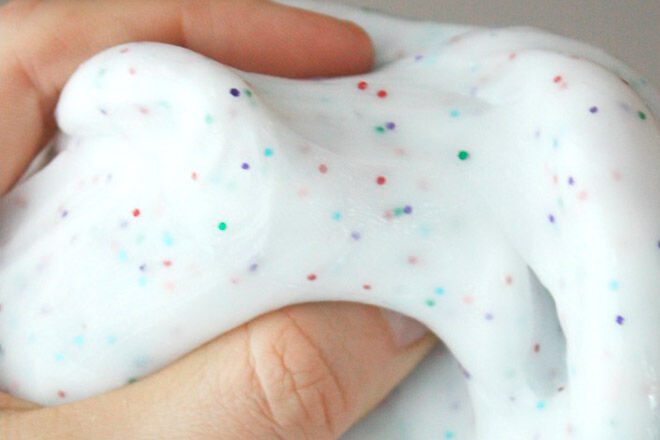 Flubber is like slime, only tougher, denser and stretchier (is that even possible?) Pull it, bounce it, snap it, poke it! (via Little Bins for Little Hands)
Floam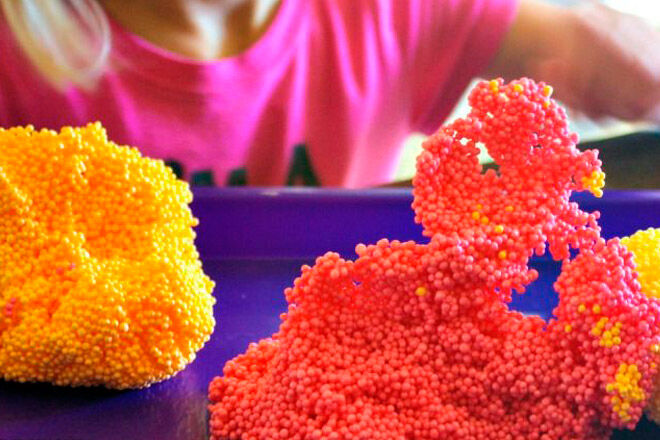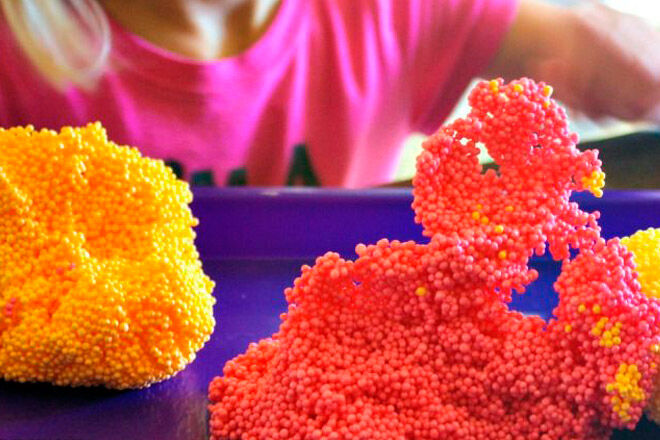 This is great stuff for older kids (bubs and polystyrene beads don't mix). Create squeezable balls or sky high sculptures – floam is modern art for the home! (via Parenting Chaos)
Kinetic sand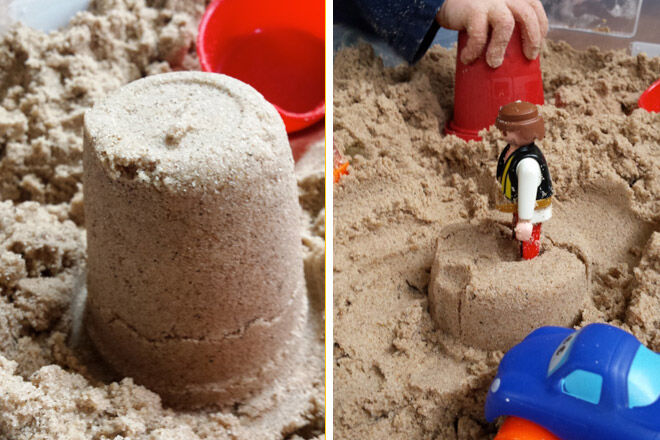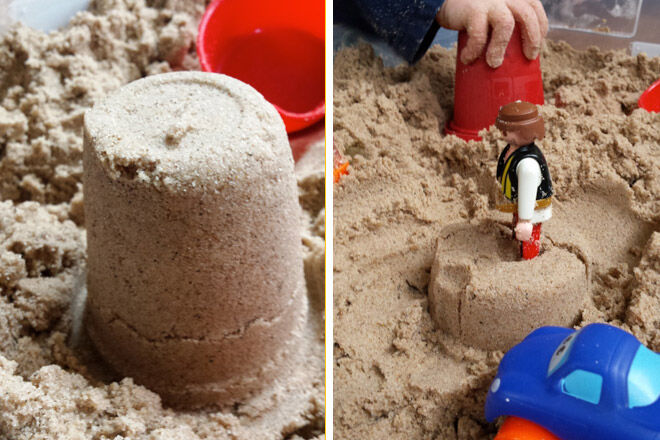 Sand is great for sensory play and this stuff has the super power of strength. It holds its shape, shouldn't get in eyes and will unlock the wonders of independent play! (via Pseudomom.com)
Play dough with a twist (of lemon!)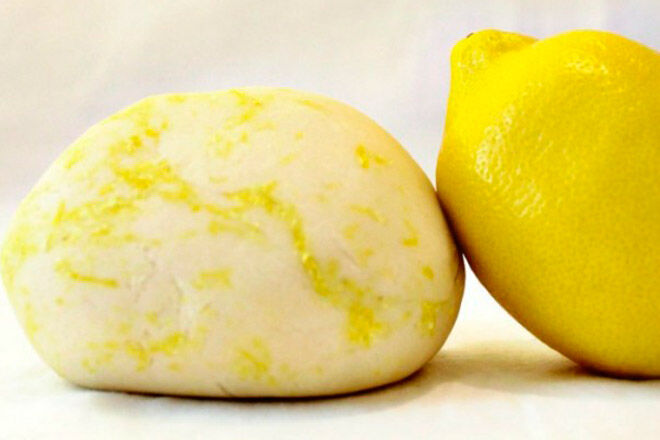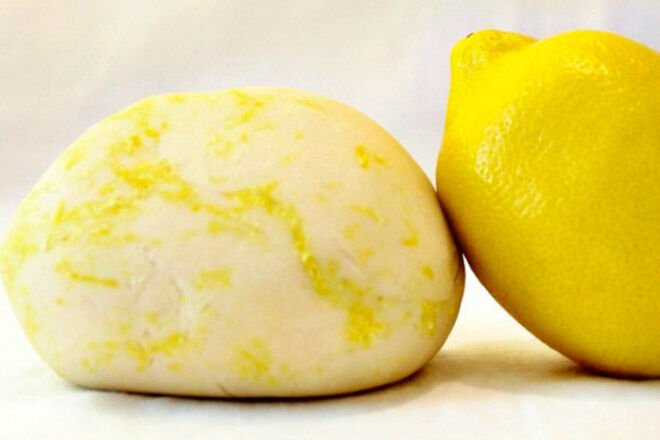 All play dough is great for moulding and making, however the nose knows that this lemon-scented dough is extra nice. (via Natural Beach Living)
Soapy foam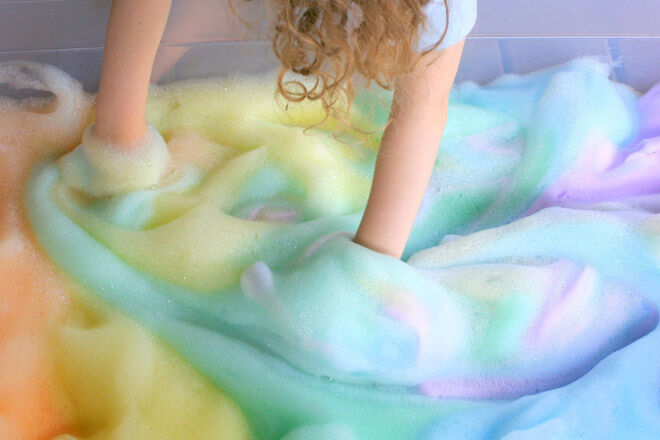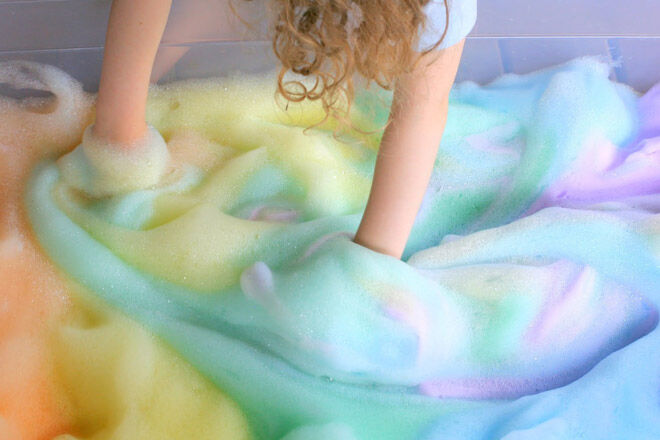 Fill the bathtub with fairy floss, oops, foam! Use all the colours of the rainbow for a fluffy, frothy colour explosion. (via Fun at Home with Kids)
You can touch this!
These sensory play activities are all about the feel, and your kiddo will be keen as a bean to get hands on.
Texture on a stick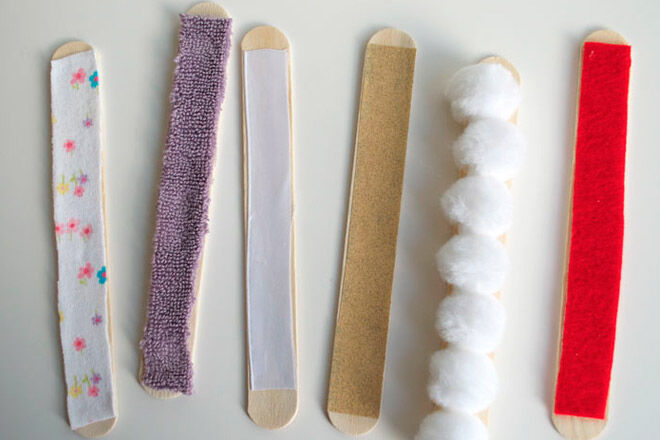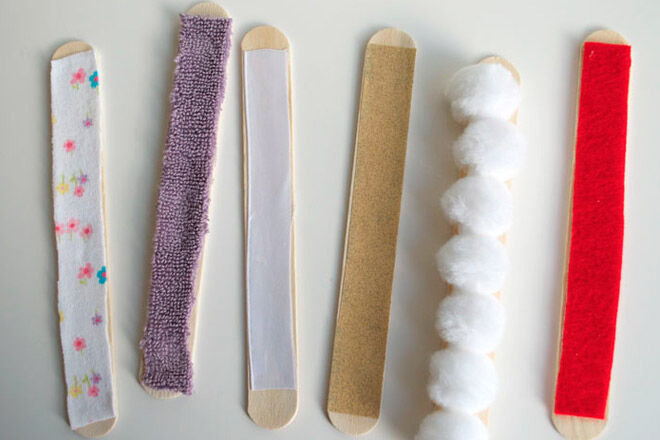 Babies and toddlers will love these touch and feel sensory sticks (just watch that bub doesn't have a taste). They're all kinds of interesting – rough, smooth, soft and silky. Perfect for car trips as well. (via The Baby Bump Diaries)
Alphabet soup sensory bin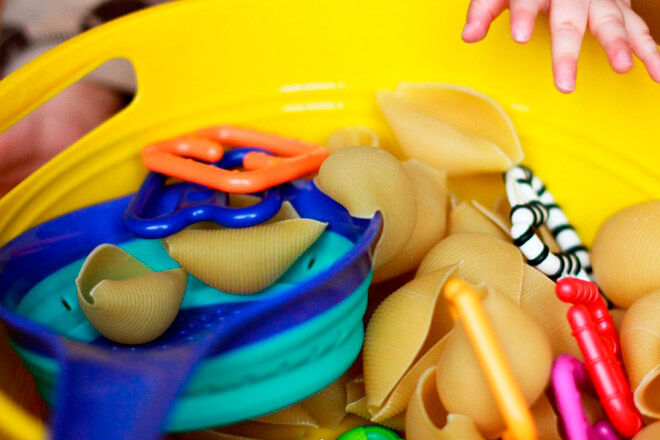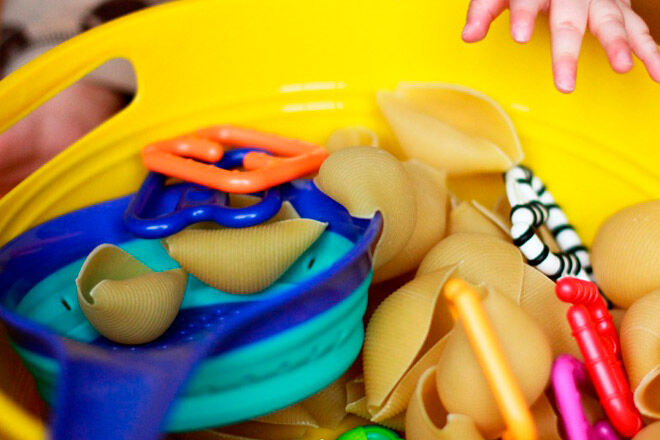 Sensory bins get more elaborate as kids get older, but this one is just perfect for babies. Oversized pasta shells and colourful plastic letters are touch-alicious! (via Plain Vanilla Mom)
The Ice Age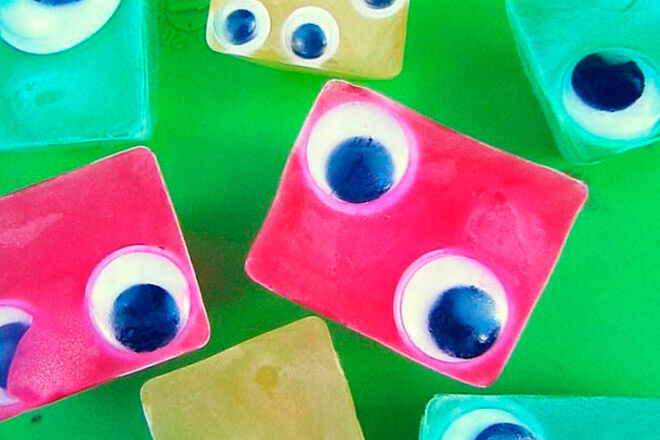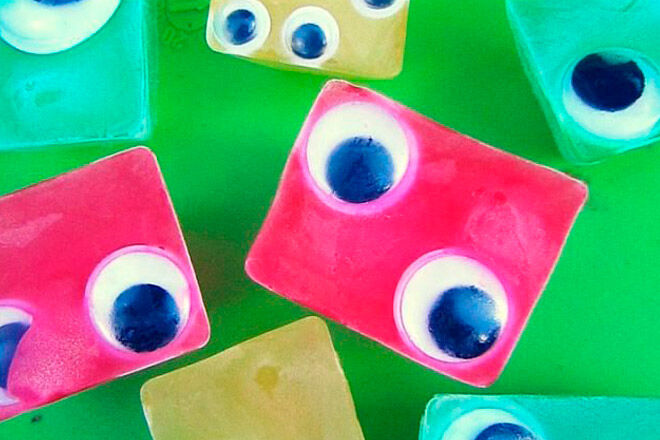 Once the weather warms up, crack out some ice play. Icy eye monsters and frozen dinosaur eggs offer double the tactile treat, first when solid and then in melted form. Roarrr! (via Best Toys 4 Toddlers and Little Bins for Little Hands)
Corny!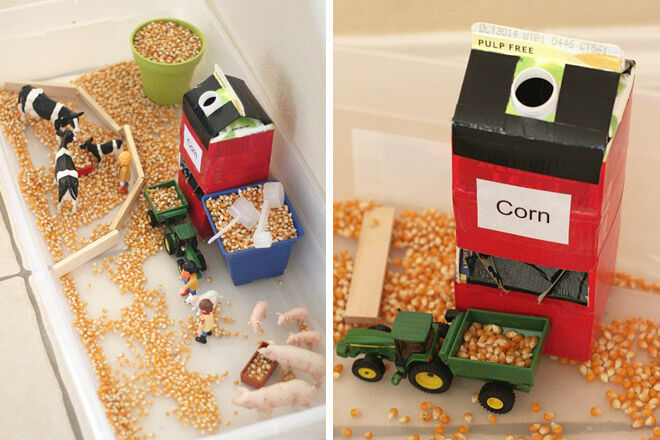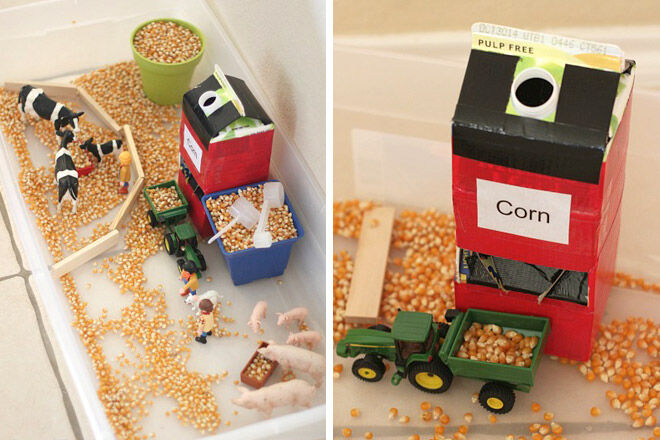 Preschoolers' eyes will pop when they see this mini hobby farm. Popcorn kernels are great for sensory play and the orange juice carton 'silo' is easy-DIY genius. (via Frugal Fun For Boys)
 Adventures to go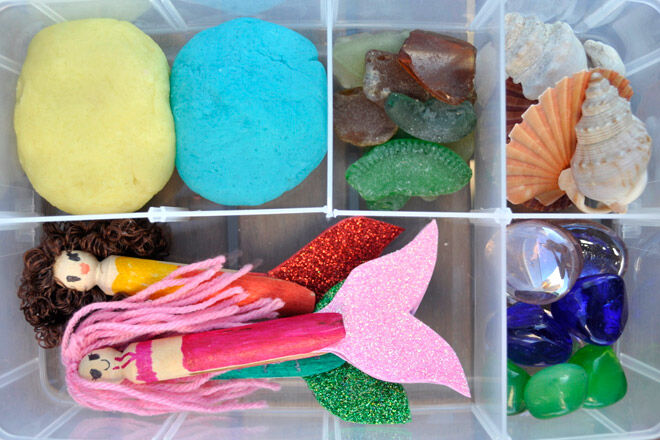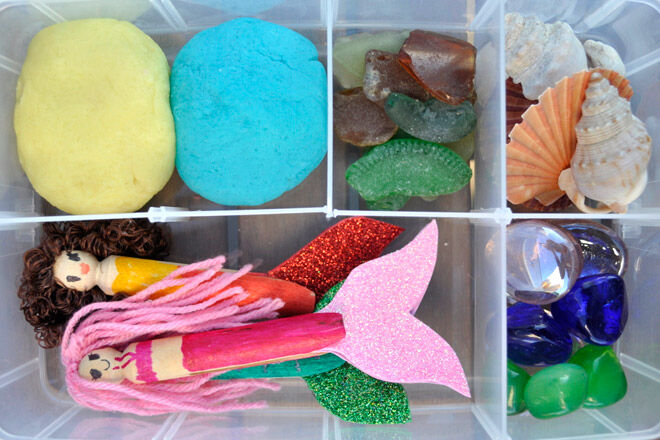 Play dough kits add another level of creativity to play time. Mermaids and shells, trucks and rocks, animals and leaves… These take-anywhere kits are inspired! (via Be A Fun Mum)
Baa baa white sheep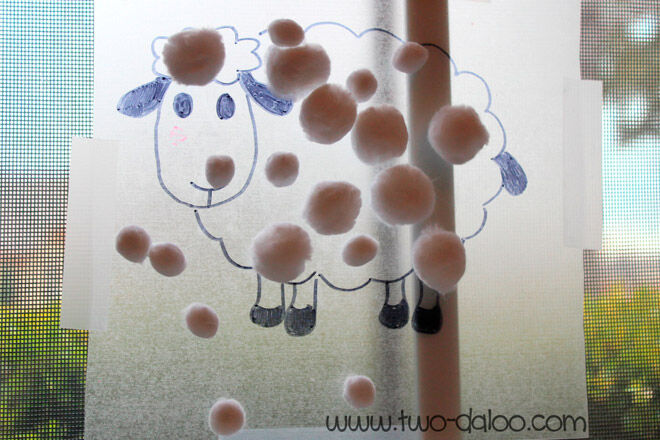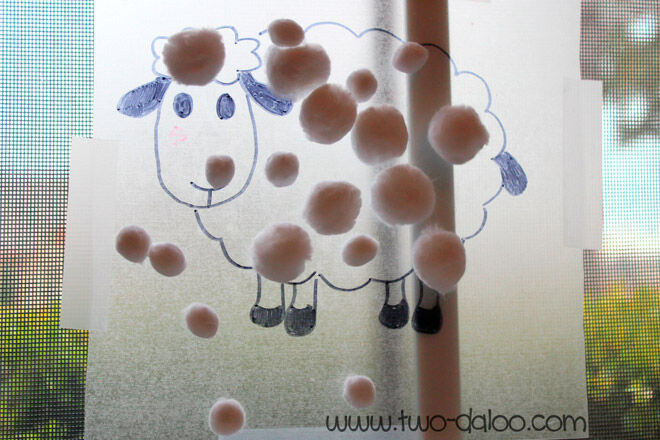 Toddlers will love this sticky, fluffy sheep. For touch and sound play, sing nursery rhymes while sticking. All together now! Old MacDonald had a farm… (via Twodaloo)
Der glumph went the little green frog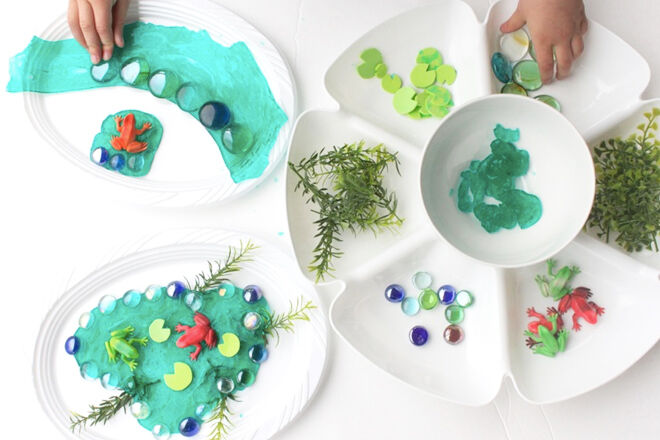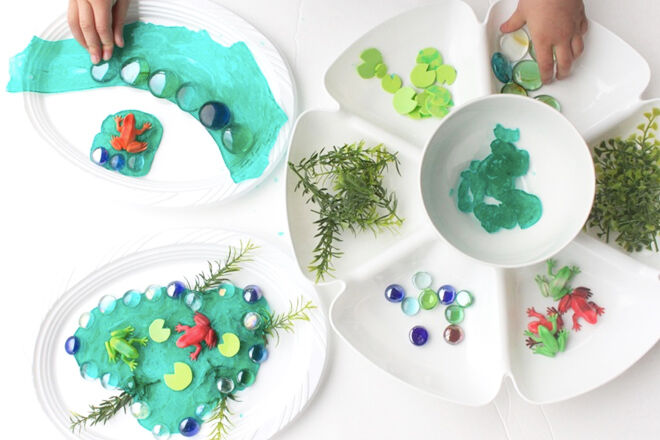 A frog pond is a beautiful thing! Create one with water beads, slime or even jelly and hop into some sensory play. (via Mama.Papa.Bubba.)
A colander full of fun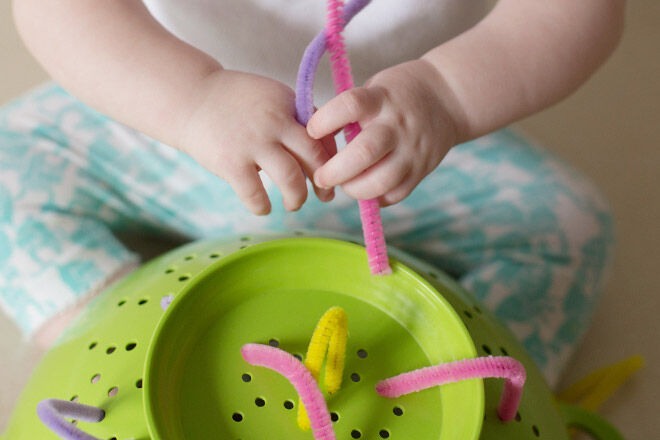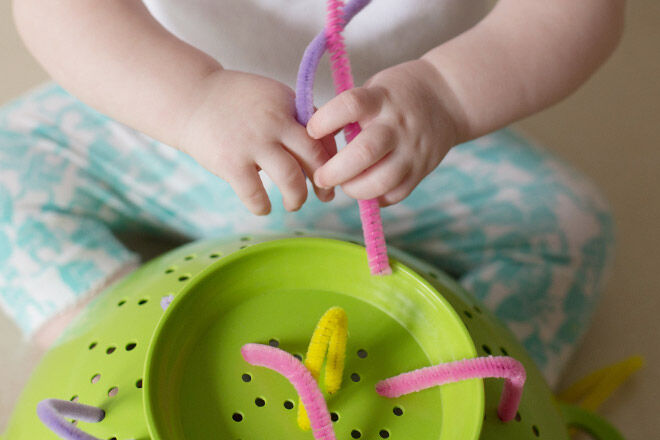 This idea is great for fine motor play, but also for sensory play, as little ones touch and twist the soft pipe cleaners. (via Adore Cherish Love)
Scents-ory play
These activities will activate kiddo's sense of smell. Breathe in and smell the… rainbow?!
Perfumed play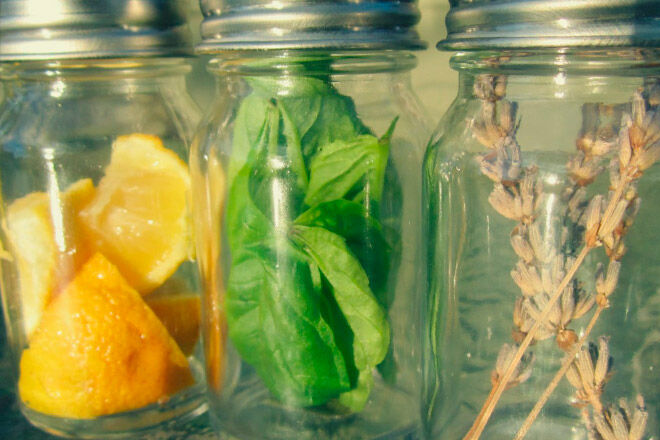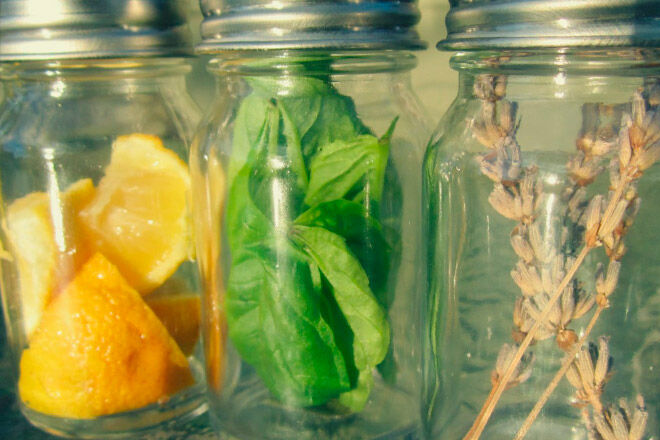 Sniffing scent jars is an olfactory treat for your tot's nose (depending on what you put in them!). Essential oils will intensify the scent, but kids love smelling lemon, lavender and basil as is. (via Mama's Happy Hive)
All the colours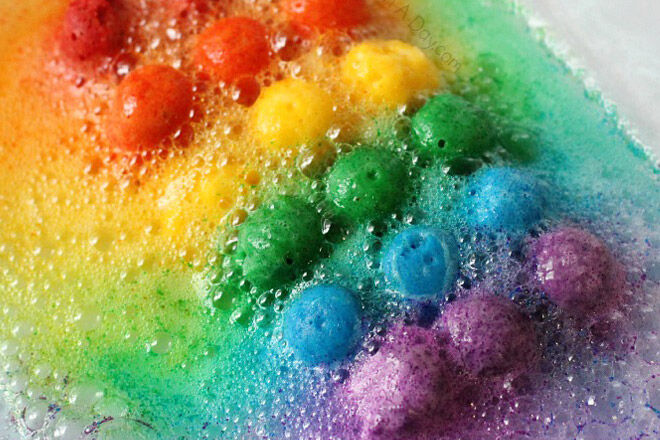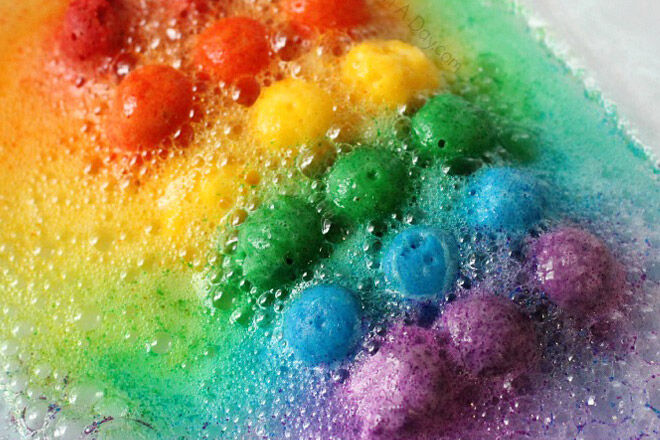 This rainbow has a yummy smell, looks great and combines science and sensory play to entertain preschoolers everywhere. (via Fun-A-Day)
I spy with my little eye
These sight-based activities are all the better for seeing with.
Twinkle, twinkle little lights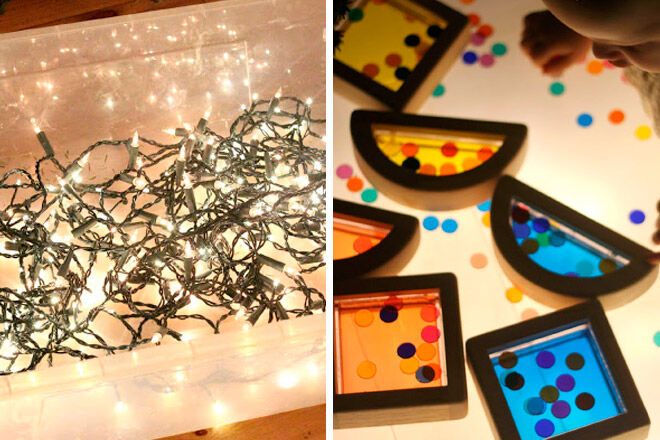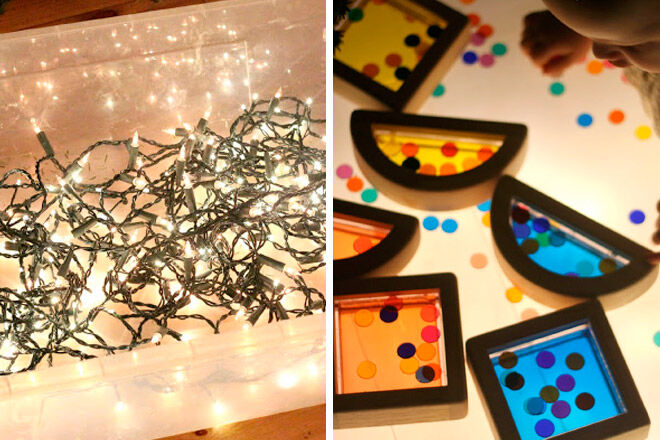 Babies and big kids will be enamoured with this DIY light box. It bring shapes, colours and shadows to life, with Christmas lights sparkle. (via the imagination tree)
Flip the flaps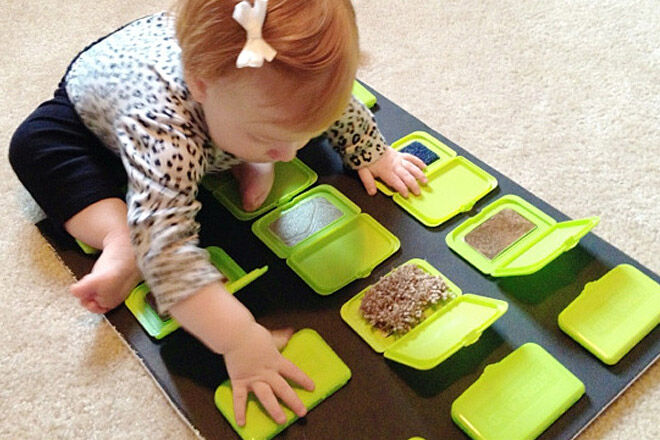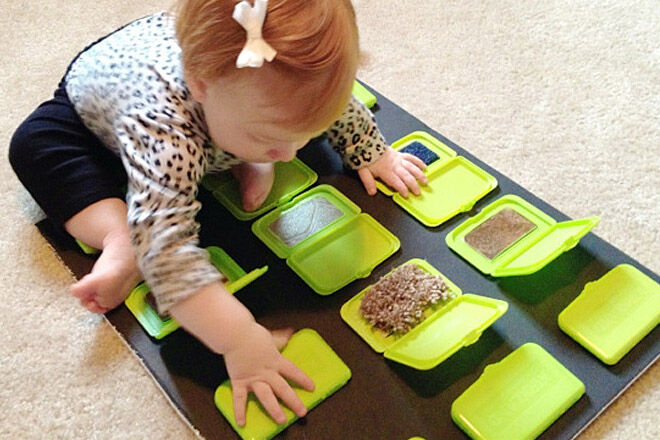 Here's how to upcycle all those baby wipe lids. This peek-a-boo sensory board has a different texture under every lid, so baby eyes get a big surprise! (via Motherhood and Other Adventures)
Hunting for eye candy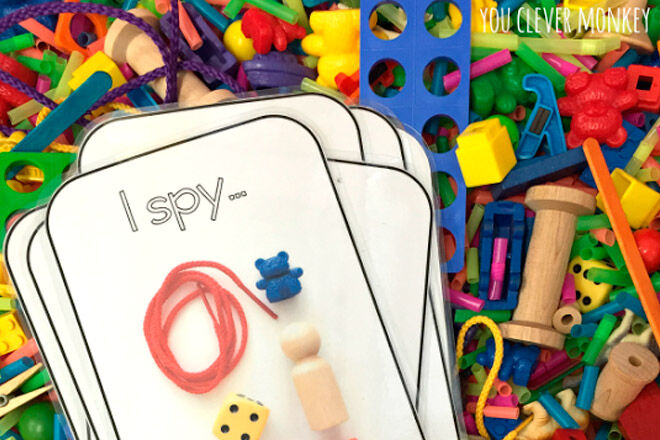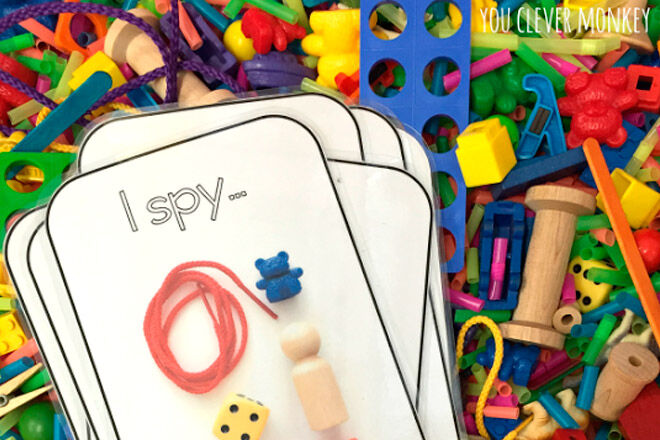 Fill a tub with lots of different, coloured objects, then play the best game of 'I Spy' ever! Your little detective can spot things in one colour or match objects you've found. (via You Clever Monkey)
Colour-sorting is… sorted!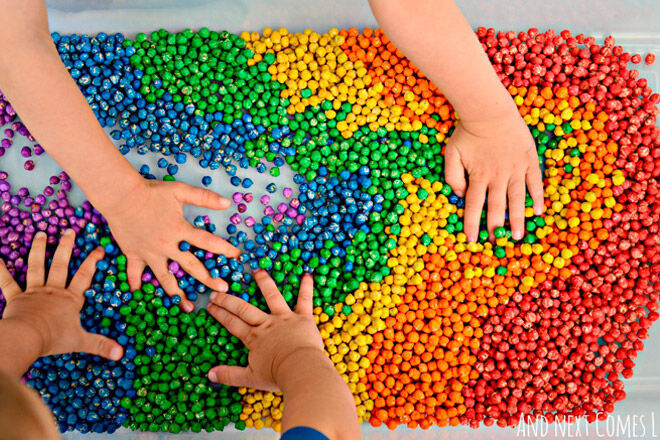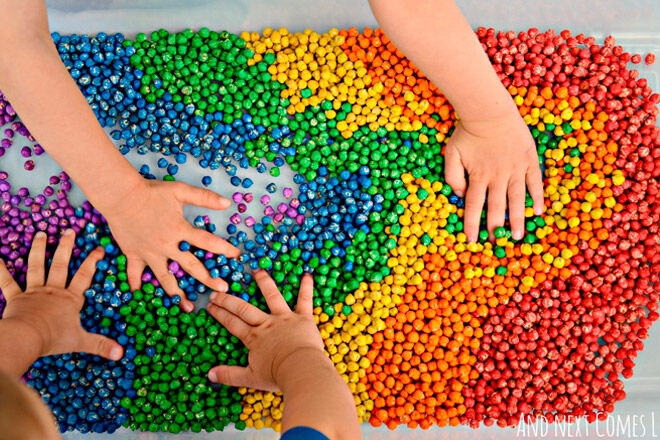 You can colour pasta, beans, rice, oats (and little fingers in the process), however, we're loving the look and feel of these rainbow-coloured chickpeas. (via And Next Comes L)
Dig in!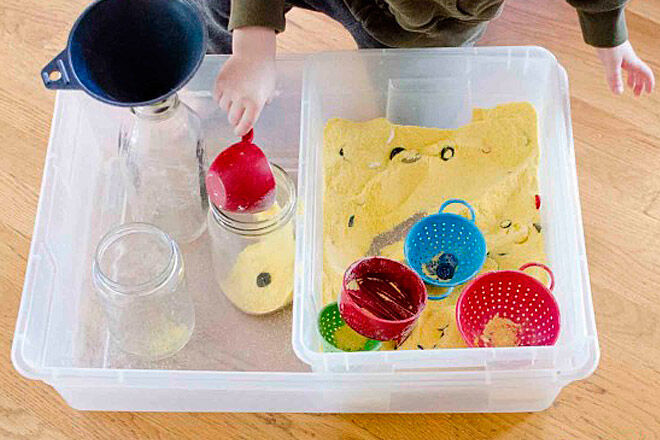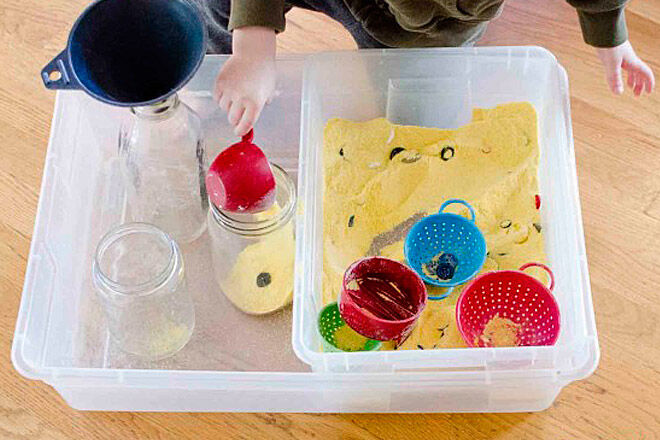 Hide buttons in a bucketload of polenta (or sand) for this fun excavation activity. Tykes will use their eyes, hands and tools (funnels, colanders and cups) to spot the dots. (via Busy Toddler)
Retro play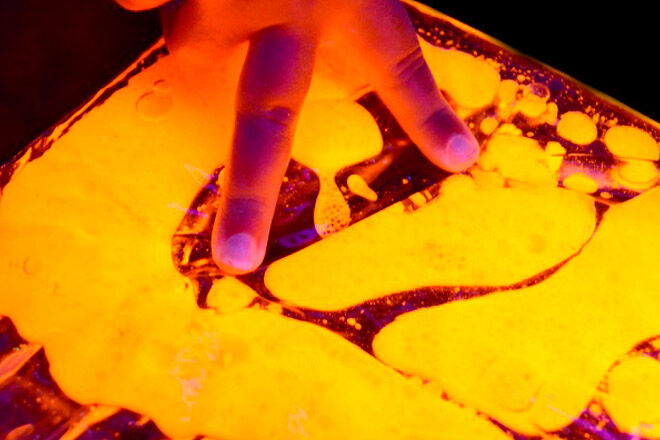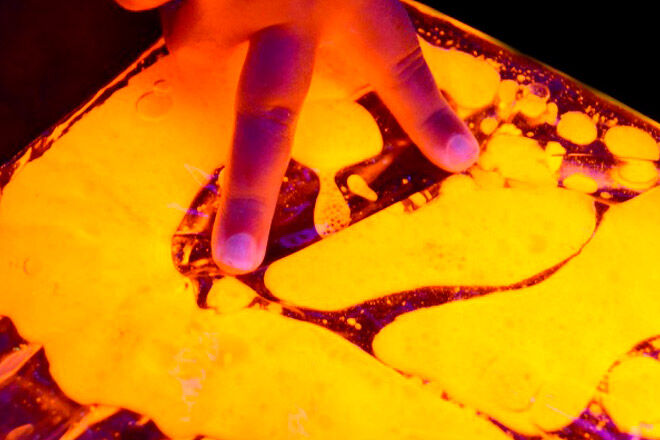 Sensory bags are great for all ages (including for distracting bub during tummy time), however, these glow in the dark lava lamp sensory bags are something else. Groovy baby! (via Growing a Jeweled Rose)
Listen up!
Eager little ears will love these ideas for auditory sensory play.
Snap, crackle and pop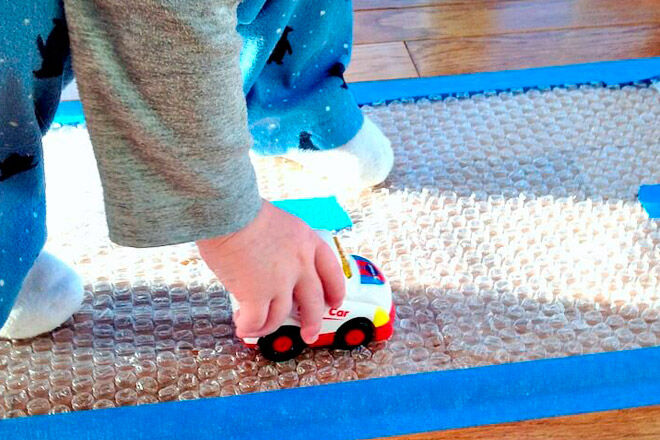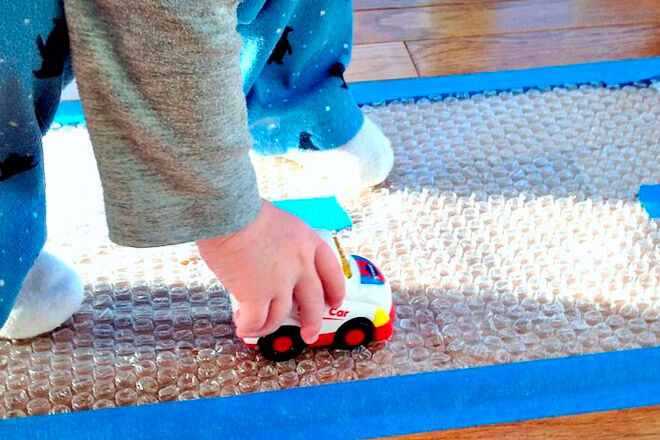 Bubble wrap is great for sensory play – it's fun to squish and noisy to squash. This bubble wrap road lets toy cars, not fingers, do the popping. (via Sunny Day Family)
Wonder wall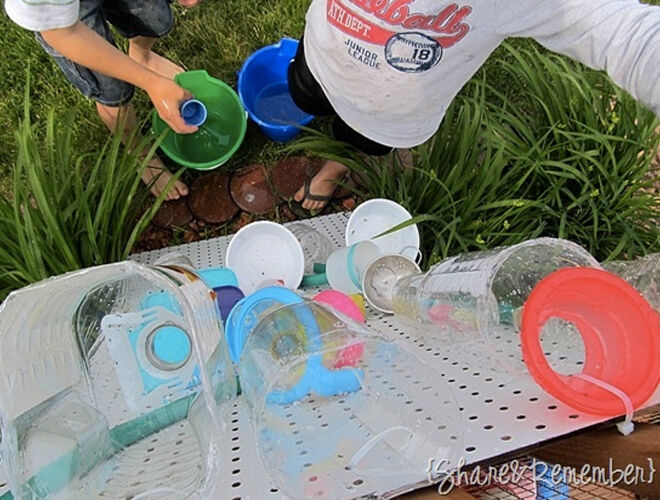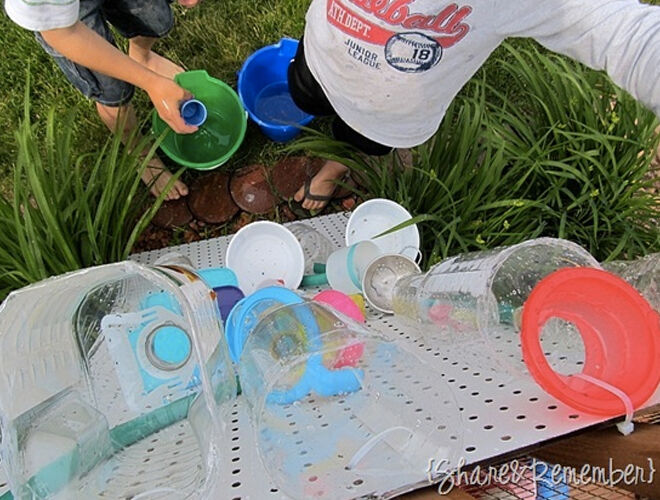 Water play is best for warmer months, however, this water wall sounds so tinkly and sprinkly that kiddos will head outside in the cooler months just to have a listen. (via Things to Share and Remember)
Create and shake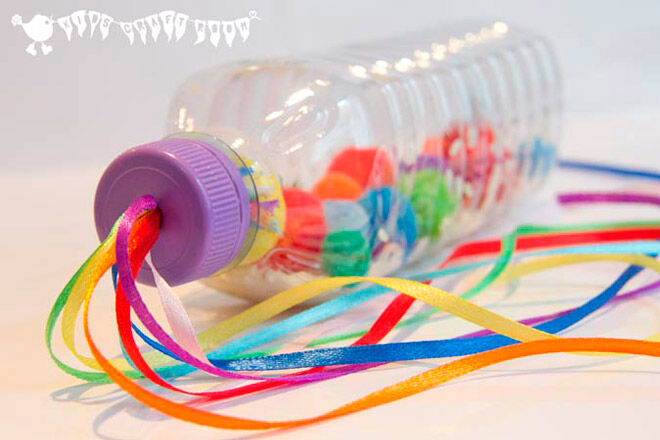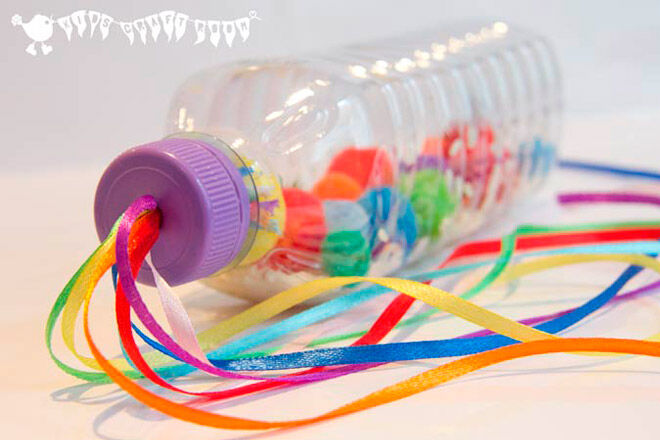 Make some music with a rainbow bottle shaker. Little ones will love looking at all the pretty colours and older kids will give the rice a supersonic rattle. (via Kids Craft Room)
DIY music studio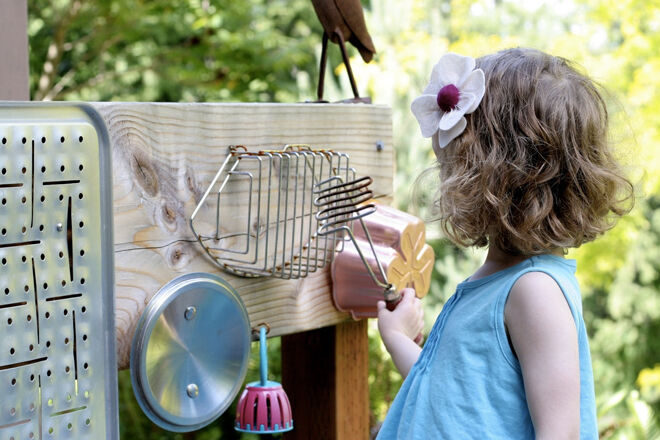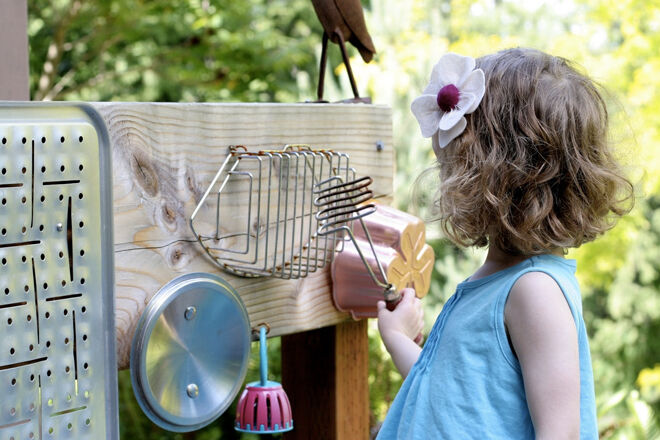 This music wall is built for sensory play. With pots to drum and boards to grate, things are about to get noisy. (via Fun at Home with Kids)
Mmmmm….. delicious
These activities will tickle your kiddo's tastebuds.
Finger food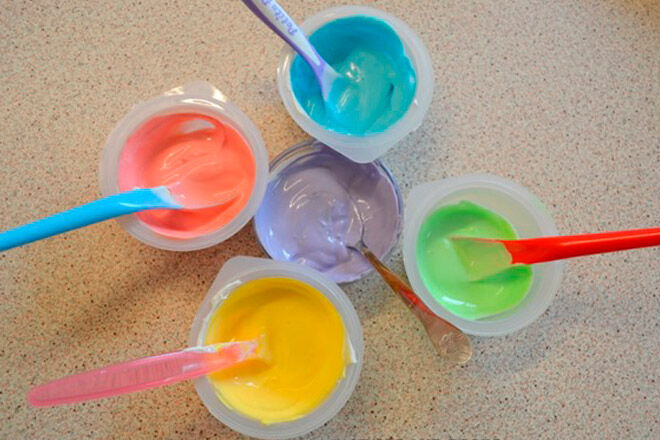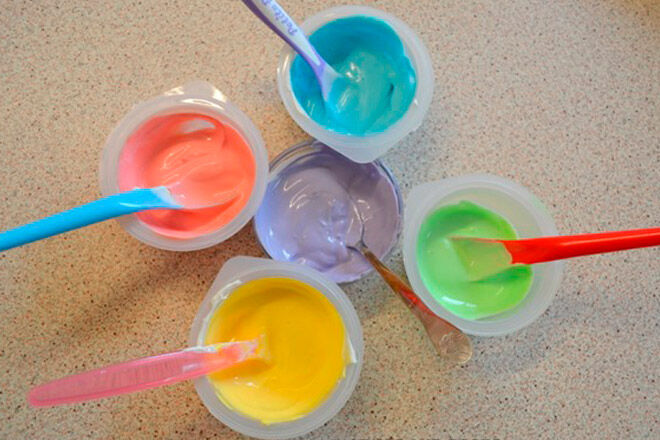 Edible finger paint looks good enough to eat, and trust us, babies will do just that! (via Wings and Roots)
Mud they can munch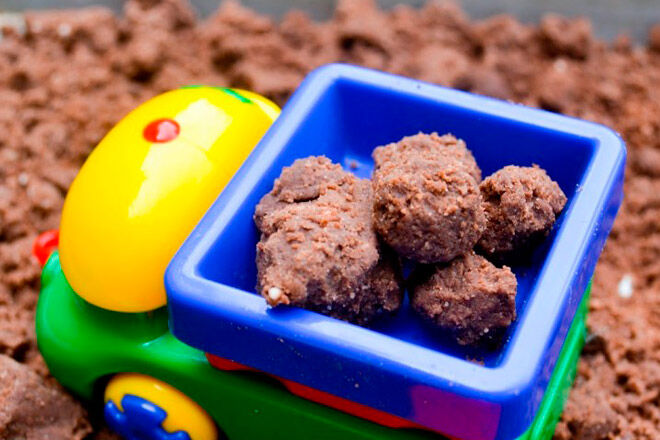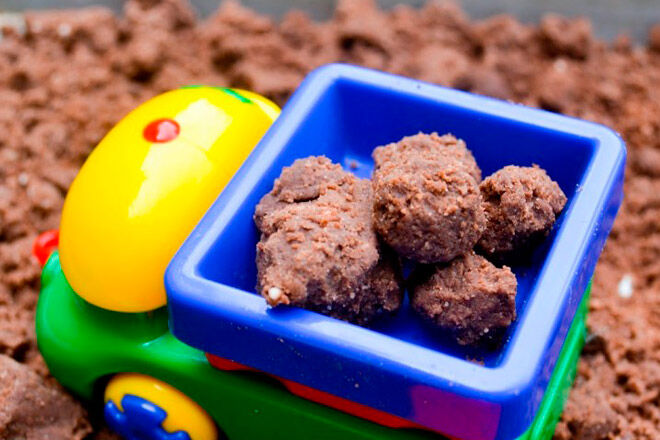 Mud balls kids can actually eat? Are we dreaming? No, dear reader, we are not! Edible mud is a real thing. (via A Little Pinch of Perfect)
Play ball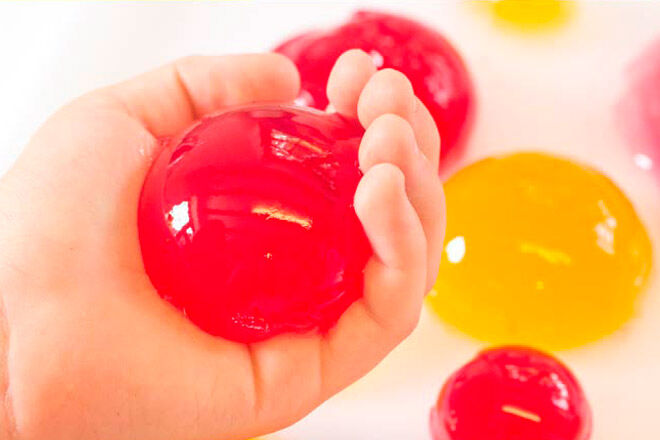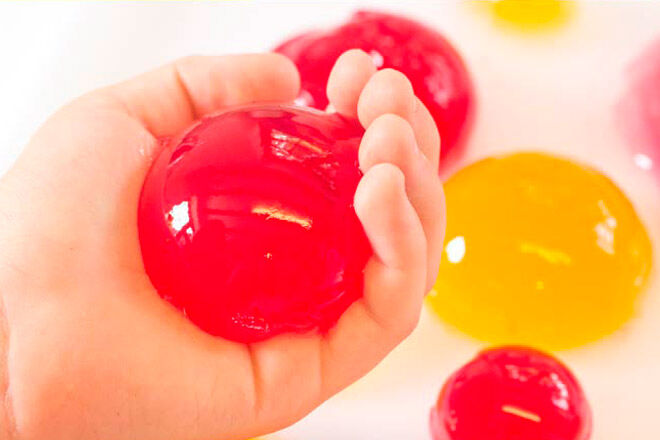 These silky soft balls are made from jelly. They're jiggly in ball form and squishy when squashed, but are yummy either way! (via The Mud Kitchen)