It might be winter, but chances are, your kiddo has a spring in their step because the New South Wales school holidays are coming! But before they burst out of the school gates, there's still time to plan some activities and practice your rendition of 'Let Me Entertain You' à la Robbie Williams.
Although we can't help with the singing, activities are sorted for Sydney kids. Whether they're finding Dory, going bush or heading Way out West, Sydney has turned it on for every-kid these school holidays.
Here are 20 great school holiday events happening in and around Sydney. Whoop!
New South Wales school holidays: July 2 – July 17, 2016


Sydney – CBD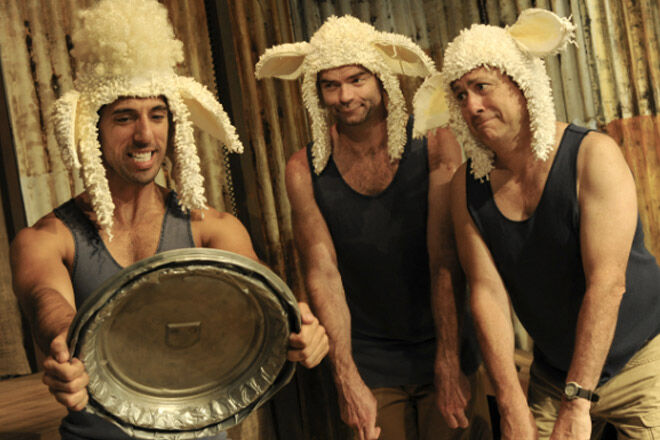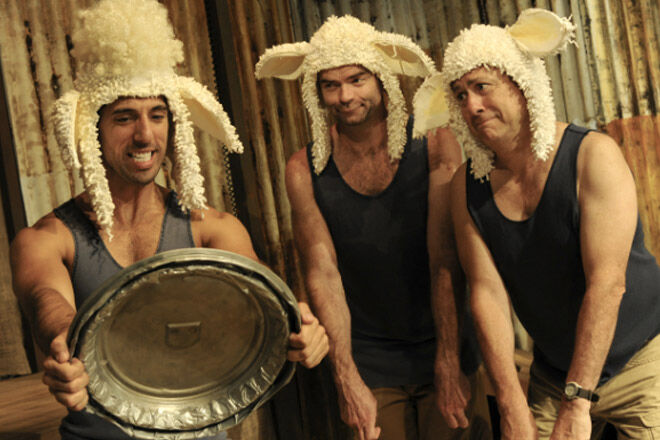 Boomerang painting: Let the kids be inspired by Aboriginal artists with Boomerang Painting for NAIDOC week. The boomerang lives up to its name and comes home with you too.
Australian Museum, July 4 – 8 & July 11 – 17, 10am-3pm. Ages: 5+. Free with Museum Entry Adults: $15, Children (Under 16): Free. See the full holiday program here.
Pop-up Planetarium: Spend time star gazing at the Pop Up Planetarium. The 360 degree experience is a must for mini astronauts.
Maritime Museum, July 3 – 17 (except Saturdays), 10am-4pm. Entry to the Museum: Adults $30, Children (4-15) $18, under 4s free.
Toy making: Your kids may have blocks, cars and soft toys aplenty, but what about a Chinese rattle drum, dragonfly toy or tangram puzzle? At the Traditional Toy Making workshop, your kiddo can learn to make each of these themselves and then take them home to continue the fun.
Chinese Garden of Friendship, Darling Harbour, July 4 – 15, 11am-1pm. Ages 5-11. Free with entry to Garden: Adults $6, Children $3.
Pete the Sheep: Enjoy the adventures of Pete the Sheep at the Opera House this holidays. Based on the book by the same name it will warm your heart and make you laugh.
Sydney Opera House, July 2 – 17, Showtimes: 10am, 12pm & 2pm. Ages 4+. Tickets: $30-49.
Tanabata: Star Village: Young faces will shine brightly as they weave their magic at the Tanabata: Star Village. Using paper, bamboo and string, kids can immerse themselves in and contribute to this large-scale art installation.
Powerhouse Museum, July 2 – 17. 10am-4.30pm. All Ages. Adult: $15 Children (Under 16): Free
Random Musical: Get ready to giggle at the Random Musical. Audience members each give their name and favourite word and then the performers take them, mix them all up and bake them into a unique musical. Fun!
Monkey Baa Theatre Company, July 12 – 16, Showtimes: 10.30am & 12.30pm. Ages 5+. Adults & Children: $29.
Curious inventors: Tinkering with recycled materials and exploring virtual worlds are just some of the adventures Young Einsteins can have at Curious Inventors at the MCA. Grab some lab goggles and invent some fun!
Museum of Contemporary Art, July 5 – 9, 10.30am-4pm. Ages 4+. $5 donation per family. See the full MCA holiday program here.
Feeling Fruity: Inspired by the art of Frida Kahlo and Diego Rivera, Feeling Fruity is about kids experimenting with drawing to create artworks of colourful fruit and flowers. Sounds like a berry good time to us.
Art Gallery of NSW, July 11 – 15 & July 17, 11am-4pm. All Ages. Free. 
Sydney – East
Convict Farm Tour: Take a trip back in time at the Elizabeth Bay Convict Farm Tour. Young time travellers will learn all about servant life in the 1800s, when a mobile was only a thing that hung above a baby's cradle and the washing was done in a bucket.
Elizabeth Bay Farm, July 2-17, 11am & 1pm. All Ages. General admission: $8, Family: $17.
Kid vs. Wild: Forget man versus wild, try Kid vs Wild. Bear Grylls aspirants can collect their kindling and learn about starting a fire with tinder, not matches. Sparks away!
Centennial Parklands, July 5 & 12, 1.30pm-3.30pm. Ages 5+. $29.
Charlie Brown: Sing me a song, Charlie Brown! You're A Good Man Charlie Brown takes a musical look at everyone's favourite cartoon characters: Charlie Brown, Snoopy and his kid sister Sally.
Hayes Theatre, July 5 – 16, various times. All Ages. Adult: $55, Child (Under 12): $45.
Sydney – North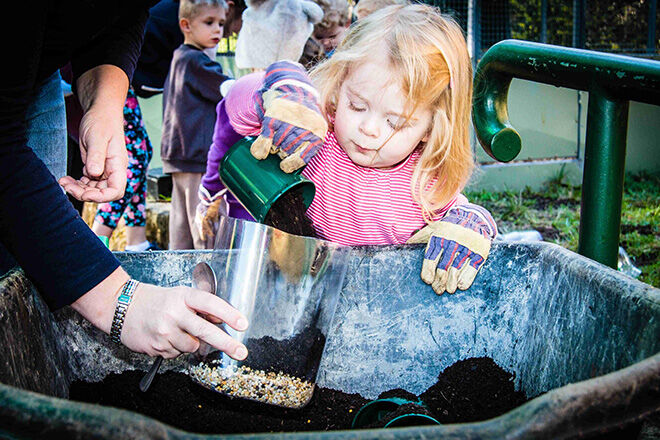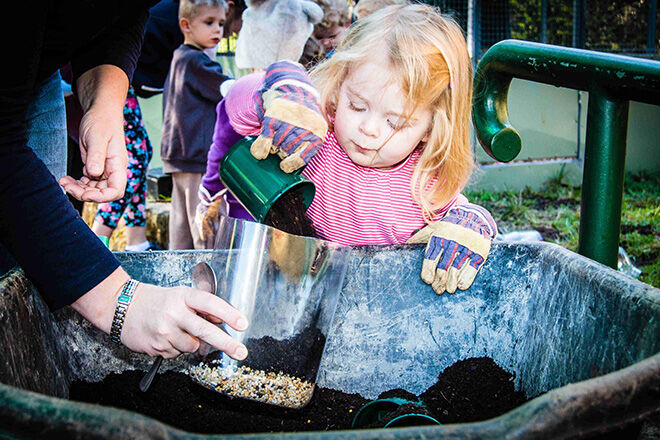 Bush Kids: Kidlets can head back to nature with the Bush Kids School Holiday Program. There is a great range of activities for kids big and small, including Possum Magic for tiny tots and Aboriginal bush skills for older nature lovers.
Ku-Ring-Gai Wildflower Gardens, St Ives. July 4 – 15. Various times and prices. Ages 0 to 12.
Hippo! Hippo!: Drip! Drip! Drip! There's a hippopotamus in this musical! Hippo! Hippo! brings the iconic story There's a Hippotamus on Our Roof Eating Cake to musical life.
Glen Street Theatre, July 14 – 16, various times. Ages 1-7. Adults & Children: $21.
Finding Dory: After a long wait, Finding Dory, the sequel to Finding Nemo, has arrived. And now your mission, should you choose to accept it (to mix movie lines…) is to follow the interactive trail at the Finding Dory exhibition at Sea Life Manly and find your own Dory in real life!
Sea Life Aquarium Manly, June 1 – July 18, 9.30am – 5pm (last entry 4.30pm). All ages. Free with Aquarium Admission. Adult $25 Child (4-15) $17, under 4s free.
Sydney – West
Way Out West: Could there be a better acronym for this festival? The WoW Festival is an arts festival just for kids and aims to contribute to their creative development. We know a few toddlers hanging out for the Baby Hearts Disco!
Casula Powerhouse Arts Centre, Casula. July 13 – 16, 9.30am – 3.30pm. Ages 0-12. Free. 
Circus Solarus: Be prepared for a swashbuckling adventure at Circus Solarus – A Pirate's Life. Side effects include walking and talking like a pirate.
Sydney Olympic Park, July 4 – 8 & July 11 – 15, 11am & 1pm. Ages 4-10. Free.
Winterfest: Be transported back to Medieval times with Winterfest. Watch the jousting or learn how to (foam) sword fight. Plus send the kids to Knight's School! You are sure to have a merry time.
Winterfest Sydney Medieval Fair, Parramatta. July 2 & 3, 10am – 4pm. All ages. One Day Pass: Adults $25, Children (5-17) $10, Under 5s free.
Sydney – South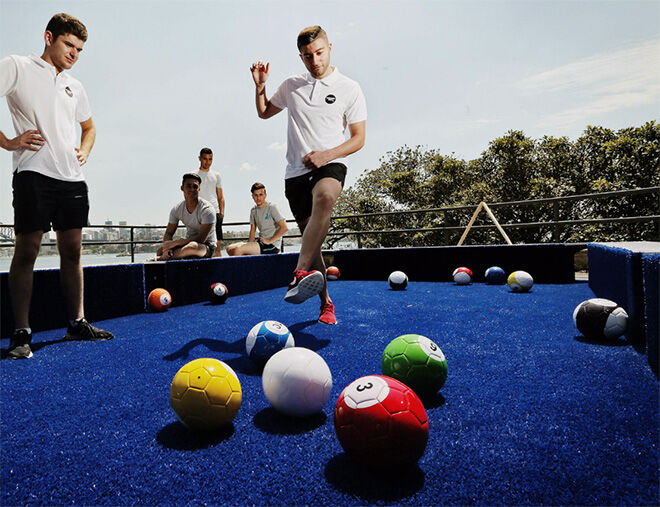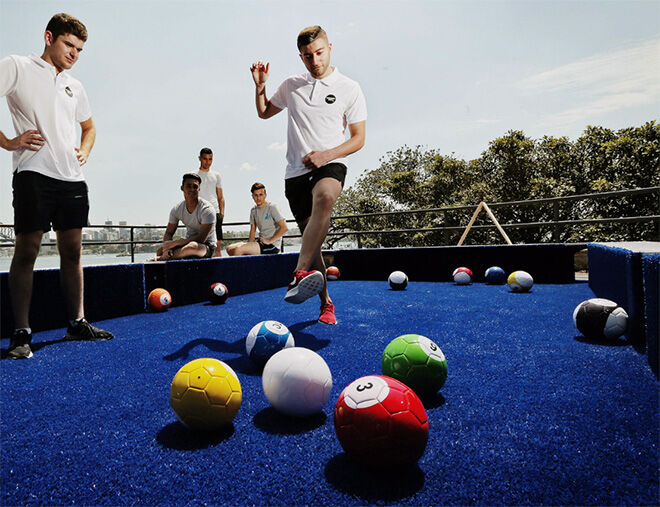 Snooker feet: Snooker can be a bit of an overreach for little arms, but what about Snooker Feet? Think part snooker part soccer and the best bit – it's free!
Cronulla Plaza, July 11 – 15, 10am – 3pm. All Ages. Free.
Film Festival: Hit the flicks for the Kids Holiday Film Program at Hazelhurst Theatre. Future filmmakers will be inspired seeing films made by and for kids, amongst other silver screen treats including the FlickerKids lineup.
Hazelhurst Theatrette, July 4 – 15, 10am. All Ages. Free.
Superhero Day: Kids can trade in their school uniforms and embrace their secret identities for Superhero Day! They will leap over tall building in a single bound as well as play games and enjoy other super-fun activities.
Funtime 4 Kids, July 11, 9.30am-2pm. Ages 5+. Children: $45.