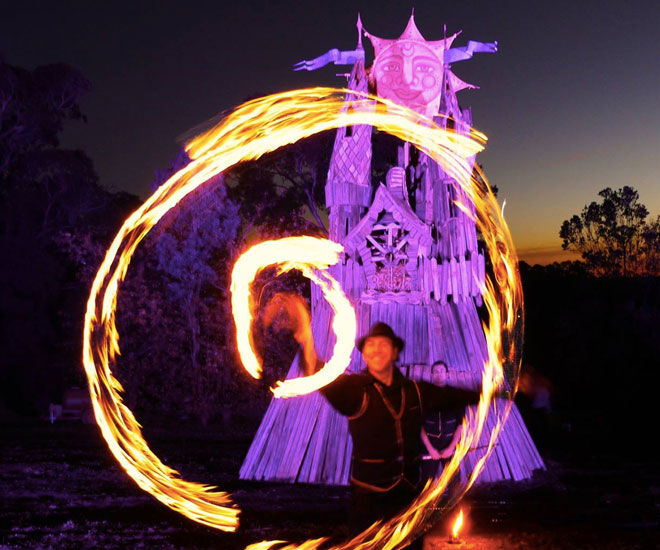 The winter solstice heralds the shortest day and the longest night of the year. From here on in, we can claim a little more sunshine, minute by minute, each day. That certainly sounds like something to celebrate to us!
While the temperatures may be down, the excitement is certainly up, up, up with plenty of community solstice celebrations planned throughout Melbourne and nearby regions. There is food, fun and fires aplenty for everyone to enjoy!
Belgrave Lantern Parade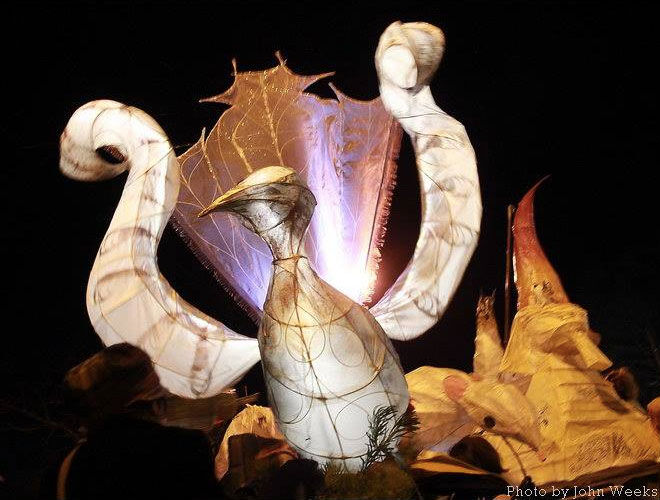 The Belgrave Lantern Parade is celebrating its 10th birthday and they want to make it the brightest parade ever! BYO lantern, don your walking shoes and join this fantastic event.
Parade starts at Hayes Car Park, Belgrave, 18 June 2016. Activities from 4pm, parade starts at 5.30pm. Free.
Beautiful Darkness at CERES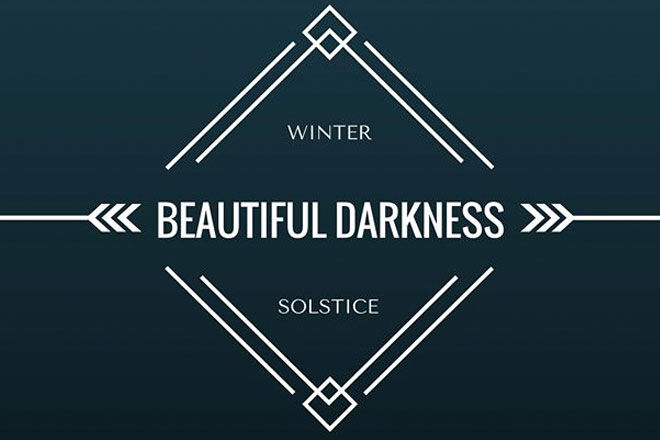 CERES have gone all out with their solstice celebration, bringing together all our favourite solstice activities, including lantern making, fire twirling and live music. And there will be food, lots of delicious food.
CERES Environment Park, Brunswick East, 25 June 2016, 4.30 – 8.30pm. Tickets available here (adults: $18, children (5-15, under 5s free): $5, family: $40).
Bonfire at Collingwood Children's Farm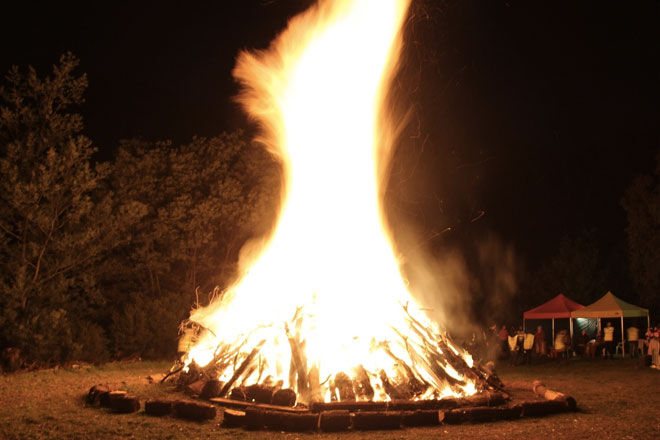 Keep warm fireside with the giant bonfire at Collingwood Children's Farm. There is storytime and lantern making for the kiddos before the fire-y stuff starts with fire twirlers from 5.45pm and the lighting of the bonfire at 6.15pm. This is not one for toasting marshmallows!
Collingwood Children's Farm, Abbotsford, 18 June 2016, 4.30 – 8pm. Tickets available here (adults: $12, children $6, family: $24).
Winter Solstice Festival at Eltham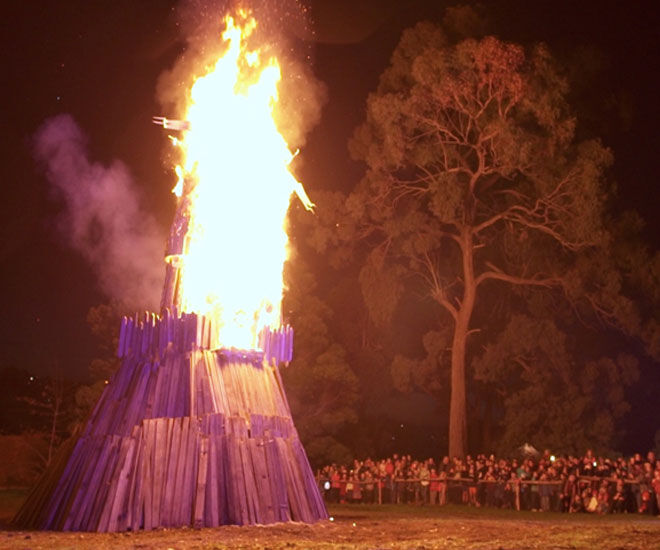 Celebrate the return of the light with this flame-tastic festival in Eltham. The magnificent sculptural bonfire is the centrepiece of the night but there will also be live music, delicious food and a lantern parade for the little lights of your life.
Matcham's Paddock, Eltham, 18 June (sold out) and 25 June 2016, 3 – 10pm. Tickets available here (adults: $20, children (2-14, under 2s free): $12, family: $55).
Solstice celebration at Federation Square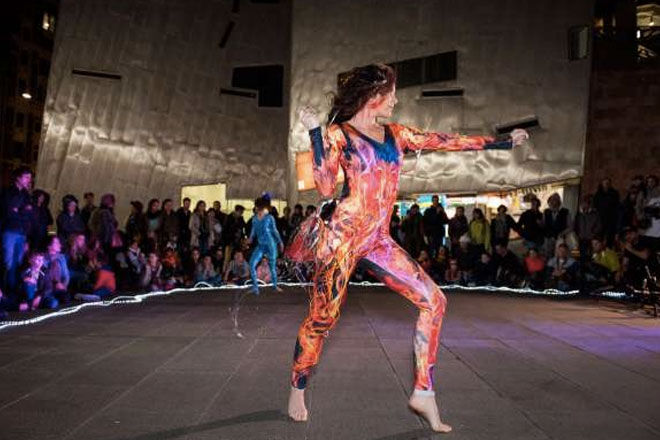 As part of The Light in Winter festival, Federation Square will welcome the solstice with a blazing array of things to do and see. From Indian dancers to campfire sing-alongs and a roving puppet performance, this one is a feast for the senses.
Federation Square, Melbourne, 18 June 2016, 5 – 9pm.  Free.
Winter Solstice Festival at Brunswick
Hula hoop on over to the Winter Solstice Festival at Brunswick Primary School for a spectacular evening of merry-making. Your young sparks will love the lanterns, lights and bonfire as well as everyone's favourite – face painting! Watch out for the magnificent Green Man, created by local kids, leading the lantern parade.
Brunswick Primary School, Brunswick East, 5 – 9pm. Tickets available here (adults: $13 (when pre-booked), secondary-aged students: $5, primary-aged students: free).
Solstice storytelling in Glenroy
If all that fire seems a bit much, settle in for a special solstice storytelling session at the Glenroy Library. Get ready for stories, singing, rhymes and a craft activity. Book bags at the ready!
Glenroy Library, Glenroy, 16 June 2016, 6.15 – 7pm. Free.
Welcome to Thornbury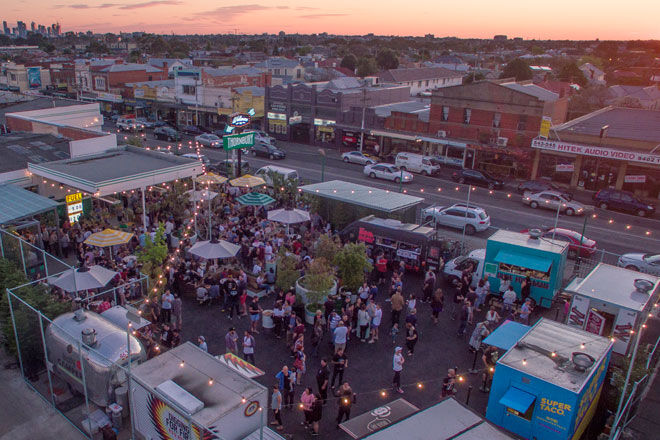 No solstice is complete without… food trucks! Rug up your miniature foodies and set off for Welcome to Thornbury. The outdoor beer garden will be transformed into a jubilant space for seeing out the solstice with fairy lights, roasting fires, candles and heaters. And, of course, there will be food trucks offering up delectable winter goodies.
Welcome to Thornbury, Northcote, 20 June 2016, 5 – 10pm. Free entry.

Regional Victoria is getting in on the solstice fun as well. Here are a selection of goings-on outside of the city limits
Mansfield Lantern Festival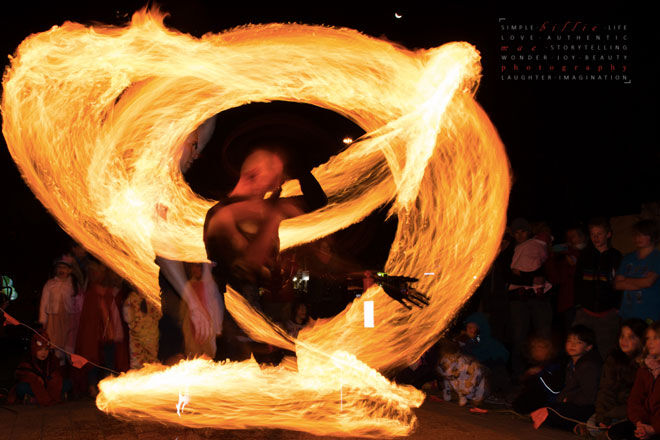 Have lantern, will parade! Add your light to the party at the Mansfield Lantern Festival. Anyone with a lantern can take part in the parade down the main street. Then, see out the solstice at the Delatite Hotel with live music, fires and fairy lights aplenty.
Main street of Mansfield, 18 June 2016, parade commences at 5.30pm. Free.
Shortest lunch in the Yarra Valley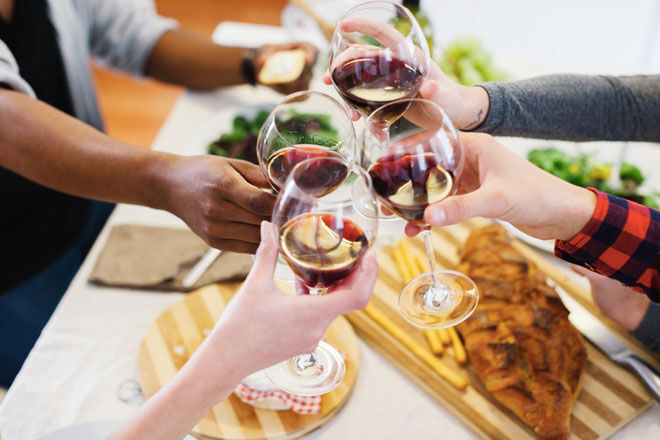 The Yarra Valley's smaller wineries have their turn in the (few hours of) sun and they are celebrating the shortest day with the shortest lunch. Which, it turns out, is actually quite long. Check out the program to see what is on offer at individual wineries, including special menus for kids.
Yarra Valley, 18 and 19 June 2016, 10am – 5pm. $15 per person for entry to the first winery (this covers entry to all other participating wineries).
Image via Boat O'Craigo.
The Village Winter Festival in Castlemaine
Kings and queens of the Castle(-maine) should head to The Village Winter Festival for all sorts of cool-weather fun. There will be a circus workshop, 10 minute dance parties and a live performance about the Super Amazing Giant Girl among many other excellent things to see and do. Count us in.
Victory Park, Castlemaine, 18 June 2016, 1 – 11pm. Tickets available here (adults: $10, youth (13-17, under 12s free): $3, when pre-booked or you arrive before 2pm).
Festival of Light in Alexandra
Celebrate the light during the darkness of the winter solstice with the Festival of Light at Alexandra. Warm up with steamy hot soup and buns at St John's church, then experience a blessing of light in the church (a small ceremony that comes from the lighting of lamps in monastic communities) and a lantern walk along the creek. Light this way!
St John's Anglican Church, Alexandra, 21 June 2016, commencing 5.30pm. Free.