Kids love to build things. FACT. And building things they can hide in, play in, read in and dream in – well, that's even better! For so much fun and enchantment, nothing beats a good cubby. Tie up your old tablecloths or get constructive with cardboard boxes, either way the kids are bound to love their new play space!
Here are 17 DIY cubby house ideas (or tents or forts or hangouts – whatever you want to call them!) where imagination is at play.
(Image via Etsy seller Striped Coast)
3, 2, 1… BLAST OFF!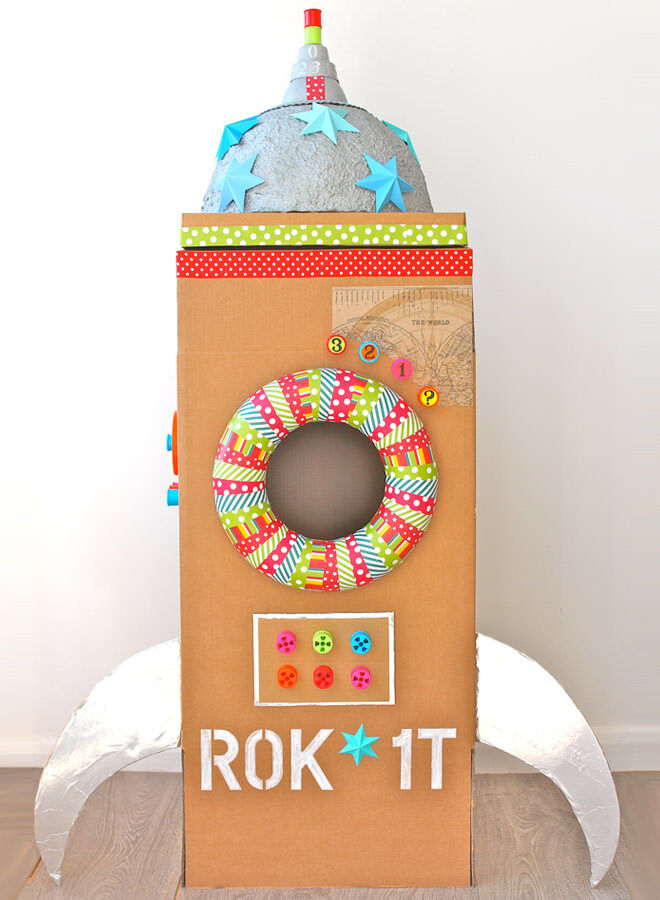 We love this rocket to the moon and back. Using bits and bobs from around the house, NASA should take note! (via Kate's Creative Space)
The CBD (cardboard box design)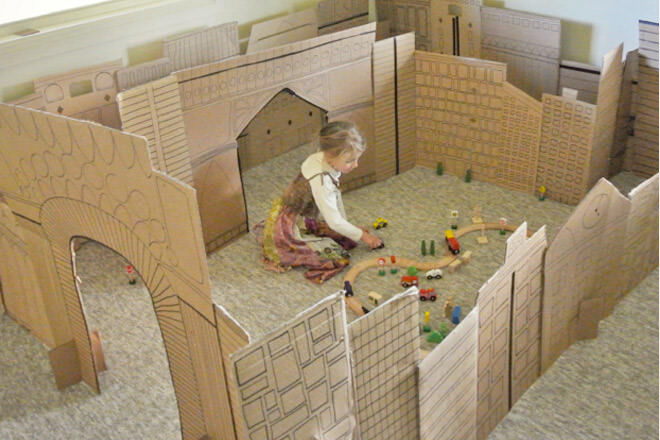 You'll get in the zone making this cardboard city (drawing all those windows is akin to adult colouring-in). And there's plenty of room to play in this small version of The Big Smoke. (via Paint On The Ceiling)
Let the play begin!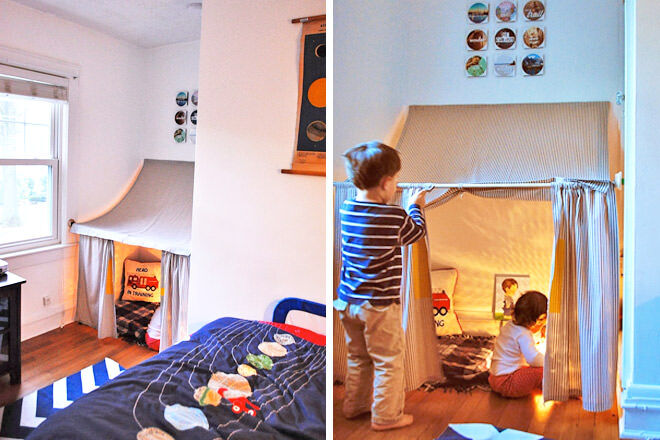 Set the stage for happy play times with this fabric fort. It has a theatrical edge, so tots can close the curtains and switch on the torch for dramatic effect. (via Ducklings In A Row)
A refreshing idea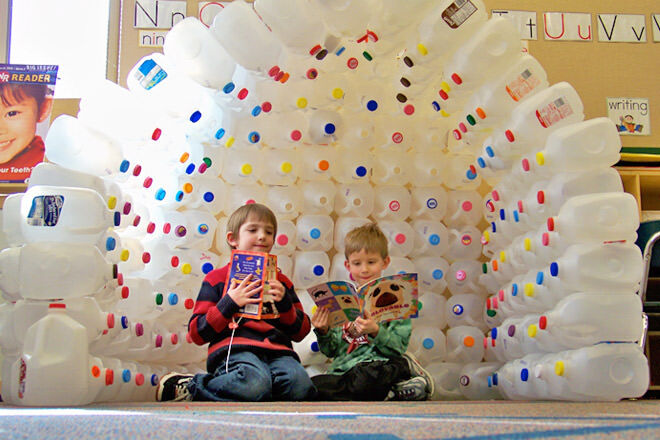 The cool factor is off the chart with this recycled igloo! Get a moooo-ve on with your calcium consumption, though, because this fort is made from a lot of milk bottles. (via Apartment Therapy)
Playtime is served!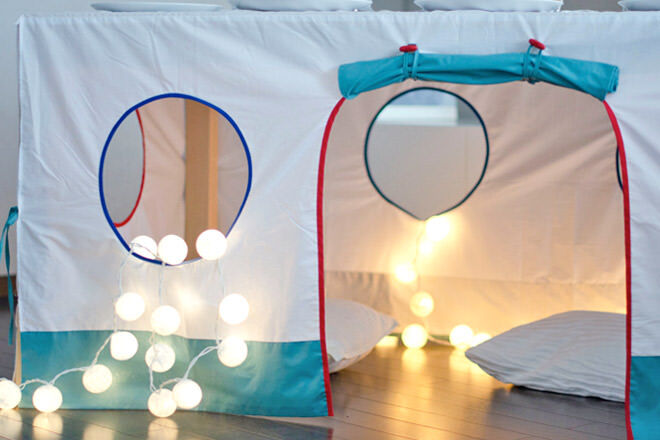 Bul-Bul Playhouse Tablecloth ($200): Keeping kids at the dinner table can be tricky, but inviting them under it is easy! This tablecloth transforms the day-to-day table into a fantastic fort.
Twinkle, twinkle, little stars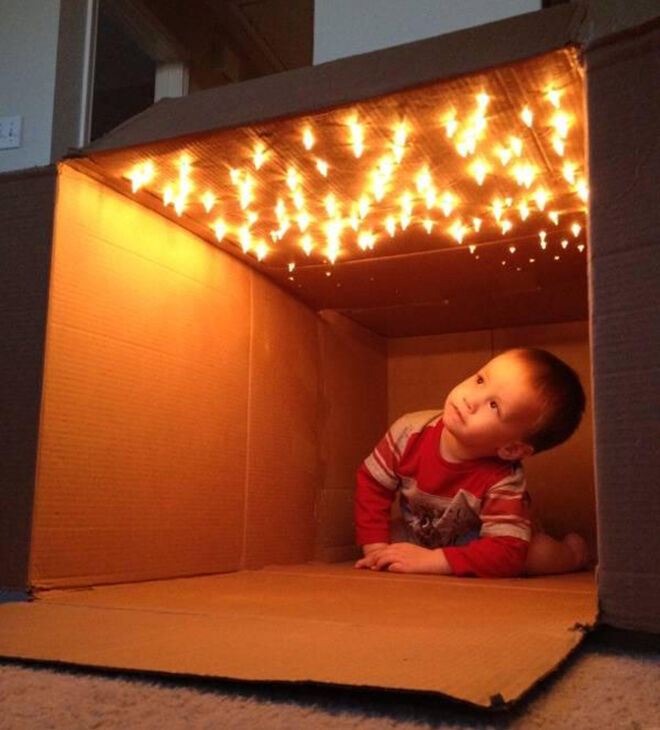 Made with a cardboard box and some fairy lights, this 'cave of stars' is simply beautiful. Stargazing has never been so cosy! (via Poppy Cat on Twitter)
DIY for kids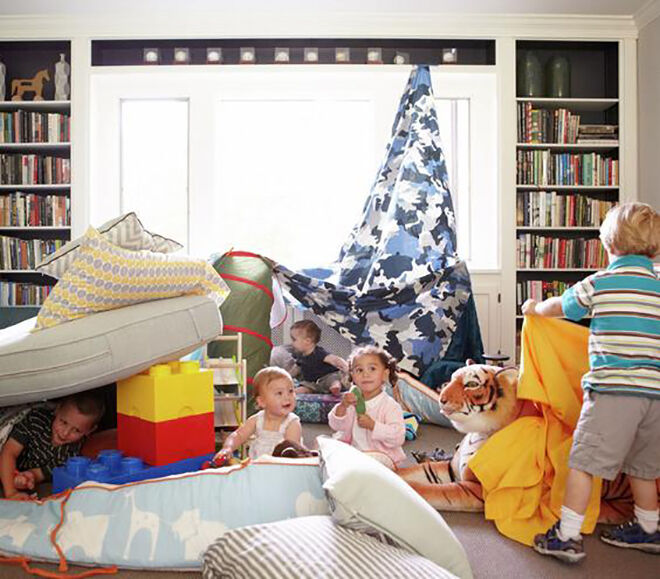 Building this cubby is half the fun. Children will love making their own play space out of blankets, pillows, sheets and a life-sized tiger plush (if you happen to have one handy!) (via Real Simple Blanket Forts)
The open road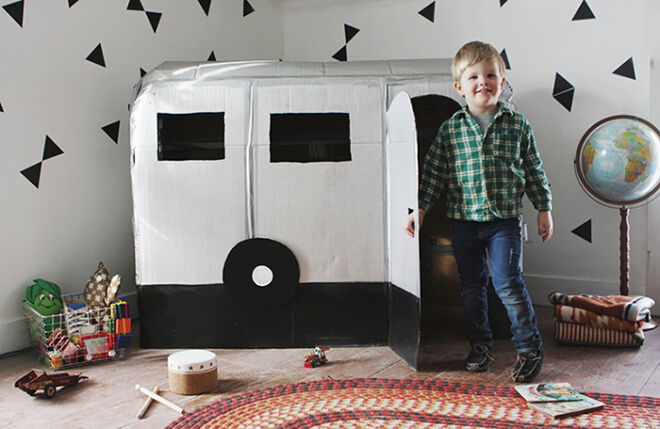 This DIY cardboard camper playhouse is perfect for off-road adventures. And we mean off-road, because it can be parked on carpet, tiles or floorboards. (via The Merry Thought)
Super structure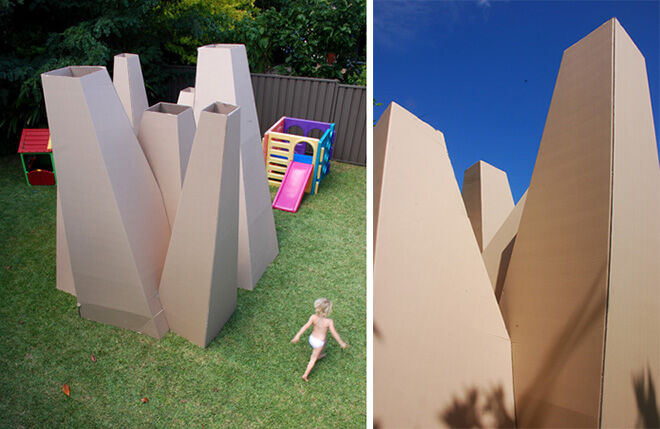 This flatpack fort expands into a colossal cubby house. With secret spaces and sky blue views, the design will ignite imaginations. (via Super Colossal)
Hula hoop hideouts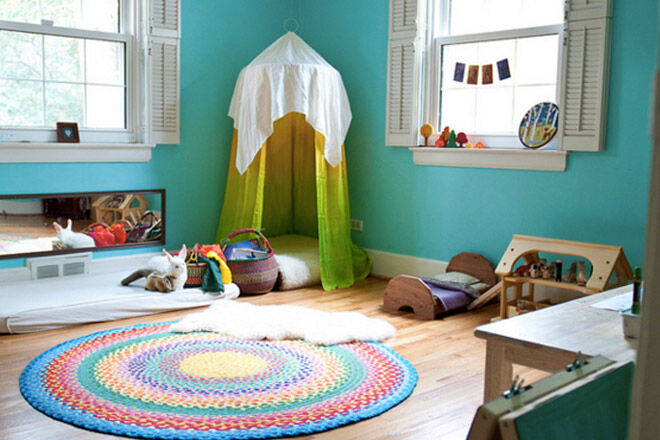 These handmade hideaways are shady and sweet. Hang them under a tree and have a playtime picnic for one or in the corner of a bedroom for a cosy reading nook. (via Sew Liberated)
Garden party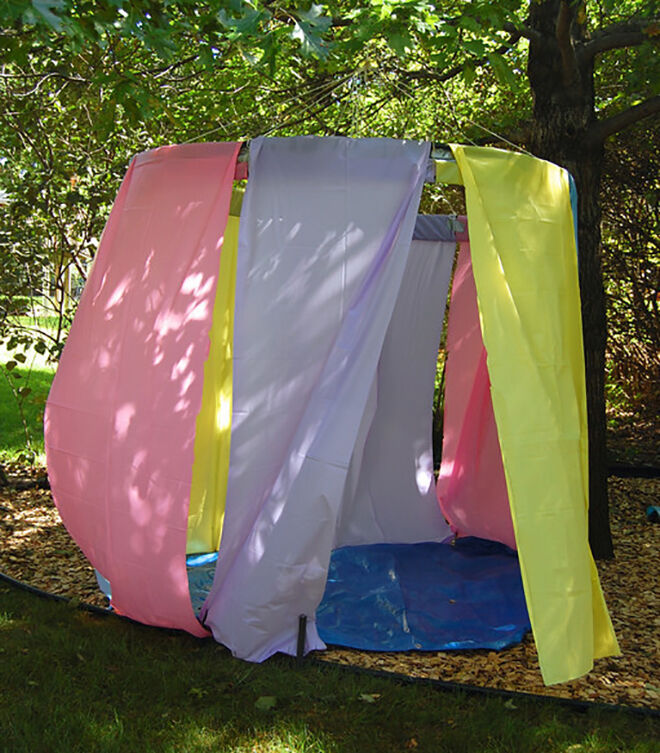 From trash comes treasure! This outdoor pavilion tent is easy to make from landscaping leftovers and is a great idea for garden parties. (via Ikat Bag)
It's a wrap!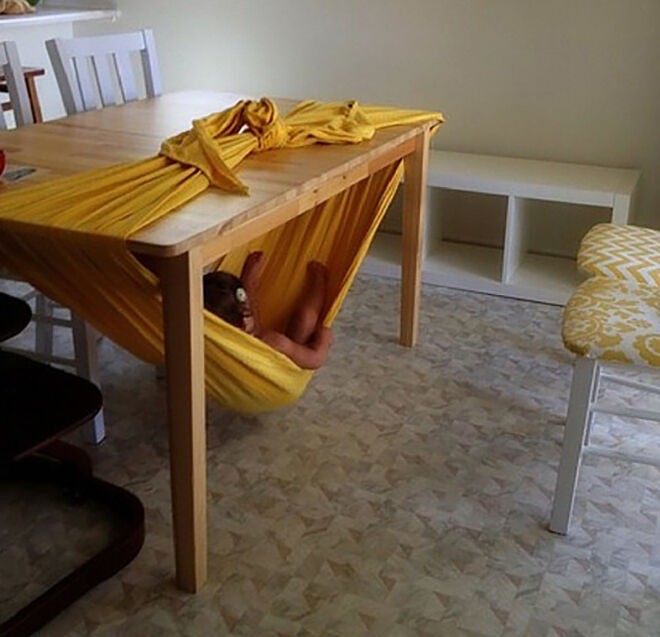 This woven wrap hammock is a twist on the usual hammock idea. Just tie it around a table and your toddler has a readymade spot to relax (or wriggle!) (via Joyful Abode)
 A fort fit for a king or queen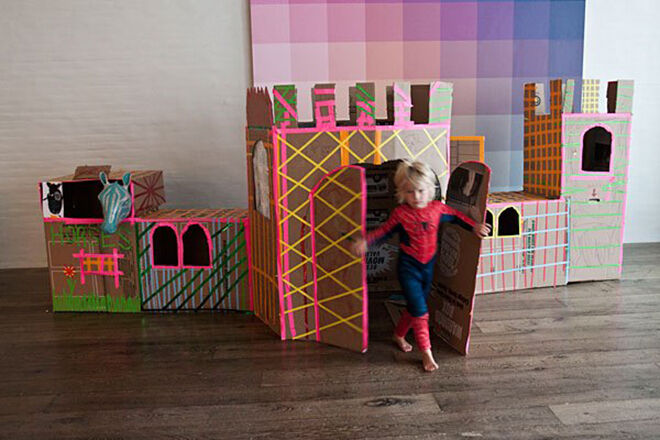 This cardboard castle is a right royal riot of colour. Using cardboard, bright tape and coloured markers, you can build a kingdom in the home realm. (via Built By Kids)
 Just frame it!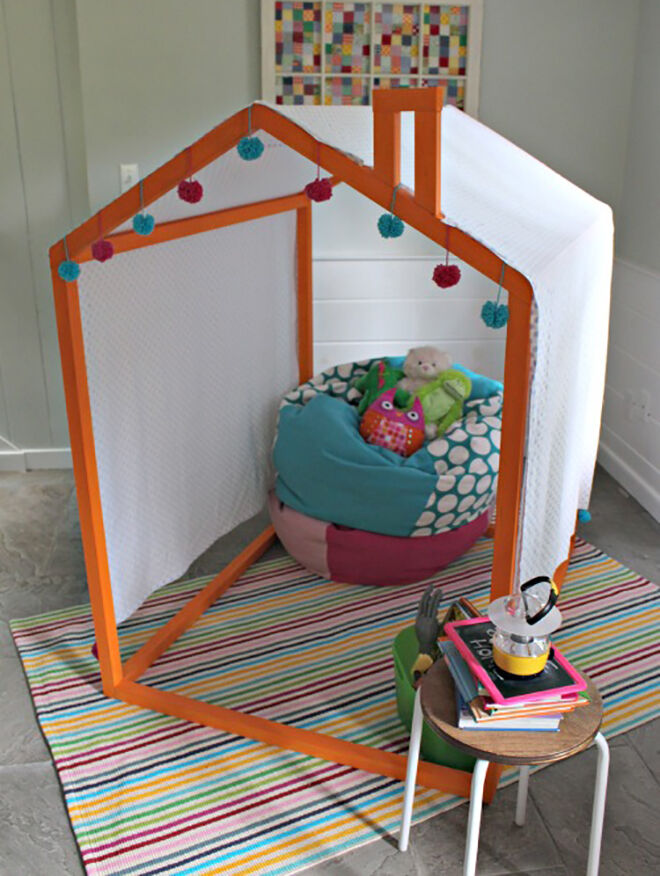 This playhouse frame is picture perfect, with or without a tent covering. Crafted with pine, it has clean lines and the little chimney makes it feel like home. (via That's My Letter)
Backyard bits!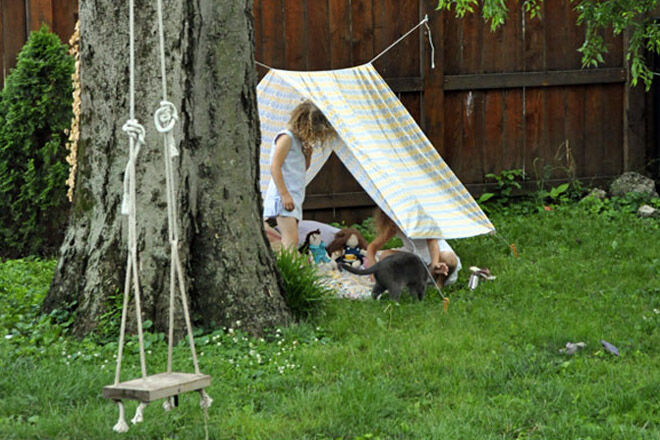 It's not exactly glamping, but this tent is easy to erect and the colour is fully customisable (depending on your sheets!). (via Rhythm of the Home)
Rainbow ruffles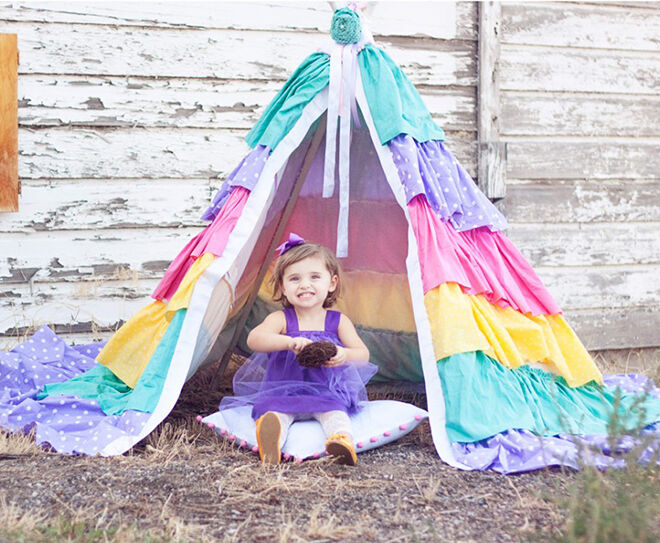 This teepee is a little bit Neverland, a little bit circus and a lot of fun. If you're handy with a sewing machine, it's something you can make at home. (via Sewing in No Mans Land)
Box it up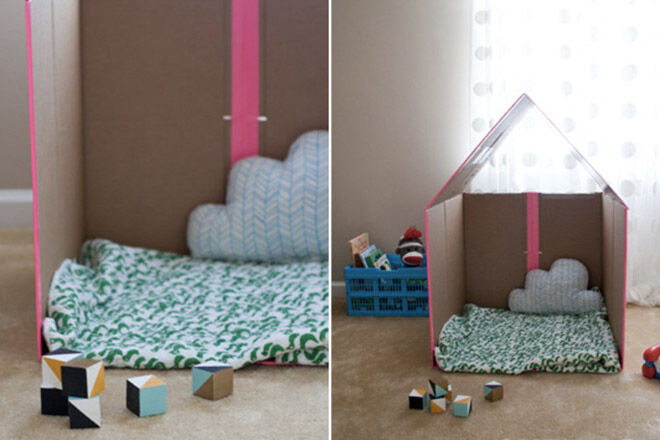 Simply take an old box, fancy it up with some coloured tape (which also provides some structural integrity) and you have yourself a super simple and collapsible cubby. This one sure ticks all the boxes. (via She Knows)
Save
Save