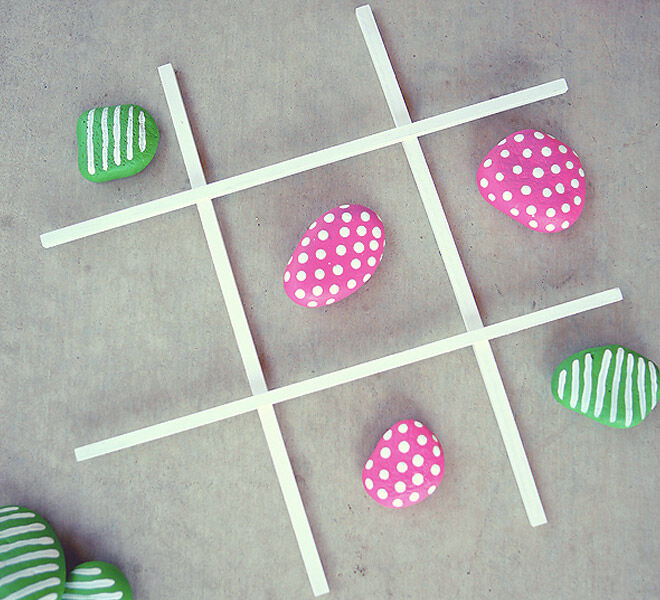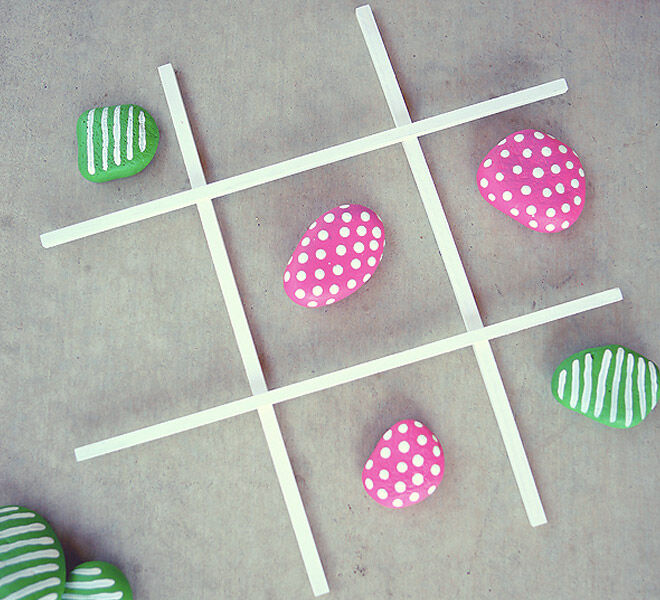 Eeny-meeny-miny-moe, let's play a game of tic-tac-toe! Also known as 'noughts and crosses', tic-tac-toe is a great two-player game for kiddos. Each player has to get three of their symbol in a row, so being in the noughty corner can be a good thing for once!
Tic-tac-toe teaches strategy, sportspersonship and that winning isn't everything – mini gamers will certainly learn how to celebrate a draw with this one. Plus, children can have as much fun making the game, as playing it.
Here are 19 ways to create a tic-tac-toe tournament at home. Let the games begin!
Let's go with LEGO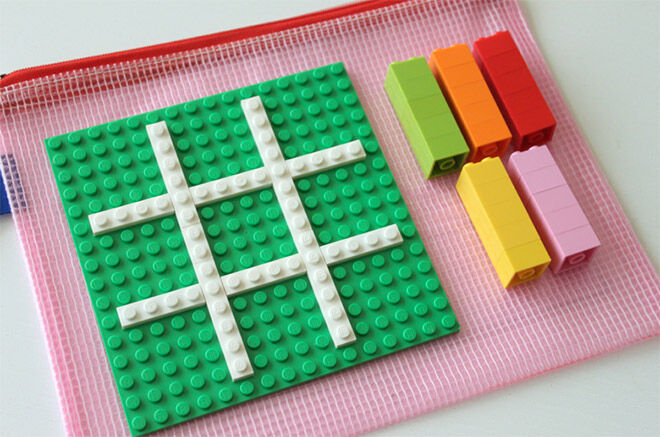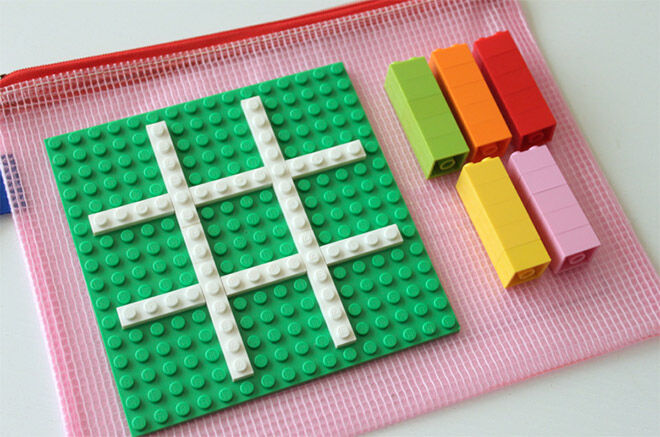 This LEGO version is stacks of fun and portable too. Play with the brightest colours on the block and let your strategy click into place. (via Mama. Papa. Bubba.)
Move it!
To give the mind and body a work-out, kiddos can sprint into a sporty game of tic-tac-toe. (via Innovative Training 4 All on YouTube)
Great for the outdoors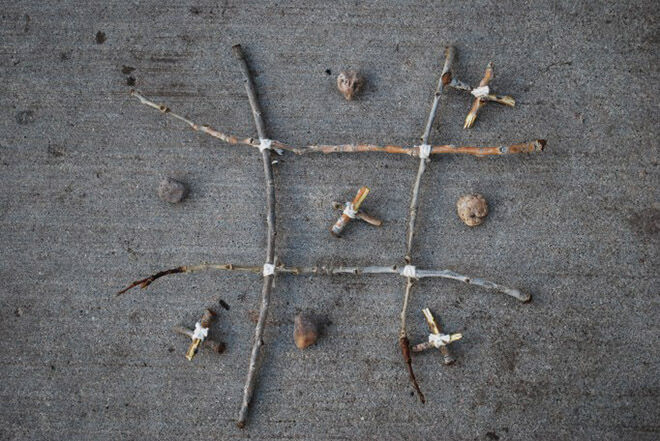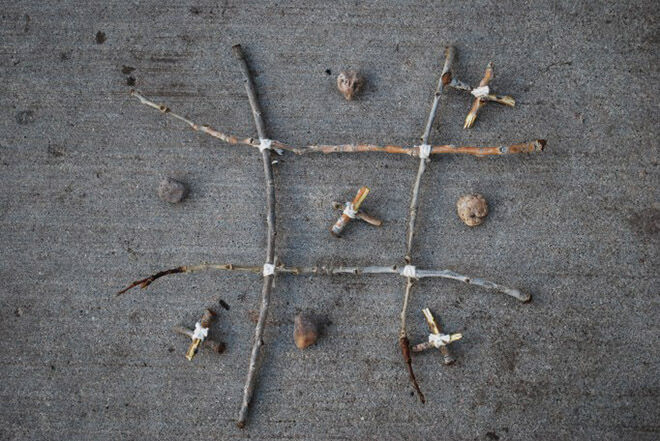 Get back to nature with this earthy idea. Hunt for sticks, stones and string, then gather them together for a game in the backyard and beyond. (via The Girl by the Sea)
All-weather fun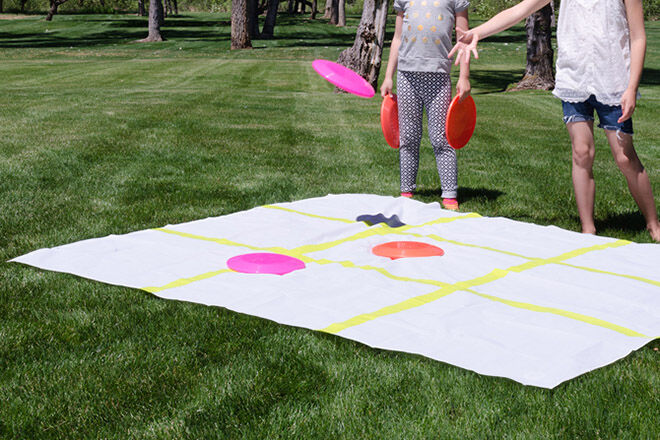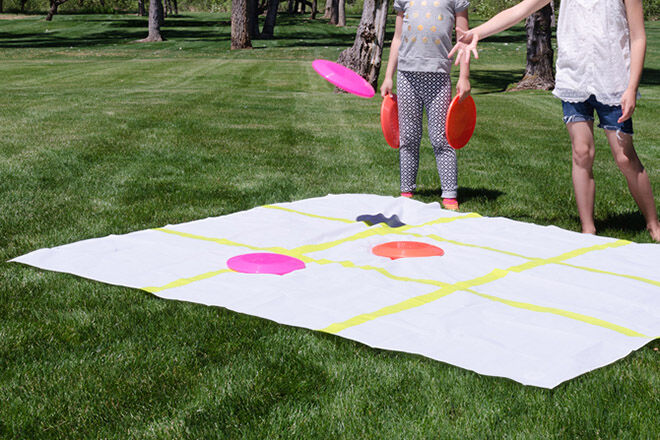 An old shower curtain, tape and some frisbees make for oversized outdoor action. This water-proof tic-tac-toe is good to go, come rain or shine. (via The Krazy Coupon Lady)
Oh so sweet!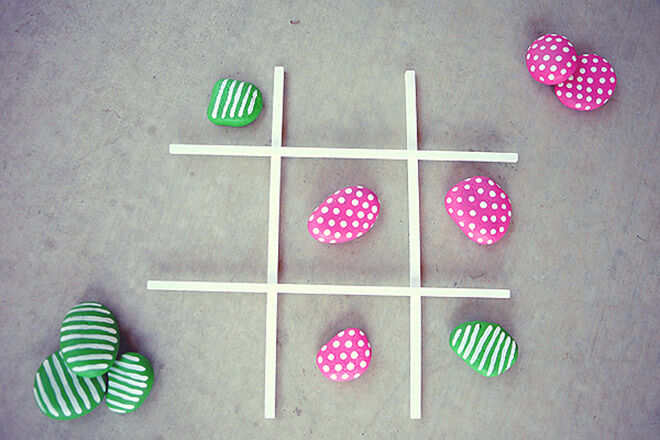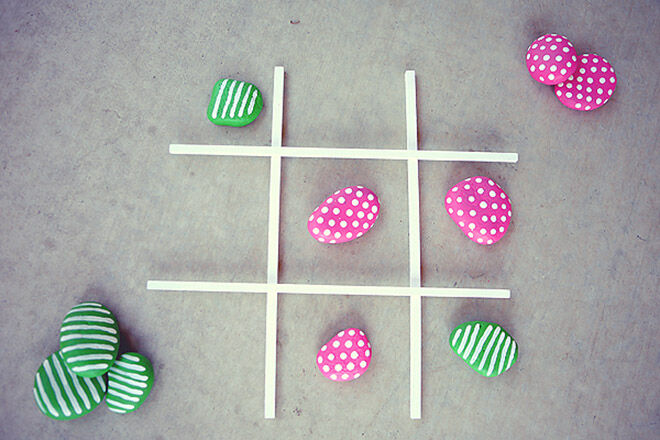 Pebbles and paint are pretty much all you need for this outdoor version of the game. The pieces remind us of Tic Tacs (the fruity ones) and we're getting a summer vibe all year round. (via Eighteen25)
Make-your-own Minions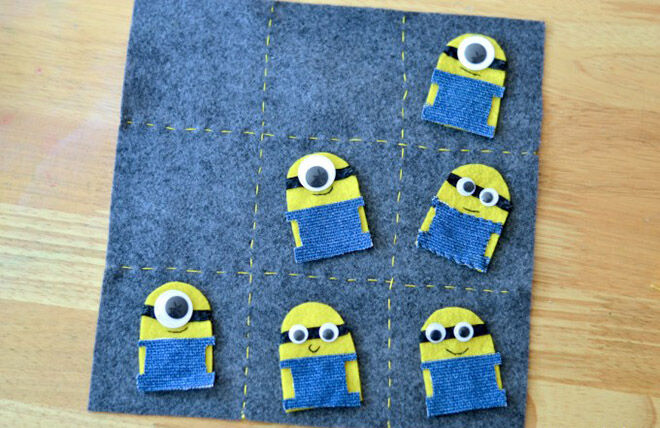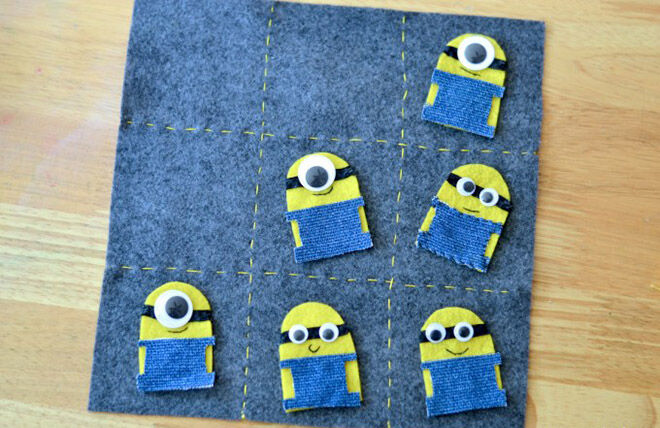 Master the art of tic-tac-toe with a little help from Stuart and Bob. This game is crafted from felt, so pieces stick to the board like a Minion sticks to a super villain. (via Our Homemade Life)
Timberrrrrrr!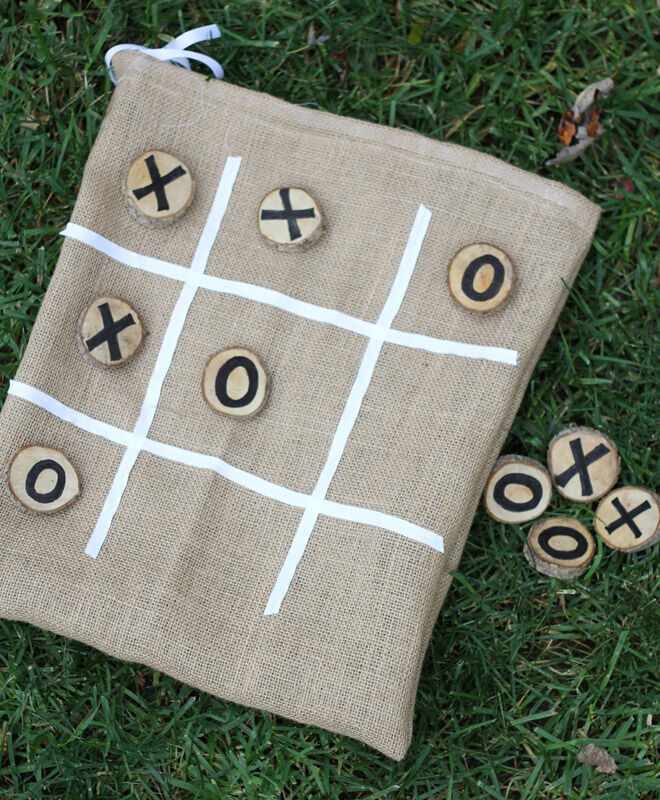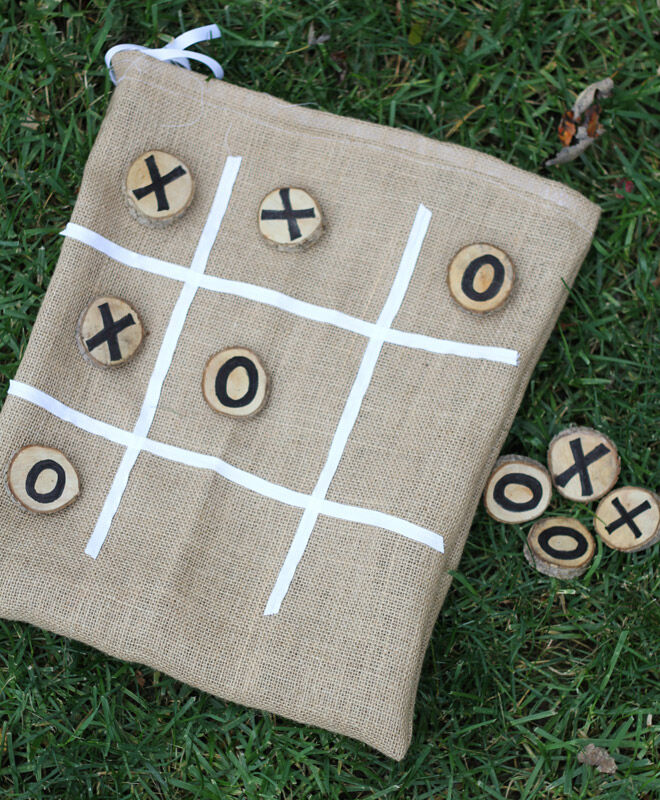 Cosy up in a log cabin (or chill at home) with this burlap and branches game. It's bags of fun and will be a hit with little lumberjacks and wannabe wood fairies. (via I can TEACH my child)
Wonderful fun in le jardin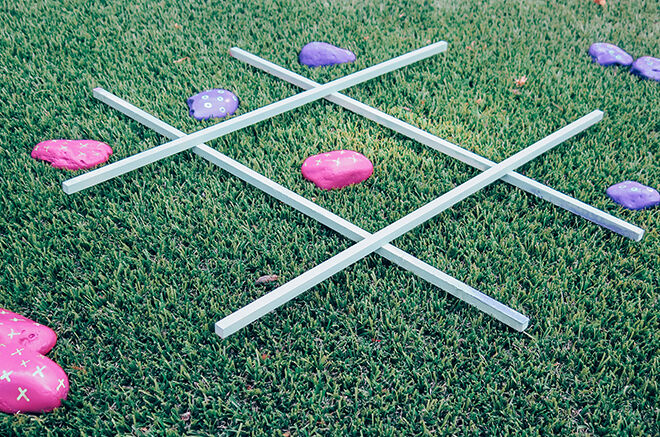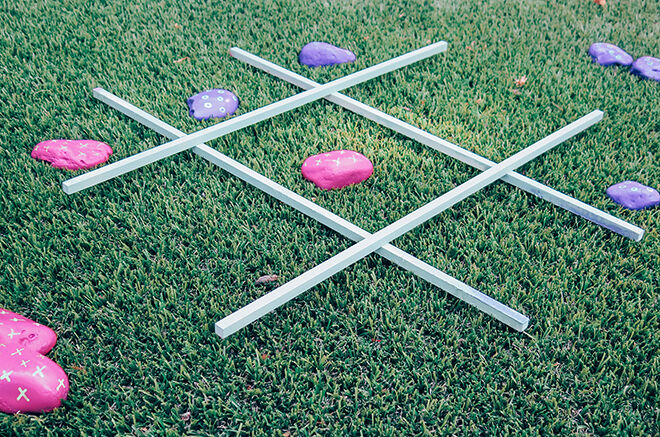 Alice in Wonderland would approve of this large garden version of tic-tac-toe (it beats playing croquet with the Queen of Hearts!). Just paint some rocks and it's off with the game! (via MONICA POTTER home)
Gift-giving made easy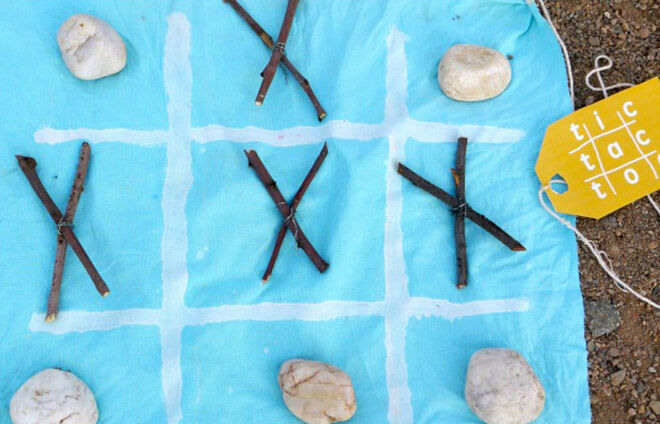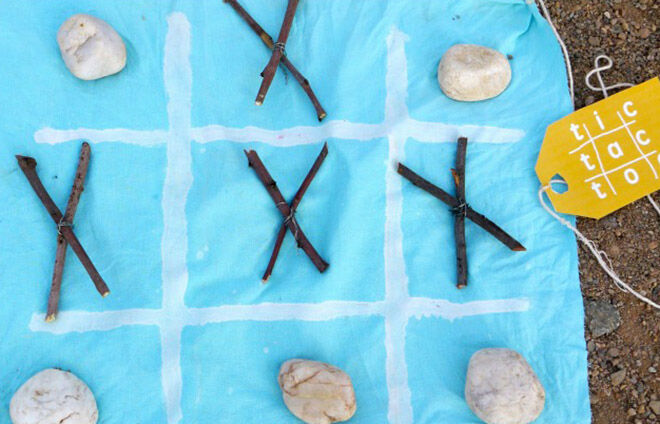 For a kids' gift created with love (and linen, sticks and pebbles), this tic-tac-toe set is just the thing. Add a tag and you've got Etsy style in the bag. (via Playtivities)
Fruit salad, yummy, yummy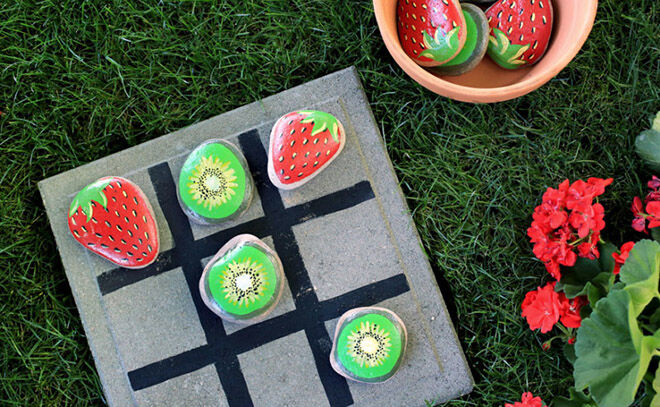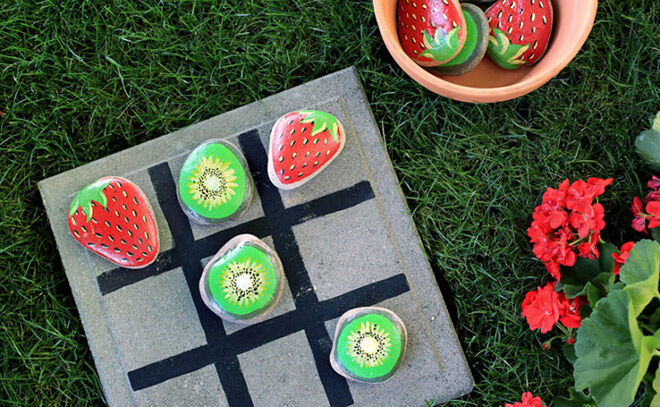 You don't need Three Hats to serve up this delicious DIY. Just follow the step-by-step instructions and fruity tic-tac-toe is on the menu! (via Everyday Dishes)
Tic-tac-toe for one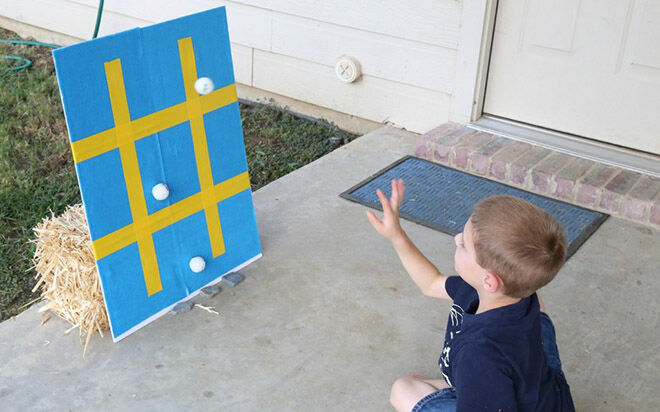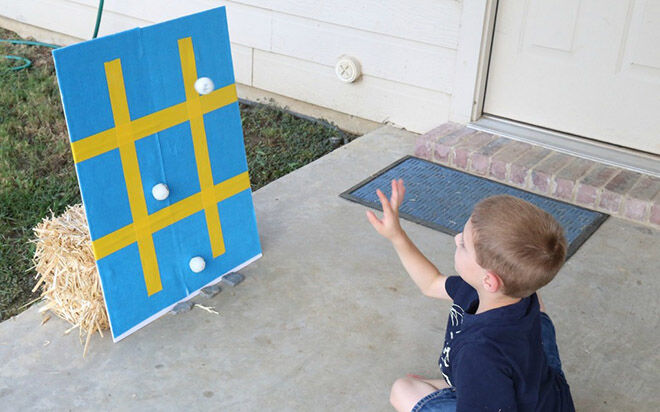 This is a vertical take on the classic game. For a single or two-player game, attach velcro to ping pong balls and throw them at the felt board. The carnival has come to town! (via Frugal Fun for Boys)
Love and kisses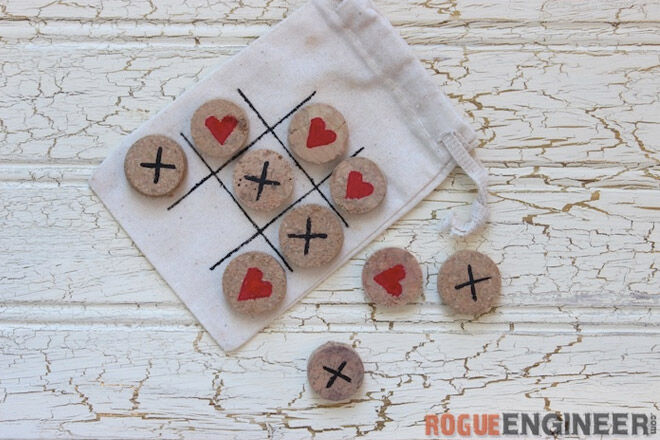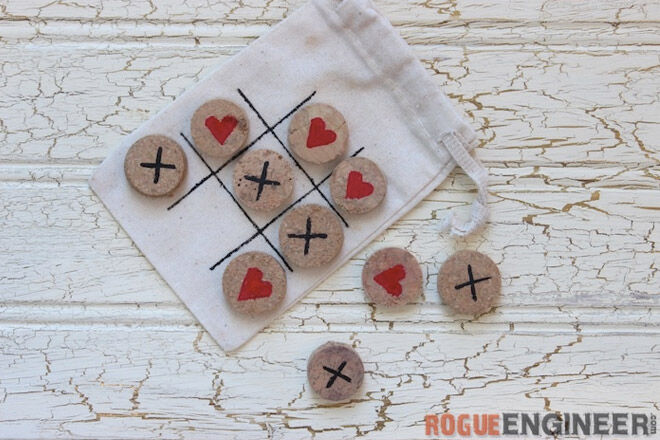 We [heart] this game made from wine corks. There's no better excuse to finish the bottle of vino and fill up the evening with this project. (via Rogue Engineer)
Collect some shells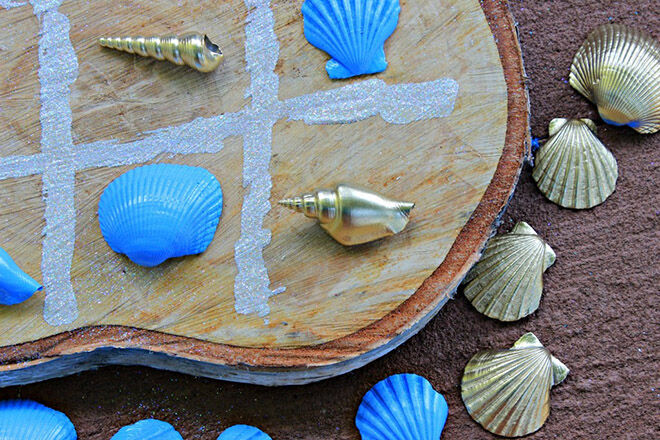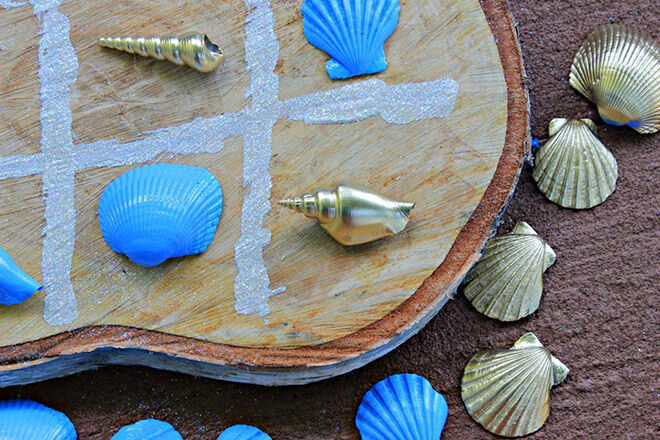 We do like to be beside the seaside and this idea adds a beachy touch to backyard tic-tac-toe. Play the game, then host a sunken treasure hunt! (via Chalk & Chocolate)
Piles of playful patterns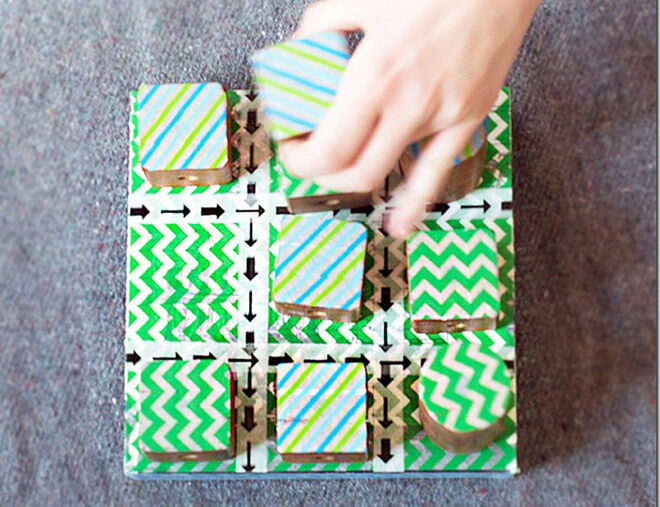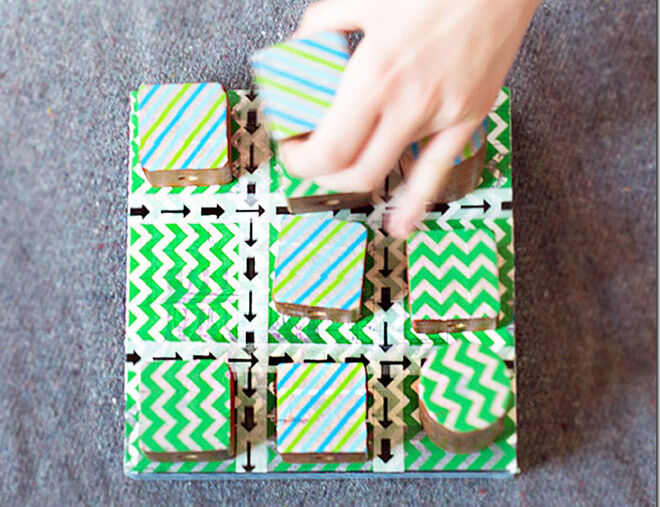 Washi tape makes the world go round! Chevron and stripe patterns are fun for fingers, and this box of blocks can be stacked by tots or played as tic-tac-toe by bigger kids. (via Nellie Bellie)
Centrepiece of style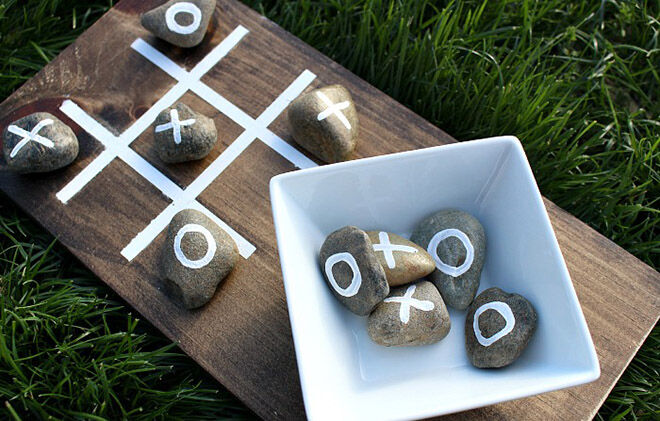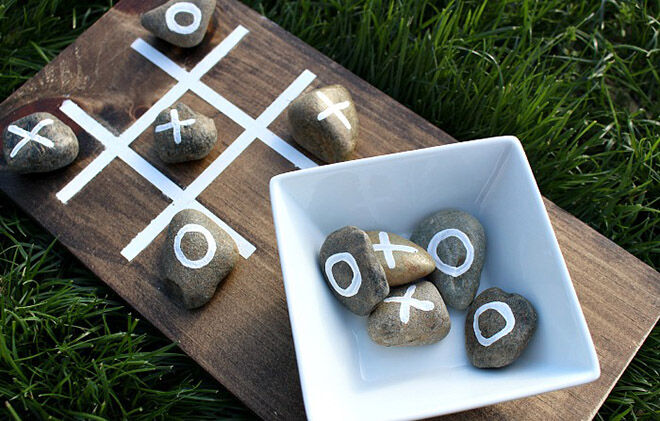 With natural elements and a clean design, this set is right at home on an outdoor table. It's lovely to look at and simple to play. (via Design, Dining + Diapers)
Cute as a button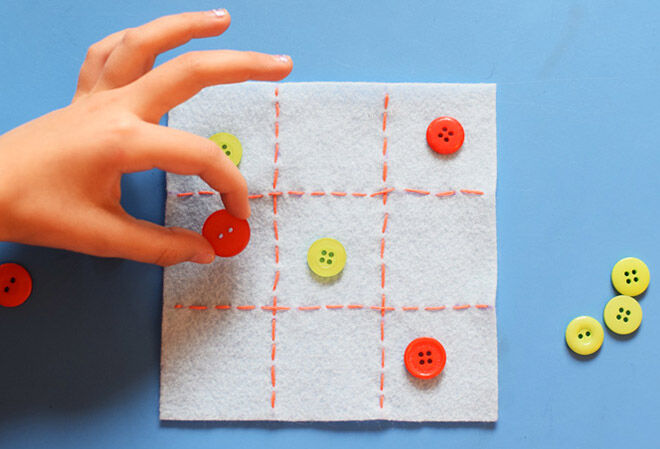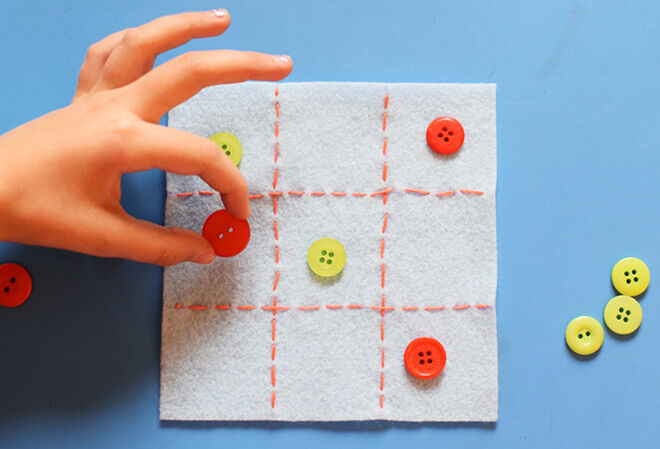 Kiddos get hands-on with this beginner's sewing project. Teeny tiny stitches and bright buttons mean it's darn fun to make and play. (via Raising Memories)
Ready, set, picnic!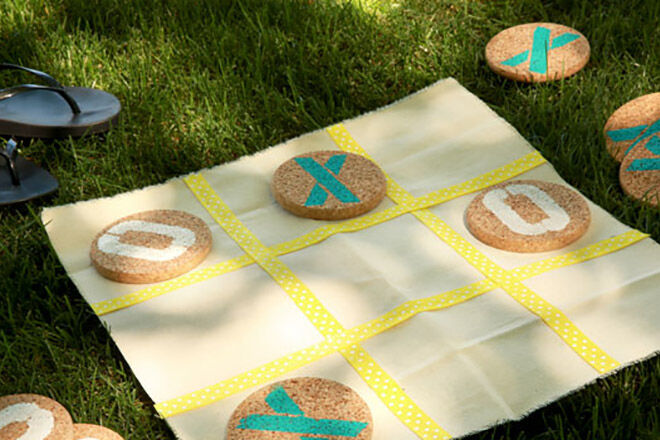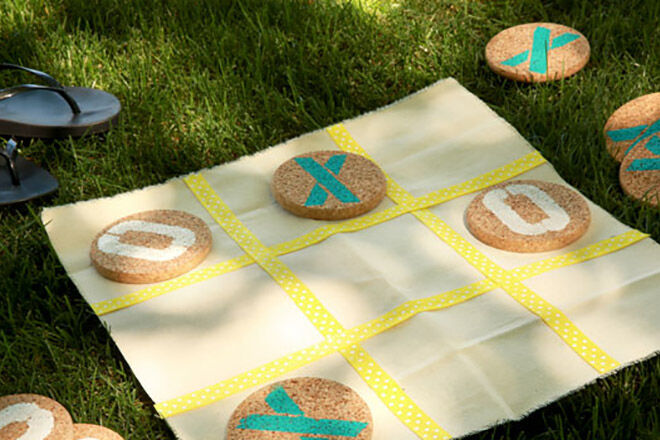 For tic-tac-toe on the go, all you need is a fabric board and stencilled cork coasters. Then flip the game to set up a picnic – cucumber sandwiches and pink lemonade anyone? (via Everyday Dishes)
Busy bees (and bugs)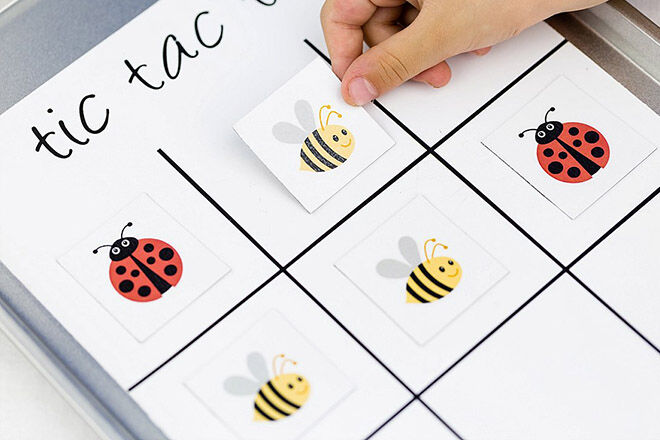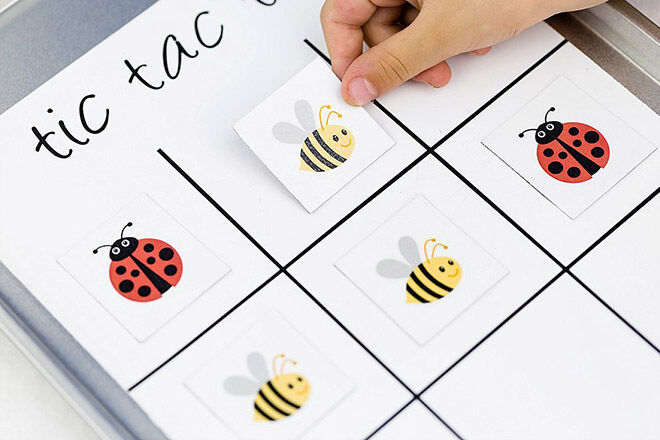 Fridge magnets are cool, but this magnetic tic-tac-toe set is the bees' knees. It's easy to make and the days of lost pieces are over – these bugs stick like honey to a hive. (via 5 Minutes for Mom)
Boho charm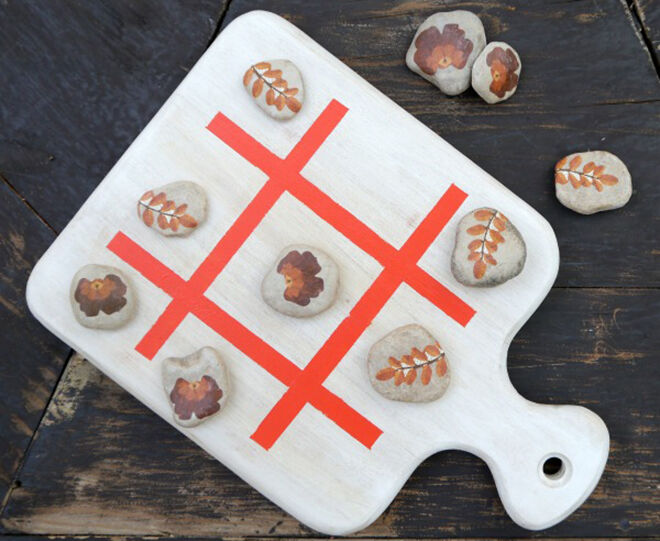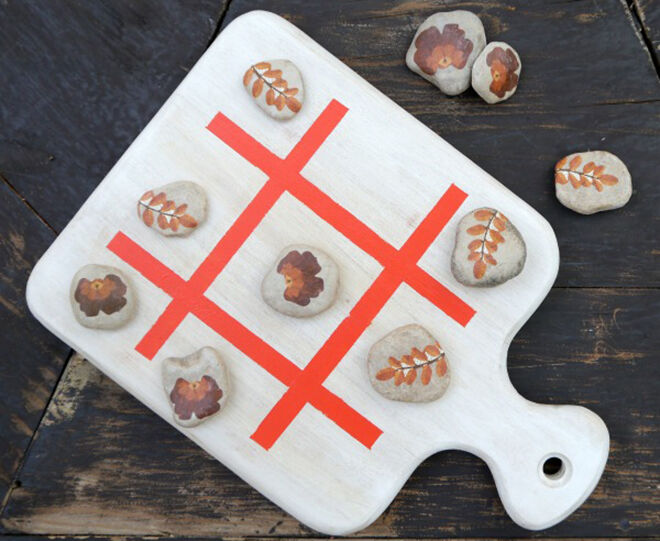 Decoupage stones and a whitewashed board are wonderfully whimsical. Now where's that meadow for the kids to frolic through mid-game? (via C.R.A.F.T.)
Save