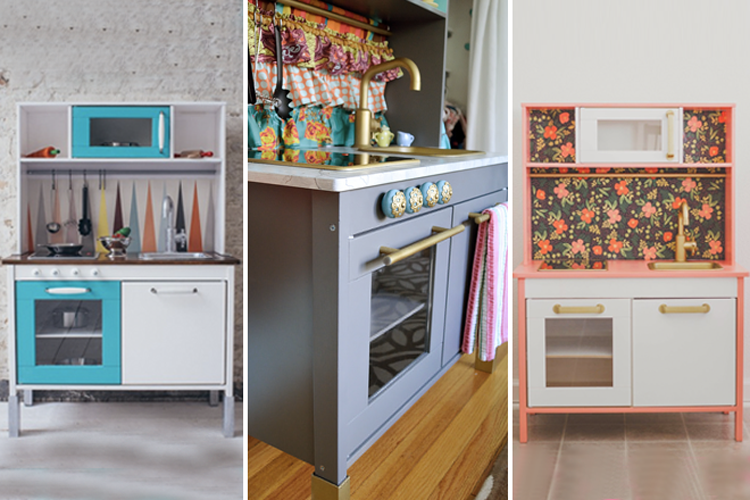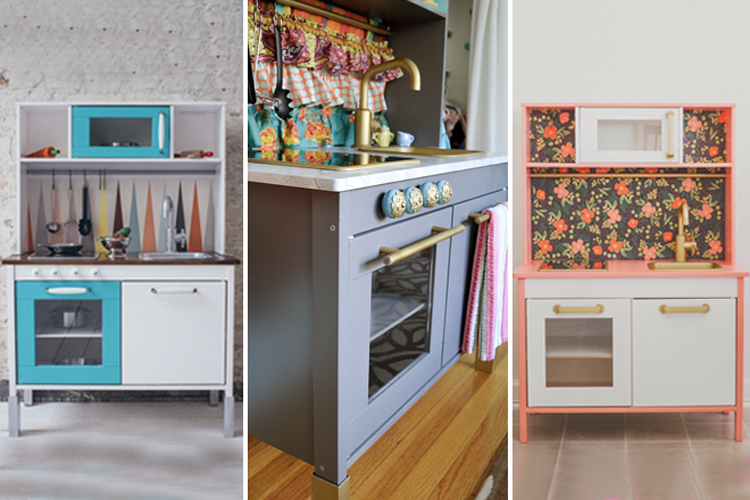 There's no doubt that the IKEA DUKTIG play kitchen is a legendary role-play station.
Now, plain flour is fine and plain yoghurt is ok too, but shouldn't a kid's play kitchen be a little bit fun? Or maybe a lot? Of course it should! And luckily, there are some delicious ways to sweeten up this plain Jane's looks.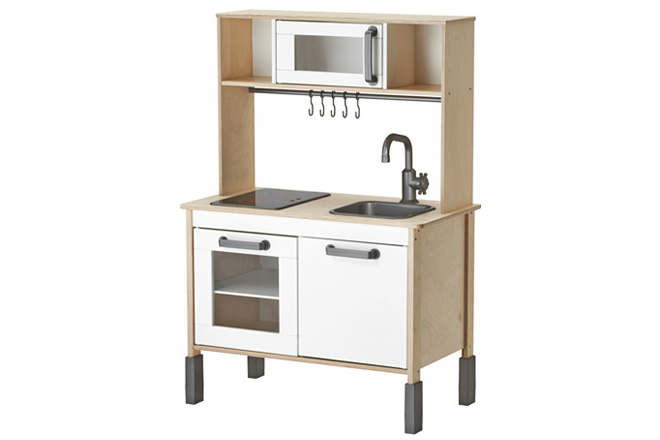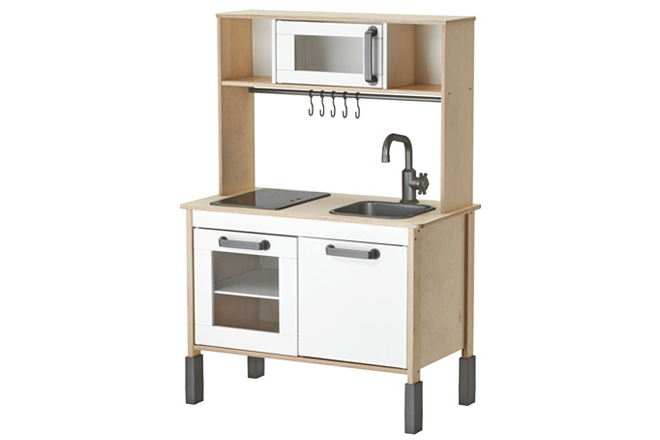 Whether you have a taste for modern, vintage, luxe or natural design, renovating your kid's kitchen will be the cherry on top of their playtime.
Here are 13 easy ways to dress up the IKEA kid's kitchen.
A touch of turquoise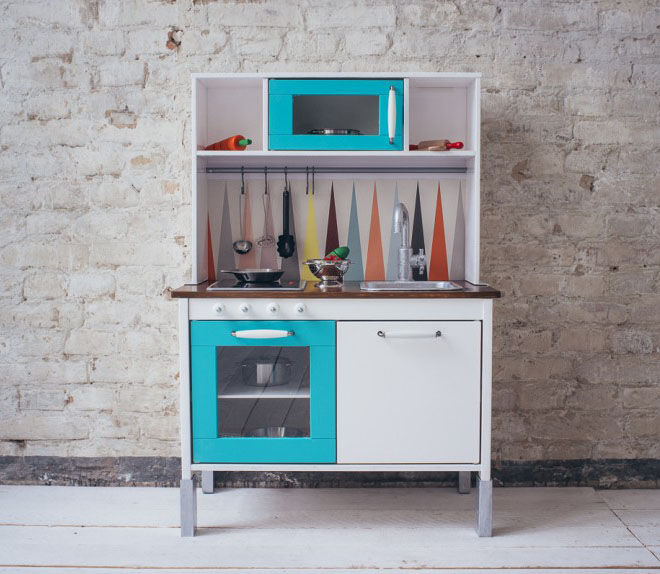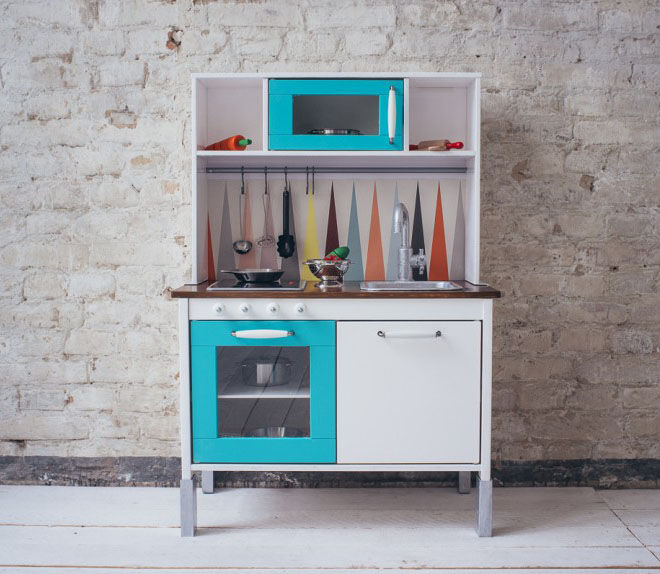 Mix up some feature panels, a wooden benchtop and a funky splashback for a modern take on 1950's style. Your kiddo will be rocking around the clock making pretend chiffon pie. (via Little Years)
Flower power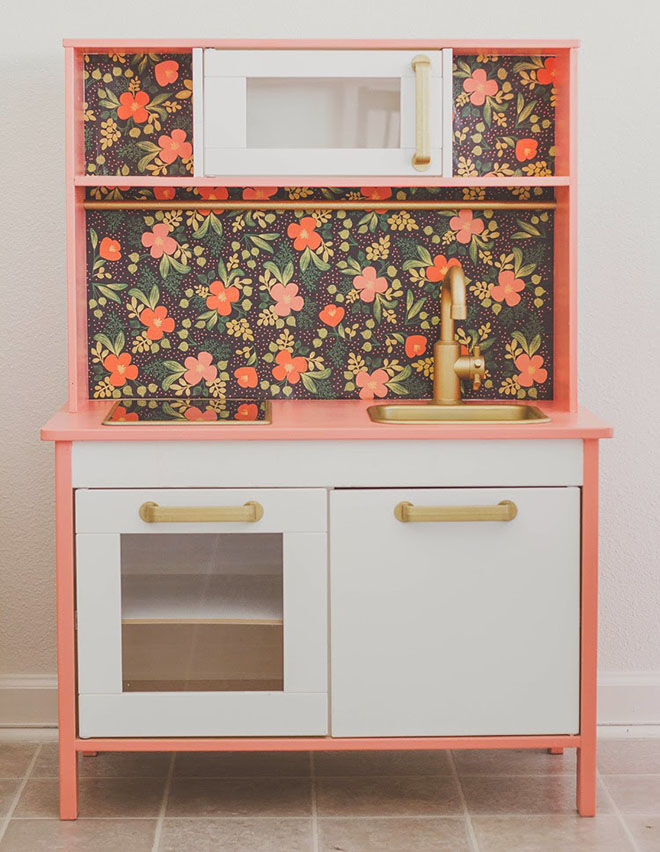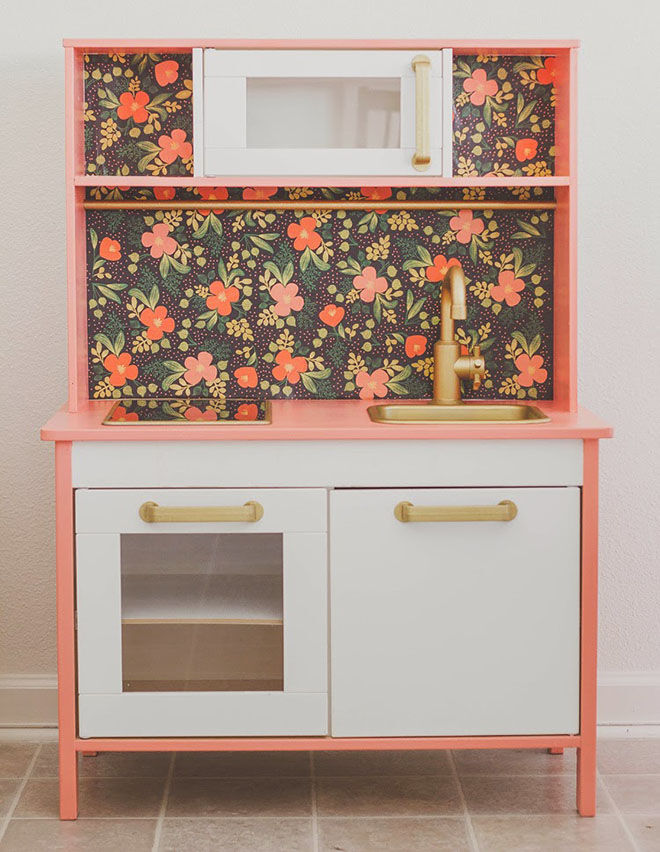 A bunch of floral wallpaper, a splash of salmon coloured paint and a sprinkle of gold detailing will give your mini-chef a spring in their step. (via Anchors & Honey)
Only the best!
This hack has all the trimmings! With quality finishes, like the marble benchtop and gold sink, plus some flair in there with the window skirt and controls, this kitchen is top shelf. (via Visual Vocabularie)
The great indoors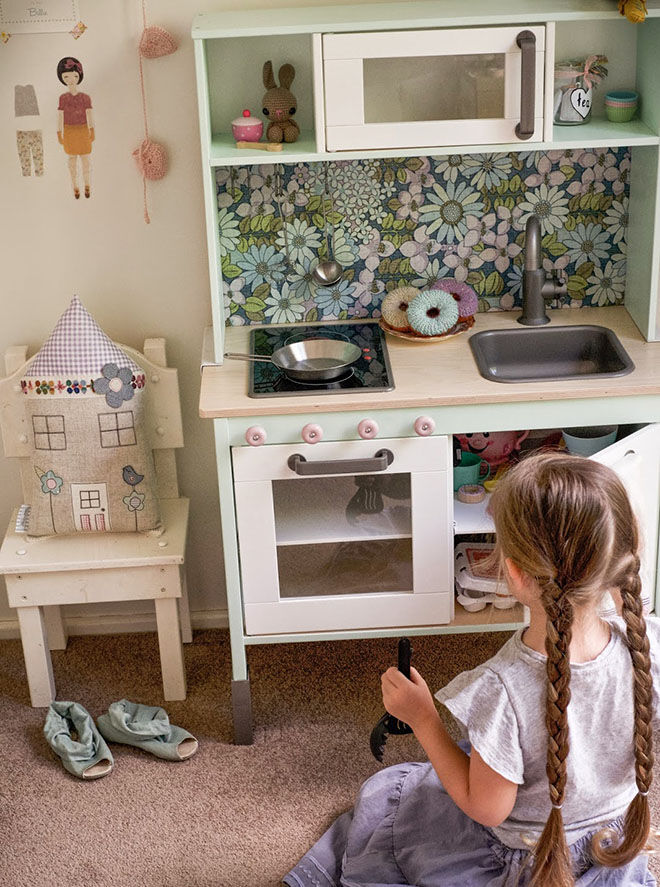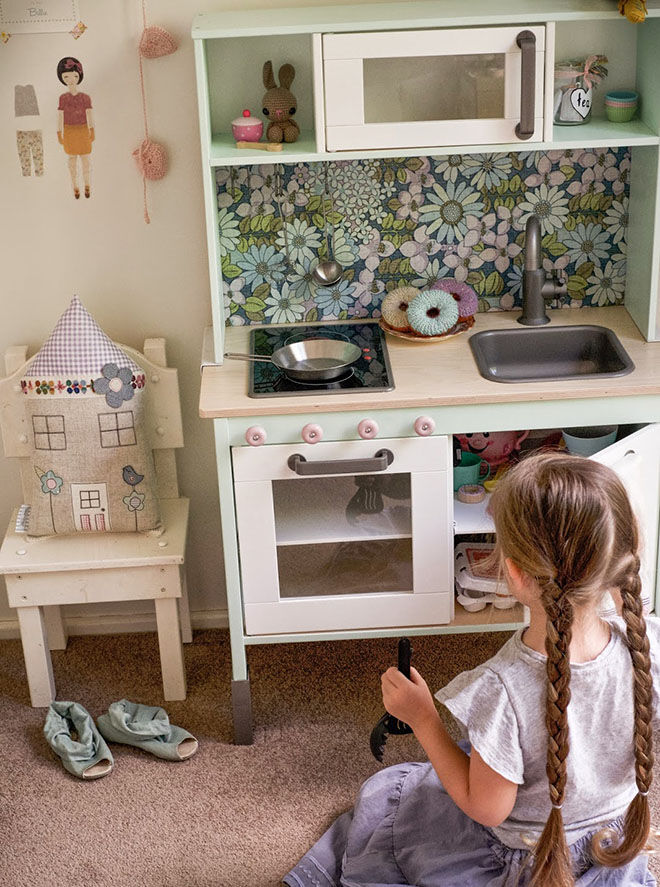 Bring the outdoors in, with whimsical wallpaper and a soft green paint. Your junior cook will love the al fresco feel, and this kitchen is so much more fun than a houseplant! (via Little Village)
Inner city chic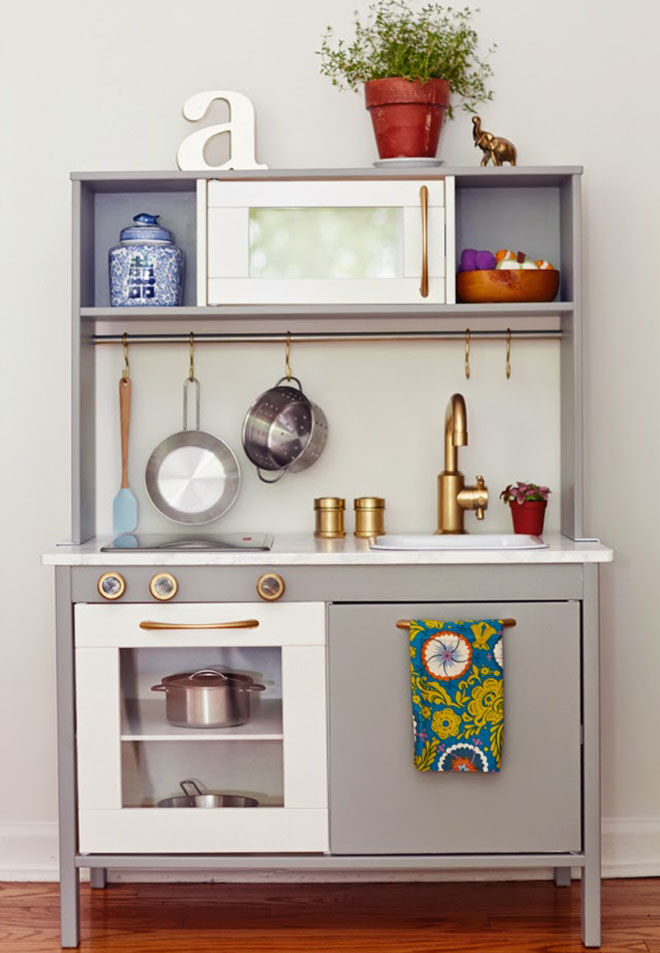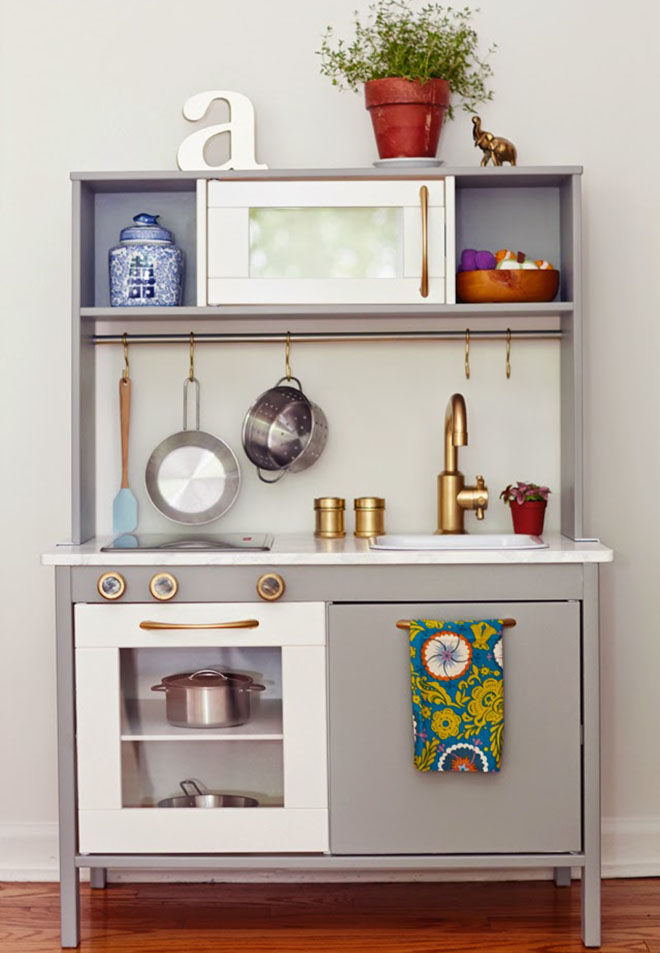 With one shade of grey, brass fittings, a marble bench, a porcelain sink and vintage touches (that tea towel is rad), this hack would be right at home in a converted warehouse or loft apartment. (via Because It's Awesome)
Clowning around
Grown-ups can't get away with harlequin splashbacks in their kitchen (boo!), but kids can stir things up with some circus styling. Juggling entree, main and dessert will be child's play. (via @mlletotoro)
A homey flavour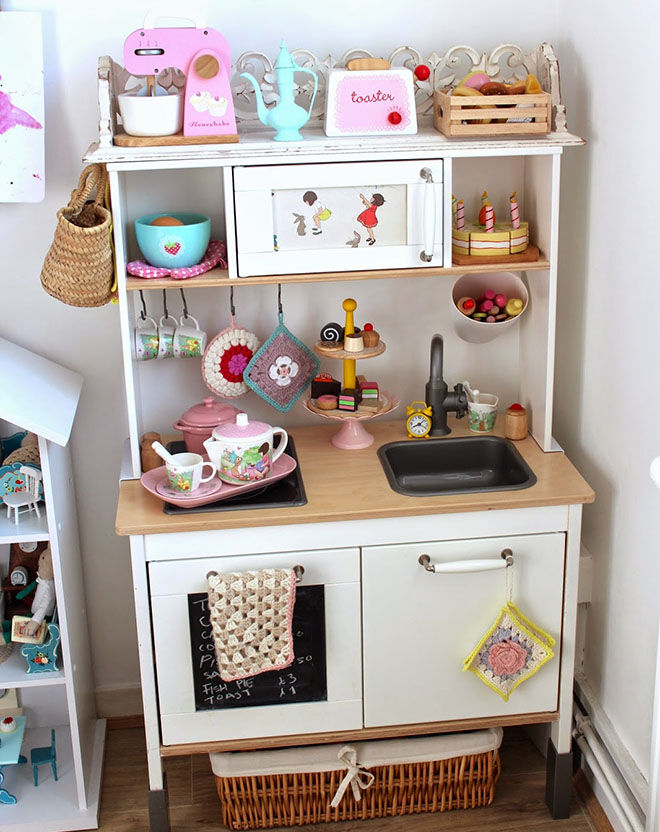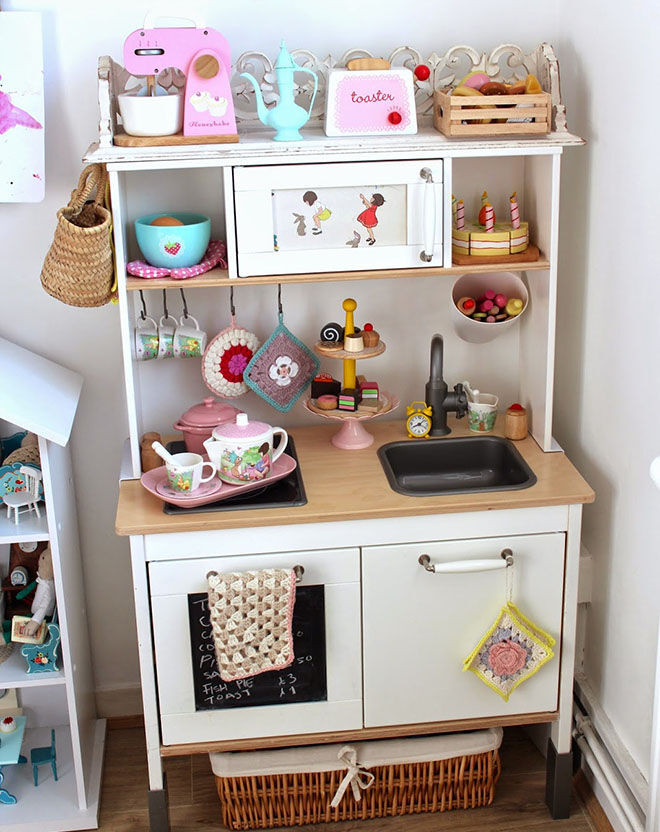 With a chalkboard for menu plans, storage in the microwave, wooden appliances and crochet everything (to poke little fingers through), this hands-on hack is a recipe for success. (via Bubblegarm)
Au naturale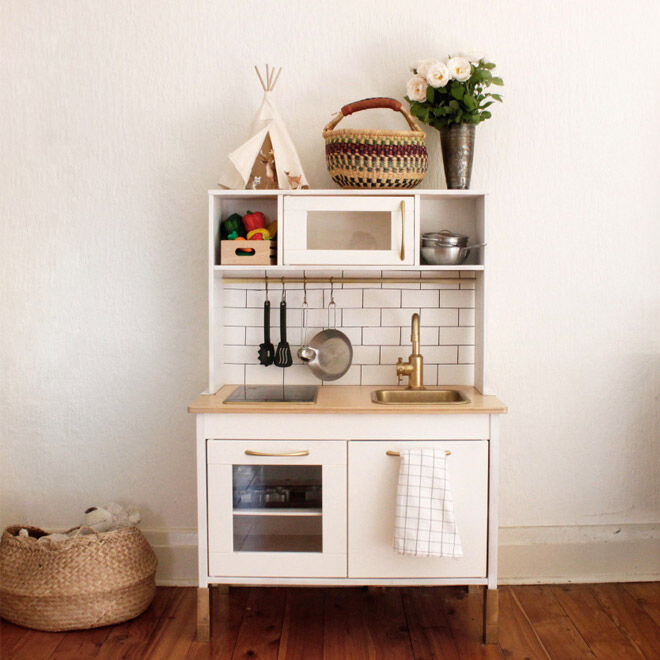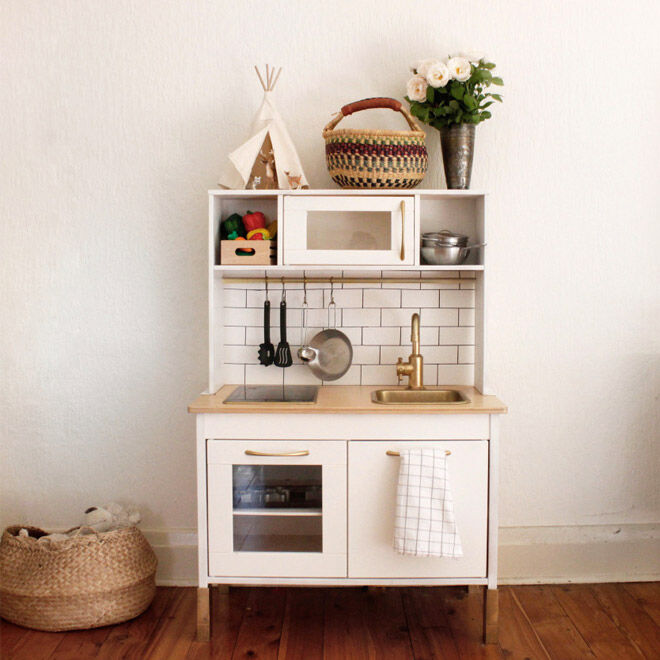 This is a bohemian rhapsody of natural accents – add a subway tile splashback and just enough metallic for good measure. The tiny teepee is definitely the icing on the cake! (via The Merge Journal)
Lights and action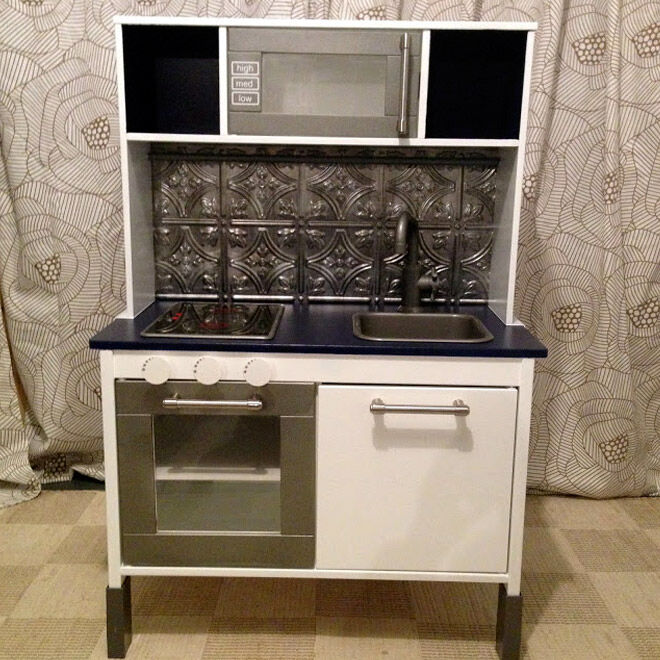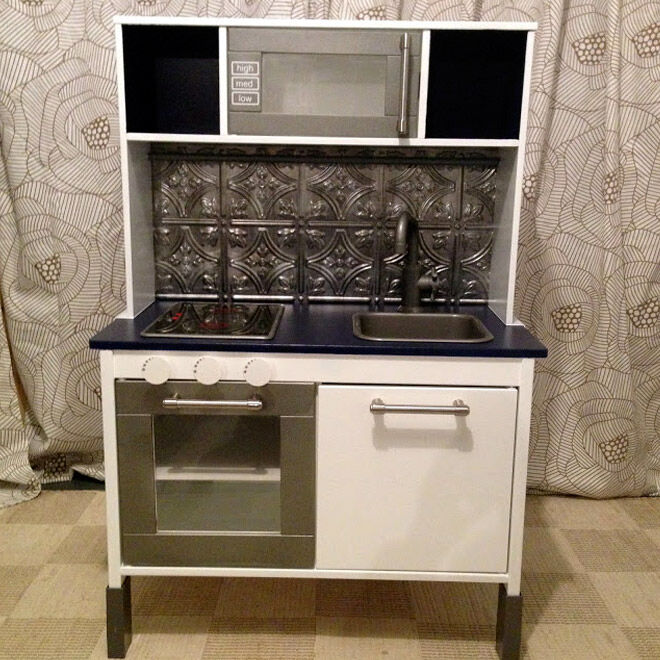 With a blue counter, 'stainless steel' appliances, an aluminium splashback and real lights in the oven and microwave, this one is working the Blue Steel look, a la Zoolander! (via Really Renata)
Alphabet soup
"Yay!" indeed. We love the b/w colour scheme, utensil hooks and alphabet theme; plus, you can test your eyesight while waiting for your make-believe meal! (via @josefinidadanielsson)
It's a steal!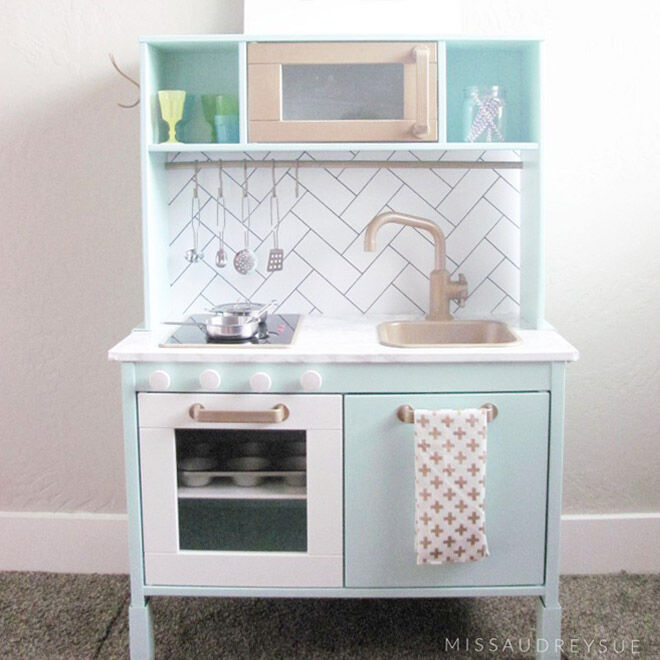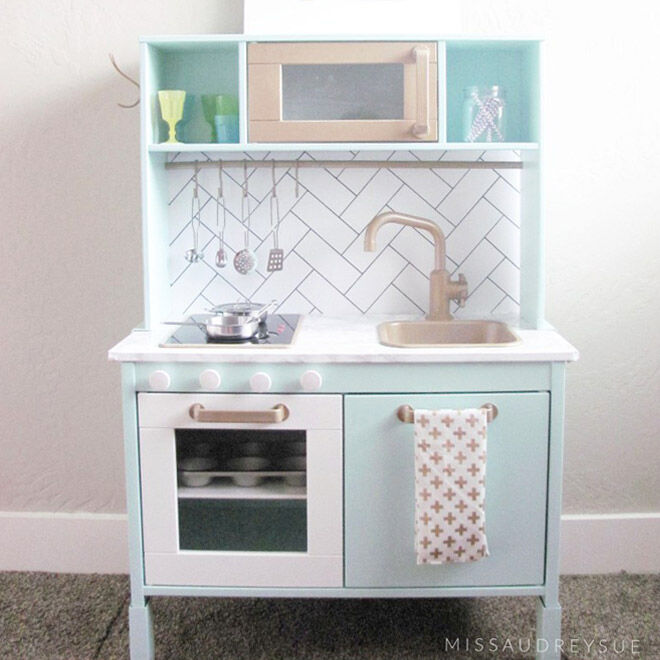 This kitchen looks so good, mums will want one too. With Ocean Mist paint, a herringbone splashback, marble laminate and gold touches, it's as fresh as the muffins in the oven! (via Miss Audrey Sue)
Out of Africa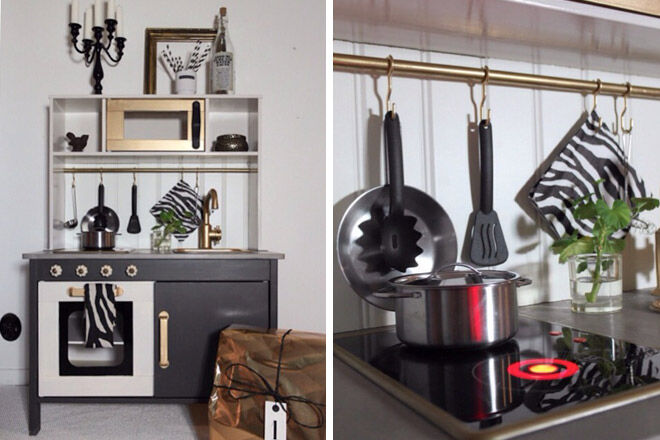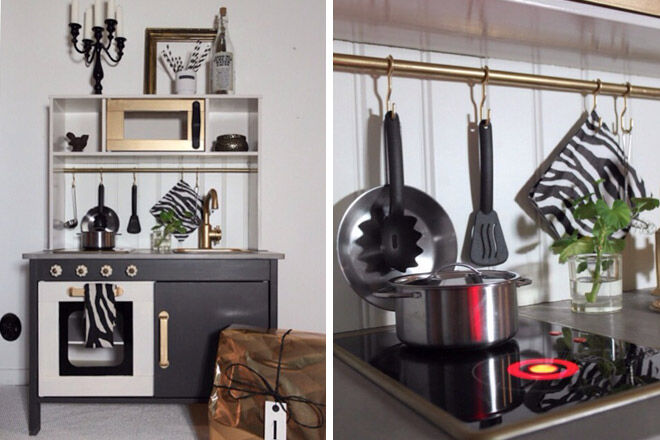 The best thing about gold is that it goes with everything. Like charcoal and zebra print. Your cub will be cooking up a storm with this hack – it's a little bit industrial, a little bit exotic and a lot of fun. (via Loppisverkstan)
One room wonder
This washi tape house may not have room for bedrooms, but meals are catered for. And the imaginary extractor fan is working like a dream with all that blue steam! (via @peachyparade)
Looking for more IKEA hack inspiration? Read more:
IKEA Hack: 9 ways to makeover the LATT children's table
IKEA Hack: 9 ways to makeover the EXPEDIT bookshelf