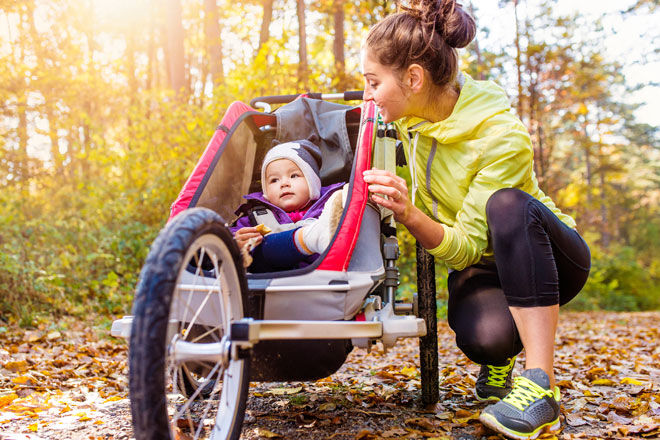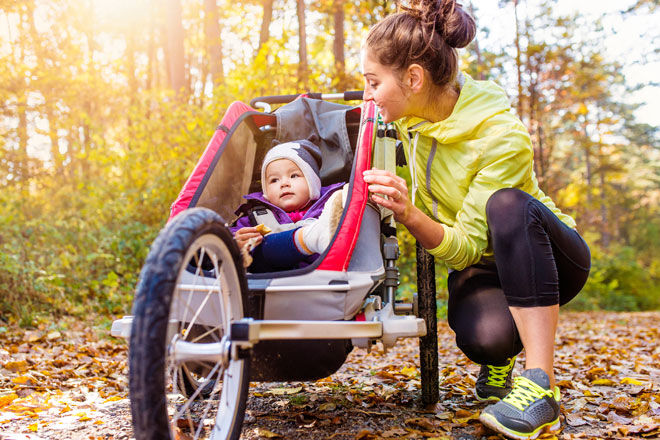 Queensland is a magical place to embrace the great outdoors, both during the cooler months and as temperatures begin to rise. And thanks to a range of accessible nature trails, everyone can explore the Sunshine State, people on wheels included. To show your baby the path less travelled, just unfurl those wheels and roll on through rainforest, mangrove or bush. Adventure awaits!
Here are 21 wheel-friendly bush walks, close to the CBD or further afield, that the whole family can enjoy in Queensland.
Go bush in Brisbane!
1. Eddie Santagiuliana Way, Raby Bay Harbour, Cleveland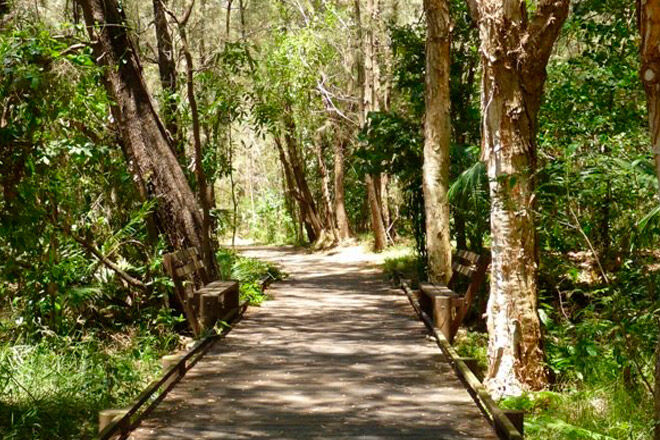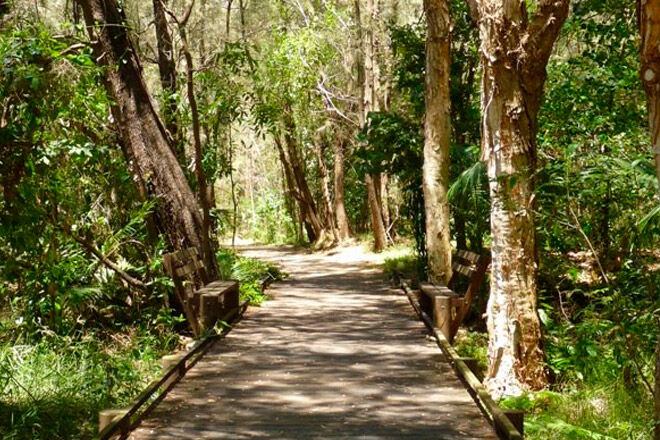 This trail along boardwalks and paths (plus a bit of grass), rewards you with views of Stradbroke Island. And tots will be extra excited by the duck ponds, pelicans and playgrounds en route.
2. Hide 'n' Seek Children's Trail, Brisbane Botanic Gardens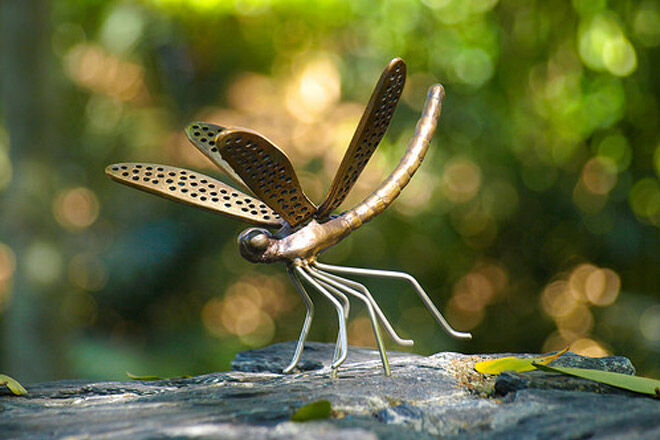 Hidden in Mount Coot-tha, the treasure hunt is on! Babies will marvel at the magical creatures hiding everywhere (like bronze dragonflies and flying foxes playing leaf guitars), and older kids will run ahead to spot every. single. critter. first.
Day trips from Brisbane
3. Cedar Creek Falls track, Tamborine National Park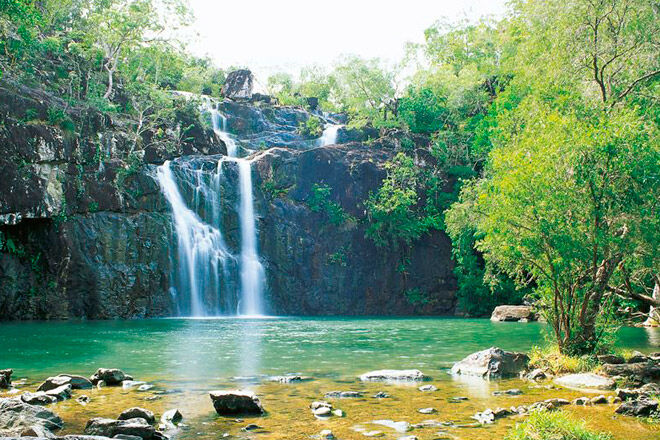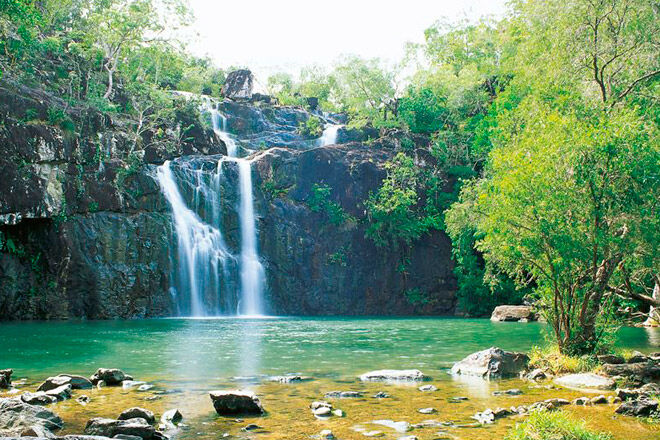 About an hour from Brisbane (and 40 minutes from the Gold Coast), this park has 10 walking tracks and one of them is great for prams. Woo hoo! The Cedar Creek Falls track is a 500m return walk through rainforest, with beautiful views for you and bub.
4. Daisy Hill Koala Centre, Daisy Hill Regional Park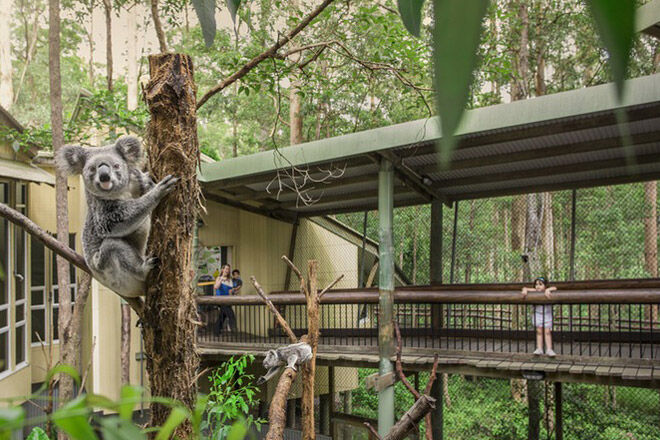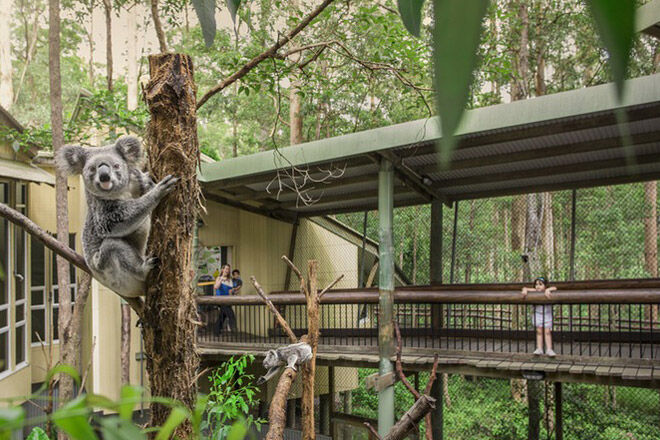 About 25km south of Brisbane, this park features 435 hectares of open eucalyptus forest. And where there's eucalyptus, there are koalas! This centre is free to visit, and pram-friendly walkways make it a great place to show your bub their first koala. Cute factor off the scale!
5. Piccabeen walk, D'Aguilar National Park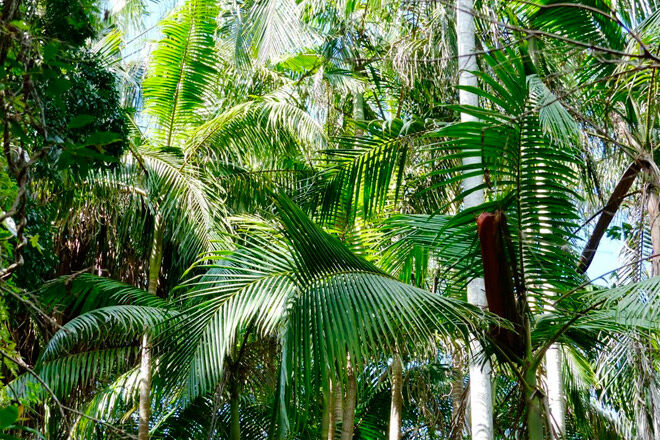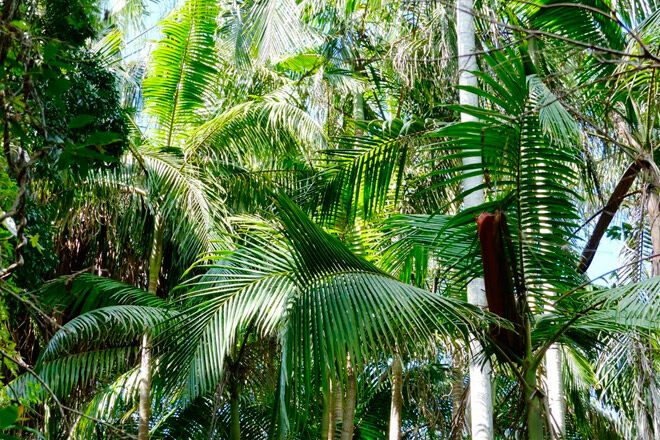 In between Caboolture and Somerset, this pram-friendly walk is in the Mount Mee part of the park. It takes you through a grove of piccabeen palms and the 1km amble takes about half an hour.
Gold Coast gems
6. Mangrove boardwalk, Tallebudgera Creek Conservation Park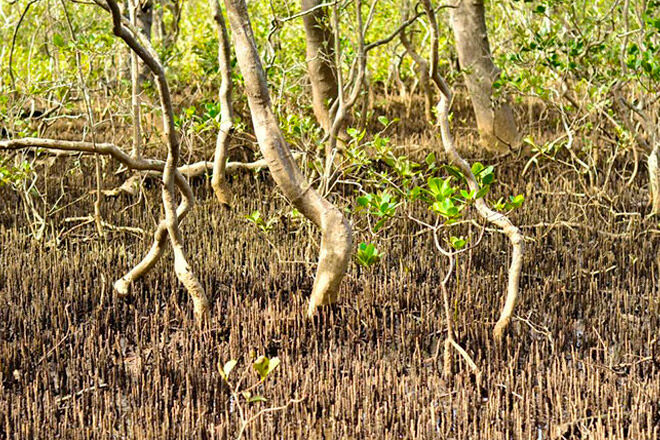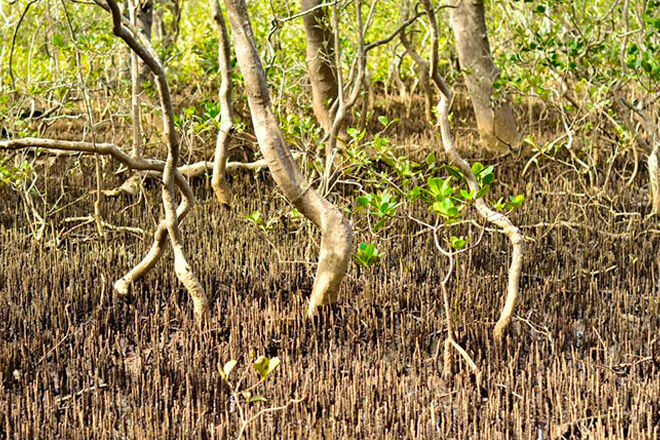 This mangrove boardwalk shows your bub where the land meets the water. It's a little bit Octonauts (just think of the 'Octonauts and The Barracudas' episode) but make sure you look for crabs, koalas and birds instead of Peso.
7. North Cliff track, Moogerah Peaks National Park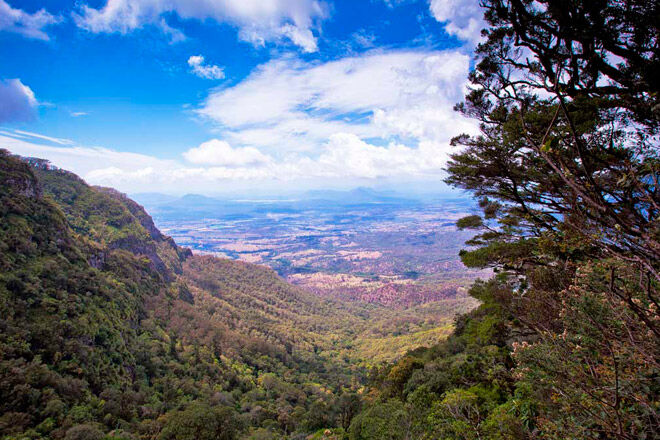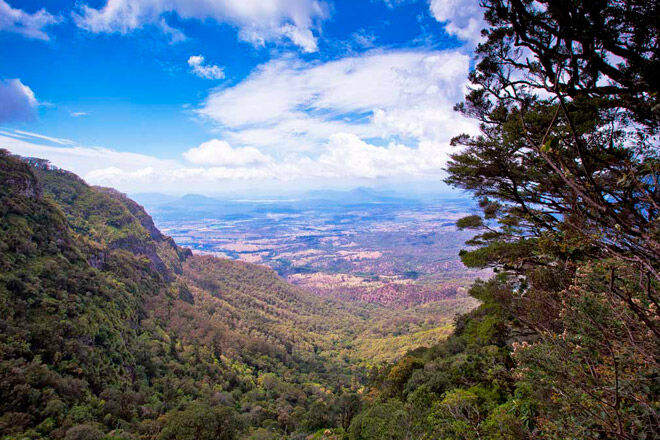 West of the Gold Coast, it's all about the views! Stroll along the North Cliff track to Logan lookout for panoramic views over the Fassifern Valley. Then up the pushing power as you head for the East Cliff lookout (via the Mee-bor-rum circuit), for views with a capital 'V'.
8. Cascades walking track, Springbrook National Park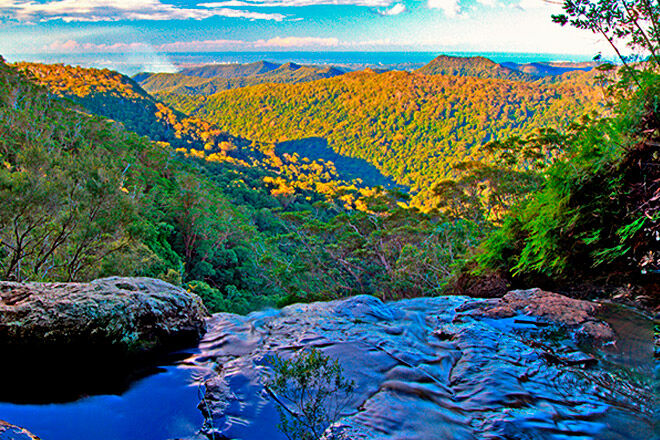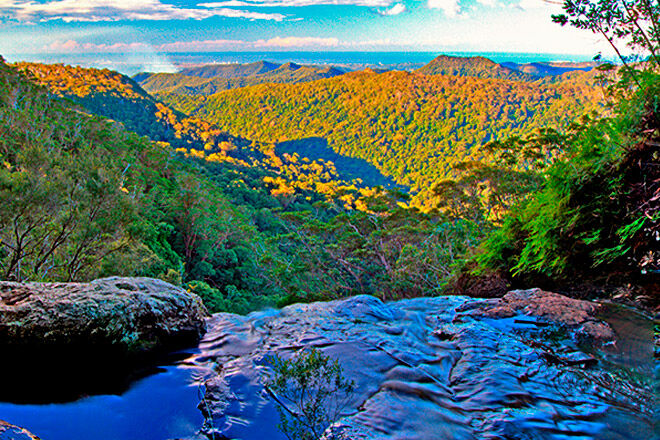 South of the Gold Coast, mountain forests meets mountain streams. The 800m Cascades track is pram-accessible in the Mount Cougal section, and on the Springbrook plateau, the Canyon lookout and boardwalk are do-able for prams too. Mmm… breathe in that mountain air!
9. Centenary track, Lamington National Park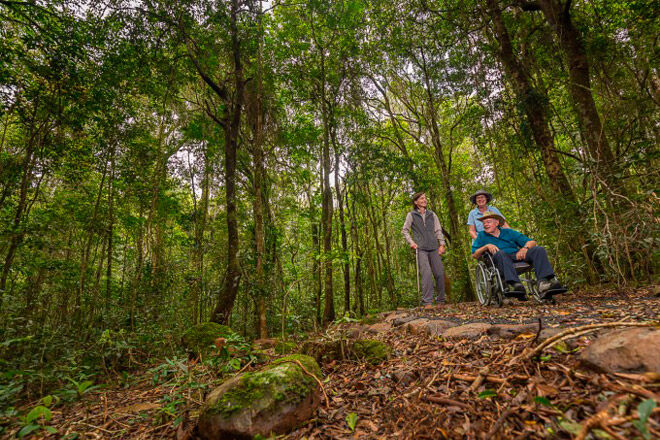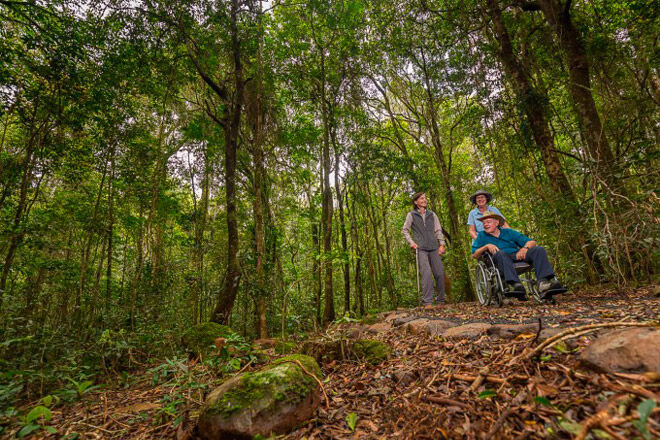 This 1.8km return track is accessible for juniors and seniors. It's a great chance to think about lamingtons (ahh, the power of suggestion!) while strolling through subtropical rainforest. You won't find any real lamingtons here, but might be lucky to spot a bowerbird or lyrebird in the forest.
Sunshine Coast strolls
10. Coastal track, Noosa National Park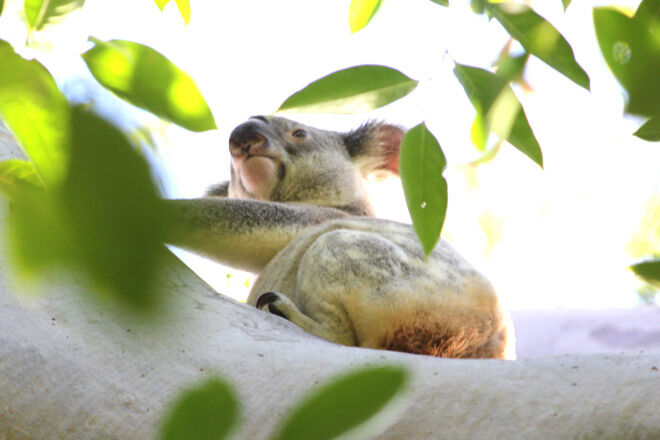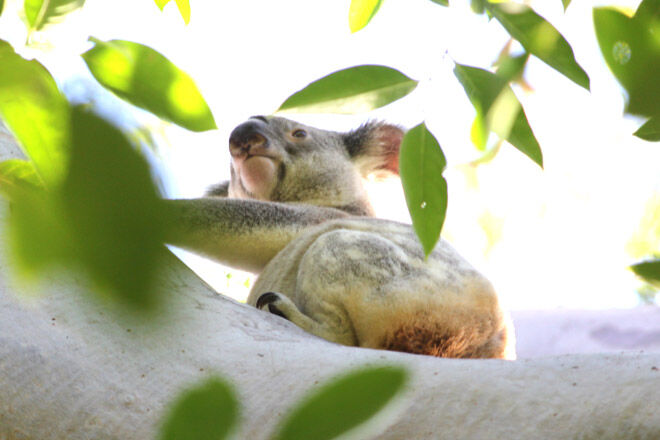 The Noosa headland is a favourite among locals and visitors, and this track makes the vista accessible for all. The Coastal track has some hilly parts, but you'll be more focused on the water views and keeping an eye out for koalas. Afterwards, push the pram down to Hastings Street for lunch and a swim!
11. Buderim boardwalk, Buderim Forest Park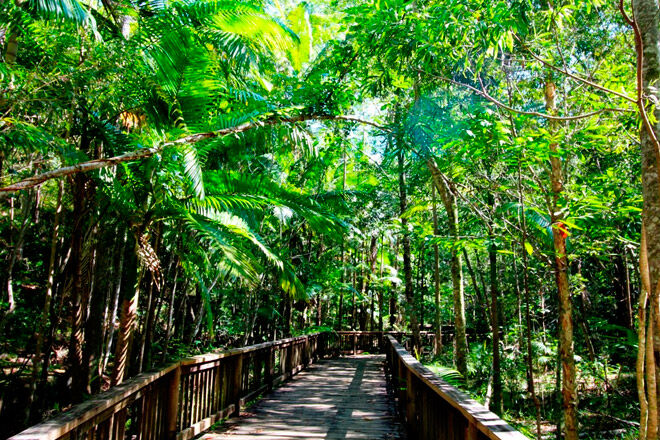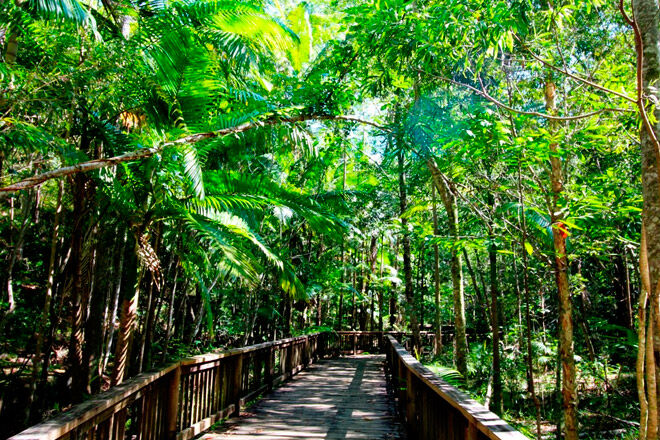 Not far from Maroochydore and amazingly close to the centre of Buderim township, this walk follows a tranquil rainforest creek. Your baby will feel cool, calm and collected strolling along the 50om boardwalk, and can gurgle along with the gentle, bubbling stream.
12. Lookout walk, Currimundi Lake Conservation Park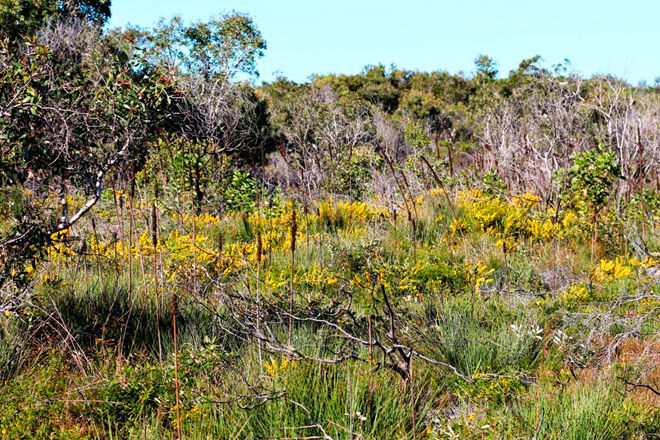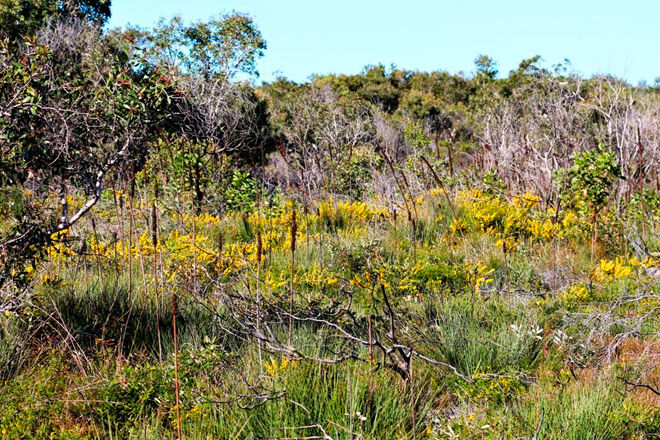 Just north of Caloundra, this short, pram-friendly walk will take you to a lookout over Currimundi Lake. The area is renowned for its wildflowers, which are bloomin' beautiful in late winter and spring.
Cruising in Central Queensland
13. Camoo walk, Mount Etna Caves National Park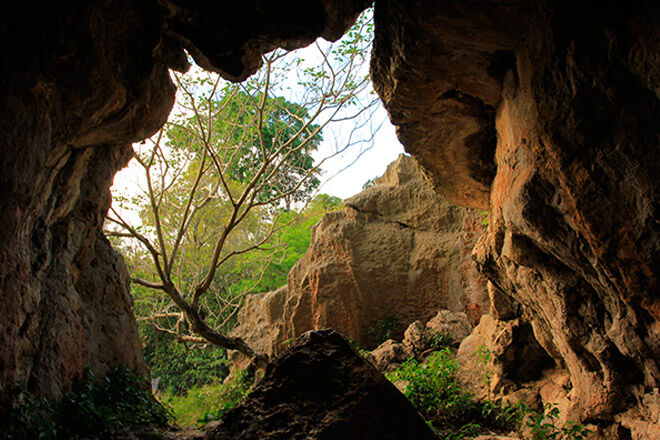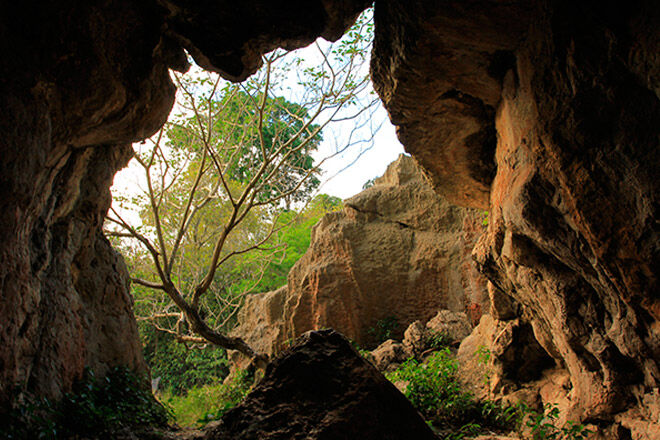 North of Rockhampton, this is the place to go batty! The park is home to caves and rare bats, and older children will be interested in a bat tour during summer. For babies, the first part of Cammoo picnic area's self-guided walk is accessible for wheels.
14. Diversity boardwalk, Cape Hillsborough National Park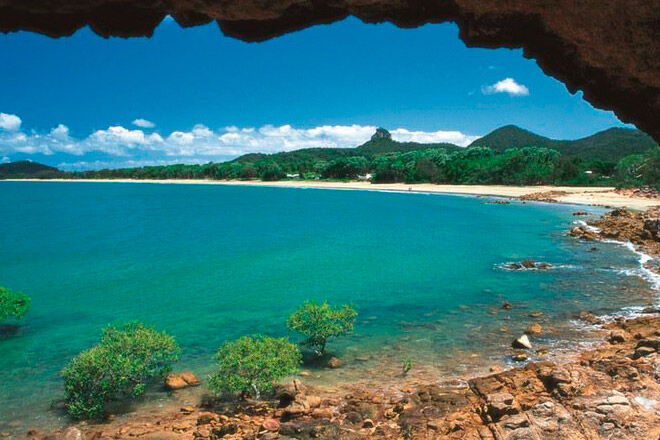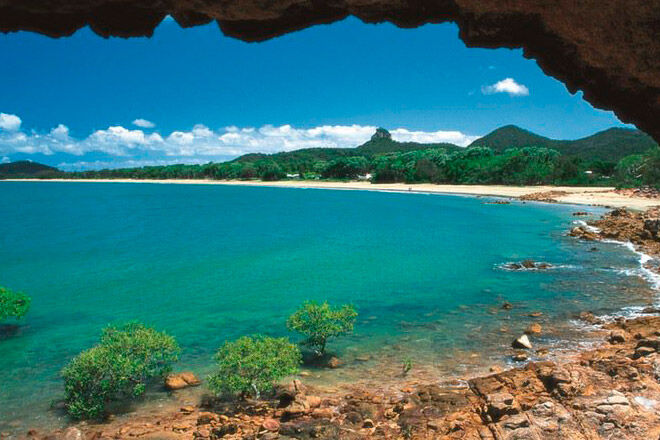 This walk near Mackay takes you through melaleuca woodland, mangroves and eucalyptus for the quintessential Aussie experience. The first 300m of the walk is pram-accessible, so you can give your bub a condensed version of the Great Aussie Road Trip, complete with roos on the beach!
Tracks near Townsville
15. Alligator Creek boardwalk, Bowling Green Bay National Park
Just 25km south of Townsville, this boardwalk gets you within snapping distance of Alligator Creek. This is croc country, not alligator country though, so obey any crocodile warning signs you see in the park!
16. Broadwater Rainforest walk, Abergowrie State Forest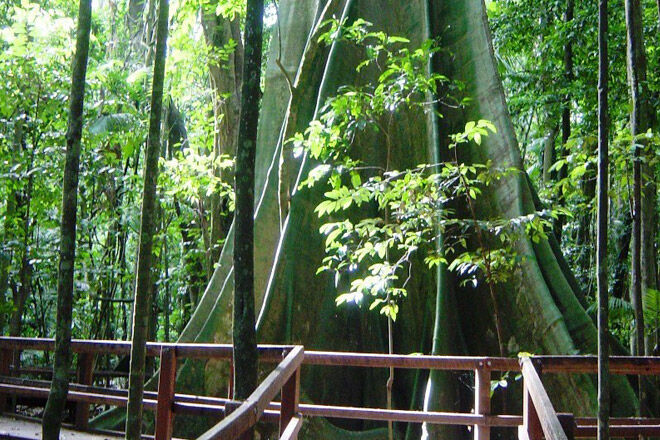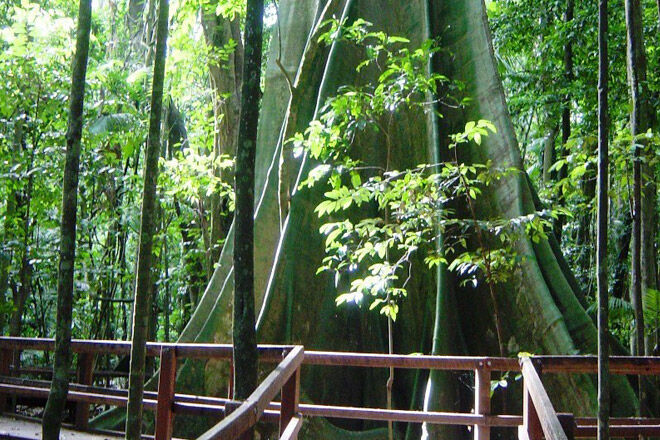 North of Townsville, this 200m, pram-friendly boardwalk leads to the spectacular Broadwater fig. This thing makes Jack's beanstalk look like a beansprout! Older kids and grown-ups can then complete the 1.3km return walk while you paraphrase the tale of Jack and the Beanstalk to bub!
17. Butterfly walk, Tully Gorge National Park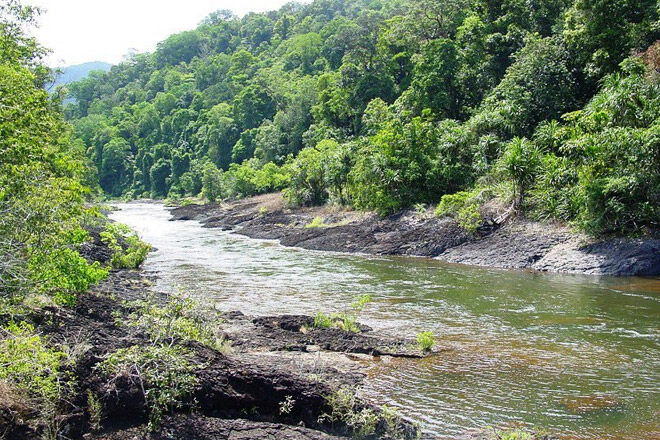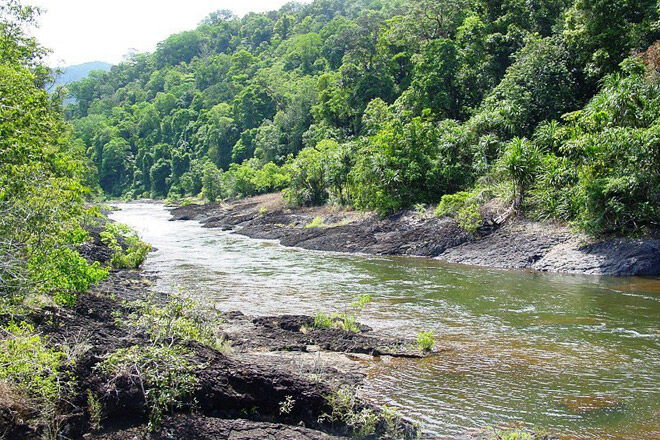 In between toasting marshmallows at the Tully Gorge camping ground (situated between Townsville and Cairns), you can take a short, pram-accessible walk through rainforest. Keep an eye (or four!) out for butterflies, particularly between September and February.
Close to Cairns
18. Mamu Rainforest Canopy Walkway, Wooroonooran National Park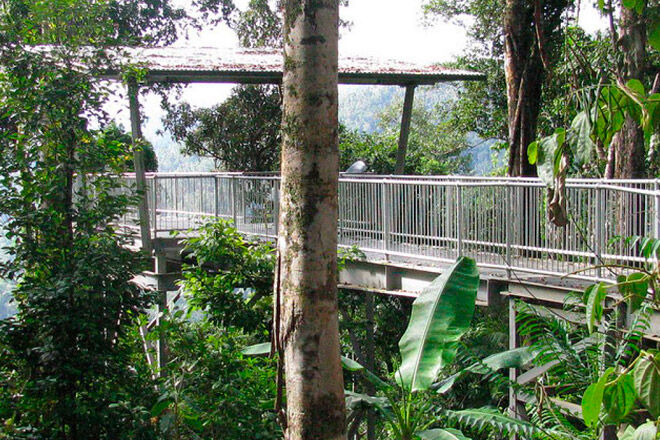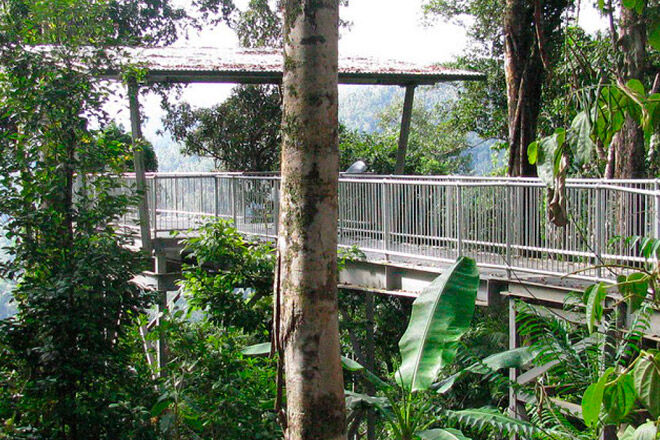 Fees apply for this walk through the clouds, however, the views will amaze and it's not every day that you can take a pram from the rainforest floor to high above the canopy. The park is near Innisfail and the gorge and rainforest views are something to write home about.
19. Josephine Falls track, Wooroonooran National Park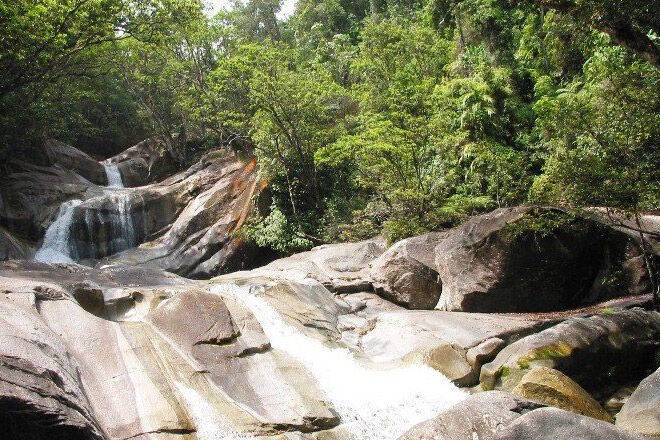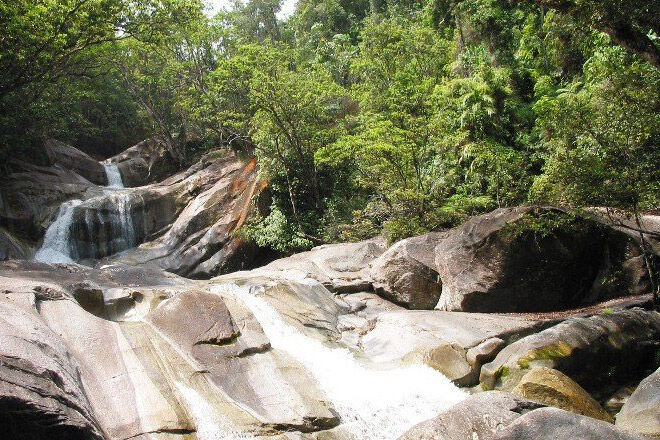 This is a free walk in Wooroonooran National Park. There are three viewing platforms overlooking Josephine Falls and Creek, and you can stroll to the first one with a pram. It provides a bub's-eye-view of the top pool and lots of lush rainforest too.
20. Lake Eacham walks, Crater Lakes National Park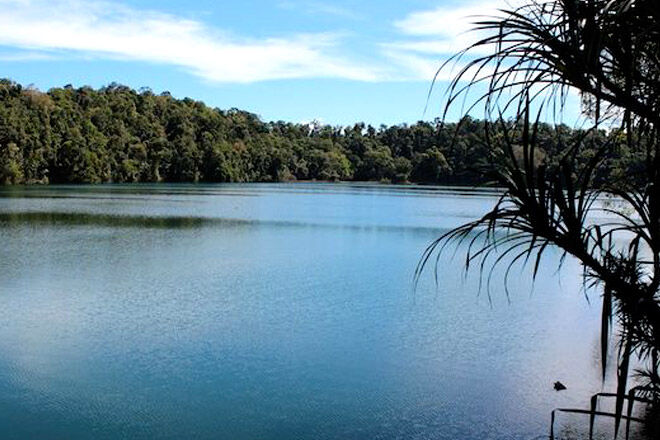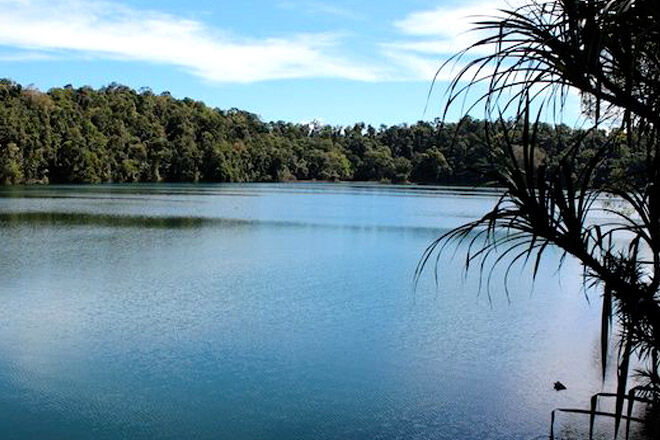 Just over an hour south of Cairns, this park features a beautiful blue lake surrounded by green rainforest. Take plenty of photos of Lake Eacham and explore some of the tracks and boardwalks that are accessible by pram.
21. Din Din Barron Falls boardwalk, Barron Gorge National Park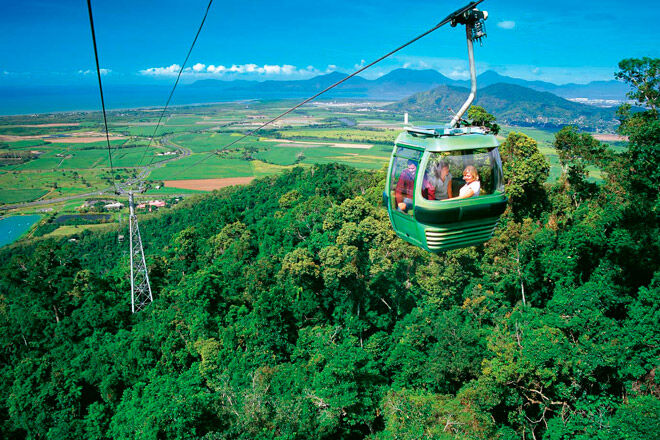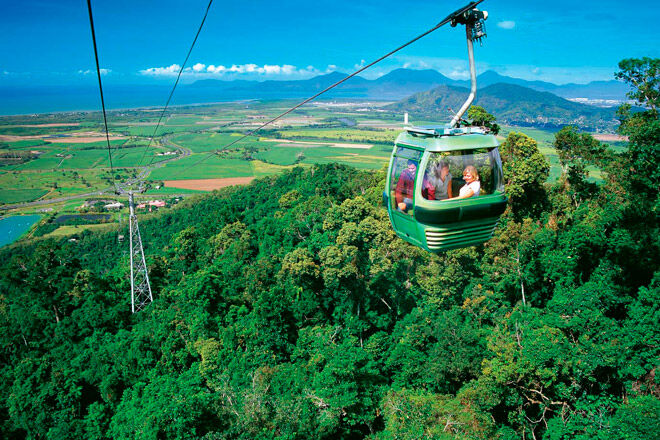 Nestled in the Atherton Tablelands is this gorgeous walk. The whole family can take in views of Barron Falls and Barron Gorge, then see how long it takes the kids to notice the Skyrail Rainforest Cableway! This eye-boggling adventure over (and through) rainforest is great for young and old.
(images via Phill Joyce, Nicola Moss, Brisbane City Council, www.queensland.com, Queensland National Parks, National Park Odyssey, City of Gold Coast, Lotus Club Qld, Qld Government Department of National Parks, Sport and Racing, AllPics4U, Tall Girl Tales and Skyrail)
Read more:
19 pram-friendly bush walks in NSW
Save