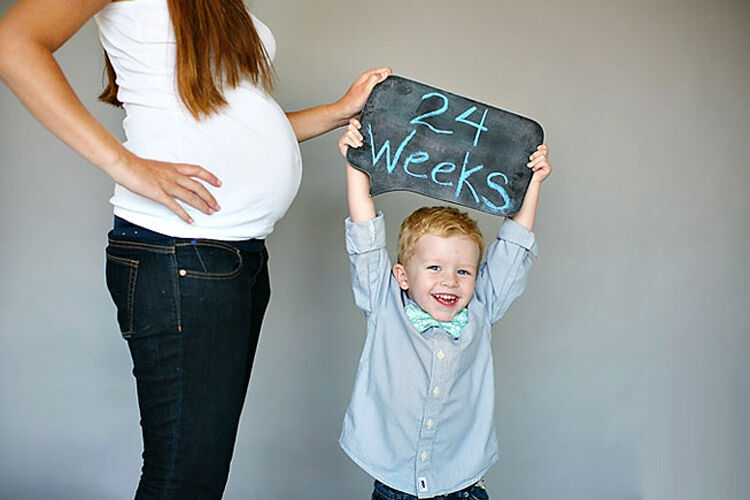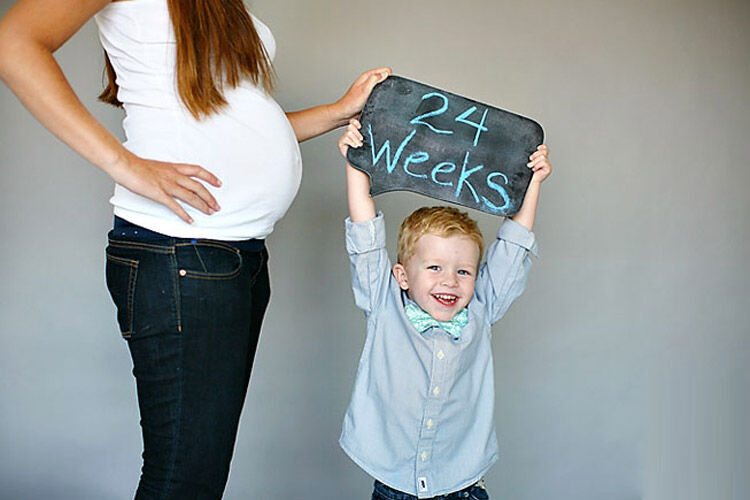 Once your lil' peanut has finally arrived, pregnancy can suddenly seem like such a blur. So you'll be pleased as punch if you found ways to record all those precious pregnancy memories along the way. A pregnancy record can be as easy as a selfie snapped each week or as involved as time lapse video. But the one thing that characterises our favourite pregnancy records is that they all absolutely glow with joy!
And not only is it wonderful for you to be able to look back on those 40ish weeks of incredible change, but once they're a little older, your poppet will also be thrilled to look back on pics of themselves when they were inside your tummy!
Here are 16 creative ways to record all those precious pregnancy memories.
Get some perspective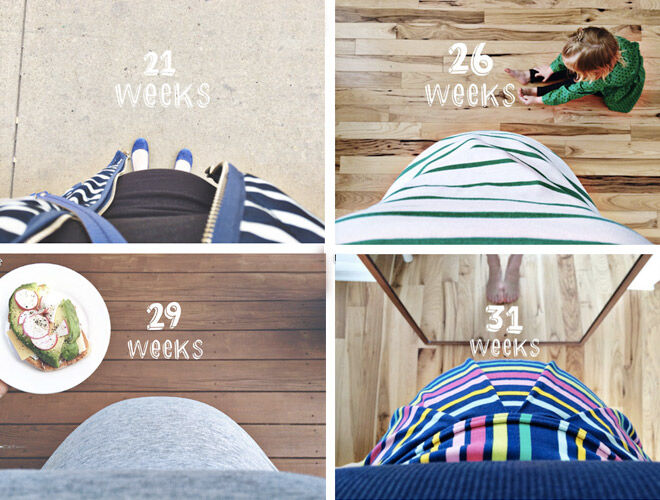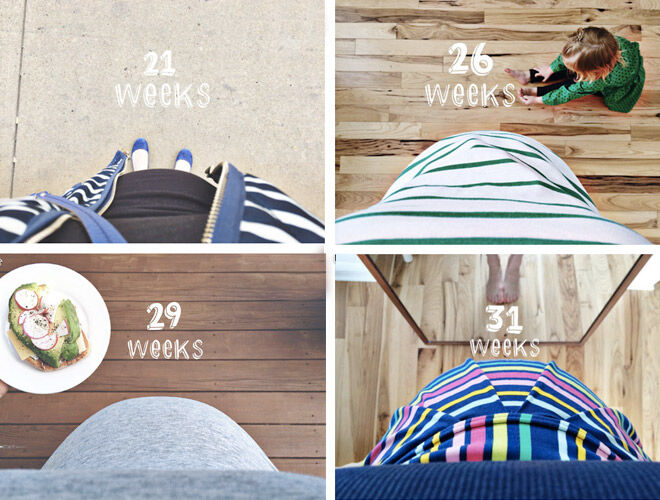 We love how this series shows a mama's perspective – as well as those feet slowly disappearing! Her everyday items like lunch or a cup of coffee (or a sweet daughter!) capture her personality perfectly as well. Super cute!
Pregnancy silhouette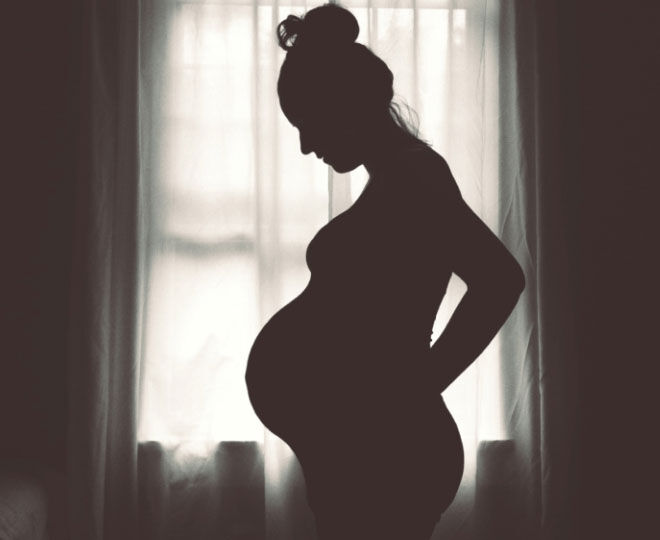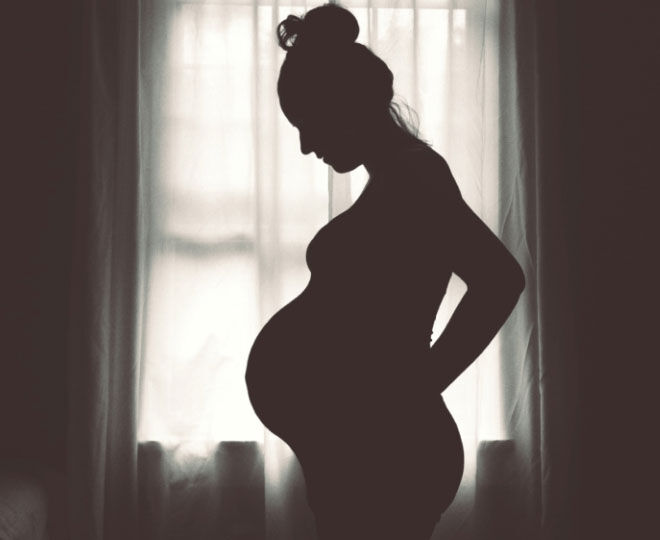 For an artistic weekly bump pic, take a silhouette shot. Follow this tutorial for an easy to follow step-by-step guide to achieving a gorgeous bump silhouette. (White House Black Shutters)
Countdown to arrival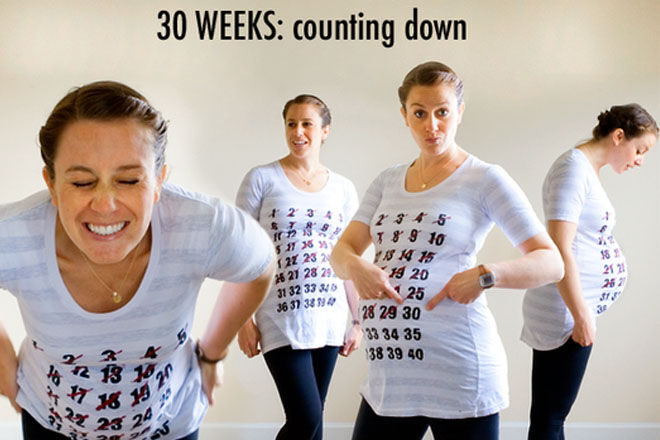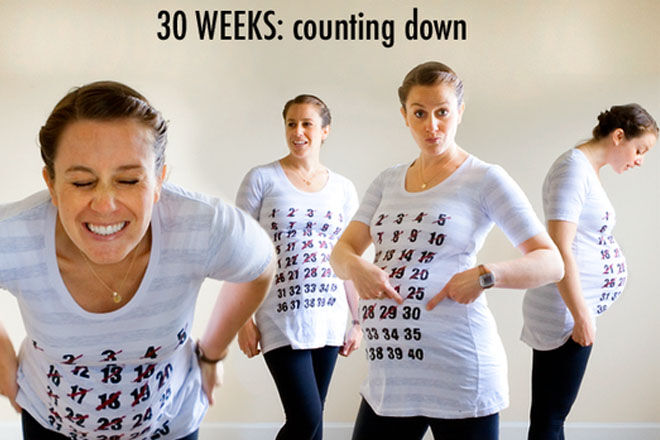 This crafty mama created a pregnancy countdown t-shirt, crossing off each week and taking a commemorative pic to mark the status.
Selfie series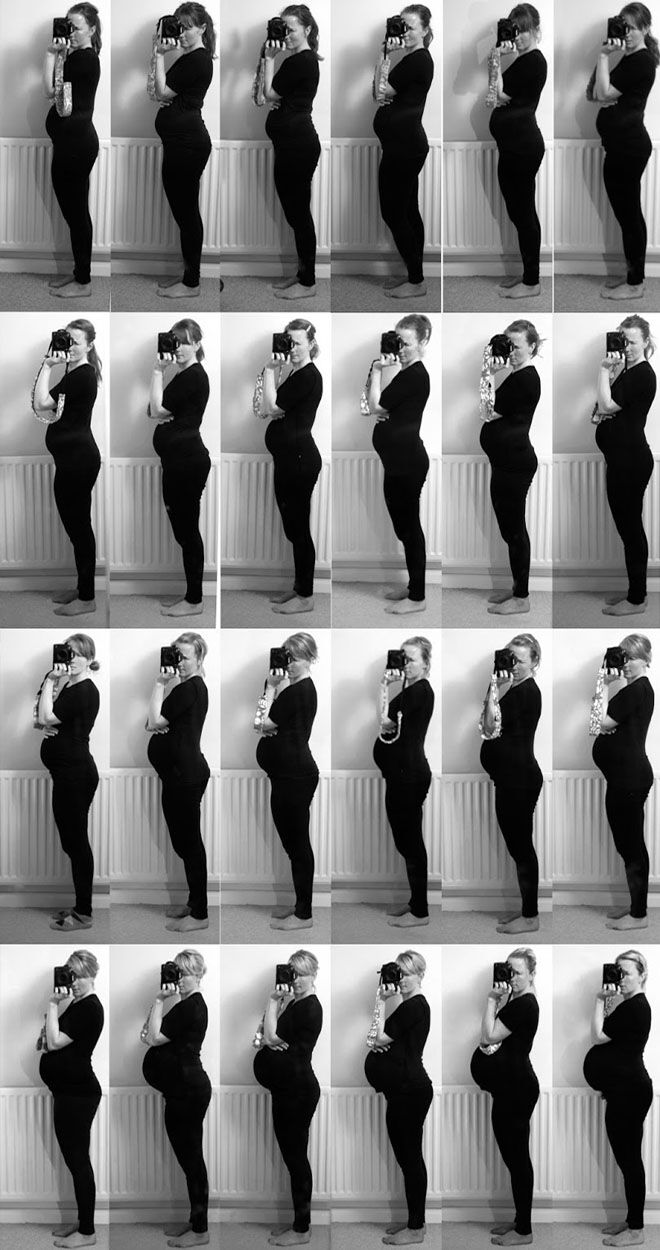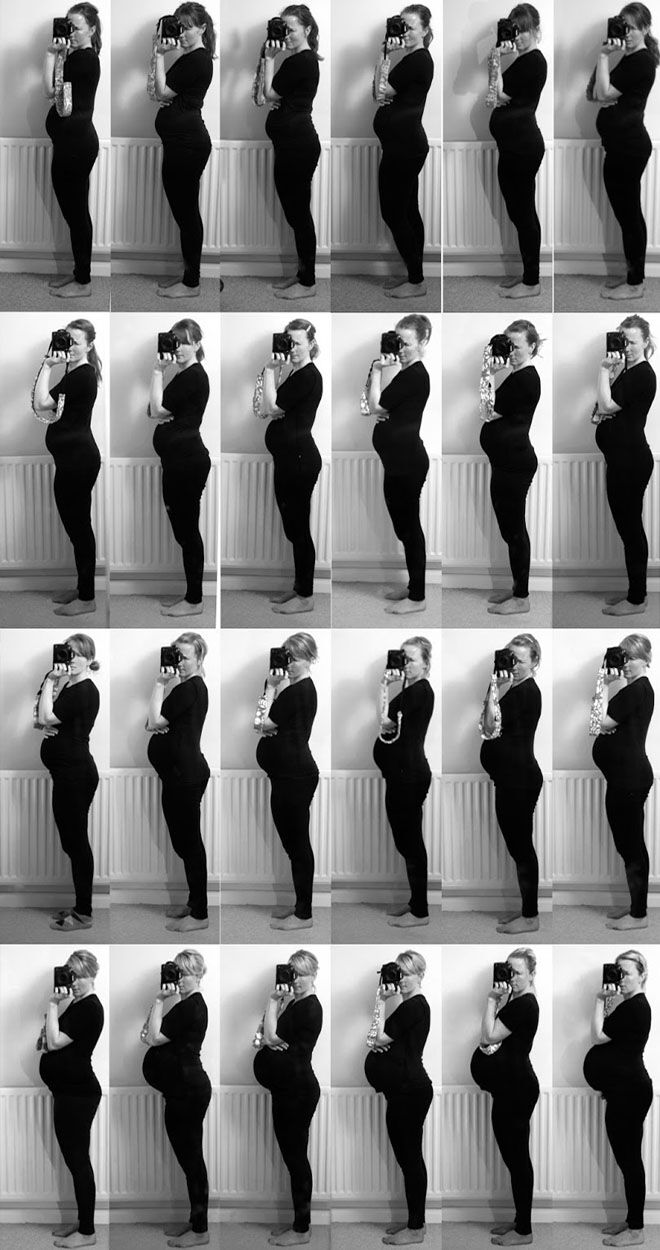 Give Kimmy K a run for her money by taking a weekly bump selfie. By taking the pic in the same position and wearing the same clothing, the growth of your bump will really stand out. (How To Paint The Sky)
Too funny!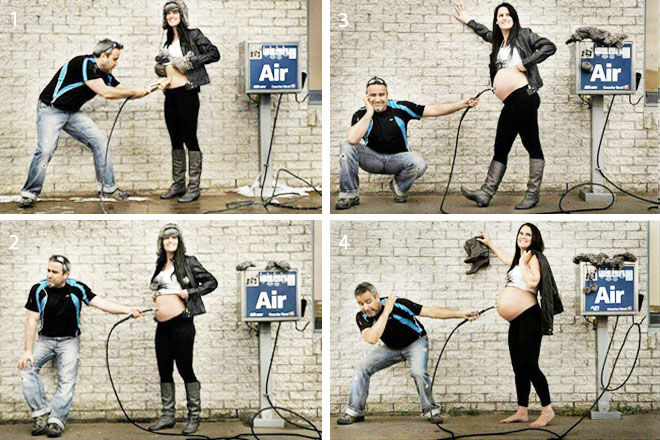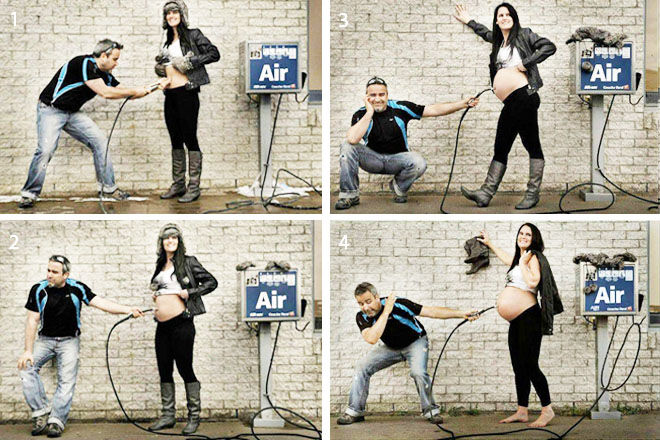 This couple got hilariously creative, using an air pump as a tummy inflating prop in their series of belly shots. Love! (Patrice Laroche)
Time lapse vid
A time lapse video cleverly compacts 40 weeks of pregnancy into one minute of video footage! Simply record yourself in the same position and against the same background, as often as you can. Once collated you'll have a belly that seems as if is growing at the speed of light!
Sibling love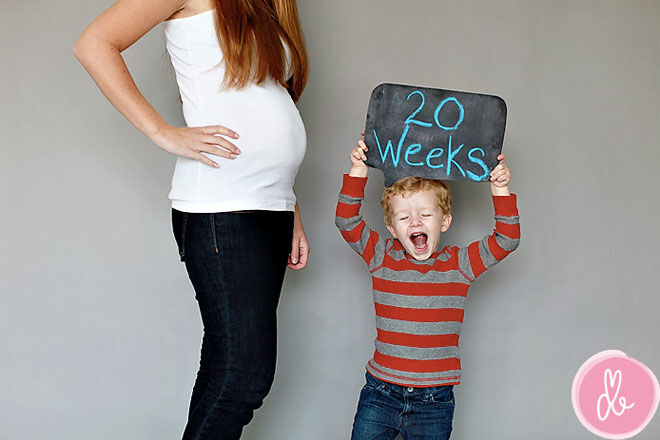 Get siblings excited about the impending arrival by including them in the bump recording process – after all, someone needs to be the Chief Chalkboard Holder…
Fruity record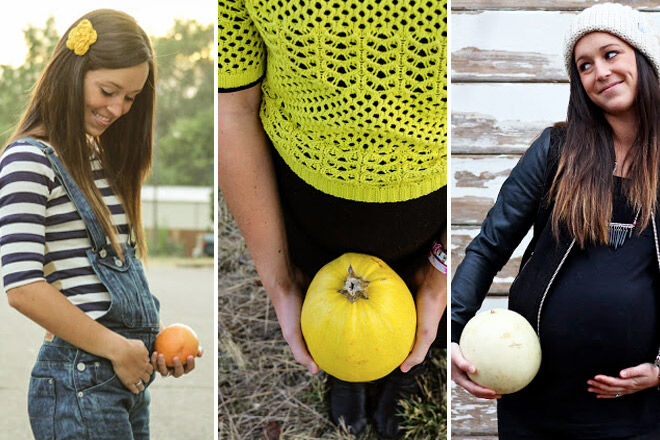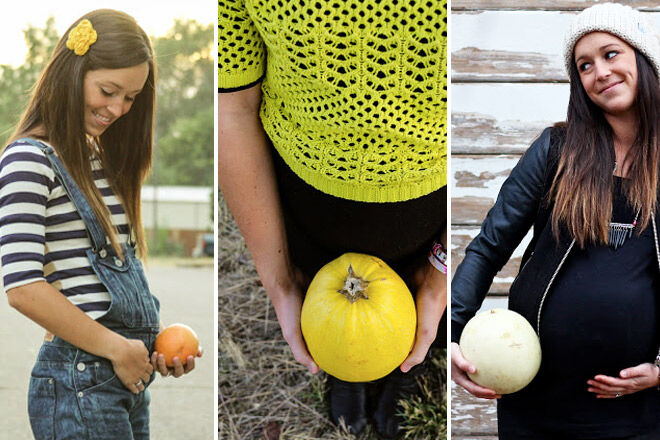 We all end up feeling like Baby in Dirty Dancing carrying a watermelon around by the end, don't we? So, taking a pic of your bump alongside a piece of fruit that is indicative of the size of your little fruit loop is a cute way to keep check of your progress. (The Hollenback Bus)
Bump banner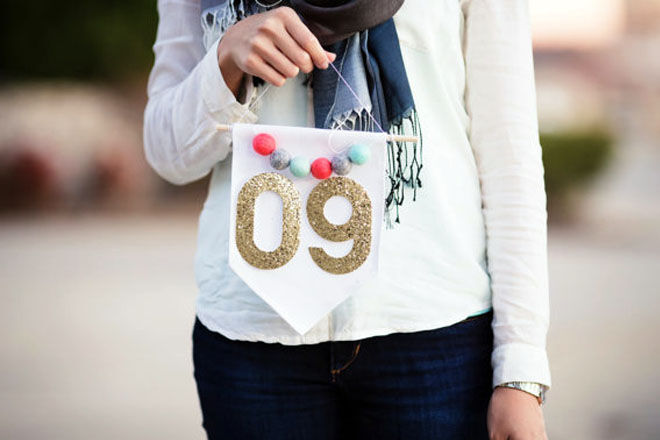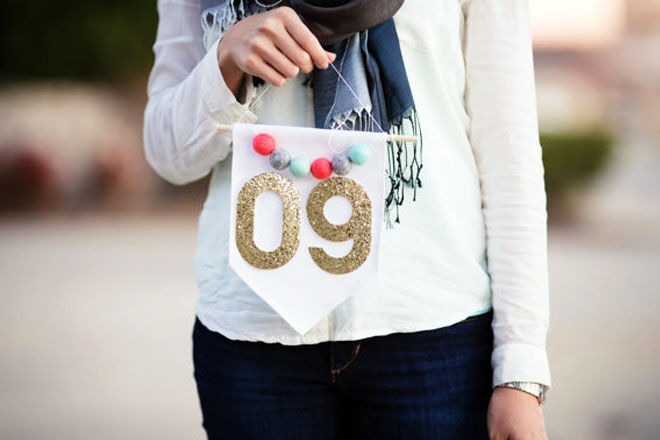 These pretty bump banners visually mark out each week and you can even recycle them once your lil' peanut has arrived to record their growth milestones – winning!
Cast it!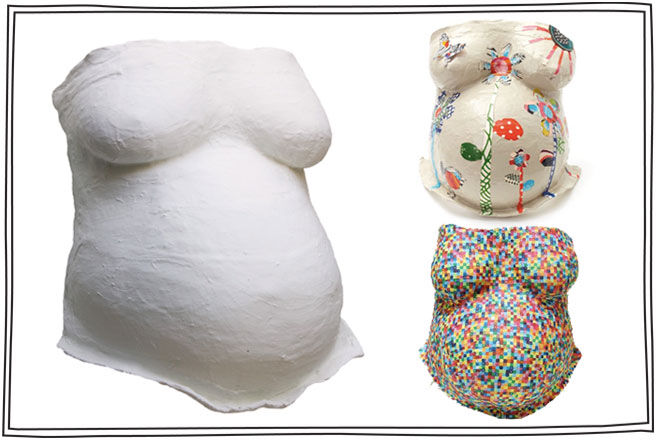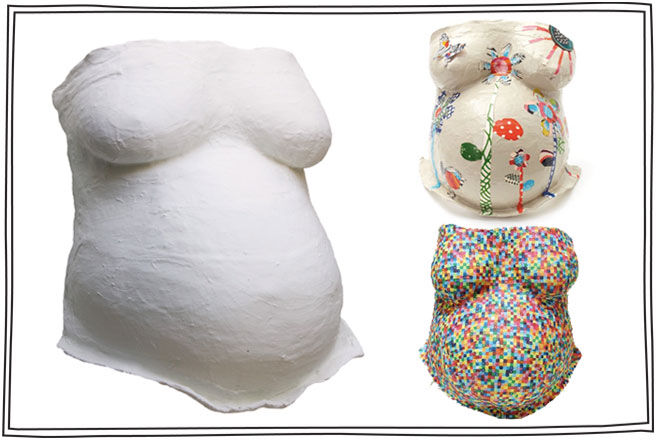 Think you'll forget what your belly looked like when you were pregnant? Then cast it with Baby Made's DIY Belly Casting Kit – the safe and easy way to create a lasting memory of your beautiful bump!
Paint the bump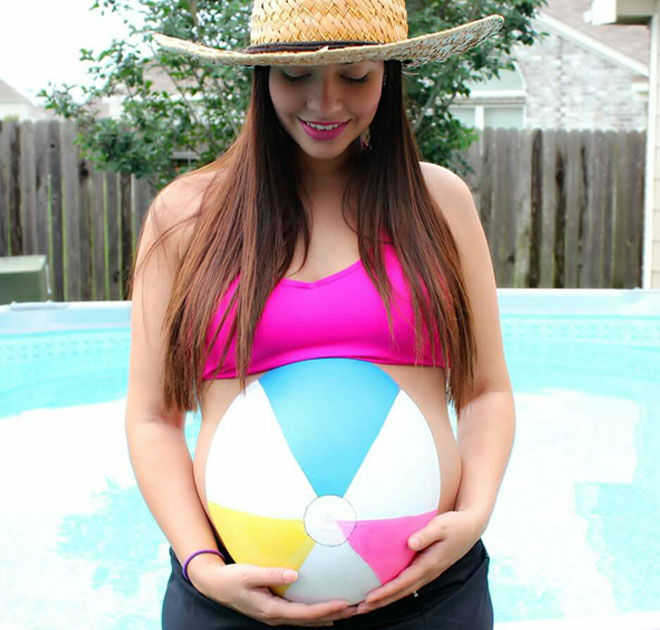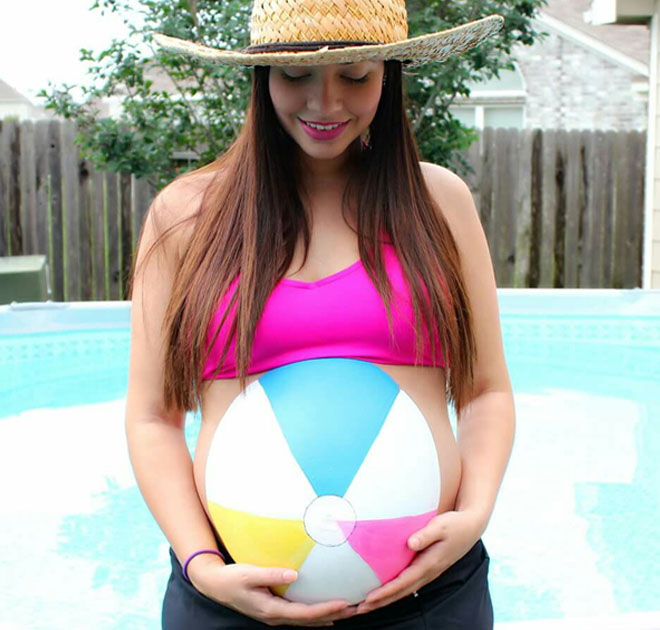 Looking for an artistic way to capture your bump in all its glory? You could hire a face-painter or get your DIY craft on with some face painting on your bump. Some painted bumps are definitely hilarious (think a pumpkin at Halloween), while others are more practical, such as those that announce bubba's gender. (Sharon Mecha)
Pregnancy journal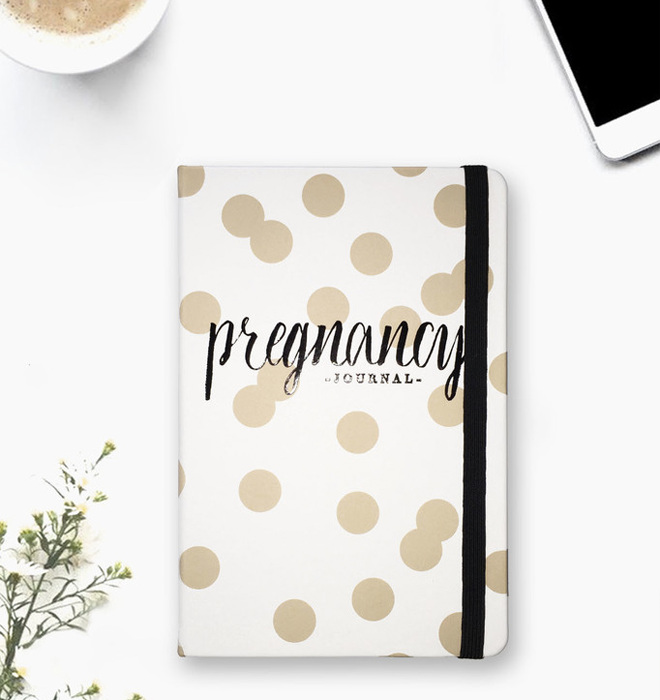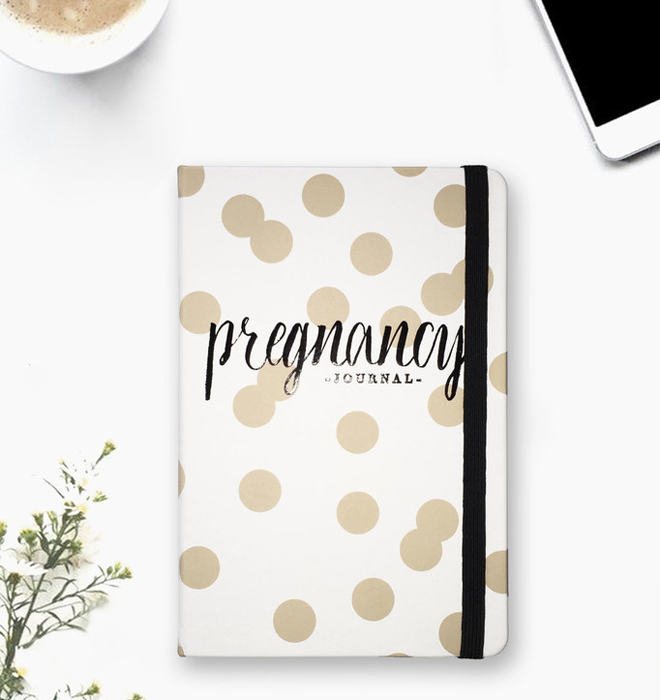 Use a pregnancy journal, like this one from BAE the label, to record everything from the size of your bump, to those crazy pregnancy dreams and your weirdest cravings.
The trilogy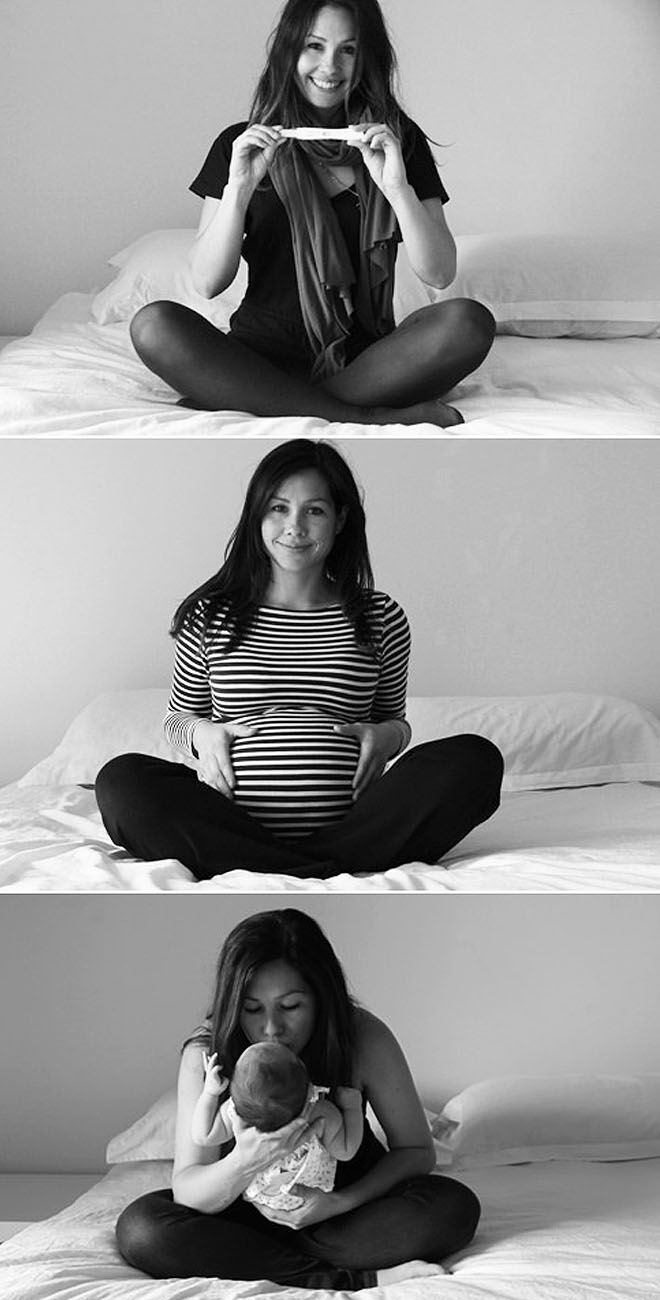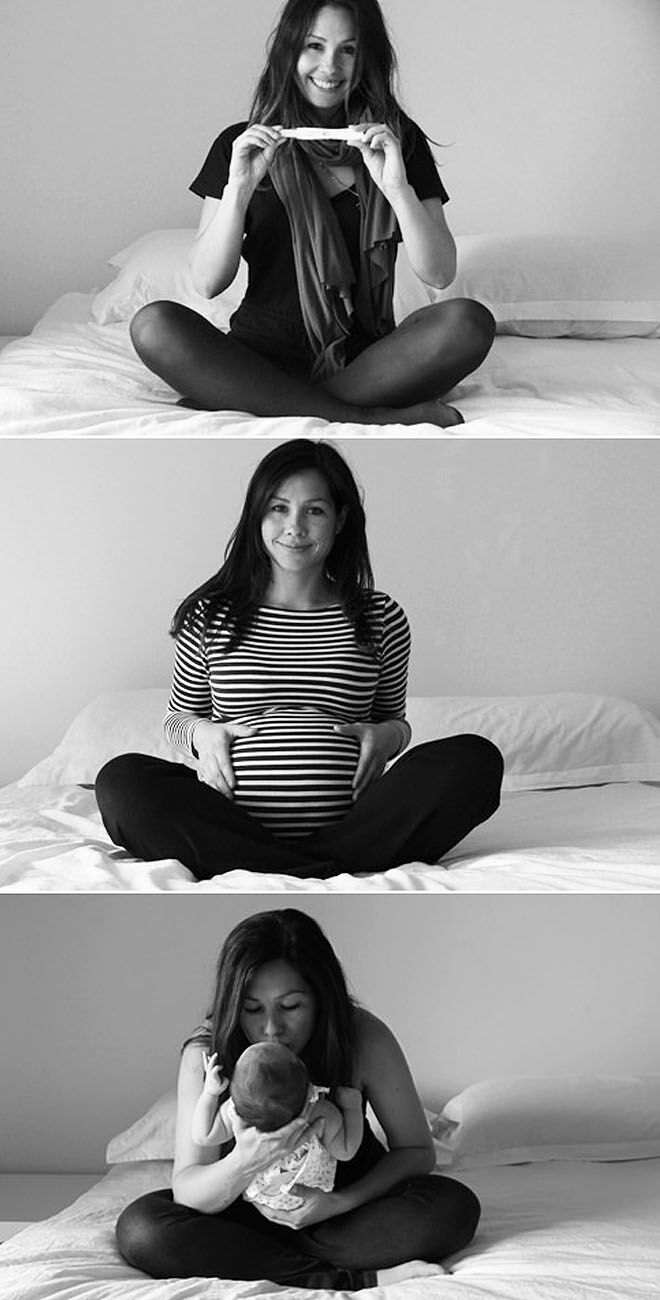 Think you are too forgetful to take a pic each week? Consider just a trilogy of pics – first, a pic of you holding your pregnancy stick, then one late in the pregnancy holding your loud and proud bump, followed by one of you holding your new munchkin. These photos also double as a super sweet baby announcement!
A how-to guide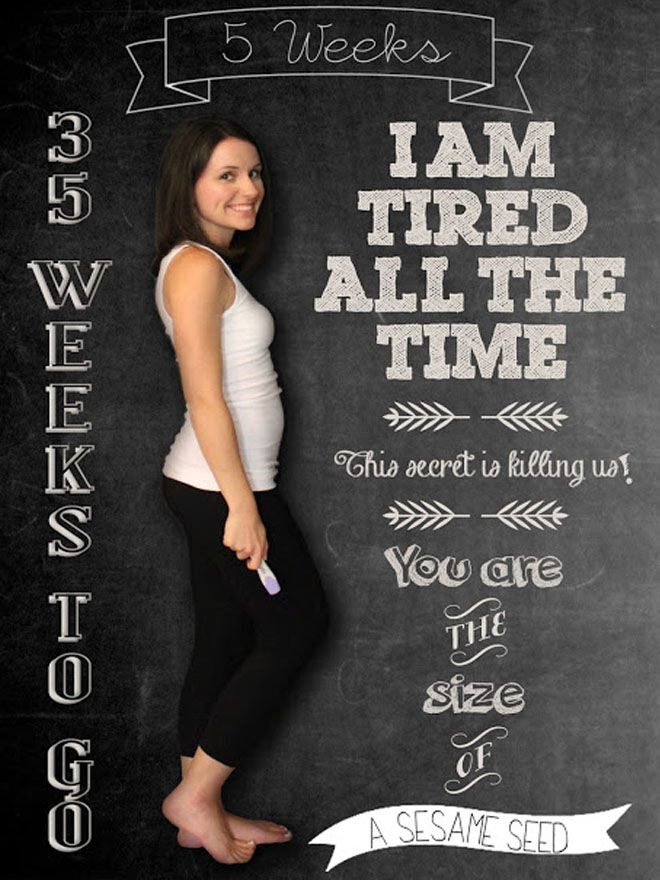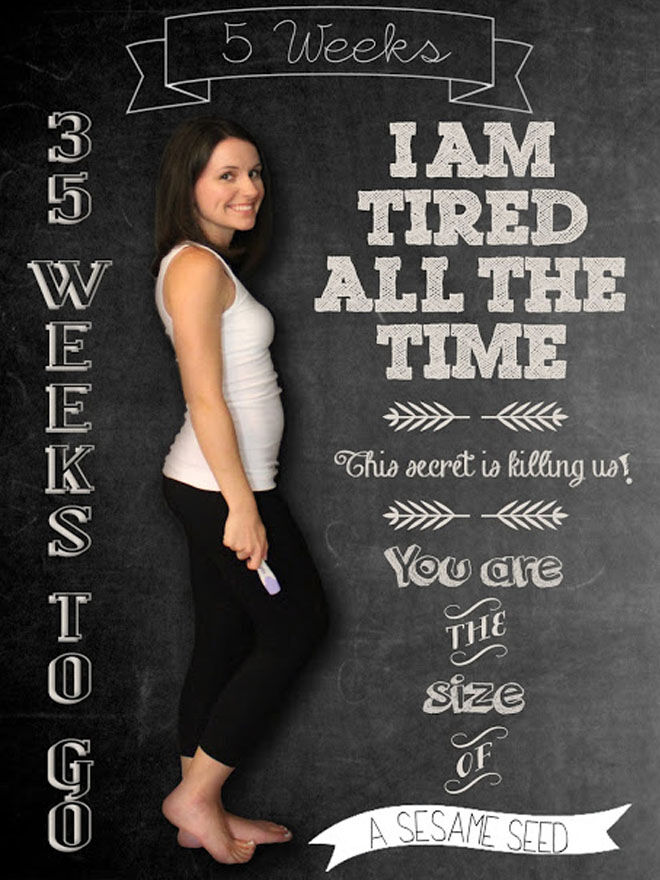 Follow this step-by-step guide to create your very own chalkboard weekly bump photos. You won't even need Photoshop – it's all done online! (Love Lake Living)