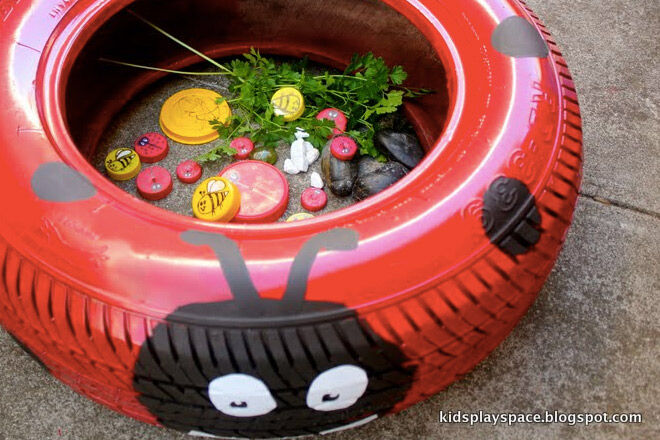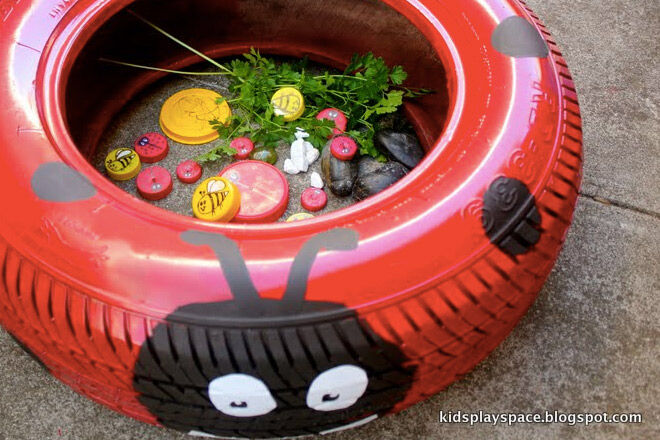 After a busy life on the open road, there comes a time in every tyre's life when they have to roll over and… become something much more exciting!
Using second-hand tyres, a spritz of spray paint and some DIY know-how, you can make furniture, flower beds and fun stuff for kids. Those old tyres are going places (and it's not to the scrapheap). Let's G-O!
Here are 15 ways to recycle and revitalise those tired treads.
Just swing it!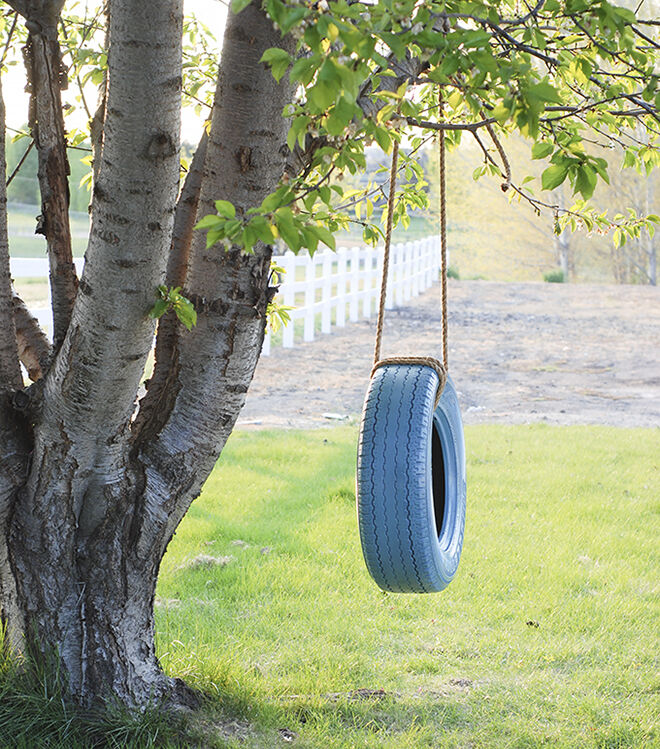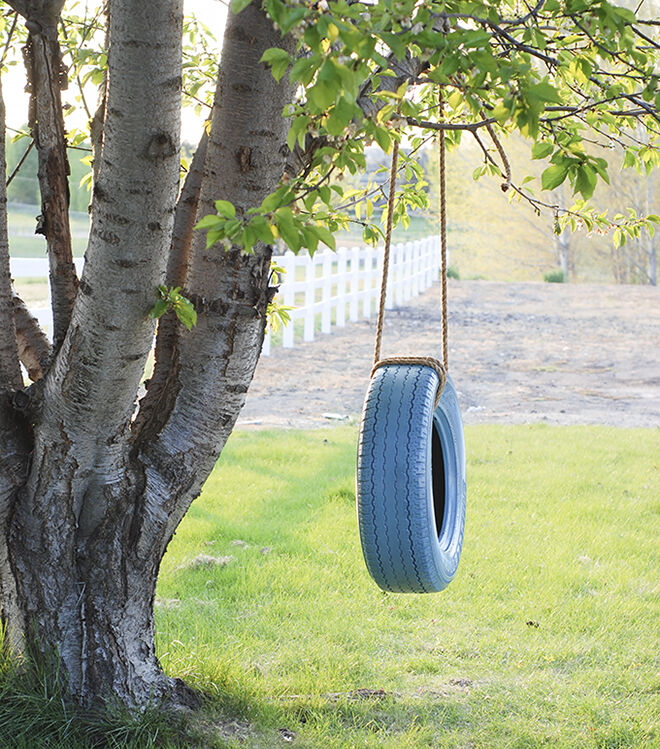 Choose your colour, choose your tree and this tyre swing is almost done! Ok, there are a couple of steps in between, but you'll soon get in the swing of this fun DIY project. (via Ella Claire)
 Ladybird coming through!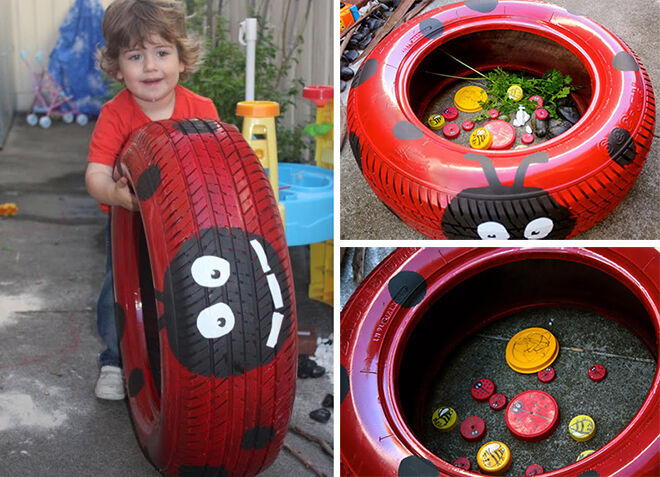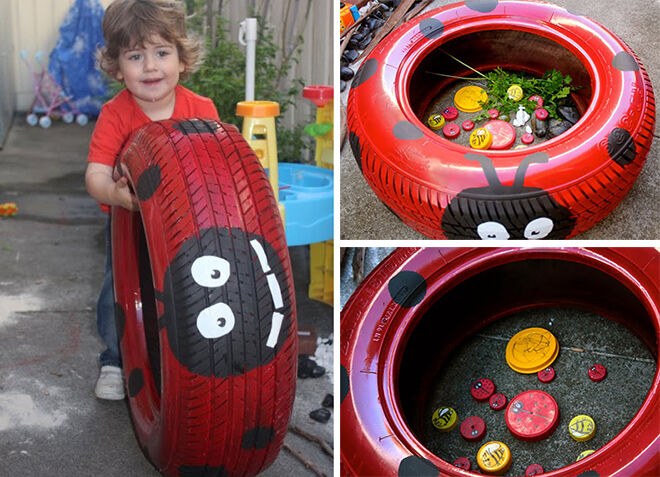 The average ladybird likes its own space, however, this tyre ladybird is a little more social. Paint on some personality, then leave it to your tyke to sit, jump and roll with their new friend. (via Kids Play Space)
Tyre-assic Park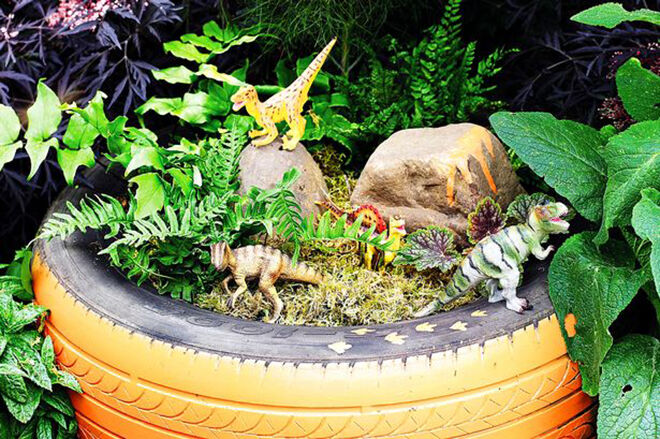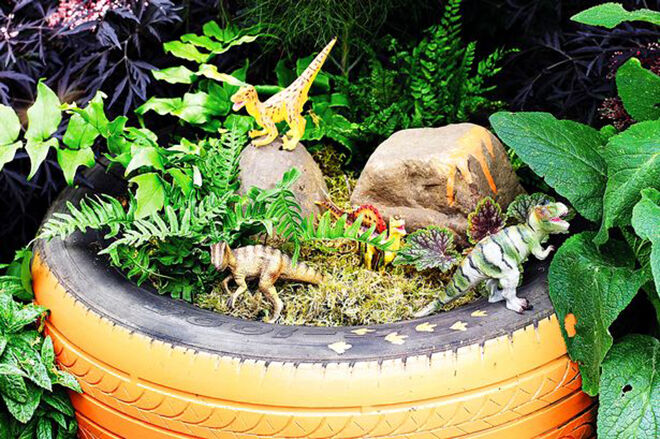 Bring the dinos back from extinction with this garden idea. Fill a tyre with soil, ferns and rocks, then add some toothy terrors. Someone had better tell the fairies they've got new neighbours! (via Mirror)
Pet project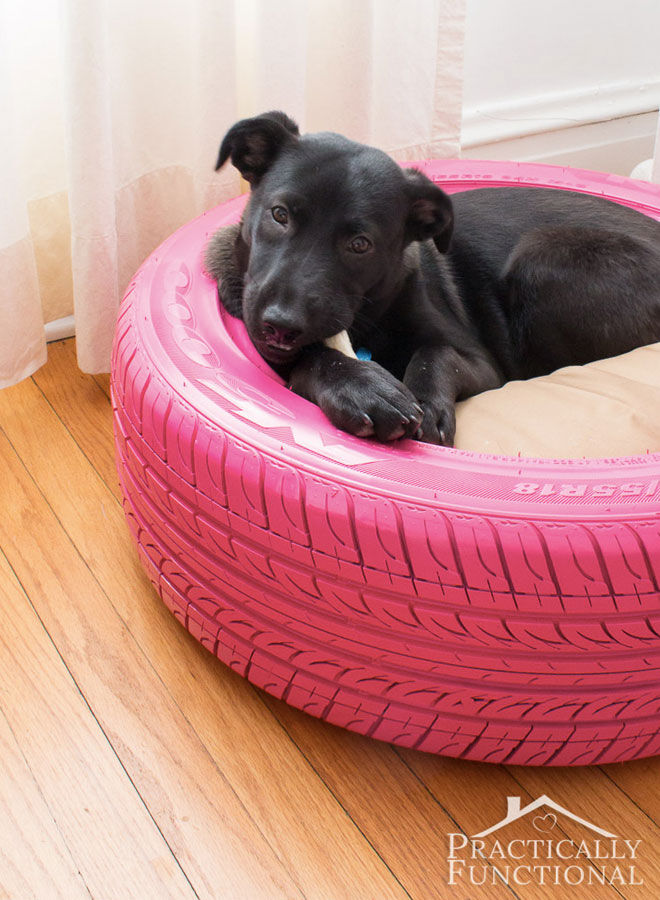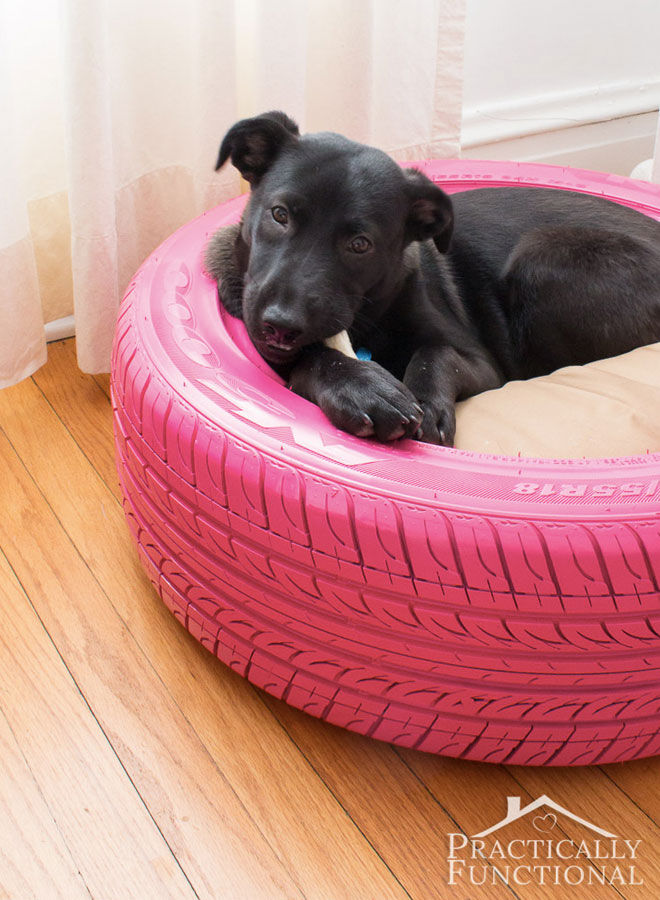 You won't be chasing your tail making this pet bed. Just spray the tyre, stick pads underneath, stuff it with a round dog bed and wait for Fido to give you a paws up. (via Practically Functional)
Jungle gym re-jig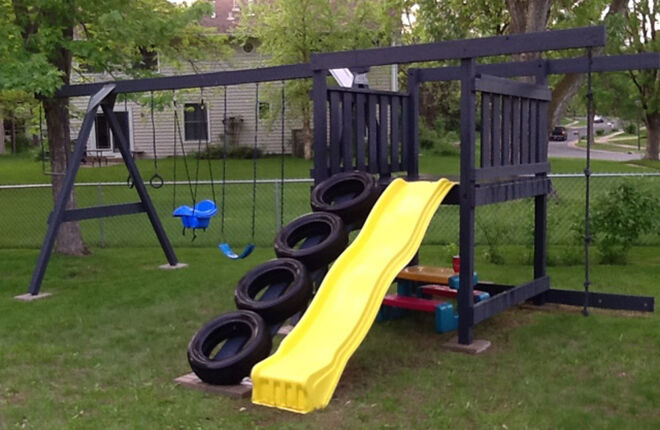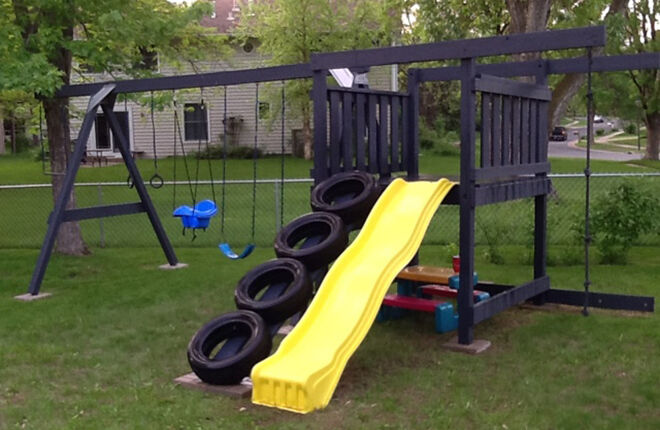 Little monkeys will climb up this tyre ladder in a flash, then slip down the slide like it's a banana skin! (via Exploring Domesticity)
Rocky monster!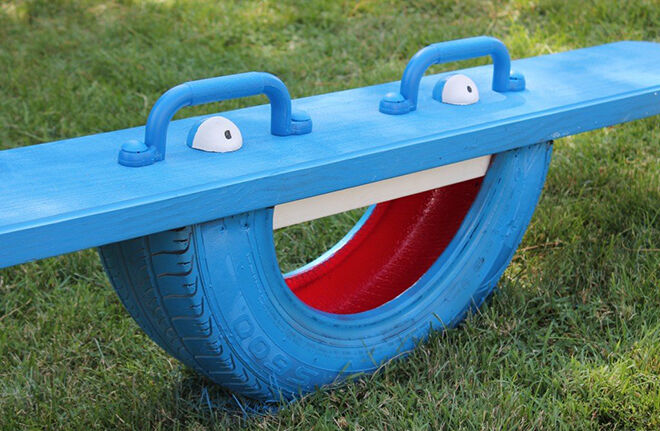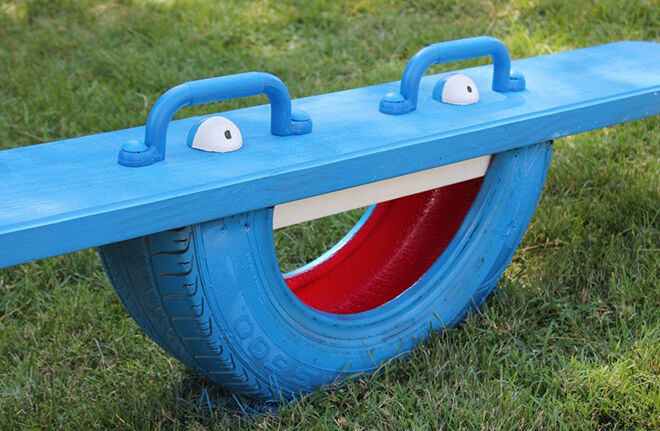 The creators call it a 'tire totter' and we're going with 'tyre see-saw', but everyone can agree that this homemade play apparatus is monster fun for kids! (via My Fix It Up Life)
Get a grip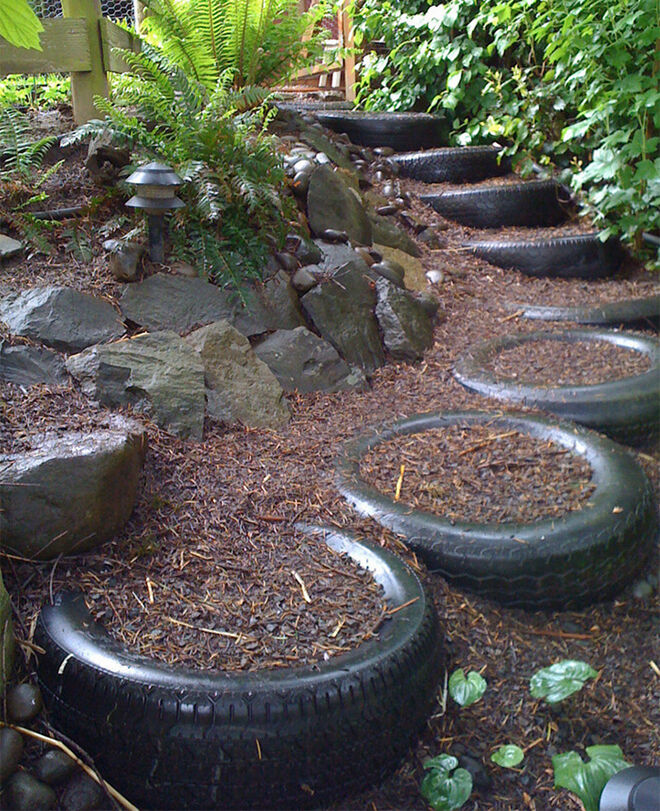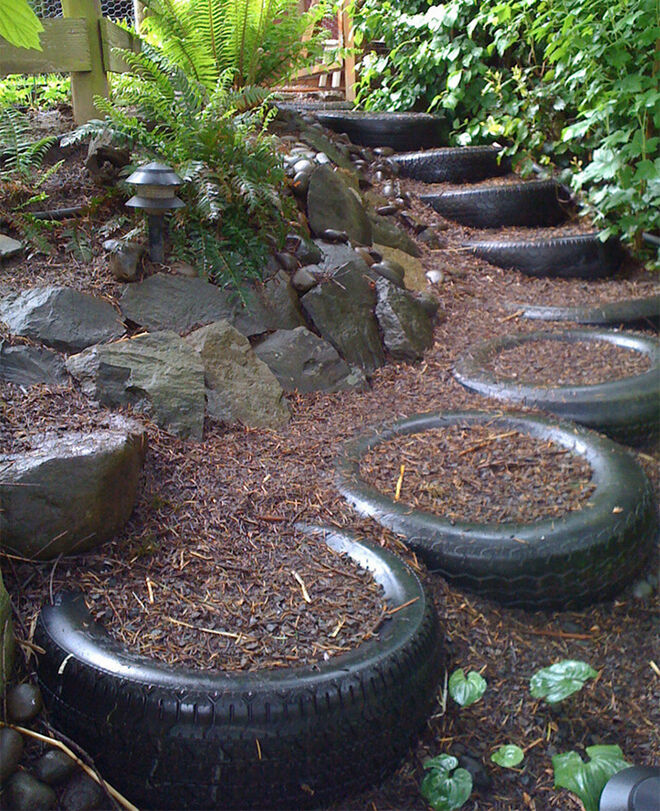 Solve the case of the slippery slope with these homespun tyre steps. If you've got nine tyres with nothing to do, then put them to work in the yard. (via Flick)
Low cost landscaping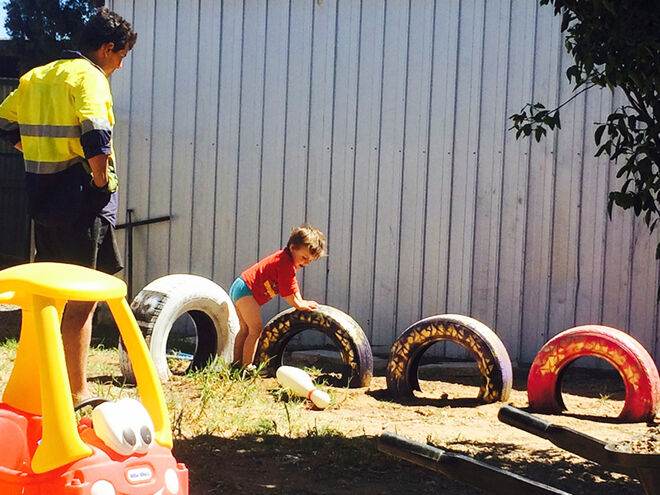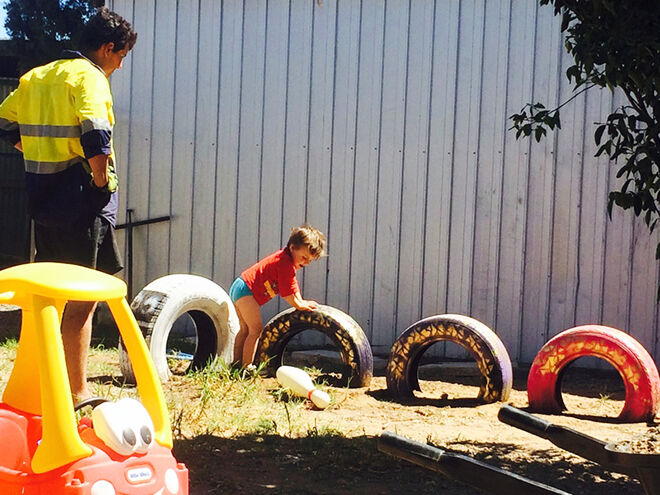 Old tyres can be used to create cheap raised garden beds. Or you can use them for a Loch Ness Monster sculpture in your backyard. We know what your kiddos will choose! (via Money Off)
Your happy place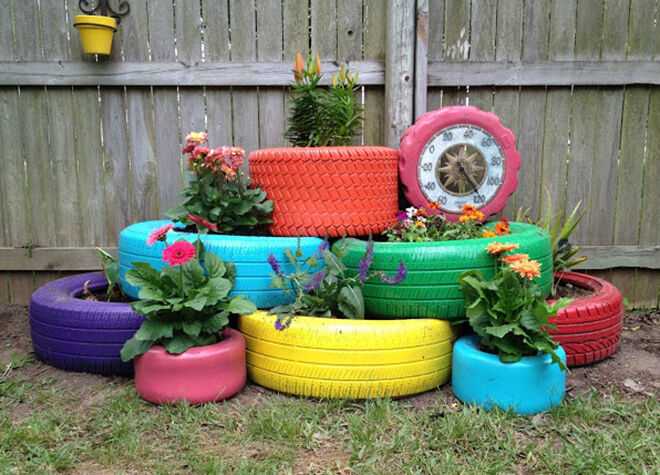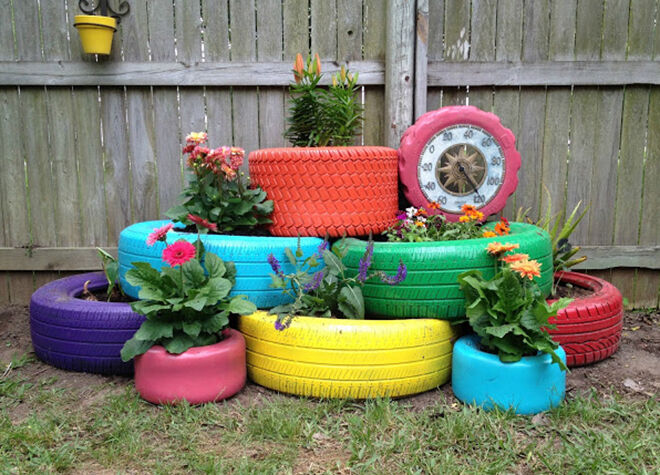 This planter feature is full of positives. You get to recycle a stack of tyres, use seven paint colours and find the brightest flowers ever. Ahhh, happy days. (via Lemon, Bean and Things)
An outdoor setting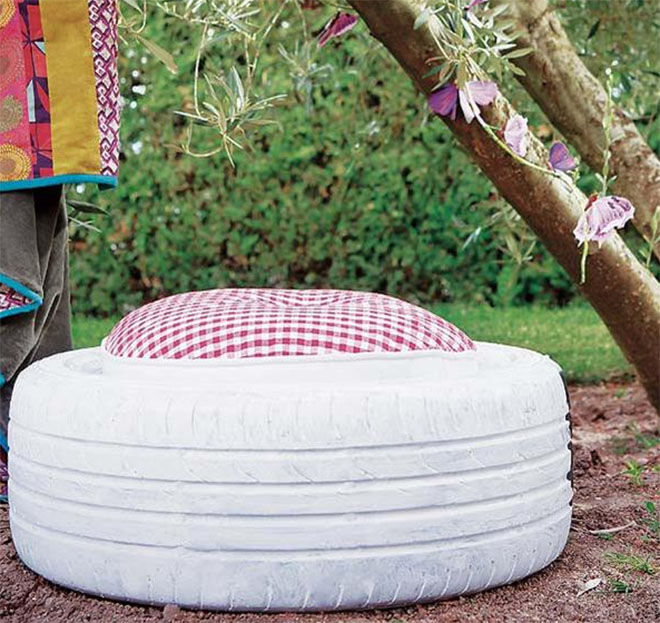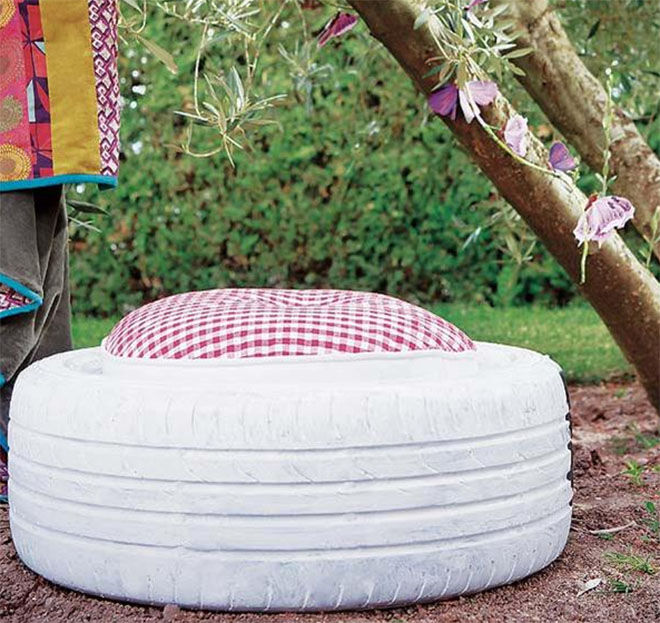 A tyre can also be fashioned into garden furniture. With a cushion on top, it's a stool; minus the cushion and it's a side table. Either way, this old tyre gets outdoors. (via DIY Enthusiasts)
Tower of power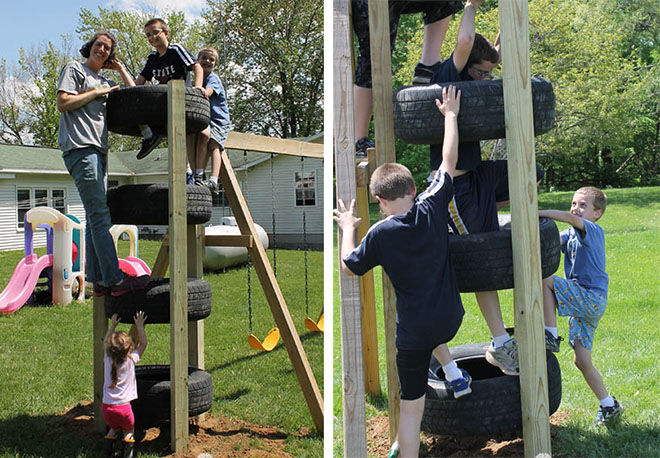 We're going up, we're going up, as high as our tyres will go! This climbing tower is a great add-on to a swing set. Make it sturdy and kids will power to the top. (via Blessings Overflowing)
Rock around the clock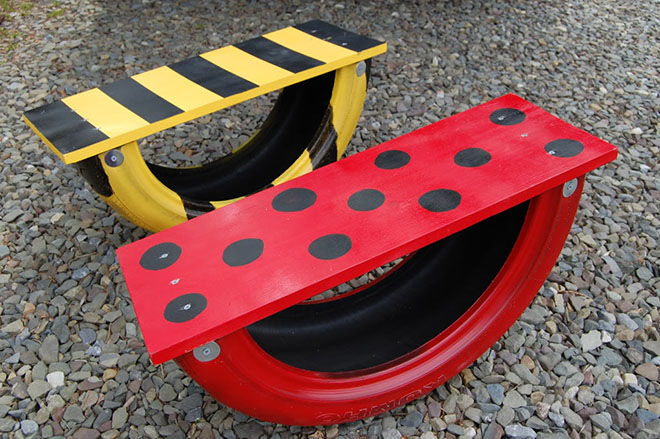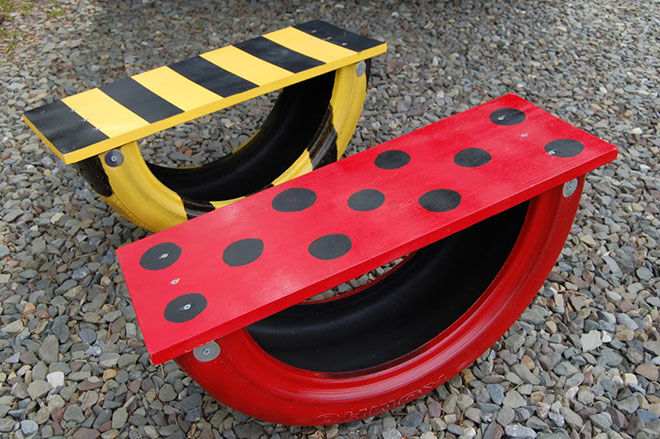 These single-rider rockers use one tyre between two, and are channelling the ladybirds and the bees. Add a handle for more control and let your kiddos loose! (via According to Boyle)
On trend tyres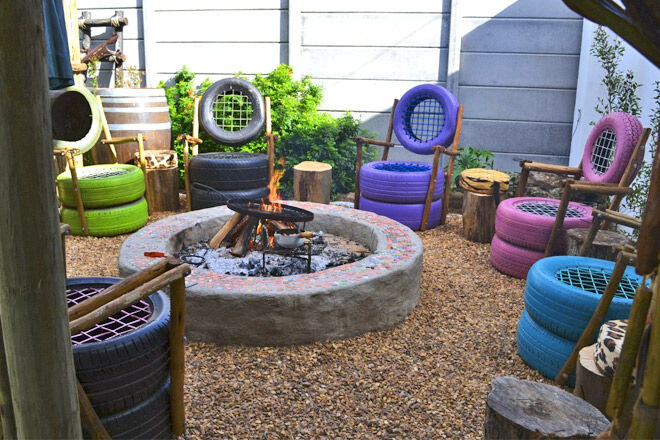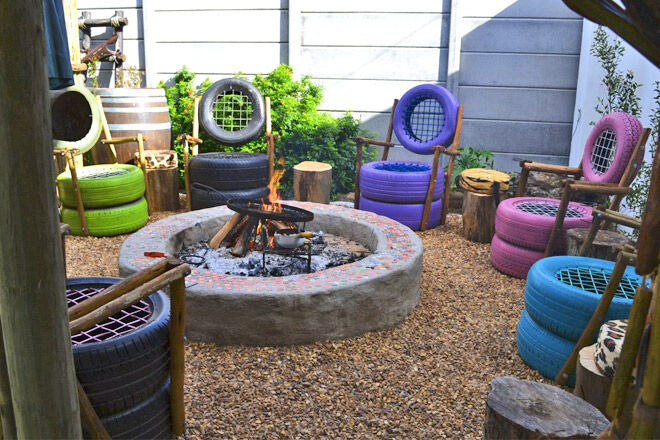 Milk crates used to be the go-to for on the fly furniture, but we're seeing a tyre trend. These chairs would suit any uni students' pad, and they're not bad for the family home either! (via Pinterest)
Take a seat (or 21)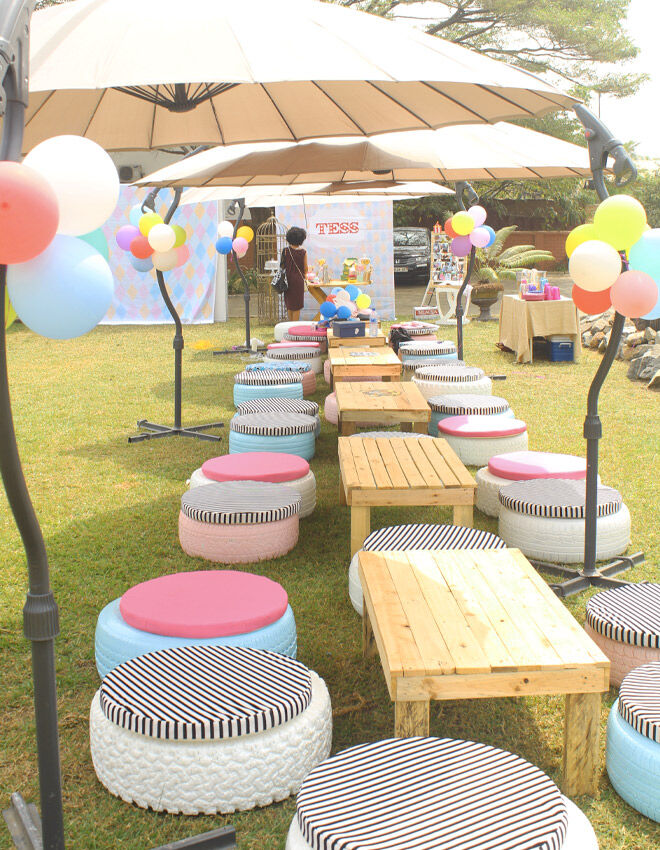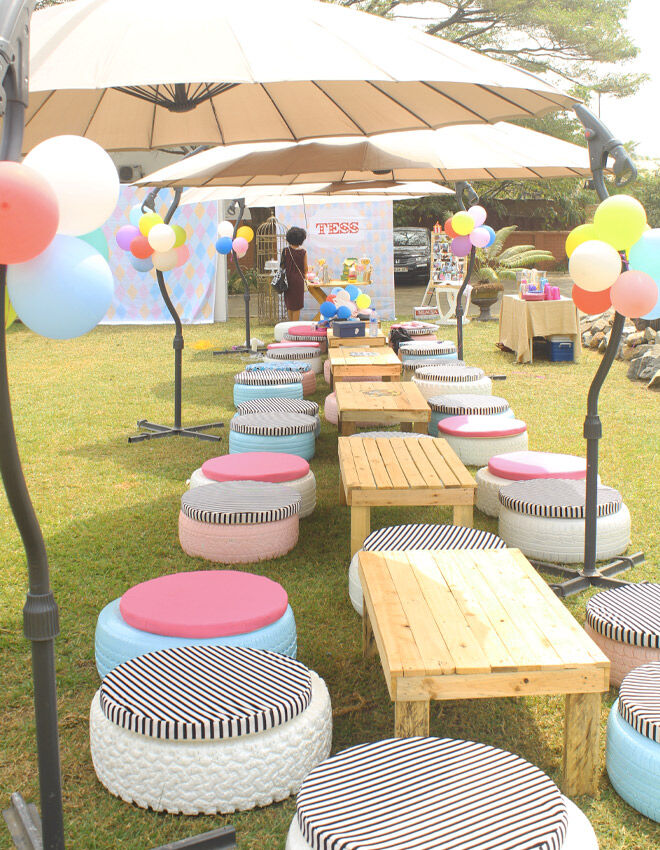 These kids' party seats look sweet enough to eat, but this isn't recommended because they're made with tyres! (via Pinterest)
Preschool garden project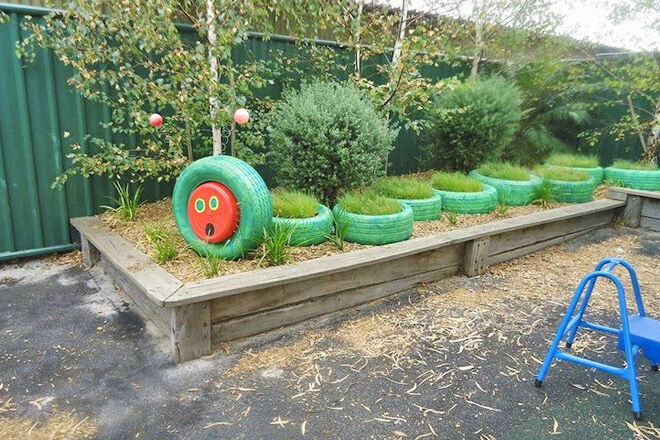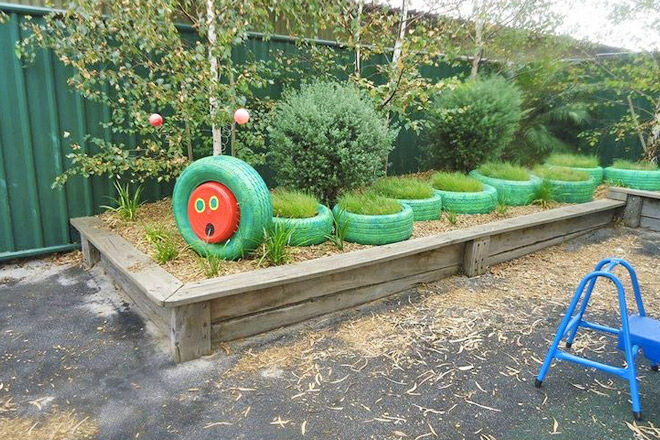 Hopefully this is the only very hungry caterpillar in the garden! A preschool created this sensory garden, inspired by the Eric Carle classic, and it's a fun idea for any green space. (via The Gardening Magazine)
Save
Save