There's no getting away from it, we live in an emoji-saturated world these days! And now, these little yellow icons have leapt out of our smartphones and landed on our DIY lists. Because, who can deny the cuteness of these emoji crafts?
From pillows for your pooch, to sweet treats and accessories galore, we've sought out the full gamut of emoji crafts to put a smiley face in your day.
So, get ready to express yourself with these 19 emoji crafts. Hurrah!
Guess who?
Looking for a last minute costume idea? These emoji masks are just the thing! Cute and fun, they are sure to be a winner. Plus, they only take about 10 minutes to put together *relieved face*. (via Alice & Lois)
Heart faced yum
Sugar cookies alone are yummy, but sugar cookies with heart faced emoji toppers? Too sweet! (via Hello Wonderful)
Down dog
Goodbye boring, old, brown dog bed and hello crazy emoji, super bright, fun dog bed! You're welcome in our house any day. (via Studio DIY)
A party hit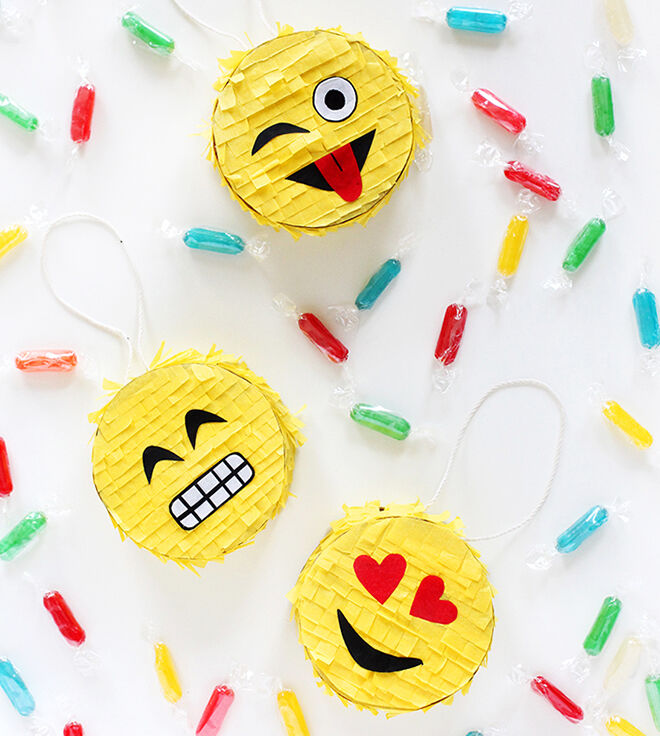 Add some emoji excitement to your next party with these too cute mini emoji piñatas. (via I Spy DIY)
Light up
How to improve the heart faced emoji? Turn it into a marquee board! We think it's the perfect way to add a bit of lightness and brightness to your tot's room. (via A Beautiful Mess)
Zip zip
You'll have hearts in your eyes when you see how quick and easy this tutorial is. Perfect for holding a few loose coins or as favours at your next party. (via See Kate Sew)
Coaster craft
Remember these beads? If there was a nostalgia emoji, we'd enter it here. But in the meantime, we're just enjoying these practical and fun emoji coasters and imagining the kissing face pouting up from under our water glasses! (via The Crafty Swedes)
Tippy toes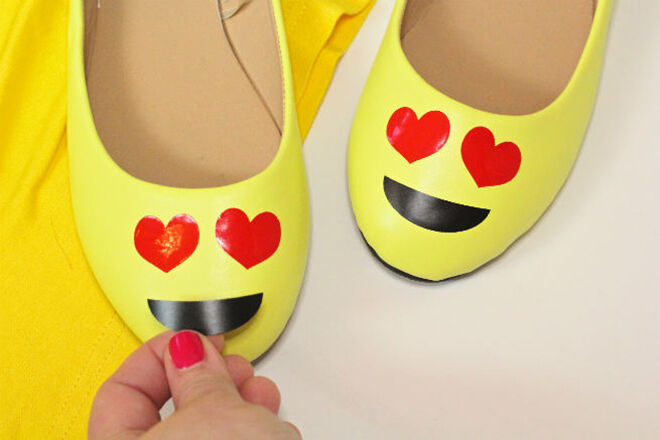 This tutorial includes a whole heart faced emoji outfit for you (and your pooch!) But it was these happy shoes that caught our eye. (via Brite and Bubbly)
Emoji by the beach
Take a yellow beach ball, add a little oil paint (or perhaps get arty with a Sharpie or two) and you have yourself an emoji beach ball for hours of smiley faced fun in the sun. (via And We Play)
Have your poop and eat it too
It's a risky thing to serve up poop cupcakes at a party, but according to Wants and Wishes' party planning blog, these chocolate cupcakes – topped with that unmistakable swirl – were a hit! (via Wants and Wishes)
Strike!
Save up your plastic drink bottles and donate them to a great cause – emoji skittles! This is an easy DIY for kiddos and the making and the playing will keep them entertained for hours. (via The Craftables)
Happy emoji-day!
An emoji party would be so much fun – we love the bright colour palette and the cheeky decoration options are endless! With these DIY cake toppers, your dessert centrepiece is sorted. (via A Subtle Revelry)
Cork face emoji
You'll never forget to pop your glass on a coaster when you have these sweet (and easy) coasters on hand. Plus, they're bright yellow, so you'll always be able to find them! (via Lovely Indeed)
Cute clutch
If you like to wear your heart on your… handbag, then try this gorgeous DIY and add a bit of colour to your day. (via A Beautiful Mess)
Charmed, I'm sure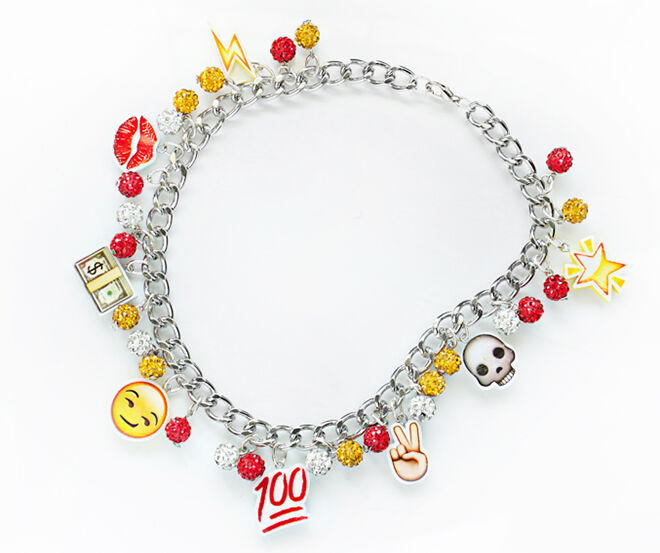 If you prefer your emoji accessories to be a little more subtle, then this emoji charm bracelet is the DIY for you. (via Quiet Lion Creations)
A bunch of emojis
Can't decide on your favourite emoji? Fear not! The more the better with this boisterous bunch of balloon emojis. (via Studio DIY)
Stick 'em up
Looking for the perfect way to attach your young artist's work to the fridge? These super duper cute emoji magnets will do the trick (and we're sure they'll also put a smile on your dial as well). (via The Surznick Common Room)
Patched up
There's nothing to feel flushed about here, these patches add just the right amount of subtle emoji style to your outfit. We lovely the cheeky elbow placement! (via Aww Sam)
Clipped in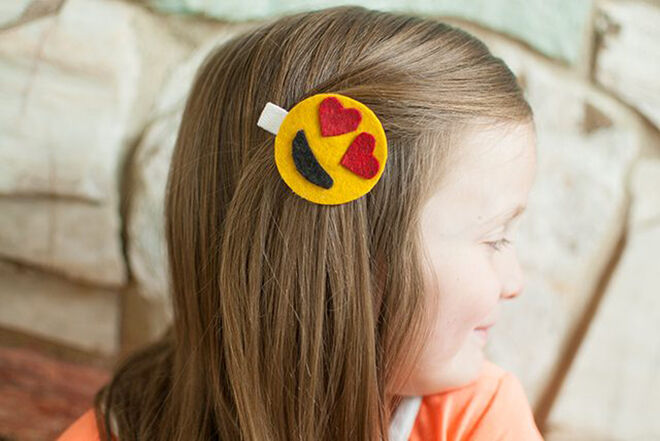 These gorgeous clips are the perfect way for your kiddo to broadcast how they're feeling. Make a selection together and they can pick the appropriate emotion for the day! (via eHow)