Adventurescape Playground
Little farmers will have a field day at this playground in WA. With a tractor here and a big pig there, your Young MacDonald can kick up their heels and sing 'E, I, E, I, O' till the cows come home!
Getting there:
Austin Lakes Estate
Inlet Boulevarde
South Yunderup
WA 6208
www.satterley.com.au/adventurescape


Adventurescape Playground is 100% farm-tastic! Situated an hour from the big smoke (also known as Perth's CBD), this place is a great way for littlies to get a feel for life on the land. With a menagerie of play animals, exciting equipment and (hay)stacks of natural elements, it herds all the fun stuff together.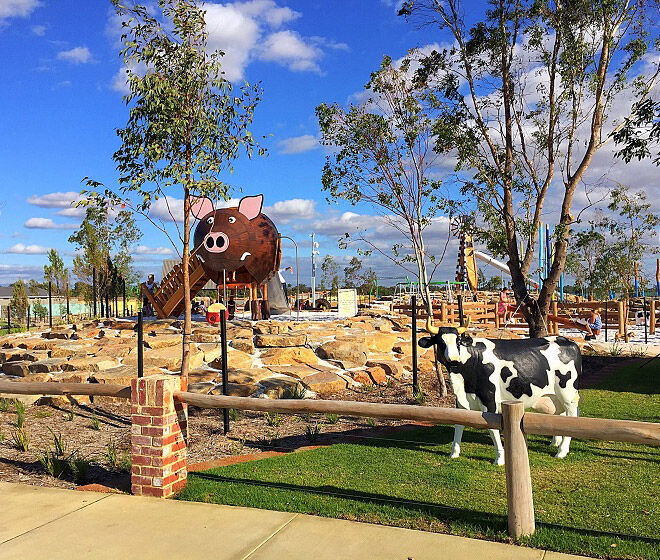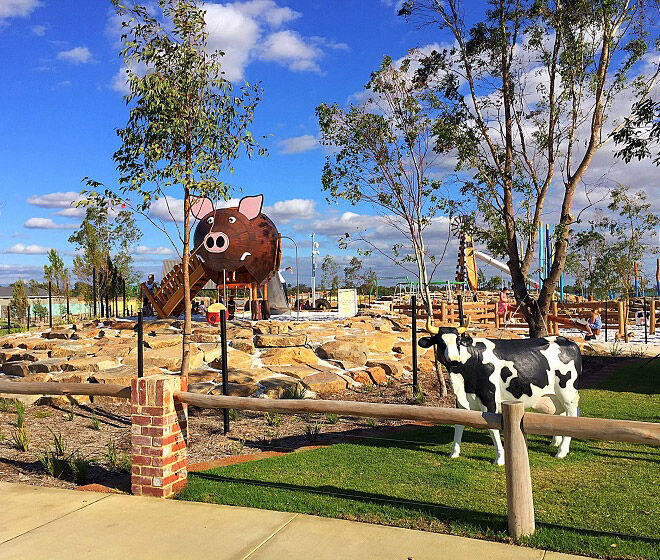 There's so much to see and do here, but the first stop on your kid's farm tour will probably be a meet and greet with the animals.
It's a case of "how now, brown sow?" when they come face-to-face with a big, brown pig, which just happens to have steps, a fireman's pole and a slide emerging from its flank. There are also faux Fresian cows grazing on grass, more cows, sheep and pigs pottering in the sandpit, and a timber fence maze to lock in the farmyard feel.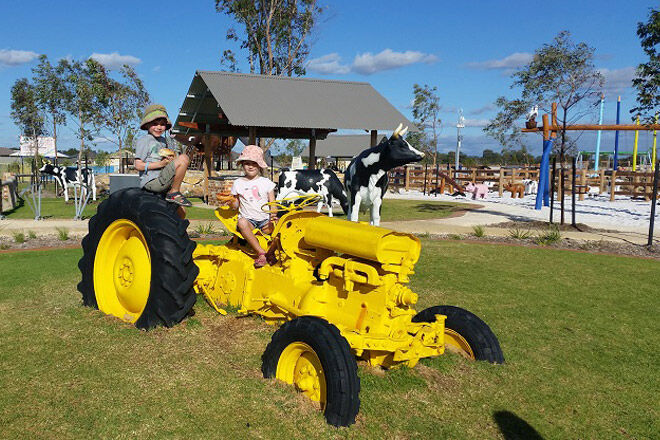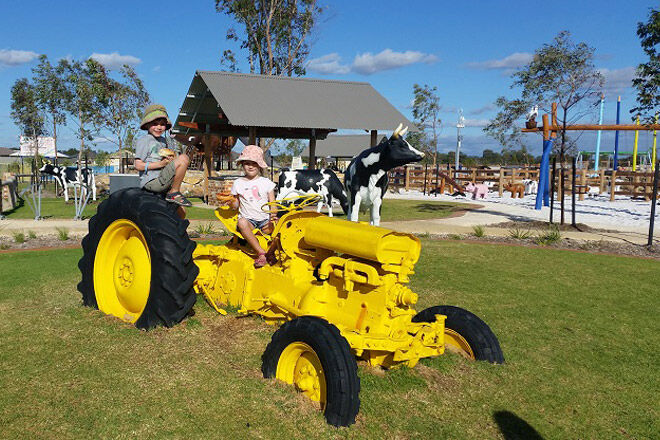 Once the introductions are over with the animals, the play equipment is also a barnyard bonanza!
The pig slide/cubby is a barrel-bodied triumph and we love the apple-shaped seat it's about to eat. Plus, your kiddo will be keen as mustard to drive the yellow (or red) tractor, climb up the windmill tower, zip down the slide and take a spin on the rotating disc.
There are also nets, swings and even a 35 metre flying fox in situ (the type your kiddo rides, not the critter that glides).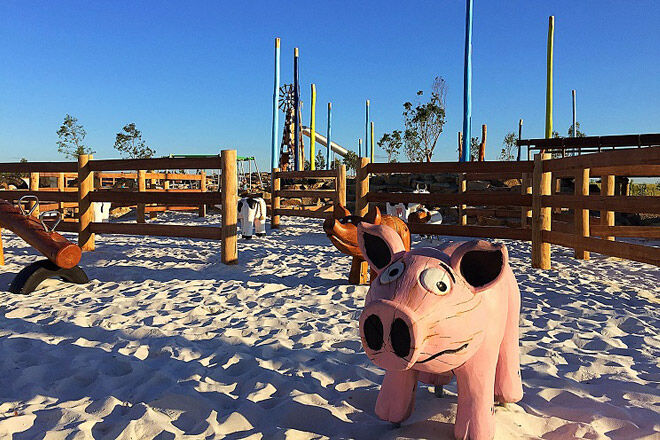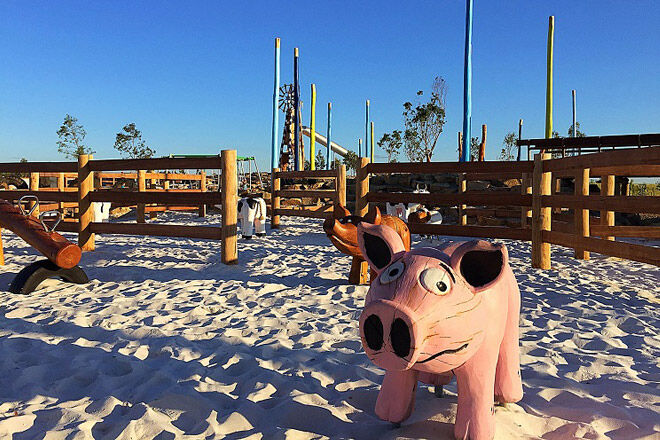 Aside from the animals, this playground also gets back to nature with its materials. There are boulders to clamber across, sandpits for toes to explore, logs to balance on and bark to collect. Plus, your mini-mite will be on a roll with the giant tractor wheels parked around the place, which are great for climbing through and hotfooting over.
And once your tyke has exhausted the playground (but not themselves), there are concrete paths to scoot along, grassy areas to run across and a huge lake to investigate (with its very own jetty and real swans to spot).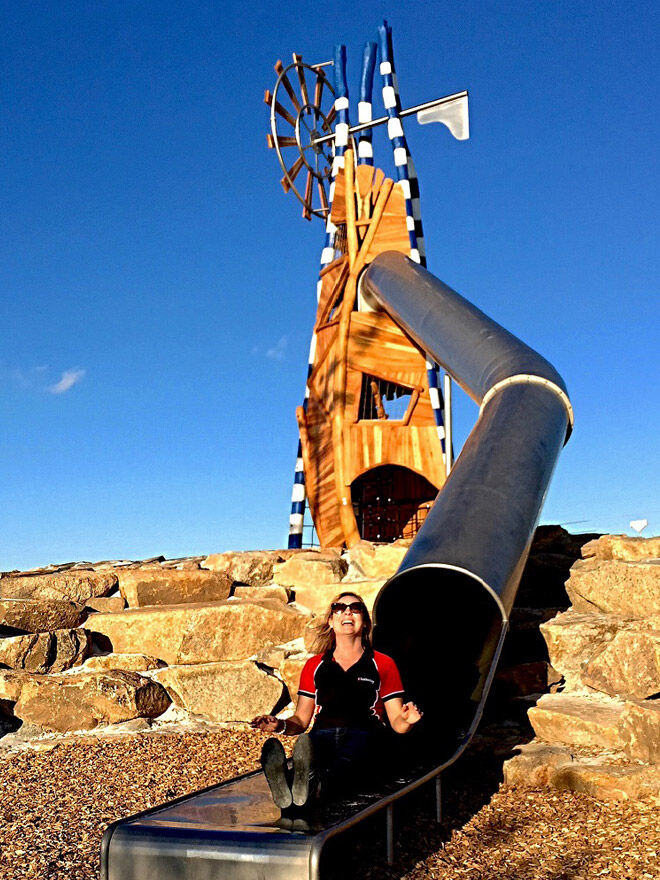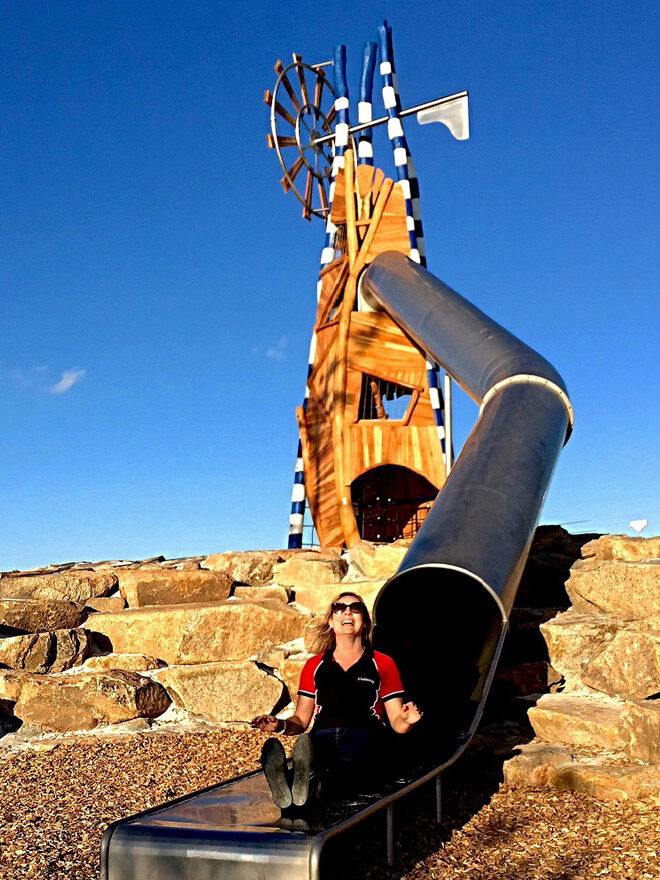 Whether you are a family of city slickers or country folk, this playground is a brilliant barnyard for bambinos. Old MacDonald had a farm, but you've got Adventurescape Playground. With a "woo hoo" here and "woo hoo" there!


BBQ facilities, drinking fountain and toilets all available on site.
(images via AILA)