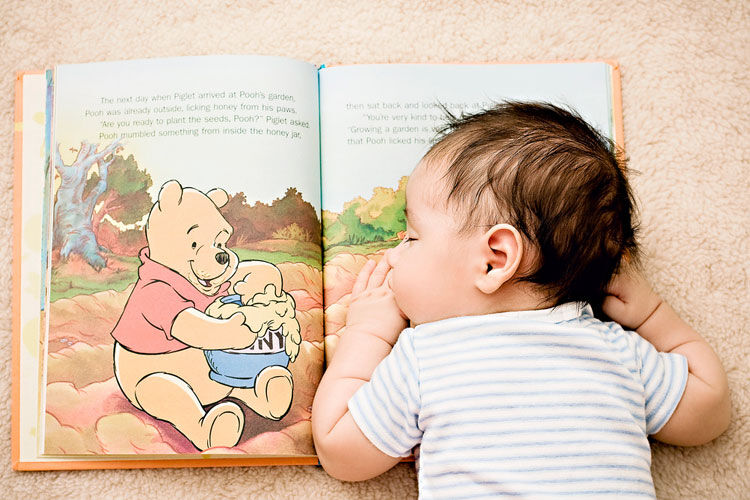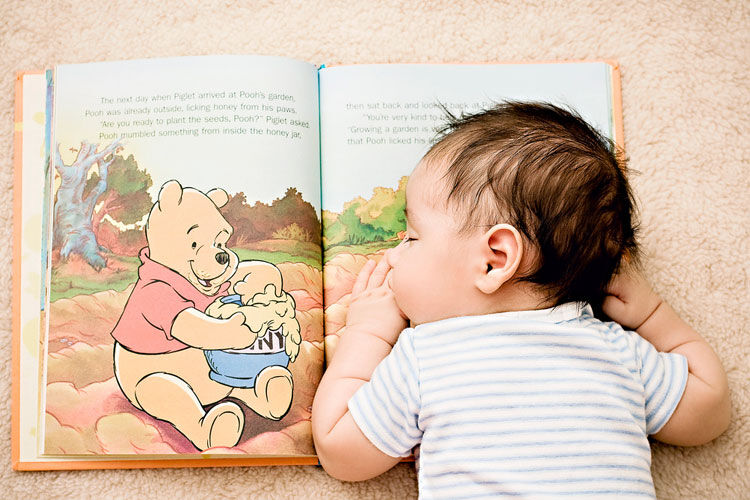 Some of our most precious childhood memories centre around reading. From memories of bedtime stories with mum and dad, to the times we've been lost in Enid Blyton's The Magic Faraway Tree, books seem to have a special place in our hearts.
Here are 20 of our favourite literary baby names inspired by our most beloved stories for both young and old.
Literary baby name inspiration
Alice (Alice in Wonderland): Trustworthy, highly curious, loving and kind, Alice embodies what many parents are hoping for in a child.
Arya (The World of Ice and Fire): Arya, from the binge-worthy Game of Thrones, was first created for the fantasy series on which the show is based.
Atticus (To Kill a Mockingbird): How about naming your tiny love after the literary world's most famous legal eagle, Atticus Finch?
Charlie (Charlie & The Chocolate Factory): Charlie is a young boy that shows inner strength and is ultimately rewarded for his good nature and patience. Perfect unisex baby name inspo for a boy or a girl.
Charlotte (Charlotte's Web): First published in 1952, the tale of Charlotte the spider, who saves Wilbur's bacon (literally!), remains a favourite of readers young and old.
Daisy (The Great Gatsby): Daisy is the constant object of Gatsby's affection in this classic social commentary.
Darcy (Pride & Prejudice): Bridget Jones' Diary was based on this tale of a strong woman who meets her match in Mr. Darcy.
Dorothy (The Wizard of Oz): We adore the sweet-sounding nickname for Dorothy, Dottie.
Estella (Great Expectations): Reckon you might have a little heartbreaker on your hands? Name her after Dickens' Estella, the object of Pip's unrequited adoration.
Harry (Harry Potter and the Philosopher's Stone): Everyone's favourite bespectacled wizard is likely responsible for the influx of boys with this moniker.
Holly (Breakfast at Tiffany's): This book character made Audrey Hepburn a household name in the movie adaptation.
Huck (Huckleberry Finn): Once shortened, this one's perfect for an adventurous little boy.
Jo/Josephine (Little Women): She's lively, outspoken and refuses to stay on the sidelines. Everything you could ask for in a daughter!
Rosalind (As You Like It): Shakespeare's Rosalind refuses to accept the limitations set upon her by society. Perfect for those of us proud to raise a strong-willed daughter.
Sam (Green Eggs & Ham): In this cult classic from Dr Seuss, Sam spends his time encouraging his friend to try the green eggs and ham.
Scarlett (Gone With The Wind): This southern belle is the female protagonist made famous in Gone With The Wind.
Scout (To Kill a Mockingbird): As an objective narrator with the tough questions, Jean Louise Finch is much more suited to her nickname, Scout.
Willy (Charlie and the Chocolate Factory): With a little twist on the spelling, Mum's Grapevine founder Caz used this one for her own boy, Willie.
Winnie (Winnie the Pooh): The beautiful bear with the big heart also has the perfect name for a baby girl.
Willow (The Wind in the Willows): OK, so this name technically comes from the title rather than a character, but it's darn tootin' adorable so it's worth the addition.
Need more inspiration? Take a peek at our Baby Naming section, we have 100's more, including…
• Last names first: 20 surname baby names
• 23 vintage baby names making a cool comeback
• Oh my stars! 21 celestial baby names