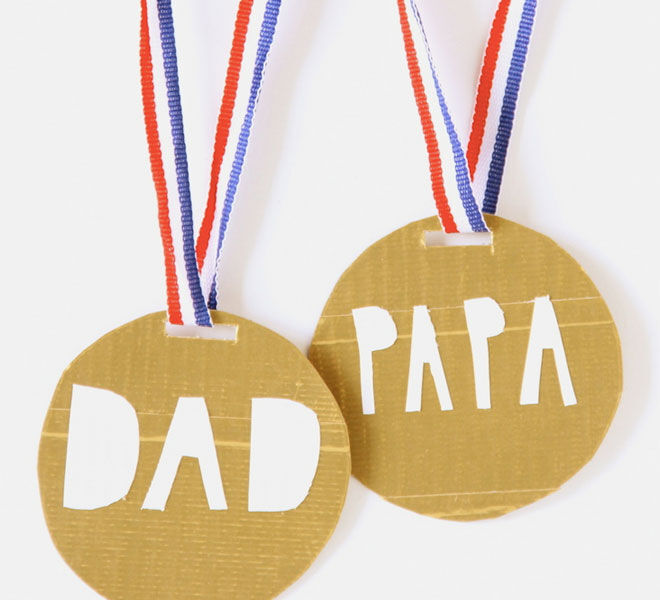 There is something magical about seeing the joy and pride on your little darling's face when they present you with a handmade gift. The gift is so sweet and unique, but their excitement? That is priceless.
So when it comes to Father's Day this year, why not journey down the DIY Father's Day gift road with your kiddos and give dearest Dad a pressie he will love, together with a side serve of the warm fuzzies, thanks to the "I made it myself" element.
From the super simple, to the more involved (requiring your helping hand), we've found 17 gifts to make Dad's day.
Make a note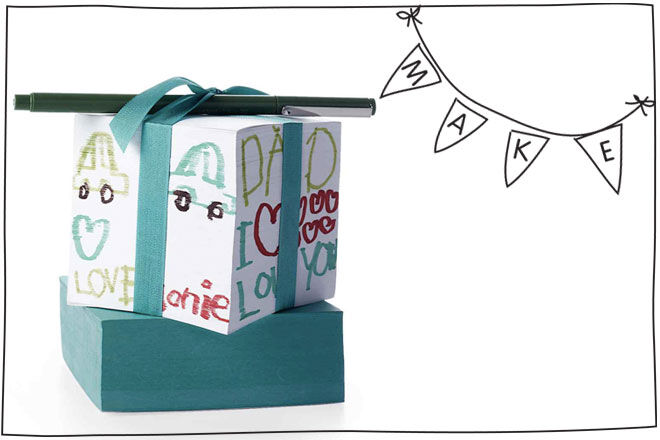 Super cute and oh-so-practical, a personalised notepad for Dad's desk (or car or workshop…) will give him a little reminder each day of how much his number one fans love him. (via Martha Stewart)
Ready, set…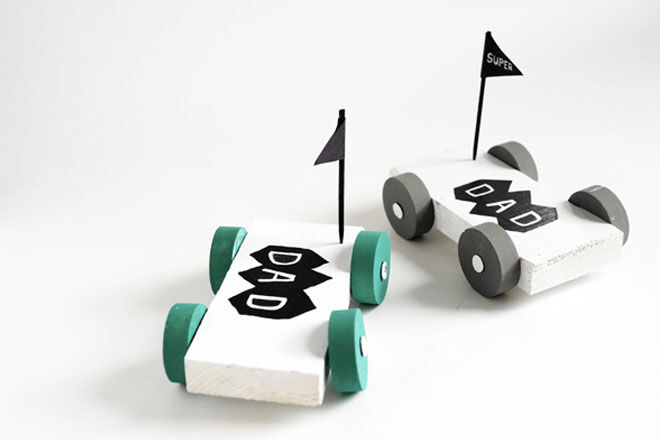 It shouldn't be too difficult to convince Dad to have a car race with the kiddos – especially when they present him with his own personalised car! A sweet gift that's perfect for a sweet day of family time. (via Hello, Wonderful)
LEGO-links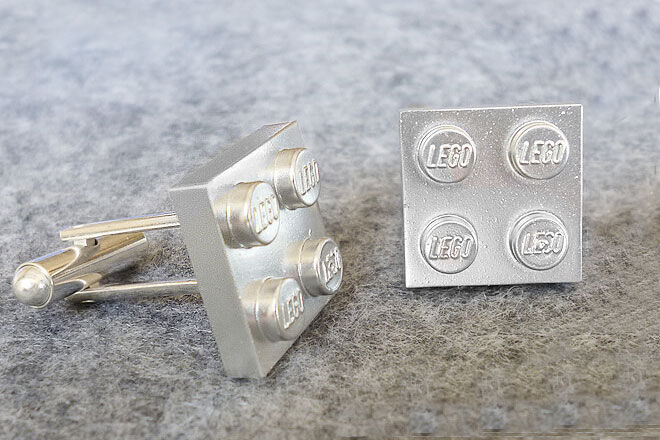 With a spritz of spray paint and a dob of glue, LEGO is transformed into a classic Father's Day gift – cufflinks! (via Dream a Little Bigger)
Keys, please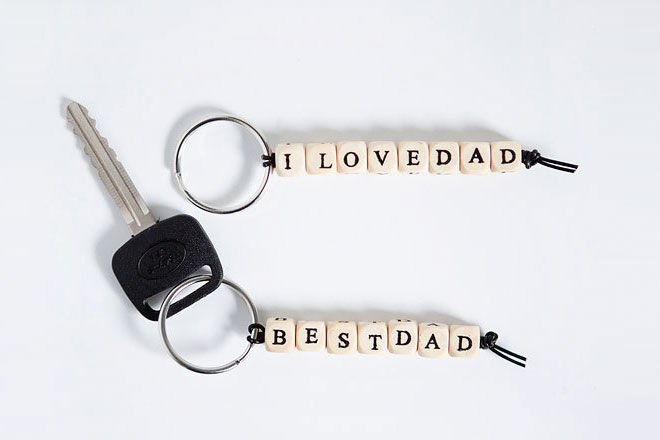 This gift is so, so simple but we think its simplicity is its strength. Simply buy some alphabet beads and cord and let your kids choose their message for Dad. Then, on with the threading! (via Hellobee)
A hole in one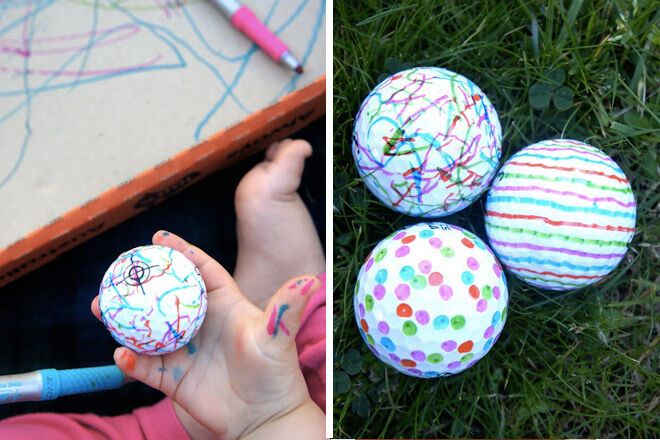 For the golf-loving Dad, these personalised golf balls are sure to bring good luck the next time they hit the green. (via Laughing Kids Learn)
Go for gold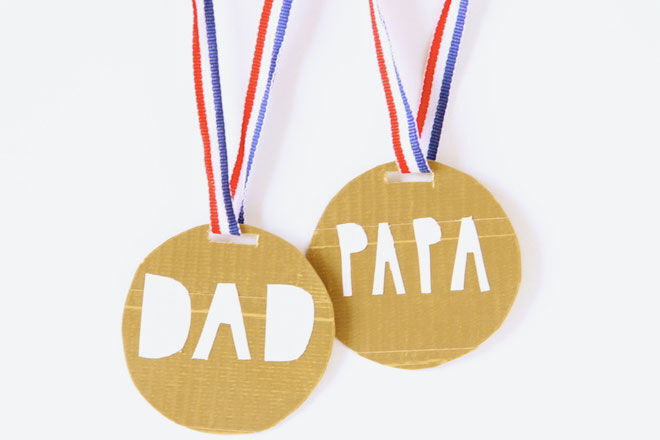 While the Rio Olympics will have come to a close, there's still time to hand out the medals in the discipline of fathering. And it's gold, gold, gold for Australian Dads! (via And We Play)
Printable prose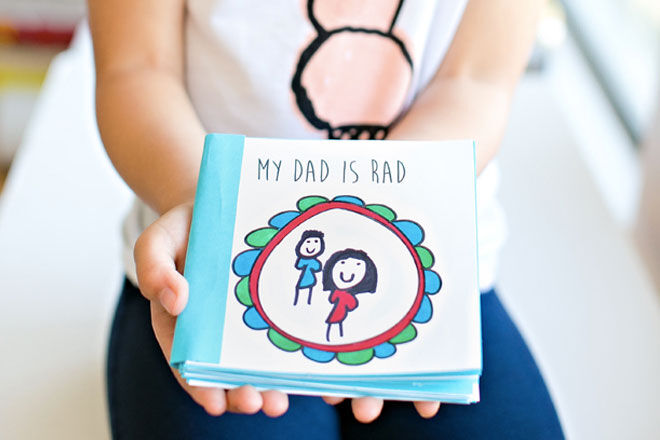 We adore this gorgeous printable book that has spaces for your child to let Dad know all the important things they love about him, from why he makes them laugh to what he smells like (?!) (via Hello, Wonderful)
DIY Dad style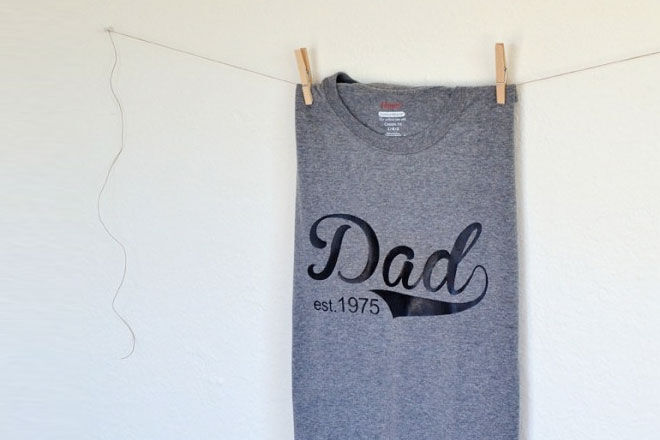 With a hot iron involved, this is definitely a team project, but we think the end result is 100% worth cracking out that iron. Whether you've got a Dad, a Daddy or you prefer the more formal Father, this tutorial has a template for you. (via Dream a Little Bigger)
And if you don't happen to have a silhouette cutting machine lying around, try this stencil hack from Simply Modern Mom.
Motoring massage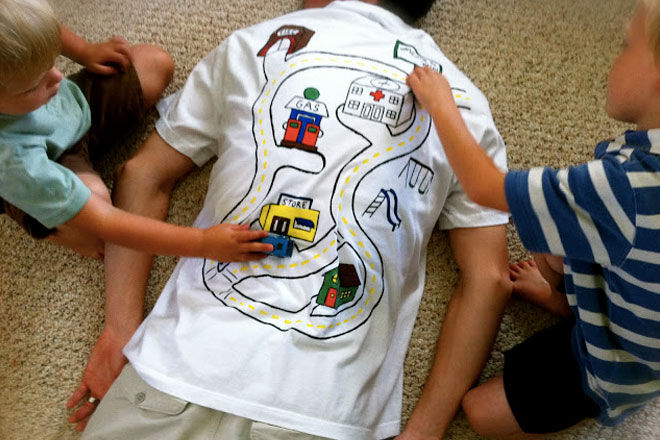 This t-shirt is not so much about the dapper vinyl design as it is about the massage that accompanies it! Your kids can have fun designing a track (or purchase one from Etsy). Then, Dad can have a little lie down while the kids become mini masseuses. (via The Blue Basket)

Spare change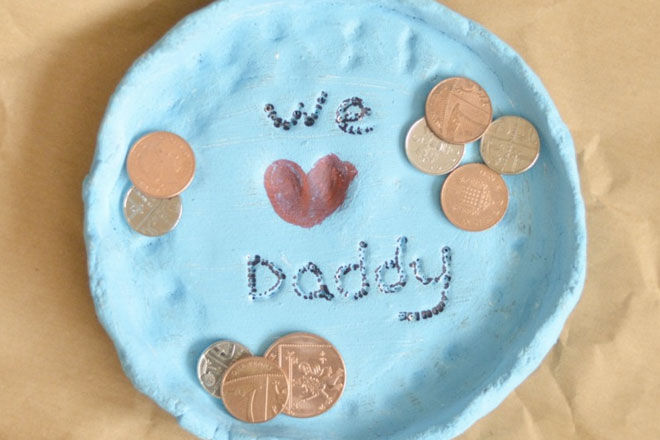 We don't know a Dad who doesn't constantly have spare change in their pockets. So this Father's Day, why not create a special spot for collecting those dollars and cents. It's waaay cuter than having it spread all over the kitchen bench. (via What Katy Said)
Honey, I shrunk the kids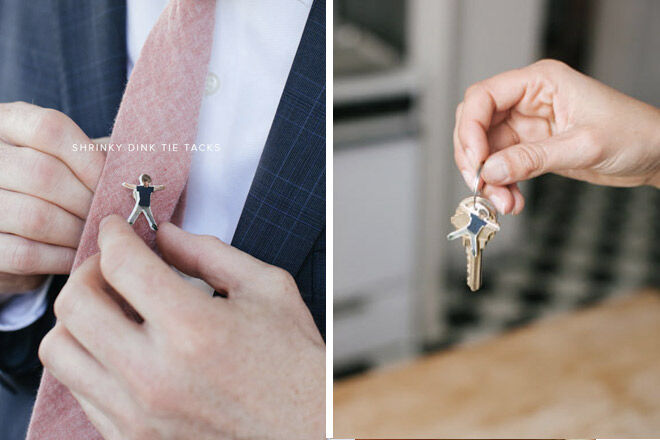 Do you remember shrinky dinks? They seemed to have a bit of a moment back in the 80's and 90's, but this super cute idea is well worth bringing them back. Buy your shrinky dink paper here and then bake Dad up a tiny treat. So cute! (via Oh Happy Day)
Touching tie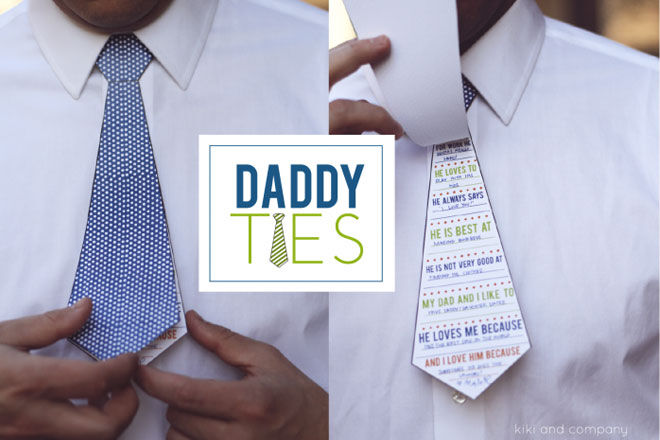 A tie is one of those classic "Dad gifts". But this DIY tie comes with a little (or a lot) of extra love! Simply print out the template and then your kidlet (with your help if they're too small) fills in all the important details including "he is best at…" and "he is not very good at…"! (via Kiki & Company)
Snap, photo and pop!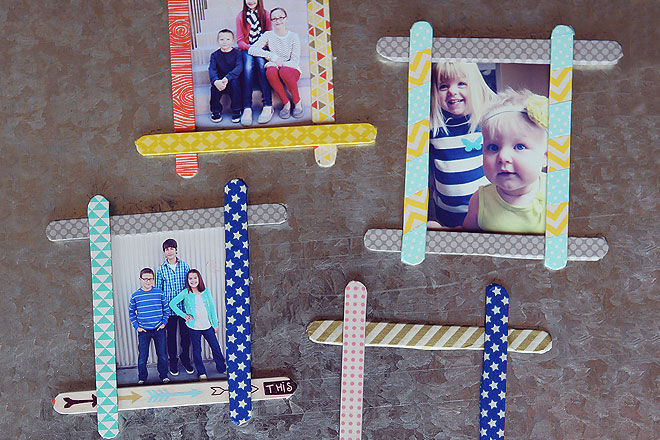 A photo is always a gorgeous gift idea and these simple paddle pop frames are the perfect way to present those cheeky chops in photo format. Little ones will love taking to the pop sticks with a crayon or texta, while older kids can try this washi tape design. (via Eighteen 25)
Bless you!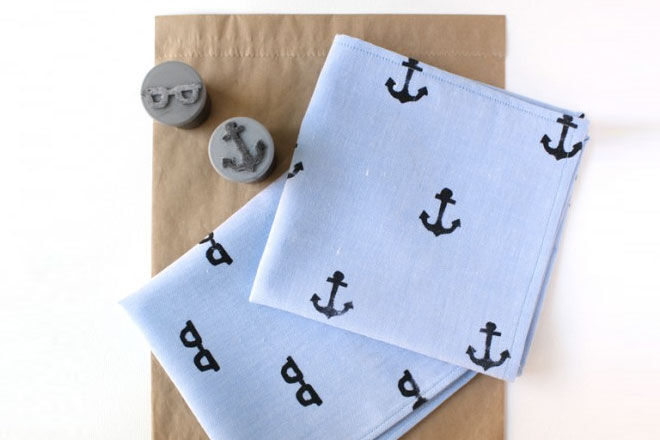 Dapper Dads will love receiving these personalised handkerchiefs, perfect for a pocket square (or emergency nose wipe!) Create your own stamp designs with a bit of sticky-back foam and then inks away! (via Paper & Stitch)
Just coasting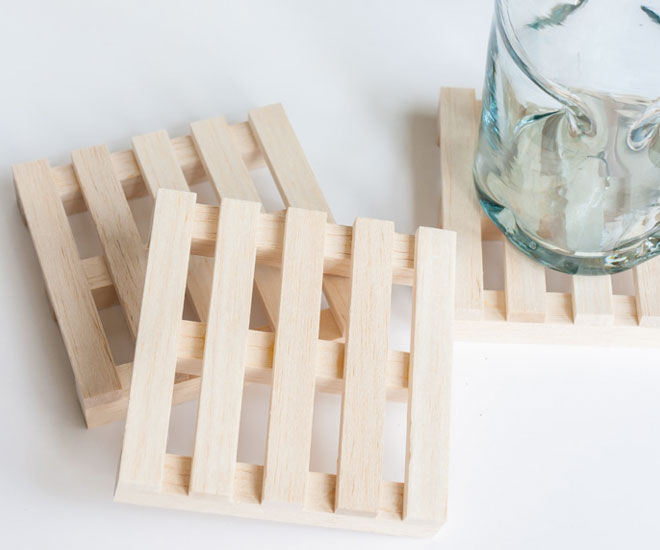 Pinterest may be moving on from pallet furniture, but these mini-me pallet coasters are too cute to let slide! You prepare the dowel and then let the littlies get in on the fun with the glueing and construction work. Cheers! (via One Dog Woof)
Game on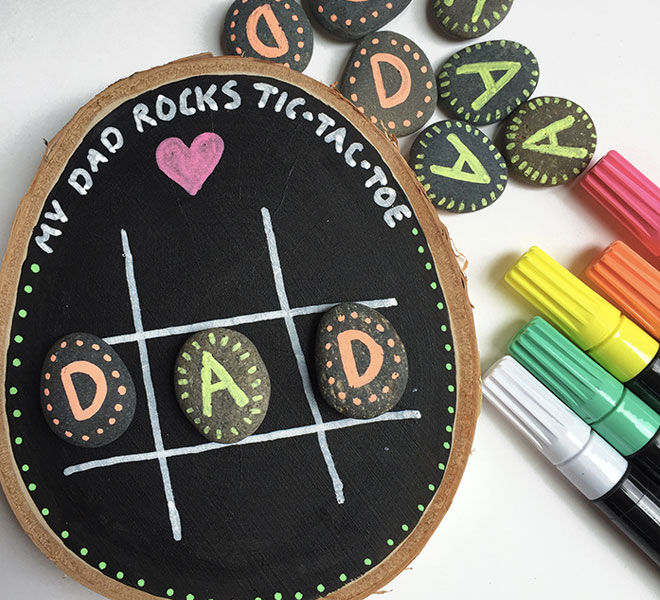 We love DIY tic tac toe, and this Father's Day version is definitely going on the to-do list! (via International Arrivals)
Masterchef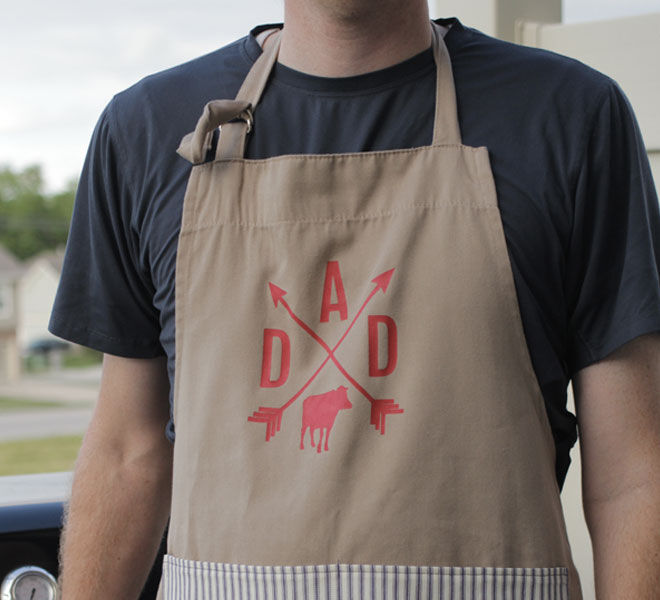 If you know a Dad who likes to bbq (and who doesn't?) this apron is the perfect gift idea. The tutorial requires a silhouette cutter, but you can achieve the same look with this simple stencil hack from Simply Modern Mom. (via Handmade in the Heartland)