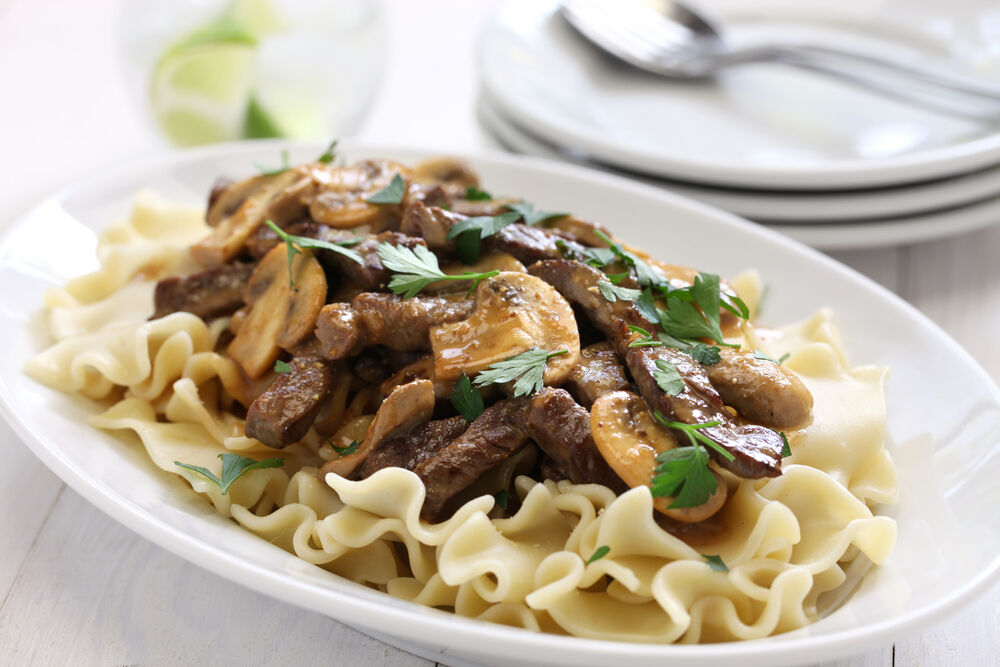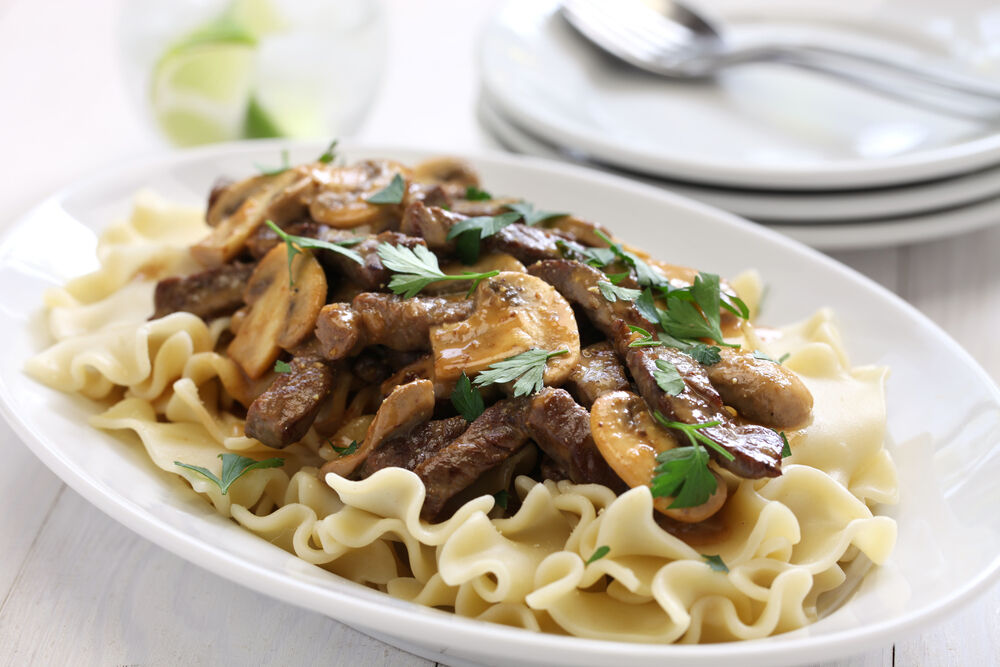 We love Jamie Oliver in our house! Apart from basically an all round good guy with 'cute as a button' kids (we LOVE the name of his newest arrival – see it here!) and his gorgeous wife Jools, we are huge fans of his recipes!
His beef stroganoff recipe (or as my son calls it, 'Beef Strongenough'!), taken from Jamie's 15-Minute Meals, is super quick for weeknight dinners. The original recipe included his own pickle mixture and paprika – as well as stiff swig of brandy –  which we're not mad about so I've taken them out – and added a bit of mild mustard, tomato paste and creme fraiche for an extra creamy sauce! Serve with buttered noodles to have everyone asking for more!
Ingredients (serves 4)
1-2 tablespoons olive oil
1-2 tablespoons butter
1 small red onion, diced
2 cloves of garlic, crushed
500g mushrooms (we like button or field), sliced
2 teaspoons fresh thyme, chopped
2 x 400g sirloin steaks, fat removed (or to save time, pick up good quality sliced beef strips)
Zest of 1 lemon
2 tablespoons tomato paste
2 tablespoons mild Dijon mustard
3/4 cup creme fraiche
500g fettucine or egg noodles
Method
Heat 1 tablespoon of olive oil and 1 tablespoon of butter in a large frypan and add onions and garlic and saute until soft. Add mushrooms and thyme and cook for another 5 minutes. Leaving the yummy juices in the frypan, take out the mixture and keep aside on a plate.
Slice the steaks about 1cm thick and toss with salt, pepper, and lemon zest.  Brown the beef in the frypan in batches, adding a little more oil if needed.
Return the mushroom and onion mixture to the pan along with the beef and add in the tomato paste and mustard. Stir through and cook for another 3 minutes. Stir in the mustard.
Take the pan off the heat and stir through the creme fraiche.
Meanwhile, cook the noodles according to packet instructions and toss through 1 tablespoon of butter when still hot.
Serve beef stroganoff with hot buttered noodles – and steamed green beans on the side if you like. So yummy!