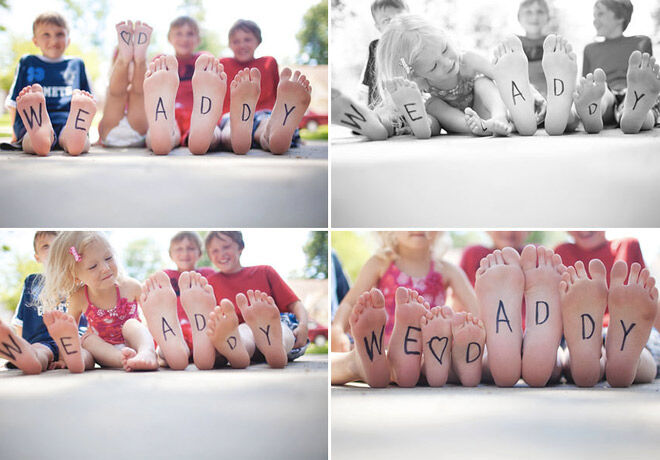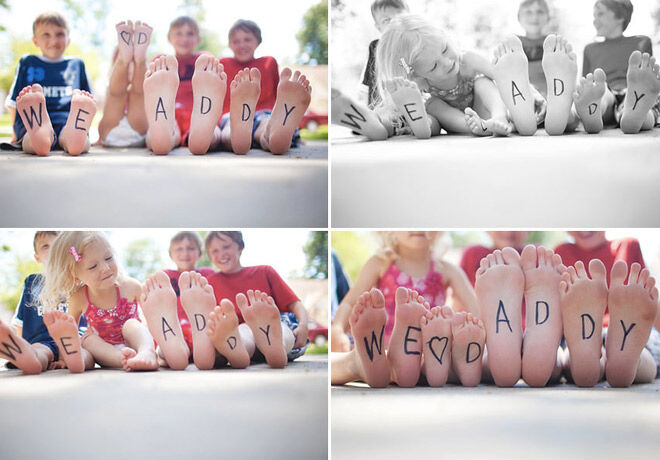 When it comes to adorable and sentimental dad gifts, you really can't go past a photo. And this year, we've decided to up the heartfelt factor times one million by commissioning a photo just for Dad; a gorgeous photo that will show him just how much his kids love him.
But we're not talking about stuffy studio shots or professional photo shoots. We've found some brilliant ideas to inspire a pic you can be proud of, that is super easy to take and chock full of personality and fun.
Here are 10 ideas to inspire the happiest of snaps for Dad. Say cheese!
Big shoes to fill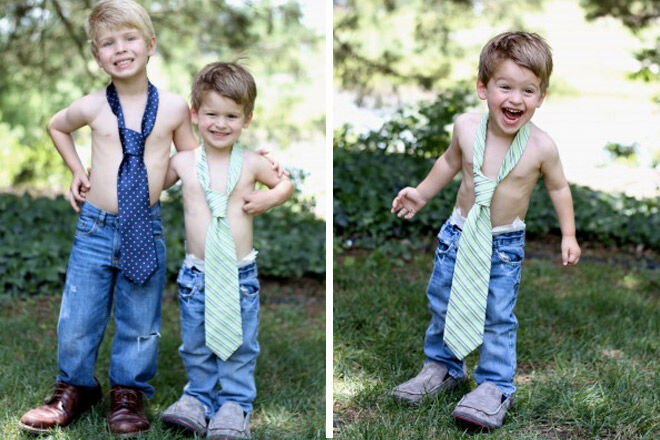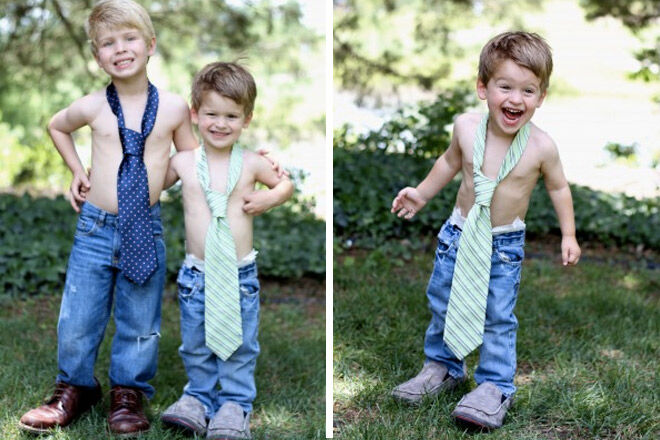 Kids love playing dress ups, so why not capture this joy in photo form for Dad? Let your kidlets choose something from Dad's wardrobe and then let the dress ups begin. We love the "I want to be just like you" vibe of these shots. (via I can Teach My Child)
Like chalk and children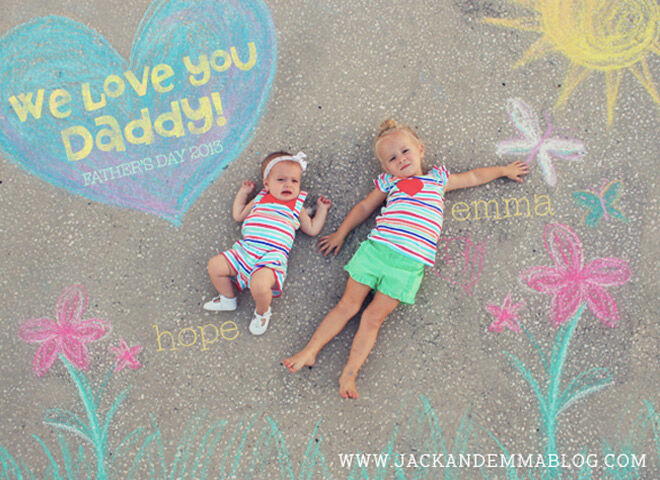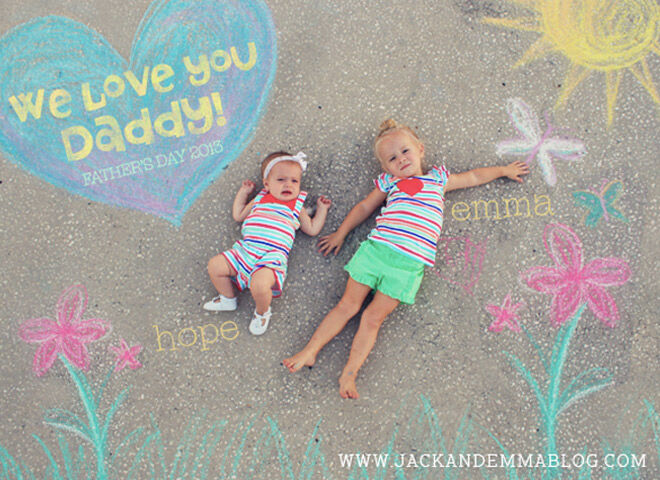 Dress ups are great, but drawing on the footpath with chalk might be even better! Create your design then encourage your lovely ones to lay as still as possible while you quickly scale a ladder to take the shot. So cute! (via Jack and Emma)
How much do you love Dad?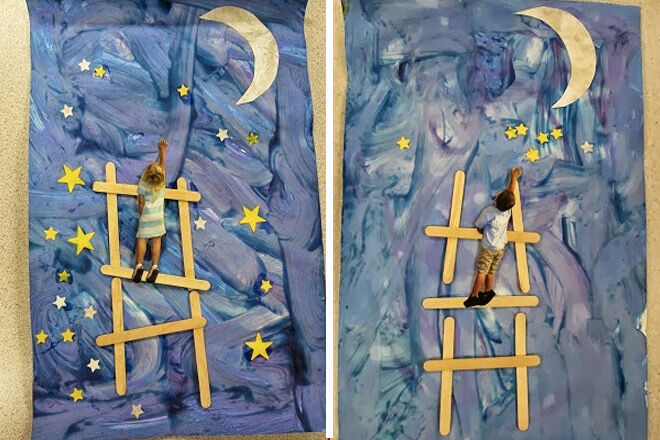 We think this might just be the sweetest way ever for your kiddos to tell Dad they love him to the moon and back. Simply snap a shot of them doing their best reaaaach! and then let them create a gorgeous collage for Dad. (via Karen's Class)
Best foot forward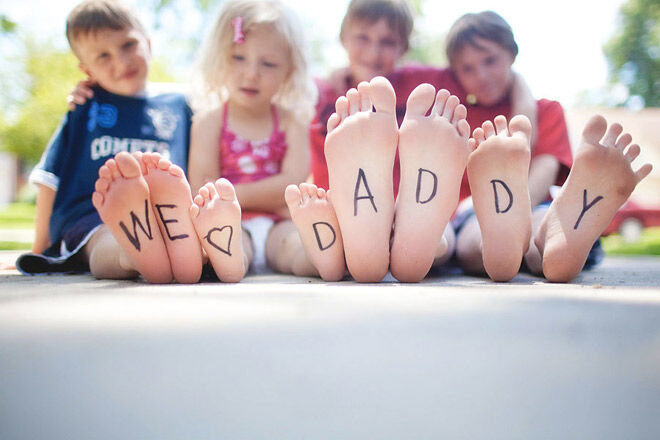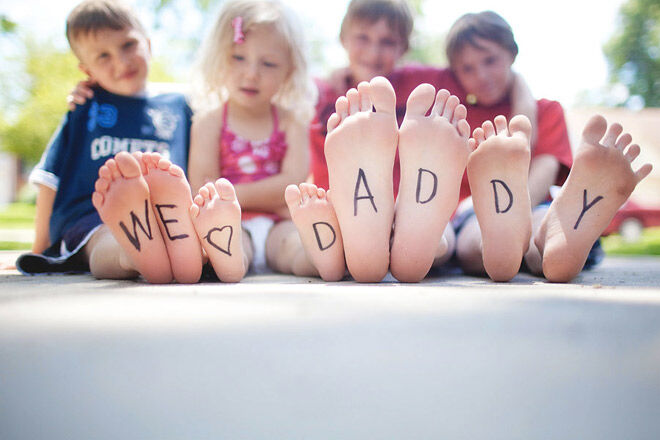 Step one: wash feet. Step two: grab your sharpie! This idea is so simple, but is sure to become a tradition. We love the thought of watching feet grow and perhaps seeing new pairs added over the years. (via Freckle Photo)
A few of my favourite things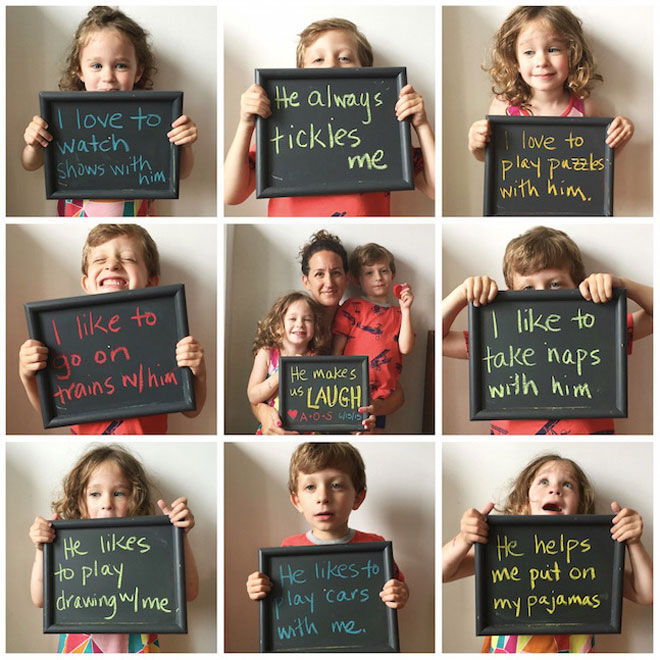 This one gives kids a chance to tell Dad all of the things they love about him. All it takes is a chalkboard and a couple of minutes in a photo app like PicMonkey to collage the shots together. (via Project Kid)
Layer love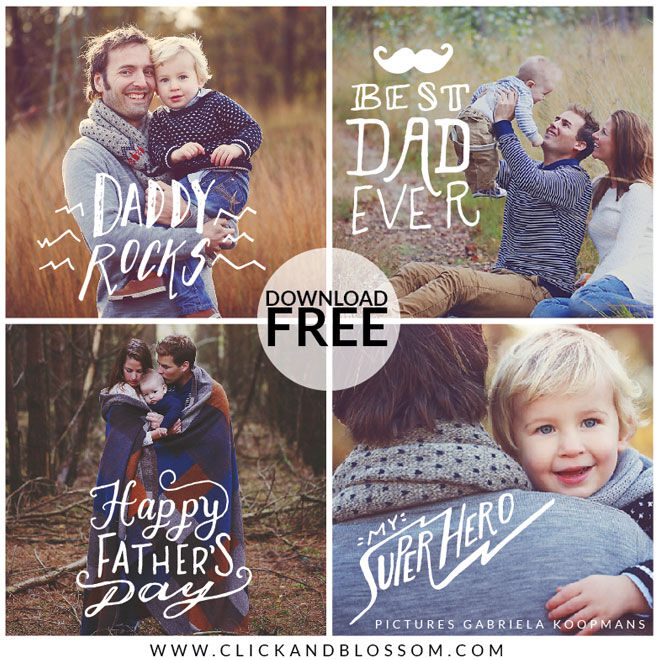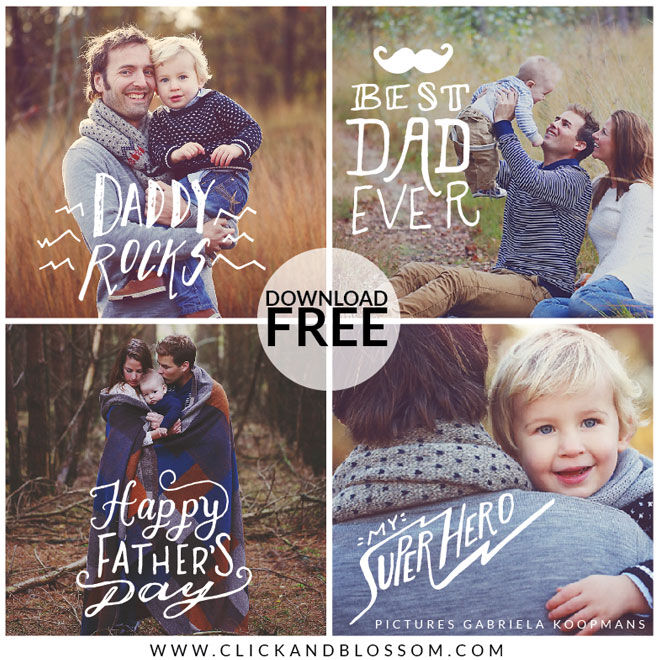 Another option is to reinvent a favourite photo by giving it some special Father's Day treatment with one of these darling (and free!) overlays. (via Click and Blossom)
Keep it simple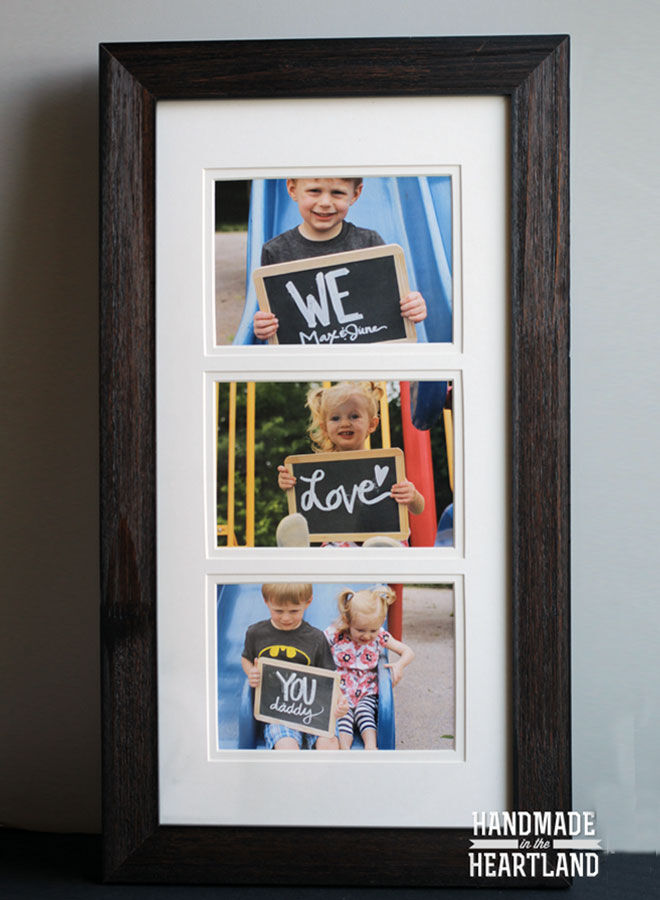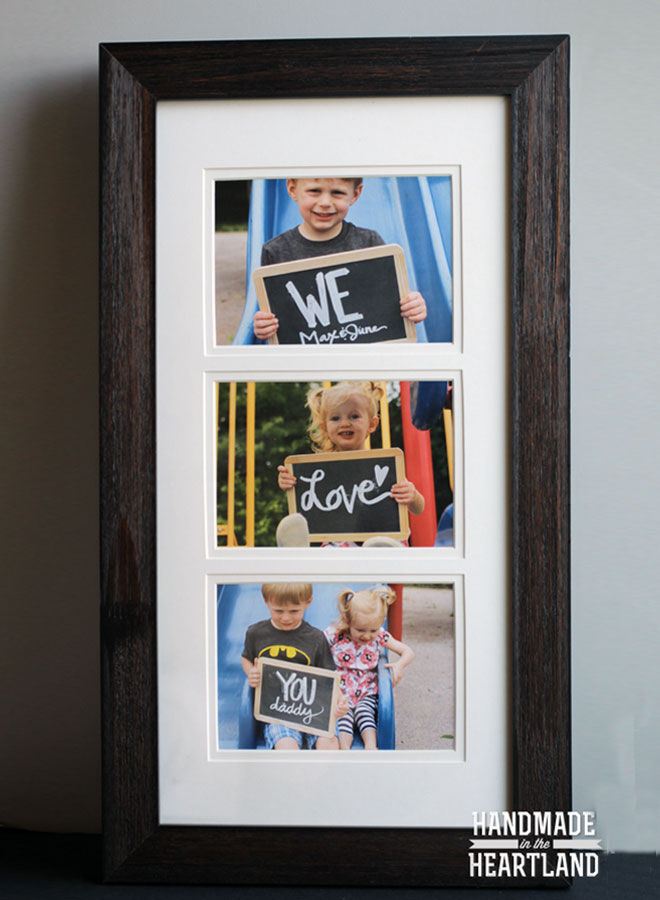 Each of these ideas is really about telling Dad how much you love him, so why not spell it out? We love the simplicity of this trio of photos and the colourful playground setting. (via Handmade in the Heartland)
Superdad!

This collage looks like it requires some serious Photoshop skills, but there are loads of clever apps that do the hard work for you! Try PicMonkey for a fun comic strip theme. (via Meaningful Mama)
Best for bubs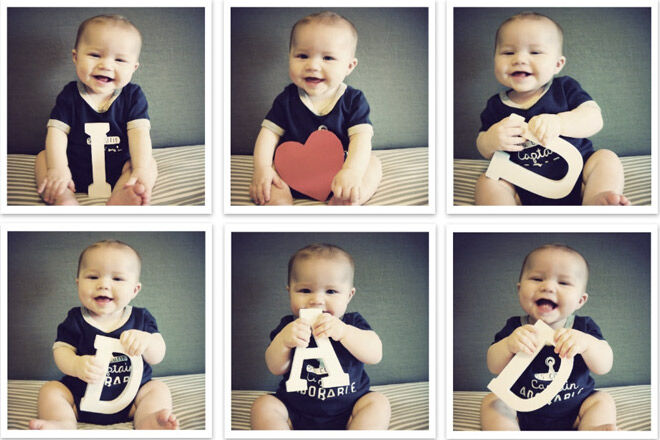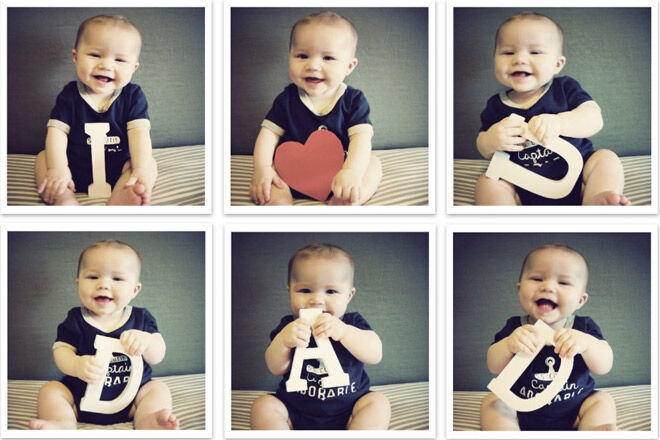 Small babies may not be able to verbally express all the ways they love dad but they sure can look cute holding (and chewing) on the letters! (via Pinterest)
Not so secret identity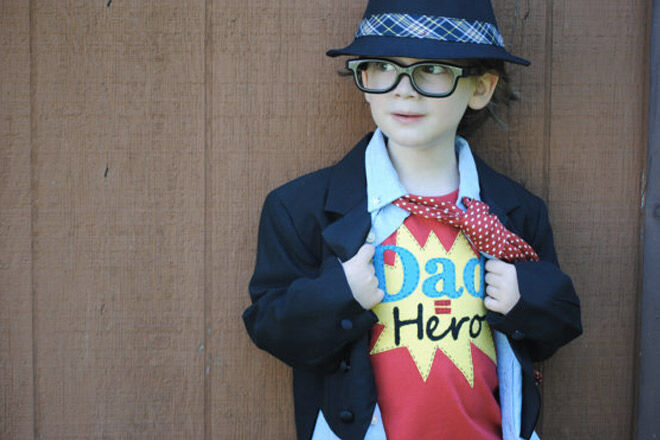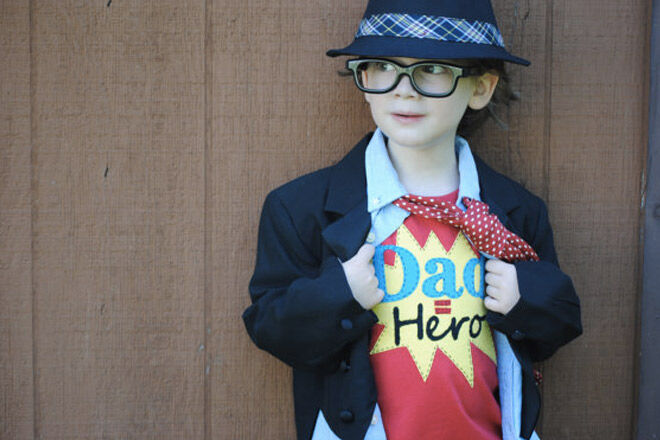 This t-shirt spills the beans on Dad's not-so-secret identity. He's our hero this Father's Day and every other day of the year really. (via Once upon a story)