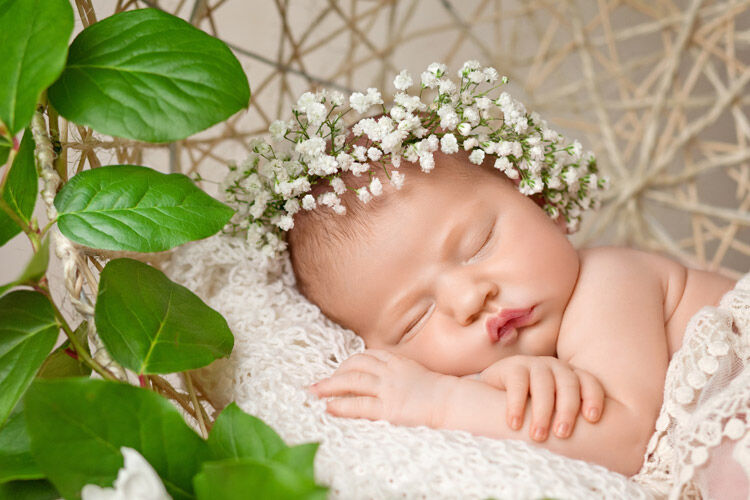 Now that Jamie Oliver has called his son River, there is bound to be a flow-on effect as nature-themed names spring into favour with renewed vigour. After all, there is something grounded yet whimsical about an all-natural moniker, and whether you are searching for a baby name that's organic and fresh, strong and monumental or runs off the tongue like River, there are many natural wonders to explore.
Here are our favourite 27 names inspired by nature.
Natural baby name inspiration
Bay: This unisex name has a sea-breezy feel and will put wind in the sails of parents looking for something cool and simple.
Brook: This is a bubbly choice, mostly given to girls. For a more mainstream spelling, you may prefer Brooke.
Blossom: This floral name was the pick of the bunch in the 1920's, and makes a beautiful choice for girls almost a century on. Indeed, Jamie Oliver's youngest daughter has Blossom as her second name.
Canyon: With a sweeping feel evocative of the great outdoors, this name is an original choice for boys and girls. Another spelling is 'Kenyon' and, either way, this is a grand name forged in nature.
Cliff: Often shortened from Clifford or Clifton, Cliff is a strong and familiar boy's name. It makes a decent and dependable middle name too.
Delta: A delta is a piece of triangular-shaped land, formed when a river splits before it flows into the sea. It's also the fourth letter of the Greek alphabet, however, it's Delta Goodrem who has given this girl's name the real X factor.
Dune: This summery unisex name is also the title of Frank Herbert's classic sci-fi novel, Dune. With a sweeping sound and simple spelling, Dune is a nature name that carves its own niche – it's both familiar and exotic.
Field: Field or Fielding is a common surname, however, Field can also be cultivated as an unusual first name. It makes an earthy and free-wheeling moniker for a little boy.
Flora: Like Blossom, this girl's name is fresh and verdant. Flora is the Roman goddess of flowers and spring, and names like Florence, Fiorello, Fleur and Flower make fragrant alternatives.
Forest: If you can't see the wood for the trees when it comes to names, then Forest is an organic option for boys. For a more common spelling, go with Forrest, which was planted in popular consciousness by Forrest Gump.
Glen: A glen is both a narrow valley and a unisex name. Although it can be spelt as 'Glenn', for a natural outlook you may choose to explore 'Glen'.
Harbor: This unique name for girls and boys could also be spelt 'Harbour'. For those navigating the world of unusual names, it may provide a plain sailing option.
Haven: Another word for 'harbour', Haven is also a unisex name with a safe feeling and a lovely sound. Jessica Alba chose Haven for her second daughter's name and it could provide a safe-haven for you too.
Isle: Although less popular than Isla, Isle stands alone as a choice for girls. It sounds nice when you say it, and will please those looking for a small and individual moniker.
Lake: To plumb the depths of the watery names, an option for girls and boys is Lake. Easy to say and spell, it is the middle name Gisele Bundchen chose for her daughter, Vivian Lake.
Meadow: Where there is Field for boys, there is Meadow for girls. This airy, whimsical name is gaining some popularity with parents looking to frolic with an unusual choice.
Ocean: The tide may be turning for this name, which was last popular in the 60s and 70s. Danny Ocean gave it the cool factor in the heist films, and it makes an equally cool first name for boys and girls. In France, Oceane is a popular girl's name.
Petal: This is a delicate name for a little girl and the Olivers thought it perfect for their third daughter's first name.
Prairie: A prairie is a large, flat, grassy plain, however there is nothing plain about this name. With a boho feel, it may be better suited to little girls, but is a natural choice for boys too.
Quarry: This name is gaining in popularity as a girl's moniker, but can be given to little lads too. With a velvety sound and a strong meaning, it strikes at two elements with one blow.
Rain: 'Rain, rain, come again!' This name is usually showered on girls, however, for parents seeking something refreshing, Rain is an option for boys too. It can also be spelt Rainn, or transformed into Rainbow, as the Olivers did for their daughter, Petal Blossom Rainbow.
Ridge: This boy's name makes its mark in the daytime soap, The Bold and the Beautiful, but also means the top of a mountain range. It's a high and mighty choice.
River: Expect to be swept up in the growing popularity of this watery name. River Phoenix started the trend and now Jamie Oliver has let the name wash over his youngest son. As a middle name, Megan Fox named her son Journey River.
Savanna: A savanna is a flat grassland, and this name brings a warm African feel to your little girl's birth certificate. 'Savannah' is a common spelling, however, both names are wide open choices with a sweeping sound.
Sierra: A sierra is a range of mountains with saw-toothed (aka pointy) peaks. However, this name has a smooth feel and is usually, but not always, given to girls. It can also be spelt as Siera, Cierra or Cyara.
Vale: A poetic word for 'valley', Vale is an original name that could suit a girl or boy.
Woody: This shortening of the boy's name Woodrow may appeal to parents looking for something with a casual tone. It's not a common choice, but could make a fun, nature-themed middle name.
Need more inspiration? Take a peek at our Baby Naming section, we have hundreds more, including…
• Celebrity baby names: The weird and the wonderful
• 20 summer inspired baby names
• Oh my stars! 21 celestial baby names