The Frew Park Arena Playground
Game, set, match! Built on the site of the old Milton Tennis Centre, this Brisbane playground will have your kidlet bouncing off the walls with excitement.
Getting there:
Frew Park
Frew Street
Milton QLD 4064


Whether you're a spectator (parent) or player (child), The Arena Playground is centre court for families in Frew Park. With Insta-worthy design and equipment to entertain all ages, this playground is a sportstar of the playspace world.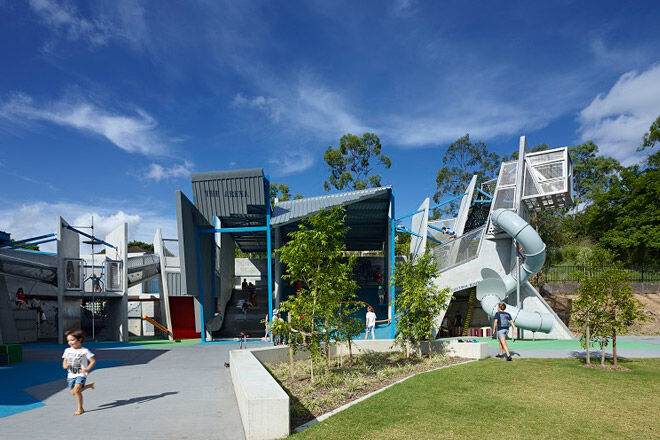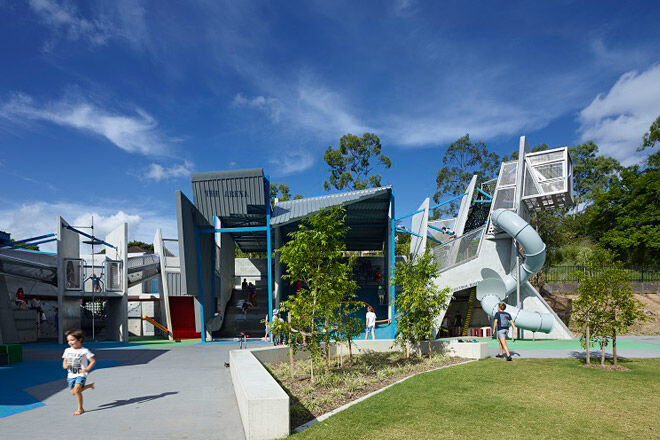 The Arena has lots to engage older kids (10 to 15-year-olds), however, there's a fair whack of fun for junior players too. At ground level, toddlers will love clambering over giant tennis balls, playing on grass, learning to ride their trike on the smooth concrete, going for a swing and having a giggly game of hide and seek.
Tykes with a bit more playground training behind them will be busy staying within the lines of concrete balancing beams, bouncing up and down on the springer, hanging off bars and moving upwards to master the more advanced play elements.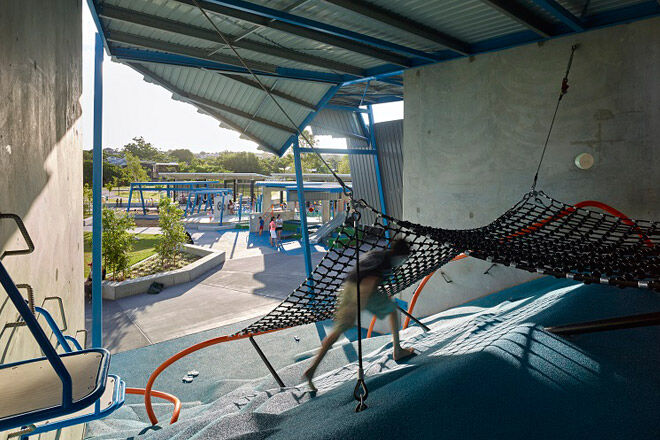 After all, this playground really comes into its own when kids lift their game off ground level. There's a focus on climbing, which means that there are climbing nets and cages, climbing slopes and the impressive climbing wall for mini-daredevils. There's even a 'Commentary Box' seven metres above the ground for stadium role-play and grandstand views.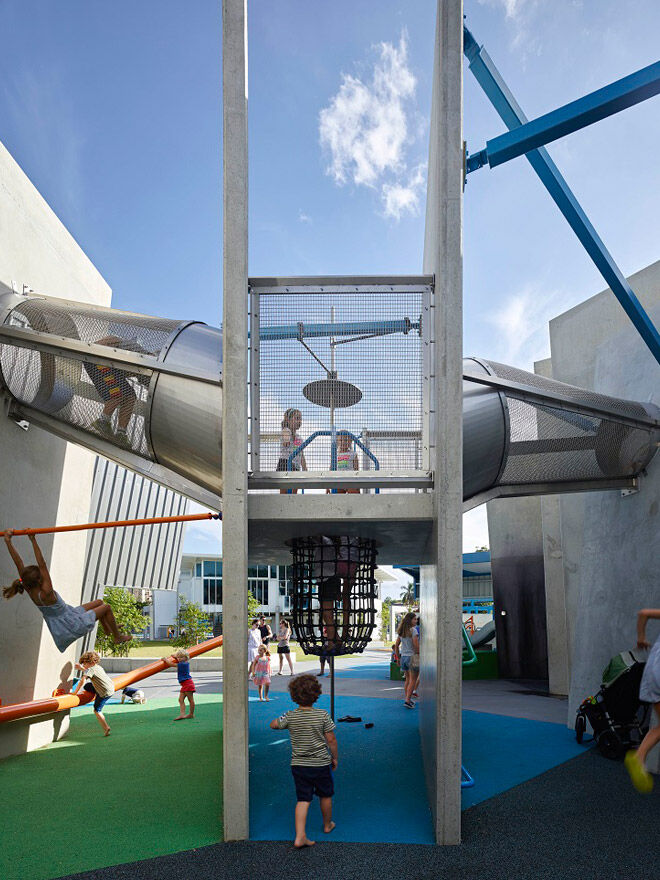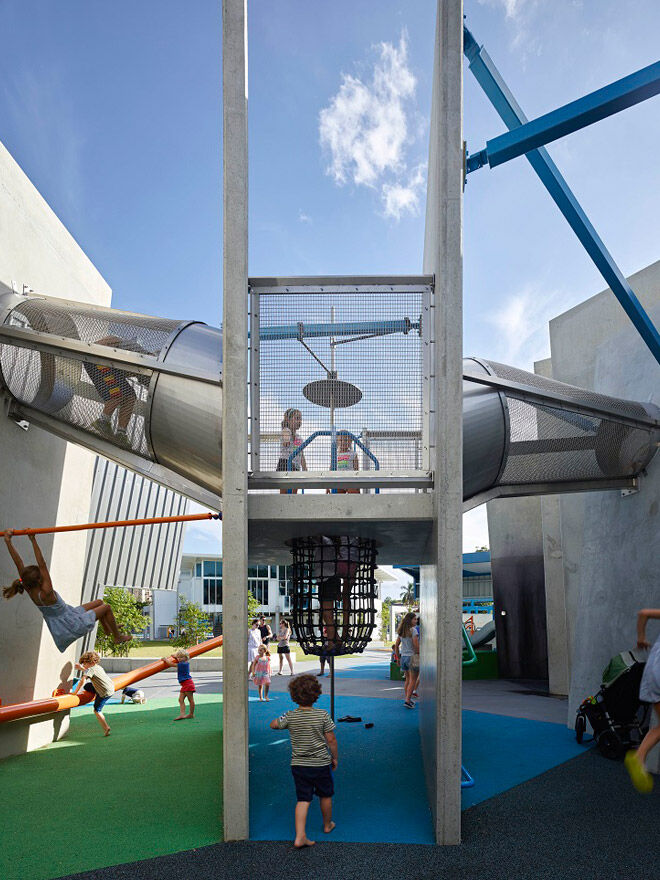 When it's time to come down again, your bambino can tackle the aerial tunnels, nets and slopes for their descent. But just like serving an ace, the slides will be the biggest hits, with options to go wide, go high or go twisty.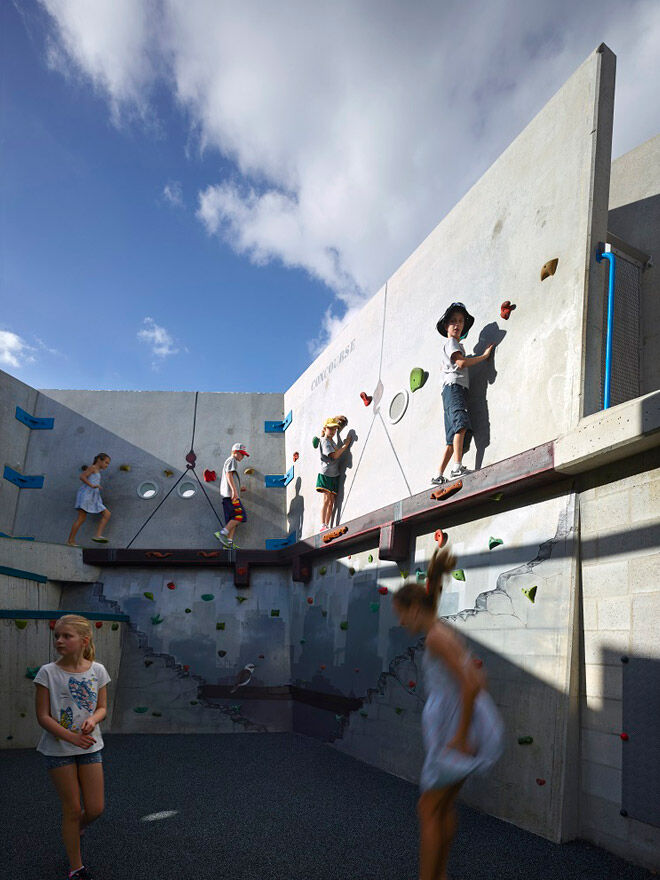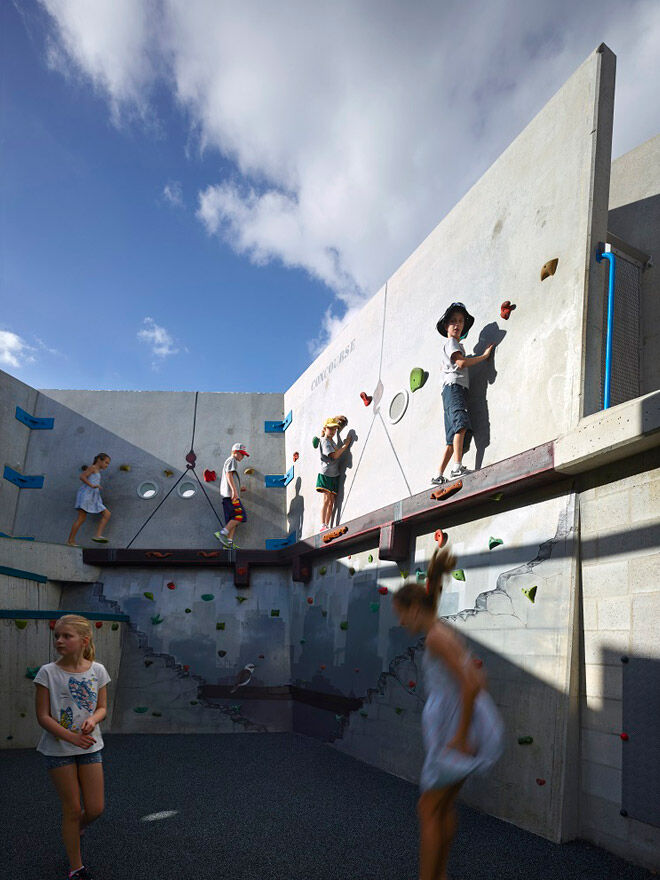 And even though the concrete design and steel mesh details look architecturally awesome, all ages (and parents) will appreciate the softfall surface rolled out under the play areas. No-one wants an on-court injury!
Then, once your little athlete has finished their game at the playground, there is the rest of Frew Park to explore – all 3.5 hectares of it. Your family can also work up an appetite in the tennis centre or work up your arm muscles flipping burgers on the BBQ. Either way, you'll give this park and playground a top score!


Shaded picnic areas and BBQs
Car park with 50 spaces
(Images via AILA, © Scott Burrows)
Read more:
Fun, sand and sea at Wellington Point Playground
Colour your day happy at Riverside Green Playground