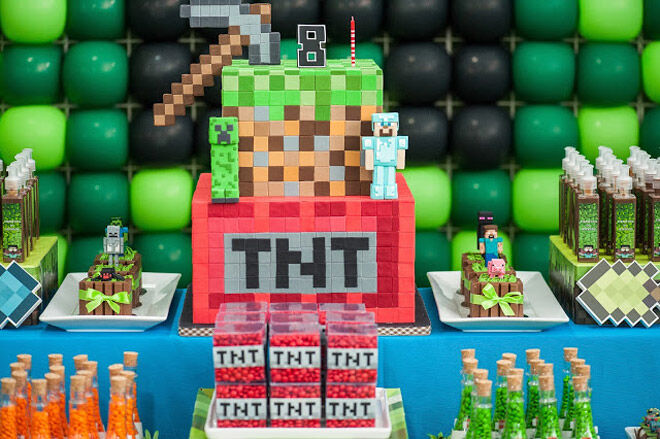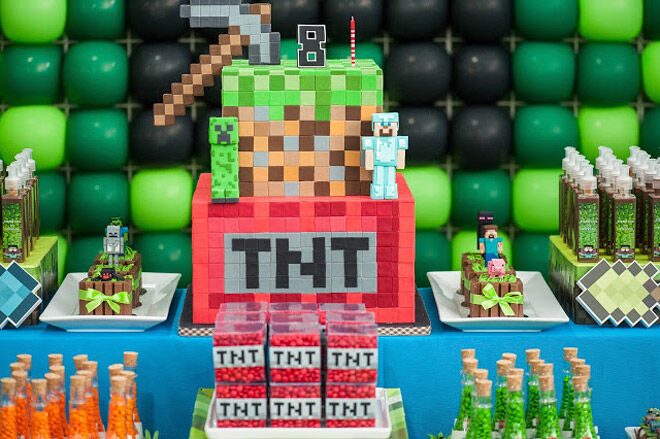 Wow. Depending on who you're talking to, the passion of crafty mums hasn't got a patch on the zeal of Minecrafty kids. But when your kiddo requests a Minecraft party, these two crafts (mine and cake) can finally come together!
So for the coolest cake on the block, make sure you invite Steve, some creepers, TNT, pickaxes, swords, pigs and m(ore) to the party.
Here are 25 ideas for crafting a happy Minecraft birthday party, one cake pixel at a time!
The Minecraft man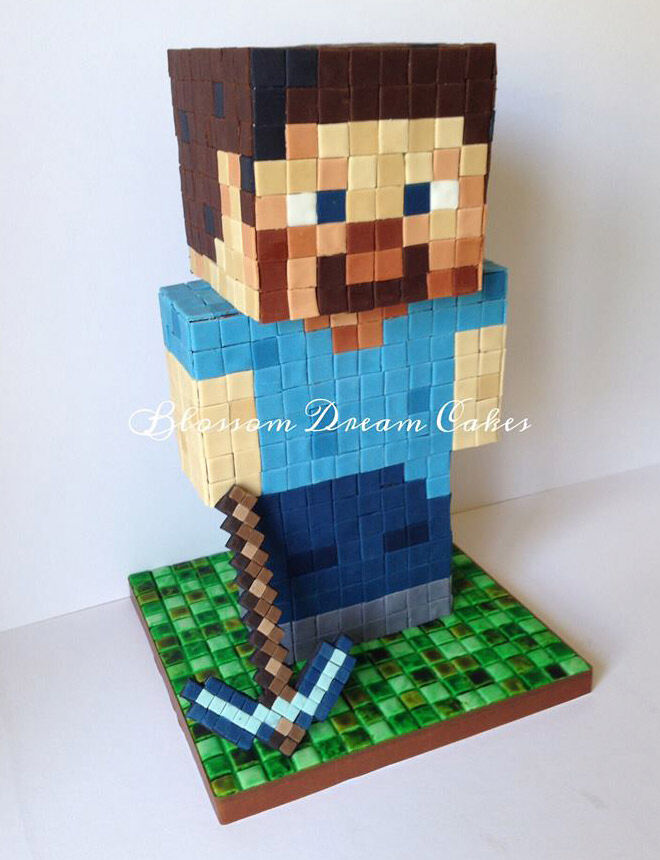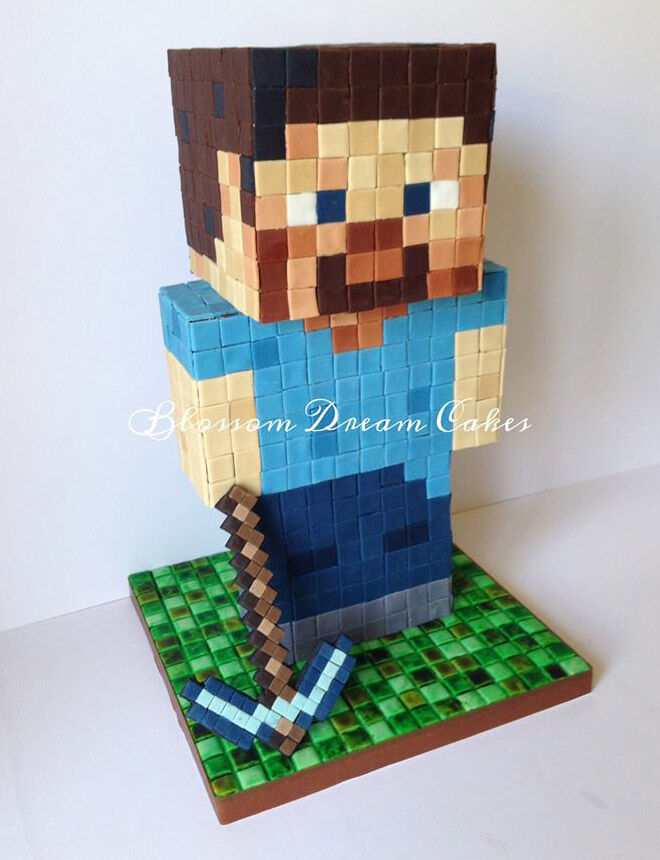 Hi ho, hi ho, it's off to work Steve goes! Wielding a diamond pickaxe, this cake will bring a sparkle to your kiddo's eye. (via Blossom Dream Cakes)
Turf floors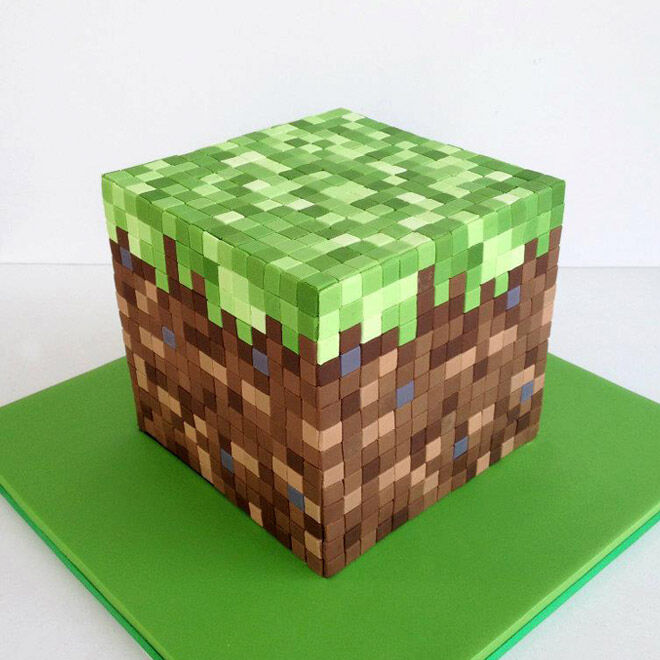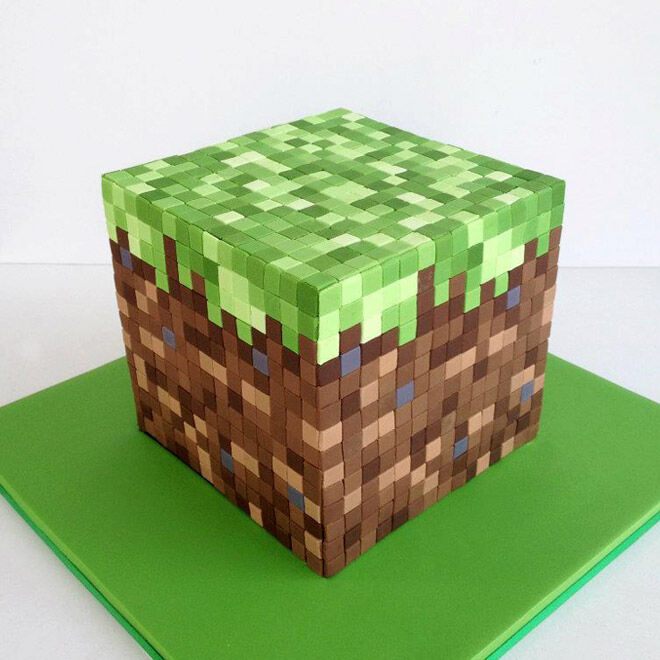 Steve's not the only one with his work cut out – this grass block cake involves 1,026 hand-cut and coloured fondant squares! (via Sweet Disposition)
And if all those blocks are a little daunting, worry not! This video shows you how to make a Minecraft cake, square by square. (via How To Cook That)
Think outside the square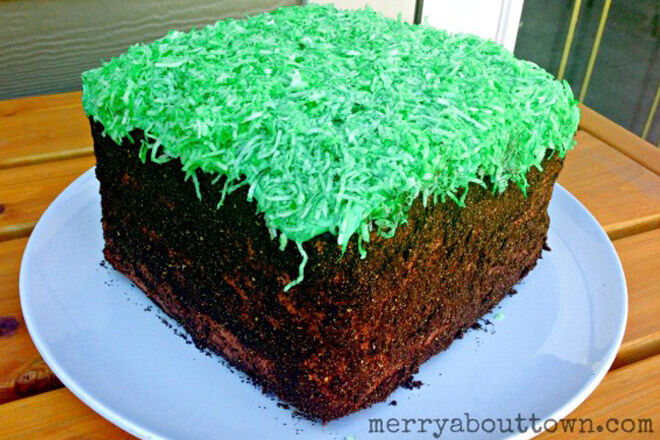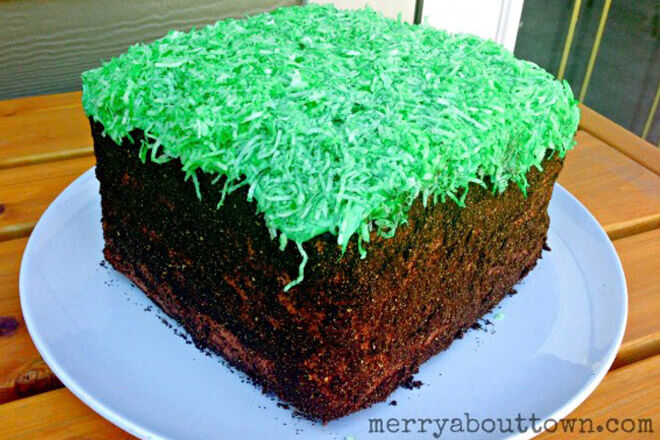 And if the blocks aren't doing it for you, then how about a grass block cake made of squiggles? Shredded coconut and crushed cookies are an easy (and yummy) alternative. (via Merry About Town)
Pixel art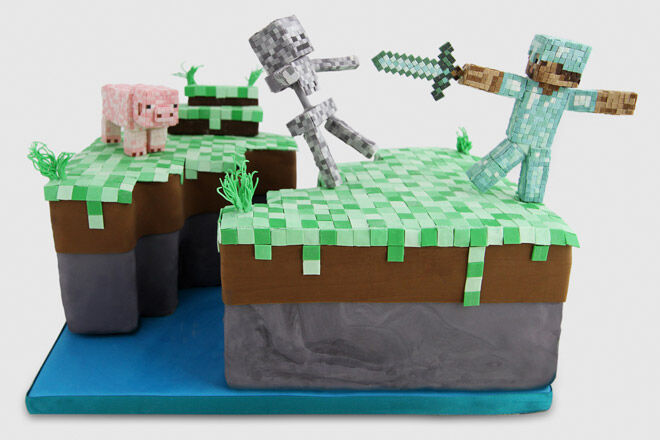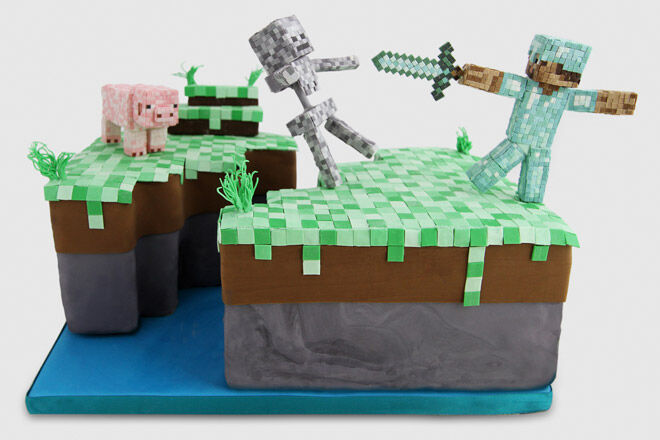 Then, once you've got the coconut-cookie thing under control, you can work your way up to a 'Steve vs skeleton' cake. This munchable mosaic 'only' takes 4,675 fondant squares. Woah, mama. This cake is not for the faint of heart. (via CAKiSSERIE)
Our top pick(axe)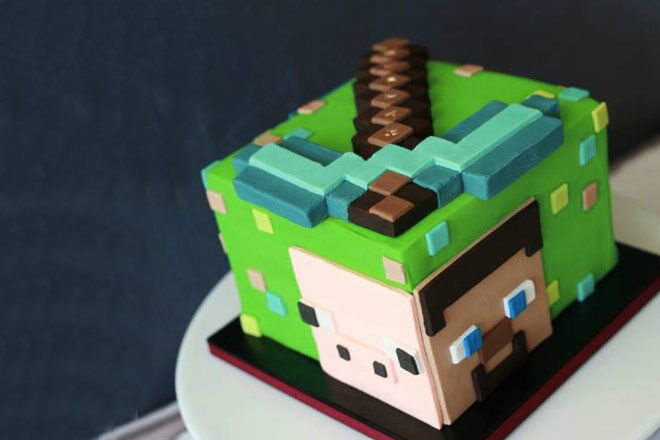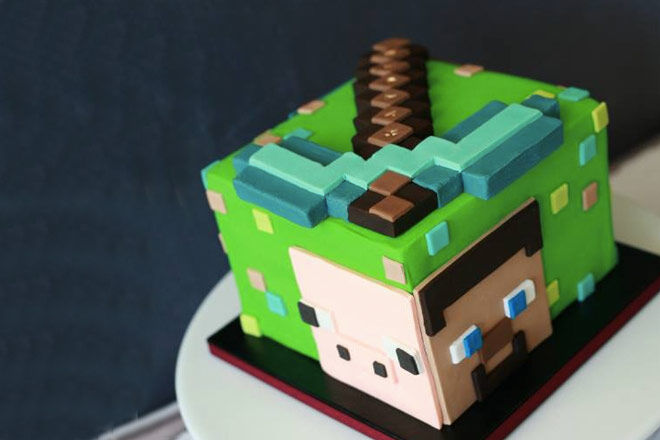 If you're committed to fondant, but would like to cut a few less (thousand) squares, go big and create a Steve face and a pig face to adorn the sides of your cake. (via Bloom Cake Co.)
Jeepers creepers!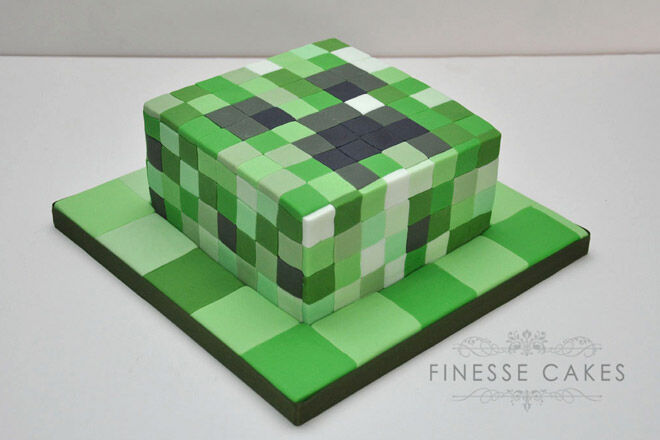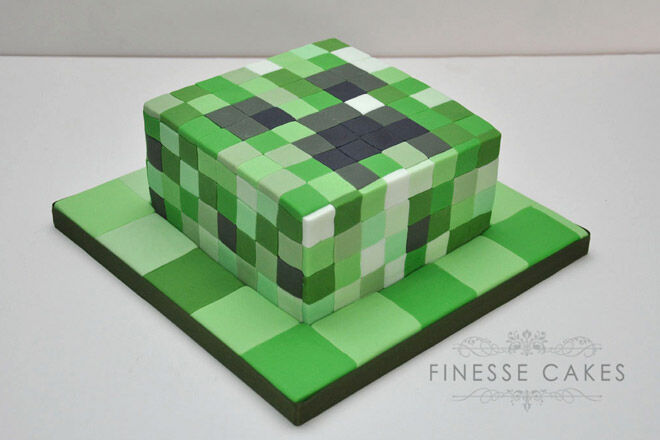 Not to be confused with the grass block cake, this creeper creation is one to watch out for. It's a taste explosion! (via Finesse Cakes)
A piece of cake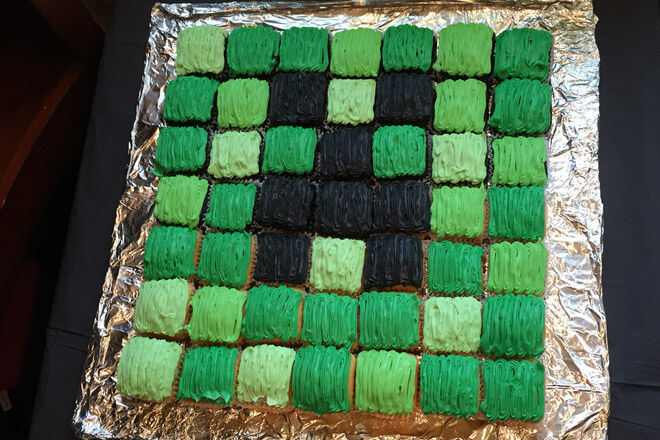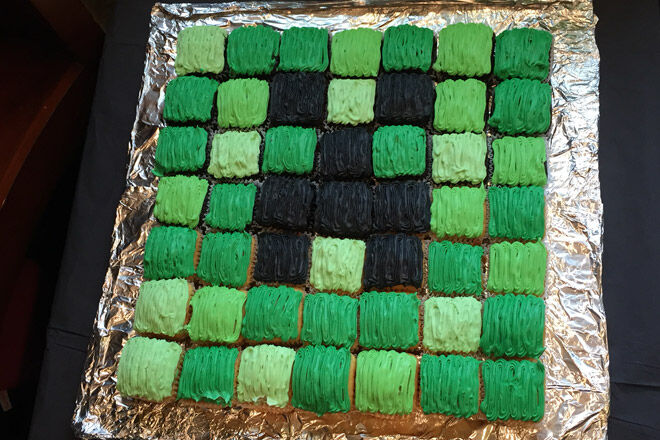 This homespun version of the creeper cake is deliciously simple. Or alternatively, you can create a creeper pattern on a whole cake, using green icing and chocolate squares. (via Pinterest)
Ka-boom!
Boom, boom and shake the party room with an impressive TNT cake. This YouTube video is a recipe for success! (via Cakes Step By Step)
Maximum impact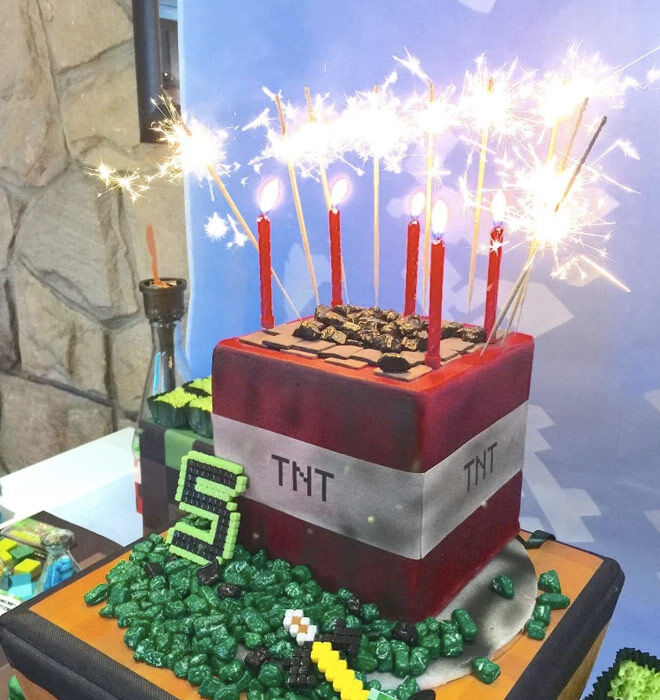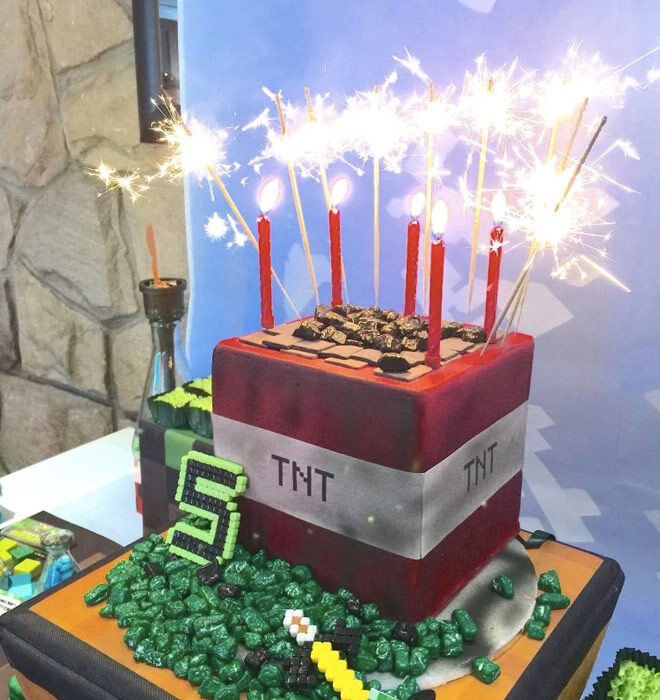 Kids will be in awe (or should that be 'ore'?) of the coal and emeralds, but the real excitement starts when you top this TNT cake with sparklers. Mini-minds will be blown! (via Little Wish Parties)
Hidden treasure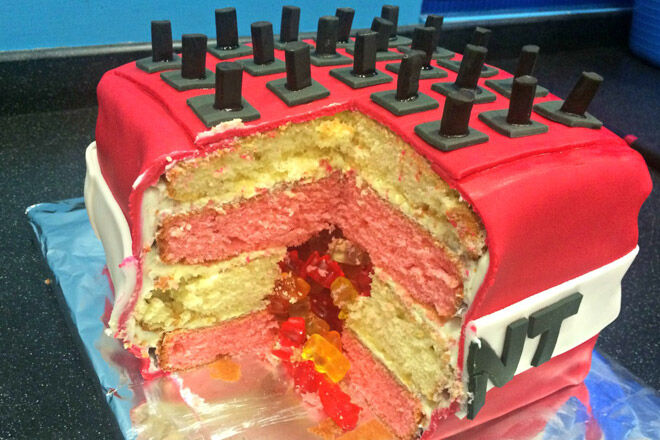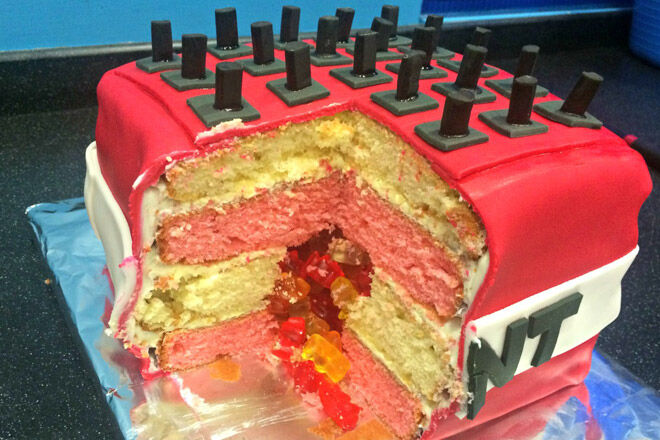 You'll have a blast making this TNT cake and the hidden 'gems' will be a big hit when the cake is cut. Sponge, lollies and a manageable amount of fondant are just what the mummy ordered! (via Mum Turned Mom)
Gold diggers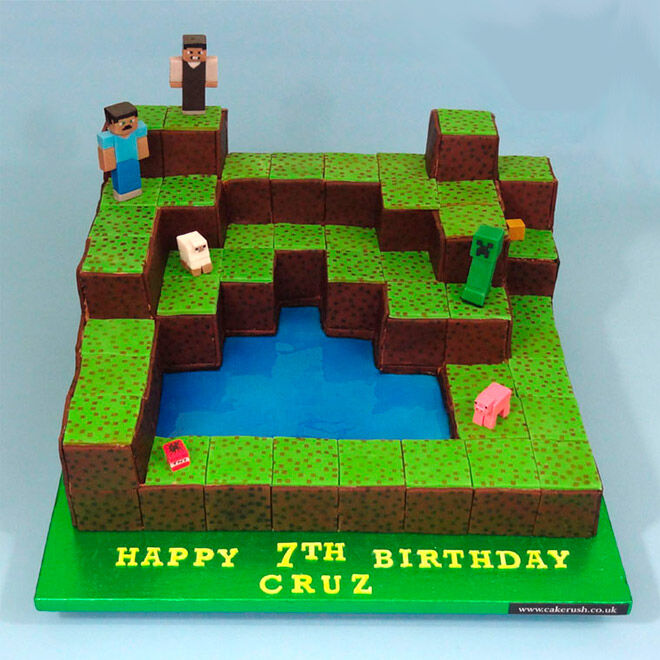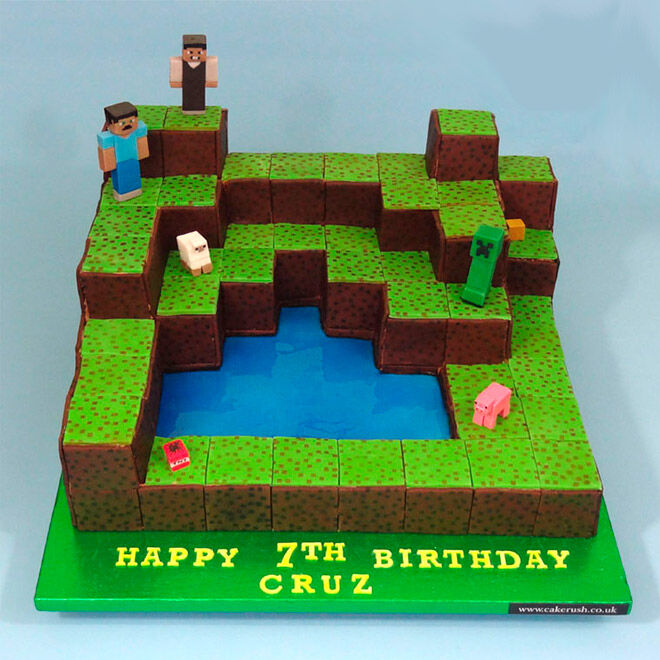 With a gold block to find and a cake lake to slurp, the birthday builder will be happy as a (non-hostile) pig in mud. (via Cake Rush)
Diamonds are a kid's best friend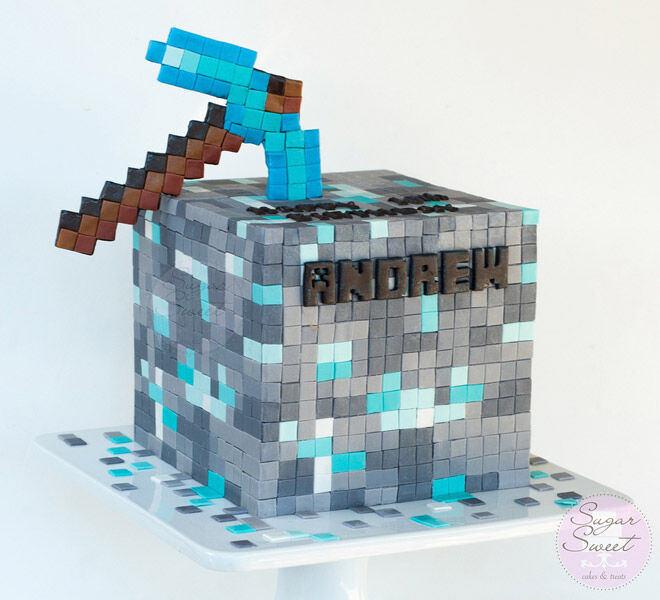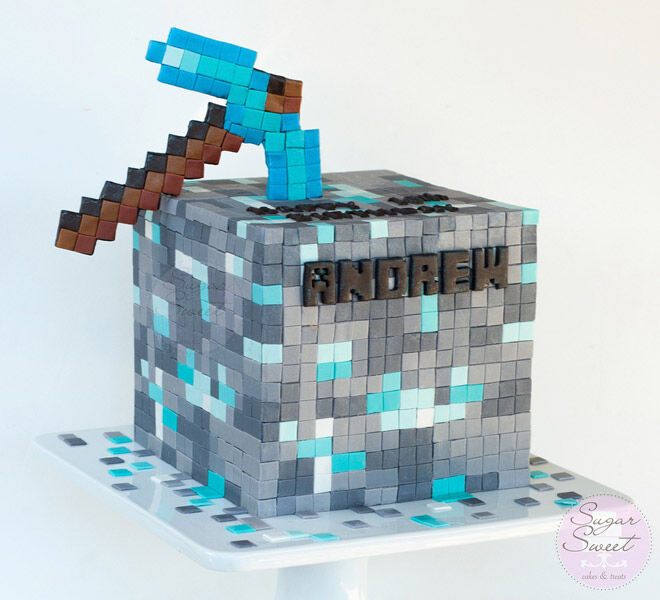 Hold the green food colouring, because a diamond pickaxe and diamond ore cake will hit the spot with your mini-mite. (via Sugar Sweet Cakes & Treats)
Quite an achievement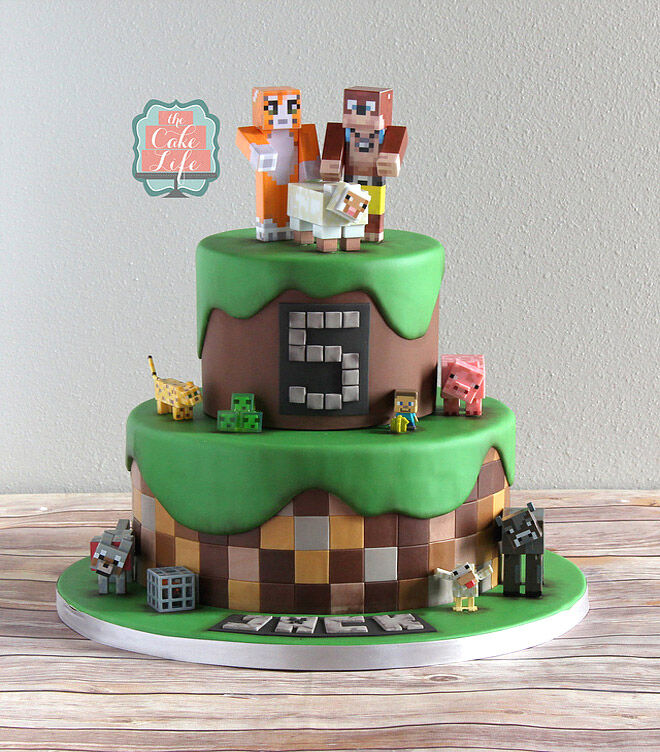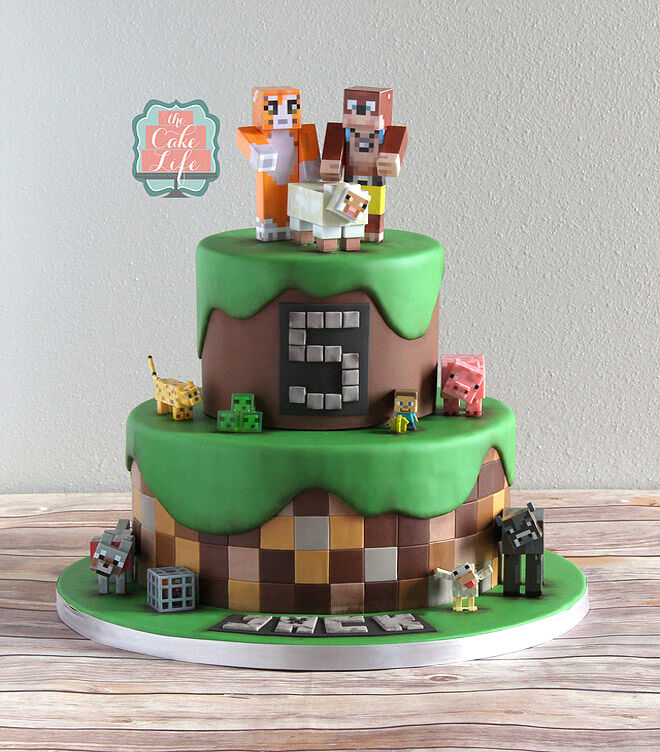 This two-tier triumph includes a menagerie of Minecraft critters. It's a winner from top to tail. (via  The Cake Life)
Blocks of choc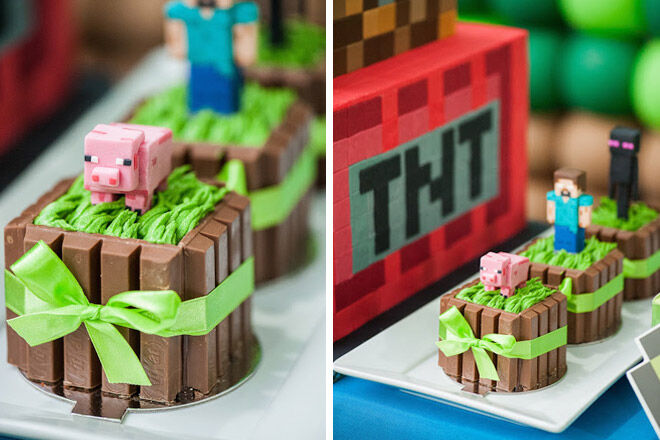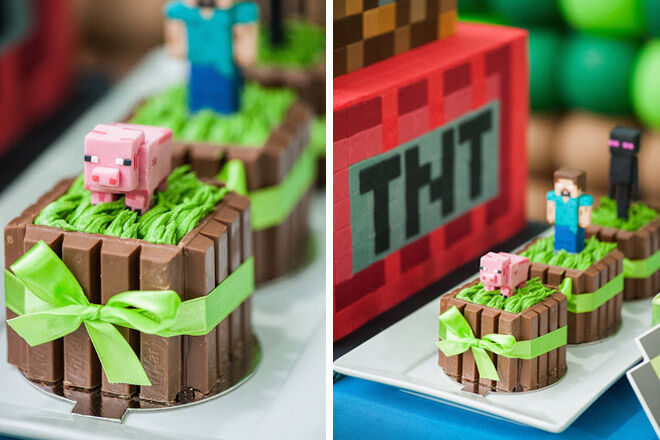 Have a break cake, have a KIT KAT with these mini-masterpieces. Tiny fondant cupcake toppers complete the build. (via Festa Com Gosto)
Fast and effective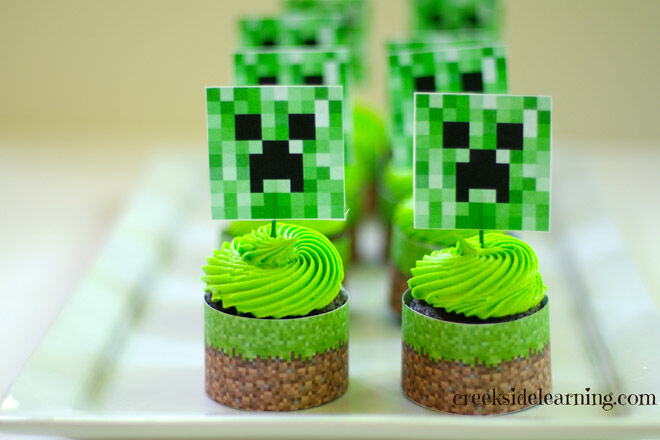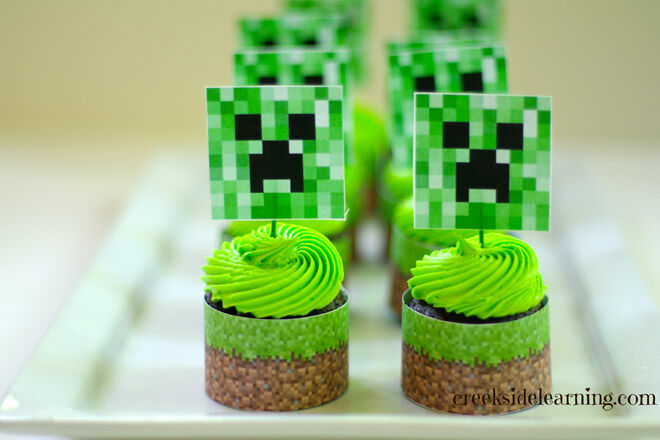 These cupcakes will be gone in 60 seconds, and are pretty quick to make too. Just crack out some cupcake printables, green food colouring and build up the buttercream icing. Yum. (via Creekside Learning)
Go all out!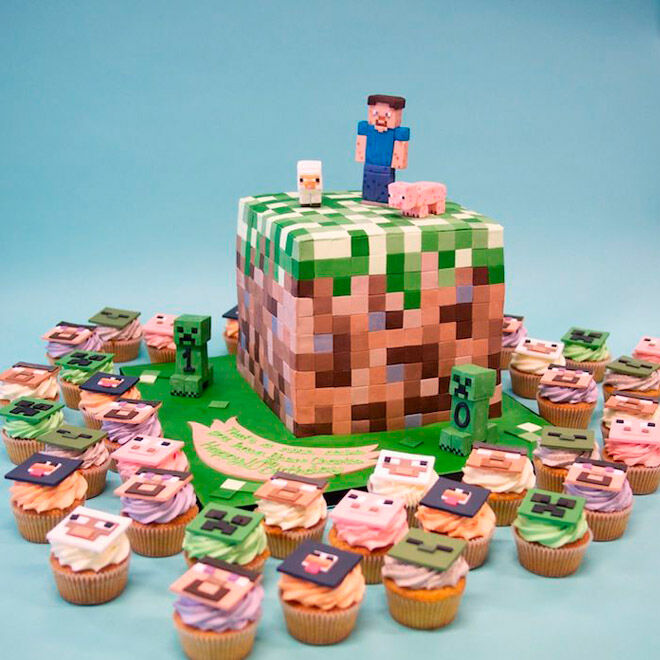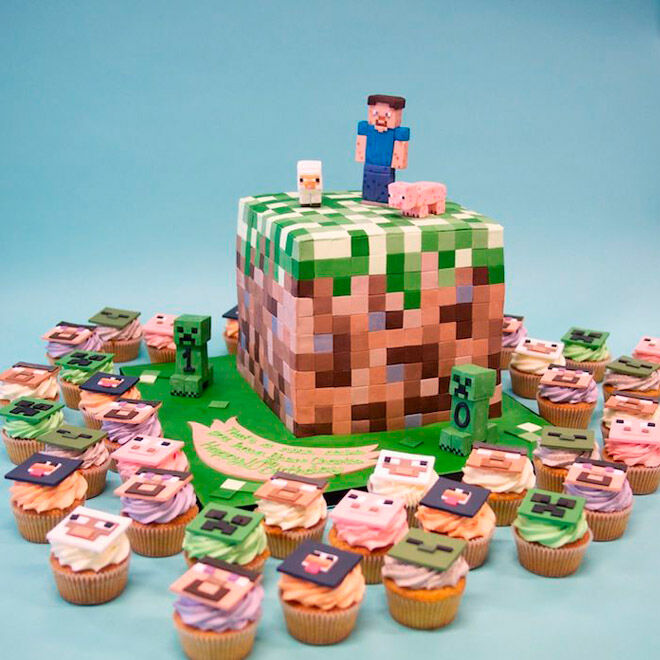 We dub this incredible cake and cupcake combination the 'celebration ore'. (via Crumbs & Doilies)
The village green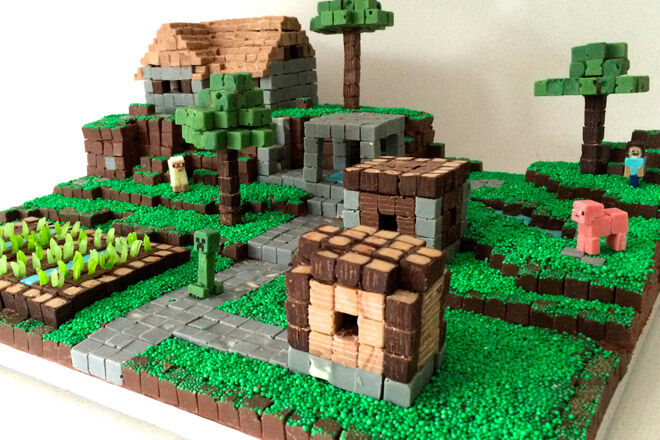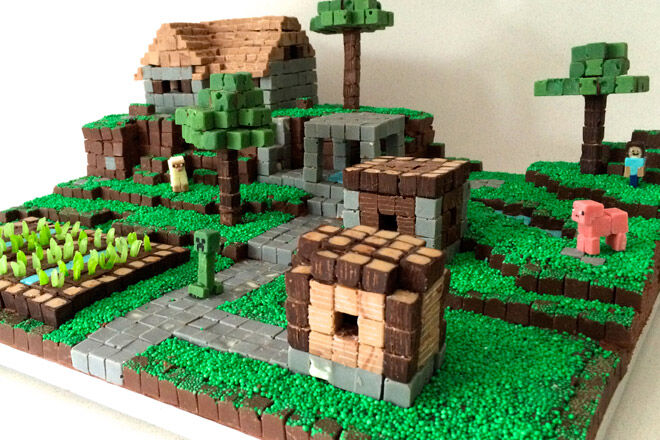 Using chocolate, icing, sprinkles and imagination, you too can build a Minecraft village right here in the real world. Choose your own mix of sheep, huts, houses, logs, trees, wells and pigs. (via How to Cook That)
Meow!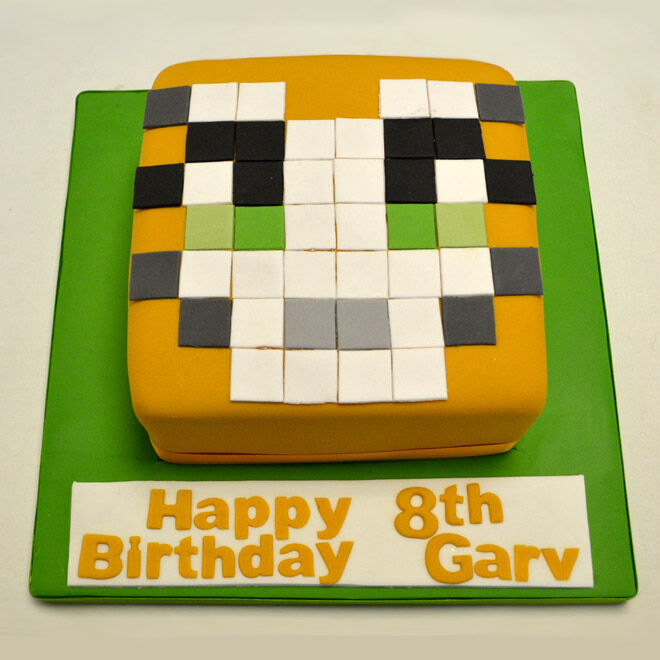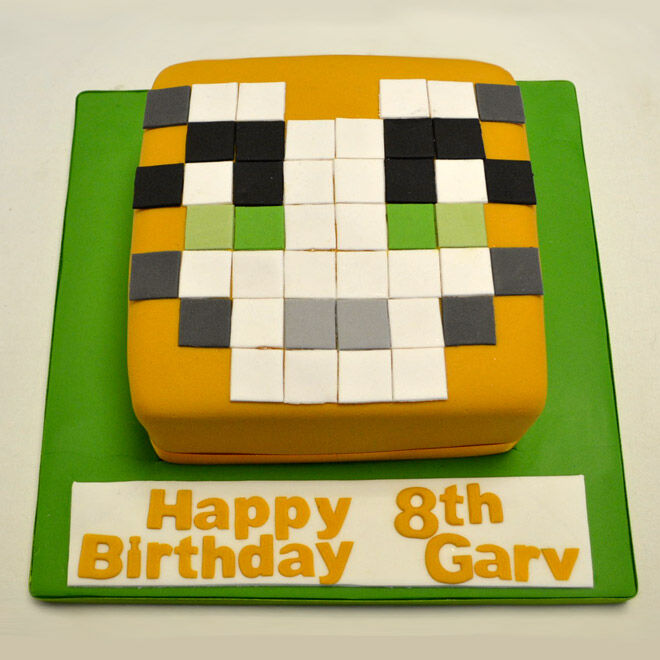 Fans of Stampy the cat will be tickled orange by this cake. It's back to basics and looking 'feline' fine! (via Cakeology)
Build like a boss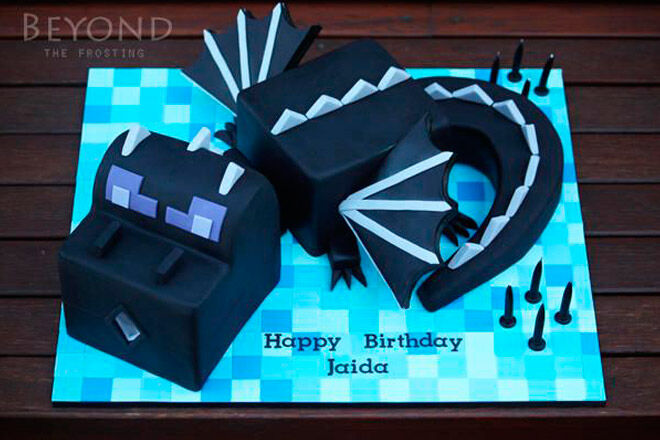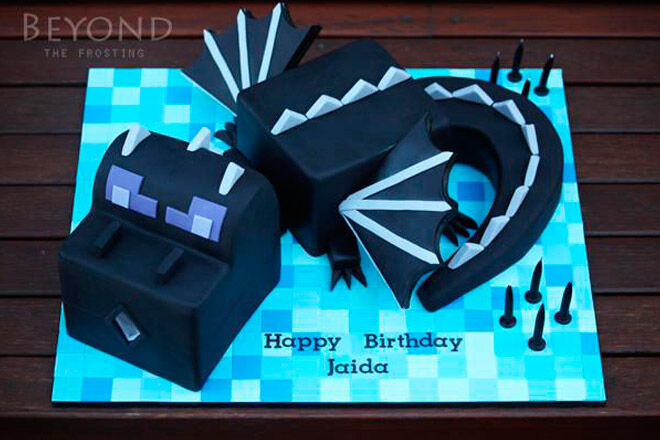 This Ender Dragon will be a sure-fire hit, but it's a bit tricky, so approach with caution! (via Beyond the Frosting)
Hungry for hostile mobs?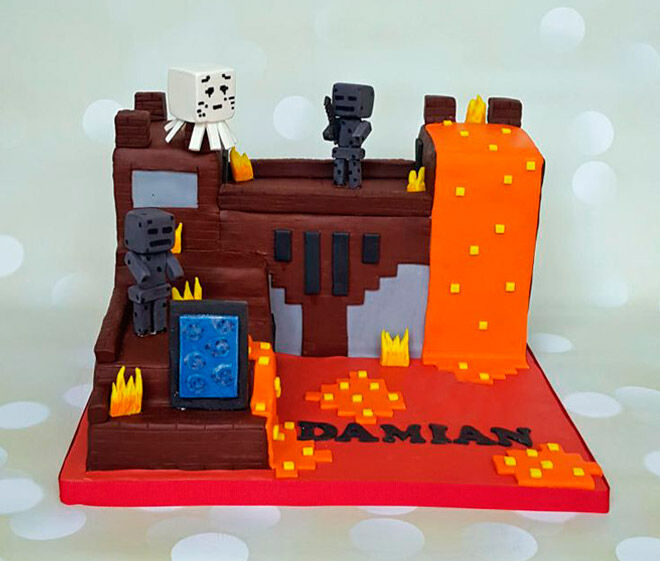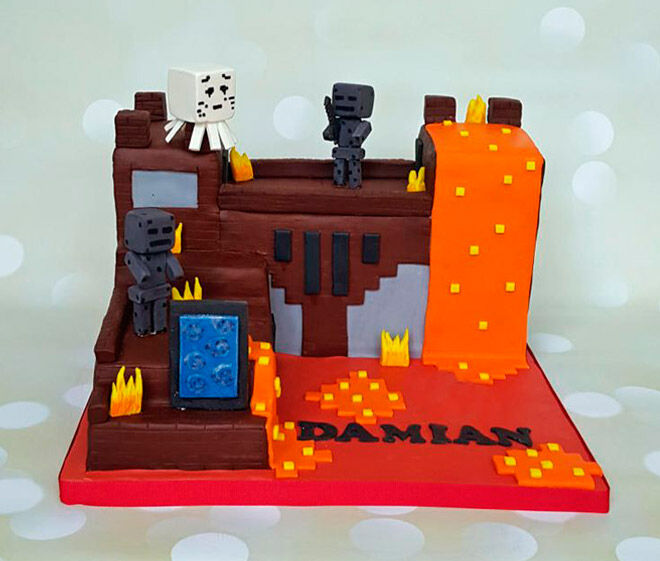 This Nether Fortress has all the exciting stuff – whither skeletons, a ghost and lava from top to bottom. (via Rose Dream Cakes)
Take this!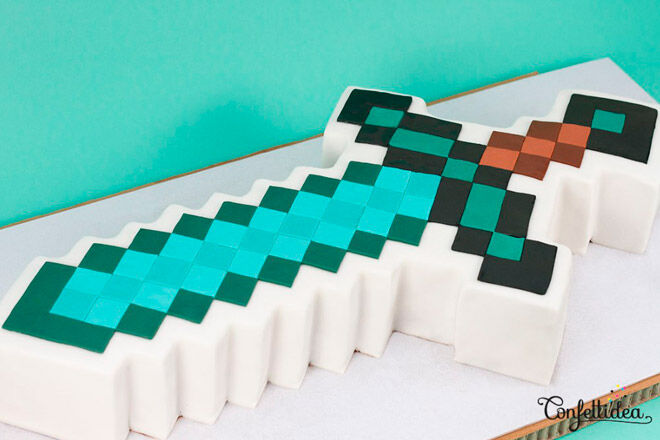 And what better way to fight those baddies, than with a diamond sword? Good luck getting the cake knife through this creation. (via Confettidea)
And take that!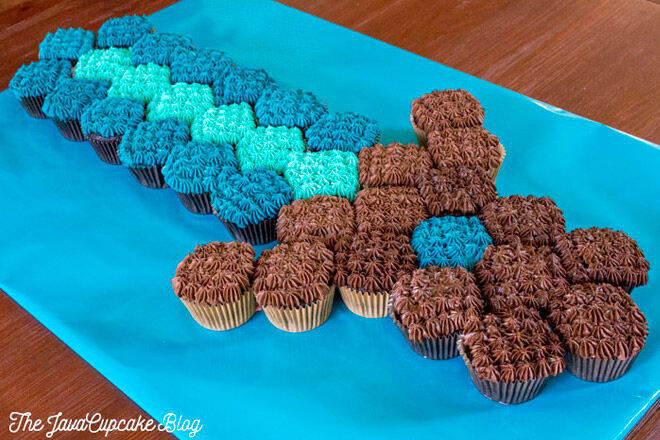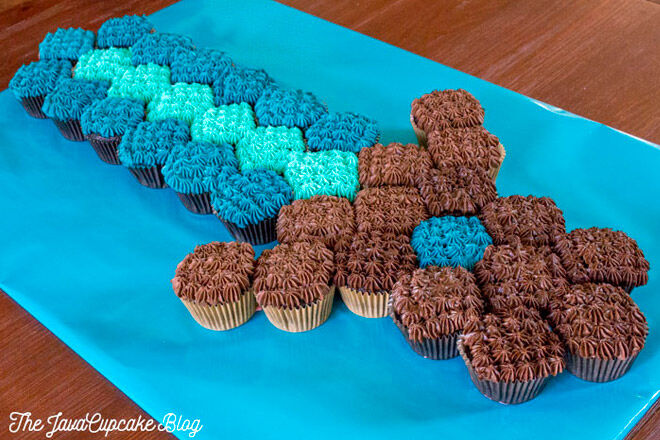 Or else, unleash a sword cake that doesn't need cutting. Just pull apart the cupcakes and dig your teeth in. Problem solved! (via The Java Cupcake Blog)
Top of the pops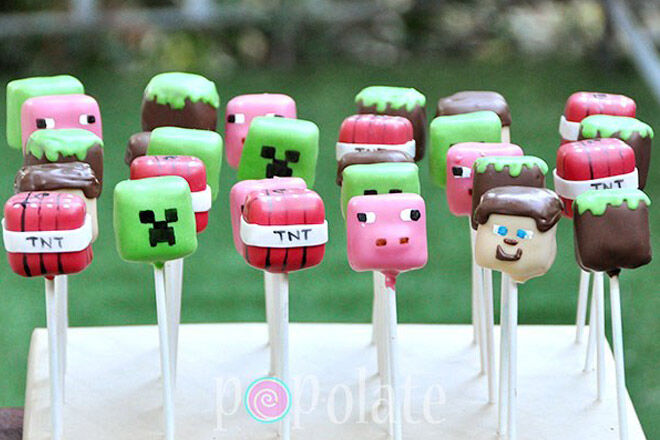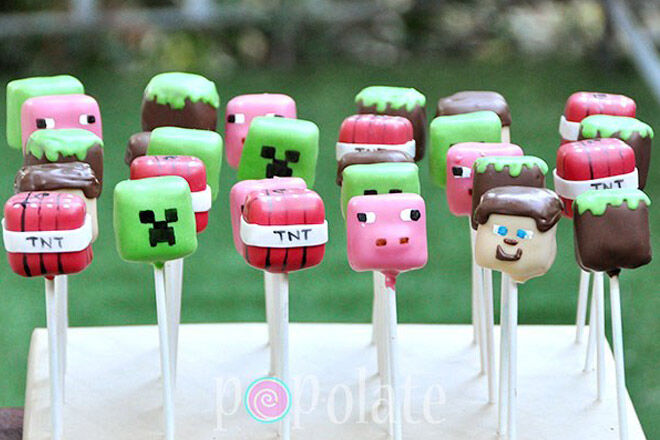 Once you've crafted the birthday cake, dig deep into your creative reserves and forge some cake pops too! (via Popolate)
Minecraft cake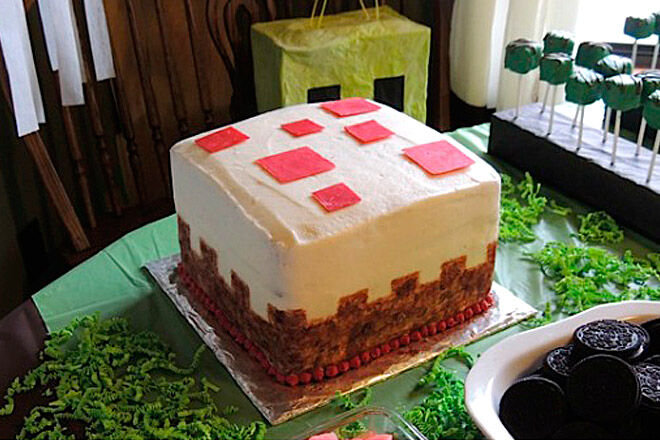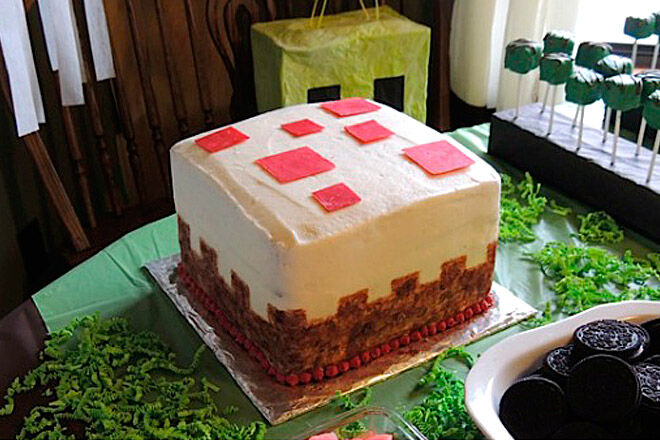 If your kiddo asks for a "Minecraft cake", they might mean "a cake you make in Minecraft". All a bit confusing, but here's how you do it! (via Eating On A Dime)
The End Game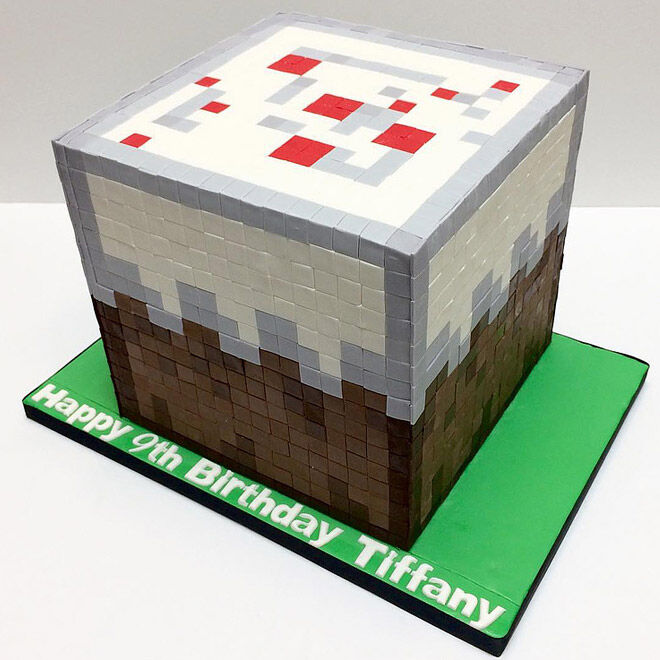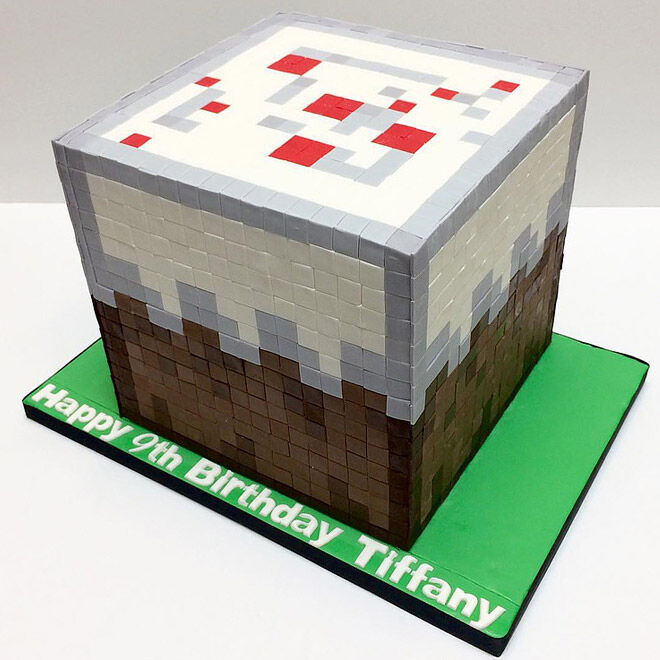 And for the final word, let's get Cakespiration from a Minecraft professional (aka an eight-year-old). With a recipe for virtual cake and real cake, this young'un has the celebrations sorted in-game and out. (via Heather Brown and Delicious Arts)
---


Looking for great toys and gift ideas for kids?
We've collected a treasure trove of amazing gift ideas, from the latest baby toys to the latest must have boutique finds. There's something for every little Piper, Noah and Charlotte.
Toys for kids based on play and development, not gender.