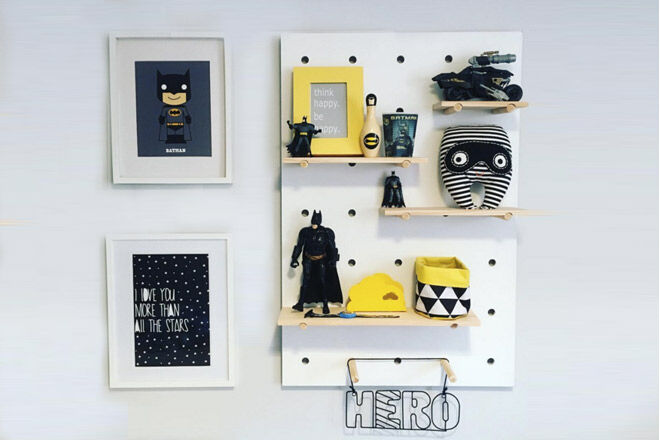 Who would have thought just a few years ago that #kmartstyling would be a thing? Well it absolutely, beyond a shadow of a doubt, is. And among the many things currently fueling our love for this so on-point retailer, is the Kmart pegboard.
At $29, the Kmart pegboard is an absolute steal and it opens up a whole new world of styling options for your kiddo's room. And, in case you hadn't noticed, it is an instagrammer's dream. Shelfie is the new selfie!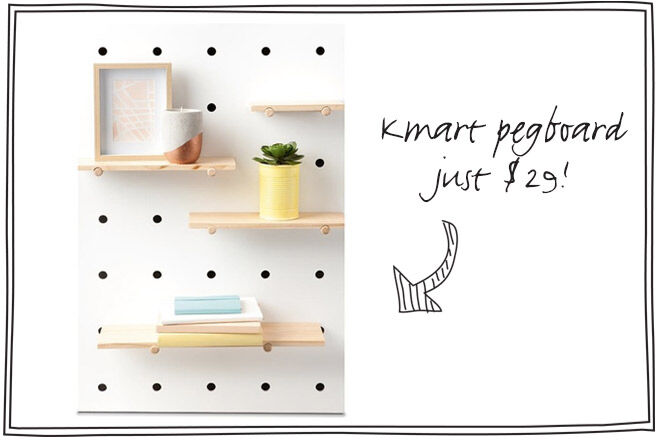 Plus, it is so super flexible that you can change up the look as your child's tastes and interests change. And don't they change!
There are so many gorgeous examples of this pegboard around that it was hard to narrow it down, but here are 17 of our favourite ways to style the Kmart pegboard. Get ready to #shelfie!
Bright and beautiful
We love the way @fettadee has gone bright and bold with the pegboard in her girls' room. Special shout out to the teeny tiny hot pink lamp and the use of colourful books.
Superhero
Superheroes are forever and we love this monochrome meets Batman look from @hunting_for_beautiful_bargains. The punches of yellow make this one stand out from the crowd.
Go flamingo
This pegboard is a riot of fun with the bright flamingo print and hints of pink. We also love how @henlog has draped her wooden beads to change up the shape of the board and incorporate it into the room.
Crochet your shelves
@thewoodennook added gorgeous crochet details from Two Little Pumpkins to her pegboard for a little bit of granny glam.
Double the pegboard fun
When one pegboard simply isn't enough, double up like @jjlukajo! Placing two pegboards side-by-side creates a real impact and allows you to highlight your kiddo's favourite treasures without crowding.
Add paint
The simple Skandi aesthetic of the pegboard is certainly right on trend, but if you want to personalise your pegboard, then just add some paint like @urbannailstudio.
Pretty pastels
It's no surprise that @pastel_haven went for the sweetest pinks, lavenders and mints in her styling.  A glittery gold crown is the perfect finishing touch for this pretty pegboard.
Green thumb
The pegboard shelves are just the perfect width for adding a touch of greenery to you kiddo's room. @hiphiphooray_mumma shows how it's done.
Playroom perfection
Ok, so the eagle-eyed among you will notice that these aren't Kmart pegboards, but we loved @iamtarryndonaldson's idea so much that we included it anyway!
Go neutral
This gender-neutral styling by @candice.shenae.style is perfect for new parents awaiting a little surprise bundle. Did we mention how perfect these pegboards are for displaying teeny tiny shoes? Melt!
Monochrome
We love a bit of monochrome and @my_oh_my_style is a master. We love the pinwheel, the use of washi tape  and, of course, the subtle Disney touch – hakuna matata!
Party decor
Your pegboard likes to dress up for special events as well! @kel_14 created this sweet birthday scene with mini balloons, party hats and honeycomb balls. Hip hip, hooray!
Art station
Your pegboard isn't just all looks and no substance, it can also act as a handy craft station. @glitteranddaisies_nz added tins of craft supplies to the lower shelf, leaving the higher shelves free for non-crafting items. The final styling stroke of genius – fairy lights!
Outfitted
Tiny baby clothes can make us go all gooey inside. But the babes who wear them grow so darn quickly! So if you want to get a little more love out of your favourites, try displaying them on equally tiny coathangers on your pegboard, just like @huddynspence.
Twinsies
Matching pegboards with individual style can help to define a shared area. @pretty_decor_style created these study nooks for her son and daughter. Who wouldn't want to do their homework surrounded by pegboard style?
Unicorns and rainbows
We love @at_home_mumma's choice of accessories, but we really love the way she has added wall hooks to give her pegboard a whole new look.
Woodland
A woodland theme works beautifully with the pegboard's minimalist design. @styledandsnapped gets it right with a limited colour palette and different shapes and textures. Gorgeous!
Looking for more styling tips and affordable decor hacks? Read more:
13 (more) Kmart hacks for kids' rooms
10 crafty Kmart hacks for kids' rooms