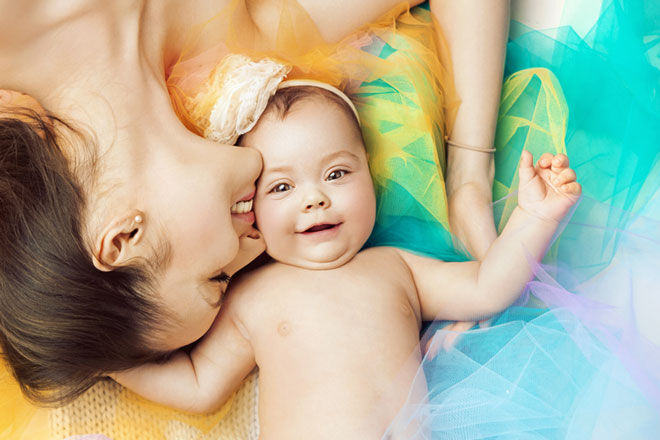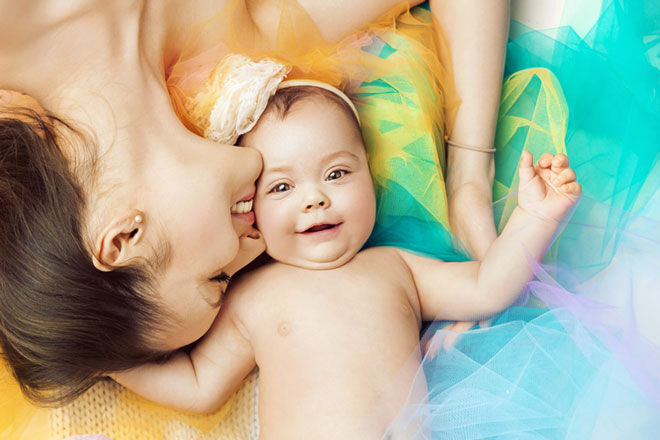 From the singer P!nk to Beyoncé's daughter Blue Ivy, celebrities certainly have a penchant for colourful names. So why not add a splash of colour to your own baby's birth certificate?
Whether you are searching for a traditional name, a mainstream moniker or something that little bit different, you may just find your newborn's name at the end of the rainbow.
Here are 25 baby names that cover the colour spectrum.
Colourful baby name inspiration
Rose: Flower names have been popular in recent years, and Rose is a way to combine the pale pink colour with a floral feel. It's a lovely vintage choice for girls and can be arranged as Rosa, Rosetta, Rosemary, Rosalind and Rosalie too.
Violet: This purple name also comes with a floral scent. Violet's popularity has ebbed and flowed for centuries but has recently wafted into favour again, with Jennifer Garner naming her eldest daughter Violet.
Scarlet: Scarlett is a popular name for girls, however, for something a little different (that matches the spelling of the brilliant red colour), you could add Scarlet to your name palette.
Cyan: This greenish-blue colour is a bright and breezy name for girls and boys. Alternatively, you could call your daughter Cyane, the name of a Sicilian nymph who lived in a blue pool.
Ash: The name of a tree, a Pokémon trainer and a grey colour, Ash is a nature-inspired choice for boys, and suits girls too, whether on its own or shortened from Ashley.
Gray: There are more than a few shades of grey, but the name Gray is certainly a unique choice for boys. Its longer forms – Grayson and Greyson – are gaining popularity and some parents are adopting Grayson (or Gracyn) for their little girl.
Indigo: This deep purplish colour also makes for a lovely girl's name. It has a bohemian feel and can be used as a boy's name too, although Jamie and Erica Packer went with Indigo for their daughter.
Amber: With a warm, Autumnal hue, this dark orange-yellow colour is also a lovely girl's name.
Jett: This name finished in the Top 100 boys' names of 2015 and brings an aviation, urban and jet black vibe with it. You can also drop the second 'T' and blast off with Jet.
Rusty: Short for Russell, it's uncommon for this reddish-tinged boy's name to be formalised on birth certificates. Still, if you're looking for a casual, friendly name, this could be it!
Tan: This pale brown colour can also be used as a variation on the boy's name, Tanner. When used as a  Vietnamese surname, it means 'new'.
Coral: This pink hue is also a girl's name. Coral was most popular in the Victorian era, but you could make a modern day sea change with this name.
Ebony: Dating back to Egyptian times, ebony is a deep, shiny black colour. It's also the name of a hard, dark wood, so Ebony brings strength and lustre to your baby name list, as well as a touch of nature.
Hazel: This light golden-brown colour is a natural choice for girls. It cracked the Top 100 girls' names in 2015 and was chosen by Julia Roberts and Emily Blunt for their daughters.
Jade: As a stone, jade is associated with wisdom, clarity and healing. As a colour, jade green is a bright and lovely hue. Either way, Jade is a clear choice for a little girl, or go with Jada for some Spanish flair.
Olive: The olive branch is a symbol of peace and both Drew Barrymore and Isla Fisher gave their daughters this green-tinged name. For a little lad, Oliver was the most popular boy's name in 2015.
Ruby: Ruby red is a strong and lively colour, making it a popular name for little girls (ranking 13th in 2015). The ruby is the birthstone for July, and Ruby Rose shows the brilliance of a two-colour name.
Azure: Clear skies are ahead with this girl's name based on the colour blue. In Medieval Times, azure was another name for lapis lazuli, so this bright blue hue has a bit of history too.
Teal: Another blue name is Teal, which is a dark greenish-blue colour and also a type of bird. This name suits girls and boys, and it makes a neat middle name too.
Blue: This unisex colour name has shone most brightly since Beyoncé called her daughter Blue Ivy. However, there is fun to be had with alternate spellings – John Travolta's daughter is Ella Bleu and Alicia Silverstone's son is Bear Blu.
Cerise: This girl's name means 'cherry' in French and it brings a red-tinged flavour to your baby name list, with a touch of whimsy on top.
Cherry: If you prefer the Anglaise version of Cerise, then Cherry would make a unique name for a little girl.
Mauve: This pale purple moniker is rooted in nature and comes from the French word for the mallow flower – 'mauve'. With a soft, old-fashioned feel, this girl's name also makes a lovely middle name.
Ginger: The rise of the Redheads (hello Prince Harry) makes it a great time to add some spice to your daughter's name. Ginger Rogers had style and grace, so perhaps this less common name is due for a comeback.
Sienna: It may be a yellow-brown earth pigment, but Sienna is naming gold! It was the 23rd most popular girl's name in 2015 and Sienna Miller has been a trailblazer for this pretty moniker.
Need more inspiration? Take a peek at our Baby Naming section, we have hundreds more, including…
Australia's most popular baby names of 2015
Last names first: 20 surname baby names
23 vintage baby names making a cool comeback
Oh my stars! 21 celestial baby names