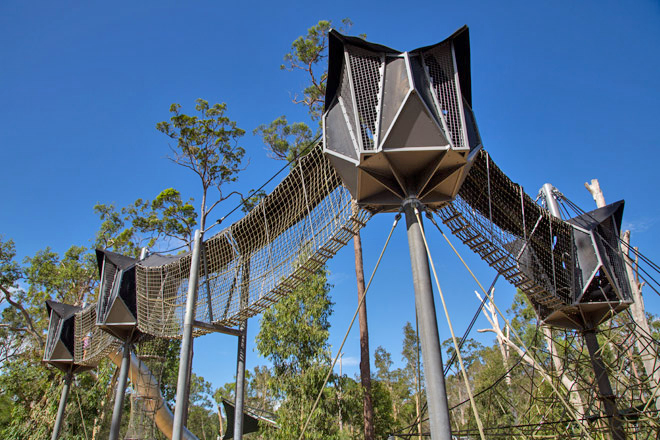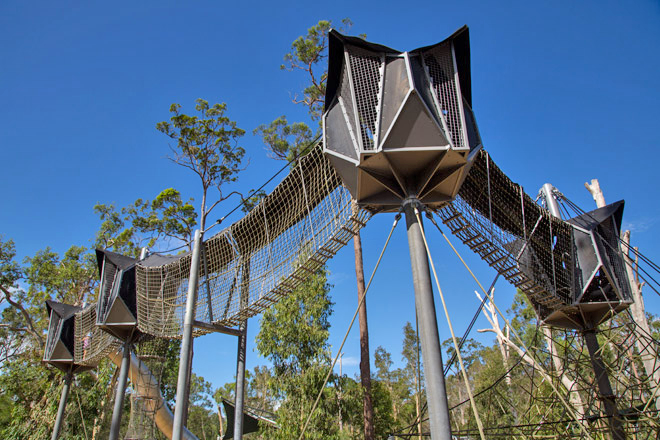 With a natural outlook and rising excitement levels, your kiddo will feel up, up and far away at this Brisbane playground.
Calamvale District Park is just 30 minutes south of Brisbane's CBD, but it feels a million miles from the bustling city. With a tree tops skywalk and green surrounds, this playground is a shining example of nature play the daredevil way.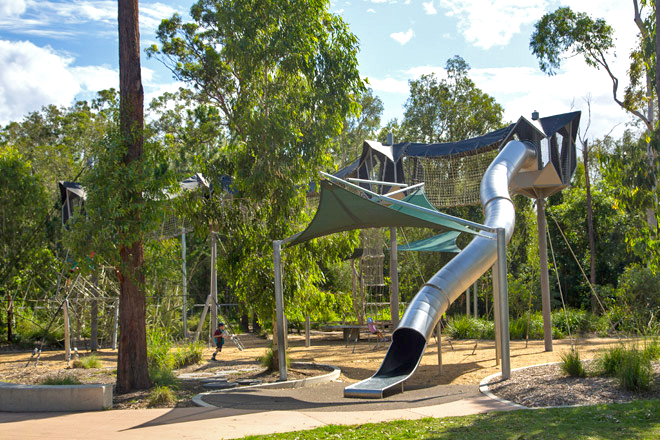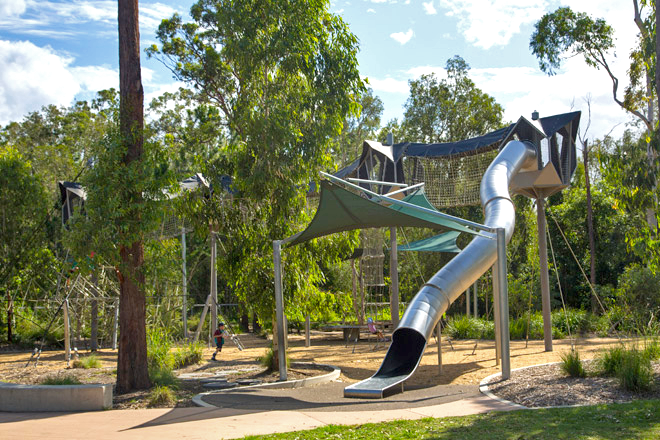 After all, the Melaleuca groves and open skies make this a tree change from many playgrounds, but it's the super modern structure in the middle that really ups the ante.
With ropes leading skywards and a giant tunnel slide dropping dowwwwn, the tree tops skywalk is like a space station orbiting Earth. Or a futuristic tree house. Or anything young imaginations throw at it.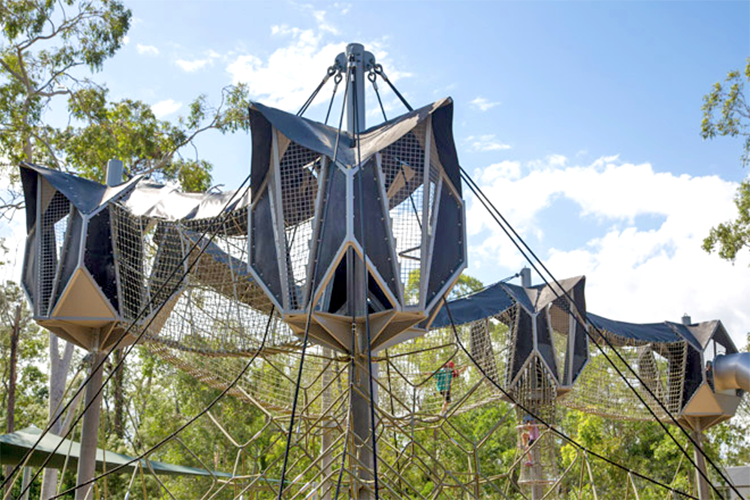 Older kids will love the view from above and whether they're immersing themselves in make-believe or just walking the walk, this elevated adventure is definitely a cut above most play equipment.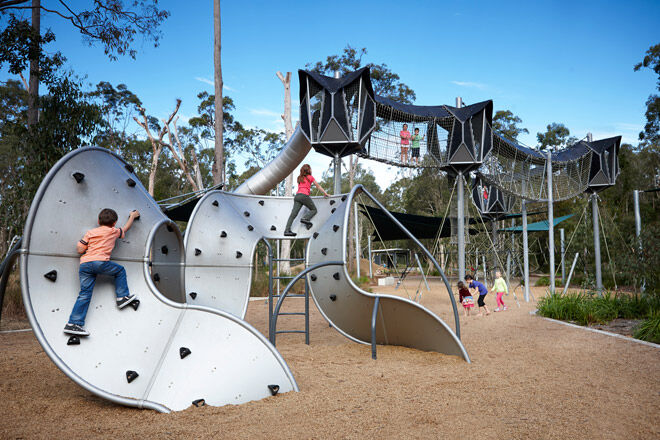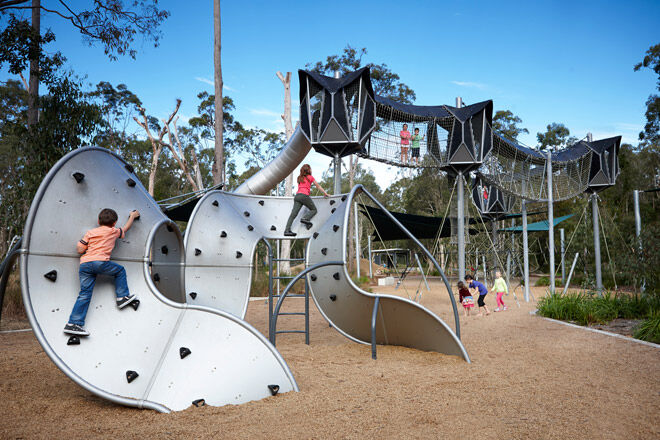 The same can be said for the steel climbing wall that looks like rippled chocolate (is it just us?). Your junior explorer will love getting to grips with this one and it's a chance for rookie rock climbers to scale the not-so-dizzy heights.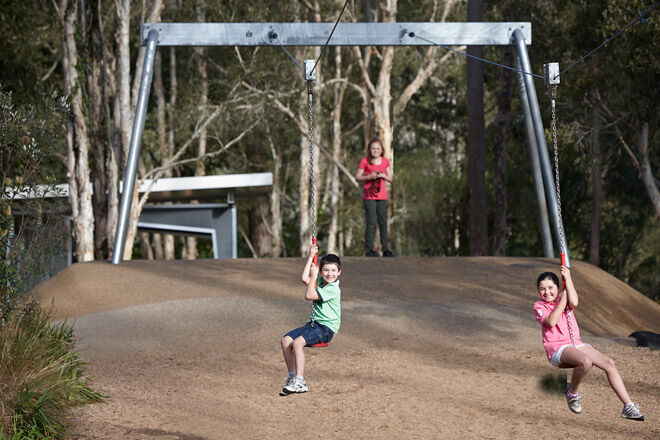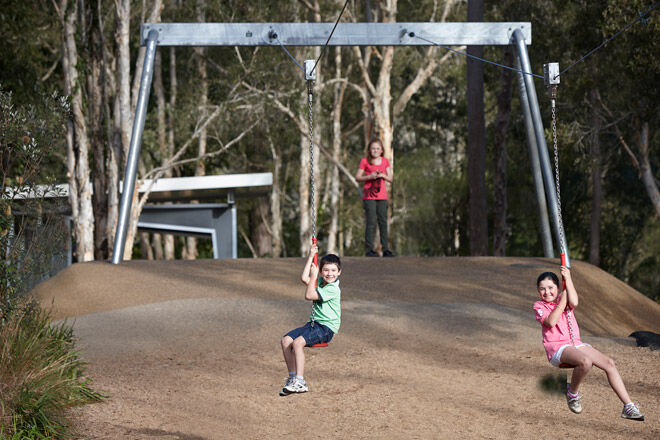 Then, once your mini-mite makes their descent, they probably won't be on the ground for long. The double flying fox adds to the playground's cool credentials, with a choice of two pommel seats and one hair-raising zip down the hill. Wheeeeeeeee!
And if all this elevated adventuring is out of reach for your little one, then don't worry, because there's plenty to entertain tots on terra firma. Whether they're inching their way along the low-slung suspension bridge, giggling in the giant basket swing, stepping on stones or diving into the tree green  interactive zone, your poppet will be happy as Larry in this playground. Xylophone + cog wheels + curvy mirror = yay!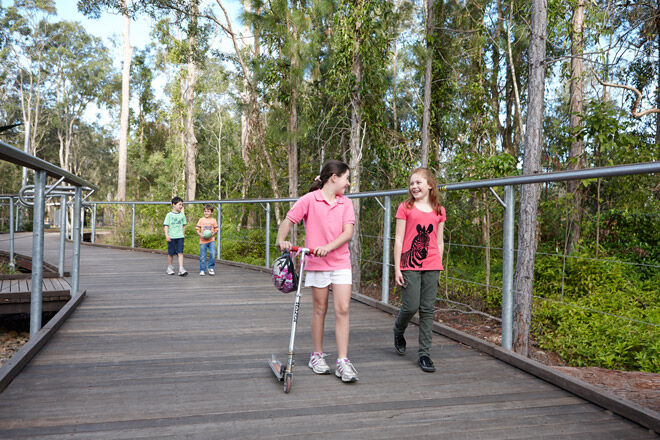 Calamvale District Park is also a great place to take trikes, bikes and scooters for a spin. With paths winding their way through the trees, you can either kick off a riding lesson or get left in the dust, depending on your little racer's age. There's definitely room for vroom!
All in all, this is a popular park, and with good reason. It hits the sweet spot for thrills, and whether your sprog has a head for heights or prefers to stay on the low pro, things are looking up for family play time. To Calamvale and beyond!


Calamvale District Park
Make a day of it, with fun for all the family (including Fido!).
Getting there:
31 Forby Street Calamvale QLD 4116
Toilets and parking
BBQ areas, bookings available
Some shade but take sun protection
Dog off-leash area in the park
Free Wi-Fi at the large shelter
(Images via Brisbane City Council)
More fun playgrounds to visit in Queensland:
• Have a ball at Frew Park Arena Playground
• Fun, sand and sea at Wellington Point Playground