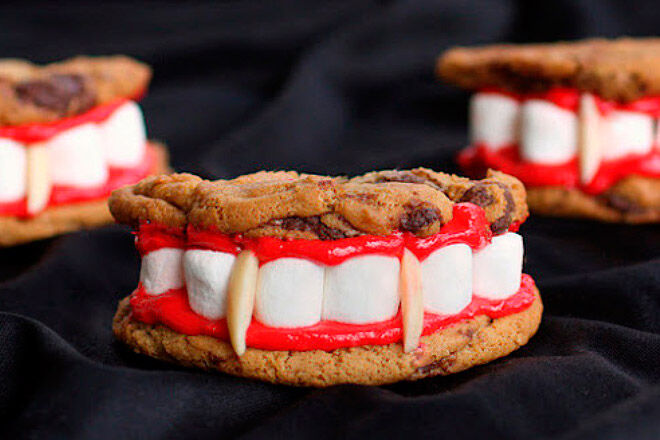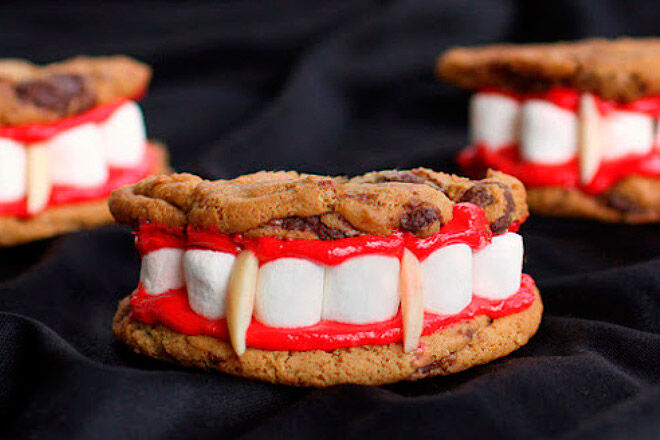 This Halloween, unleash the Cookie Monster within and get baking! It's time to pull off the ultimate trick – creating homemade biscuits that look so slick everyone will think you bought them…. Mwahahahaha.
There's nothing like a tray of cookies to appease the hungry hordes, so bury them in favour bags, dish 'em up on the doorstep and sneak a couple when your tiny terror isn't looking. And remember – OTT is A-OK on fright night, so bones, eyeballs and bats are all on the menu!
Here are 16 cookies that are just the trick (and treat!) for Halloween.
A bowl o' bones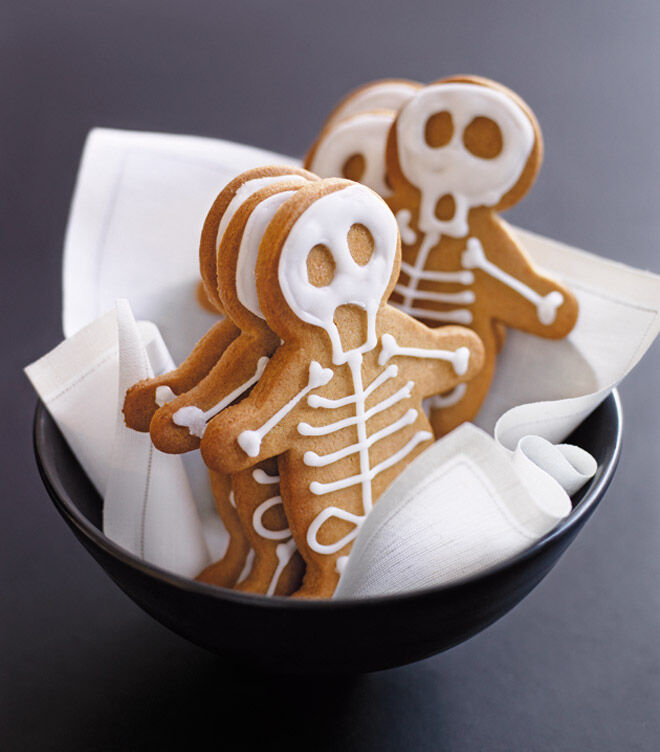 The knee bone's connected to the thigh bone, the thigh bone's connected to… your bambino's grabbing hand! These gingerbread skeletons are fun to make and you could try gingerbread mummies too. (via Donna Hay)
And… magic!

A normal magician might pull a rabbit out of a hat, but a mummy magician pulls lollies out of a witch's hat surprise cookie! (via It's Always Autumn)
Spooky spiders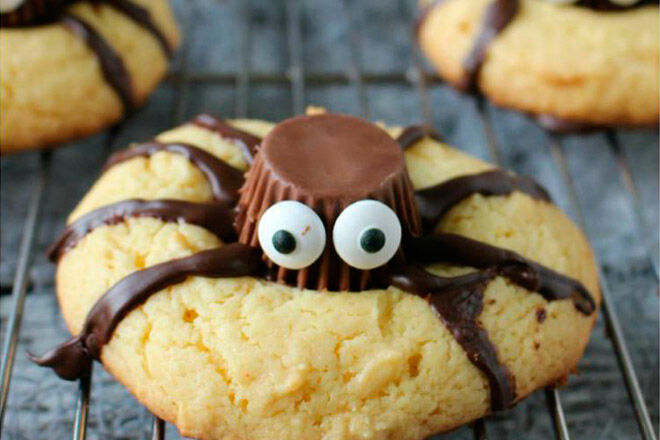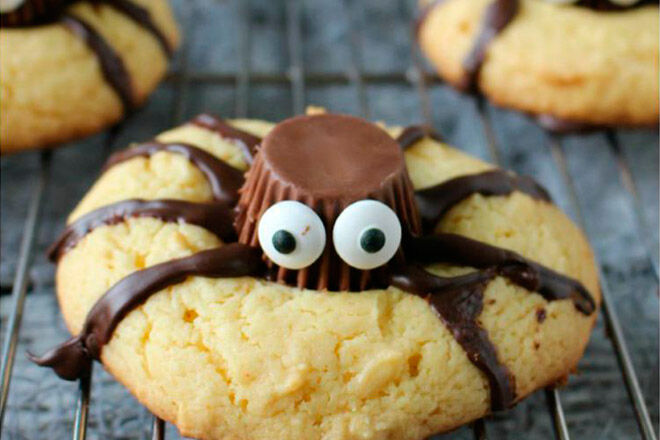 These spider cookies will jump right off the plate and into your mini-mite's mouth! We can smell the chocolate and peanut butter cups from here… (via Princess Pinky Girl)
Fangs for the memories

These Dracula dentures are exactly what you want on Halloween – scary looks and simple execution (as in, assembly!) Dig in with choc-chip cookies, red icing, mini-marshmallows and almond 'fangs'. (via The Girl Who Ate Everything)
Go batty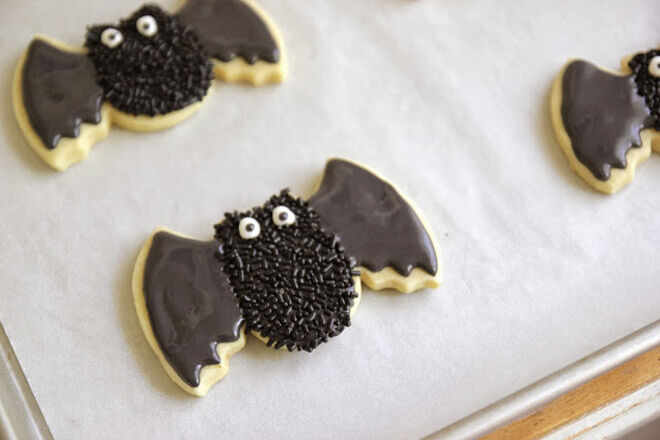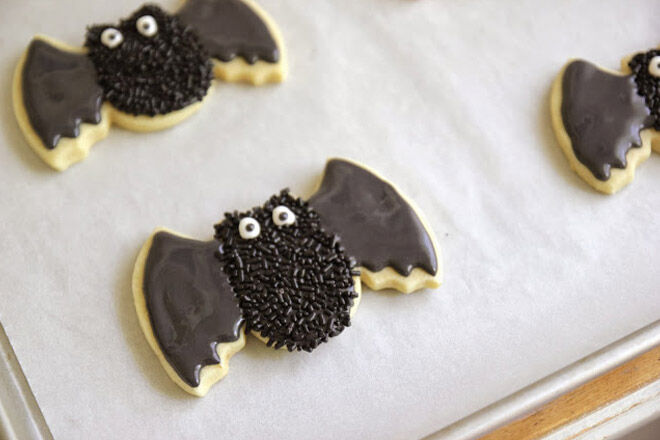 Vampires and bats go together like mummies and bandage, so why not make some spooky bat cookies too? Your kidlet will have a hoot sprinkling 'fur' on their tummies. (via Everyday Occasions)
Green 'n' mean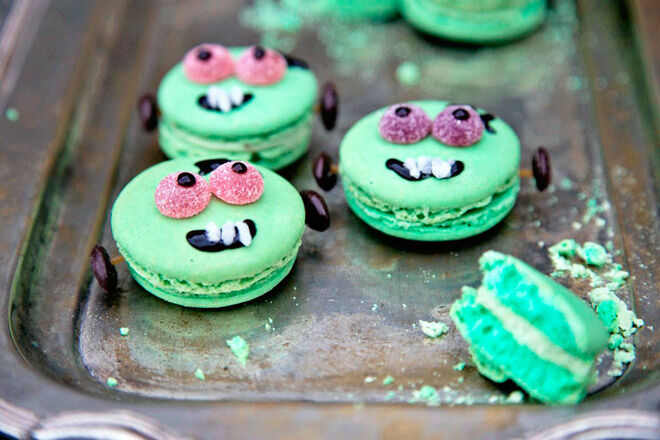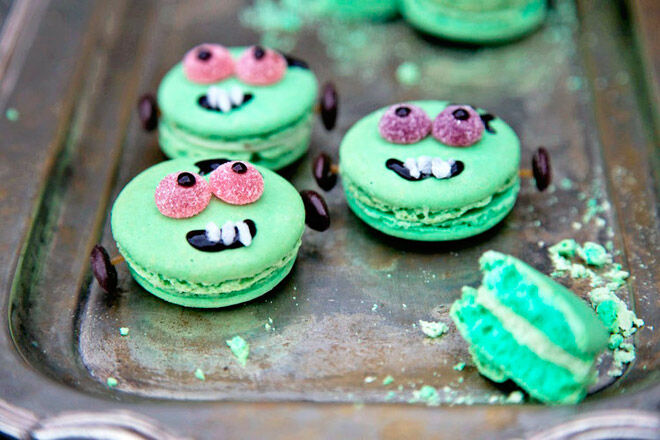 Buy a pack of macarons (they'll pass for cookies, won't they?) and prepare for  the zombie apocalypse. With a little decorating, these zombie macarons will be taking over your buffet table. Eeek. (via Capture By Lucy)
Eerie eyeballs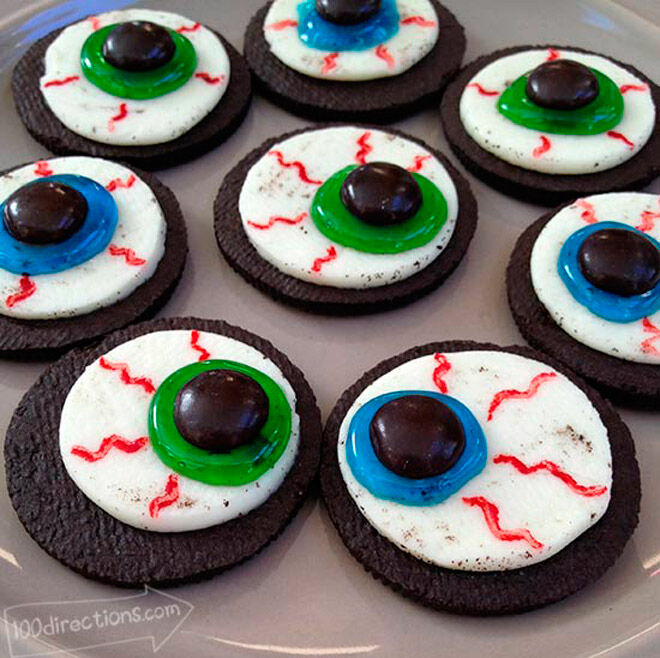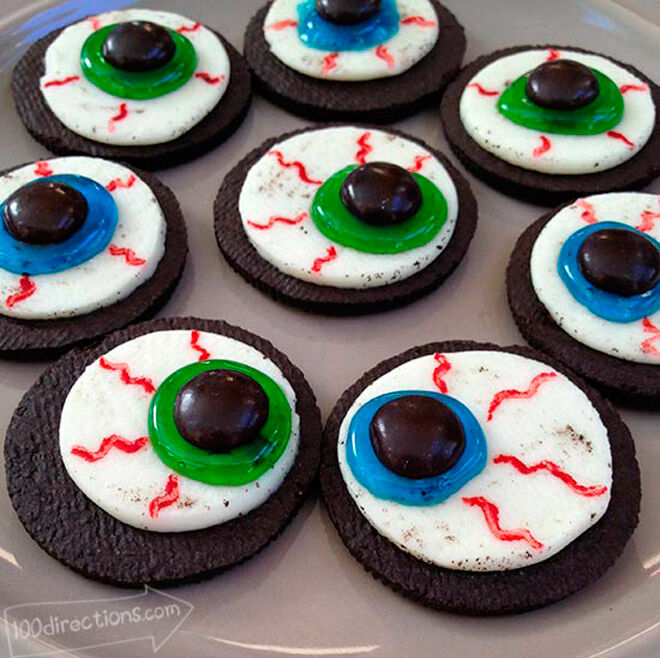 Little gobblers will have their peepers on these customised Oreo biscuits from the moment you crack the packet. Be still, my beating heart! (via 100 Directions)
Monsters on a stick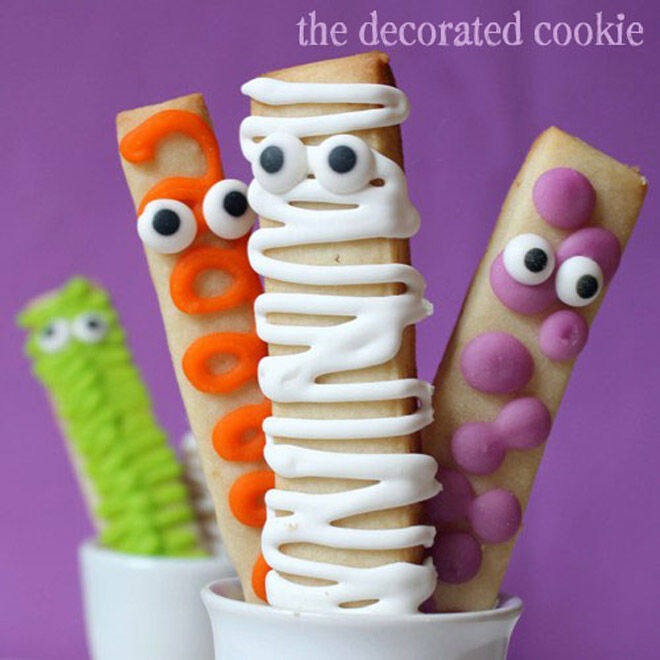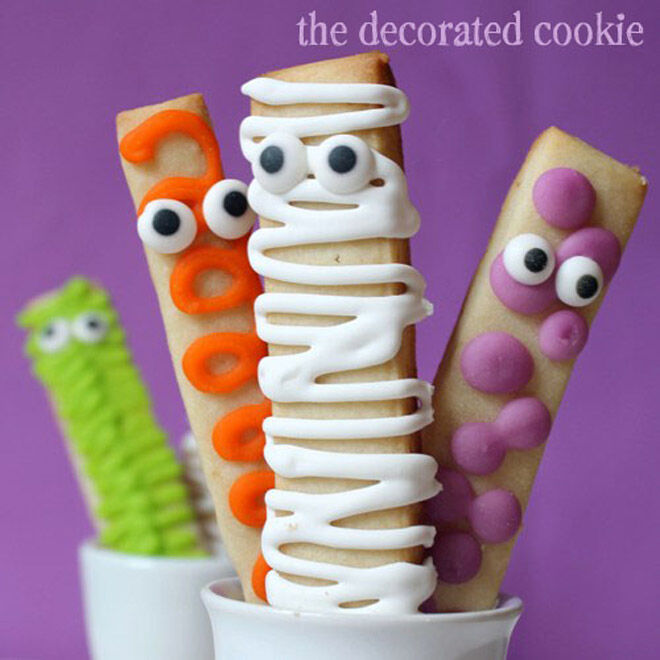 Drizzle spots, squiggles and bandages all over these cookies, then take your pick of the monster sticks. They're so cute that you'll almost feel bad taking a bite out of them. Almost. (via The Decorated Cookie)
Crunchy munchy monsters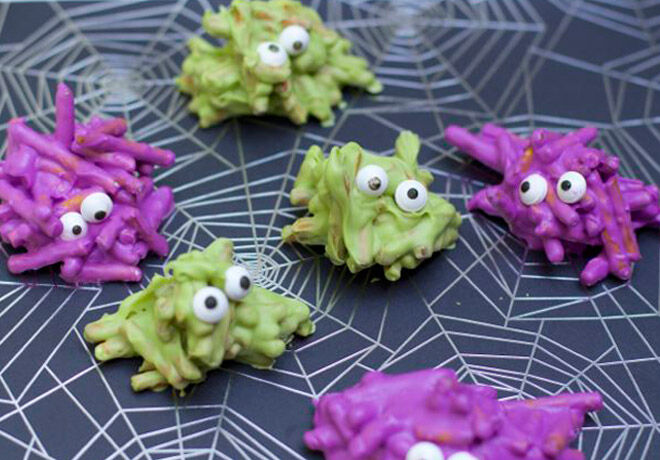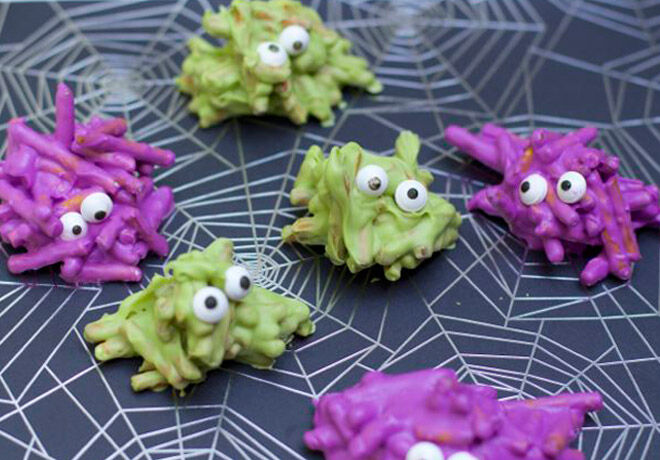 These chocolate-covered pretzel monsters are madly messy. If you can't find coloured choc, you can make do with white and milk chocolate – although a purple people eater and booger monster are sights to behold! (via Close to Home)
Spooky piñatas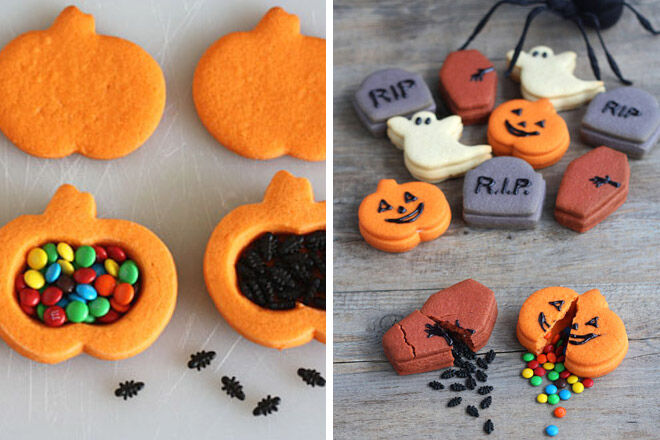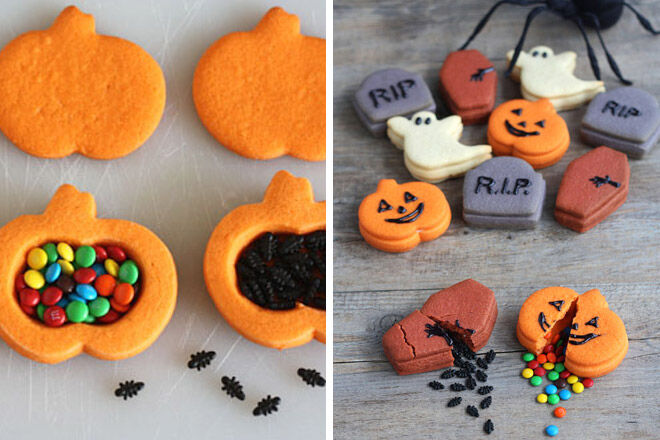 To really impress the gang, whip up these coffin, ghost and Jack O'Lantern piñata cookies. Loo paper on the front fence won't be the only surprise this Halloween – wait till your tyke cracks these open! (via Not Martha)
Go to your happy place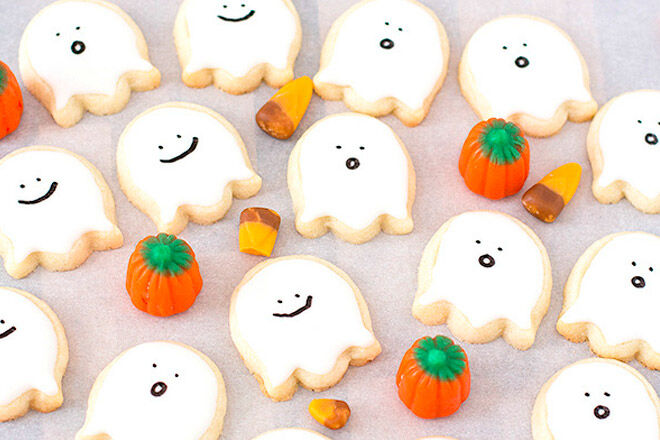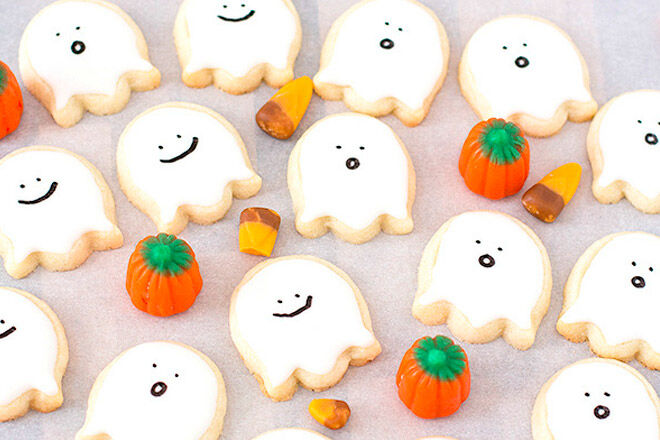 These little cuties are the emojis of the ghost world. Add your own expressions and your little one will be snack happy this Halloween. (via Sarah's Bake Studio)
Vintage treats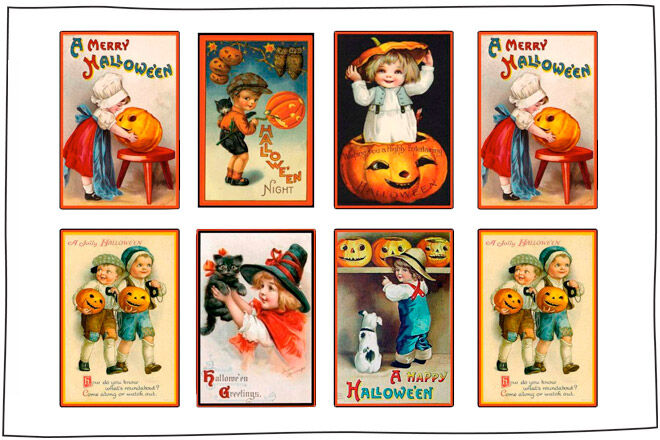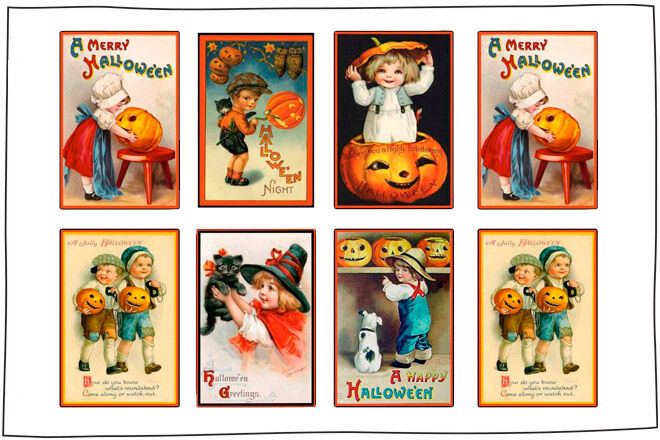 If drawing faces on cookies is outside your comfort zone, then these edible cookie toppers make it easy to impress. Just stick them to white icing and wait for the "oooos" and "ahhhhhs". (via Etsy seller TlcEdibles)
Peek-a-BOO!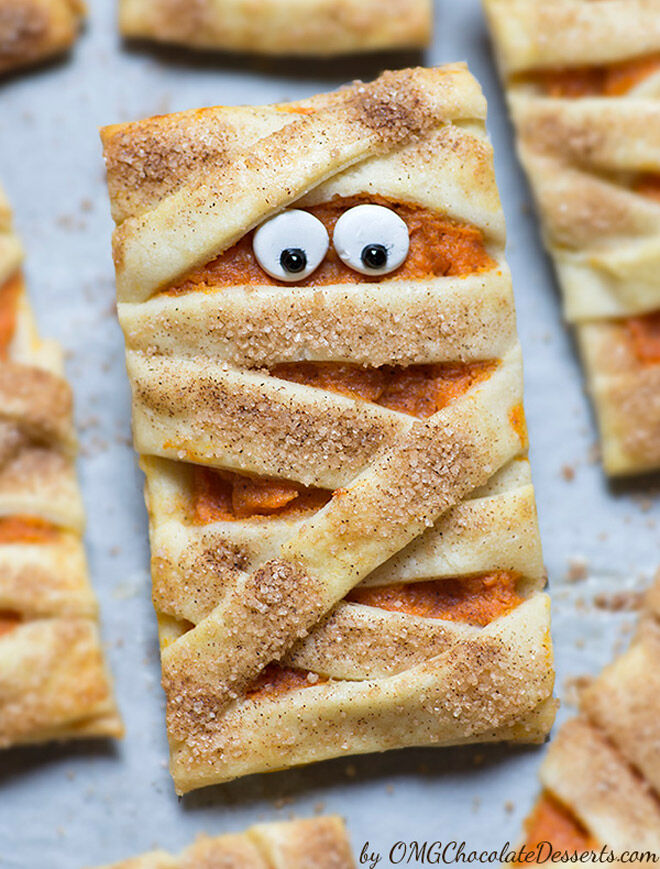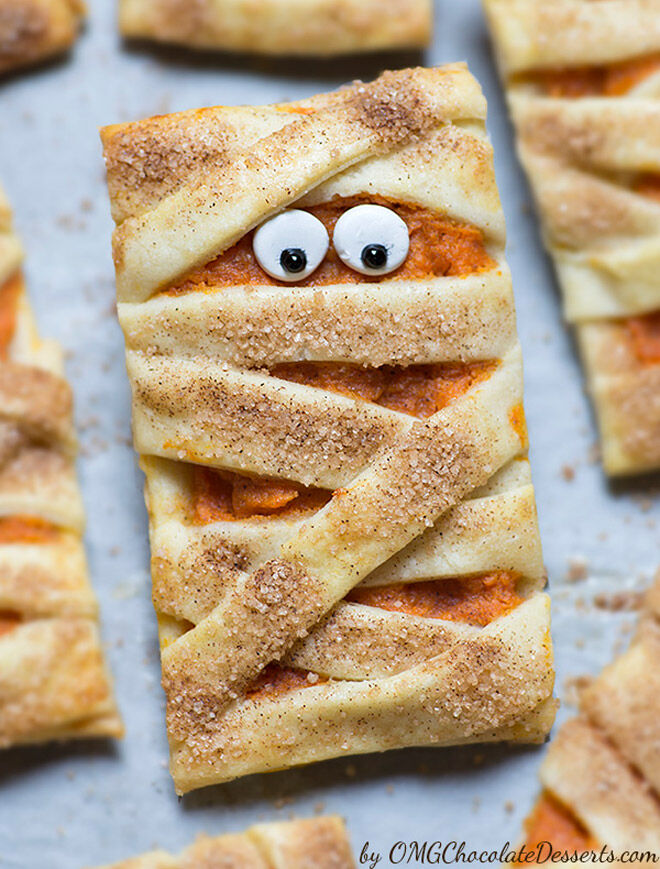 These mummy pumpkin cookies won't stay hidden in the crypt (aka pantry) for long. They're a fun twist on Halloween cookies and even include veggies. Shhhh! (via OMG Chocolate Desserts)
Home-grown delights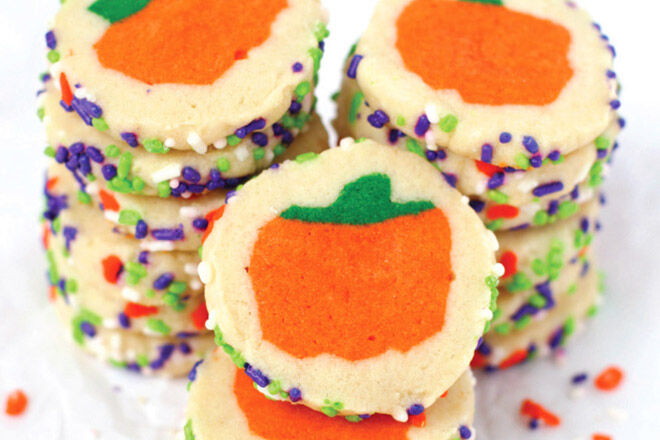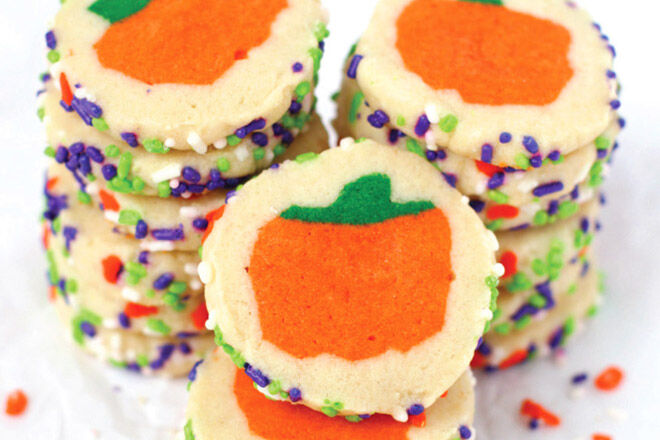 And speaking of pumpkins, these cookies are the cutest ones in the patch! With veggies on the inside (haha) and sprinkles on the outside, they're a treat from top to bottom. (via Mom Loves Baking)
Tiny terrors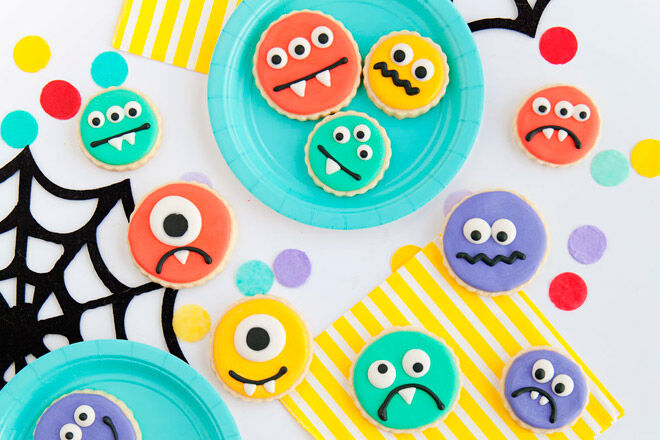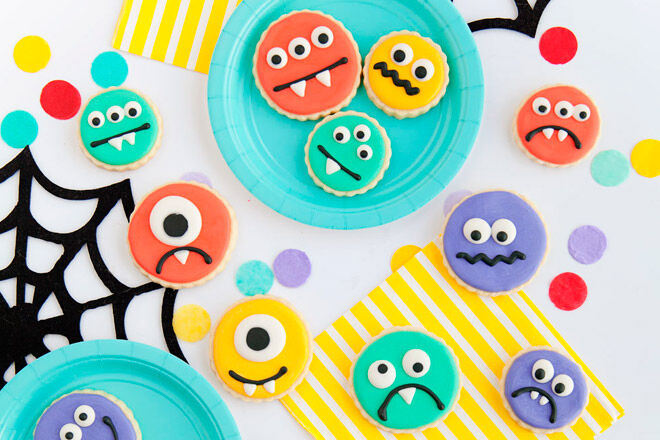 I spy with my little eyes (all three of them), something beginning with 'fun'. These DIY monster cookies are bright and cheerful, even if they're trying to look scary. (via Tell Love and Party)
Eerily easy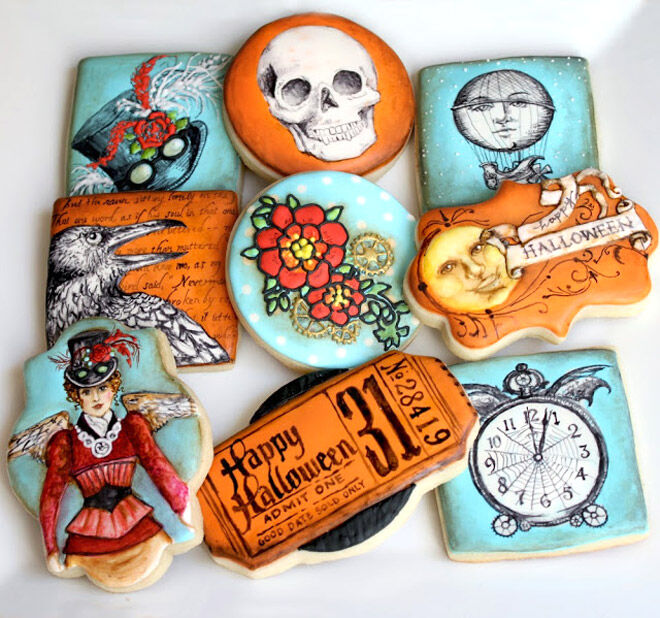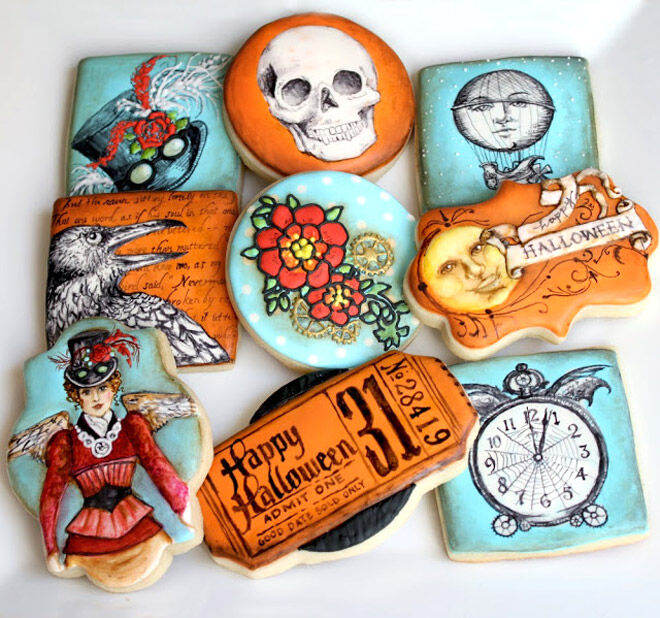 These cookies are a great design to pull out of your Halloween repertoire. Wait until your tyke is in bed, then let the spooky painting begin… Ah just tricking! Most home cooks will find these biccies a scary proposition, but it doesn't hurt to look. Feast your eyes on these creepy masterpieces! (via Arty McGoo)
Read more:
• 13 creep-licious Halloween cakes
• Insta crush // Baked Ideas
• 13 hair-raising Halloween party food ideas