Saltwater Coast Crocodile Park
Open wide, come inside! Your kiddo will be happy as a croc in mud at this water-themed Melbourne playground.
Getting there:
Corner of City Bay Road and Saltwater Promenade
Saltwater Coast
Point Cook VIC 3030
Just 20km from Melbourne's CBD, this wild playground is lying in wait for little people! Part of a $5.5 million wetlands upgrade, Saltwater Coast Crocodile Park is the place for splashy, sploshy fun in the sun, and slippy, zippy thrills on cooler days. And whether they're into water play, sand play or 'scaling a fort and pretending to be a crocodile handler' play, your junior explorer will be hooked on this popular park.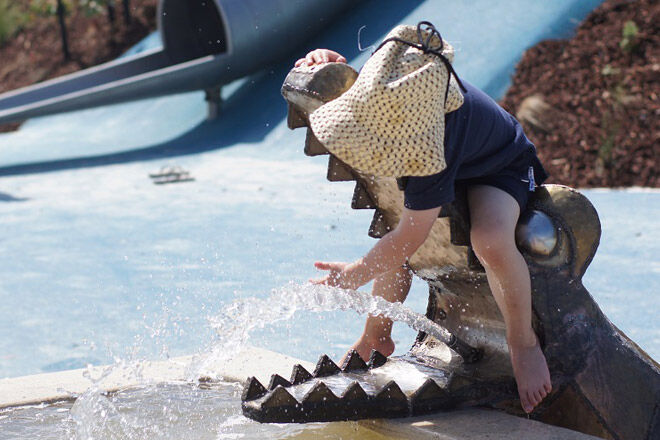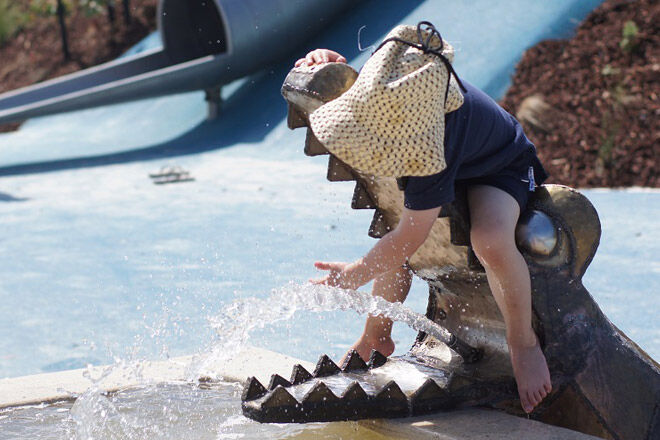 This playspace is based on Roald Dahl's book, The Enormous Crocodile and, chances are, your sprog will make a beeline for the bronze croc that's languishing in the 50m long watercourse.
In the book, this greedy, grumptious brute has a taste for little people, but the reptile here is content to spurt water out of his jaws, while your tyke gets snap happy at the water play trough or clambers on top of Mr Croc's head. Croc-handling has never been so accessible!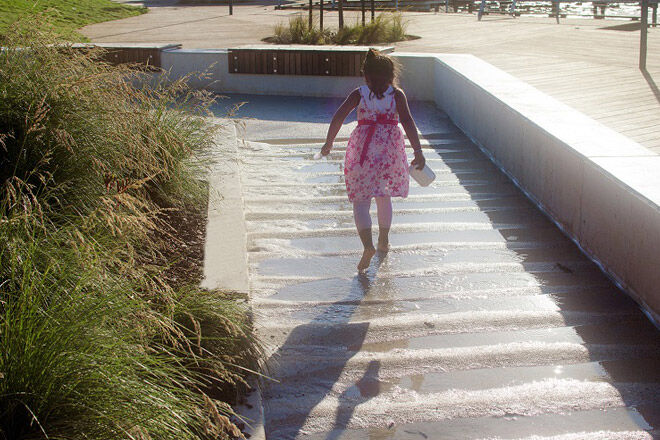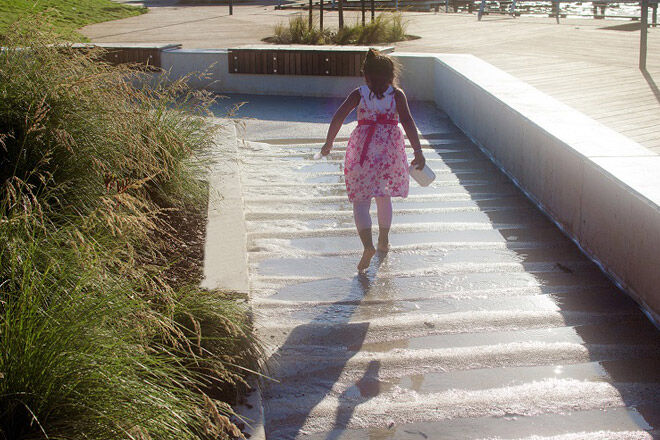 Your sprog can also walk on water in the rapids and step between stones in the shallows, before hearing the call of the wild sand. The expansive sand play areas are a treat for little feet, and little hands will love the sand buckets.
Your mini-mite can also get a feel for bark, grass, stone and wood at  Saltwater Coast Crocodile Park. There are narrow paths to explore and rocks to hop as your wee one springs ahead of the pretend reptile on their tail.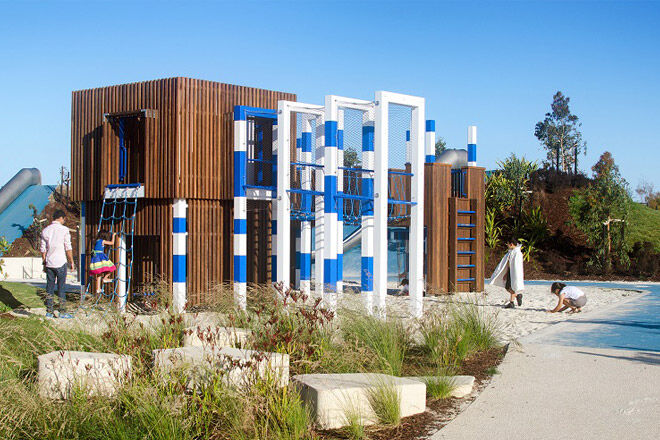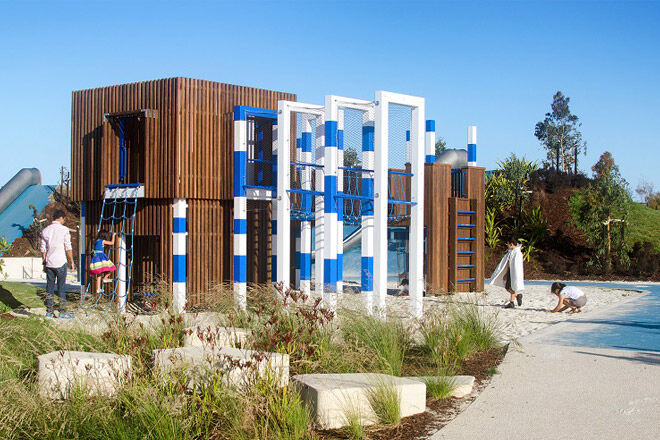 Then the adventure continues with the forts, rope bridges and two tunnel slides. Your mini-mite will have a smile as big as a crocodile as they scale the ropes and ladders, dig their teeth into the tunnel slides, then look for the lesser-known 'Melbourne monster-dilian' from the bridge beside the playground!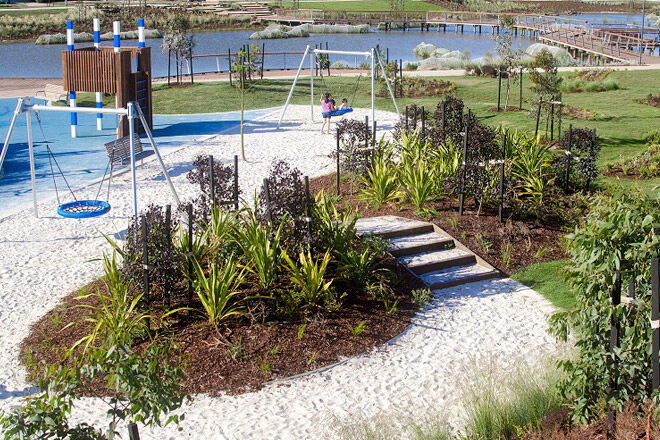 And that brings us to two bite-sized bits of house-keeping. This playspace is next to the water, so you'll need to keep an eye on small people. And speaking of H2O, Saltwater Coast Crocodile Park is a splash-tastic day out, so it's worth packing some spare clothes in case your tot gets wet from their toes to their snout.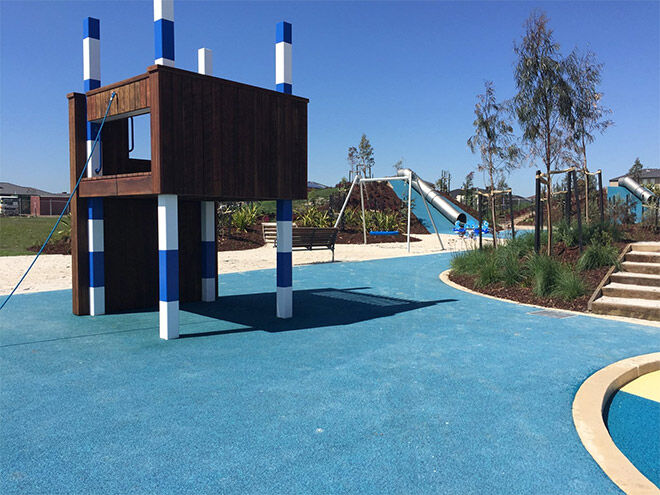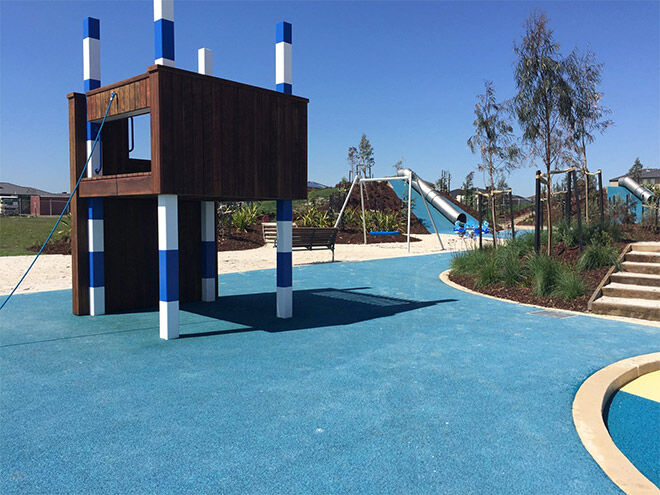 That said, this is a wild and wonderful playground. Your kiddo will get a giggle saying, "see ya later alligator, in a while crocodile!" at the end of playtime and then you might want to hunt for a snack. After all that action, your young'un will be hungry as a hippo… oops … crocodile, so make lunch snappy!