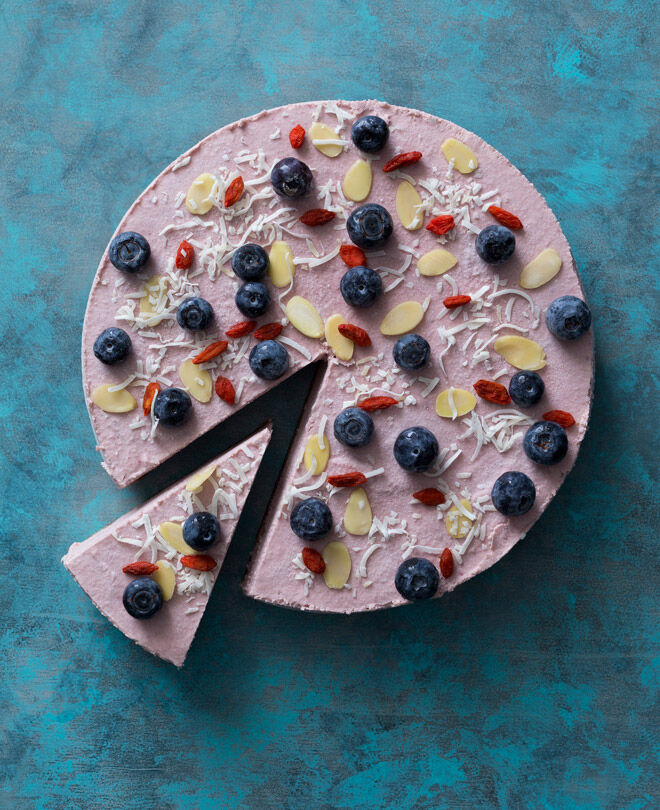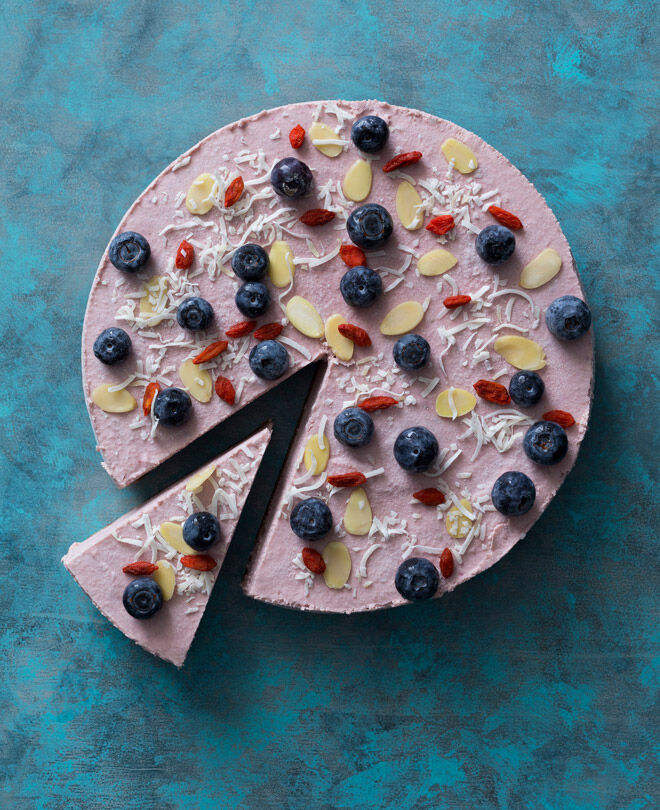 I almost squealed with yumminess (if that's possible!) when I saw this pic of the Thermomix raw strawberry cheesecake – food heaven here I come! Super delicious – and super easy – so I thought to tie in with our Thermomix vegetarian cookbook give- away, (don't forget to enter!) I should share the recipe with you! Sharing is caring after all!
We love the blueberries on top – but how pretty would it look with raspberries too! Ask your kiddos to help decorate and it's the perfect way to finish a Spring dinner! More please…
Ingredients (serves 12)
Base
130 g macadamia nuts
140 g pitted Medjool dates
70 g desiccated coconut
¼ tsp salt
Filling
400 g raw cashew nuts, soaked (1 hour) and drained
100 g lemons, flesh only
50 g pure maple syrup
120 g coconut oil
1 tsp natural vanilla extract
1 pinch sea salt
1 tsp balsamic vinegar
120 g water
250 g fresh strawberries
40 g fresh blueberries for garnishing
1 tbsp goji berries for garnishing
1 tbsp flaked almonds for garnishing (optional)
1 tbsp shredded coconut for garnishing
Useful items
springform cake tin (22 cm)
Thermomix parts
spatula & measuring cup
Method
Base
Place all base ingredients into mixing bowl and blend for 20 sec/speed 9, until well combined and forms a moist dough. Press mixture into springform cake tin (22 cm) and place into freezer while you make filling. Clean and dry mixing bowl.
Filling
Place cashews, lemon flesh, syrup, coconut oil, vanilla, salt, vinegar, water and strawberries into mixing bowl and blend for 1 min/speed 9 , or until smooth and creamy.
Pour filling over base and decorate with berries, almonds (optional) and shredded coconut. Place into freezer to set for a minimum of 6 hours or overnight.
Place cake into refrigerator to soften for 30 minutes, then remove from tin and transfer onto a serving platter to serve.