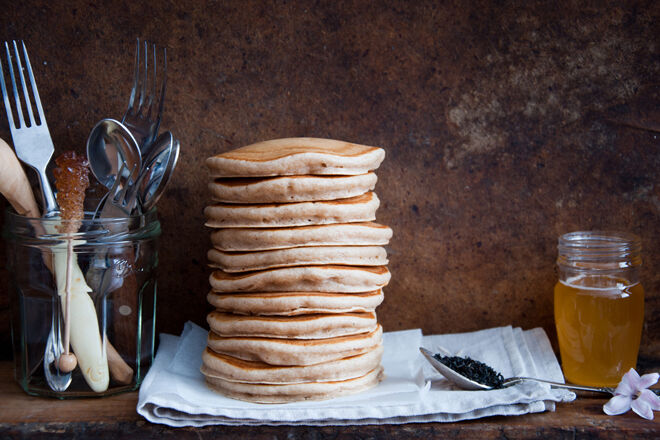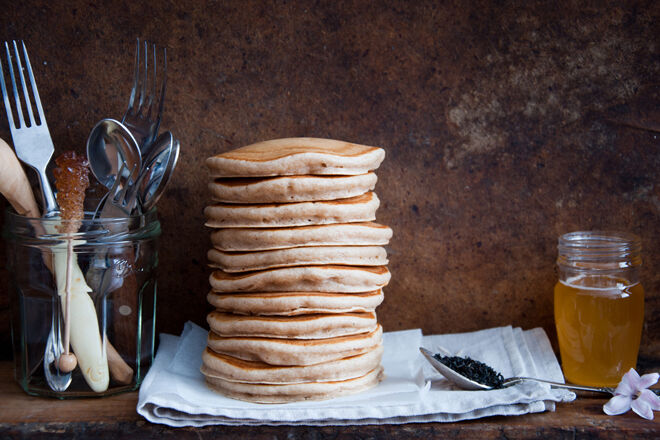 Afternoon tea seems to be coming more popular (frequent!) at our house – it's the usual 4 o'clock call  – "Mum, I'm hungry!" I make a batch of these super yum wholemeal pikelets using Bill Granger's recipe from Bill's Food (one of my fave food bibles!) so they are always on hand…. whether it's for afternoon tea, or let's try morning tea and brekky too!
Bill suggests serving them with butter, lemon juice and sugar but bananas and maple syrup are pretty nom, nom too! Add some walnuts for added crunch… and there's afternoon tea sorted!
Ingredients (makes 12)
25g (1 cup) wholemeal plain (all-purpose) flour
2 teaspoons baking powder
2 tablespoons raw sugar
1 egg, lightly beaten
170ml (2/3 cup) milk
Butter, for greasing the pan
Method
Step One: Sift the flour and baking powder into a bowl. Add the sugar and stir to combine. Add the egg and milk and whisk until smooth.
Step Two: Heat a large non-stick frying pan over a medium heat and brush with butter, being careful not to let the butter brown.
Step Three: Spoon tablespoons of mixture into the pan and cook for about 2 minutes, until bubbles appear on the surface.
Step Four: Turn the pikelets over and cook for another 30 seconds. Transfer to plate and keep warm.