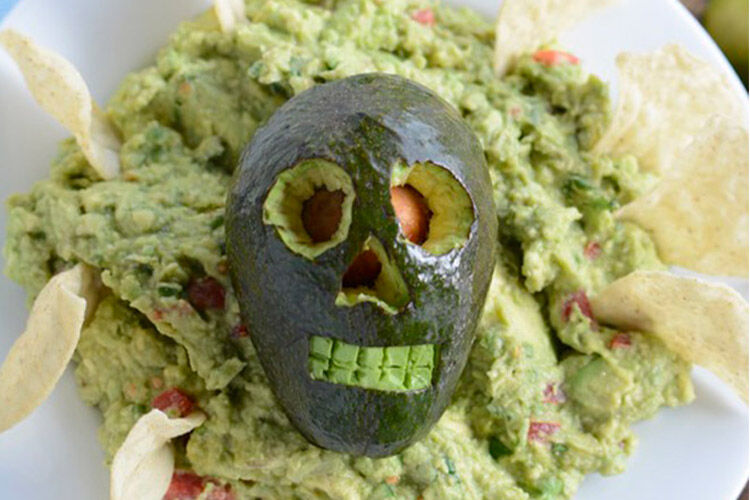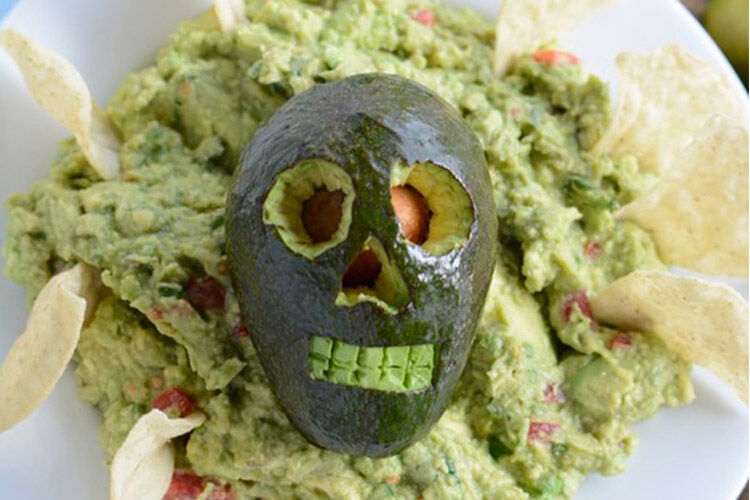 Unleash the fruit and raise the veg, because it's freakishly fun to make healthy Halloween food! Whether you're mummifying raisin packets, conjuring up edible broomsticks or spookifying spuds, your tiny terror will be keen to dig their fangs into these scarily nutritious snacks.
Here are 14 healthy bites for fright night.
Room on the broom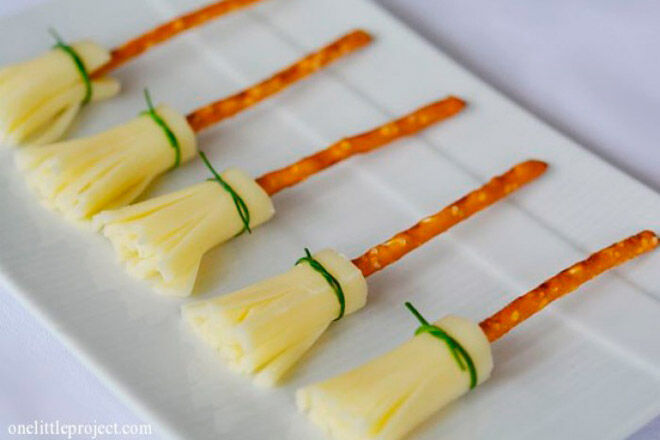 Abracadabra and zippity zoom, whip up a plate of edible brooms! Little witches and wizards will think these pretzel, string cheese and chive broomsticks are magic. (via One Little Project)
Speaking of magic…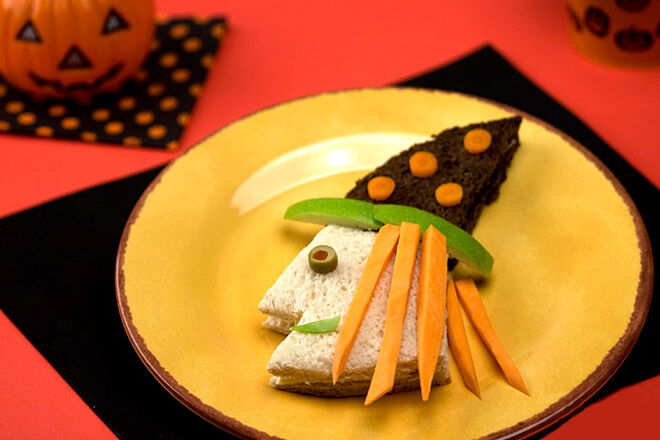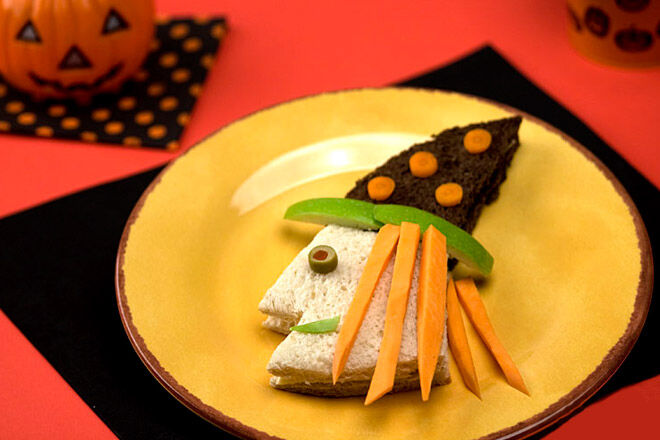 Your kidlet will be spellbound by this sand-witch made of dark and light bread. With a pointy hat and carrot hair, they'll be cackling their way through lunch. (via Ziggity Zoom)
Citrus carving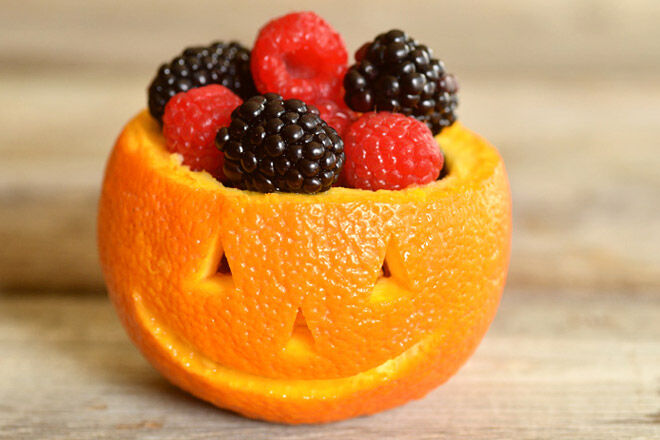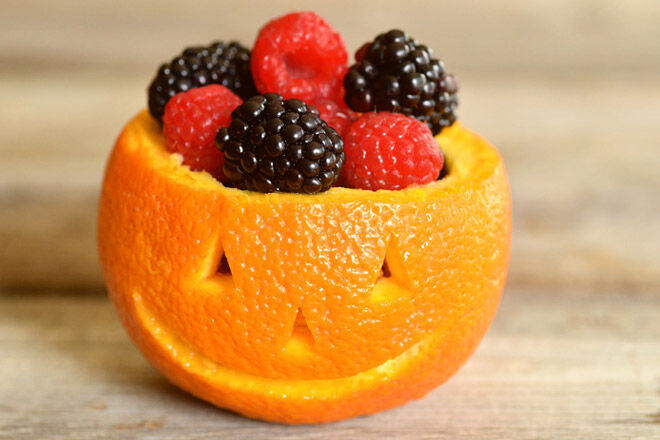 These Jack O'Lantern fruit cups are loaded with colour, flavour and vitamins, so they'll bring a smile to everyone's dial. Plus, they're a lot easier to carve than pumpkins. P-H-E-W. (via Intimate Weddings)
Spook-tacular fruit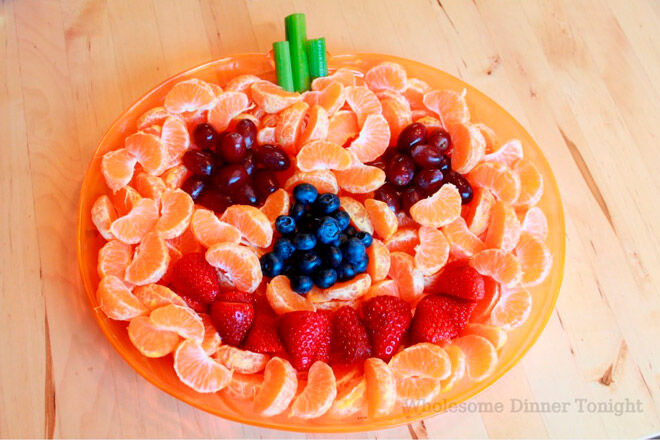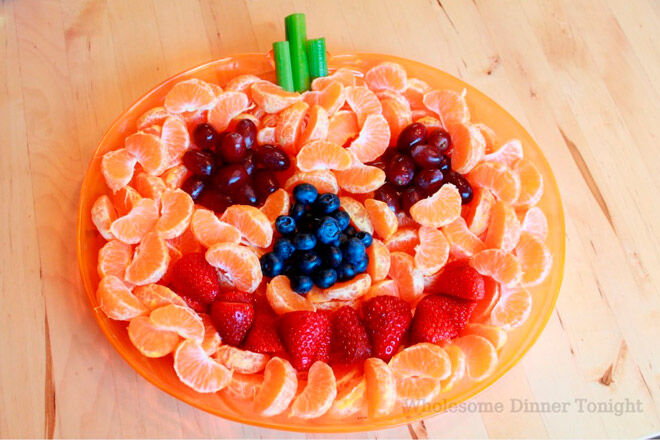 A Jack O'Lantern fruit platter is another way to make citrus and berries look a-peeling. Your tot can help and if you want some crunch in your munch, substitute the fruit with raw veggies. (via Wholesome Dinner Tonight)
Soup-ernatural noodles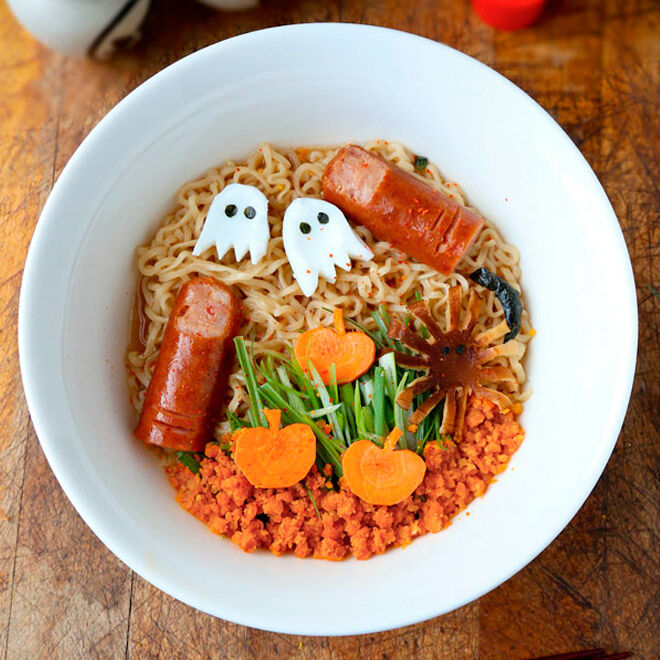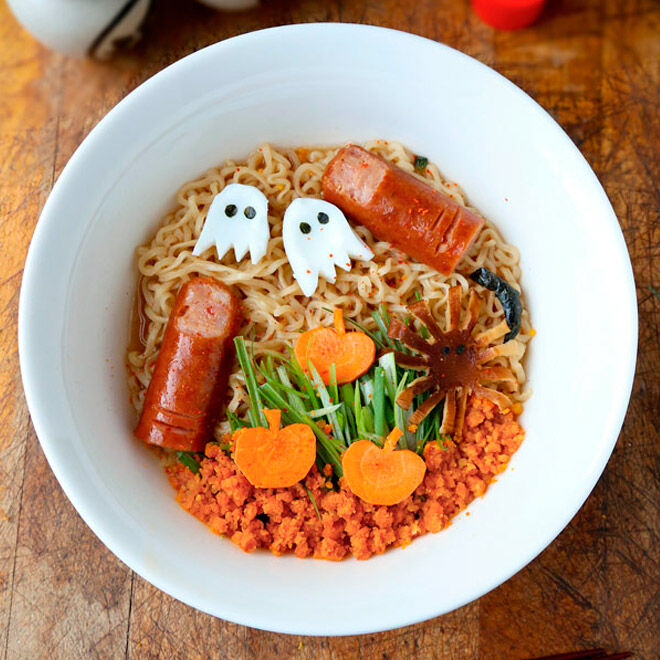 Kids love slurpy, slimy noodles, so why not go all out with Halloween ramen? Using sausage fingers, egg white ghosts, carrot pumpkins and egg yolk 'dirt', this meal is freakishly tasty. (via Pickled Plum)
Skull-dippery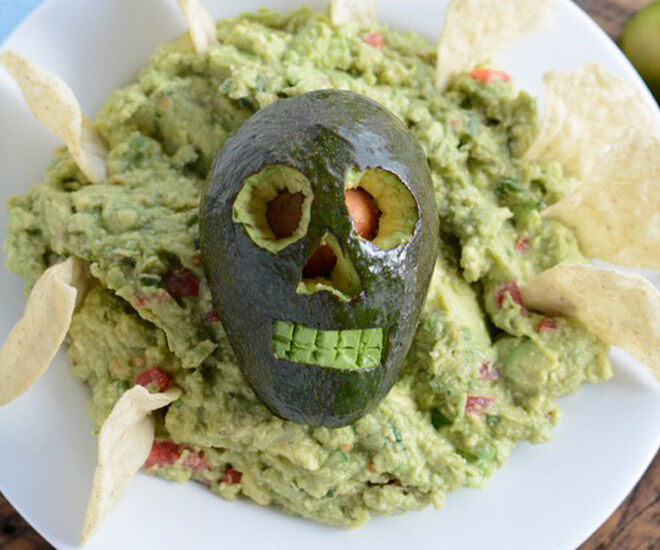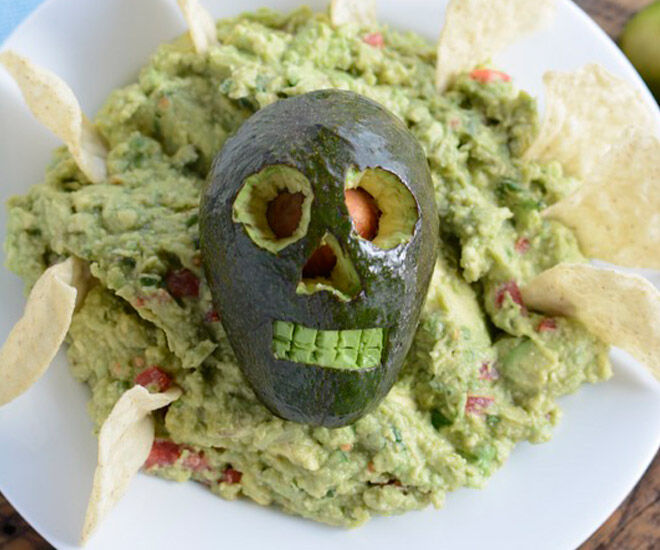 Avocado is a superfood and this holy skull-y guacamole is super spooky! Rattle your finger bones making this eerily excellent dip. Yum. (via NoBIGGIE)
Scary smoothies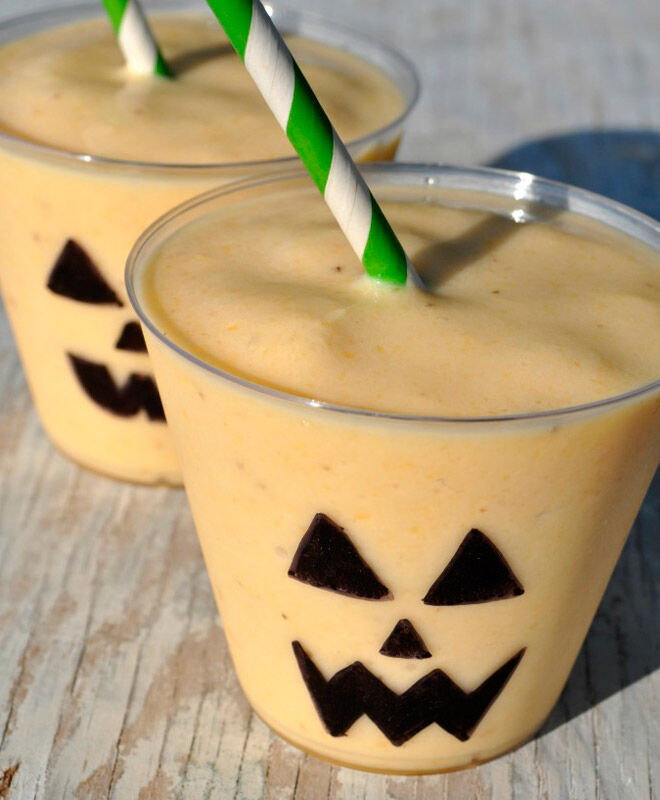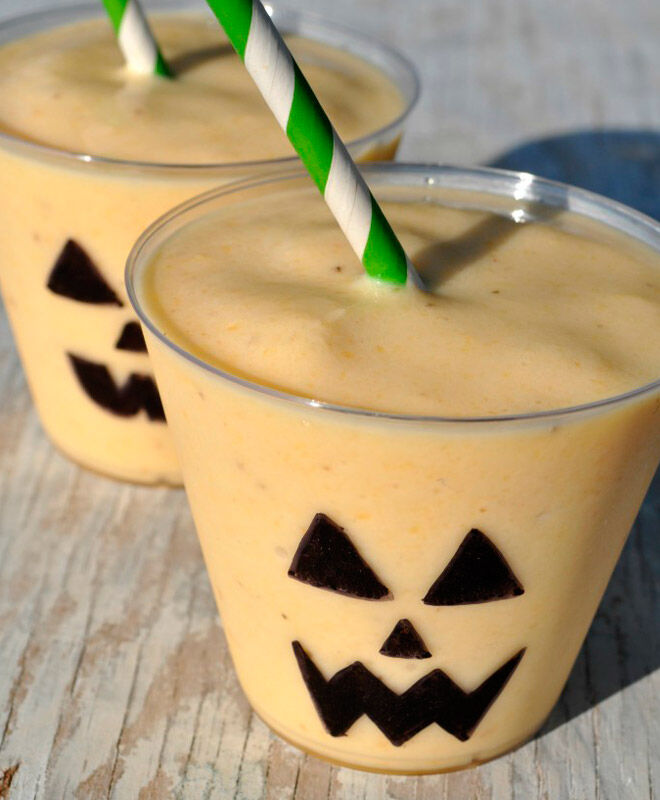 These Jack O'Lantern smoothies are just peachy! Actually, they're orangey, banana-y and peachy. Draw a pumpkin face on the cup, add a green straw 'stem' and this fruit smoothie is ripe for the sipping. (via The Seasoned Mum)
Creepy-crawlies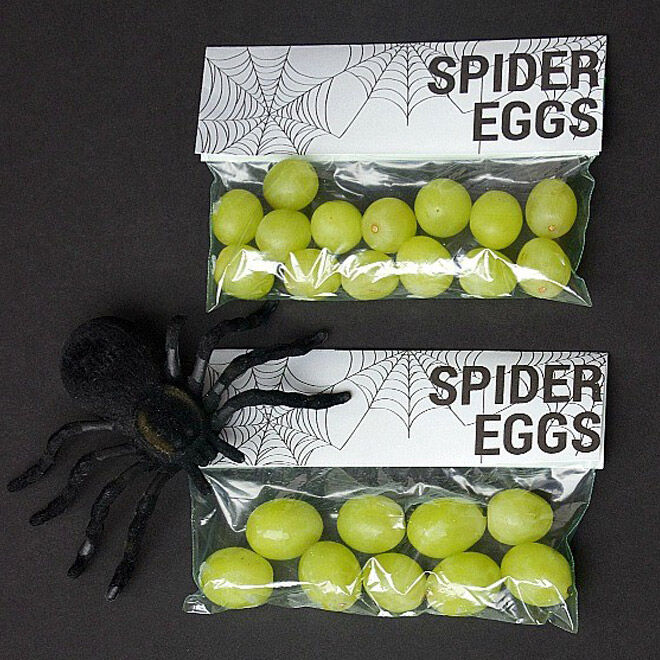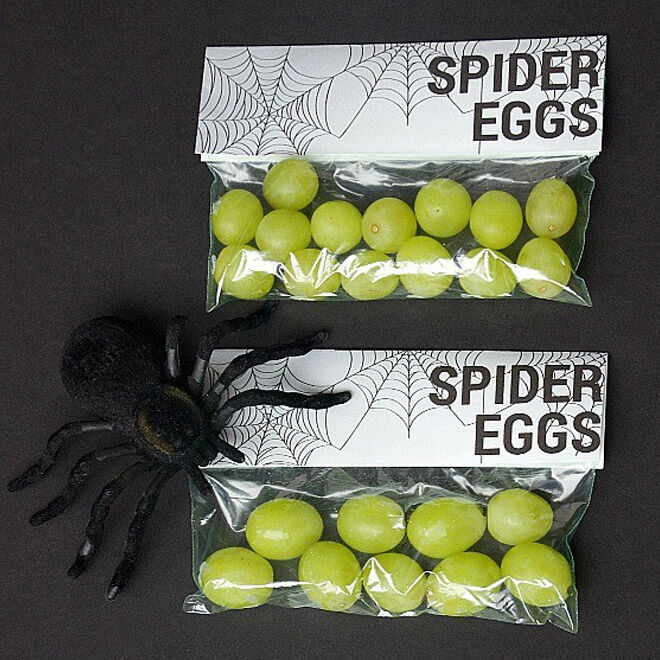 To put spider eggs on the menu, just add a little bit of creative packaging. After all, grapes are great, but spider eggs are creep-alicious! (via Meaningful Mama)
Spooky spuds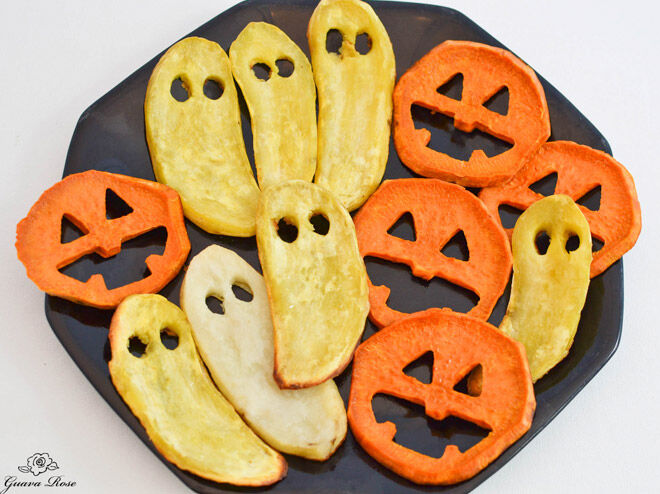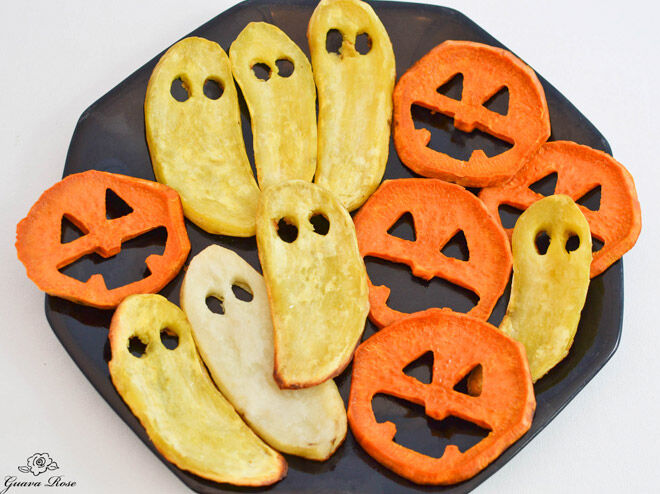 White and orange sweet potatoes transform into ghostly ghouls and grinning Jack O'Lanterns with a little roasting. It's getting hot Halloweeny in here! (via Guava Rose)
It's a wrap!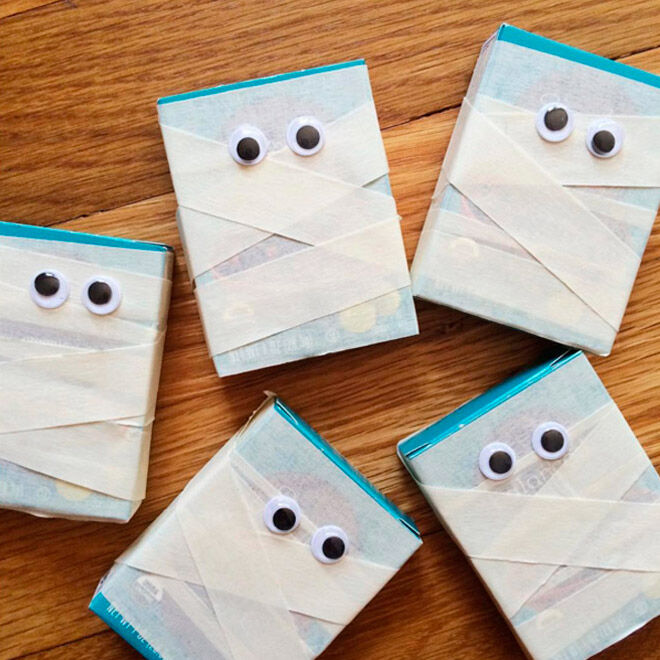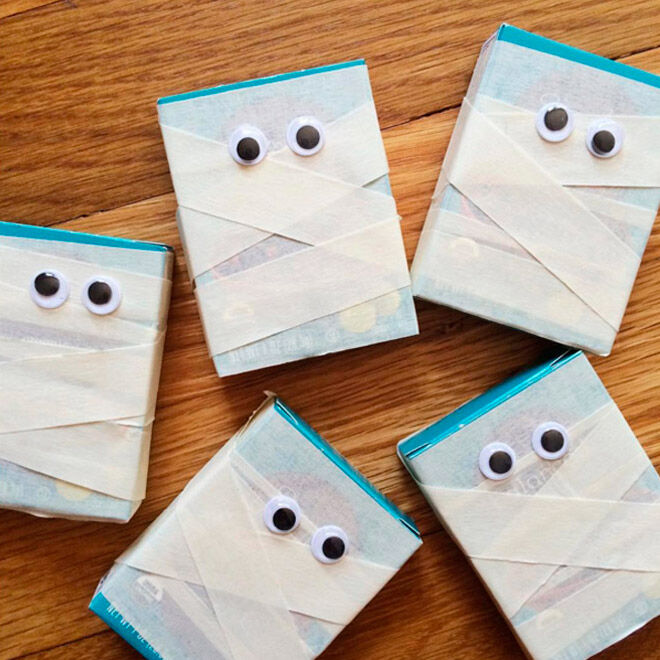 Mummy raisin boxes are fun to make and can be laid to rest on a buffet table, buried in favour bags or unwrapped when trick or treaters come a-knocking. (via C.R.A.F.T.)
A gathering of ghouls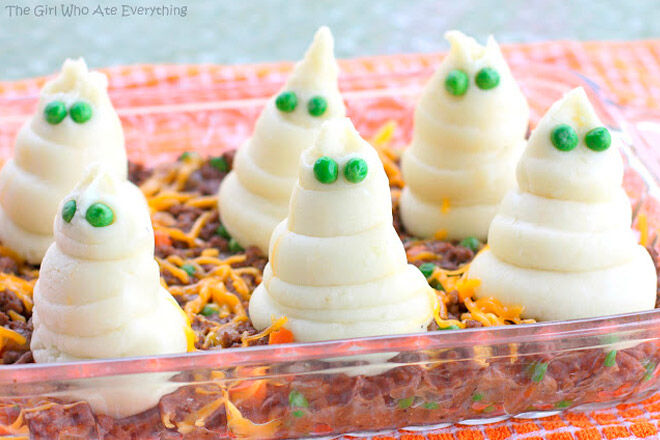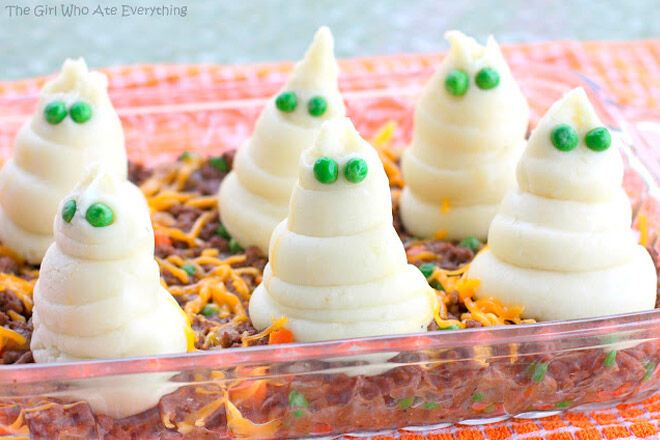 Spooky shepherd's pie is a boo-tiful (and hearty) Halloween dish. Pile the mash high and a gang of ghosts will appear before your family's eyes. (via The Girl Who Ate Everything)
Freaky fruit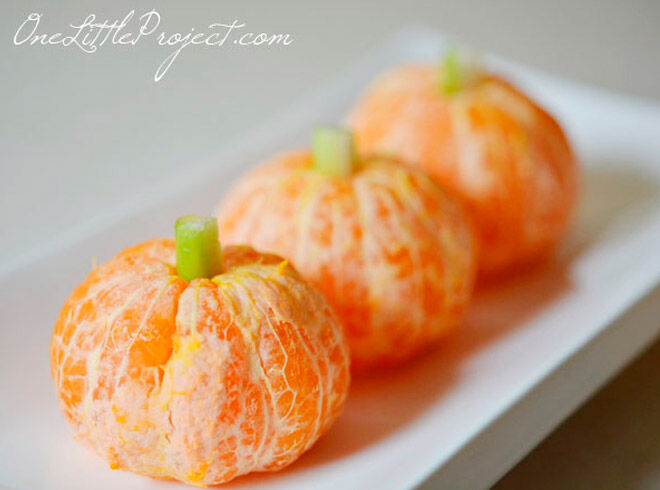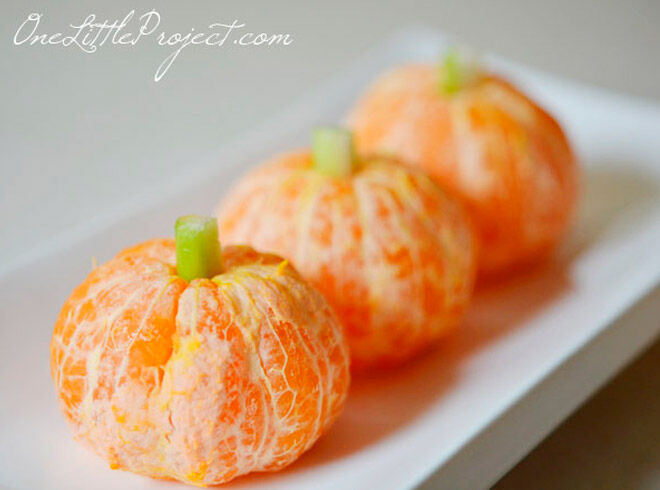 Mandarin pumpkins are easy to make and work a treat on Halloween. Stick celery in the top for a stalk and pair the 'pumpkins' with ghostly bananas. (via One Little Project)
Sushi monsters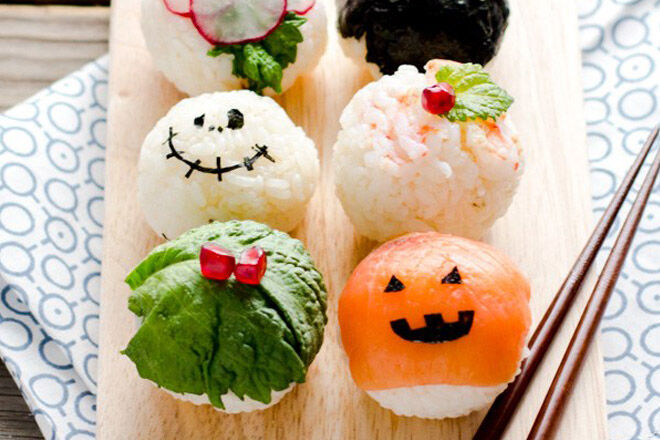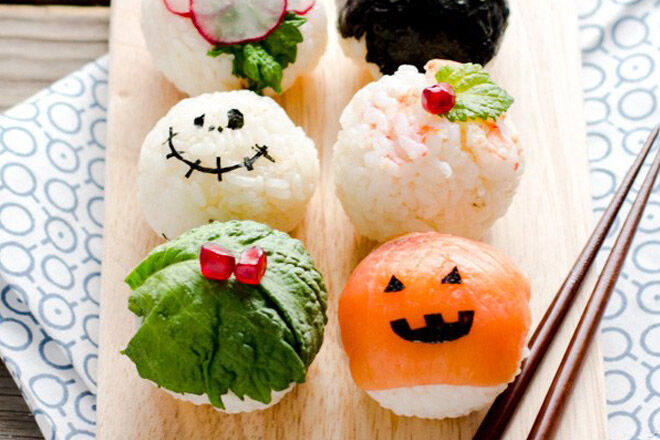 For a Japanese flavour, roll out the sushi balls this Halloween. Use seaweed to create black cats and scary faces for the kids, then treat the grown-ups to mini-pumpkins made of salmon sashimi. (via Chopstick Chronicles)
Eerily egg-cellent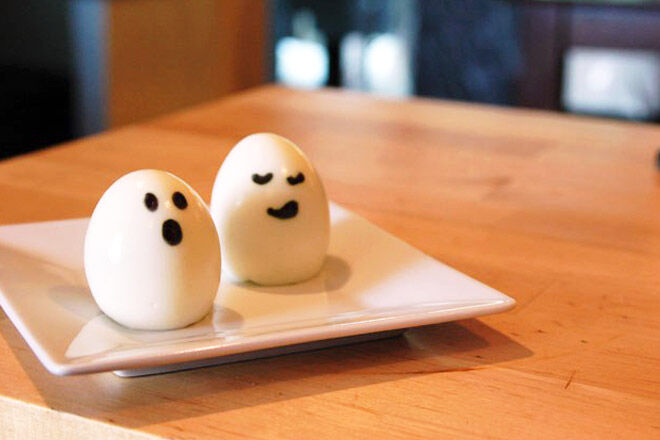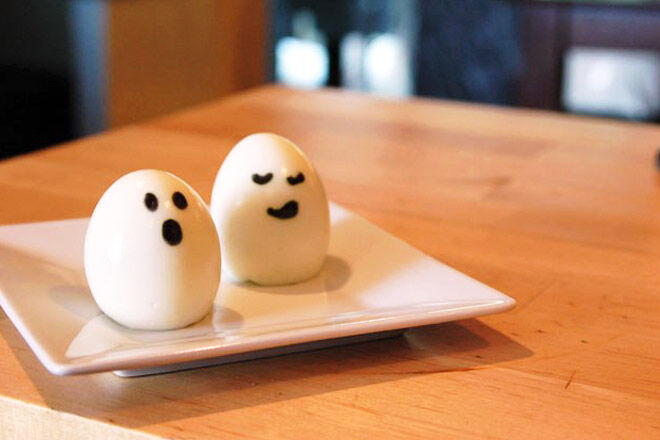 Crack out a Halloween surprise with boo eggs! Just hard boil some eggs, then use a frosting pen to draw on Dracula faces, Frankenstein faces and, of course, ghost faces. (via Right Start Blog)
---
FIND MORE:
Halloween food ideas
14 healthy Halloween treats for tiny terrors
13 spook-tacular Halloween party ideas!
13 hair-raising Halloween party food ideas