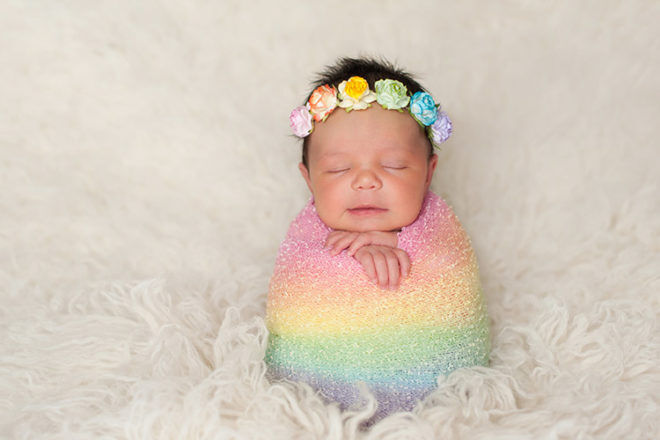 So, the combi van was a-rockin' and now you're looking for a hippie baby name for your lil' mung bean… well, you're in luck because we've gathered 21 of the coolest hippie names, inspired by the 1960's flower power era. Peace out, mamas.
Aura: Your lil' angel is sure to have a bright and beautiful aura with this name.
Aquarius: It's the age of Aquarius! Well, not really, but it would be a cool name for your tiny hippie.
Daisy: A pretty floral baby name for your sweet flower child.
Dawn: The magical part of the day, when the sun rises, also makes for a magical moniker.
Donovan: Why not be inspired by 1960's musician, Donovan, who made famous hippie songs such as, Mellow Yellow.
Harmony: May your poppet only sing in harmony and never cry out of tune!
Hendrix: Taking surname as first name inspiration via 60's rock icon, Jimi Hendrix.
Maya: 'Maya' means love in Nepalese – perfect for your little love muffin.
Meadow: What could be more hippie than a name inspired by the fields where you spend your days picking flowers to wear in your hair?
Ocean: From the Greek name for a Titan in mythology, 'Okeanos'; it's also pretty darn expansive, covering over 70% of the earth's surface.
Peace: Perhaps an oxymoron for most parents, it is still the ultimate dream. Peace, mama.
Phoenix: This name references the mythical bird that rises from its own ashes, symbolizing a new beginning.
Rebel: At a time when women were burning bras, Rebel seems like an inspired moniker!
River: We love this name, and so did Jules and Jamie Oliver who gifted it to their fifth child.
Saffron: The world's most expensive spice also happened to be a very popular name in the 60's.
Serenity: A virtuous name, meaning serene and calm. The mantra does suggest to ask, believe and receive. Our fingers are crossed for you!
Sky: It is said that people born into this name tend to share a deep desire for travel and adventure, and prefer a life without tradition. Also spelt, Skye.
Skylar: Meaning eternal life and strength, this name could also be gender neutral if you are keeping bub's gender a surprise.
Sparrow: Joel Madden and Nicole Richie called their son Sparrow – fly high little bird, fly high!
Wren: (Pronounced Rhen) Another nature-inspired name, the wren is considered the most sacred bird in many cultures.
Ziggy: This German name gained traction when Bob Marley gifted it to his son Ziggy Marley, back in 1963.
---
FIND MORE: baby name inspiration
23 vintage baby names making a cool comeback
Oh my stars! 21 celestial baby names
Celebrity baby names: the weird and the wonderful
---