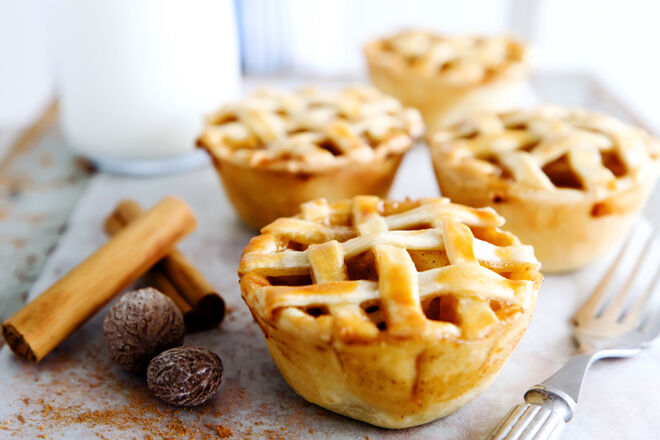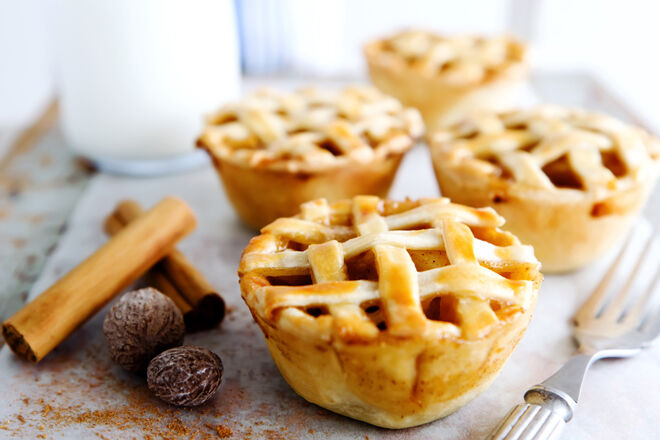 Classic, delicious apple pie is always a family favourite. Cinnamon mixed back with super sweet apples and icecream (vanilla of course!) pretty much guarantees "can I please have some more" second helpings!
These gorgeous little pies are based on Stephanie Alexander's Classic Apple Pie recipe; add in some sultanas, a little pinch of nutmeg and decorate the top layer of delectable pastry with a criss-cross hatch pattern and dessert's looking – and tasting- scrumptious! Ask your junior chefs to help with the mixing and they'll be eating up every last skerrick on their dinner plate before you know it!
Ingredients (makes 6)
1 quantity Lard Pastry (recipe in the Cook's Companion App or book)
2 tablespoons cornflour
1/4 cup brown sugar
1 teaspoon ground cinnamon
1/2 teaspoon ground nutmeg
800g eating apples (golden delicious are great), peeled, cored and thinly sliced
1/2 cup sultanas
grated zest of 1 small lemon
1 egg, lightly beaten
pinch of salt
Method
Step One: Preheat oven to 220°C. Roll out half the pastry to a thickness of 5 mm and use to line 6 x 1 cup pie dishes.
Step Two: Mix cornflour, sugar and cinnamon in a large bowl. Tip in apples and sultanas, then sprinkle over lemon juice and scatter in lemon zest. Mix well using your hands.
Step Three: Divide apple mixture into 6 equal portions and pile into the pastry-lined dishes. Combine egg and salt to make a glaze. Brush edge of pastry with some of the glaze.
Step Four: Roll out remaining pastry and cut into 1 cm wide ribbons. Drape in a criss cross pattern over apple filling. Press to seal edges well, then trim, leaving a 1 cm border of pastry. Pinch edges together firmly. Brush top of ribbons with remaining glaze.
Step Five: Put pie dishes on a baking sheet and bake for 20 minutes. Reduce oven temperature to 180°C and cook for a further 25–30 minutes until well browned. Allow to cool a little and serve with icecream.