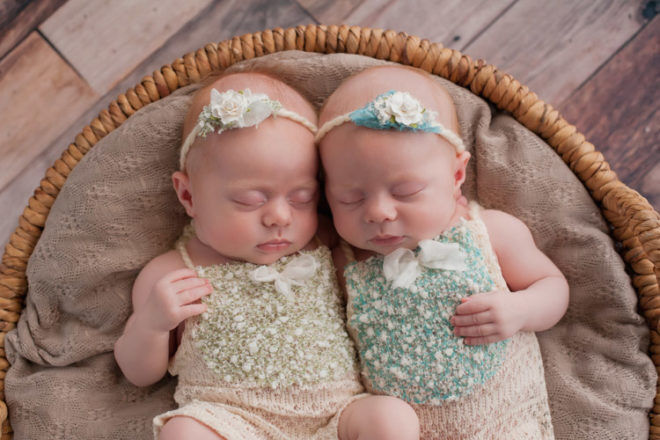 Ring a ring o' roses, a pocket full of posies, a-shortlist, a-shortlist, write these names down!
Baby names based on flowers and plants are perennially popular. With classics like Daisy and Rose springing back into favour for girls, and exotics like Alder and Calix opening up for boys, there is inspiration to be found in florists, gardens and the great outdoors.
From Azalea to Zinnia, here are 47 botanical baby names that are the pick of the bunch.
Botanical baby name inspiration
Alder: Branch out with this unique boy's name. It has hints of the alder tree, which is used to make electric guitars.
Alyssa: This popular name is related to the flower, alyssum. It also means 'noble', so achieves high praise for baby girls.
Amaranth: With a herby flavour and bright fuschia flowers, Amaranth is both a beautiful plant and girl's name. Ammy or Mara are friendly shortenings too.
Ash: This unisex name is derived from the ash tree and has an easy, breezy sound. With Asher and Ashton for boys, and Ashley or Ashlee for girls, it's shhhh-ure to be a hit.
Aspen: This unisex name is shared by a poplar tree with heart-shaped leaves. With a cool Colorado feel, Aspen makes a trendy naming destination.
Aster: Meaning 'star', this girl's name is also a colourful, daisy-like flower. Twinkle with Aster or try Astor or Astera for a point of difference.
Azalea: Evocative of the bright pink flower and Australia's own Iggy Azalea, this name is pretty and strong for a little girl.
Bay: With roots in ancient times, the bay tree is renowned for its flavour, courtesy of bay leaves. As a unisex name, Bay infuses a laid-back feel for boys and girls.
Calix: This boy's name channels the word 'calyx', which is the funnel-shaped part of a flower. It's a strong and subtly floral name for little gents.
Camellia: This name adds a perfumed scent to Amelia. And with variants like Camelia, Kamelia, Camela, Kamellia and Camallia, this moniker offers a field of choice.
Dahlia: This girly name is elegant and flowery, and Dalia is an equally chic alternative.
Daisy: Originally a nickname for Margaret, this pretty girl's name has bloomed in recent years. Indeed, Meg Ryan and Jamie Oliver have both chosen Daisy for their daughters.
Diantha: This is the mythological flower of the Greek god, Zeus. With a 'same but different' feel to Diana, it can also be spelt Dianthe.
Evanthe: Also with a Greek origin, Evanthe means 'fair flower' and is a feminine name reminiscent of Xanthe.
Fleur: This French name means 'flower' and brings a certain je ne sais quoi to an English girl's moniker. Flora and Fiorello are lovely too.
Florin: For boys, Florin has found popularity in France, and can be considered alongside Florian. Both names mean 'flowering'.
Freesia: This girl's name has a free-spirited feel and a whiff of the exotic.
Hana: In Japanese, 'hana' means 'flower' and this name is a short and sweet alternative to Hannah.
Heather: Heather's popularity has slid since the heady days of the 1989 movie, Heathers, however this English botanical name still sounds soft and lovely.
Iris: This floral girl's name means 'rainbow' and it has regained some popularity since its heyday in the Thirties. Jude Law and Judd Apatow both named their daughters Iris.
Jacinda: Meaning 'hyacinth flower', this girl's name stems from the Spanish and Portuguese name, Jacinta. For an Italian and Greek origin, look to Giacinta.
Jasmine: This popular girl's name can be traced back to ancient Persia and is full of perfumed connotations. Yasmin, Yasmine, Jessamine and Jazmin are a bunch of Jasmine variants.
Jonquil: This unusual flower name first sprouted up in the 1940s and is in bloom for girls.
Liliane: This is the French variation of Lilian and makes a fresh change from Lily. Lilias is another pretty take on this floral name.
Lotus: Doubling as a flower and yoga position, this is a graceful and exotic girl's moniker.
Leuka: For a twist on Luka and Luca, draw inspiration from the Australian 'melaleuca' plant with Leuka or Leuca.
Linden: This tree name was popular for boys in the 1930's and 60's. It's now good for girls as well, and can be spelt as Lyndon for little lads.
Marjoram: For an unusual name wth usual shortenings (like Margie and Jo), Marjoram makes an interesting choice for girls.
Petal: Jamie Oliver's daughter is called Petal, and this name is a soft and delicate choice.
Reed: With an urbane, yet natural feel, this unisex name can also be spelt as Reid.
Rose: This classic moniker has had a modern revival and brings a host of pretty alternatives with it. Rosie, Rosa, Rosamund and Rosalind are all delicate delights for a daughter.
Rosella: Rose is a classic English country garden name, and Rosella adds an Australian twist for girls. Afterall, the rosella is a native flower (and colourful bird).
Rowan: This Celtic name is also a tree with red berries, so it makes a great match for little redheads. More popular for boys than girls, Rowan can be spelt as Roan or Rowen too.
Sequoia: This redwood tree is a unique name for boys and girls. Sequoia has a slightly more girly feeling, and Sequoyah is a little more masculine.
Sorrel: This fragrant herb has a sharp taste, but a smooth sound for boys and girls. For lads, it can also be spelt Sorrell or Sorrel.
Themeda: This kangaroo grass has spiky flowers, but as a baby name it breezes between whimsy and wonder. 
Tulip: Far less common than Daisy or Rose, Tulip is a Turkish flower name evocative of Holland; making it both unusual and pretty for girls.
Valerian: For boys, this is the name of a dreamy plant and a Roman emperor. It means 'strength' and 'health'; and Game of Thrones fans will find inspiration in 'Valyrian steel' too.
Zinnia: Providing a burst of colour and a sunny feel, zinnia is a happy flower and a delightful girl's name.
Celebrity babies with botanical names
Bluebell: Geri 'Ginger Spice' Horner bestowed this name on her daughter and it blends a flower name with a colour name to create something beautiful.
Forest Sage: We've got all the woodland feels with this botanical name. Actress Teresa Palmer and husband Mark Webber have got their son's name down pat in the earthy stakes.
Lily-Rose: With a double-dose of floral, Johnny Depp and Vanessa Paradis' daughter has a name that is both timeless and romantic.
Olive: Drew Barrymore and Isla Fisher both chose the strong and earthy Olive for their daughters. Drew said: "I was reading a book with my husband. I was three months pregnant and they said your baby is the size of an olive, and that was it. We never looked back."
Posey: Why name your daughter after one flower when you can name her after a whole bunch? YouTubers Cole and Savannah LaBrant named their daughter Posey which is too-cute.
Primrose: Footballer Tom Hawkins and his wife Emma have chosen this sweet botanical moniker for their second daughter. It's also the name of Gaz Beadle and Emma Mcvey's daughter.
Violet: Combining a colour and a flower, this purplish moniker is pretty and popular. Choose Viola for a Scandi and Italian twist, or join Jennifer Garner in picking Violet.
Willow: Will Smith and Jada Pinket Smith drew inspiration from their own names when it came to naming their kids. With a daughter called Willow and a son called Jaden, the family is all mixy-matchy.
---
Find more baby names …
Trying to choose the perfect baby name for your little one? Find hundreds of inspirational and unique baby names in these next articles:
Join our Facebook groups
Join one (or four!) Mum's Grapevine Facebook groups and chat with other mums due at the same time as you. We have over 20 groups to join!
Click here >> Mum's Grapevine Facebook Groups << and find your group today!