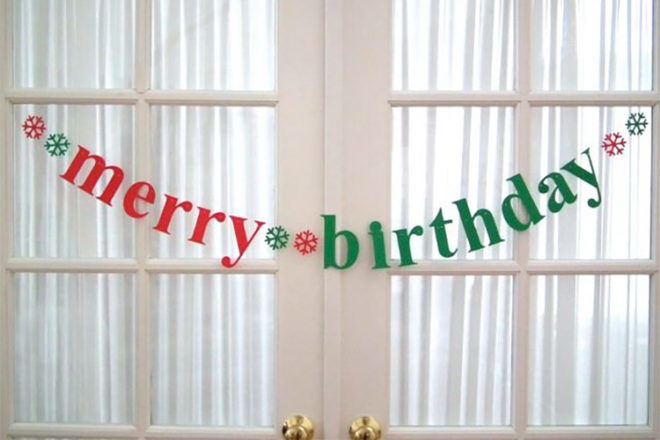 Deck the halls with balloons and lollies! Birthdays for kids born on December 24 (or thereabouts) can often be swept up in the excitement of Santa's arrival (only 1 more sleep!) and trimming the tree rather than hanging streamers and blowing out the candles on their cake.
Everyone deserves special attention on their birthday, and to make sure kids born on the 24th December aren't wrapped up in Christmas festivities or buried under tinsel, we asked the amazing Mum's Grapevine Facebook community for bright and sparkly tips for celebrating a Christmas birthday.
Hip hip and ho-ho-ho-ray!


1. Seperate presents
Two-for-the-price-of-one is great when it comes to shopping, but the most commented on golden rule is to never, ever combine birthday and Christmas presents.
2. Different Wrapping
Keep that b'day feeling with separate gifts and birthday-themed wrapping paper.
3. Mid-year celebrations
Another option recommend was to have a 'half-birthday' party in June or July when no-one is on holiday and everyone is free to celebrate.
"They have her party on the 25th of July, otherwise she never gets to have a birthday party with her school friends." – Latika Clare DeSouza
4. Twice the fun
One idea is to have a birthday party with friends a week or two before their actual birthday. Then when it comes to Christmas Eve, invite family over for a smaller 'real birthday' celebration.
"We do the weekend birthday party before her birthday and Christmas Eve is all about her. We eat cake, go to the park and do kid things. There is no mention of Christmas at all." – Kristy Podolak
5. Share the date
And another possibility is to host the party on your tyke's actual birthdate, taking a chance with the RSVPs. To fit in with other events, why not split the day into a birthday half and a Christmas Eve half?
"We are having her birthday party on the 24th – it's her birthday. We have chosen to do it early at 10 so people still have time to do family traditions on Christmas Eve." – Bianca Gaspari
6. Plan ahead
Whether you celebrate with an intimate or lavish affair, there's no doubt that Christmas is a busy season. So send out party invites early and order birthday supplies ahead of time. Yikes!
"I advise you to order the cake super early!" – Jodie Nader
---
Join the conversation:
Head over to Facebook and read all the tips… click below.
Merry Birthday banner available from Etsy seller 5280Bliss
---