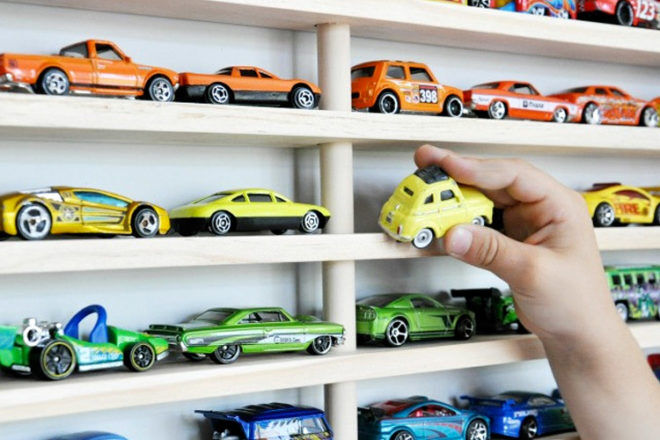 It's easy to find a spare park with these clever solutions for storing toy cars.
They might not require fuel, car insurance or wax polishes, but toy cars do need garaging. And once they've finished doing hot laps on the rug and wheelies around the yard, there are lots of great ways to sort and store kiddie car collections.
Here are 17 fun and functional storage solutions for toy car collections.
1. Magnetic bars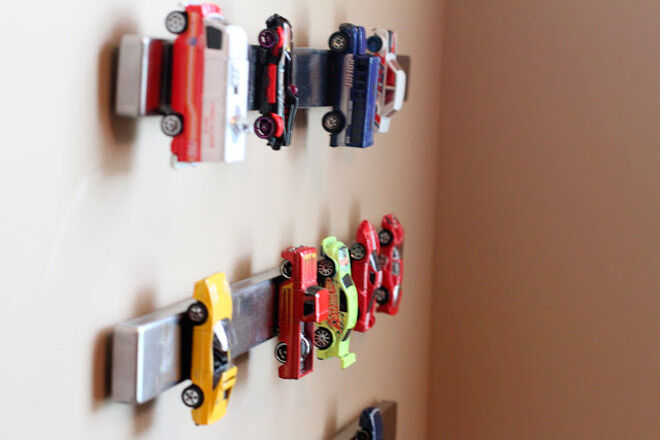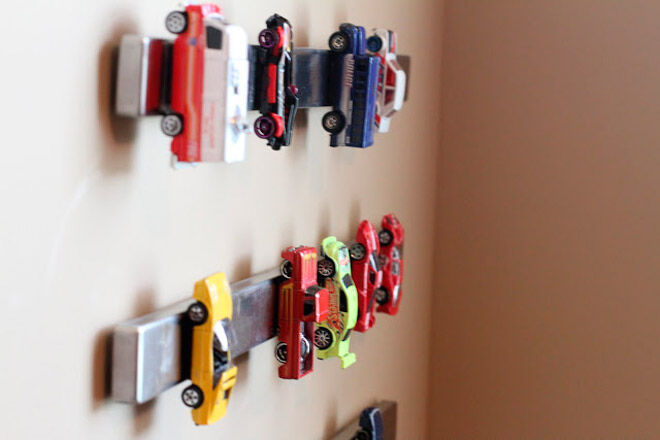 Glue magnets to each car's undercarriage, attach magnetic knife bars to the wall and they'll stick together like finger paint and furniture! (via Keeping Up With The Souths)
2. Portable cardboard box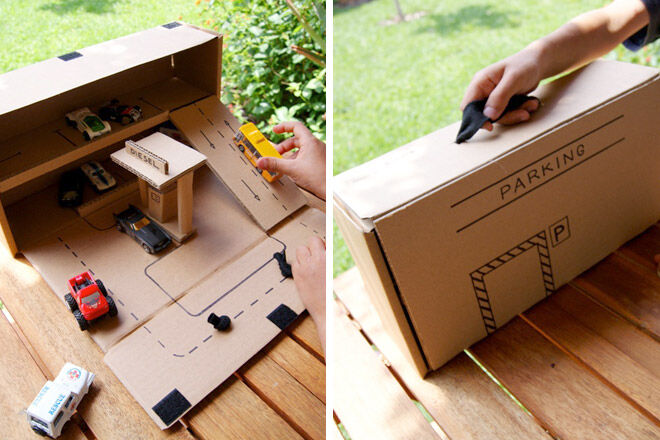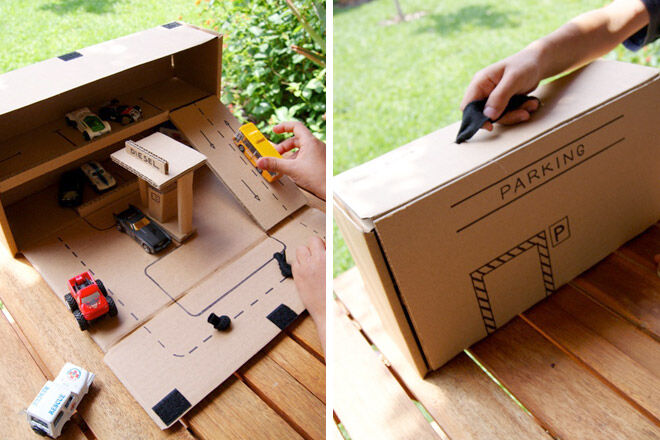 Cardboard is brilliant for building cool stuff. Here, a leftover IKEA box comes into its own as this mobile parking station, slash, carrycase for cars. (via La Factoria Plastica)
3. IKEA ledges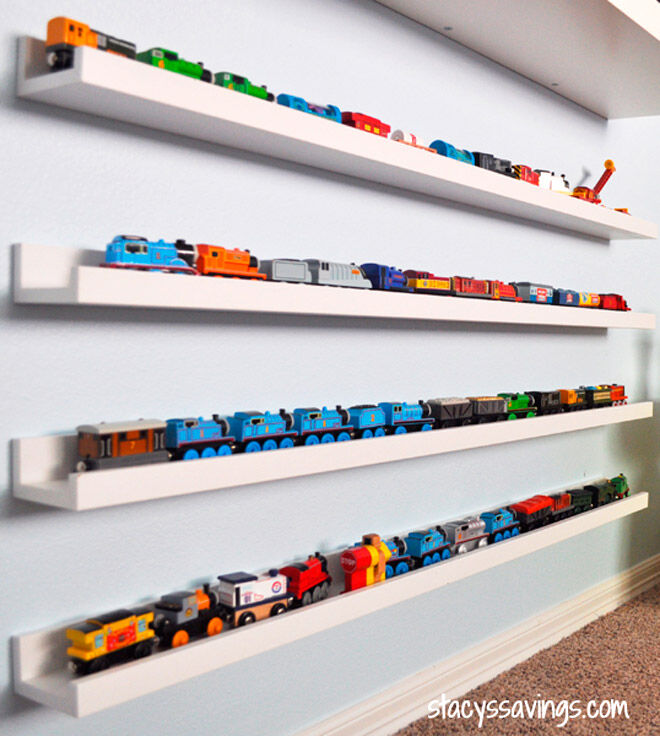 Ride the rails with this easy DIY for storing toy trains. Just swap locomotives for lambos (or more pedestrian cars) and park them on an IKEA Mosslanda picture ledge. (via Stacy Savings)
4. Tyre shelves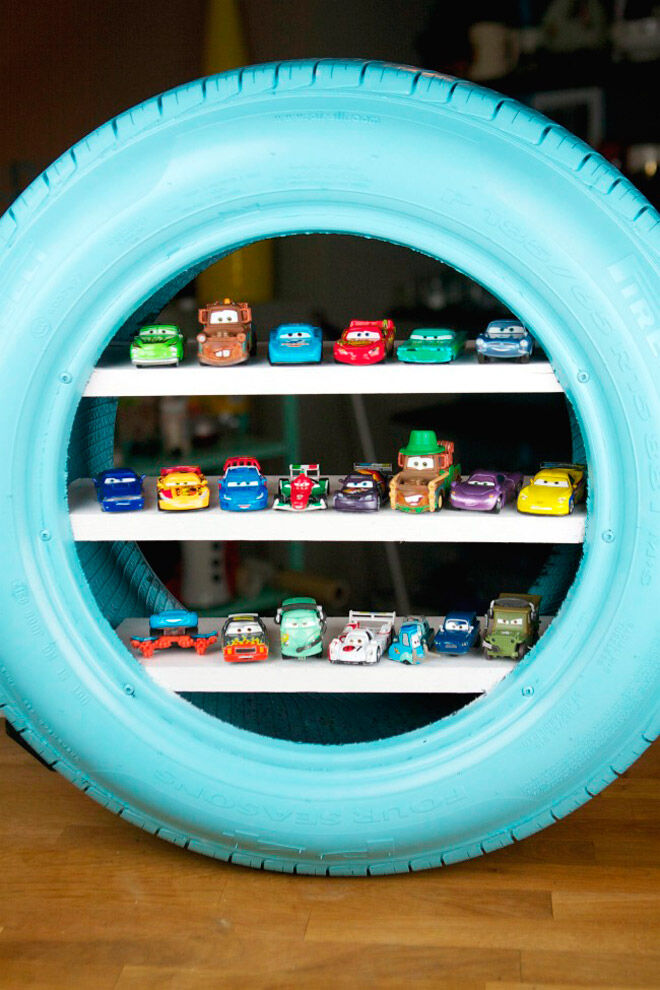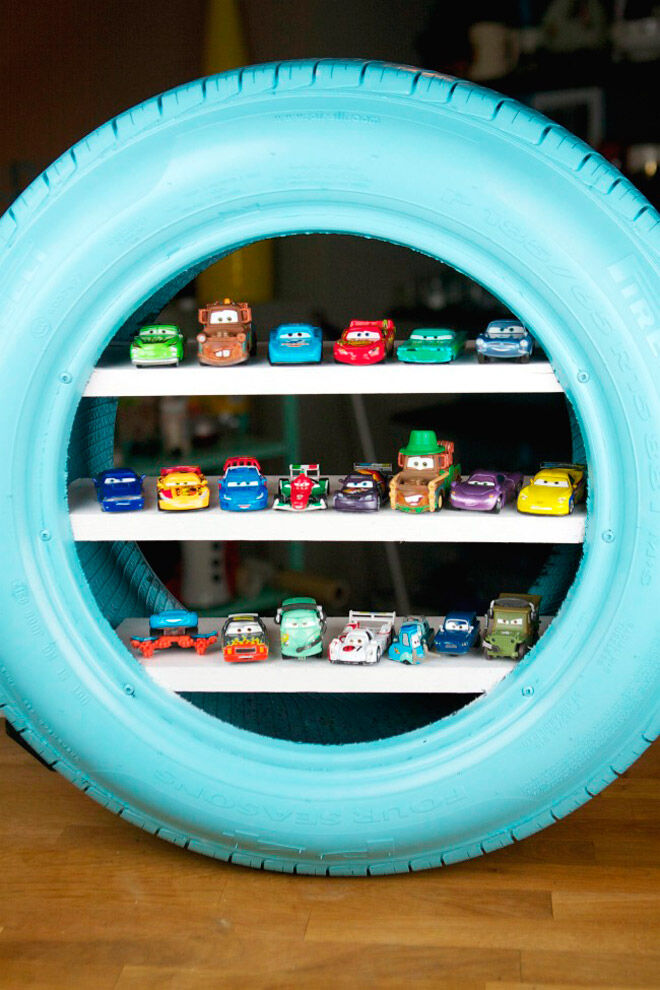 Turn rubber into a wheelie cool shelving unit. Just add planks to an old tyre, then get set to garage the toys. (via Spaceships and Laser Beams)
5. Wooden crate + cardboard tubes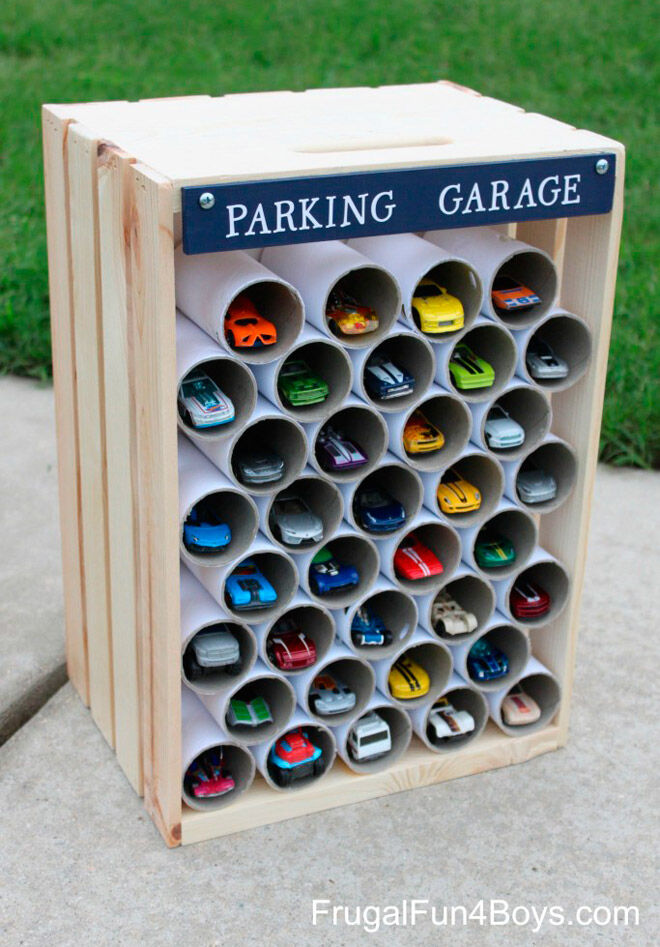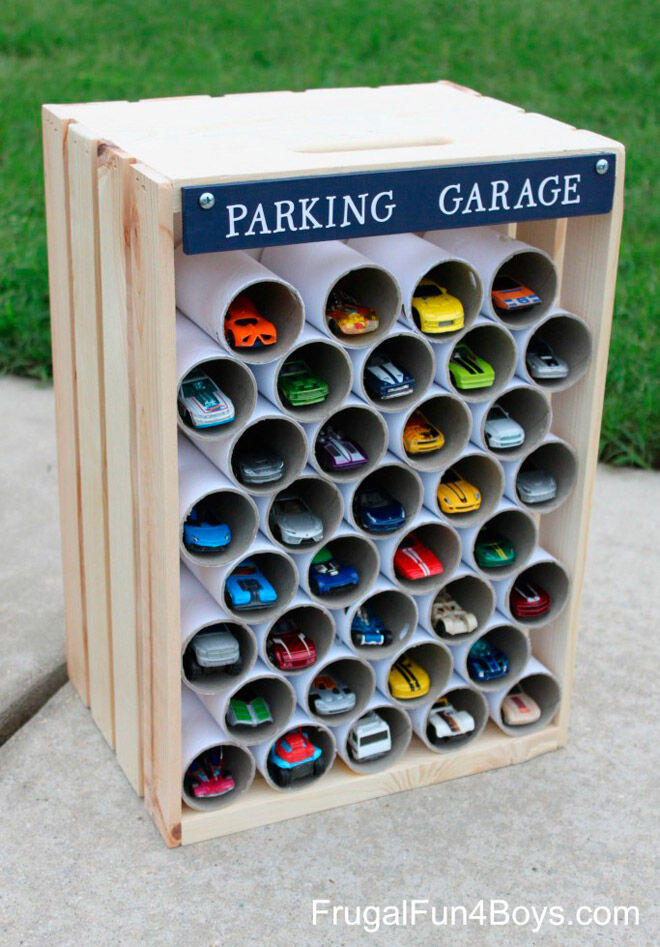 This garage is easy on the eye and easy to access. Just pop cars into the cardboard mailing tubes. (via Frugal Fun 4 Boys)
6. Under bed storage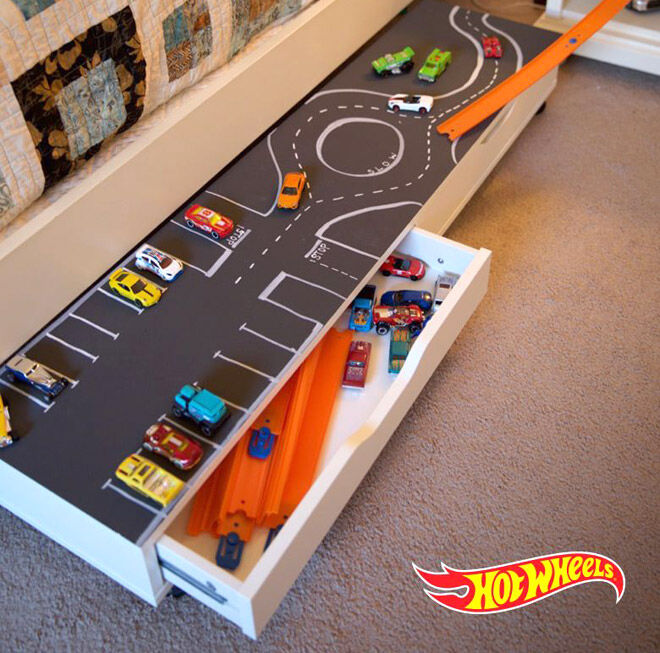 To garage toy cars under the bed, get some instructions from the Hot Wheels crew. With a chalkboard track and plenty of storage, this play and storage unit is a winner. (via Hot Wheels)
7. Fabric play mat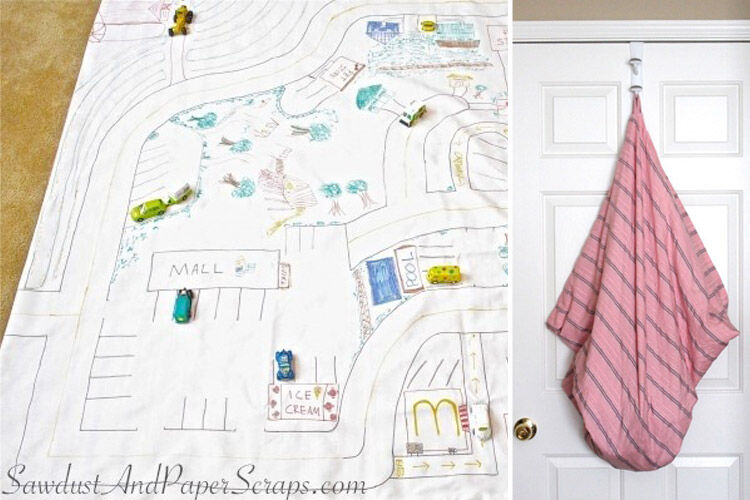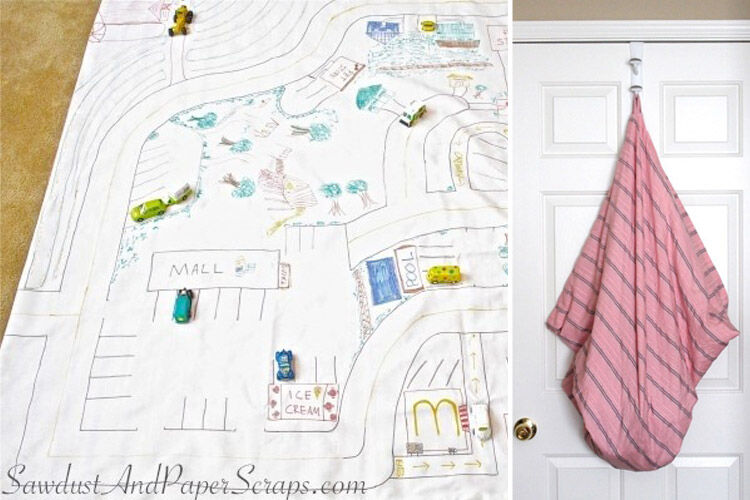 Prepare to be amazed! This mat has roads on it for 'vroom vroom' floor play; once the toy racers are done, grab the corners and hang it up till next time (with the cars inside). (via Sawdust and Paper Scraps)
8. Felt play mat house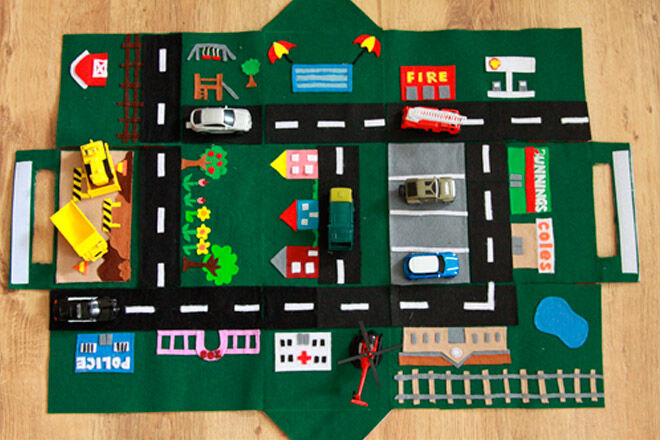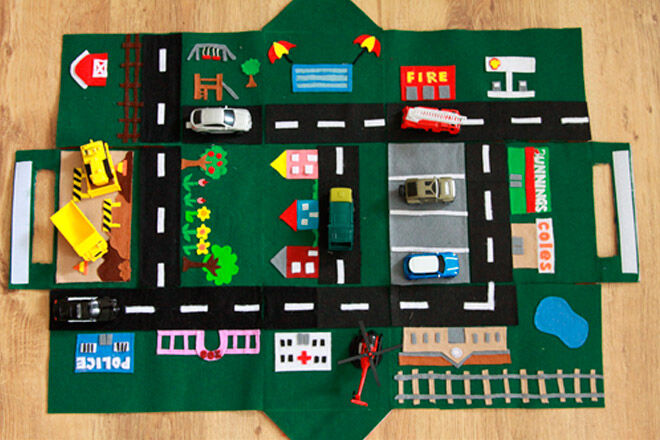 Take the idea a step further with this 3D house that stores cars and opens up into a felt play mat. Say "hello" to the neighbourhood! (via Cook Clean Craft)
9. Wooden angled shelves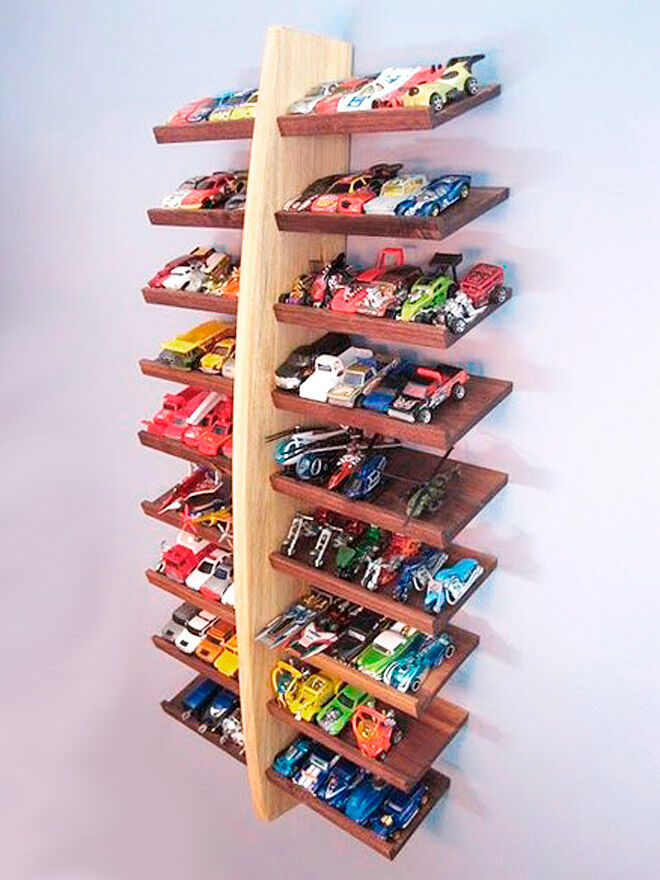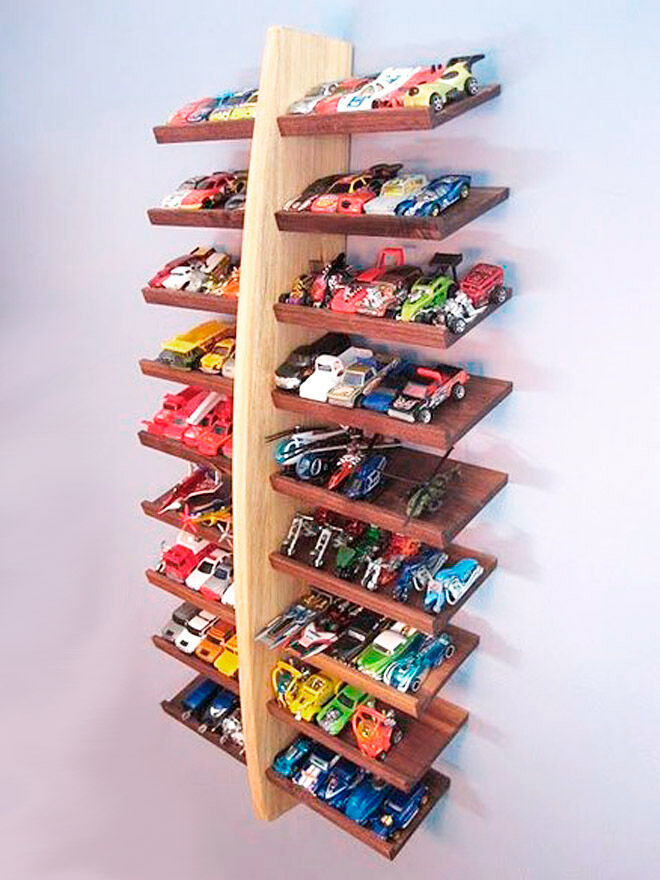 This one's for wood workers. It's an angled shelving unit – built with one hammer for 100 Hot Wheels. (via Lumber Jocks)
10. Truck grille organiser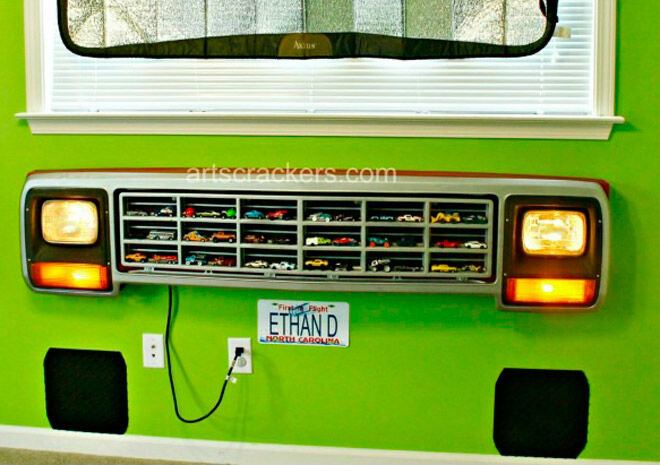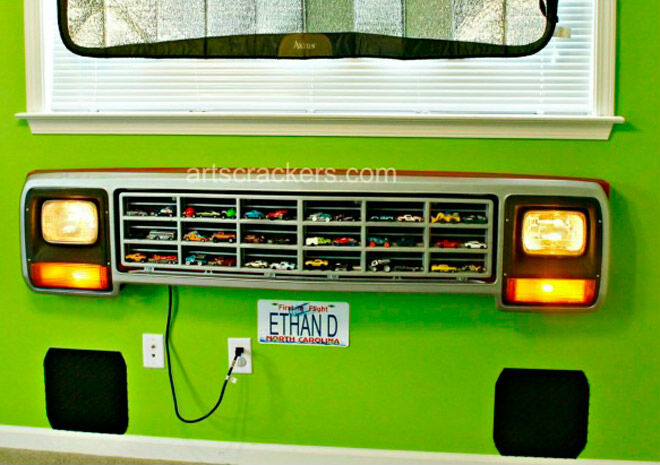 Wow. With working headlights and stacks of storage, this truck grille organiser is heavy duty awesome. (via Arts & Crackers)
11. Tackle box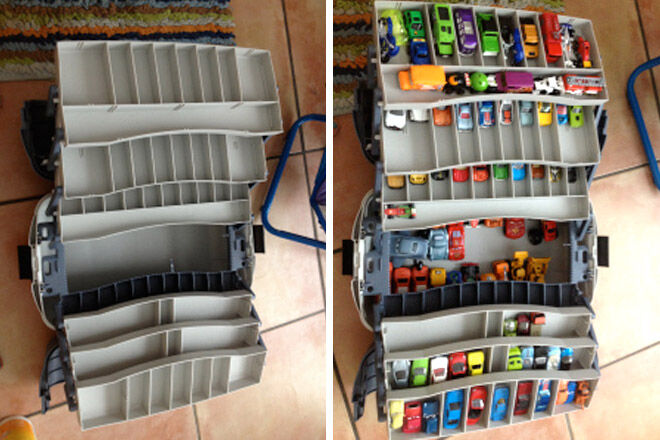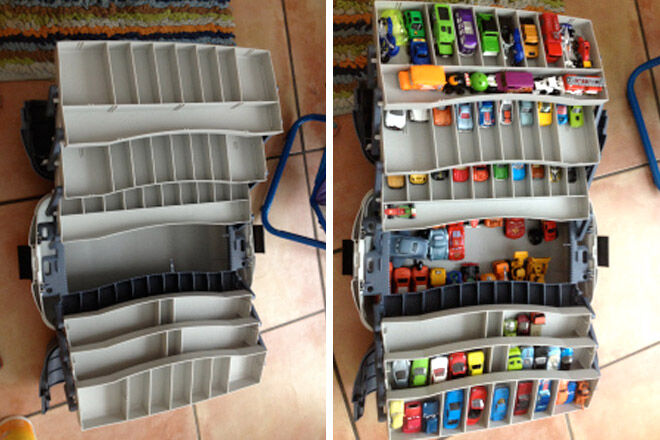 A tackle box fits zillions of toy cars and is portable for road trips and circuits around the house. We're in – hook, line and sinker! (via Adventures of Jackson)
12. Fabric caddy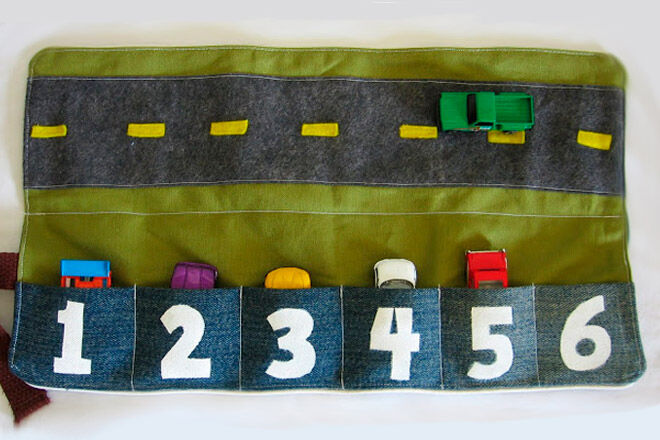 For smaller collections and/or bigger adventures, this cozy car caddy stores kiddo's Top 6 racers. (via Homemade by Jill)
13. Hanging storage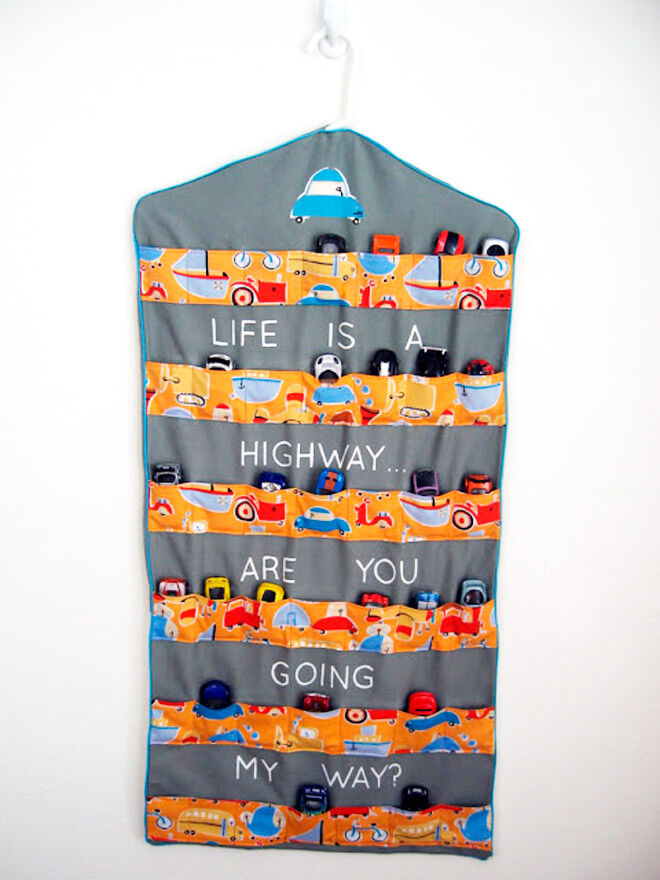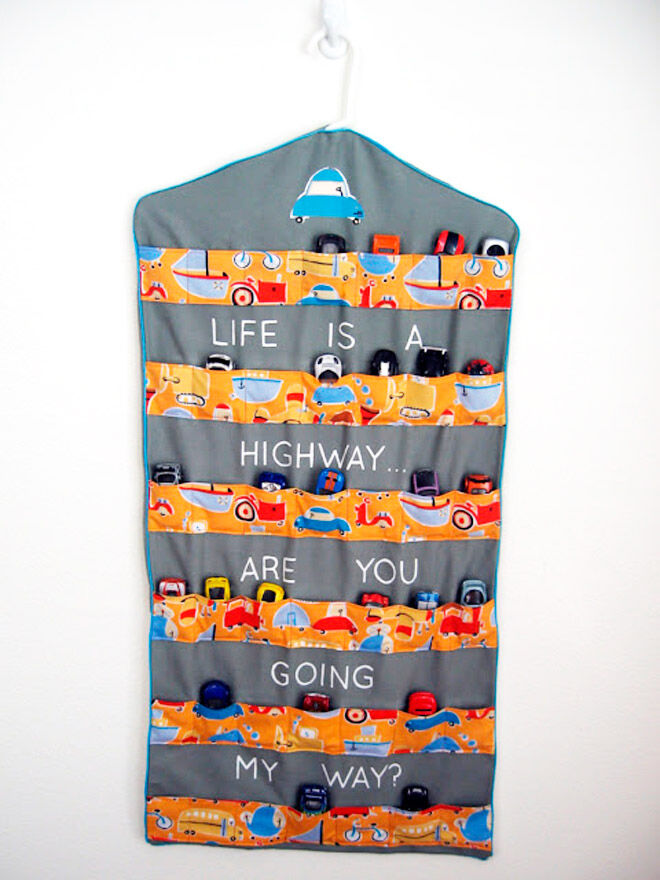 This hanging car garage suits a wall or wardrobe. Follow this tutorial and rev up with fun fabric and a fitting quote. (via Pick Up Some Creativity)
14. Car jars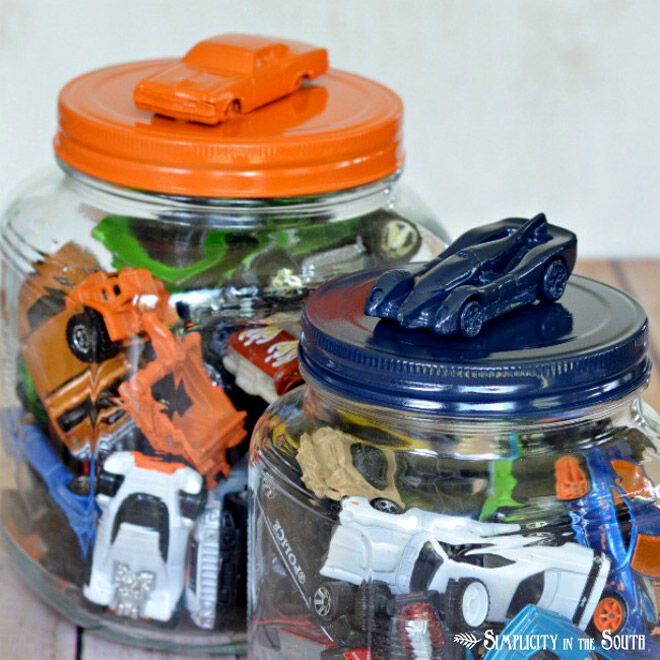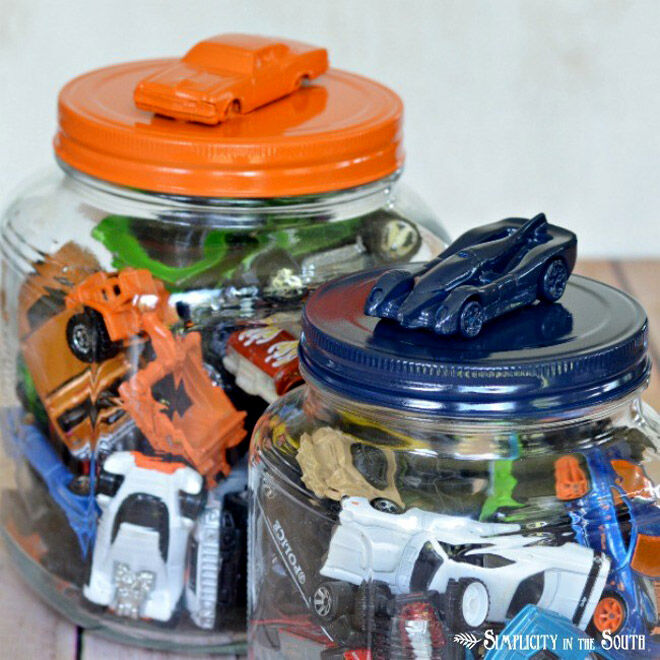 Customise a jar and pack it with cars for an arty automotive solution. (via Simplicity in the South)
15. Tyre storage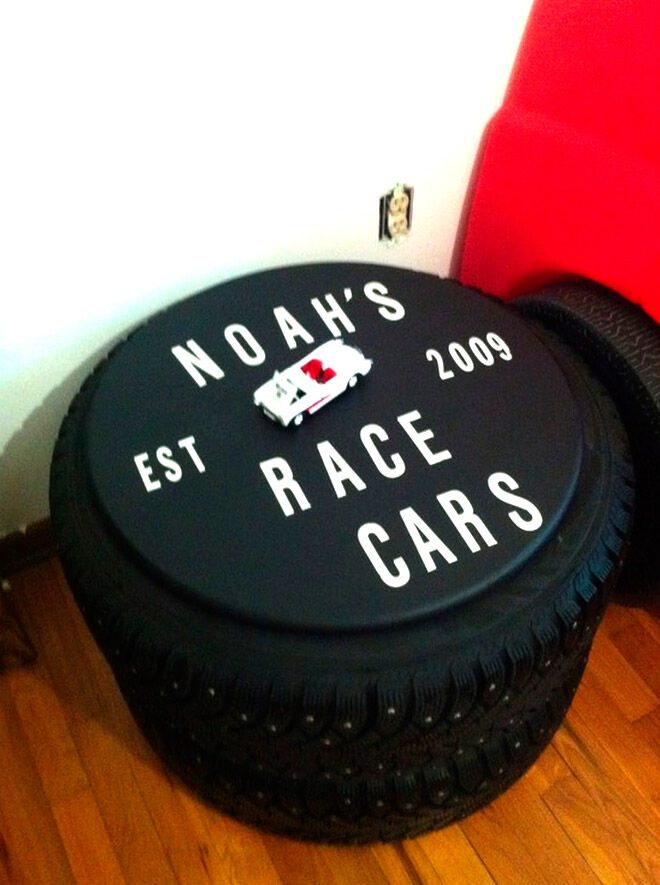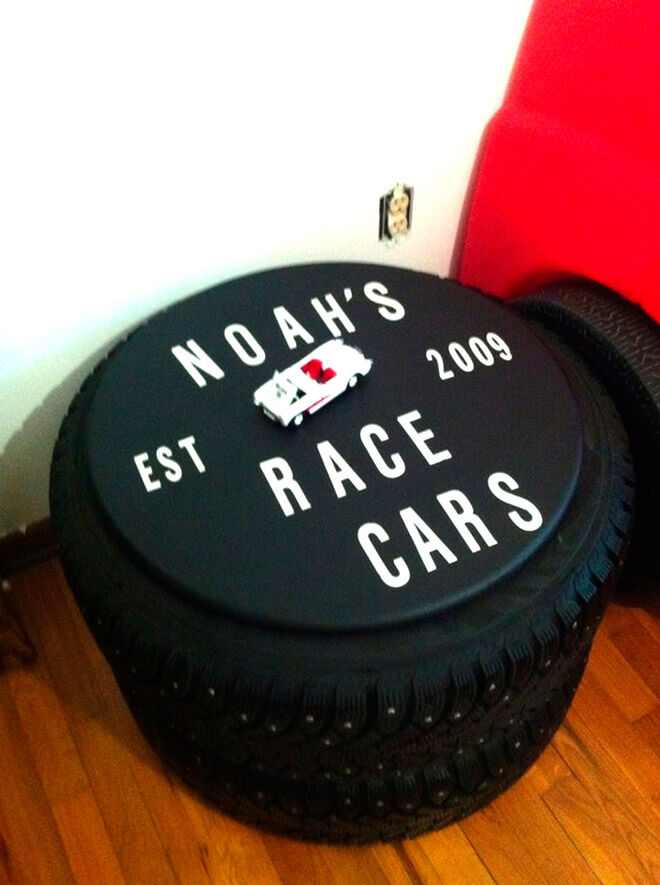 For stacks of on-theme storage, just pile tyres on top of each other. Put the toy cars inside and slide on a hubcap, oops, lid. Easy. (via House On Ashwell Lane)
16. Pine wall unit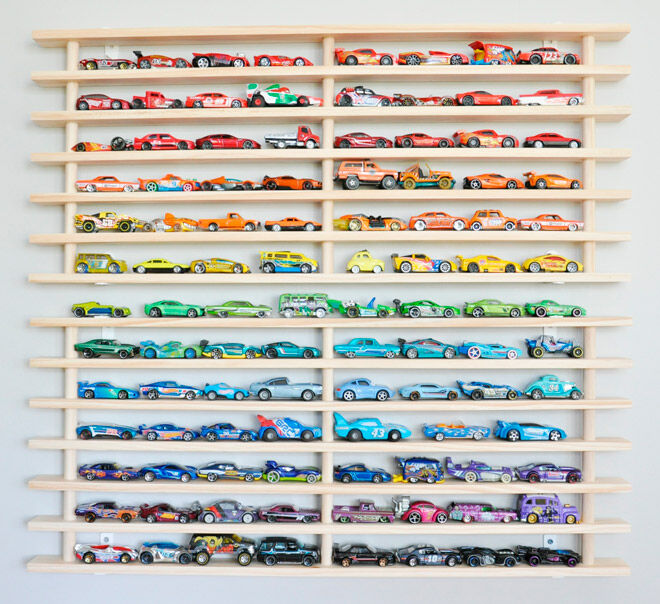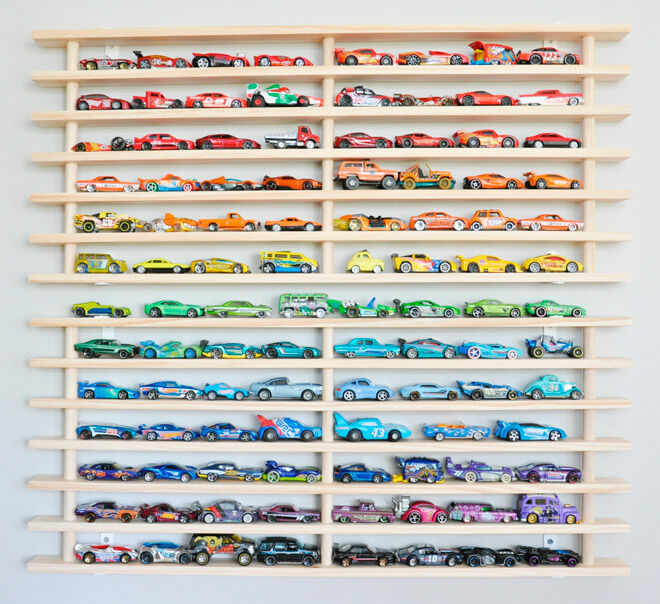 The Mom! Where's My Car? Garage was such a hit on Pinterest that it's now available to buy. Get DIY inspiration with pine and rainbow colour-coding. (via A Lo and Behold Life)
17. Fabric buckets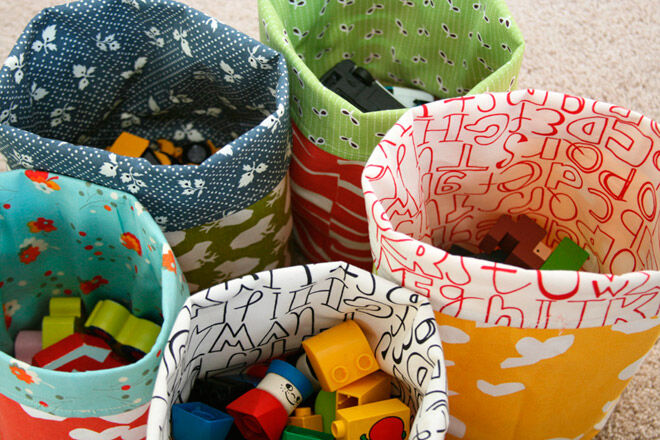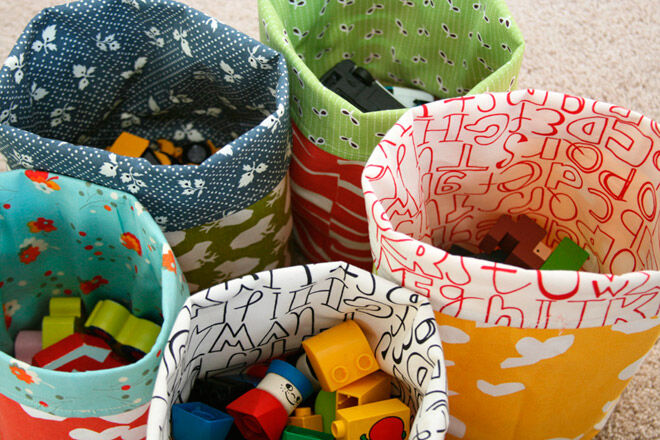 Put these on your toy storage bucket list! Just choose a revved up fabric and throw cars in. We vote for one bucket per toy type, so LEGO and plushies are sorted too. (via Film in the Fridge)
---
FIND MORE:
 games for mini races
10 racing car crafts and activities
14 backyard racetracks to make this weekend
---