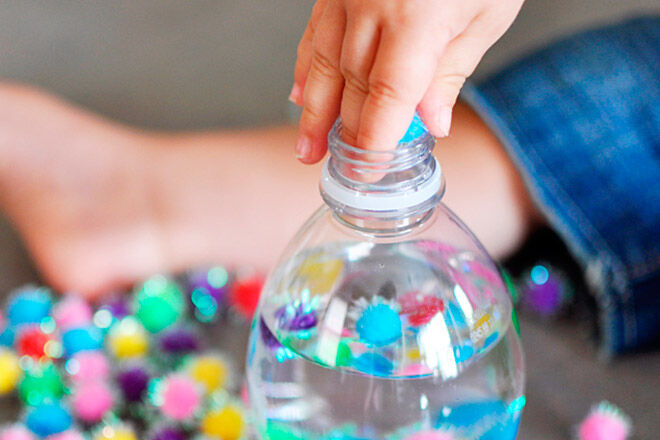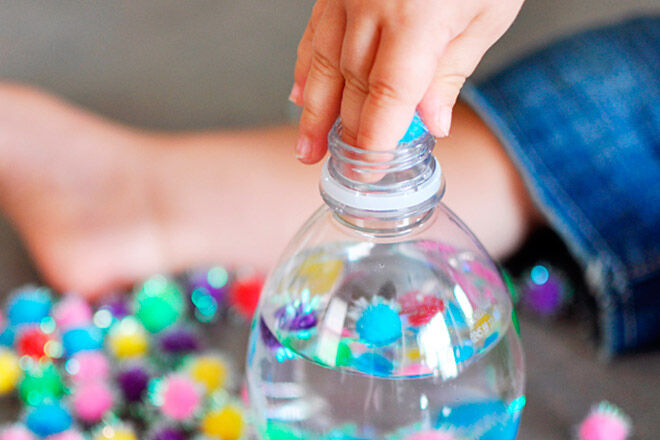 Watch out world, because from the age of one to three, toddlers are busy loading up their skill sets! And one important part of a toddler's development is tuning their fine motor skills.
These are the skills learnt when small hand muscles work together to complete precise tasks, and with the help of hand-eye coordination they get toddlers stacking blocks, wielding utensils, holding crayons, doing up buttons and generally becoming dextrous dynamos. 
They're also the stepping stones to later and greater things, like writing, mastering Minecraft and pulling off a latticework hair braids!
Here are 34 fun ways to fine-tune a toddler's fine motor skills.
---
MASTERING THREADING
Threading is a fab way to focus a toddler's thumb and forefinger on the pincer grasp. It also requires concentration, hones thinking skills and develops the little hand muscles needed to grip a pencil later on. Hello pipe cleaner jewellery!
1. Bellissimo!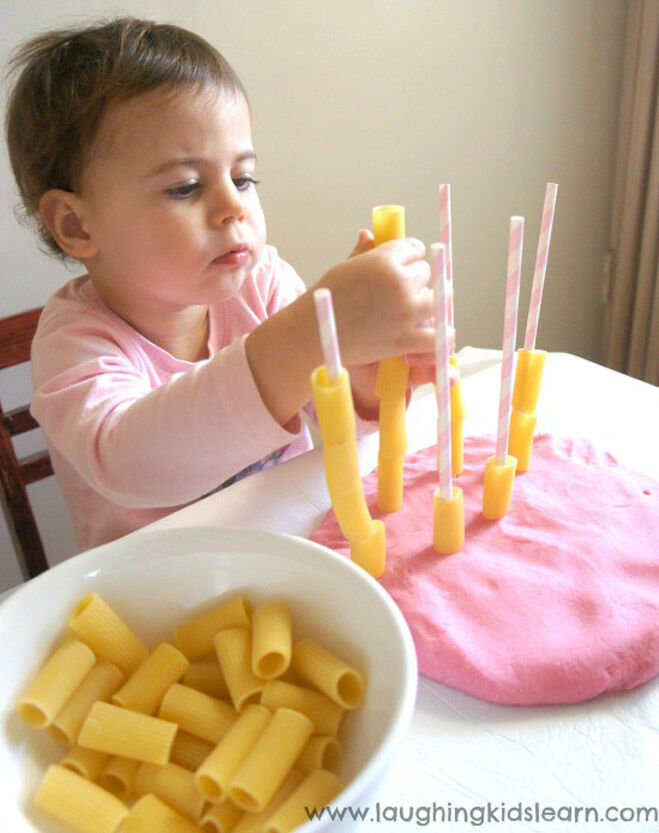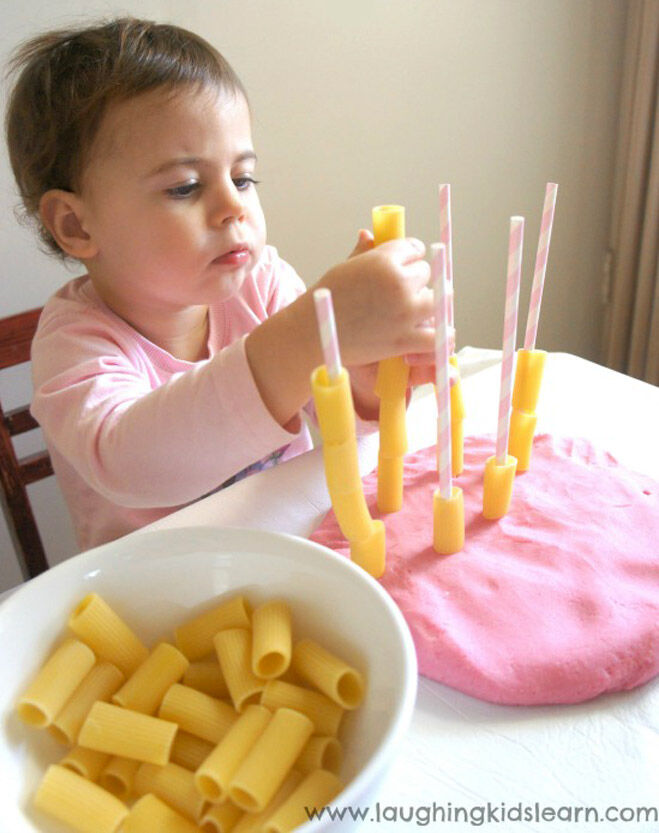 A plate of play dough, some drinking straws and a serve of rigatoni makes a great recipe for fine motor play. Let the pasta threading begin! (via Laughing Kids Learn)
2. The perfect accessory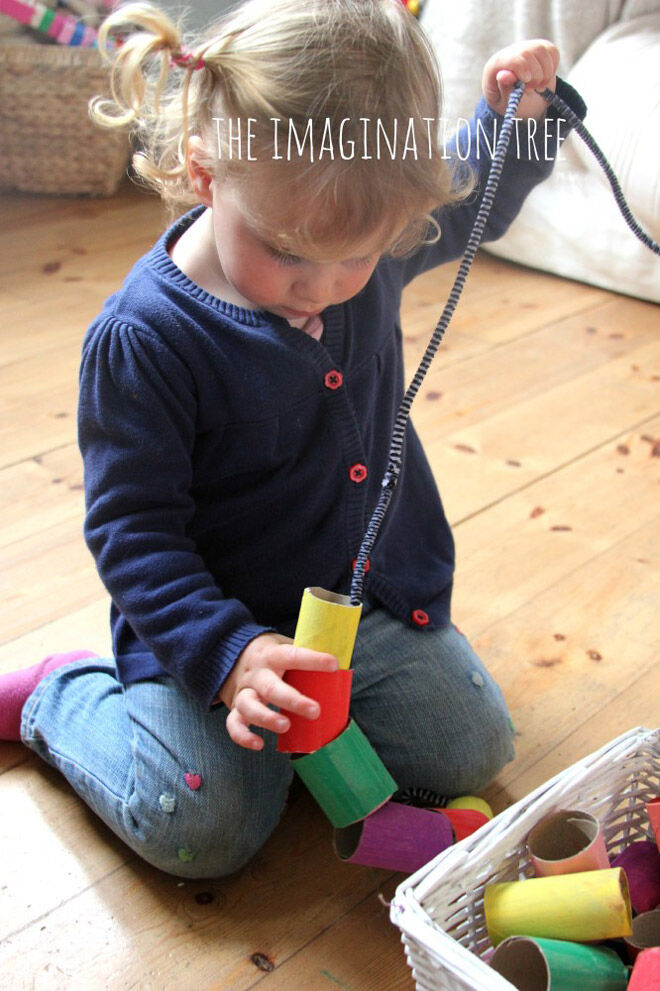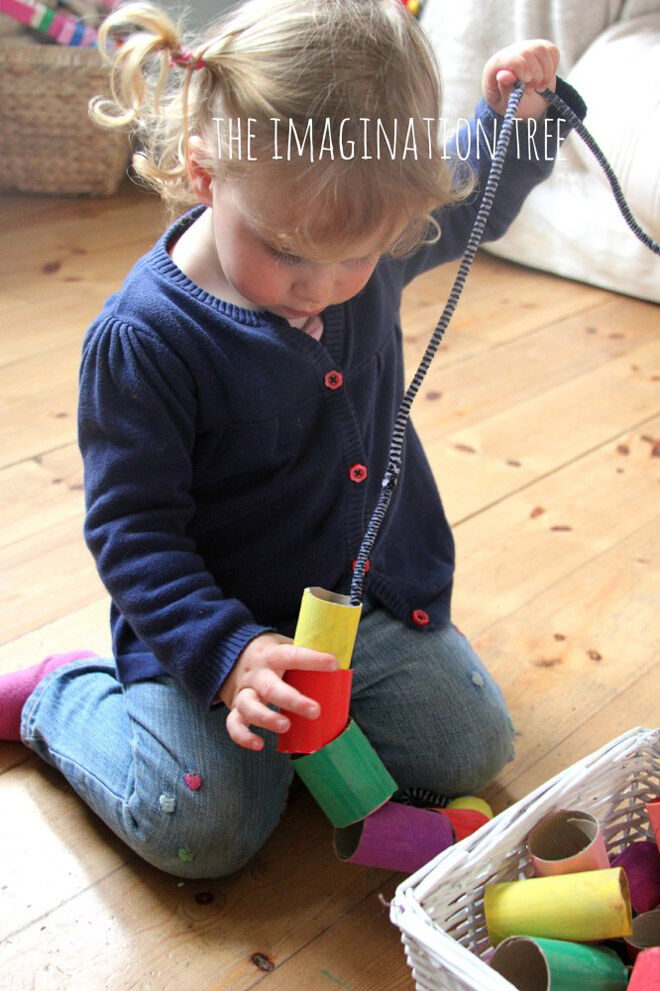 Junior jewellers will love making their own necklace using cardboard tube beads and a pipe cleaner chain. (via The Imagination Tree).
3. Go cray cray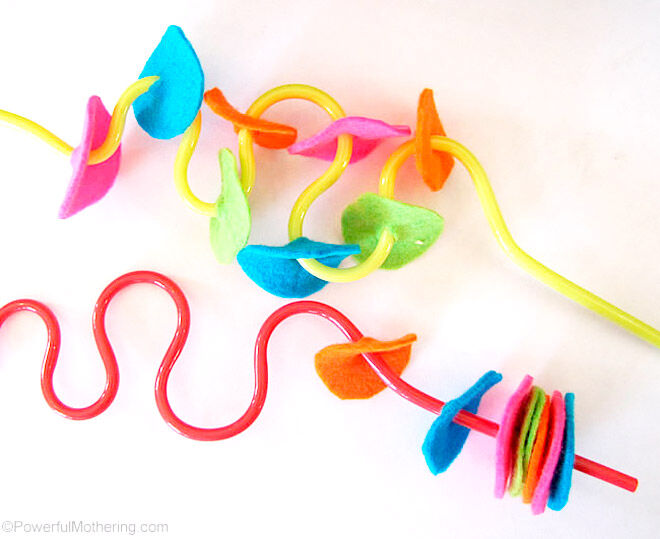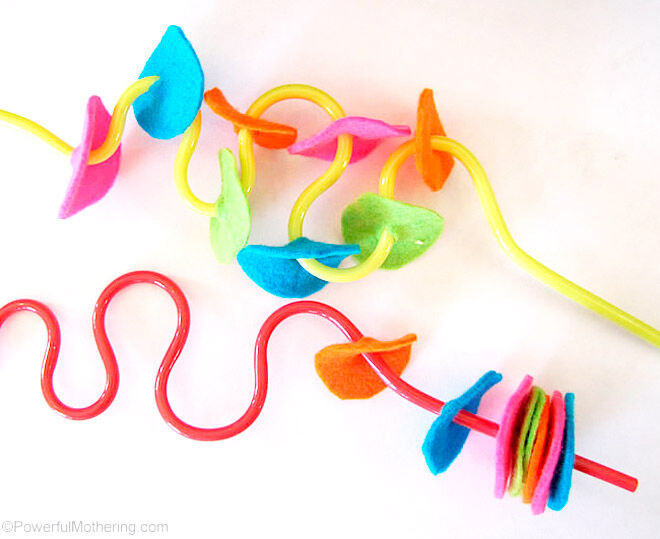 Take a bunch of crazy straws, cut holes in the middle of felt circles and hand over this twisty, turny toddler threading activity. (via Powerful Mothering)
---
MASTERING PULLING
The pincer grasp comes into play again here, with hands and eyes focusing on pulling tough stuff off tables, tubes and boards.
1. X marks the spots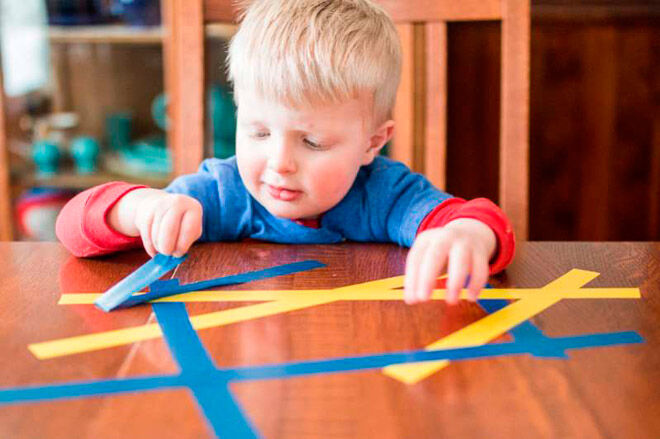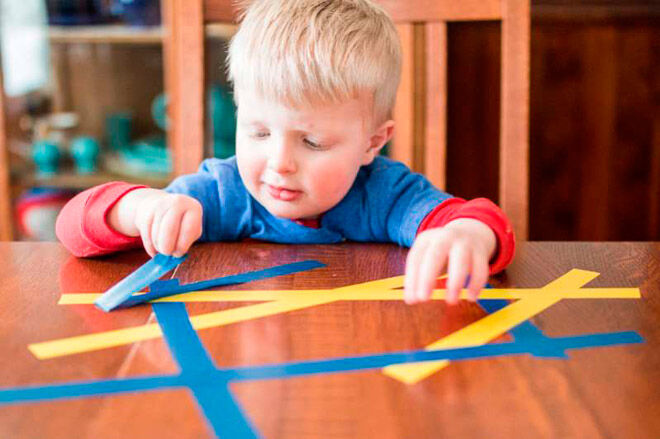 Criss-cross electrical tape all over the table, then put little fingers to work pulling it off! The big question is, "which bit of tape is on top?" (via Hands On As We Grow)
2. Flex and stretch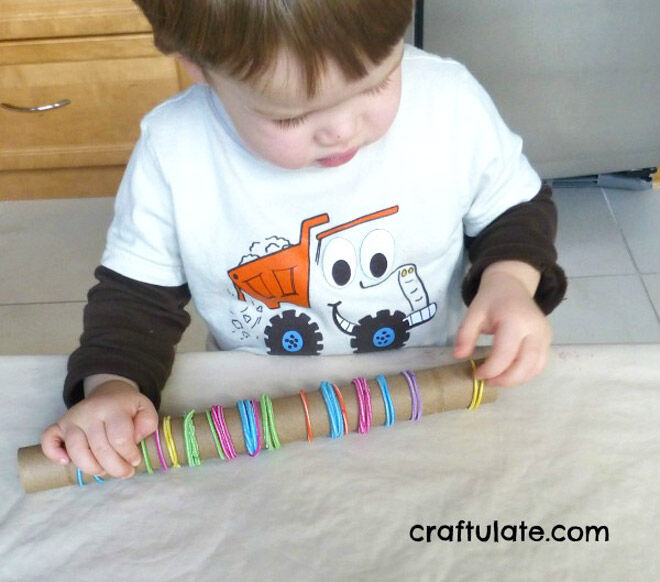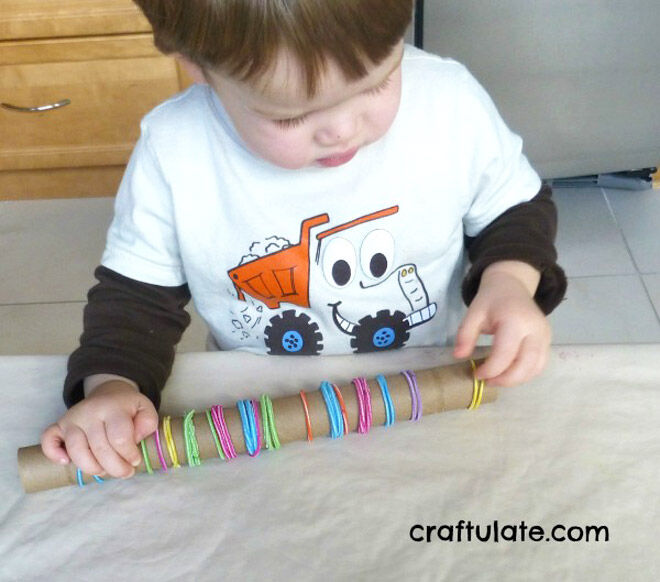 Wind hair elastics around a sturdy cardboard tube, then set the task of removing them. With dexterity, hand strength and coordination at play, this is a super skill-tester. (via Craftulate)
3. Zip it!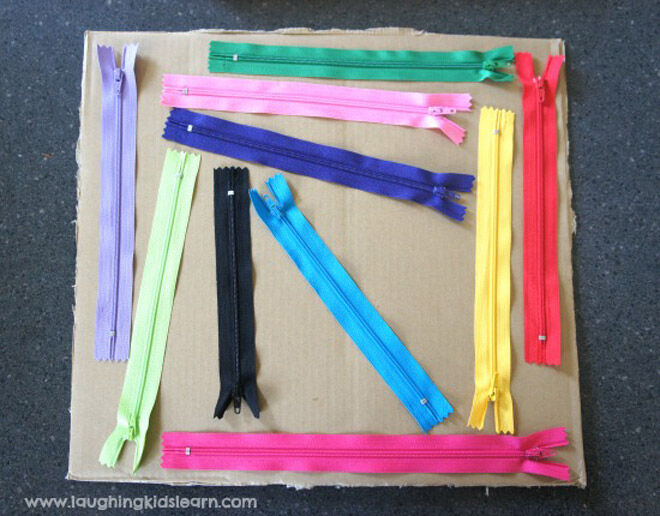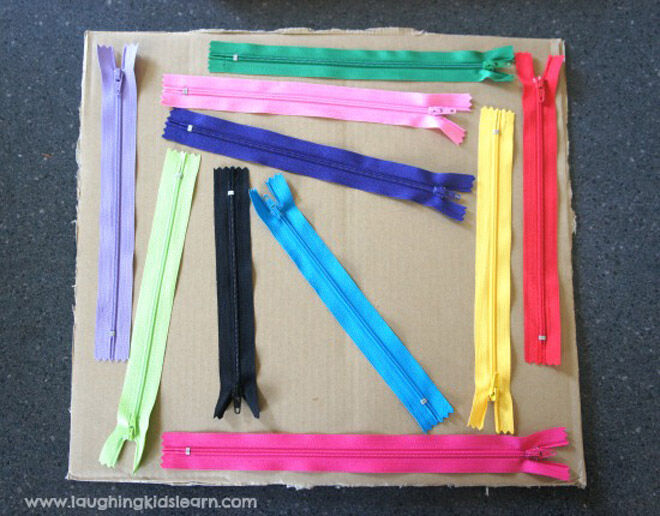 Half sensory board and half fine motor play station, this zipper board is perfect practice for getting dressed and undressed. (via Laughing Kids Learn)
---
MASTERING FILLING AND UNFILLING
Filling containers up and emptying them out requires hand-eye coordination and precise muscle movements, plus it teaches toddlers the magic of cause and effect. Start with large vessels, then build up to smaller items and containers.
1. Go, go, go with H2O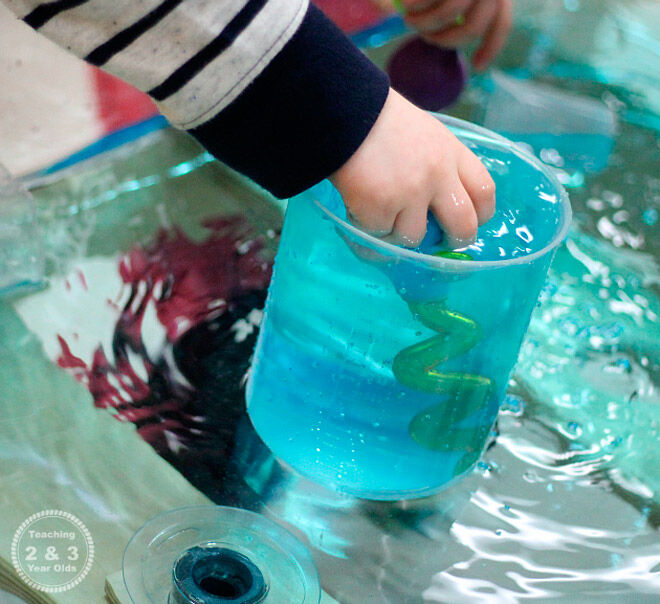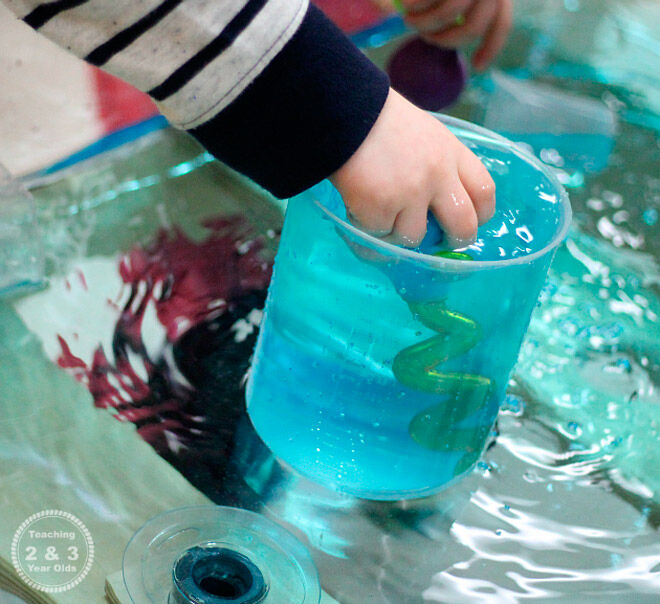 Oh happy day, it's water play! Junior splashers start by transferring water between pourers. Then work up to experiments with mini-basters, squeeze toys and eye droppers. (via Teaching 2 & 3 Year Olds)
2. A clean sweep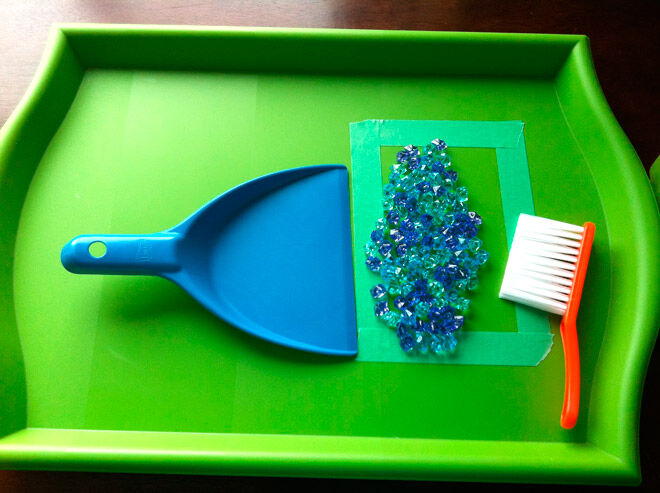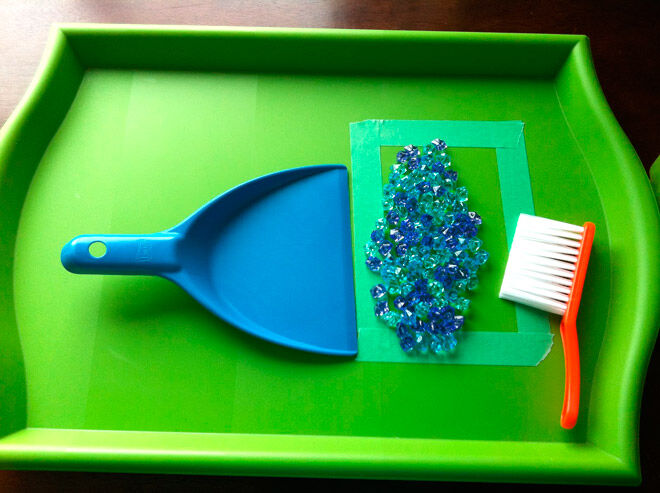 Get tiny tidiers to sweep beads into a rectangle taped on a tray. Then they brush the beads into the dustpan. And repeat. (via Rockabye Butterfly)
3. Full of beans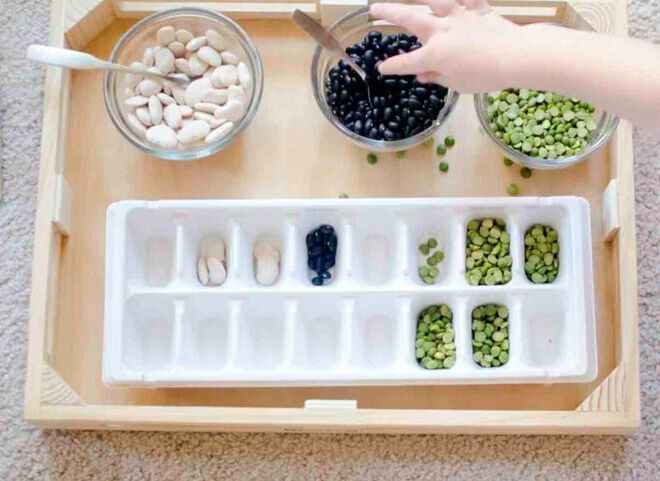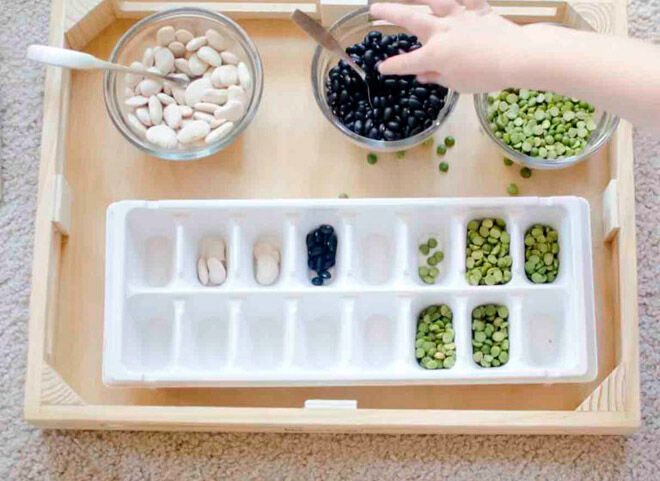 Scoop and dump, scoop and dump. Spooning beans from small bowls to tiny ice tray compartments gets utensils under control. (via Busy Toddler)
---
MASTERING GRABBING
As kids grow from babies to toddlers, their grabbing skills get more advanced. Which means that tools like tongs and tweezers get to enter from stage left. And speaking of left, toddlerhood is the age when children usually show signs of being right or left-handed, so see which hand goes for the grab.
1. It's tong time!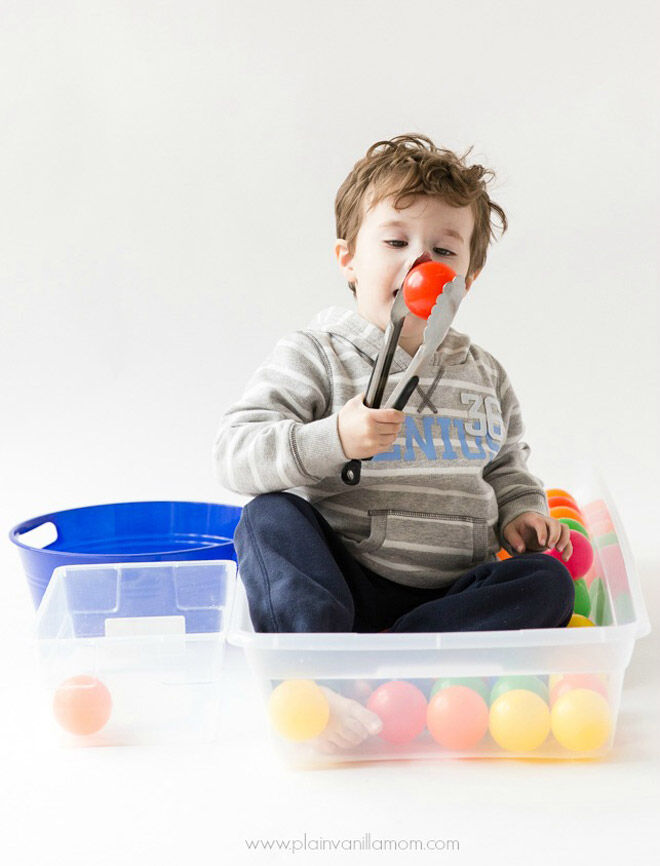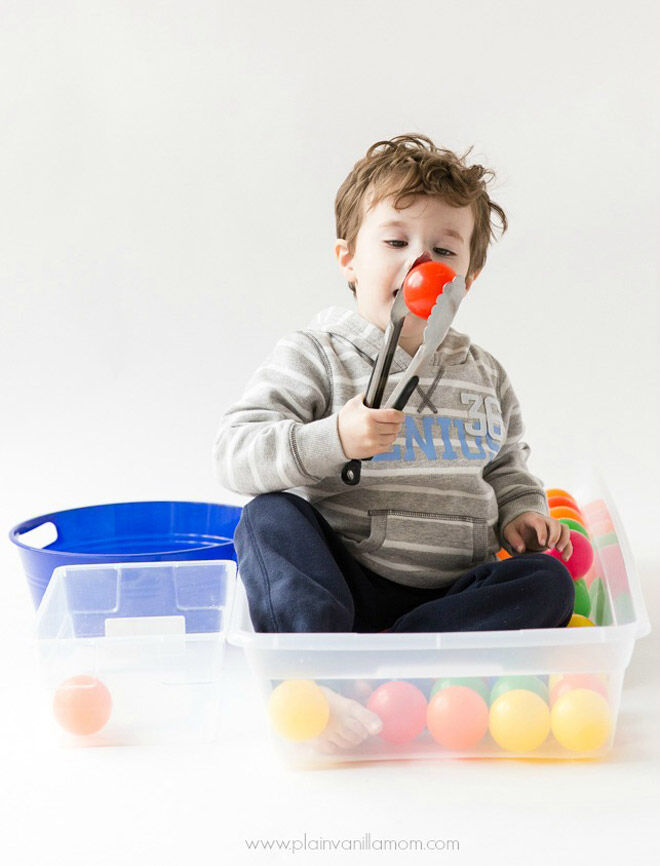 Finger 'tongs', mini-tongs and full-sized tongs are terrific for fine motor skills, pincer grasp and concentration. Set up a ball pit transfer game and let the fun begin. (via Plain Vanilla Mom)
2. Easy as A, B, C – maybe!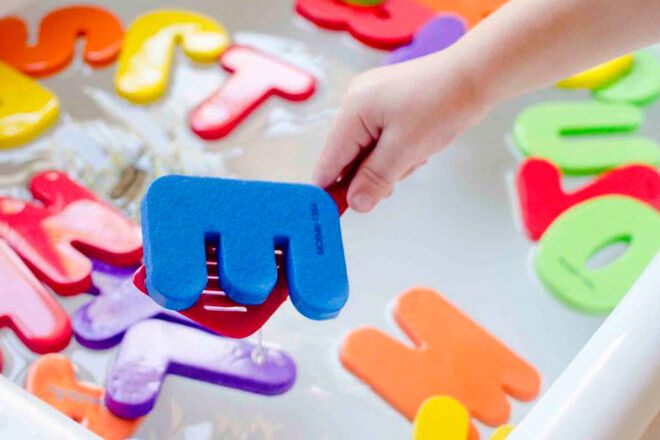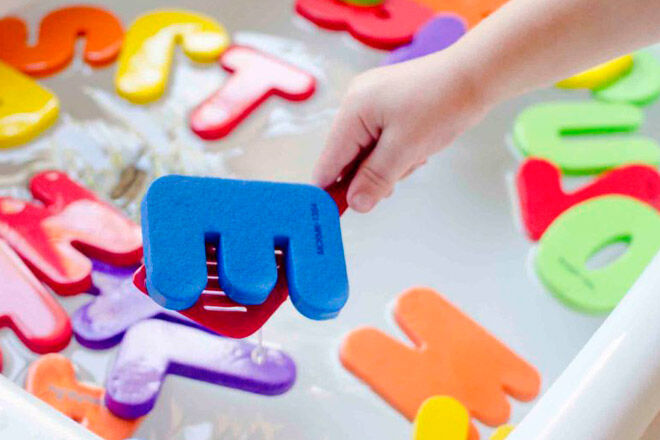 Grab floating letters with an egg flip, or test out water-going tongs on little'uns. (via Busy Toddler)
3. Insy winsy pincing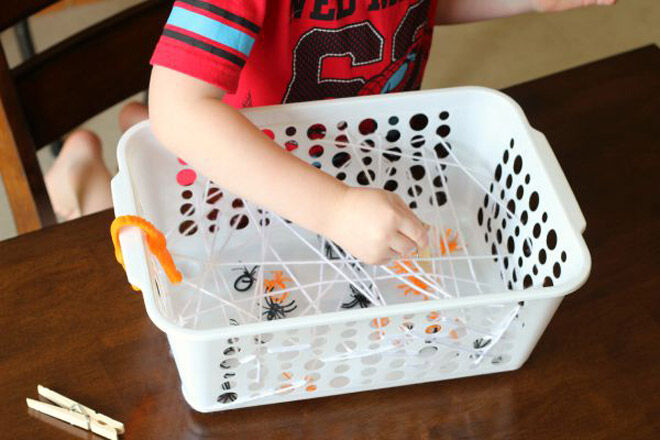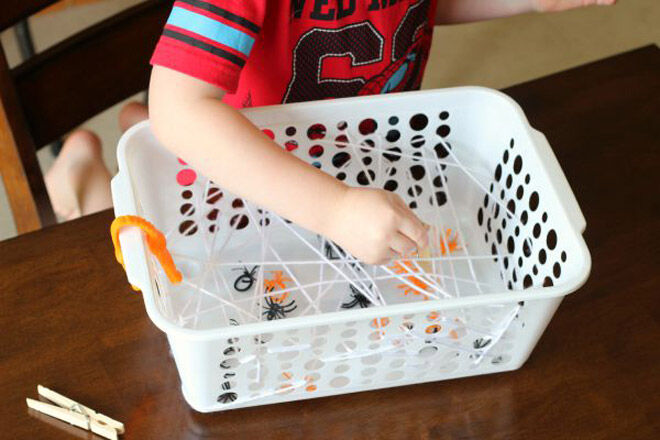 Fingers get lots of practice pulling plastic spiders through a woolly web. And once they build up hand strength, pass toddlers a peg or tweezers for extra grip. (via Mom Inspired Life)
---
MASTERING DROPPING
Fitting a little item into a little hole takes hand-eye coordination and an oh so delicate pincer grasp. And seeing something drop out the end of a tube or tinkle into a bottle is great for the brain too.
1. Pom pom drop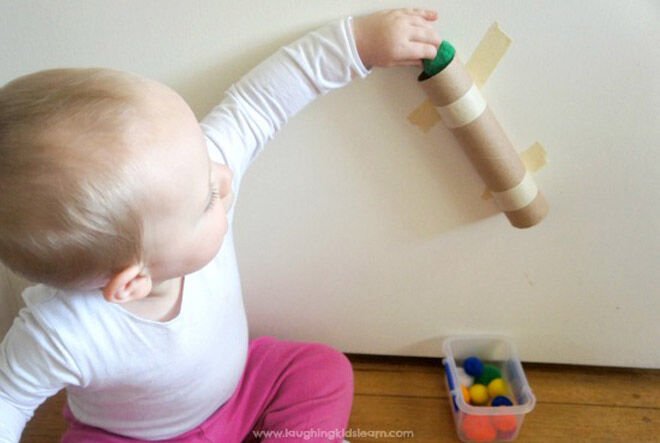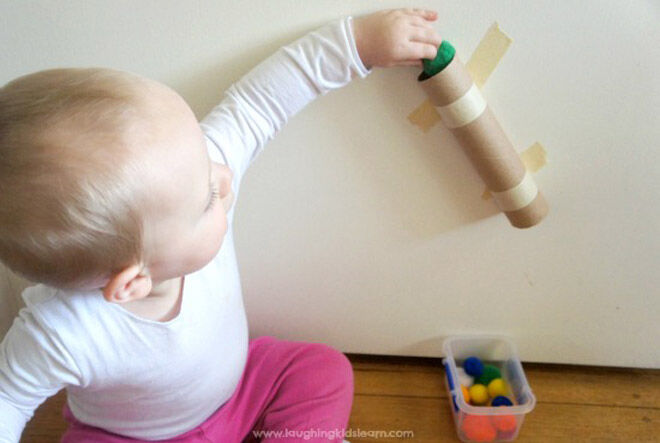 It's a pom pom party! Toddlers will have a ball dropping pom poms into bottles or cardboard tubes, and cotton balls work too. Ready, aim, stuff 'em in! (image via Laughing Kids Learn)
2. Shake and make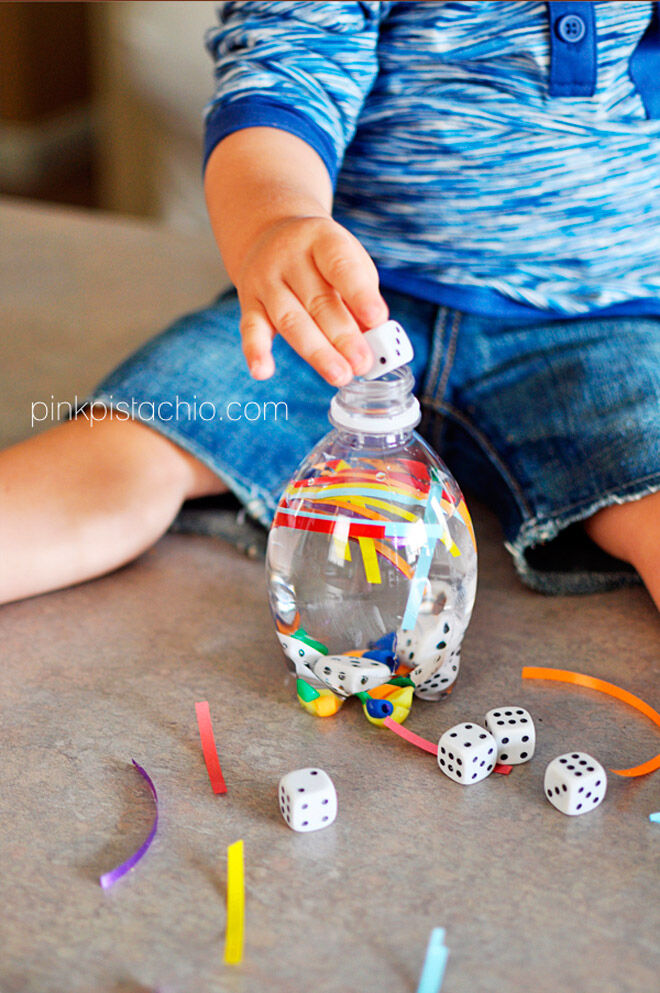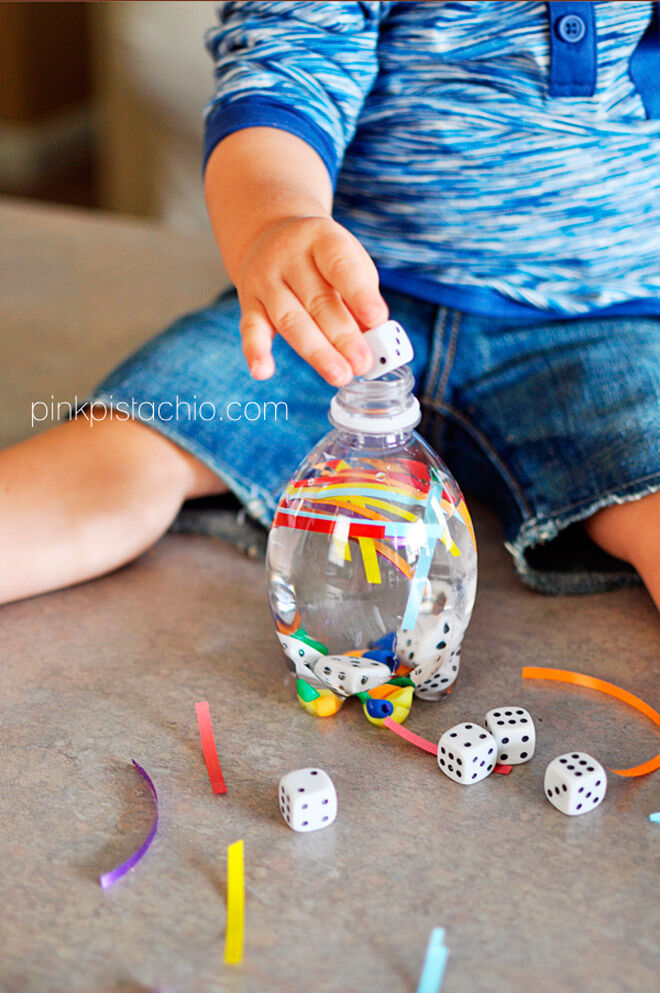 Add dice, ribbon and sensory play to the mix with these colourful bottles. Putting interesting items into the bottleneck is great for fine motor skills, then shake, shake, shake! (via Pink Pistachio)
3. Cute as a button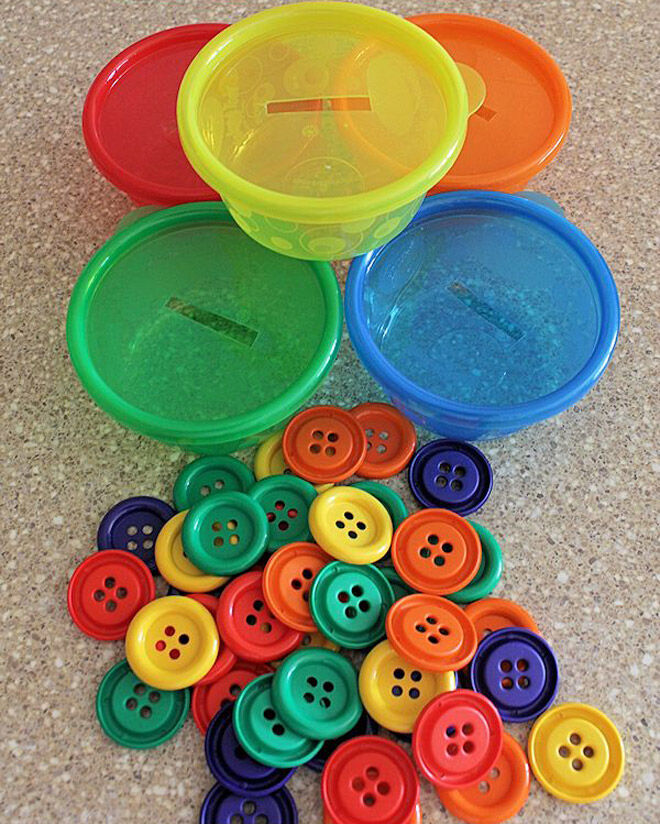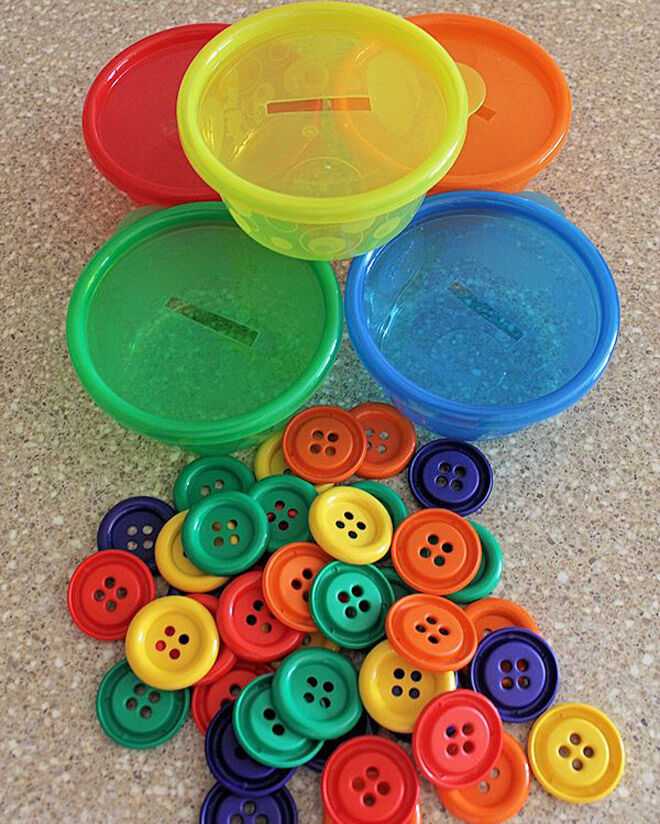 Posting buttons into teeny tiny slits is a great job for fingers, and sorting them into colours adds a whole new spectrum of skill-testing. (via Sherri Osborn At About Family Crafts)
---
Mastering pressing
The thumb and pointer finger get a workout with activities involving pressing. Toddlers love stickers, and fine motor play does too!
1. Out on a limb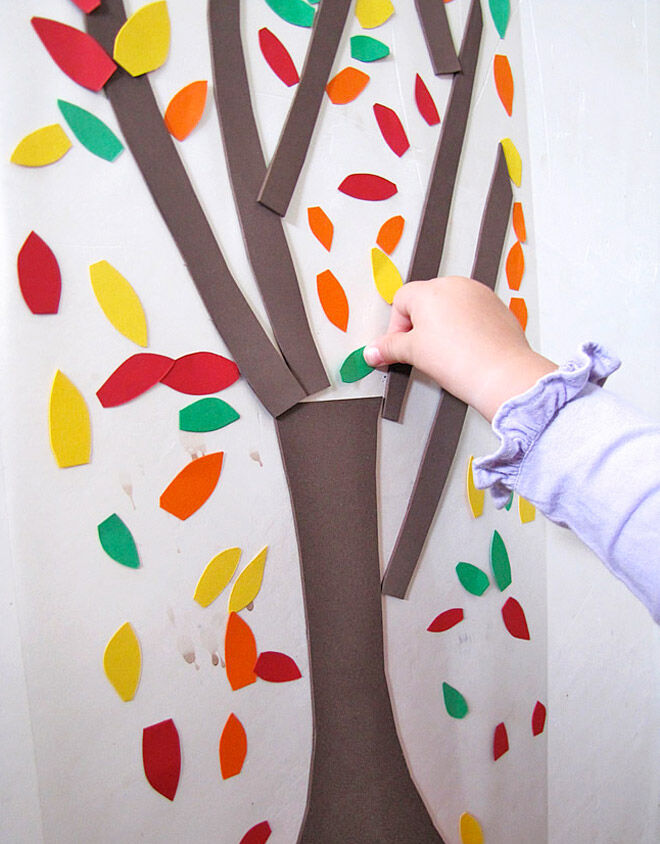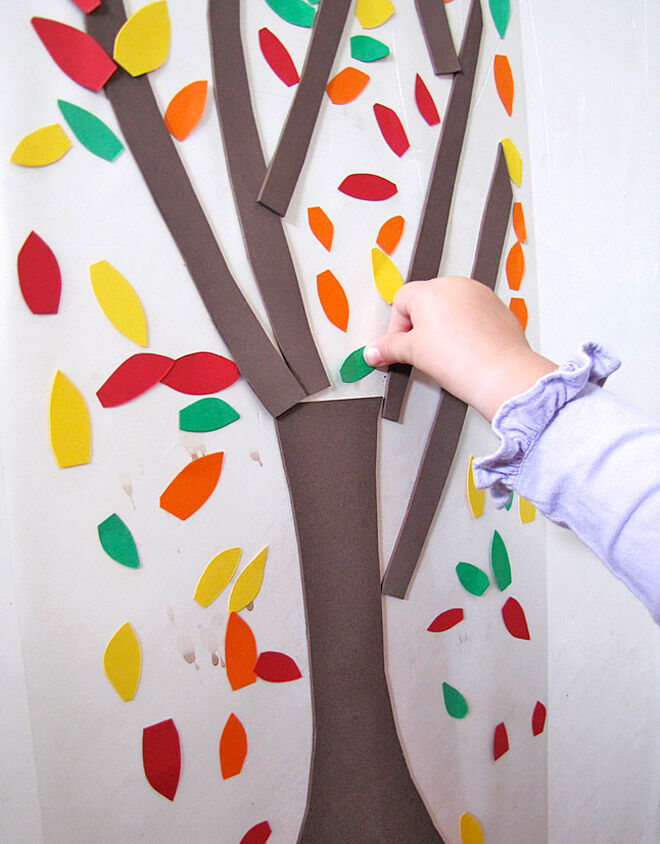 Plant some contact on a wall or window, add a brown paper tree, then unearth a pile of paper leaves. Mini-gardeners are about to stick them here, there and everywhere. (via Powerful Mothering)
2. Painting by sponges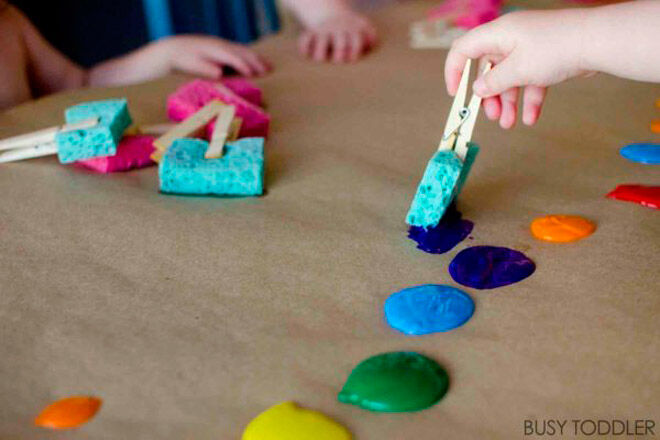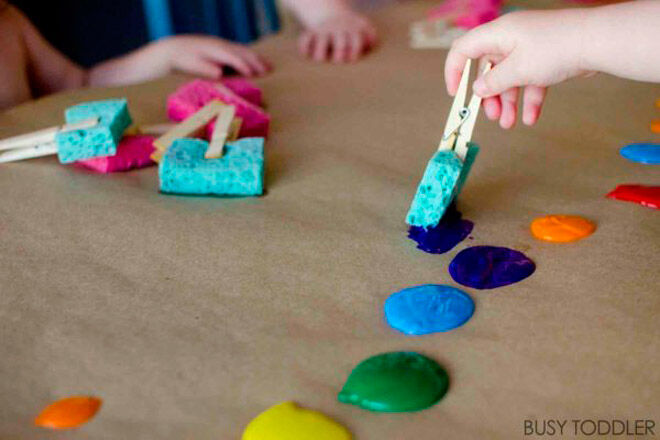 Attach pegs to bits of sponge (or cotton balls), then squirt out some paint blobs and let the dabbing begin! This toddler activity keeps fingertips focused on art-making. (via Busy Toddler)
3. Stick 'em up!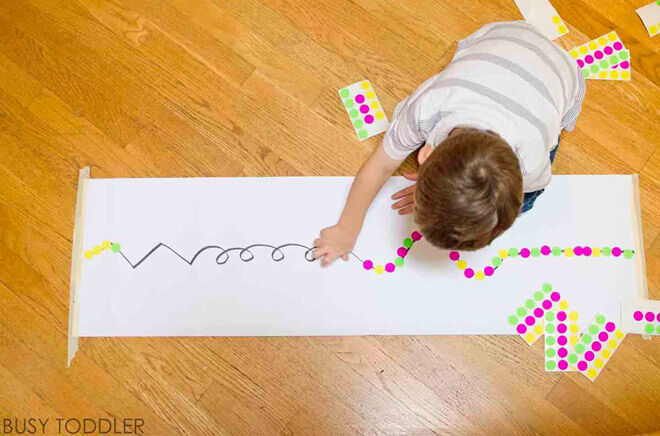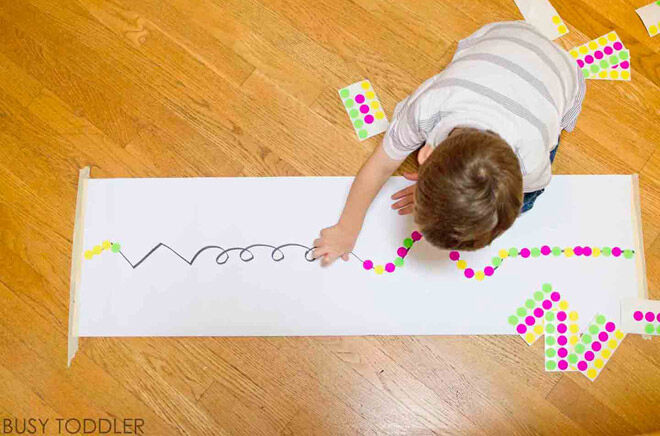 Stickers are a genius way to hone fine motor skills, and this sticker line-up idea creates a game of 'follow the texta'. (via Busy Toddler)
---
MASTERING POKING
Hand-eye coordination is an essential skill for toddlers to master, and poking things into tiny holes is a fab way to practice this and build concentration skills.
1. Fuzzy fingers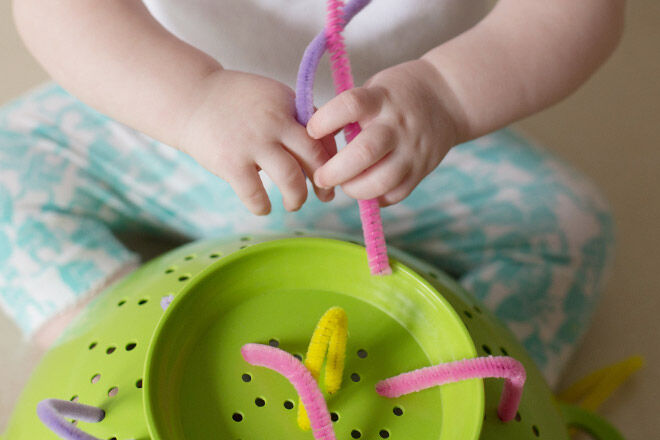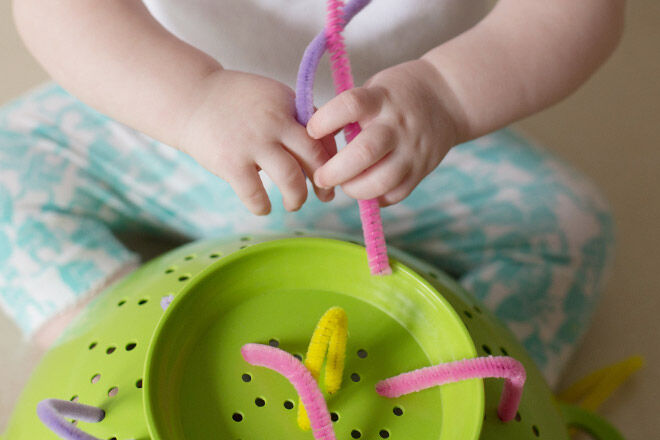 Poking pipe cleaners into colander holes is a simple way to combine fine motor play and sensory play. And planting faux flowers in a colander is a pretty twist on the idea. (via Adore Cherish Love)
2. Think outside the box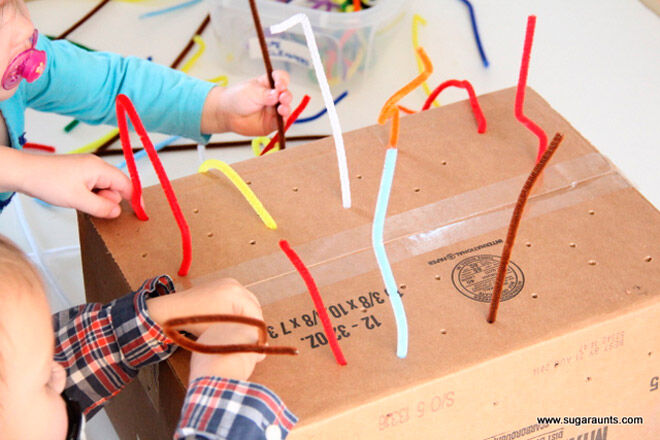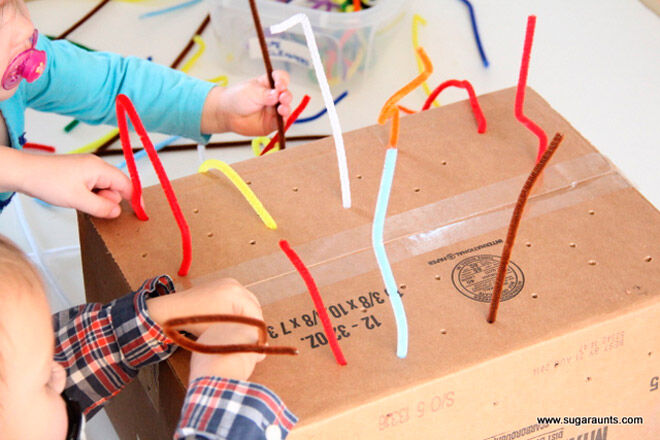 Grown-ups get some fine motor practice poking holes in the box, then it's over to the younger generation. Pass that kid a pipe cleaner – or 20! (via Sugar Aunts)
3. Holy moly!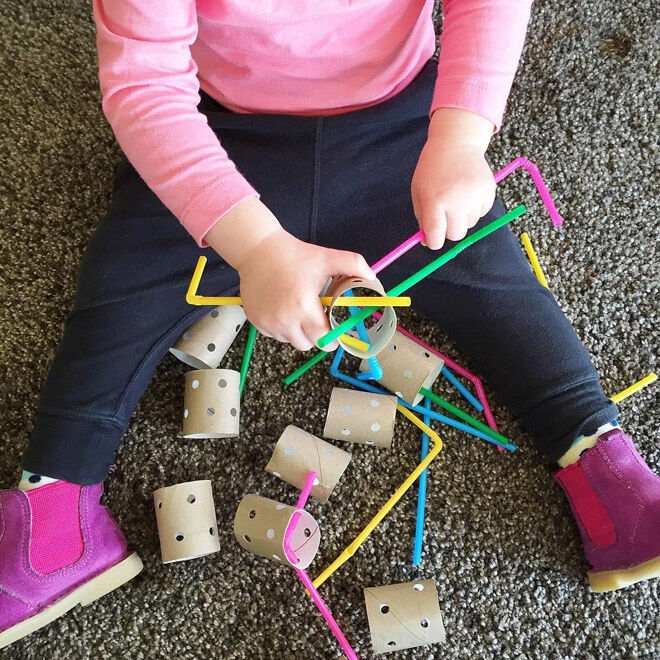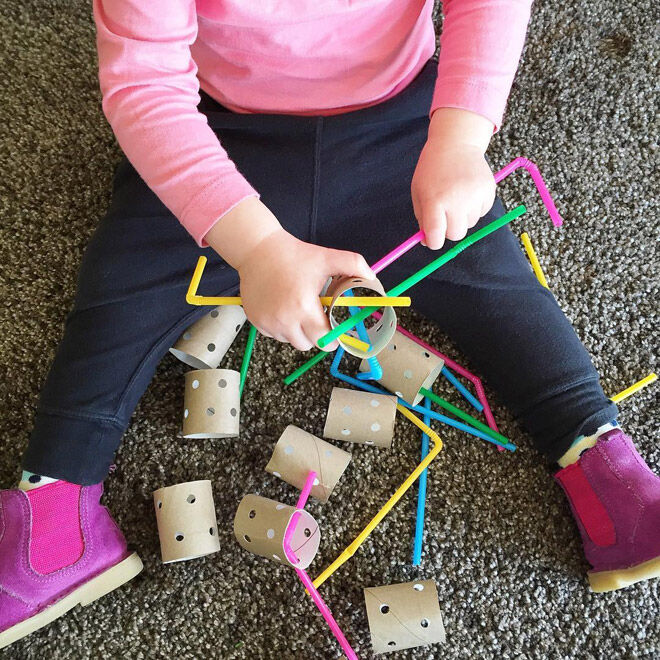 Double up the difficulty (and holes) with this straw and toilet paper roll threading activity. (via A Crafty Living)
---
MASTERING STACKING
Build fine motor skills with building blocks! Stacking requires concentration, a sense of balance,  delicate muscle work and the pincer grasp.
1. Good, clean fun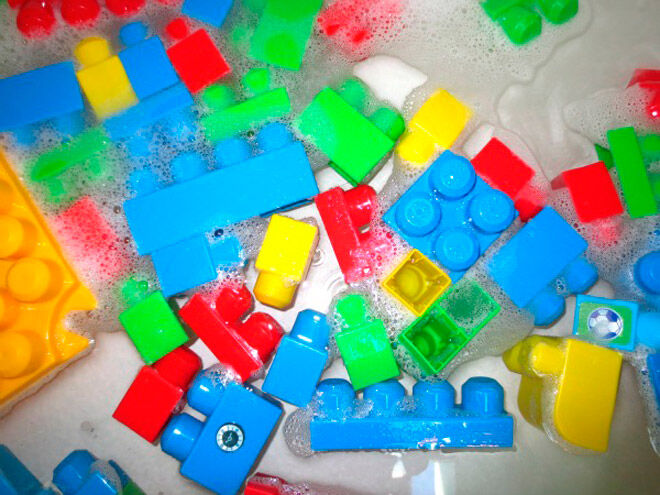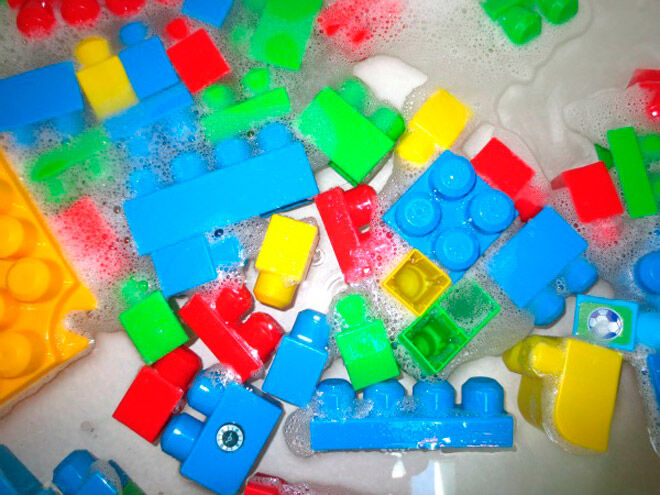 Mega Bloks are marvellous for fine motor play, and dunking them in the tub makes for even more slippery, grippy fun. (via Bath Activities For Kids)
2. Sky high skills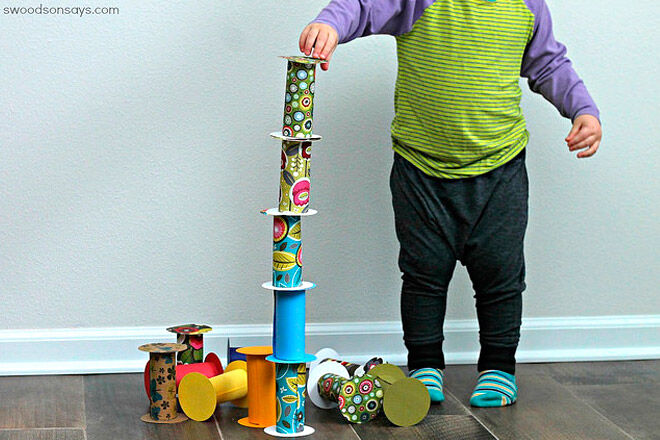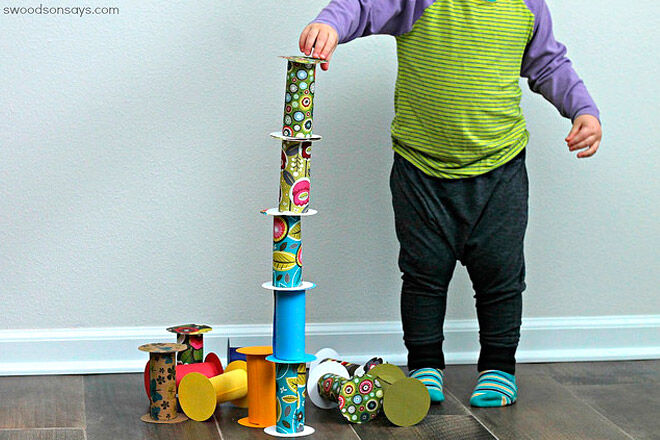 These building blocks (well, cylinders) might be made from toilet paper rolls, but they're good for stacking. (via Swoodson Says)
3. Stack like an Egyptian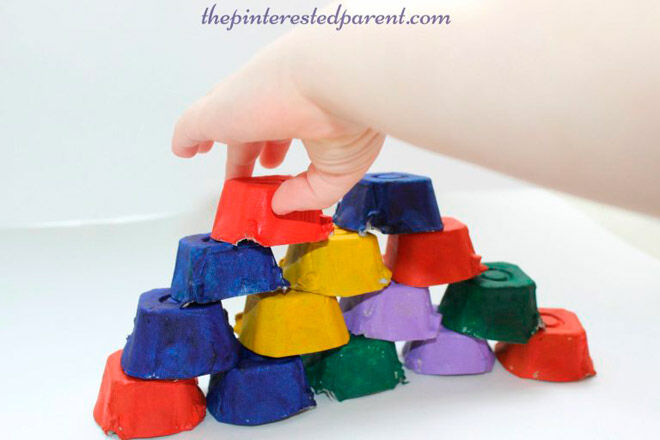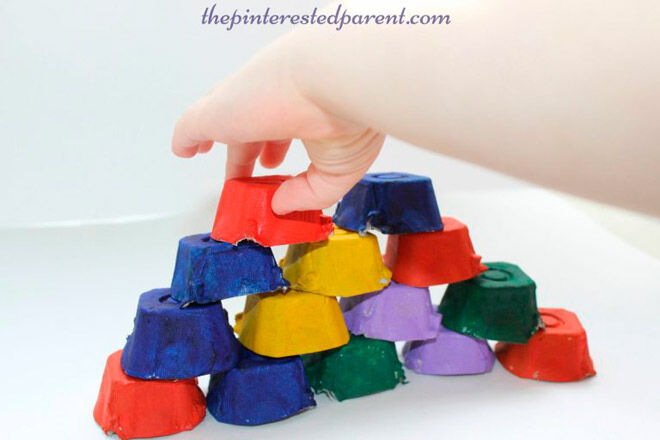 These egg carton building blocks are a DIY cracker. Stack them on top of each other, then get tricky later on with a multicoloured, multi-level pyramid. (via The Pinterested Parent)
---
MASTERING TWISTING
Muscles in the thumb, fingers, hand, wrist and arms come into play with twisting. Plus, toddlers need to concentrate hard on the task at hand.
1. Simple pleasures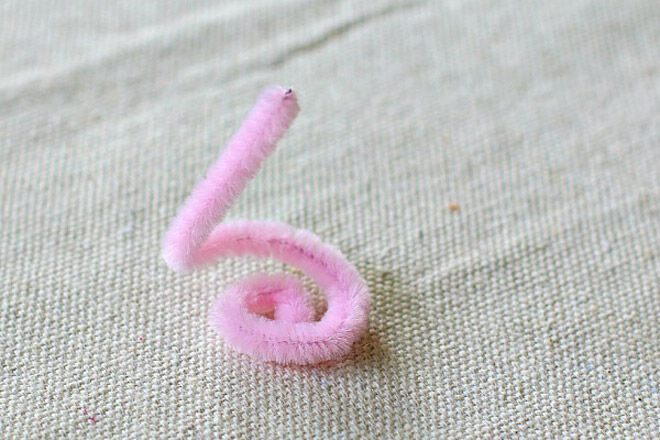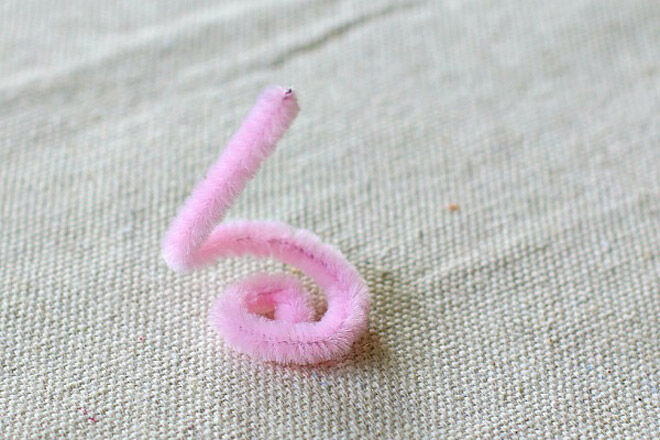 The humble pipe cleaner is a great start for tiny twisters. Wrap it around fingers, pencils or just bend it back and forth to get a feel for things. (image via Buggy and Buddy)
2. Let's do the twist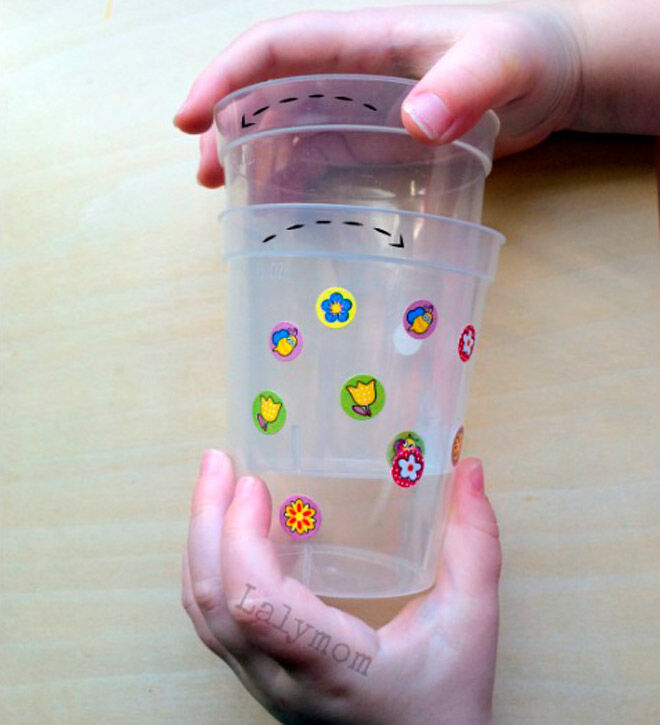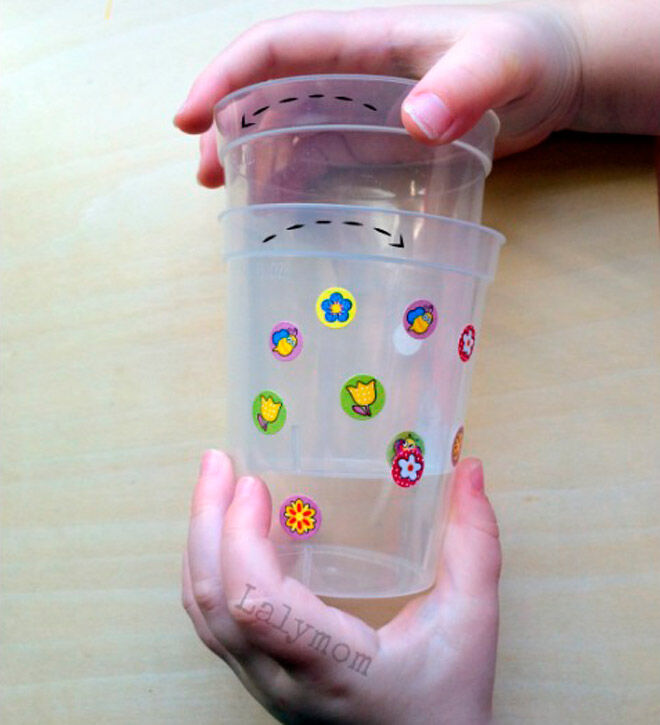 Twist the cups to 'fly' the butterfly sticker to all the flower stickers. Inspired! (via Lalymom)
3. Kiddie construction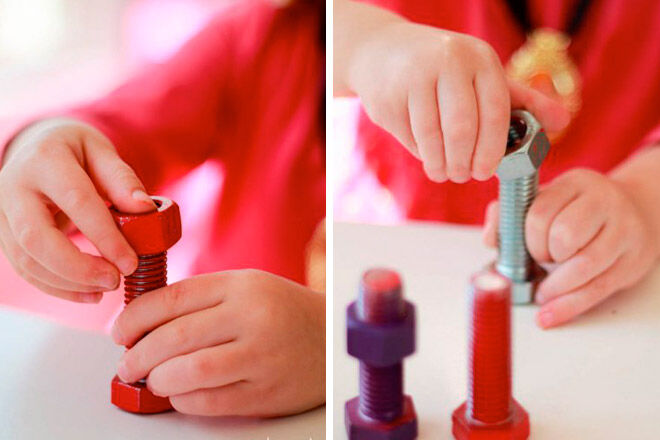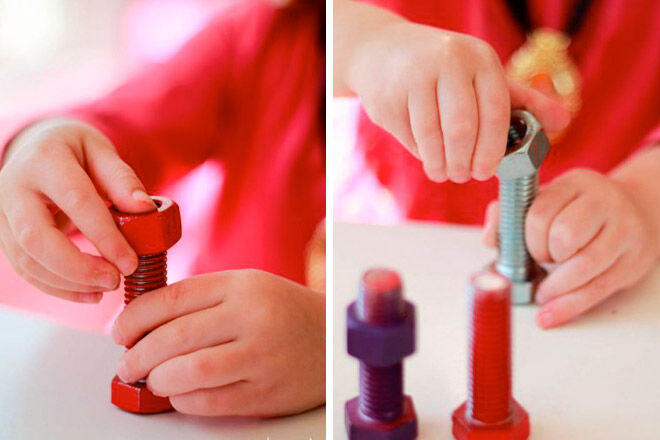 Tool kits for kids get little fingers moving. This nuts and bolts challenge takes serious concentration! (via Playground Parkbench)
---
MASTERING CUTTING
Scissor skills are an exciting development for toddlers and from the age of two, they can start snipping. Scissors build up the hand muscles that are used for writing later on, and they also enhance hand-eye coordination.
1. Snip, snip, snip!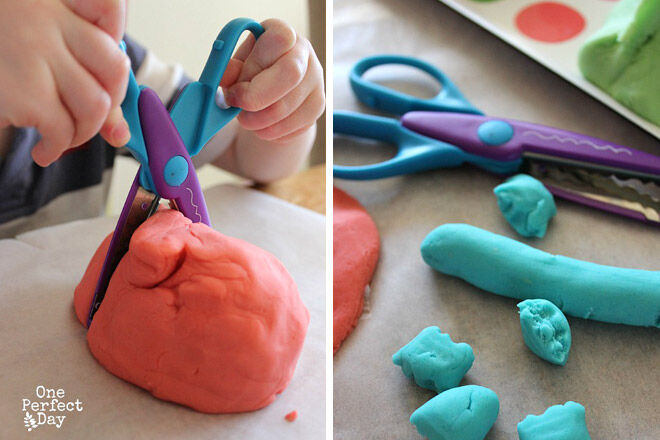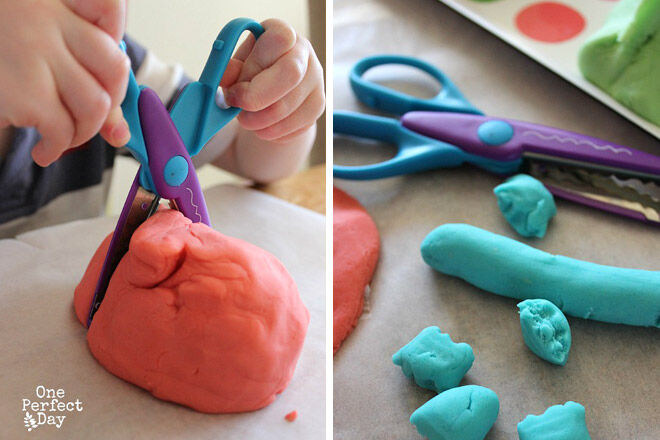 Squeezing and moulding play dough is a fab way to flex little fingers. And snipping the squidgy stuff practices scissor skills. Yay! (via One Perfect Day)
2. Bowl, paper, scissors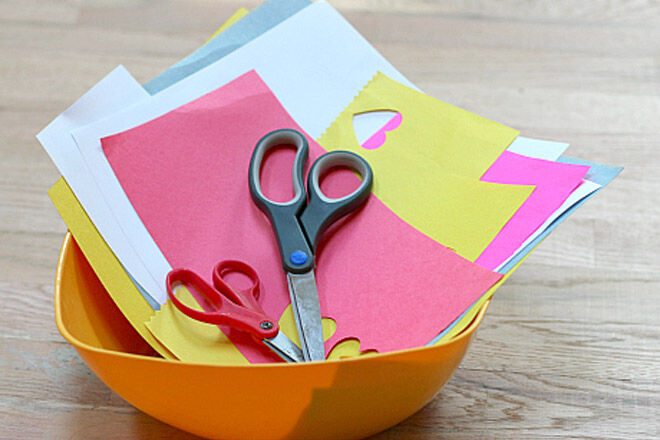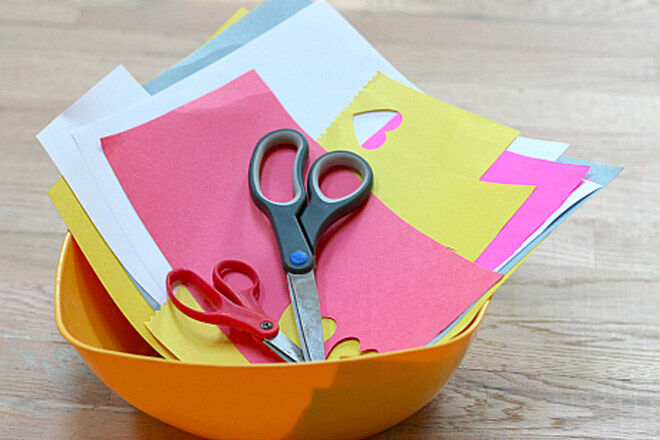 This DIY cutting station is a friendly introduction to the world of paper cutting (not to be confused with paper cuts). Just add paper scraps and supervision. (via No Time For Flash Cards)
3. Style cuts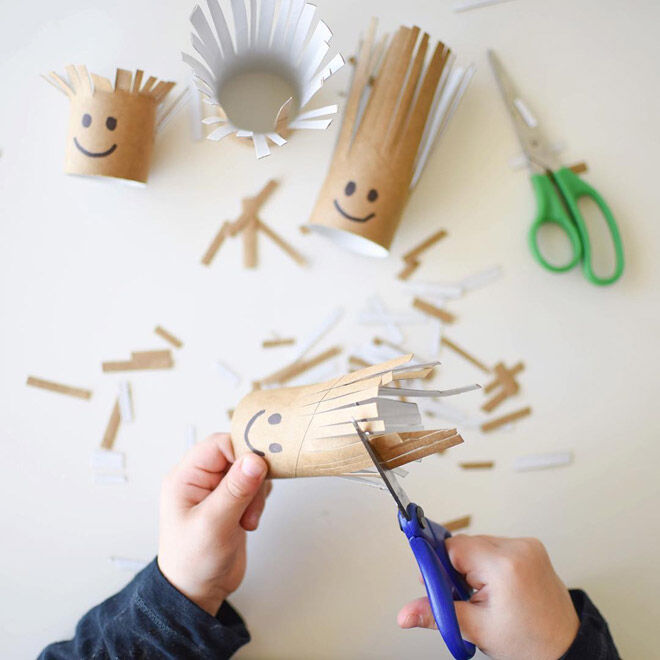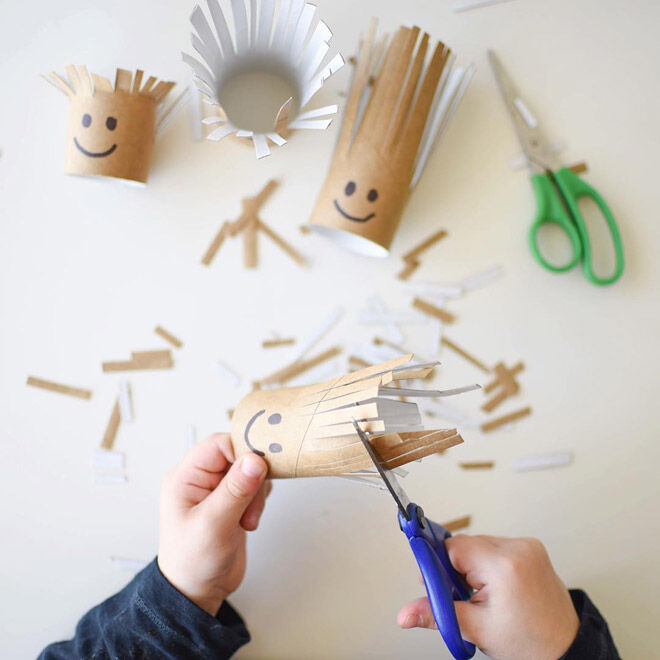 Step into the salon for toilet paper roll family haircuts! It's hair-larious for apprentice snippers. (via A Crafty Living)
---
EVERYDAY ACTIVITIES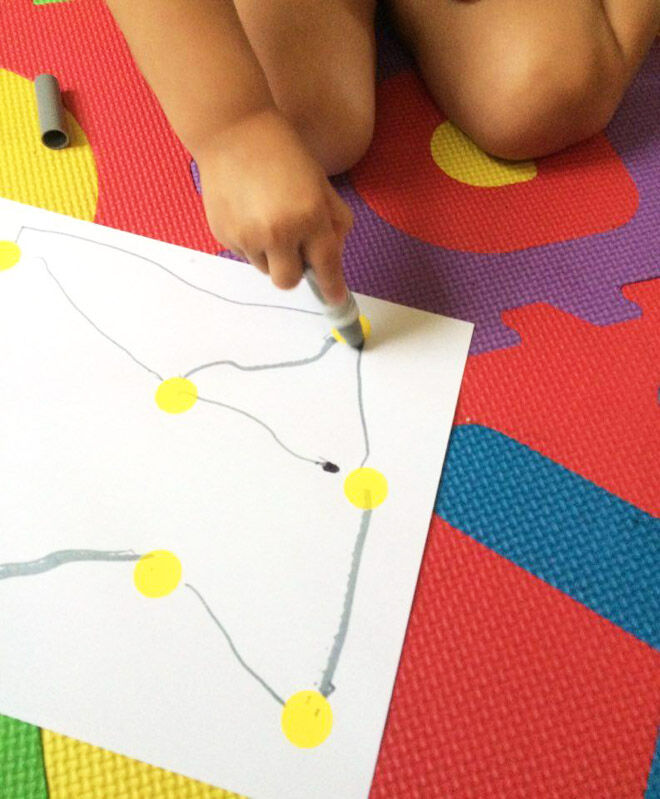 Every day is Fine Motor Skills Day, and here are four easy ways to give toddlers extra practice:
Encourage them to dress and un-dress themselves
Pass them a washcloth to squeeze water out of
Do large-piece puzzles together
Experiment with craft, drawing and writing. The large DIY dot-to-dot pictured above is genius (via Love To Teach).
Read next …
Looking for more ways to play with your toddler that are stimulating, educating and fun? Check out these next articles …
30 sensory play activities for toddlers
14 DIY musical instruments for toddlers
20 brilliant busy bag ideas for toddlers