4.6 average from 18 reviews
99% would recommend this to a friend
It's official. Mums love ALDI's Mamia Nappies!
Offering premium quality at an everyday affordable price, the Unisex Mamia Nappy range is designed to suit each stage of your baby's development.
The contoured Triple Layer core provides greater, faster absorption for a slimmer, more comfortable fit. And the stretchy Comfy Flex sides offer continued protection against leaks while still giving little ones complete freedom to move.
Better fit and greater comfort in a thinner nappy. Less really is more with Mamia Nappies!
Visit ALDI for further details.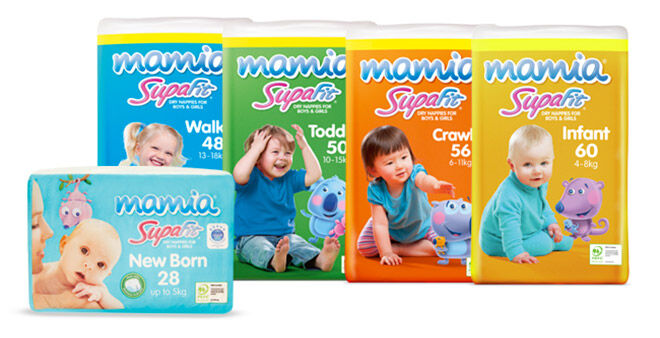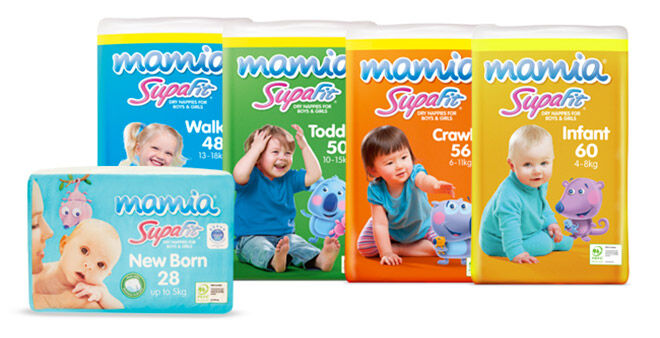 Here's what mums are saying on Mum's Grapevine
---
Sharni-lee from Wyreema tested the Mamia Walker Unisex Nappies.
For a mum that has always trusted and used Huggies nappies for my son from birth, I personally think that for the price of Mamia nappies they are an absolutely wonderful alternative to a brand name nappy. In actual fact Mamia practically does the same job if not better! Not only are they a cheaper alternative, they hold in so much and never leak, even after a good nights sleep (no more poo explosion blowouts either!). The tabs are firm and manage to stay in place even though my son will try and pull at them, and they have a simple, cute design which every mum will love! I am sold!
"…absolutely wonderful alternative"
---
Emma from Malvern East tested the Mamia Infant Unisex Nappies.
The ALDI Mamia Supa Fit Nappies fit very comfortably on my 6 week old baby. They flatten out nicely when nappy changing, making them easier to put on with little wriggling legs getting in the way. The nappies didn't leave any marks or irritate his sensitive newborn skin and we had no leaks, so I have been happy with the absorbency of these nappies. I would happily purchase these nappies in future and think they offer a very good value for money.
"…happy with the absorbency"
---
Louisa from Moorabin tested the Mamia Toddler Unisex Nappies.
These are fantastic everyday nappies. I wouldn't hesitate to recommend them to a friend – especially a new mum who's new to the world of nappies. Worth a trip to ALDI to buy some, I'll definitely be buying them for everyday use, you really can't beat the quality for the price! Team these nappies with the ALDI wipes and I'm a happy mum!
"I'll definitely be buying them"
---
Fern from Virginia tested the Mamia Newborn Unisex Nappies.
These nappies are fantastic value and super comfy for baby! I absolutely love the features of the soft spot to protect sensitive, new belly buttons and the visual strip indicator that tells you at a glance if baby needs changing or not. These nappies were soft, snuggly, fit very well and were such great value for money! I was so impressed at the quality and cost efficiency of these! I felt that these were not quite as absorbent as my usual brand to last the whole overnight period, however even if you used these during the day and used an extra absorbent nappy at night, you would still save heaps of money on daytime nappies. Overall, these nappies are an inexpensive and quality product that I would recommend to anyone for daytime use.
"…fantastic value and super comfy"
---
Lauren from Mount Stuart tested the Mamia Crawler Unisex Nappies.
Wow, what a steal – 56 crawler nappies for just over $10! Not only are they inexpensive but the quality is great! I love the bright packaging and convenient, slim plastic carry-bag design. Having the nappies in a bag is easier to store than a bulky cardboard box when you are tight for storage space. My baby is just over 8kg and the crawler nappies fit her perfectly. They are stretchy around the legs but also stop the wetness from seeping out. The tabs are easy to pull tight and stay firm one handed. My baby is wriggly and I found there is enough give to get them done up quickly. They have a cute wombat print on them, it's fun and colourful. The nappies are thin but they draw a lot of moisture. I have tested them overnight and during the day, and I have not had any leaks or explosions out the side. They are incredibly soft on the skin, much softer than my normal nappy. I am really impressed with Mamia. If I swapped these for my normal nappies then I could go on a nice weekend holiday with the kids with the money saved in a year! ALDI better hurry up and come to Hobart as I will be disappointed when I have run out.
"…incredibly soft on the skin"
---
Jessica from Emerald tested the Mamia Junior Unisex Nappies.
I was a bit sceptical at first about using these nappies but went ahead with them and I must say I am super impressed! My twins woke up with no leaks, they were still fitting the same as when I put them on to go to bed. They lasted the full 12 hours overnight. They fit on both my twins which is amazing as they are both different shapes, so it doesn't matter if your child is short or tall, they will fit to your child.
"I am super impressed"
---
Lauren from Bibra Lake tested the Mamia Crawler Unisex Nappies.
I love the extra long wrap-around style side tabs as my son has chunky thighs and gets red marks on the tops of his thighs with other disposable nappies. My son is also a heavy wetter and I left the nappies on longer than I'd usually do but only had one incident of leakage in the week. The one fault that I found is that when my son had massive #2 incidents it ended up his back. I think this happened because there is no leak guard or stretch at the back like other disposable nappies that I've tried.
"…extra long side tabs"
---
Megan from Brookfield tested the Mamia Toddler Unisex Nappies.
Overall I quite liked the ALDI Mamia Supa Fit Nappies. They seem slightly larger width-wise than the nappies I usually buy, but at the same time aren't bulky or ill-fitting. Even despite the different overall shape to the usual nappies I buy, these fit my child well and we didn't have any leakage issues. This is a product I'd recommend to others and I wouldn't hesitate to pick up a package the next time I'm at our local ALDI.
"I'd recommend to others"
---
Courtney from Aldinga Beach tested the Mamia Toddler Unisex Nappies.
I've been pleasantly surprised by the ALDI Mamia Supa Fit Nappies. They're generously sized so there is no tightness around baby's tummy and they fit well but not too tight around chubby legs! They have fantastic absorbency and we've had no leaks overnight. They keep the moisture away from delicate skin well, so thankfully no problems with nappy rash. An added bonus is that they also have a super cute design on the front and back and feel lovely and soft. I'm happy knowing my baby is comfortable and dry wearing Mamia Supa Fit Nappies.
"…generously sized"
---
Stacey from Endeavour Hills tested the Mamia Infant Unisex Nappies.
I was surprised at how thin they were to begin with, but they proved to be super absorbent without being bulky. The wetness indicator was a welcome addition, most of the cheaper priced nappies on the market don't have these on them. Though my daughter is teething and suffering some terrible nappy rash, the nappies did not cause it to get worse and I think it had cleared up by the end of the weekend. The elastic around the legs did not cut into her thighs and there weren't any red marks left (like I've experienced with other brands). The unisex picture was very cute and doesn't make picking nappies harder than it needs to be. Avoiding the girly patterns on other brands takes a lot longer than is necessary. I don't usually use the ALDI brand nappies, but would consider them again when we need more.
"…super absorbent"
---
Mamia Nappies suit every stage of baby's development from birth, through crawling, walking and finally toilet training.
Mamia Newborn Unisex Nappies up to 5kg 28pk $4.29
Mamia Infant Unisex Nappies 4-8kg 60pk, $10.99
Mamia Crawler Unisex Nappies 6-11kg 56pk, $10.99
Mamia Toddler Unisex Nappies 10-15kg 50pk, $10.99
Mamia Walker Unisex Nappies 13-18kg 48pk, $10.99