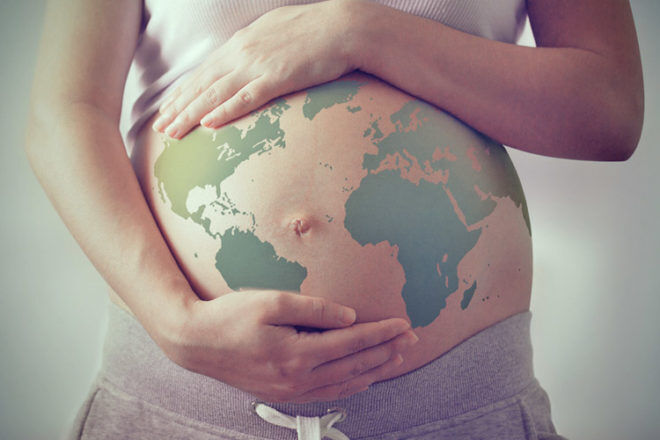 Oh the places they'll go! Choosing a baby name opens up a whole world of possibilities and there is inspiration to be found in every corner of the globe. From Australian suburbs and American states, to capital cities and colossal countries, place names are a passport to adventures ahead.
Here are 42 baby names inspired by locations. Pinpoint a destination and away we go!
Baby names inspired by places around the world
Adelaide: South Australia's capital means 'noble', and Rachel Griffiths and Katherine Heigl both made this upstanding choice for their daughters.
Assisi: This Italian place name is wonderfully unusual and took Jade Jagger's fancy for her daughter.
Atlanta: Atlanta is growing in popularity and Atalanta is an option too. Alternatively, dive into a mythological city and choose Atlantis.
Austin: This unisex American place name means 'magnificent'. It's popular in Australia, and Austen works well too.
Avalon: Both beachy and refined, this Australian place name makes a sunny choice.
Brighton: This English coastal town is a cheery unisex moniker. Head to 'bright town'!
Boston: It's Boston strong for boys, and fairly popular too.
Bronte: This surfy Sydney suburb also has literary roots, courtesy of the Bronte sisters. It means 'thunder'.
Bronx: New York, New York! Ashlee Simpson and Pete Wentz named their son Bronx and it's a bold name with that on-trend 'X' at the finish.
Brooklyn: Another New Yorker. This unisex name rocketed in familiarity with Brooklyn Beckham, but remains more popular for girls, sometimes as Brooklynn.
Cairo: Walk name like an Egyptian! Cairo is an exotic moniker for girls and boys.
Camden: London's Camden Town is renowned for its markets and music, so this unisex name is hip and happening. It means 'winding valley'.
Carolina: A whimsical alternative to Caroline, this name has an American twang and can be shortened to Caro, Lina or Carrie.
Chelsea: A posh London suburb and a Manhattan neighbourhood, Chelsea is a pretty name for girls and a pretty unusual one for boys.
China: This is an uncommon yet elegant choice. For a less literal spelling, try Chynna.
Dakota: Dakota Fanning gives this American place name some girl power, however, it's as common for sons as it is for daughters. It means 'friendly one'.
Devon: In Australia, Devon is associated with pressed meat! However, internationally, it's an English county and stylish name. Hello Devon Aoiki.
Eden: As a girls' name, Eden made the top 100 Australian baby names in 2015, however it works for boys too. Eden is a coastal town in NSW and goes way back to the Garden of Eden.
Egypt: Channelling the Cairo feel, Alicia Keys loved it enough to call her son Egypt.
Florence: Bellissimo! This stunning Italian city is great inspiration for a name. It means 'flourishing' and has a whiff of Flora.
Georgia: The 28th most popular girl's name in 2015, Georgia is the female version of George. It's also a country below Russia and a southern state of America.
Griffith: This NSW country town name has a Welsh origin and means 'strong lord'.
India: Chris Hemsworth chose India for their daughters, and Indie is a fab nickname.
Indiana: Indiana is unisex option that changes the focus from Asia to America.
Ireland: Alec Baldwin's daughter is an Ireland, and other Irish place names include Shannon and Kerry for lasses, and Dublin for laddies.
Isa: Cast off the Mount Isa mining town connotations and embrace this German name meaning 'strong-willed'. It's one to consider alongside Isabel, Isabella and Isadora.
Jordan: Meaning 'flowing down', this Middle East country works well as a unisex name.
Kingston: Straight out of Jamaica, this name means 'king's town'. So it's fitting that rock royalty (Gwen Stefani and Gavin Rossdale) endowed it on their son.
Logan: Visit Queensland for unisex naming inspiration. Logan has Scottish origins too and is popular there for boys.
London: Easy to say and spell, this mostly girl's name has gained favour amongst parents.
Maddison: This popular Aussie name can be traced to Madison Square Gardens and Madison city in the US. Addison and Madelyn are sweet alternatives.
Memphis: Meaning 'enduring and beautiful', Bono chose Memphis for his daughter, but it's more common for lads. Reese Witherspoon went statewide for her son, choosing Tennessee.
Montana: This US state includes the Rocky Mountains, so it's fitting that the name means 'mountainous'.
Odessa: A port city in the Ukraine, this is an unusual and pretty name.
Paris: Shakespeare named a male character Paris and Pierce Brosnan followed suit for his son.  Two words: Paris. Hilton.
Phoenix: The capital of Arizona is a tres cool name for boys (and girls). Take flight with this one – the phoenix bird is a symbol of immortality!
Rome: The capital of Italy is a romantic name for either a boy or girl.
Siena: This Tuscan city translates beautifully as a name, or else explore Sienna.
Sydney: Australia's harbourside jewel makes a cool name. or perhaps try Sidney.
Valencia: Meaning 'brave' and 'strong' this Spanish city adds European flair.
Venetia: This region around Venice brings a soft and velvety sound.
Verona: Romeo and Juliet was set in this Italian city, and there's much to love about Verona.
Victoria: With regal tones, this Australian state name makes a classic choice.
---
KEEP READING:
Our Baby Naming section has hundreds more
 Great Danes and stylish Swedes: 19 Scandinavian baby names
 Ciao bambino! 23 Italian baby names
 20 French baby names you'll want to steal