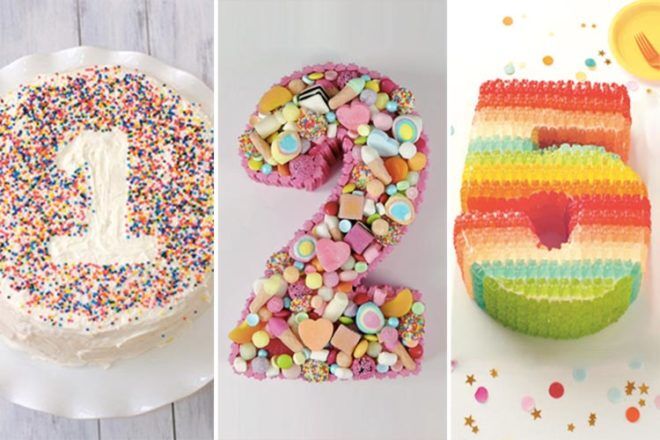 From the age of one to 101, a number cake is a brilliant way to celebrate a birthday.
Fun themes and numerical cake shapes are a formula for birthday success, and with added inspo from the Mum's Grapevine Facebook community, it's as easy as 1, 2, 3 (or thereabouts!) to create a memorable cake.
Here's how to create a number cake, plus 29 designs that will score a 10 and go down in family folklore. Hip, hip and hooray!
Five ways to add a number to a cake
1. Build a number-shaped birthday cake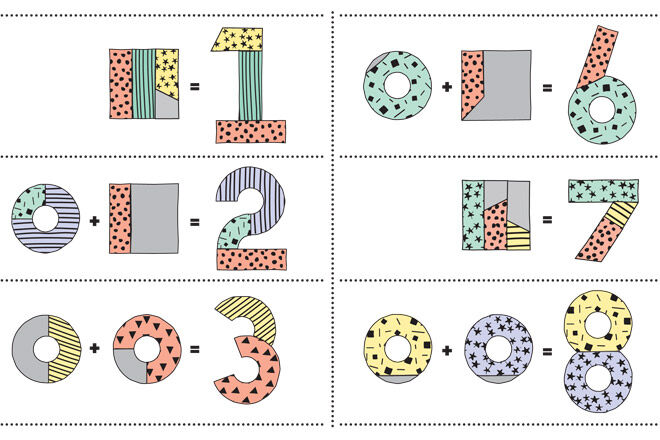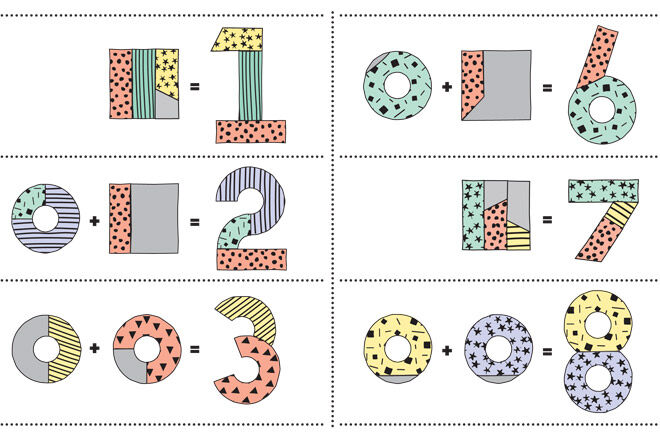 For a DIY cake shape, this printable template shows mummy-chefs how to make any number using round and square cake tins. (via Today's Parent)
2. Stick on a numbered cake topper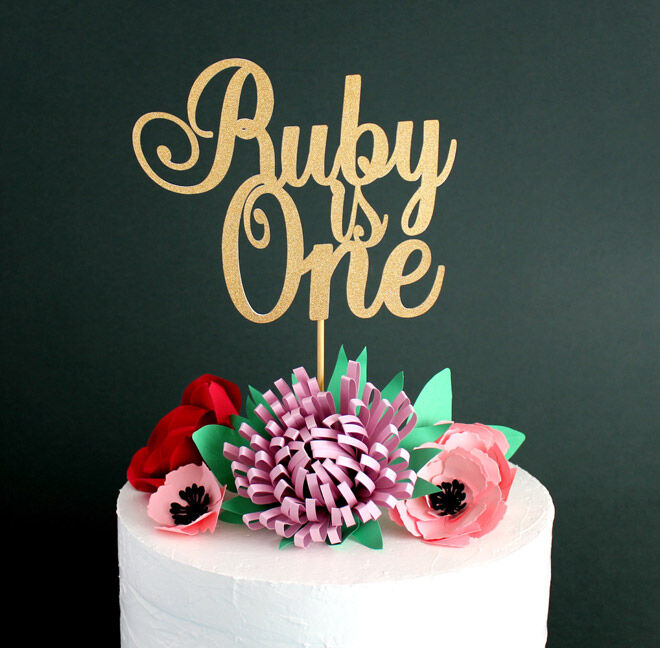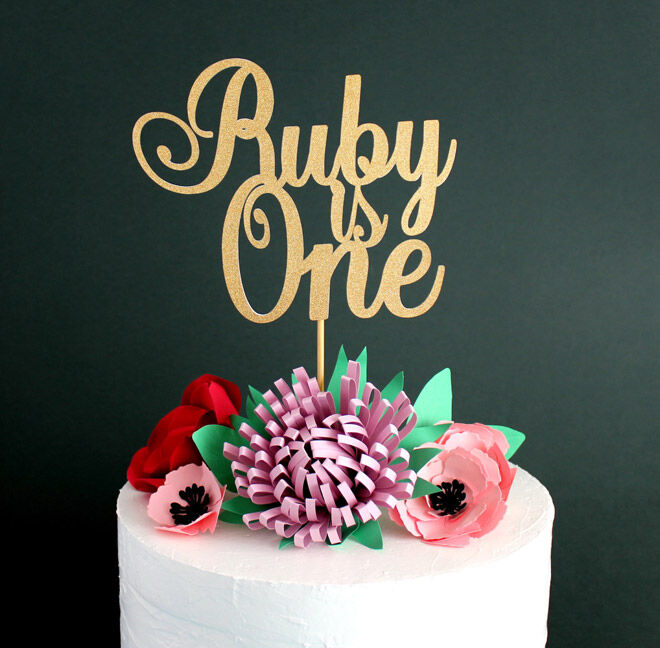 The classic way to mark a birthday is with a numbered candle, but get creative with a personalised topper. This one is from Etsy seller, Stylish Paper Shop ($20).
3. Arrange cupcakes in a number shape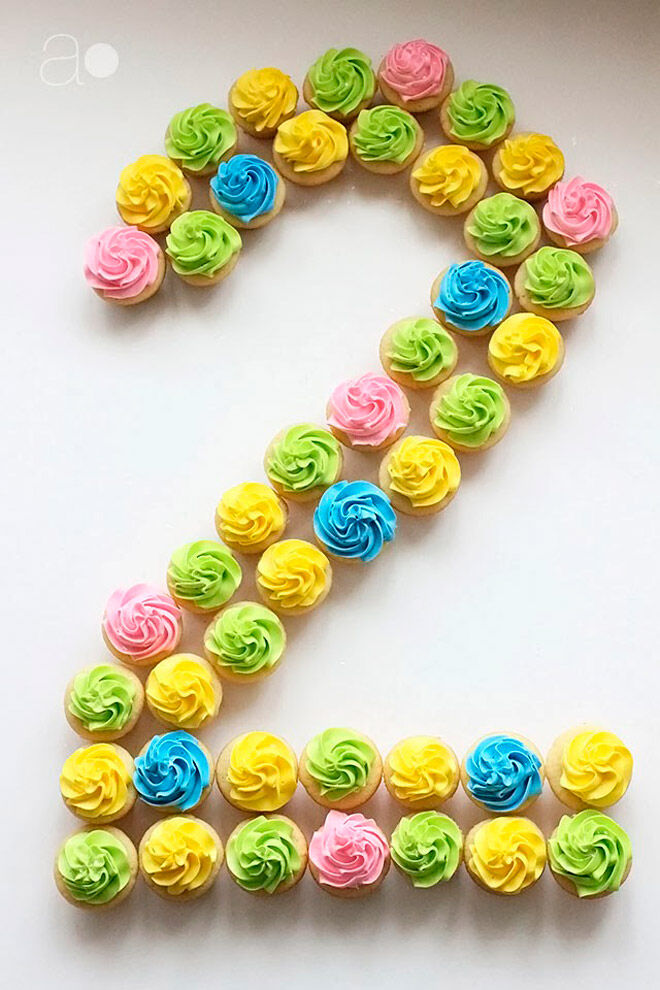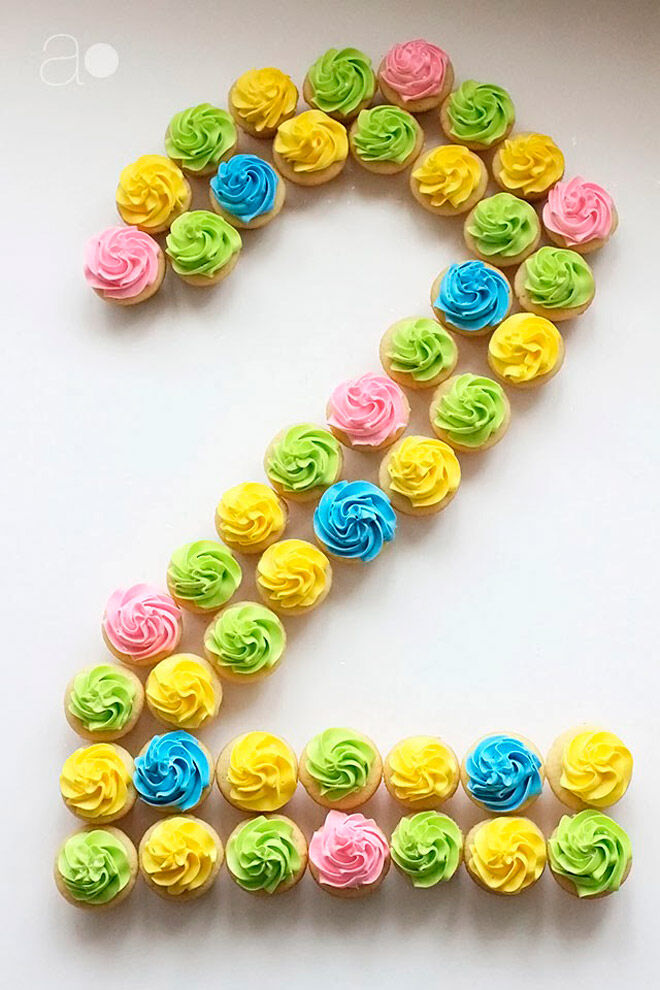 Lay out cupcakes in the shape of the number. Cupcakes + icing = yum. (via Ambrosia Baking)
4. Bake a number-shaped cake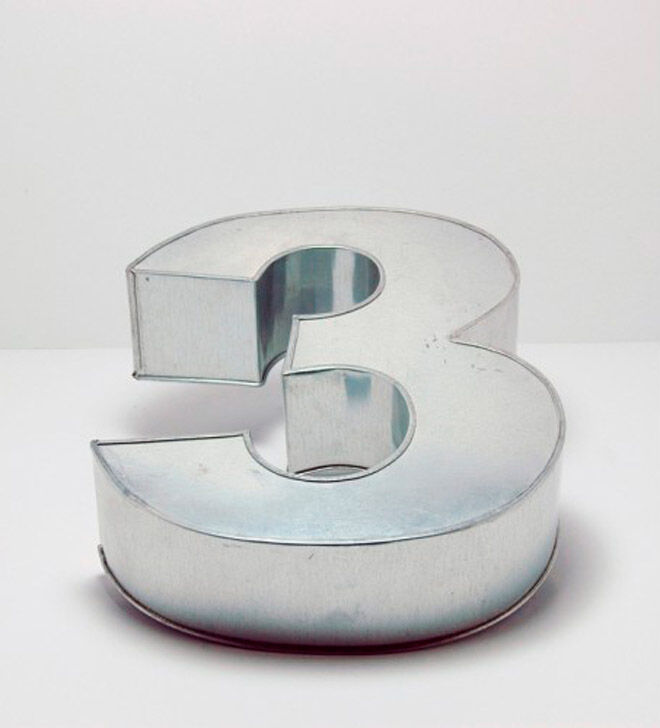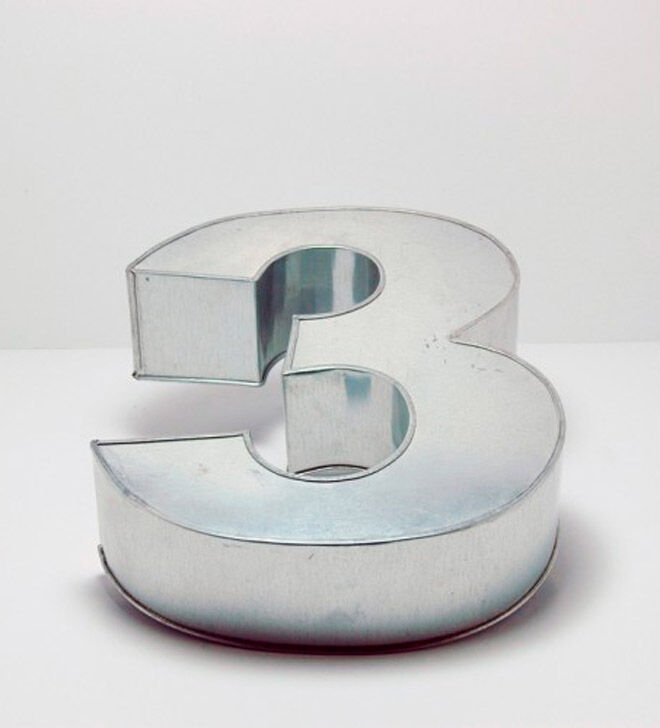 Buy or hire a number-shaped cake tin and the sponge will turn out perfectly. (image via Temptation Corner)
5. Add a number to a round cake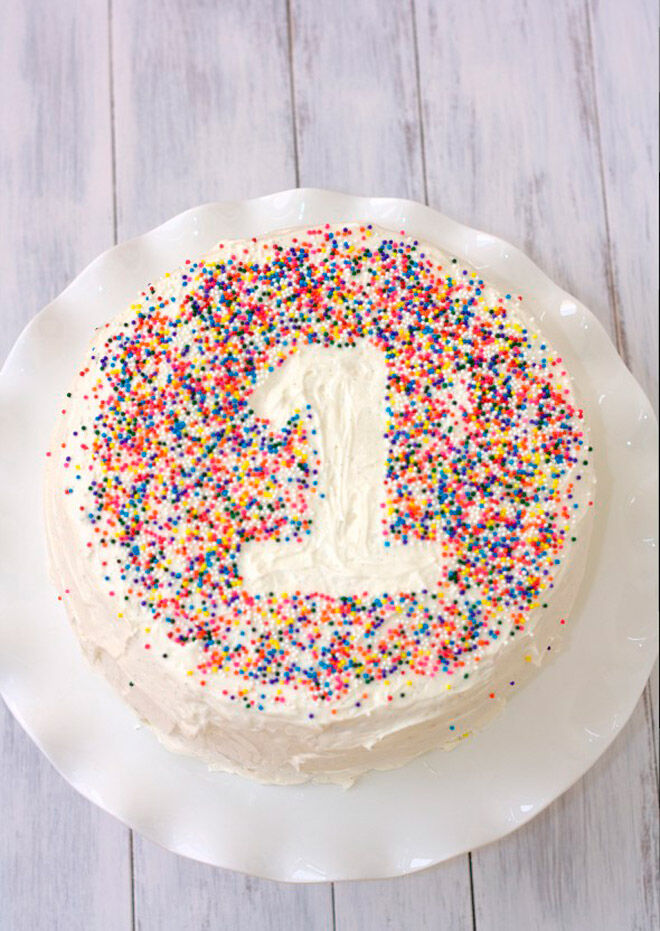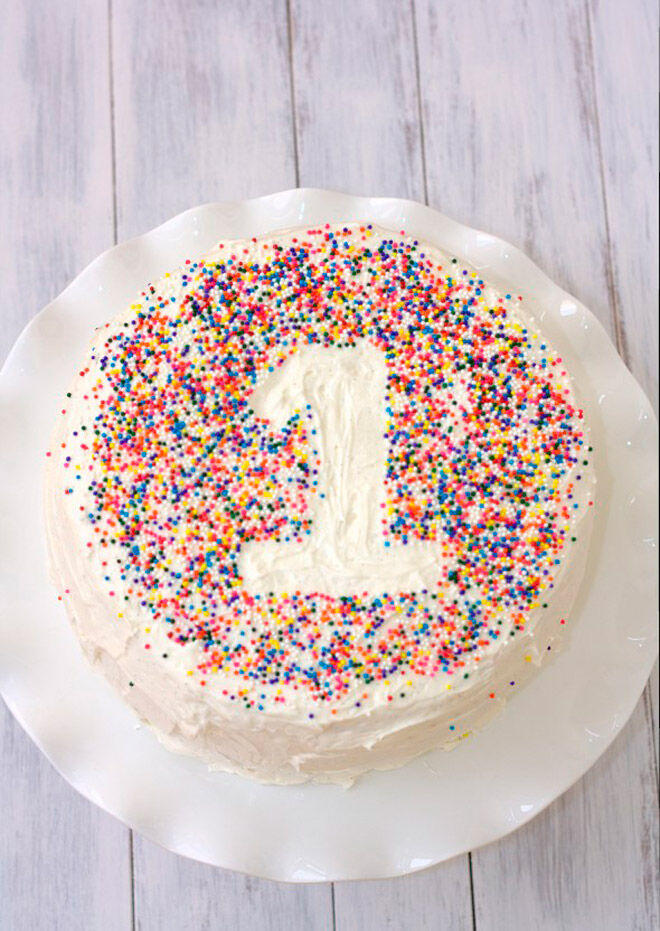 Alternatively, stick with a round cake and add a number to the top with sprinkles, lollies or fondant icing. (via Kristine's Kitchen).


Number cake inspiration
There is a number cake for every age and interest, starting with this smorgasbord of sweet ideas:
The mighty jungle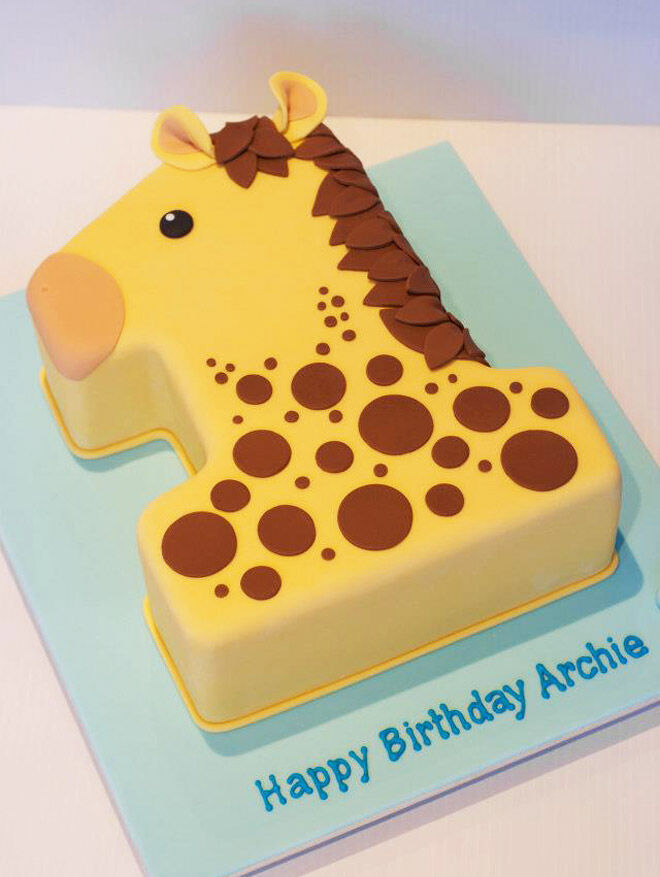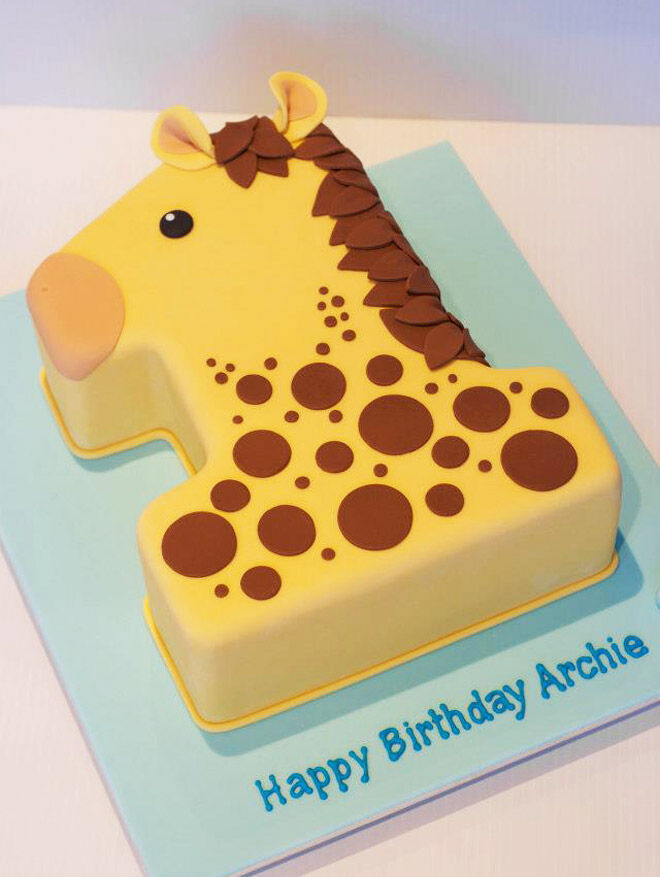 Bubba will go wild for a cake that looks like a giraffe! (via Bec-A-Licious Cakes)
Letter writing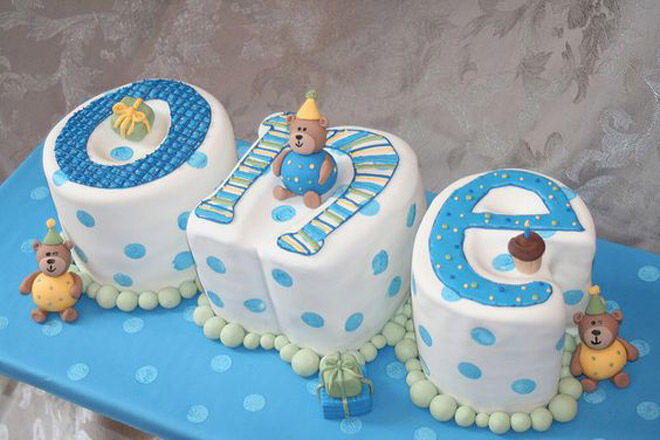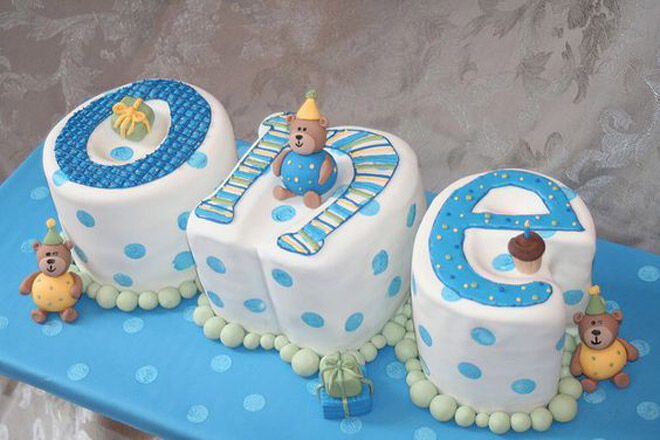 Spell out the number and get three cakes for one birthday. Genius! (via Big Fat Cook on Pinterest)
Polka dot delight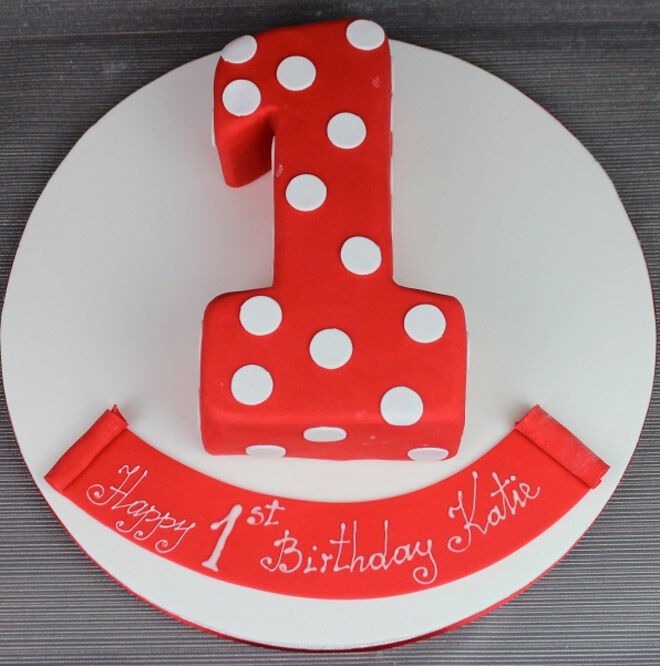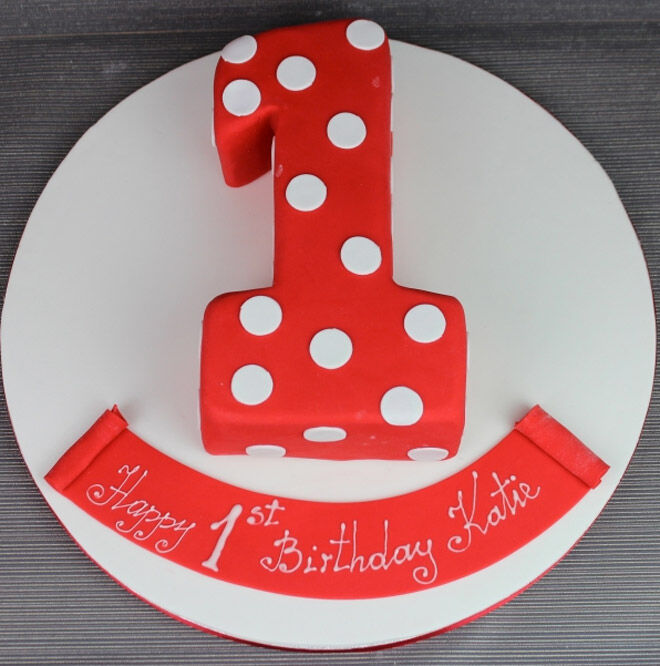 Go dotty with this cute cake, or jazz it up into a Minnie Mouse or ladybird creation. (image via Creative Cakes)
Circus show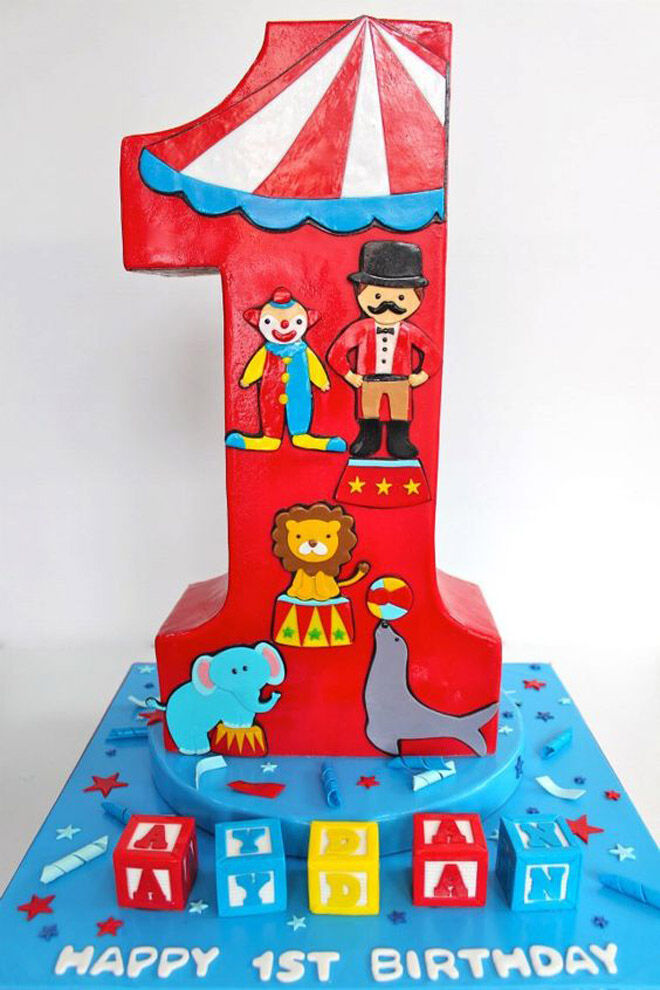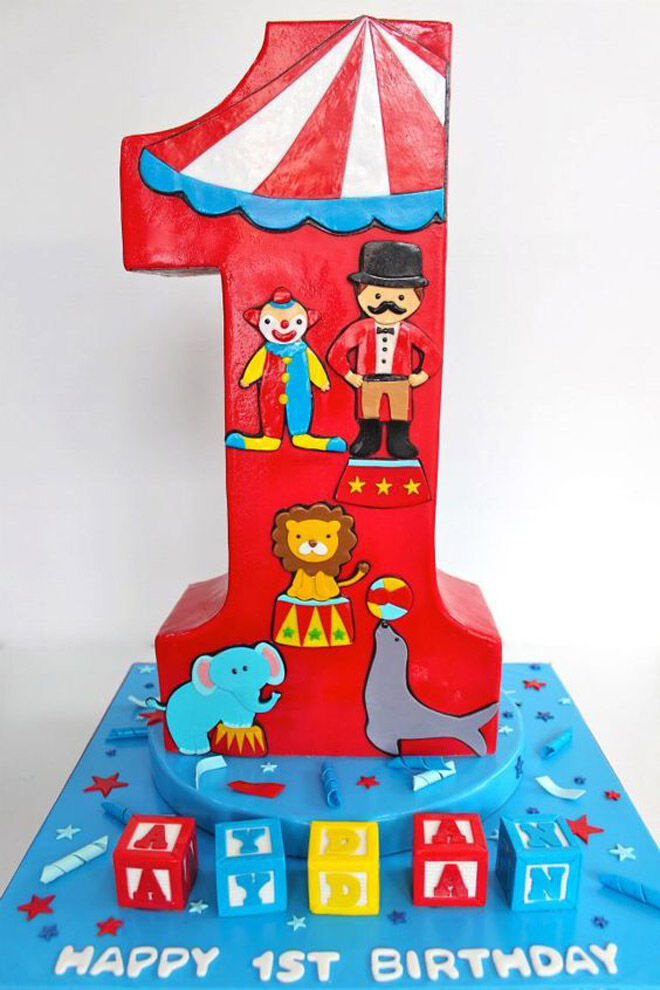 Up the difficulty level with a stand-up number cake. This circus-themed one balances colour and creativity. (via Celebrate with Cake!)
Lolly overload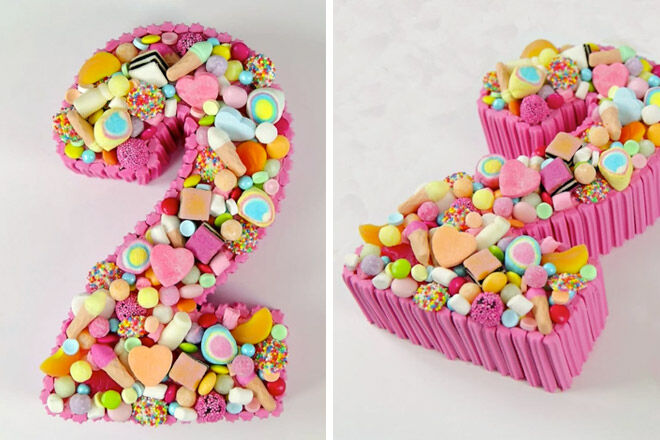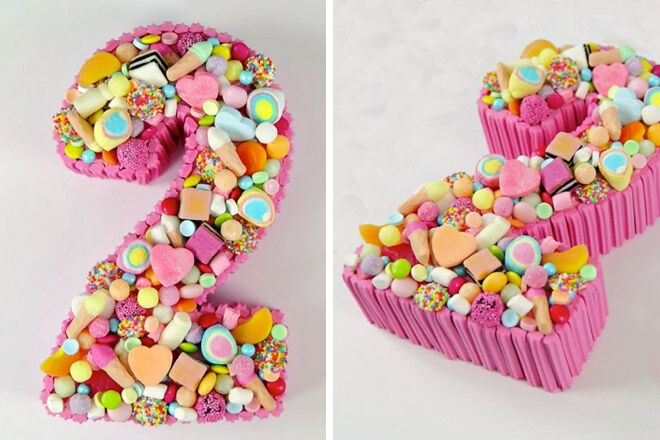 This video shows another way to make a number-shaped cake, and how to load it with lollies. The more, the merrier! (via Cake Style)
Farmyard fun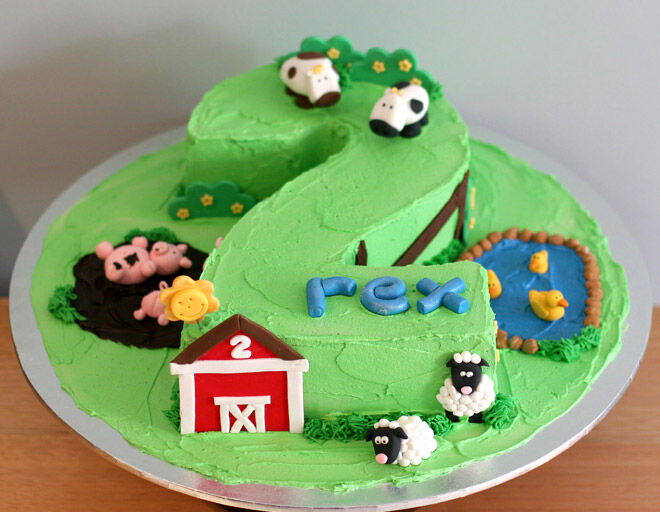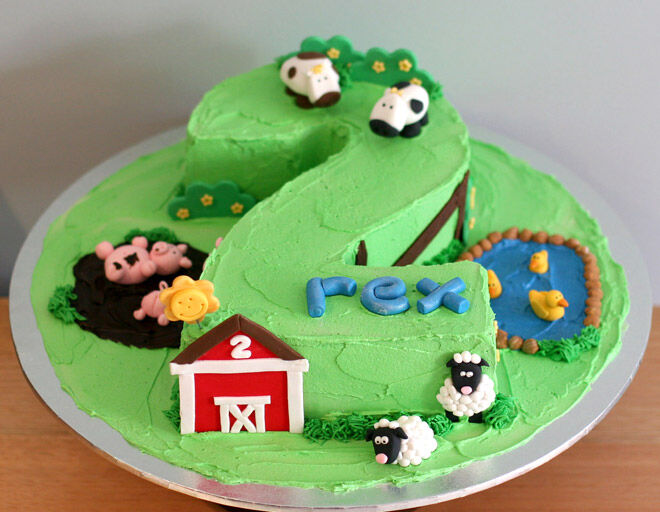 This farmyard cake will get an "e, i, e, i, oh yay" from toddlers. (via Kat Moss on Flickr)
Rad racetrack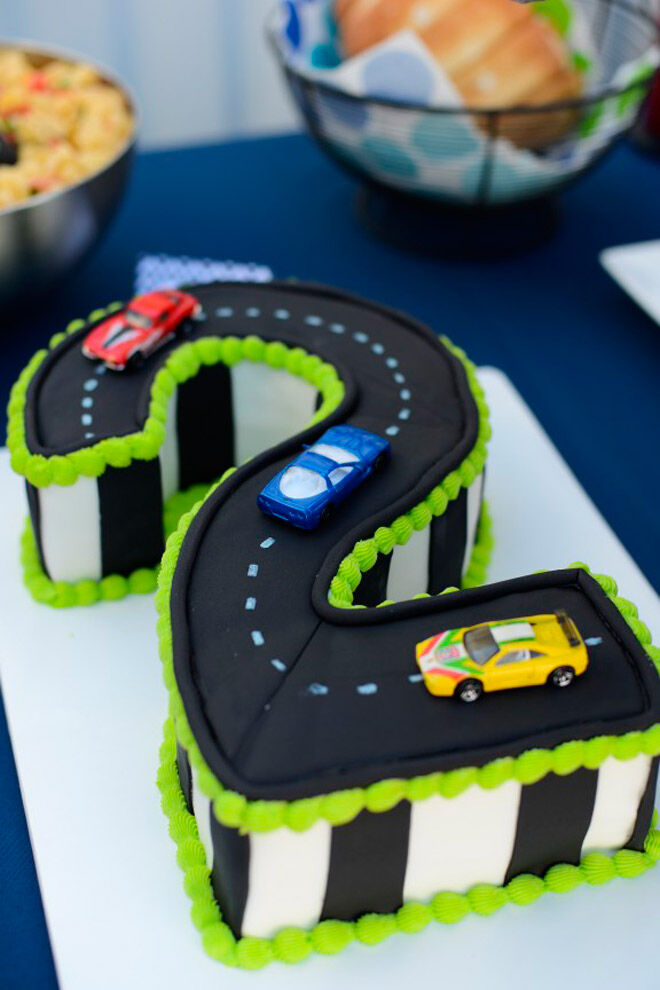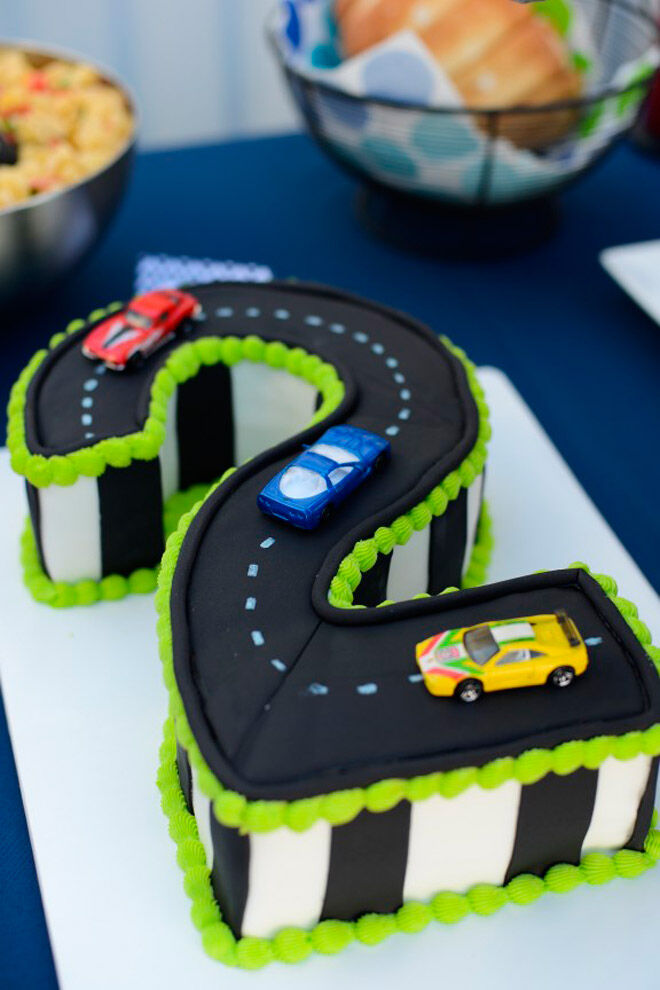 Guests will be off and racing after a slice of this cool car-themed cake. Vroom! (via MMJ Events)
Train day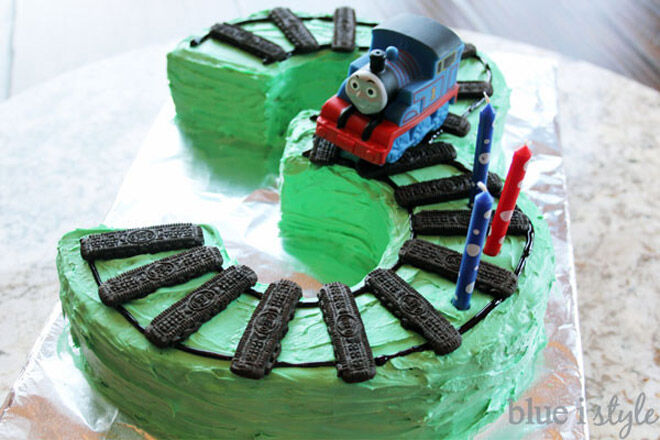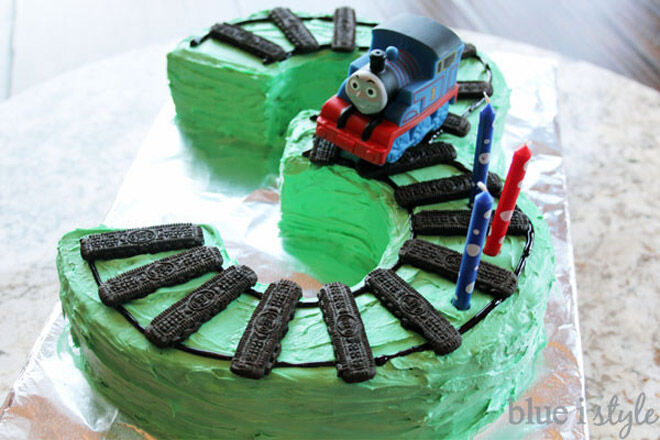 This fun train cake is easy to make and fun to chew, chew, chew. Full steam ahead! (via blue i style)
Tots, trains and automobiles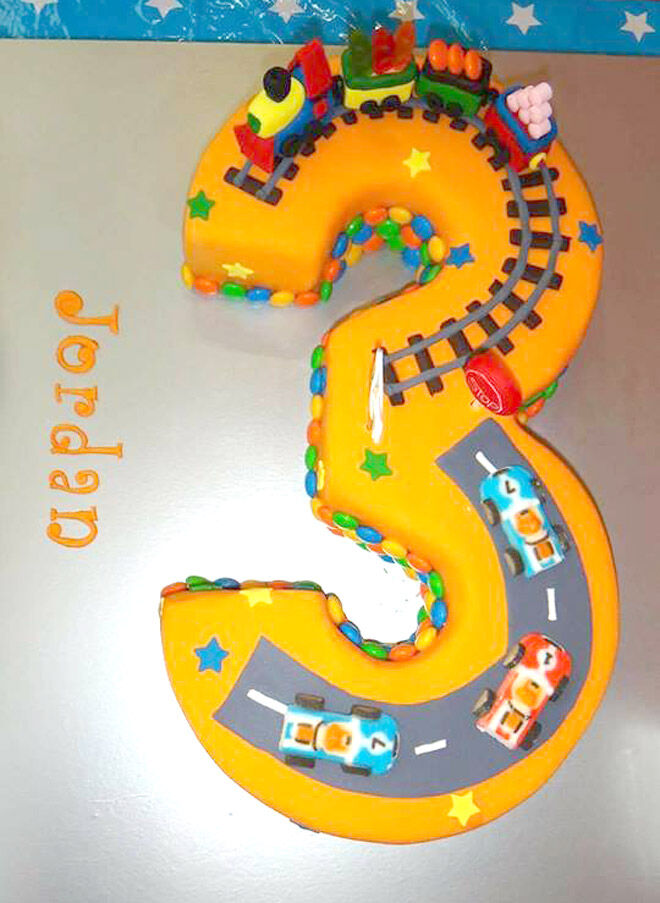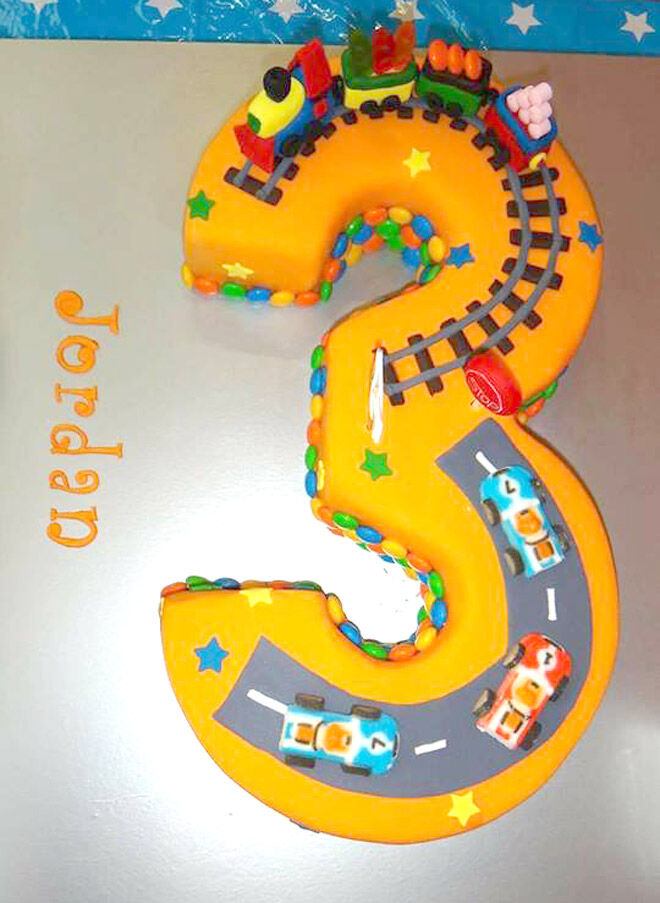 If the birthday bambino can't decide between a train or car theme, make a combo cake. Puff, puff, beep, beep! (via Melania Osborne on Facebook)
Construction zone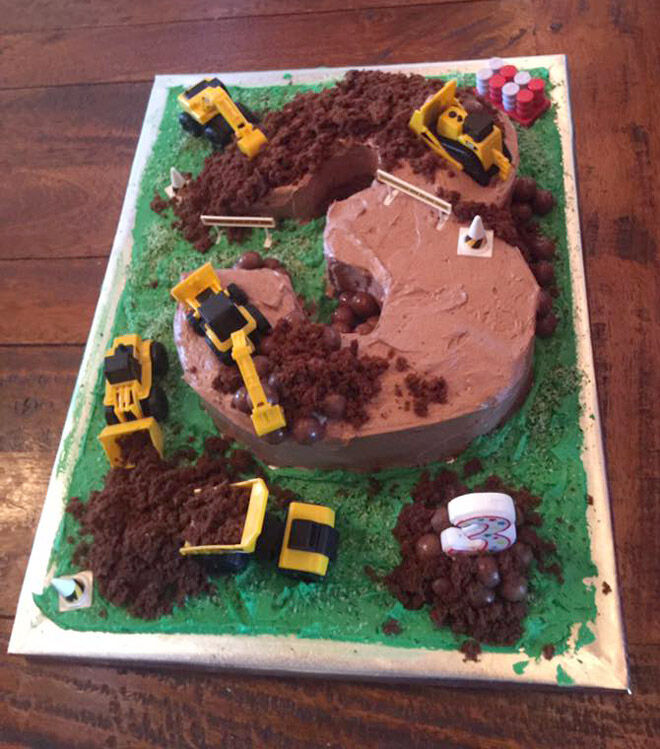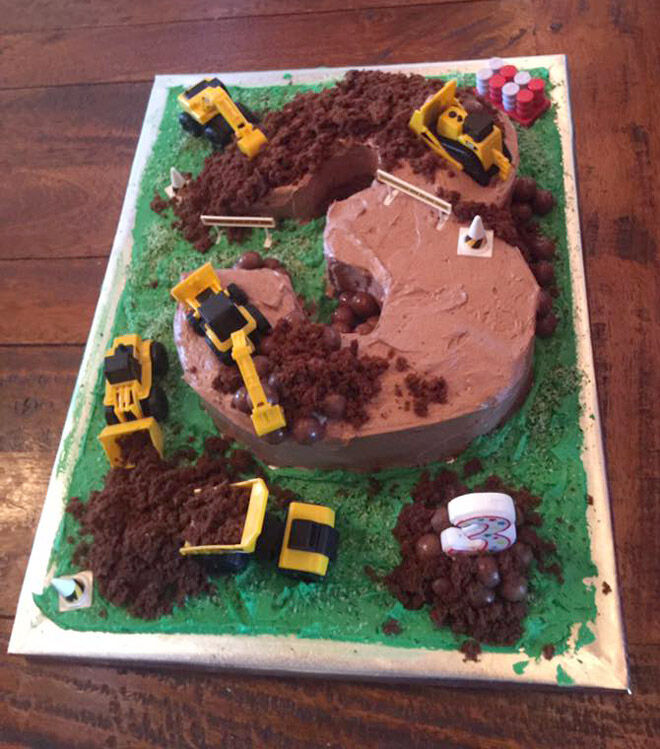 Build a construction cake for littlies to dig into. This crumbly, chocolatey creation is scoop-a-licious. (via Natalie Newberry on Facebook)
Pirate bounty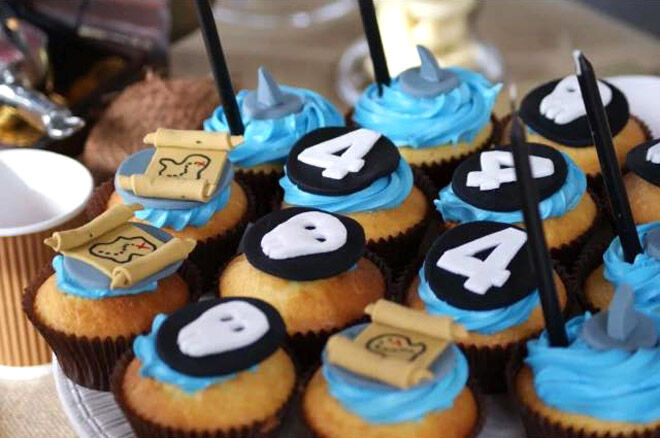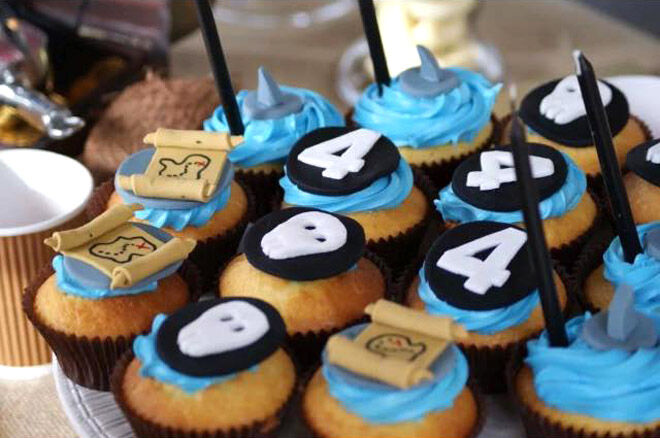 There be skullduggery ahead with these numbered cupcakes for pint-sized pirates. X marks the fourth birthday! (via Alli Chew on Facebook)
M&Ms all over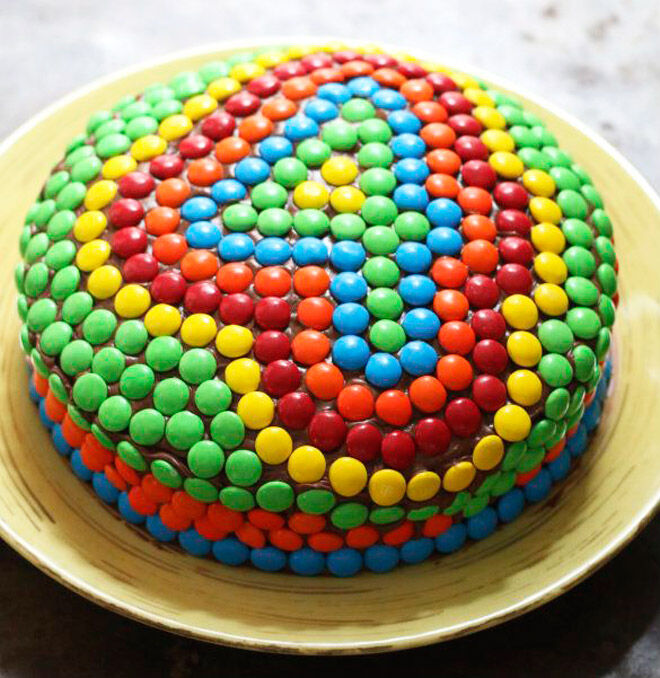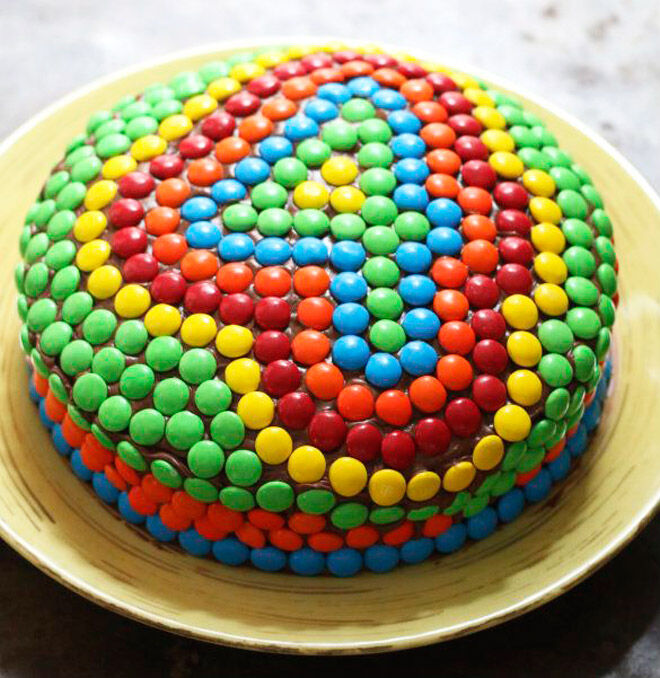 A hundred artfully placed M&Ms look rainbow bright! Create a number on a round cake or add colour to a number-shaped sponge. (image via Bloglovin')
Gummy bear decoration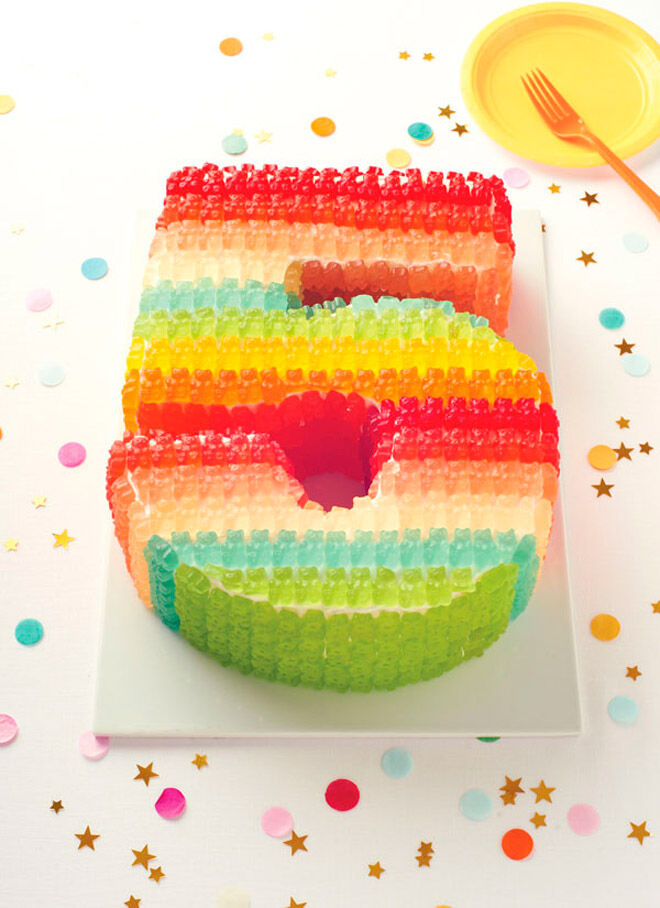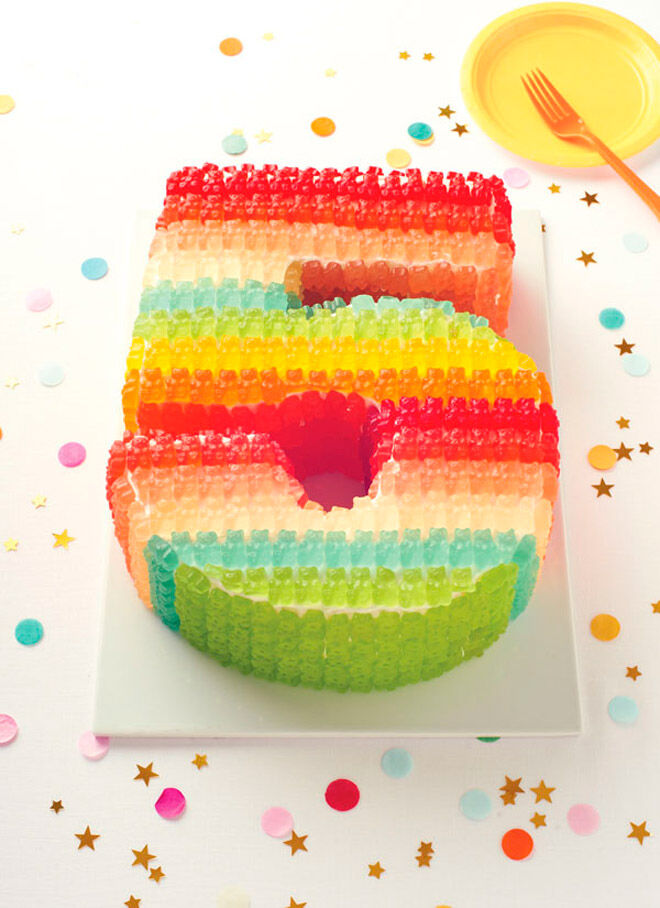 Replace M&Ms with gummy bears for a whole new world of fun. (via Oh Happy Day)
Surprise cake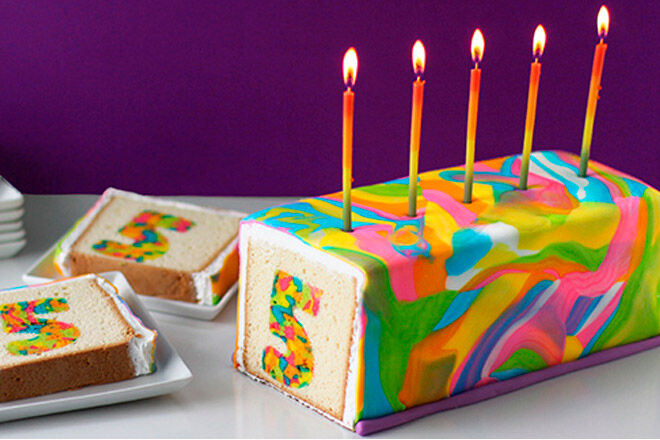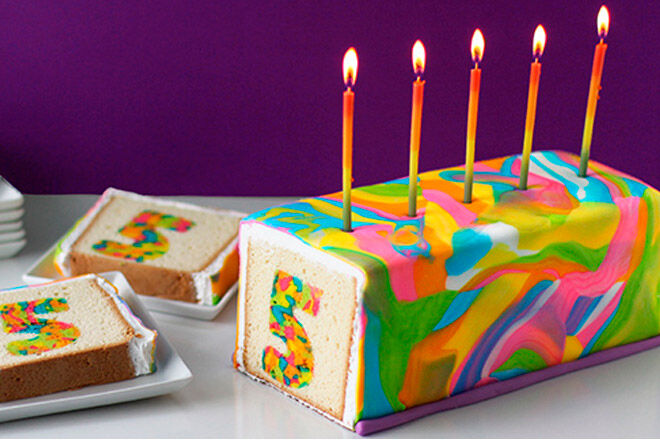 This tie-dyed rainbow cake serves up the colour inside and out – bake to impress! (via Tablespoon)
LEGO build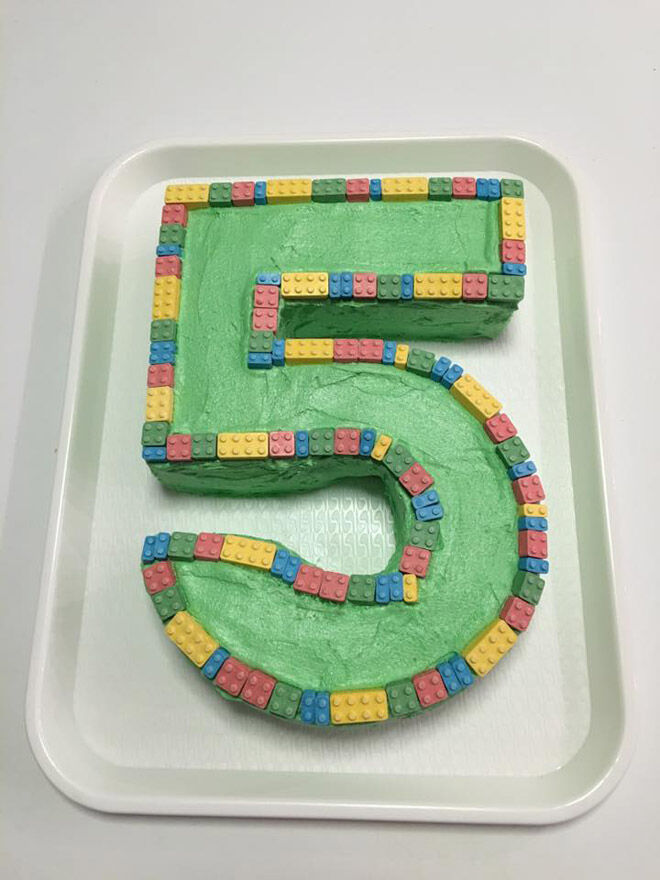 Stacks of colour and lashings of butter cream icing make for a happy birthday. (via Angela Eagle on Facebook)
Transformer ahead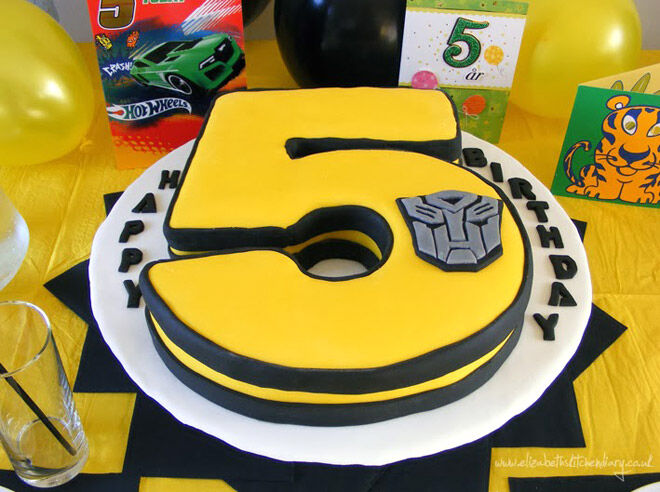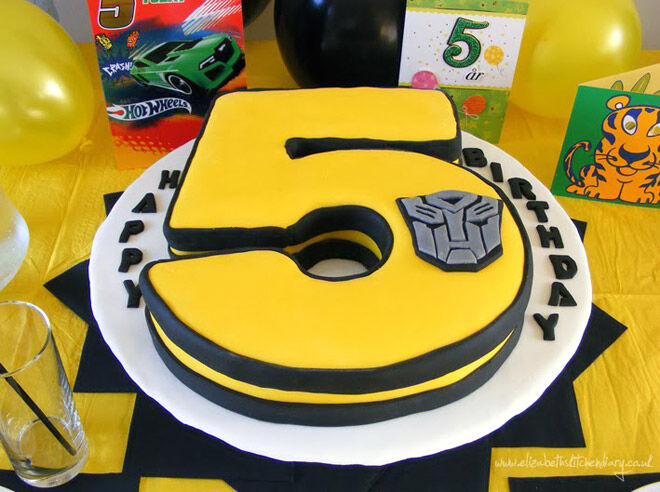 With racing stripes and the Transformers badge, Mr or Ms Five will get a buzz out of this Bumblebee cake. (via Elizabeth's Kitchen Diary)
Number line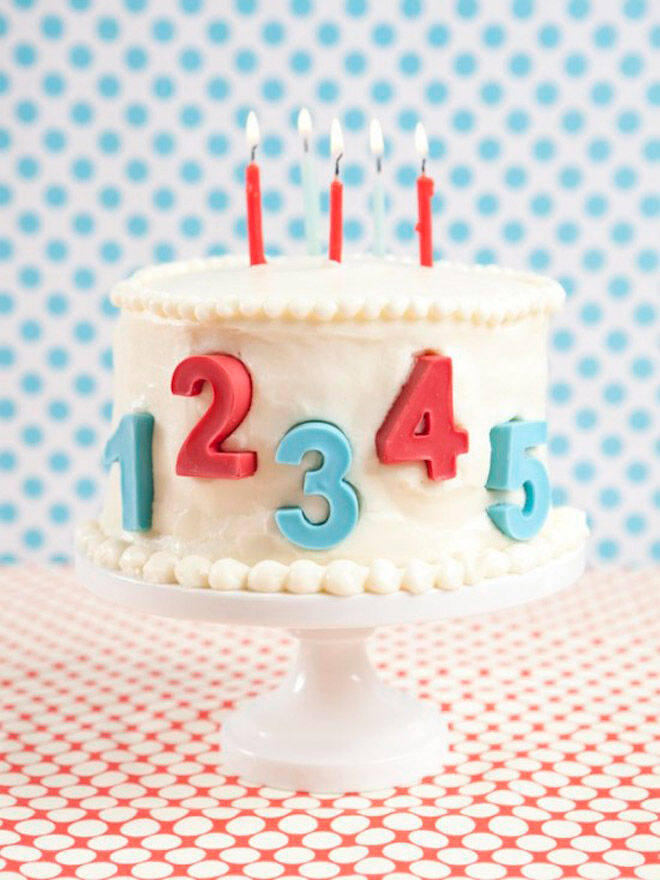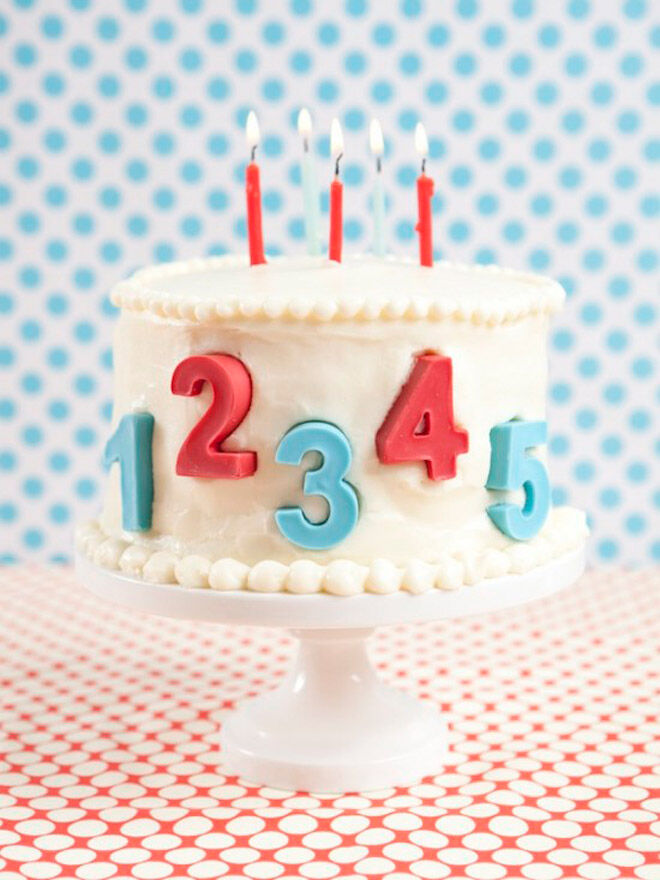 It's the final countdown – oops, count up – with this cake. (via One Charming Party)
Spider-Man duo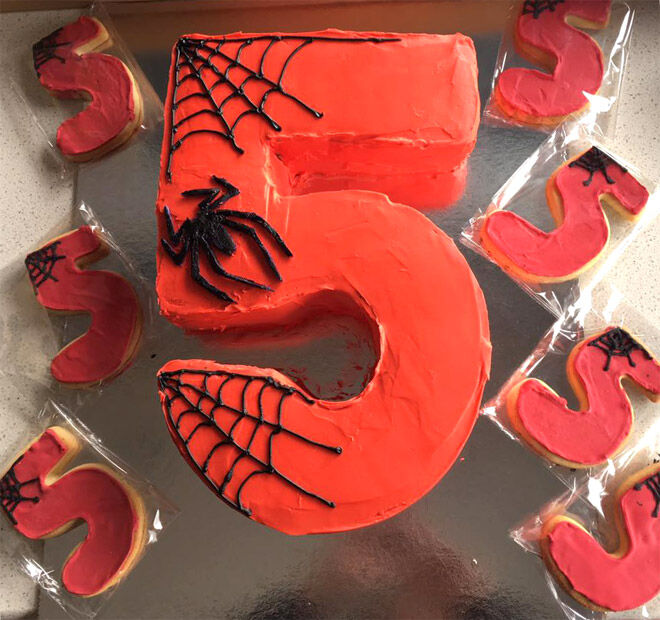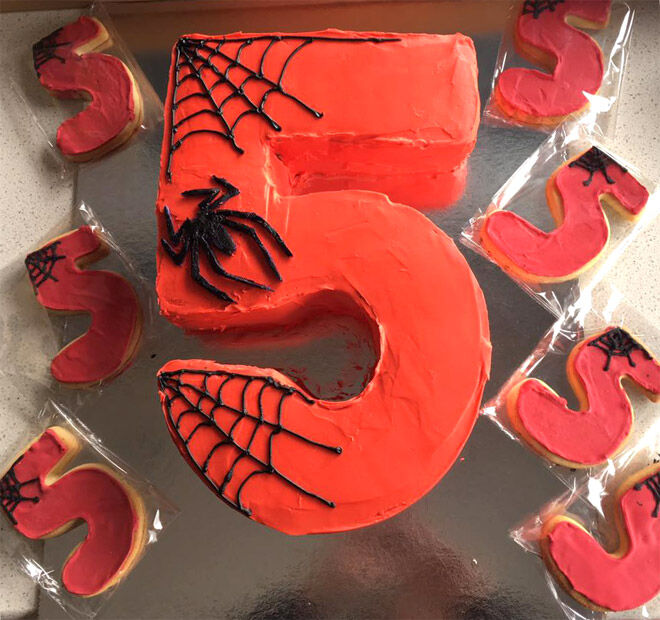 Power-up with a superhero cake and sidekick cookies. (via Celia Spykers on Facebook)
Superhero style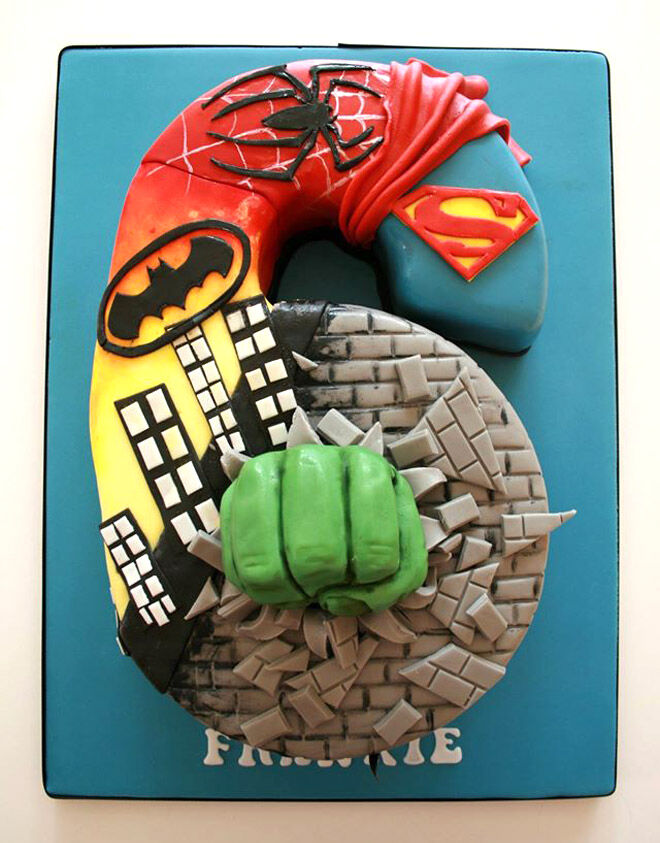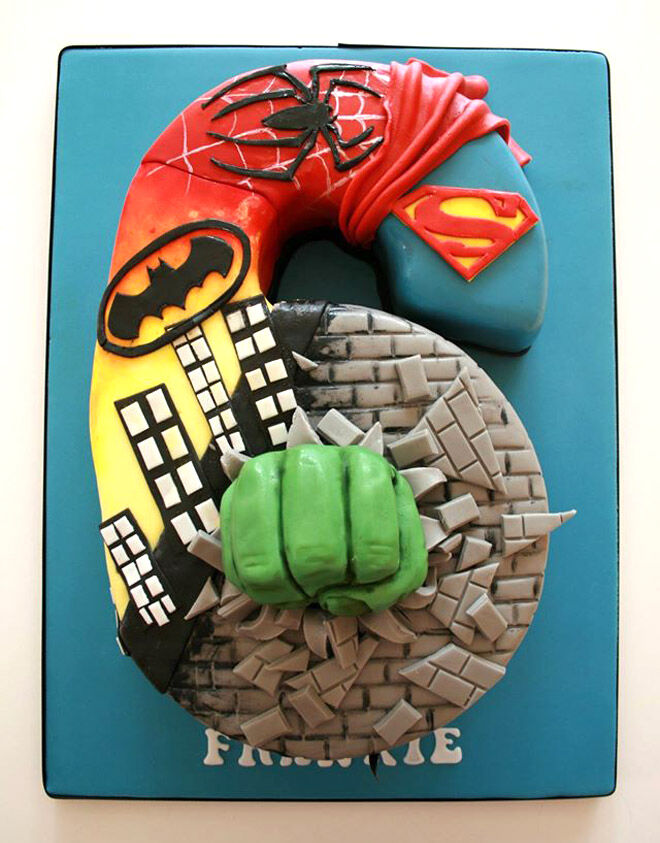 Then combine the forces of cake-making like this incredible creation. Ka-pow! (via Cake Ali)
Aeroplane cake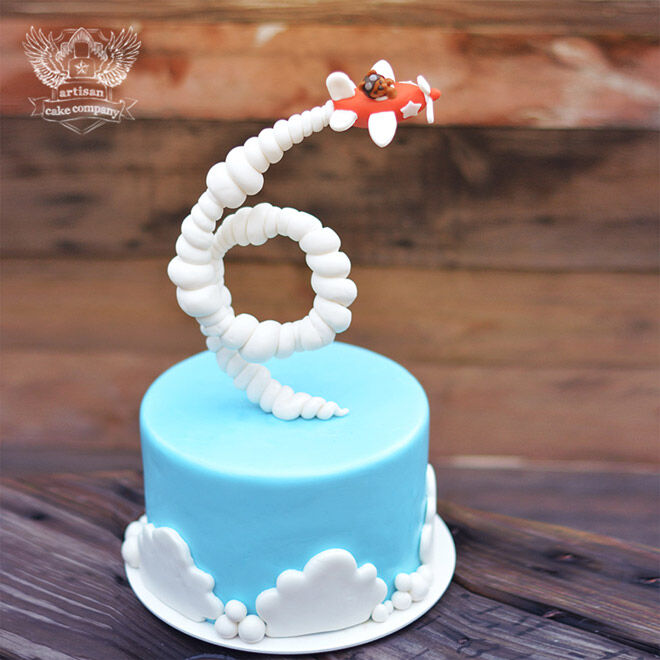 This gravity-defying cake is an OMG way to mark a six-year-old's birthday. (via Artisan Cake Company)
Sailboat launch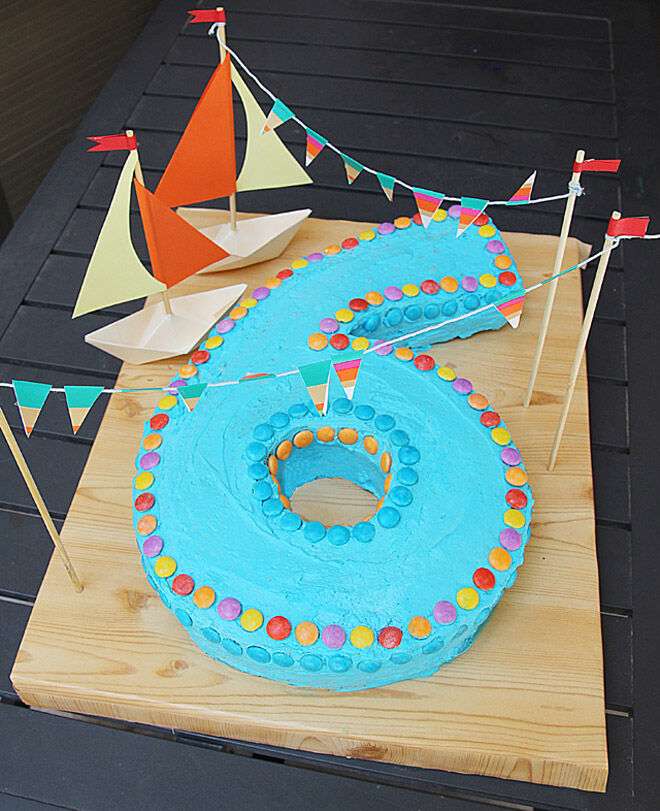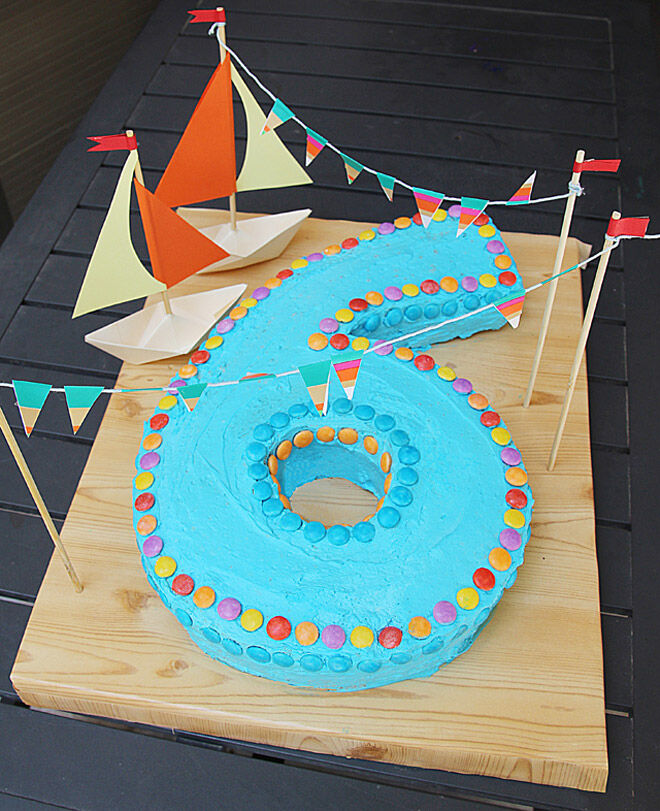 Mess about with boats and bunting for this cruisy cake. (via Creative Jewish Mom)
Floral tones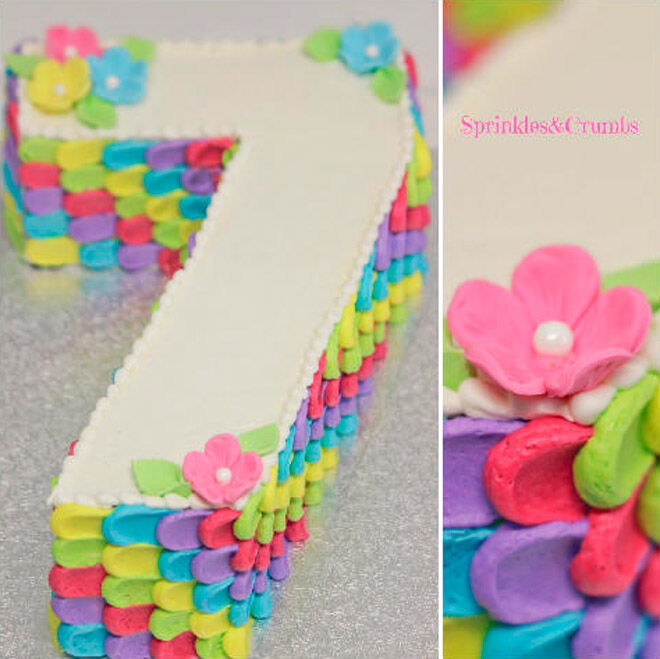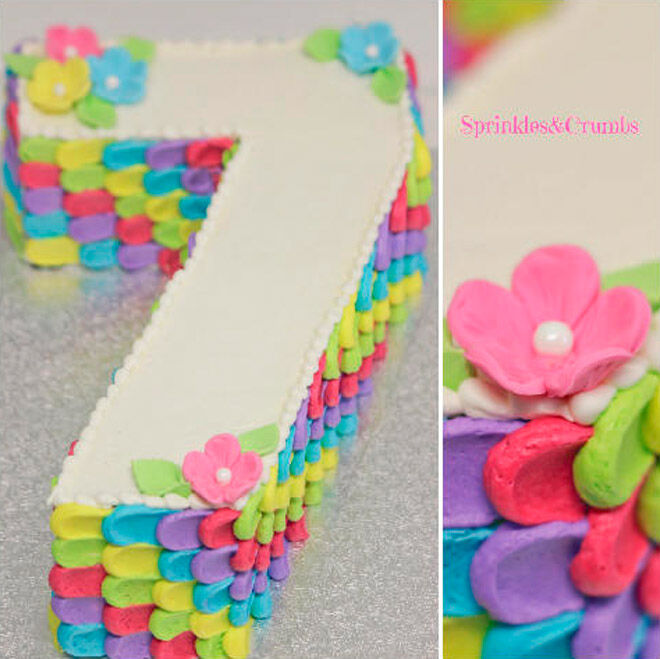 With a plain top and petals on every side, this number seven is a big bunch of beautiful. (via Sprinkles & Crumbs)
Frozen goes luxe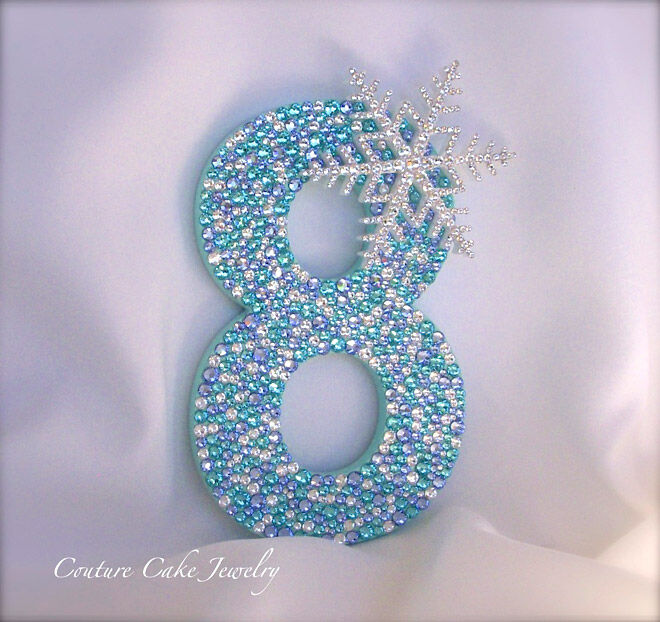 Add Disney sparkle with inspiration from this Frozen cake. Top it with edible pearls and Elsa fans will be spellbound. (via Couture Cake Jewellery)
Laser tag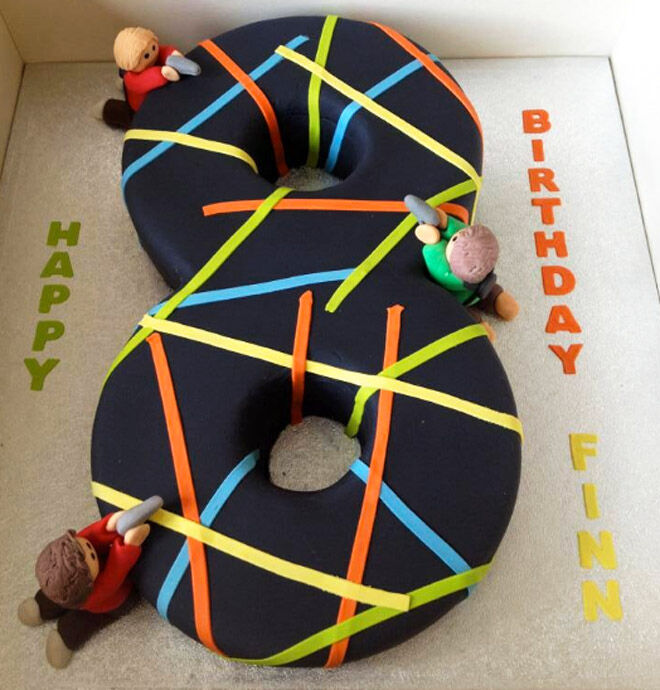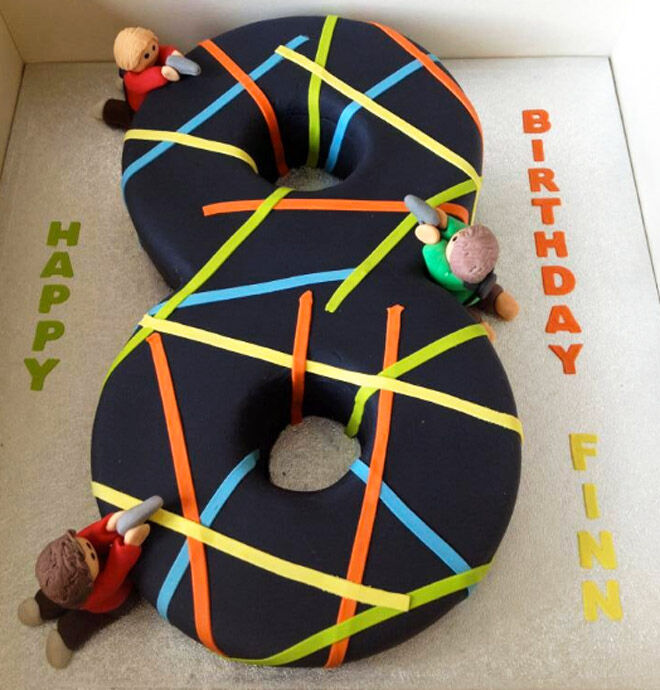 Big kids will be all over this action-packed cake. Ready, aim, eat! (via Mrs M's Homemade Cakes)
Swimming pool fun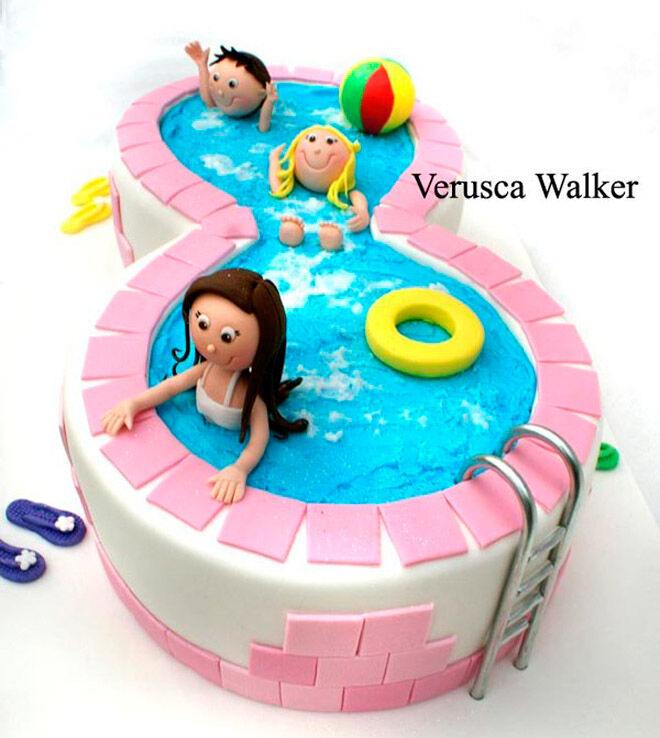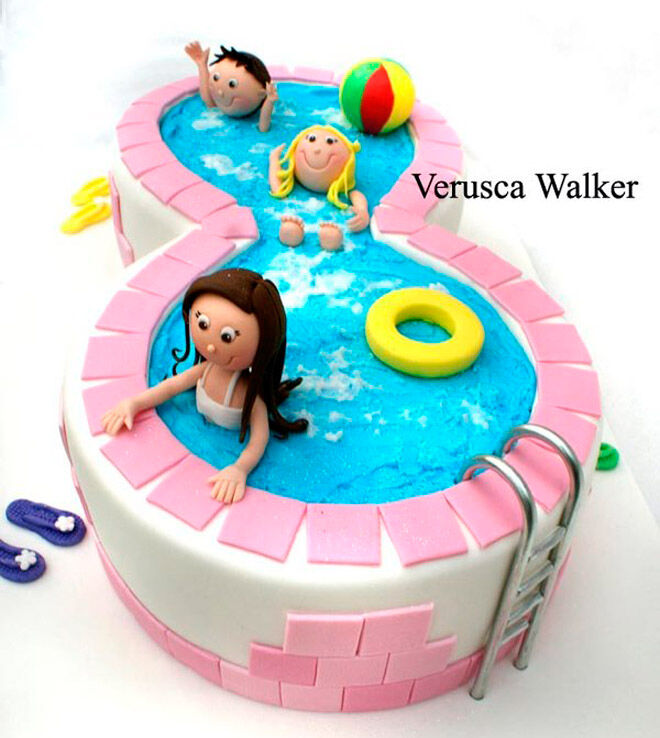 Make a splash with a number eight swimming pool cake. (via Verusca at Deviant Art)
Minecraft mastery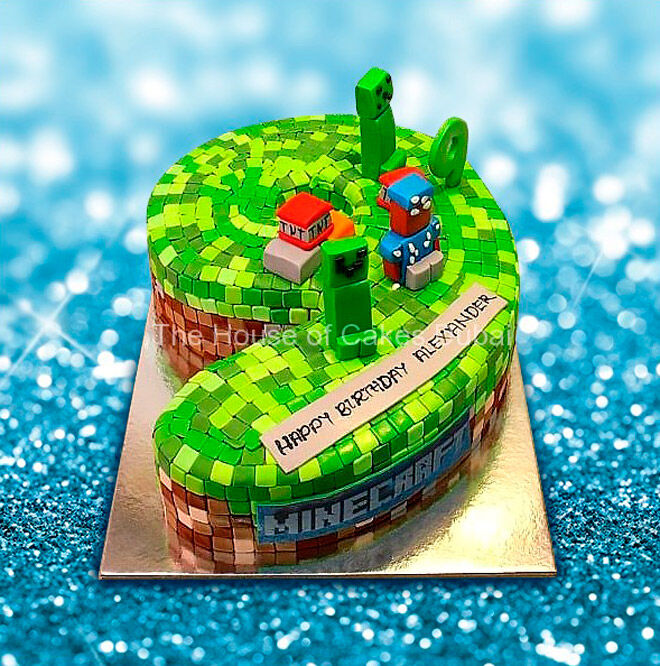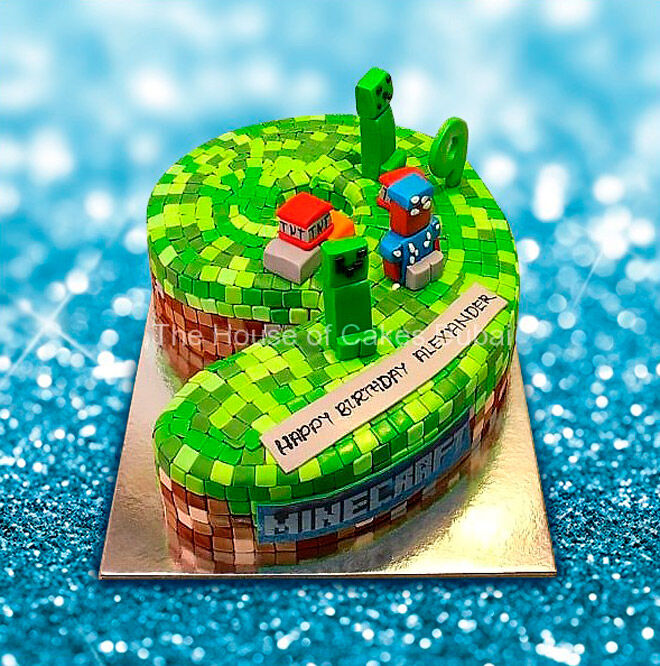 Dig deep with a Minecraft cake – this one is ore-some for inspiration. (via The House of Cakes)
Sports fan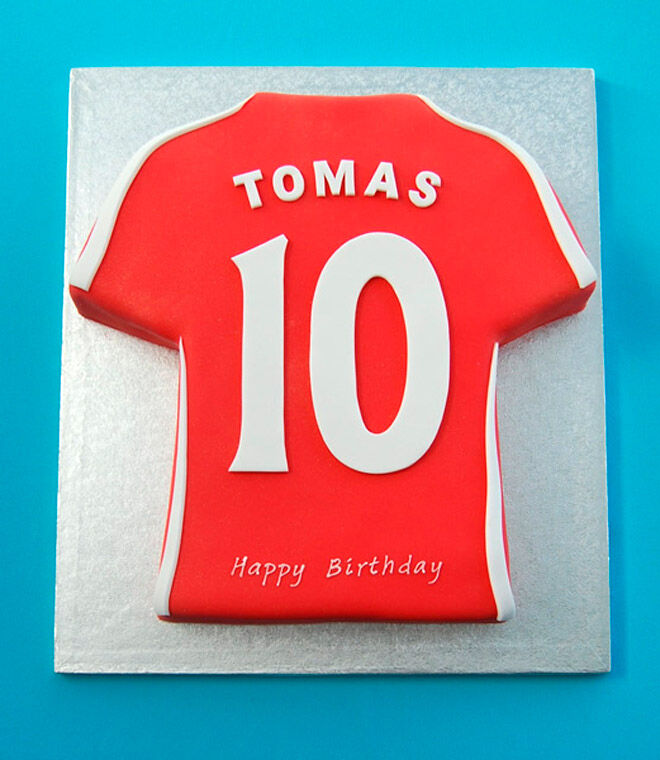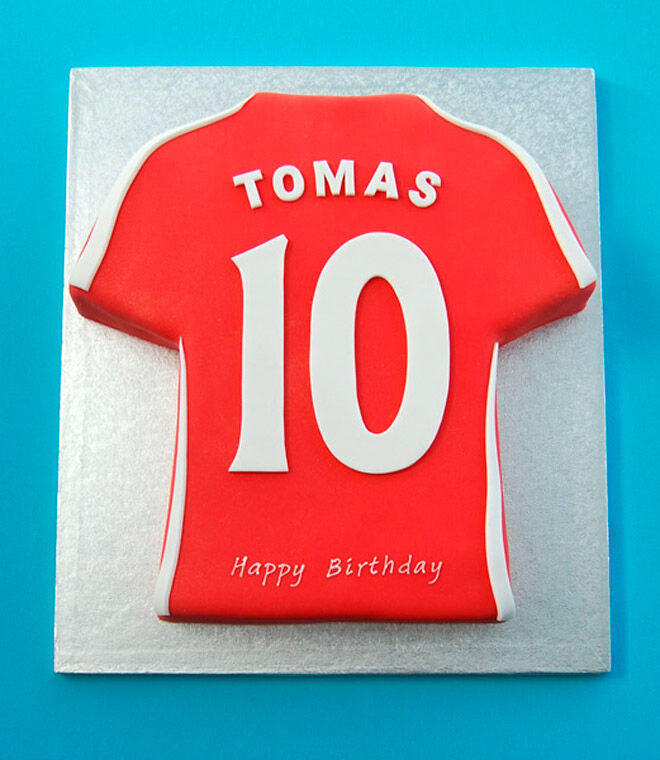 Score a winning goal with a sport-themed number cake. (via Cakes Beyond Belief)
Want to see more?
Head over to our Facebook page and see lots of brilliant number cakes made by mums… click below!
Click to see what other mums are baking on the Mum's Grapevine Facebook page.
Looking for great toys and gift ideas for kids?
We've collected a treasure trove of amazing gift ideas, from the latest baby toys to the latest must have boutique finds. There's something for every little Piper, Noah and Charlotte.
Toys for kids based on play and development, not gender.