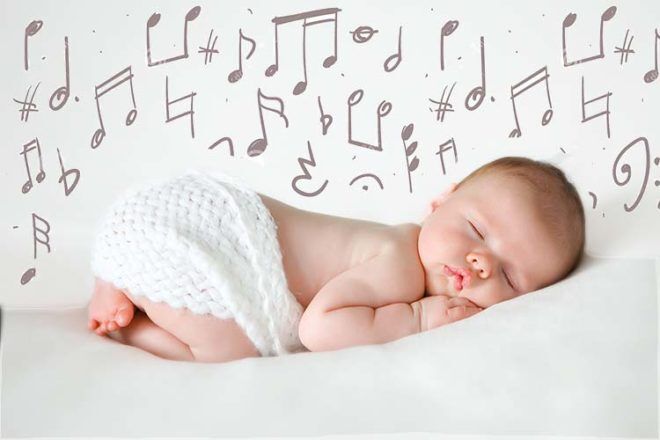 A one, a two, a one, two, three, four! When it comes to baby naming, music puts many parents on the right track. With rockstar names taking centre stage and classical choices hitting a high note, there are melodious monikers to suit most tastes.
So settle in for some upbeat, laid-back and thoroughly entertaining options.
Here are 29 baby names inspired by music, sweet, music.
Adele: With a sound a little like Adeline and Adelaide, this girls' name has become more popular with the rise of British superstar, Adele.
Allegro: A quick movement in music and an Italian name, Allegro is a lively choice for a little girl.
Allegra: This is a ballerina's name meaning 'joyous', so it's a beautiful moniker for tiny dancers.
Amadeus: Mozart's middle name makes a bold choice for baby boys, and tennis great Boris Becker served up Amadeus for his fourth son.
Aria: The 34th most popular girls' name in 2015, aria is also an operatic melody. Ariana scored 67th place (a nod to singer Ariana Grande) and another option is Arya.
Apollo: The Apollo Theatre has staged everyone from Ella Fitzgerald to the Jackson 5, and Gwen Stefani chose Apollo for her son. Reach for the stars!
Banjo: This instrument name adds an Aussie flavour to boys' birth certificates. Rachel Griffiths chose it for her son, and let's not forget Banjo Patterson.
Bowie: This Scottish name means 'blond' but it gained real rockstar status with the one and only David Bowie.
Danae: Danae was a Greek goddess of music and poetry, and this girly name has a sing-song sound as 'day-nay-ee' or 'dah-nay'.
Dixie: This girls' name has a country twang and Kings of Leon frontman, Caleb Followill called his daughter Dixie Pearl. So. Darn. Cute.
Dylan: 'Don't think twice, it's alright' to call a baby Dylan. With a nod to Bob Dylan, this unisex name was in the Top 100 for boys, and is an awesomely androgynous choice for girls too.
Dorian: A musical mode and a unisex name, Dorian is usually an arty option for boys.
Harmony: With a lilting sound and a calming effect, Harmony is a sweet name for little lasses.
Hendrix: Based on the Euro name, Hendrik, this version is hip and happening thanks to the 'X' at the end and a dude called Jimi.
Jackson/Jaxon: This moniker is a thriller, ranking the seventh most popular boys' name in 2016.
Jagger: With plenty of swagger courtesy of Mick Jagger, this name is all rock 'n' roll.
Jet/Jett: Jet is the name of an Aussie band, but it was Jett that snuck into the Top 100 boys' names in 2016. 'Are you gonna be my name'?
Lennon: John Lennon gives this name its star-power and it translates for both sexes.
Lydian: This girls' name for a musical mode has a whimsical sound and is on key with Lydia.
Lyra: This celestial name means 'lyre'. Sophie Dahl and her muso husband Jamie Callum chose this harp-like name for their daughter.
Madonna: Madonna means 'my lady' and this name is top of the pops for bold creativity.
Marley: With Bob Marley's reggae roots, this moniker works for girls and boys. 'No girl no cry' with alternatives like Marlee and Marely.
Melody: This name means 'song' and it's got a happy, hippie vibe for 21st Century girls.
Nico: With inspo from The Velvet Underground, Nico is a rad unisex name inspired by the '60s.
Piper: This upbeat name hit the Top 50 for girls in 2016 and is shared by Gillian Anderson's daughter.
Presley: More approachable than Elvis, this name was made famous by The King and although it's more popular for girls, Cindy Crawford called her son Presley.
Reed: This botanical name also has a musical edge for boys – a reed is used in woodwind instruments.
Viola: Viola is a flowery, Shakespearean name and also a violin-like instrument.
Ziggy: A cool middle name, Ziggy Marley (son of Bob) sprinkles it with star-dust.
KEEP READING:
Our Baby Naming section has hundreds more
 21 hippie baby names inspired by the '60s
 Celebrity baby names: The weird and the wonderful
 Australia's most popular baby names of 2015