With oversized insects and fantastical nature play, this Adelaide playground is a wonderland for wee ones.
Jervois Street Playground opened in August 2016 and since then children of all ages have been curious and curiouser about its imaginative, earthy features.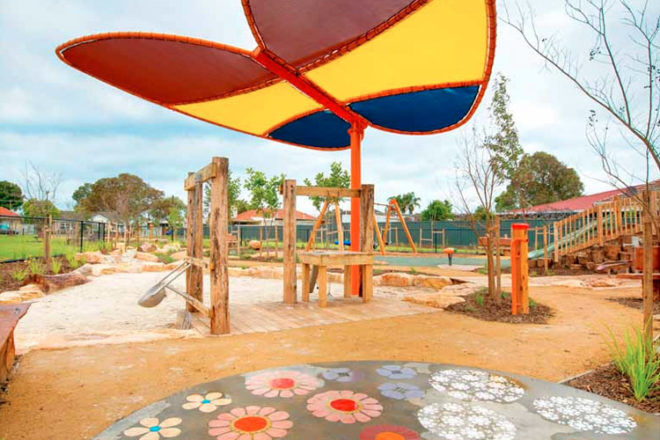 With a giant butterfly providing shade and oodles of natural elements, this place is a little bit Alice in Wonderland and a lot of fun.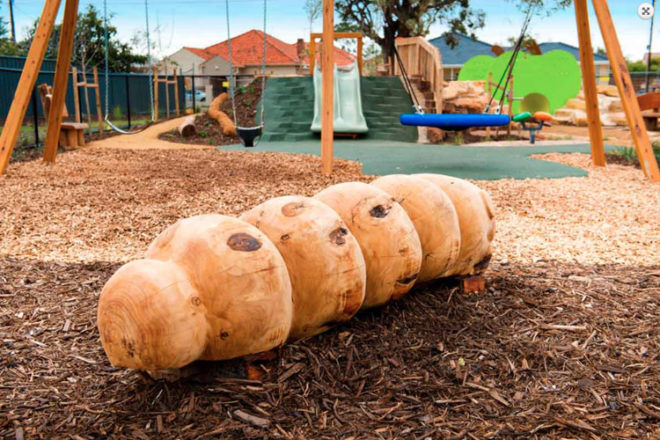 Ages zero to five will have a field day in the fully fenced junior playground. There's a giant timber caterpillar to clamber over, an apple-themed tunnel to munch crawl through and intriguing surfaces for little fingers and toes to explore.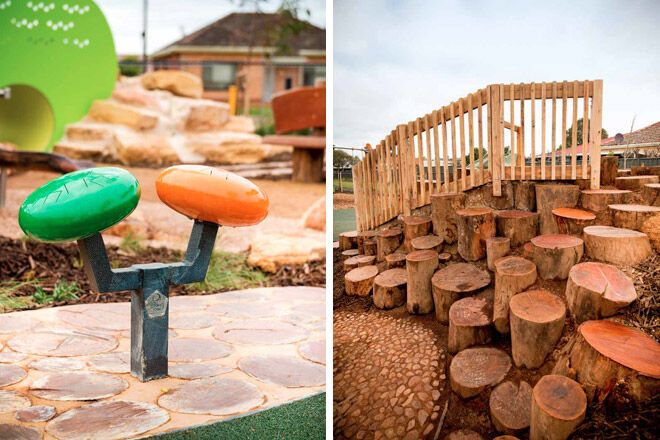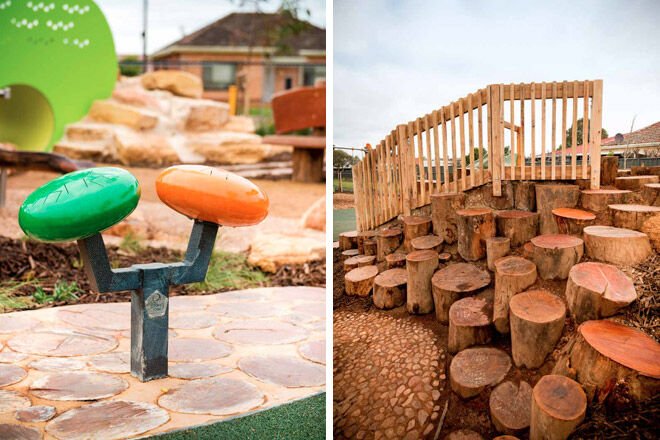 Eyes will be as large as saucers as they spy stone walls, log steps, mosaic flowers and two jellybeans that are practically calling for an 'Eat Me' sign!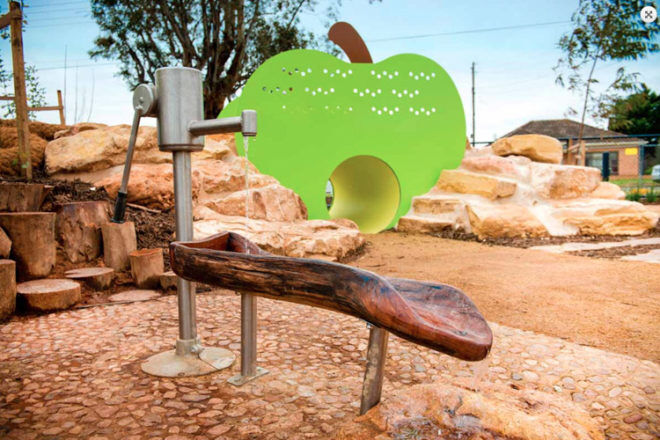 There's also a sandpit with a digger and a water play trough carved from timber. These sprinkly, splashy areas will definitely win hearts on a sunny day.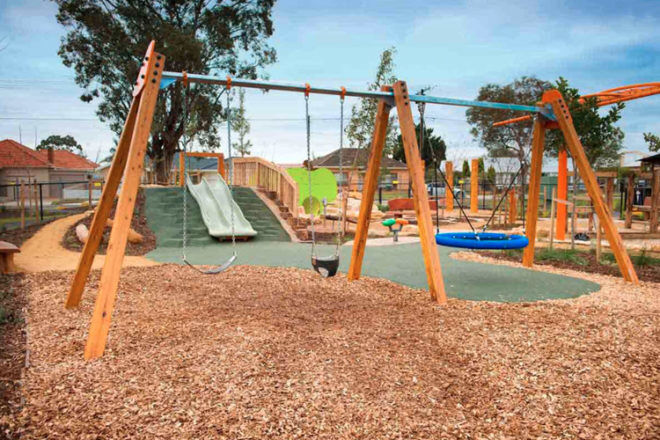 And with a choice of swings and a slide built for two, there's plenty of room for siblings and young friends to share the playtime magic.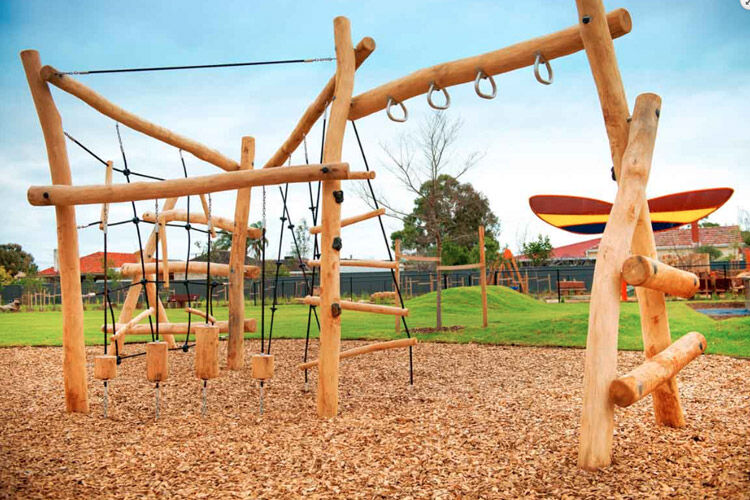 Meanwhile, over in the senior playground, older kids will be busy climbing up logs, hanging off ropes, swinging from rings and riding the flying fox with smiles as wide as The Cheshire Cat.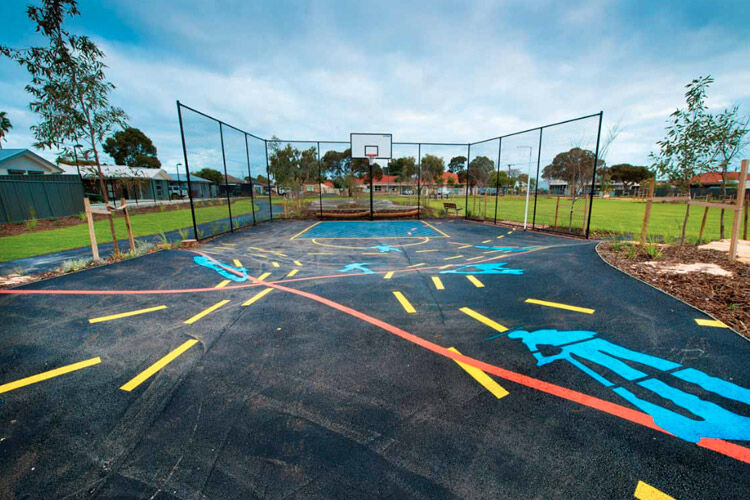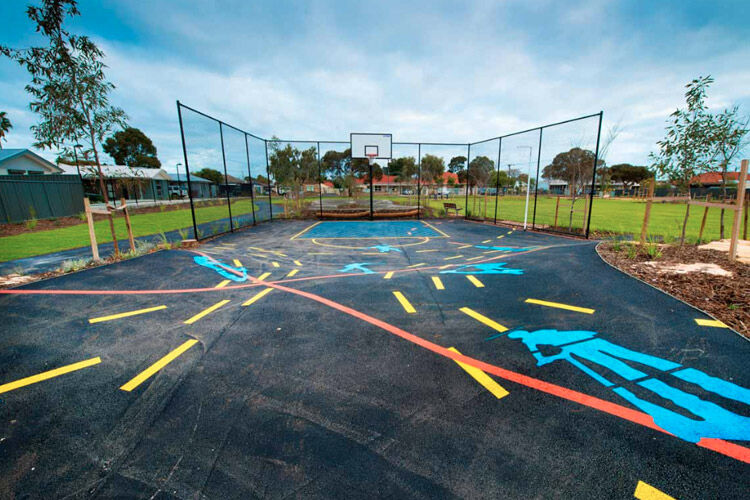 Then make an important date with the rest of Jervois Street Reserve. Sporty sprogs will love the basketball and netball court, and the ping pong tables will put a spring in their step too (BYO paddles and balls).
There's also a bike and trike course to explore and plenty of space for a picnic (or should that be a tea party?).
Whatever their age, adventure awaits in this wondrous nature play space. Down the rabbit hole, we go!

Jervois Street Playground
Getting there:
Jervois Street Reserve
Jervois Street
South Plympton SA 5038
Playgrounds and activities
Junior nature based playground (0-5 years): fully fenced, sand play, water play, nature play, slides, swings, butterfly shade. (Perfect for toddlers)
Senior playground (6-12 years): older climbing equipment, flying fox. (Perfect for older kids)
Chess tables (BYO pieces)
Ping pong tables (BYO paddles and balls)
Bike and trike course (pump track)
Three-on-three basketball and netball
Fitness equipment
Central oval for ball sports and exercise
Loop path around the site
Toilet with baby change (ambulant)
Electric BBQs
Sheltered picnic tables
Bike stands
Drinking fountain
Trees and landscaping
Dog faeces bag dispensers
Street parking on Waterhouse Road and Jervois Street
(Images via City of Marion)
---
FIND MORE:

 

playgrounds to visit in SA
 Life's beachy at Glenelg Foreshore Playground
 Cast away and play at Bristol Smith Reserve Playspace
 Literature for littlies: The Story Book Trail