Plushies are cuddly, cute and rather like to spread themselves around – with the help of a toddler! To reclaim the floor once playtime is over, some soft toy storage bins, baskets tubs are in order.
To help you put an end to the toy-strewn floor and give a home to the kids' favourite plush toys and teddies, we've put together a complete list of soft toy storage ideas.
20 soft toy storage ideas for organised playrooms
In no particular order, here are 20 fabulous soft toy storage ideas that look great and go a long way in getting the play spaces ship-shape.
---
1. Fabric baskets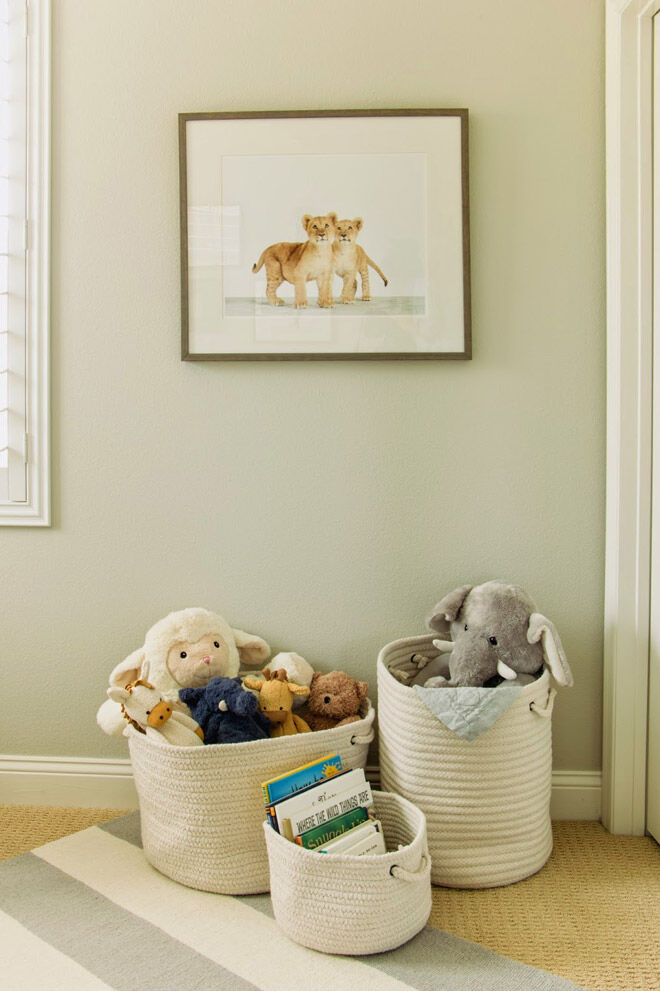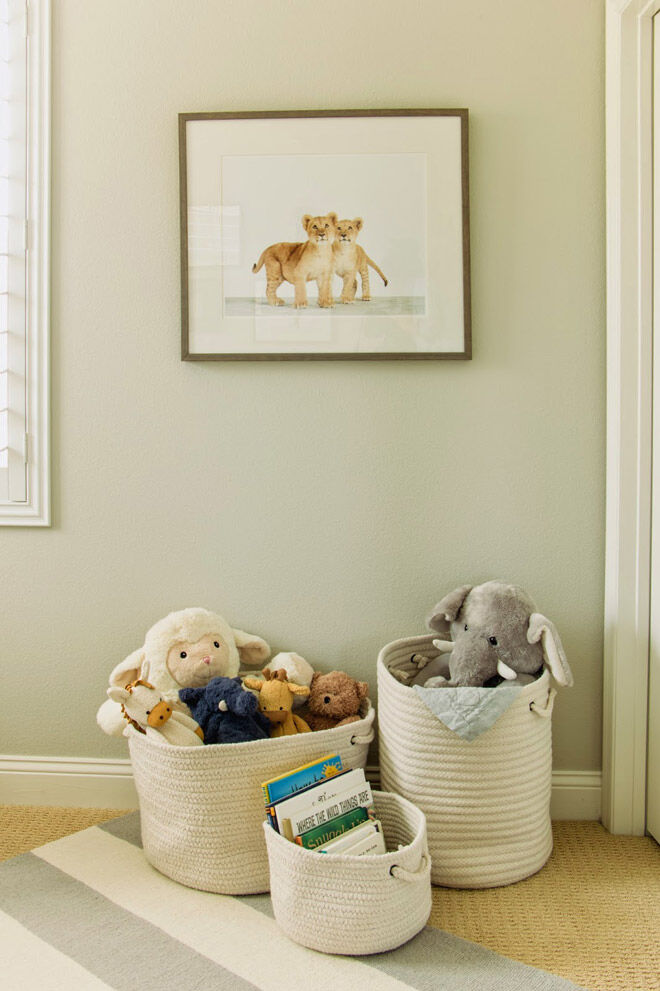 Open-topped baskets are the perfect place for soft toys (and books) to live. In easy-reach of tykes, neutral baskets are a great match for colourful critters. (via The Honey Bee by Andee Layne)
2. Paper bags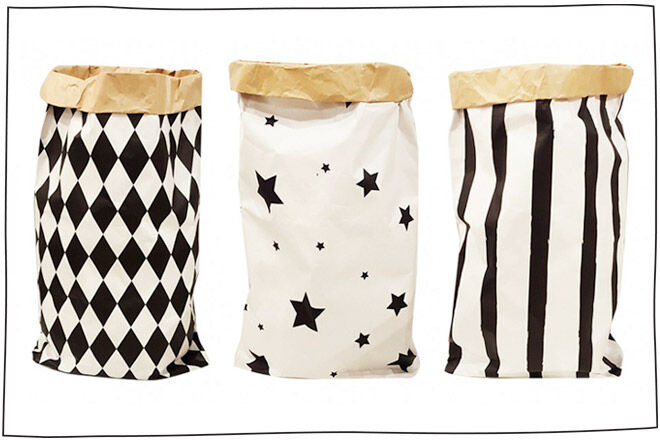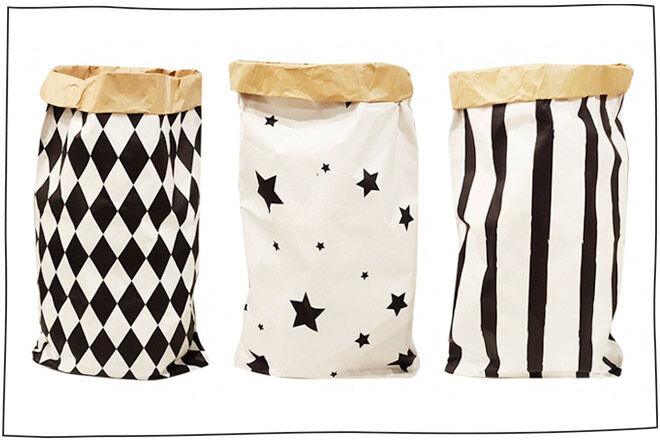 Paper bags provide festive cheer all year round. Stuff them with soft toys and watch these monochromatic prints light up the room. Available at leo & bella ($22).
3. Wire baskets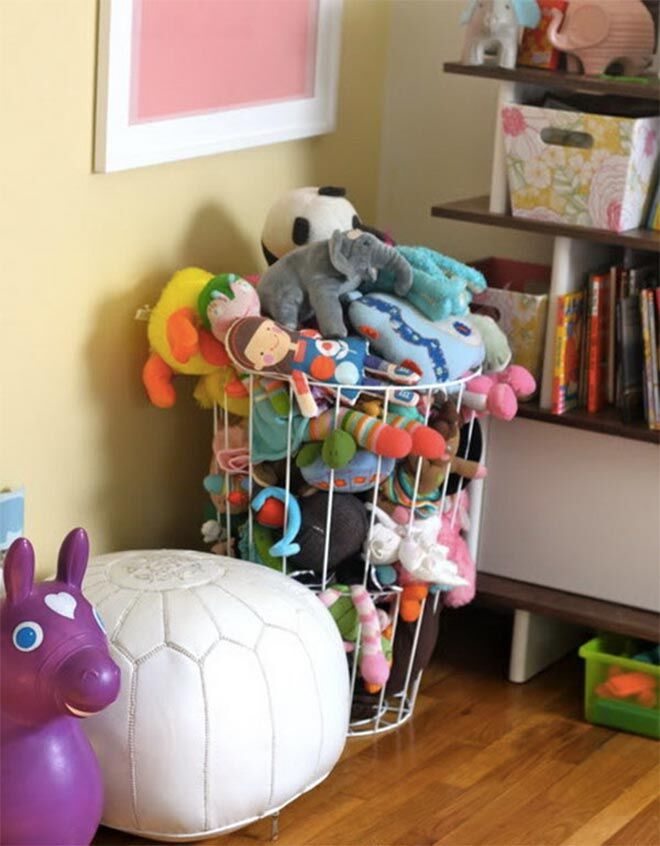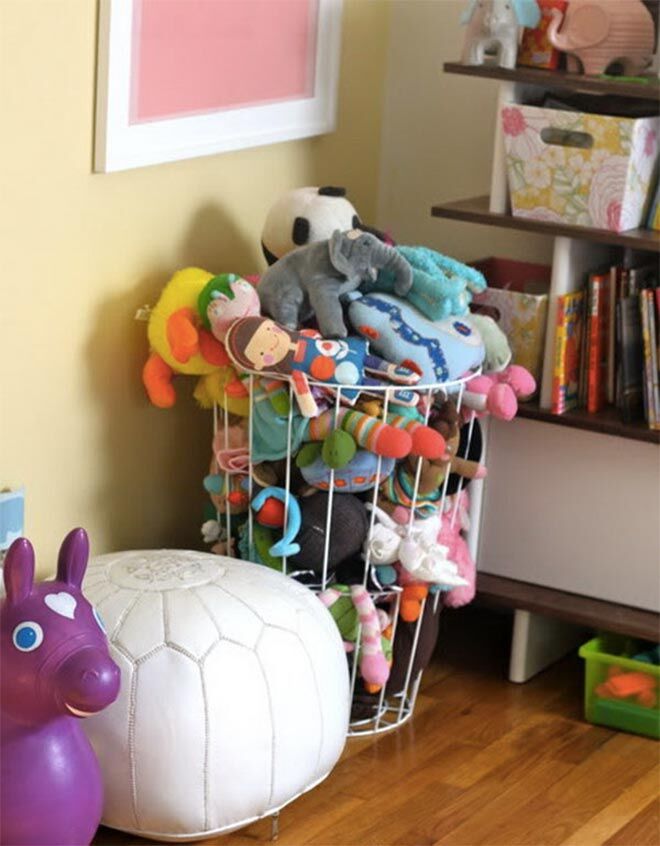 Wire baskets are another easy way to store toys, plus little eyes can spy the plushie they want before digging deep. Down to the Woods wire baskets (from $29.95) are a great contemporary design for a modern look.
4. Plastic tubs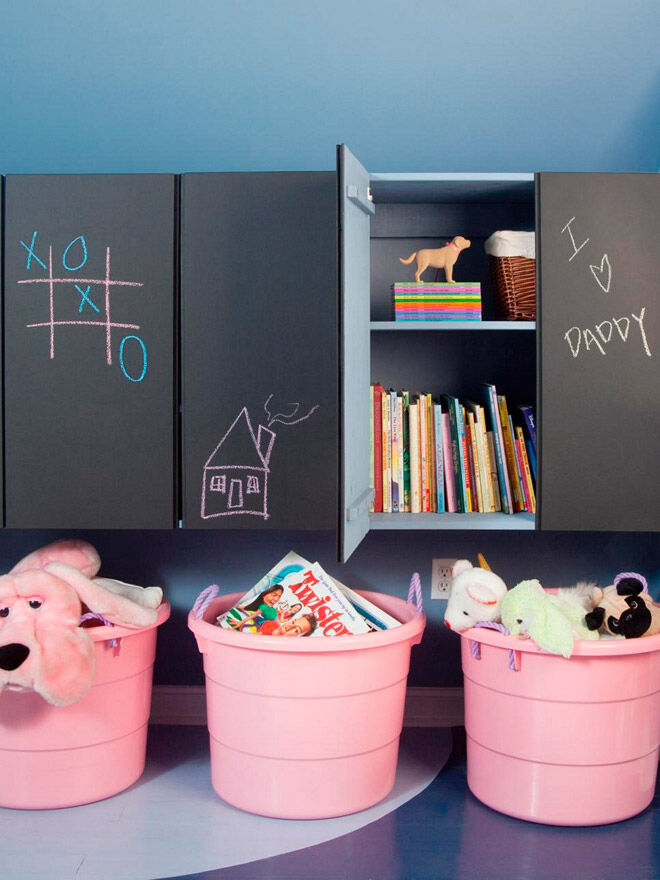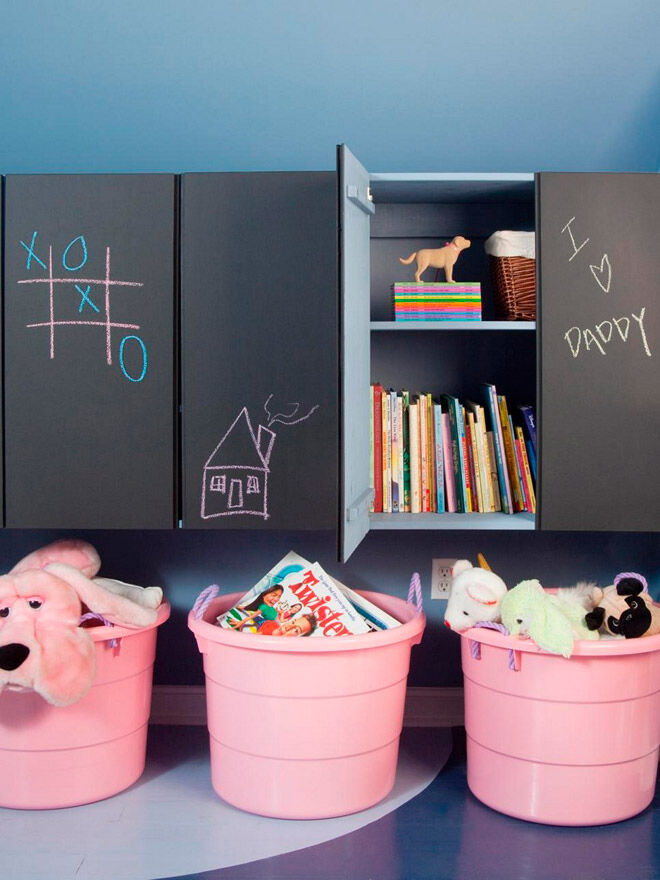 With size and structural integrity on their side, plastic tubs add a big splash of colour too. Yay. (via Brian Patrick Flynn on HGTV)
5. Canvas Baskets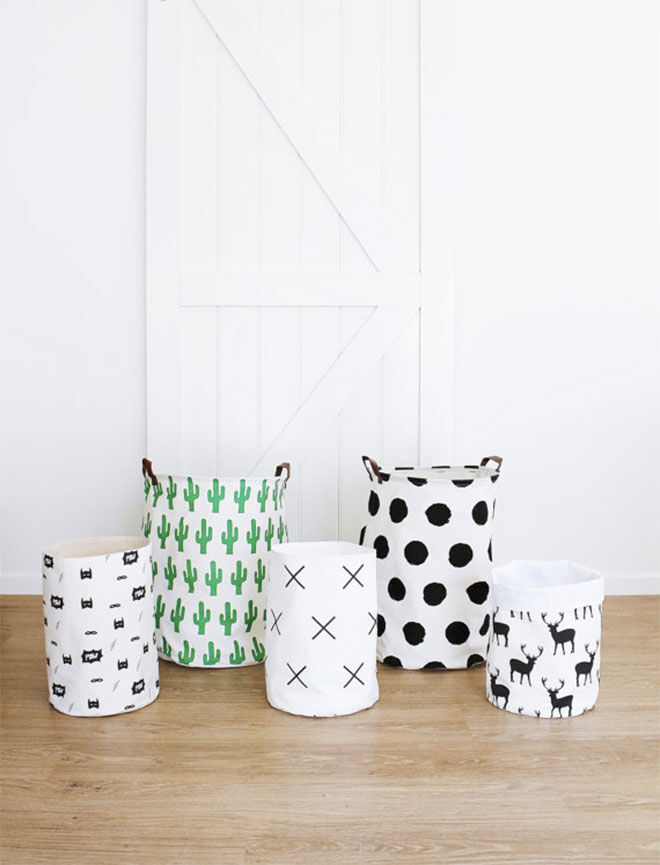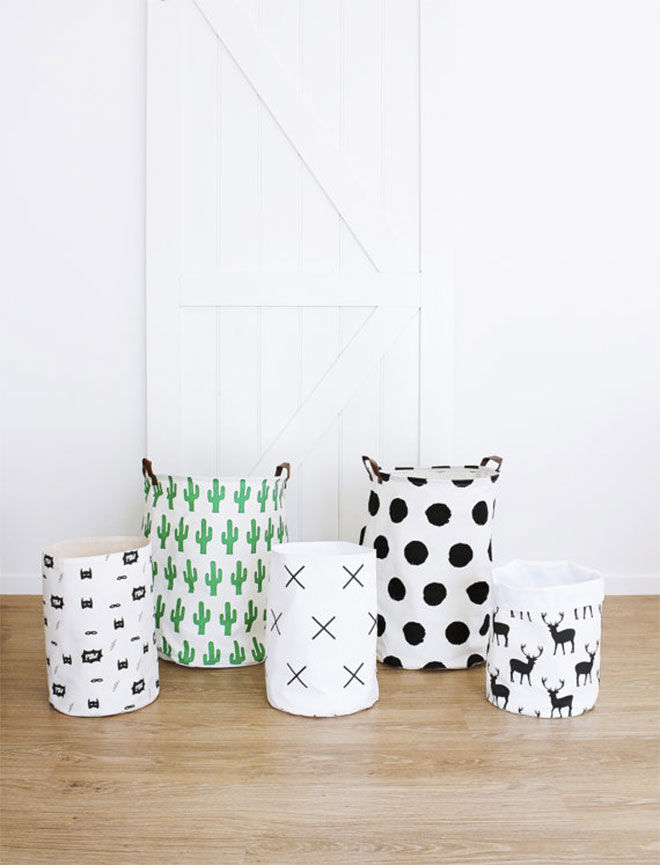 Canvas baskets are all the rage this year and are great to pop behind a door or on display. These ones are from Etsy seller Willow and the Owl ($29.95).
6. Wooden crates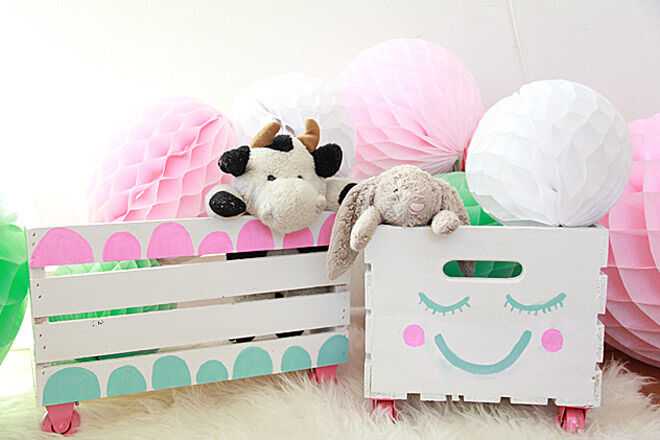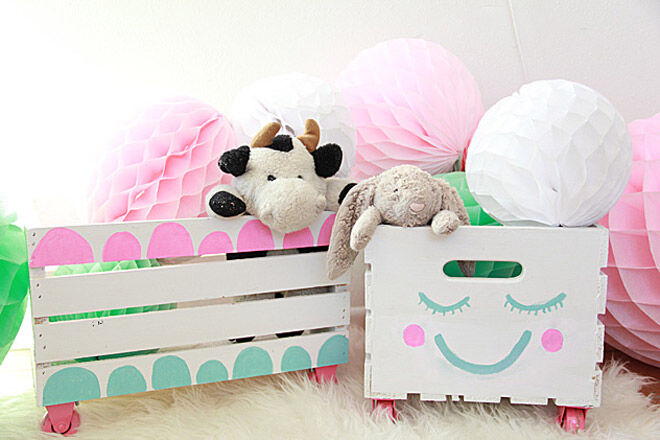 A natural-finish crate brings rustic charm to a play room, while a lick of paint adds a whimsical air. These DIY crates are cute as pie (and sweet as pie too). (via A Bubbly Life)
7. IKEA hanger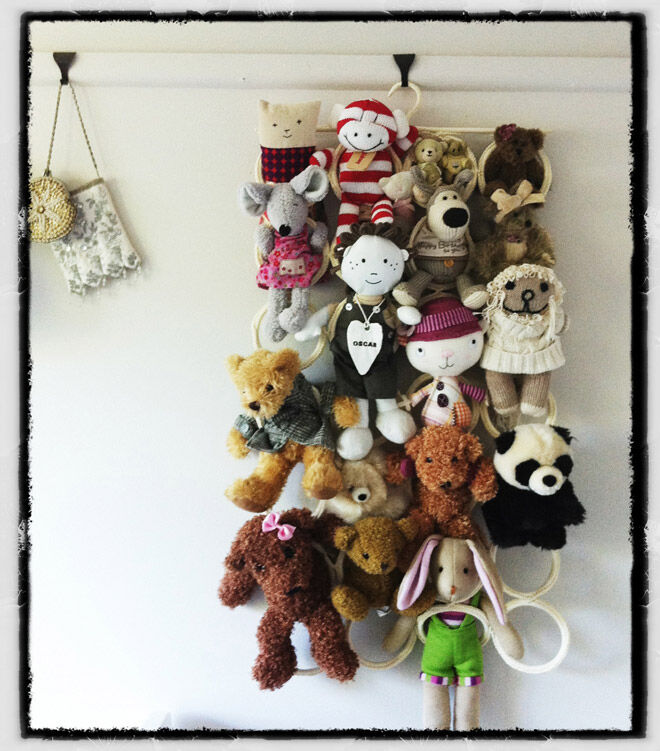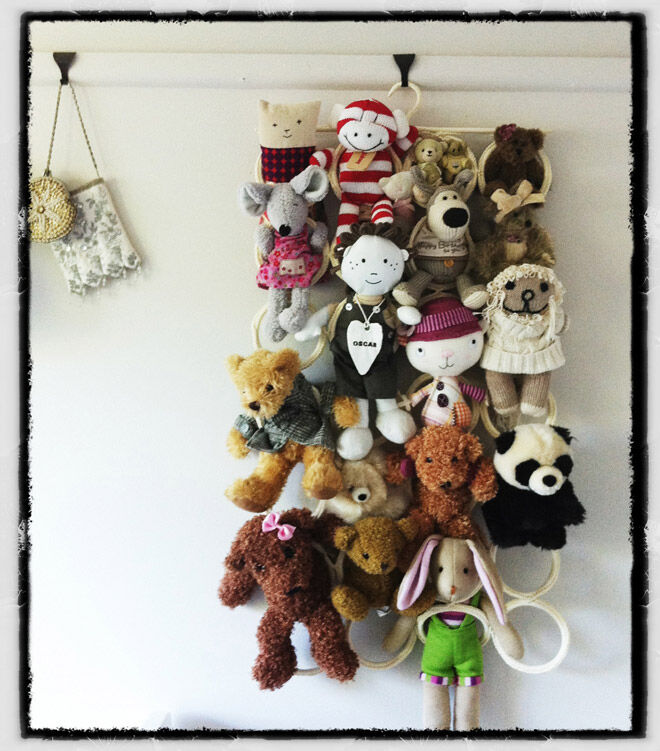 Go loopy for this easy peasy idea. Just hang up an IKEA Komplement multi-use hanger, then poke soft toys through the holes. (via Lorri Dyner)
8. Wall planter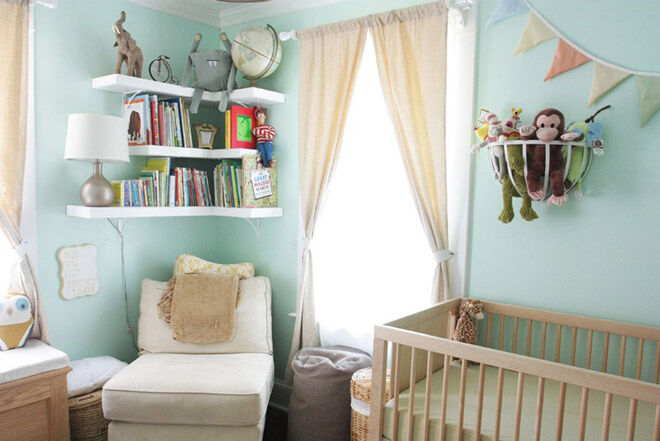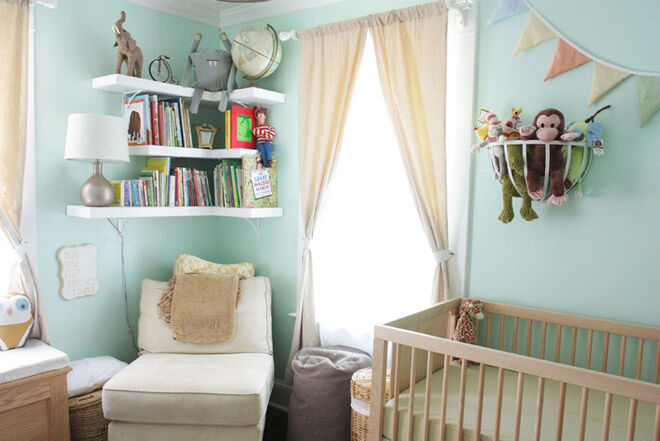 Mount a garden planter (or two) on the wall, then dangle plushies' legs through the gaps. Cheeky monkeys will be stretching up to tickle their toys' toes. (via Apartment Therapy)
9. Make your own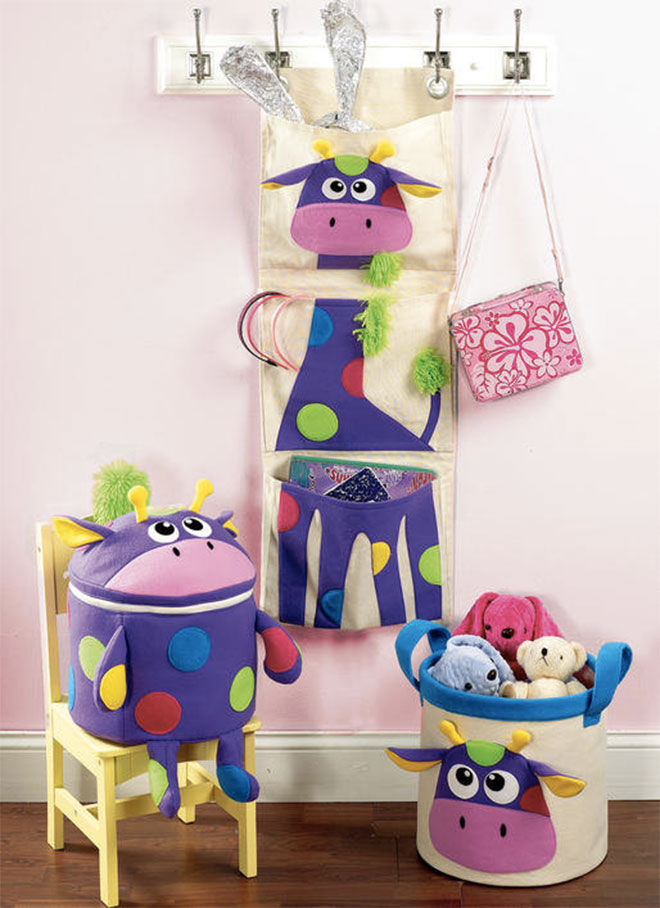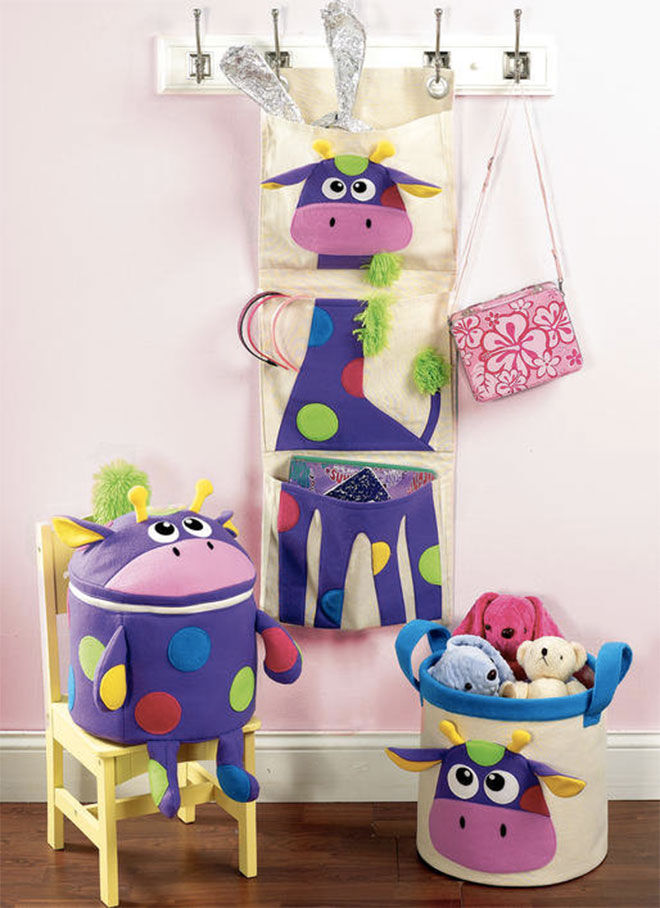 Make your own wall hanging and baskets with a DIY pattern from Etsy seller U Can Make This ($7.00)
10. Hanging basket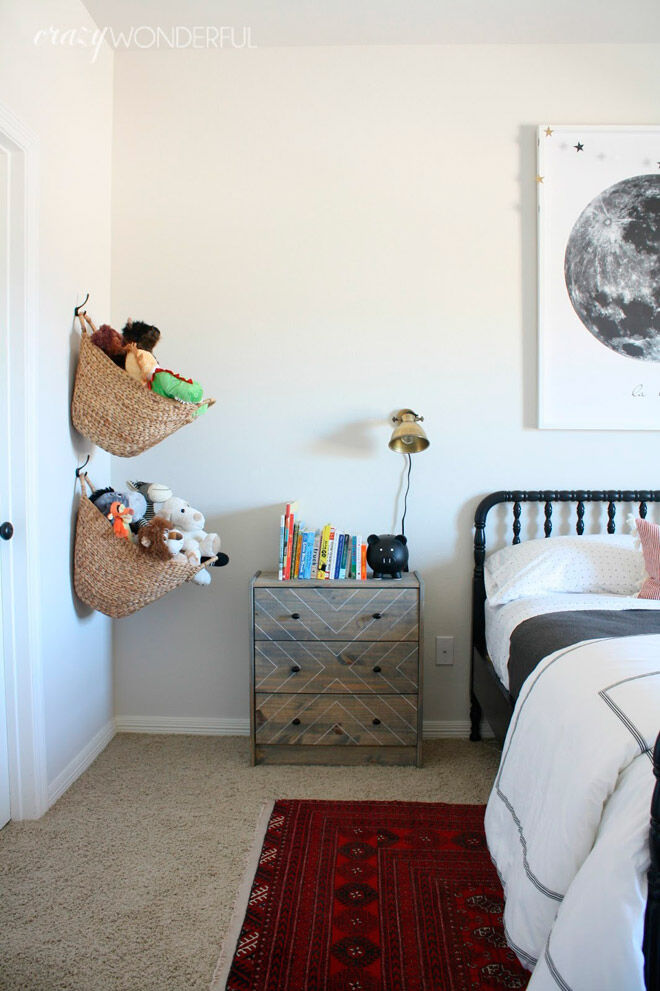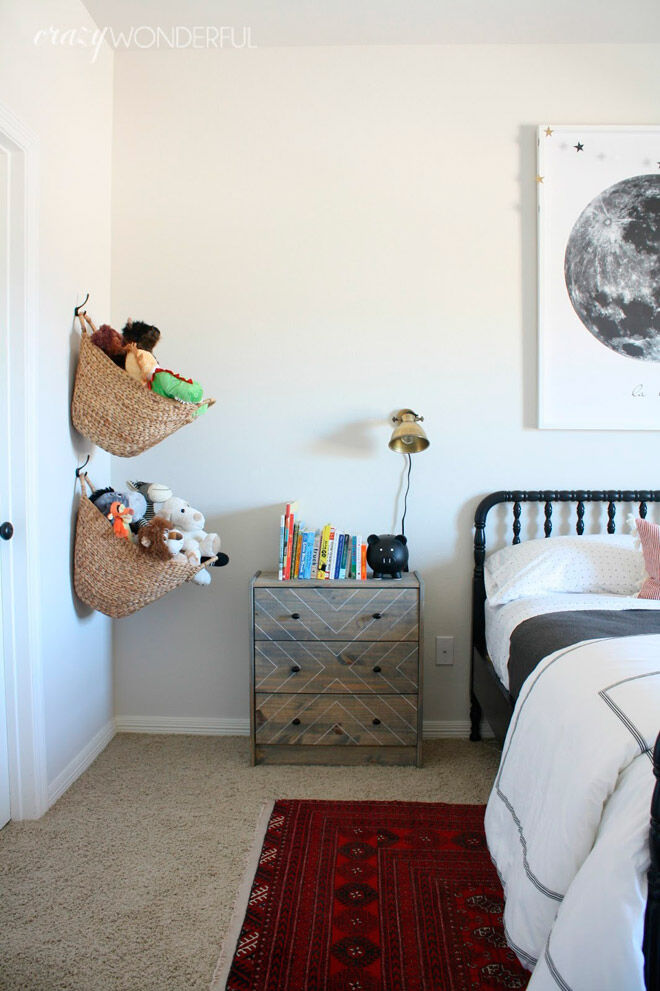 With an interesting texture and handy hooks, these hanging baskets tip things in favour of style and practicality. (via Crazy Wonderful)
11. Stuffed animal chair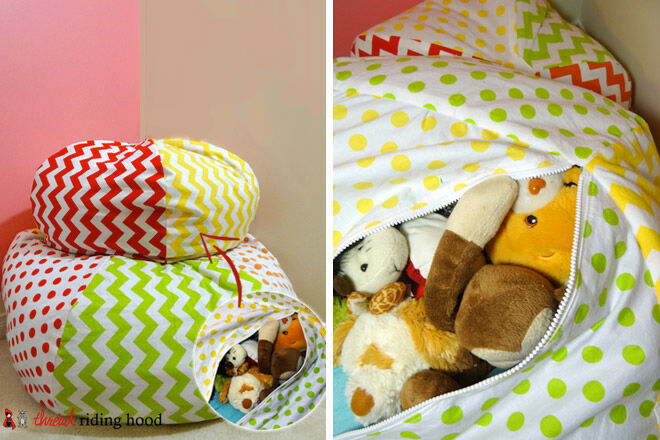 Meet the S.A.C – aka the Stuffed Animal Chair. This is a great sewing project, then stash toys inside and sit little bots on top. (via Googiemomma and Thread Riding Hood)
12. Hanging shoe rack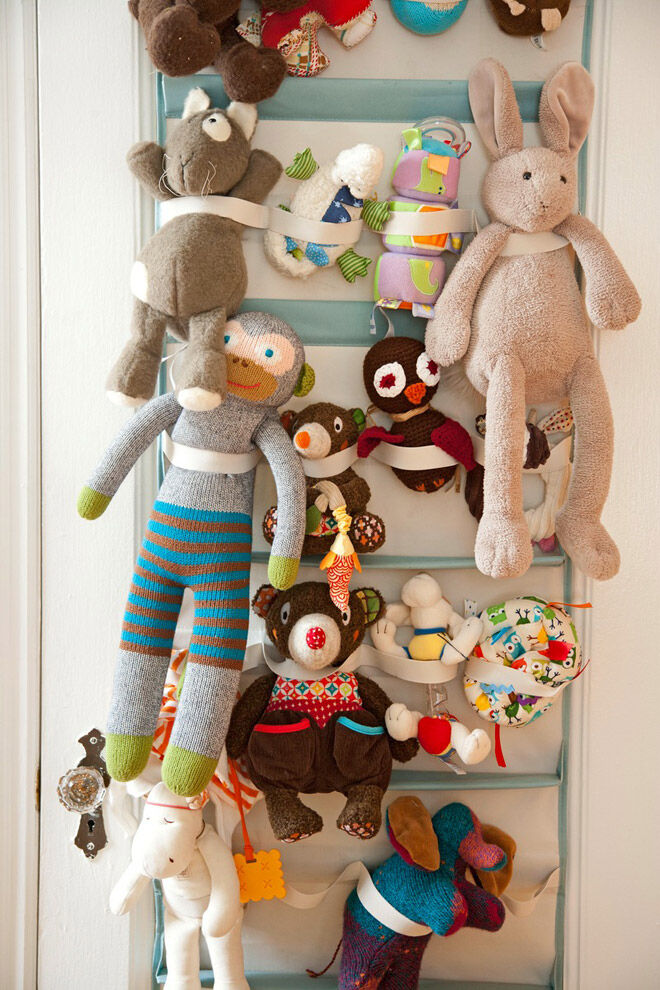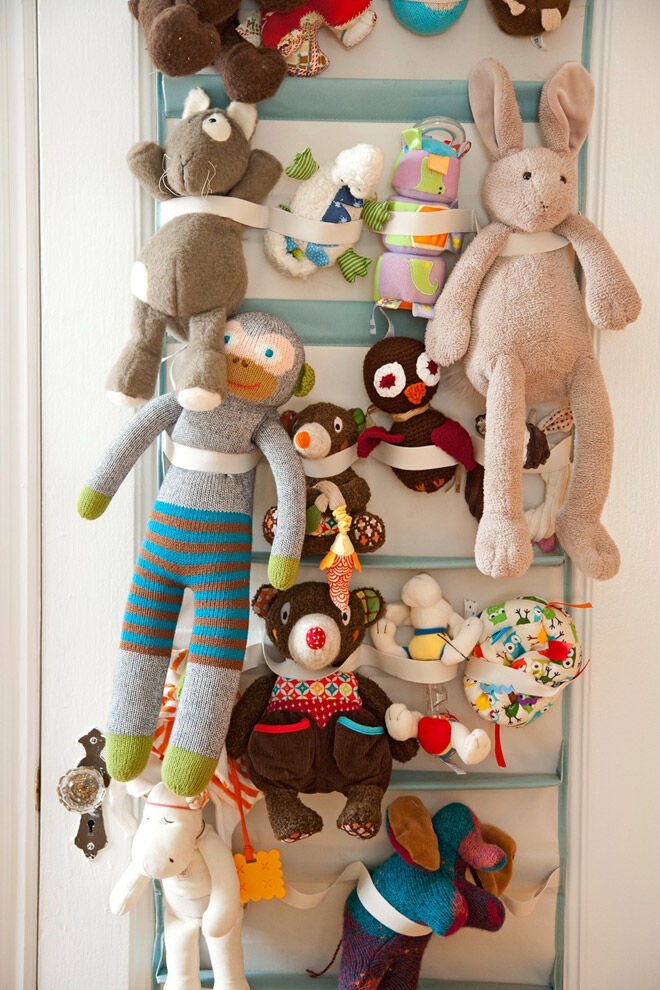 This over-the-door shoe rack keeps toys safe and sound with elastic 'seatbelts'. (via Apartment Therapy)
13. DIY timber ladder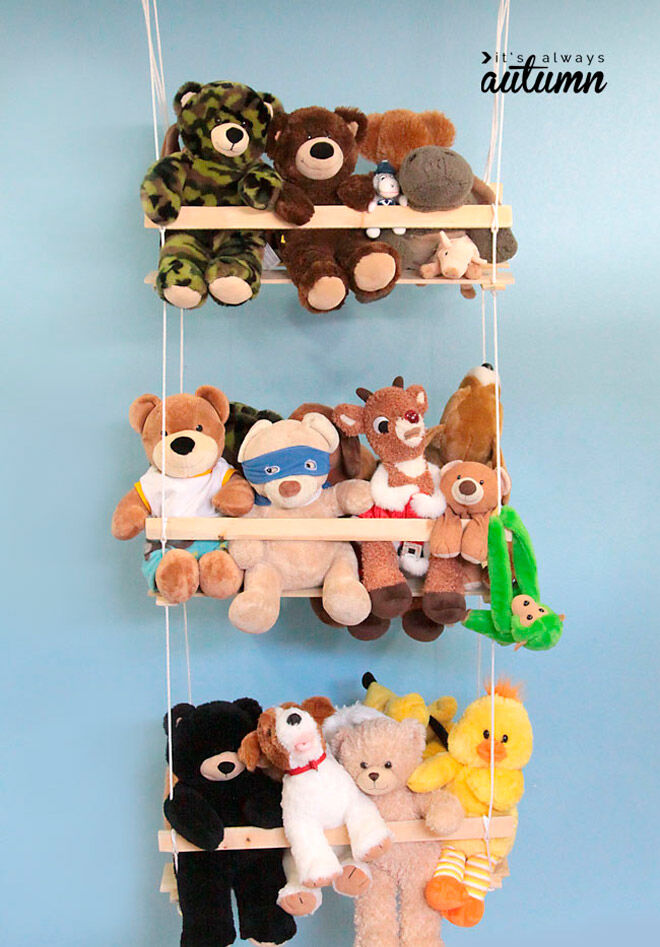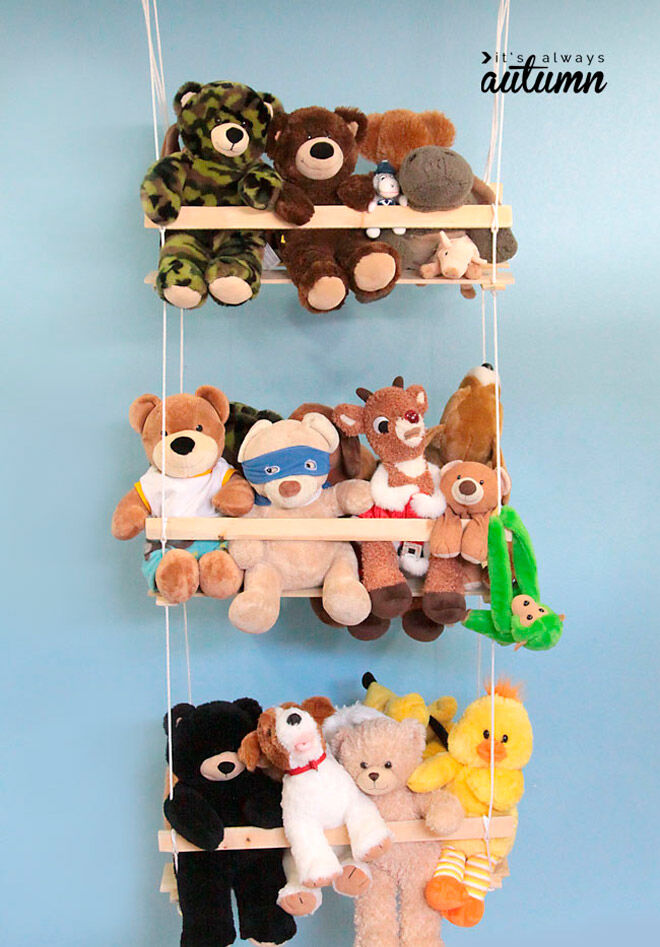 Forget Snakes & Ladders – this timber DIY shows there is fun ahead with Toys & Ladders! (via It's Always Autumn)
14. Net canopy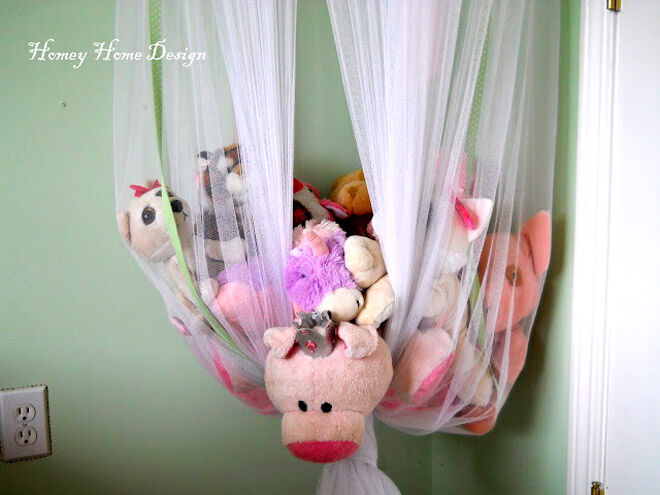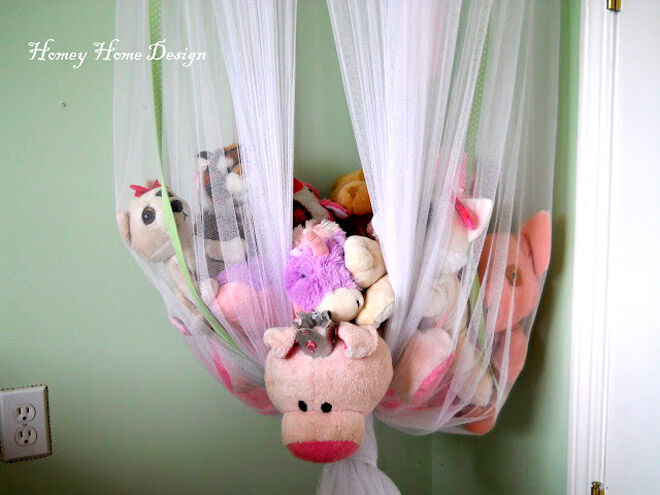 A mosquito net can be beautifully re-purposed as a toy canopy. Just knot the bottom and load in the stuffed animals. (via Homey Home Design)
15. Wall hammock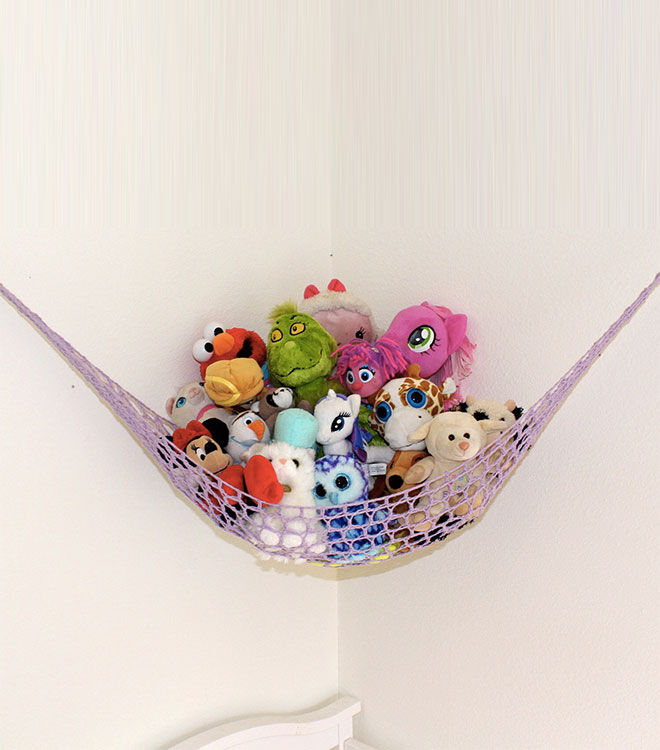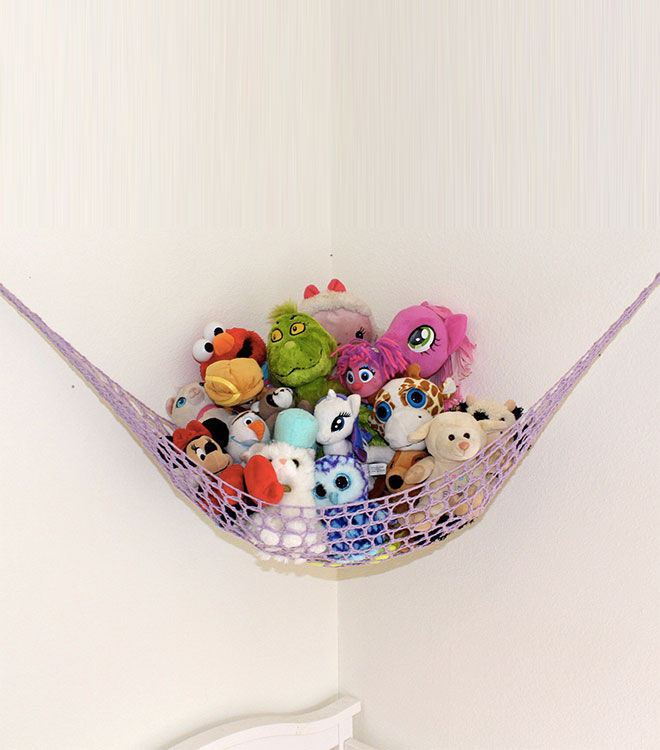 Kick back and relax with a toy hammock! With airy tulle, easy sewing projects and crafty crochet, plushies are on island time. Available from Etsy seller Mama Made It Shop ($26.95).
16. Bed hammock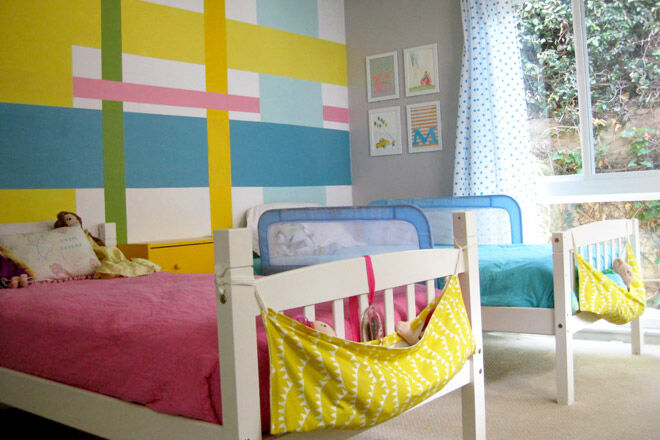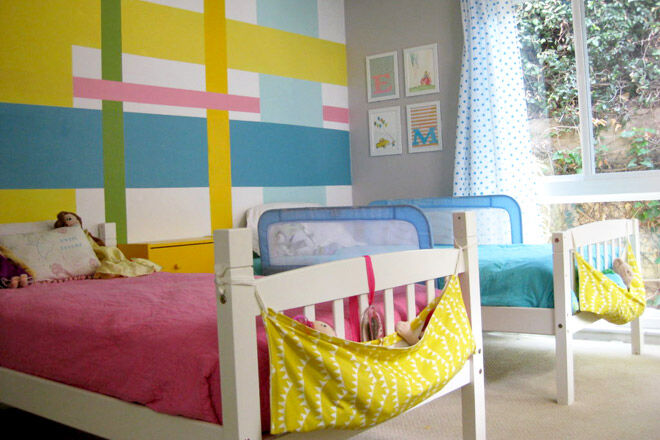 Nighty night! Put toys to sleep in fabric pouches that tie to the end of the bed. (via Project Nursery)
17. Upcycled storage box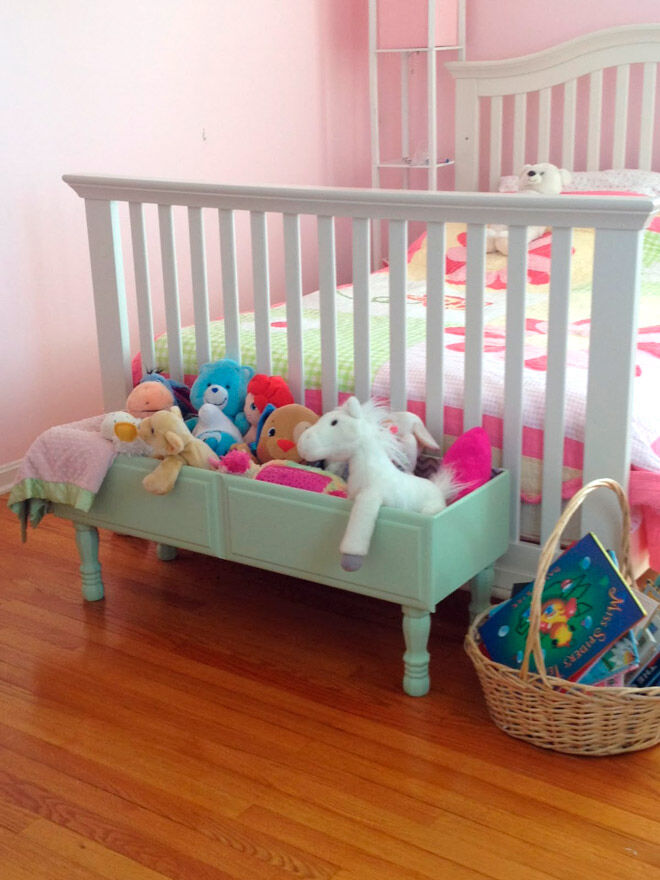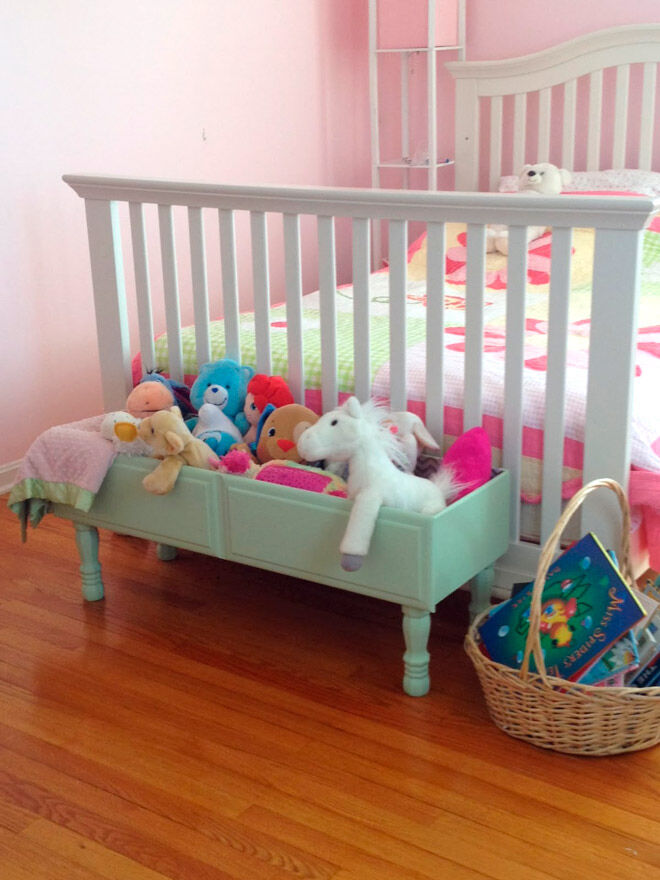 Take an old dresser drawer and DIY it into a dreamy toy box. (via Two It Yourself)
18. Under bed storage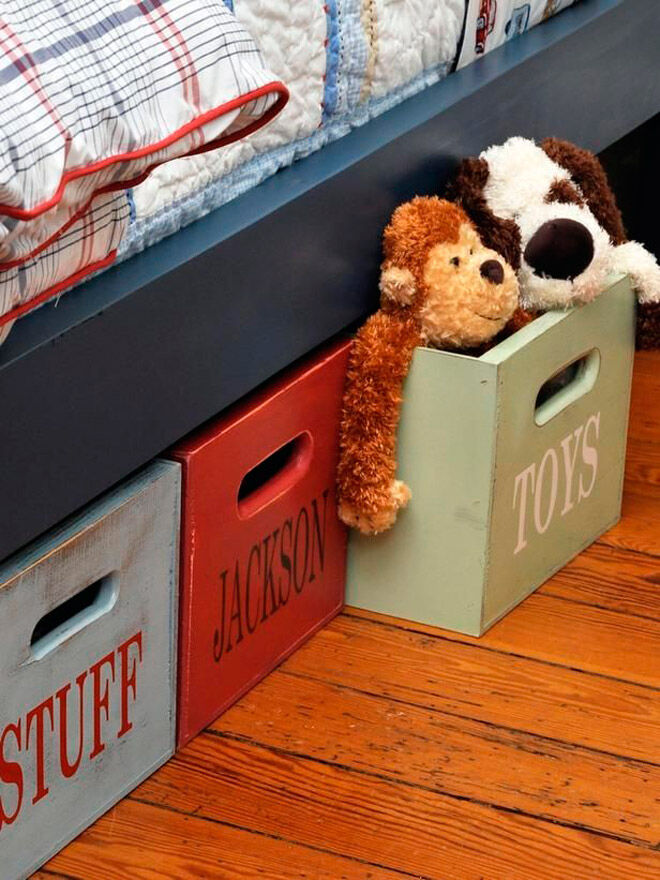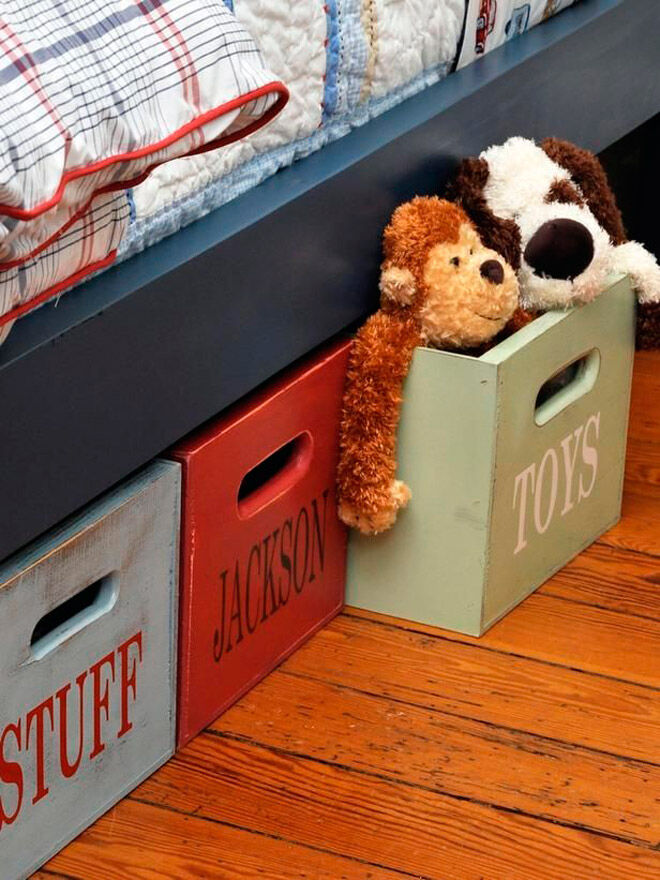 There's no such thing as monsters under the bed, but soft toys are a real possibility. Hide wood or canvas boxes underneath for slide-away storage. (via Love It So Much)
19. Hanging fabric basket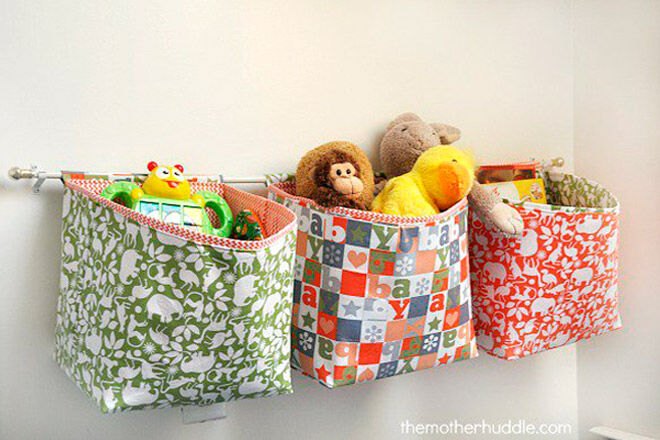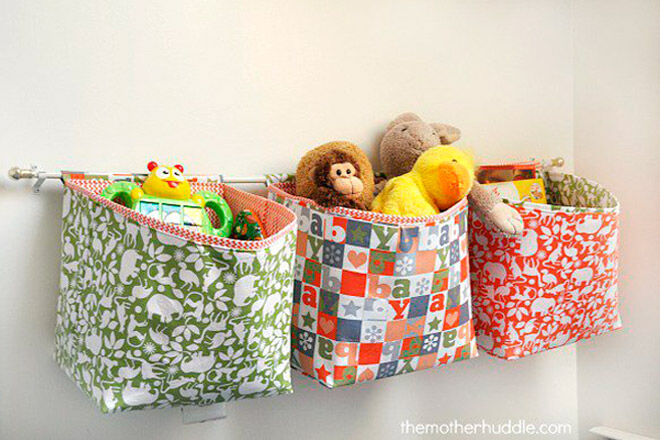 Have a rail of a time getting storage baskets off ground-level. (via Mother Huddle on Everyday Beautiful)
20. Toy chair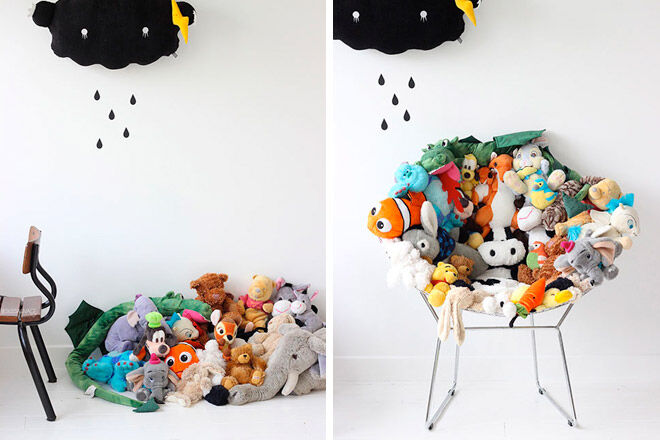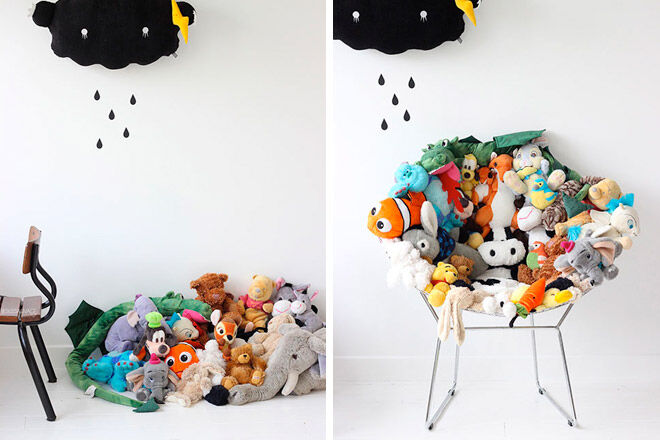 Covering a chair with soft toys and cable ties is a permanent storage solution, but for a more temporary idea, just load plushies onto a seat without tying them on. Sardines! (via Jesus Sauvage)
21. Animal zoo
With an instructional video and over 37 million views on Facebook, this DIY stuffed animal zoo is a wildly popular idea. (via Buzzfeed)
22. Ferris wheel storage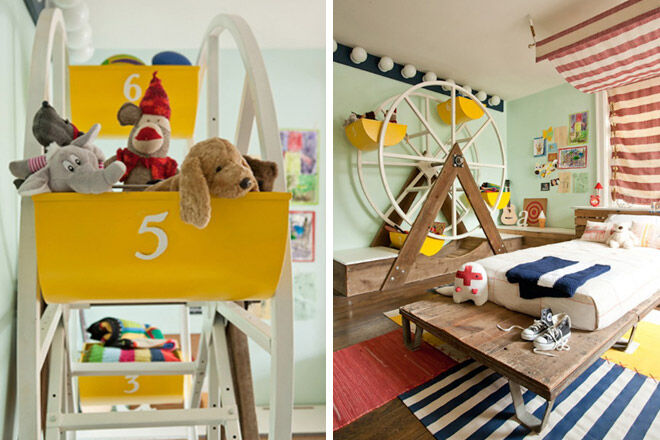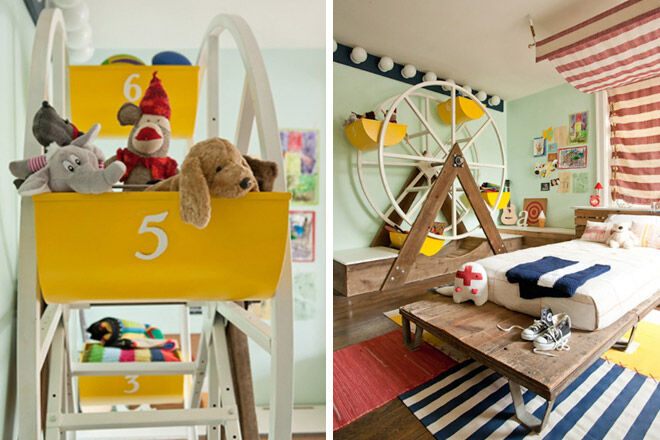 Run away to the circus! For the ultimate statement in storage, assemble a ferris wheel and give toys a ticket to ride. (via homedit)
---
KEEP READING:
Toy storage solutions
17 ways to organise and store toy cars
15 brilliant bath toy storage solutions
14 ways to upcycle old toys back to life